Slept in this morning – a reward for getting little sleep on Sunday night – or maybe I just felt like it.
Took care of a few things for mom around the house…
Fixed a shelf in the medicine cabinet
Rearranged the furniture in the guest room so that there was easy access to both sides of the bed
Got the giant scooter box out of the living room
Redid some wiring so that cords weren't tripping hazards
Cleaned some things out of the storage locker
Then it was off Christmas shopping… yes, I'm shopping for presents for myself with mom along to pick up the bill. Two stops for that:
A little stop at Kaunes (the local upscale market) for wine for dinner and soda for mom and I then back to El Castillo (jokingly, the old folks home.
Next was to get the Eddie Bauer tree up that arrived via UPS:
Brother-in-law Kennan arrived minus Sister-in-law (home with my sick niece) and off to the dining room we went, bottle of wine in hand.
Just a side comment at this point. My mother is still on dial-up. Remember those days? Painfully slow – last night I call the gay boys (well, they are in a retirement home so guess they are no longer boys) to see if I could piggyback off their wi-fi signal… albeit at one to two bars. Better than painfully slow but forget streaming video. I need to remember to send them a bottle of the Spanish vermouth – seems finding interesting Vermouth in Santa Fe is not easy.
And now back to our regularly scheduled blot post.
It's a year to the day that Dad died. I hadn't even thought about it when I made the plane/train reservations – it was just an open week in December to see family. I'm staying in what was my father's bedroom, officially now the guest bedroom. On the top of his dresser are a bunch of old pictures, a couple of his award plaques, temp and humidity gauges that had never been hung, and this wicker elephant from our trip to India in 1976. My father insisted on moving the elephant when they relocated to El Castillo saying, "I hauled that damn thing all over India, I'm not going to abandon it now." Apparently the elephant had been purchase EARLY in the three weeks that my parents were there (I stayed a month and a half).
The before shot: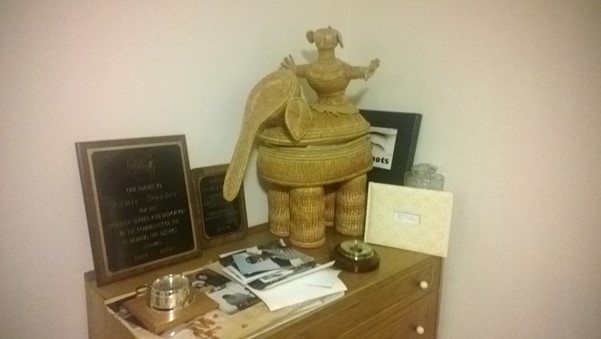 Not sure how the topic came up when Mom and I were chatting about it being one year to the day since Dad died, but it turns out my father's ashes were sitting on a box on the lower dresser – nobody had ever picked an urn or expressed any interest in taking a portion (or all of the ashes).
He now has "an urn".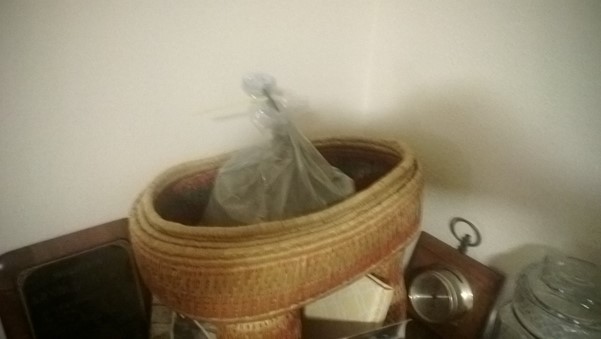 I'd never actually seen "cremains" before – it's like a sack of dark sand. At least he has a home now.
The after shot – more like a memorial altar. Hopefully it won't freak Mom out.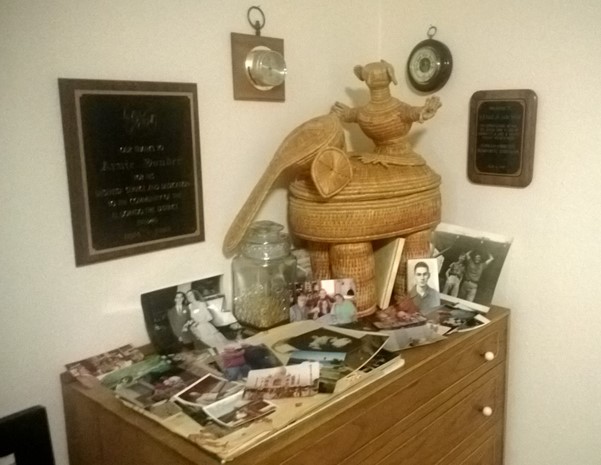 Plaques hung, weather instruments hung, photos arranged. A few tears were shed creating this memorial.
And that's enough for today.
[? ? ?]