Managed to get to breakfast around 7:30 this morning. The Retired Ship Captain that I was seated with last night was just arriving as I was finishing my spinach/mushroom/cheese frittata with pork sausage on the side. I ignored the potatoes, but did have a glass of cranberry juice. I explained that I wasn't very chatty in the morning… and that maybe we could (and did) share a table later.
After last night I was now out of mixers for the bourbon that I brought along… so with lunch I got a complimentary Diet Pepsi (one per meal) as did I with dinner – along with grabbing a couple of small cans from the Metropolitan Lounge when we stopped in Portland for an hour. This means I will have avoided buying any of their bar soda pop at $2.50 a pop.
A little different scenery today as we are now in the mountains – yesterday morning was all sun and beaches, today is all overcast and snow: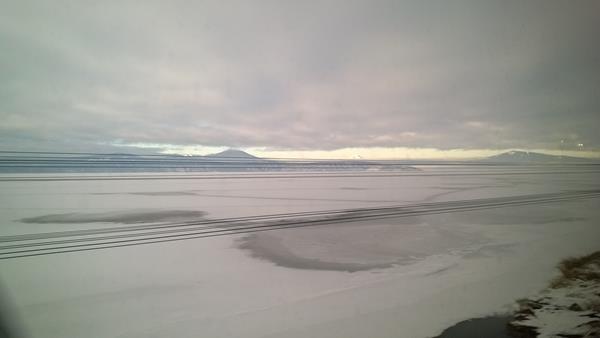 Here is my car attendant Brian: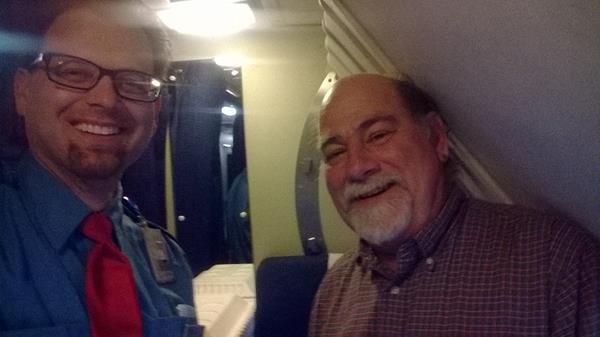 He was the nice main that made sure I never ran out of ice.
Speaking of Portland, here is a quick shot of the station. If you see the red cone, that is the entrance to the Metropolitan Lunge which is only for sleeping car passengers (others are in Los Angeles, Chicago, Boston, New York) – the source of free Diet Pepsi: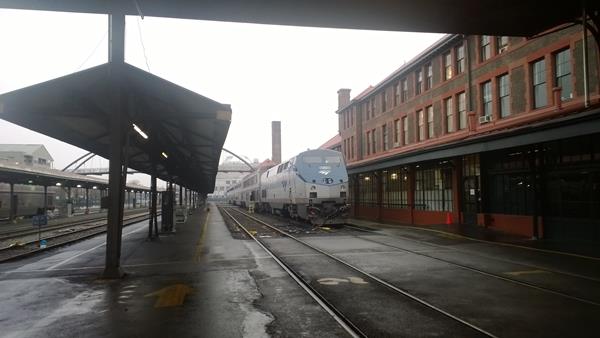 The train you see is the cancelled Empire Builder run for today (and until Sunday apparently). Seems North Plains storms have severely affected service between St. Paul and Spokane. Full Story Here
And those long-time readers may have seen my posts about Amtrak's Braised Lamb Shanks… well, here they are in the flesh – so tender that the Capt. Ret. only needed to use his fork to finish them off: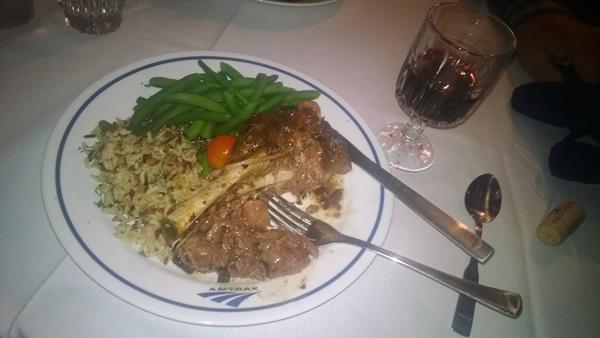 Got into Seattle almost an hour early – or at least it felt that way – bodes well for next week's Coast Starlight Trip to Los Angeles with Dwight – he's headed to see his mom – me, I'm just tagging along to LA, spending the night, then flying home.
Looking forward to my own bed tonight.
[? ? ?] Always worried what tomorrow's number will be after a week on the road, especially with three days of three square meals a day.