My turn to open the shop… and good numbers even before the tasting started – GREAT numbers for the day. Not a huge sellout of the wines though the Patricia Green Reserve Pinot Noir from the Willamette Valley of Oregon moved fairly well:
2012 Patricia Green Pinot Noir Reserve $24
Patricia Green is known for her vineyard designated Oregon Pinots. But her multi-vineyard blend is the real deal and the real bargain. 2012 was a good year in the Willamette, amidst a number of challenging ones. The 2012 Reserve is fresh and mouthwatering with sweet black berry and cherry fruit flavors. There's a bit of very appealing field herbs and earth in the mix and a smooth silky finish.

Off to Safeway after work for supplies – what a zoo.
A nice little ribeye with salad for dinner, along with a glass of wine that has been in the bottle since last week… and it still tasted good. Those vacuum sealers do work.
The after dinner chore is to – once again – fix my new suitcase. A wheel fell off in Albuquerque. As a temporary fix I used spare parts I keep in my toiletry bag, but it really needs to be hammered on, not pounded on with the back of a borrowed utility knife.
While I was at it I swapped wheels between my two cases. My old one has rubber wheels, the new one plastic. The old one is going to Craig in LA next week with me on the train. The end result: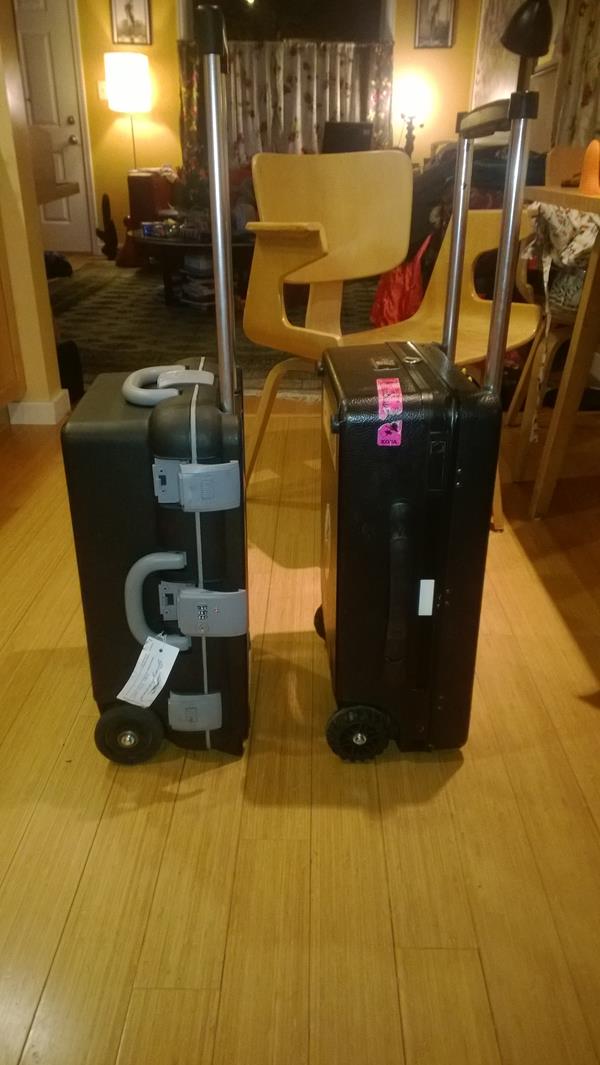 Working a long day tomorrow since we have our Annual Vintage Champagne Tasting from 5:30 to 7:30 or so. This is one of the few tastings that we actually charge money for – in this case $30 plus tax to sample five vintage champagnes while nibbling appetizers. These champagnes range from $50 to $95 a bottle. Can't wait to taste those – and see what up-market appetizers we'll have out.
[209.2] Not bad for a week on the road to come back lighter than you left.