I was thinking about my travel plans for tomorrow while I was cleaning/organizing/paying bills/suffering from what I'm now thinking is an ear infection…
If it weren't the holidays and the DUI patrols I'd drive to the airport in the morning, put the car in MasterPark, take light rail back into the Amtrak station and head south on the Coast Starlight. Since my return flight on Friday gets in after midnight… it would be nice to have the car at the airport. With the stepped up patrols I'd have to not drink on my upgraded flight back from LA after hanging out with Craig all day… doubt that would happen.
Old plan. Park at airport: $55 + $5 for the LightRail
New plan. Cab to the train station: $25. Cab from the airport: $25.
About a wash dollar-wise. And with the possibility of getting nabbed, and the joy of sleeping in for another hour. Looks like cabs both ways. New plan:
Train at 9:30
Cab at 8
Up at 6
At least it's only 6am.
Today's victories:
Cleaned all the "clippings" off the couch from the last 3-6 trips – the things I find that I know specific people will like. Anything I can find on-line gets sent as a link, the rest get snail mailed. Only one snail mail today – to Dan with a GREAT direct marketing piece from the Seattle Symphony which included an 8GB chip imbedded in a thick business card.
Rest of the Christmas presents wrapped, bags packed: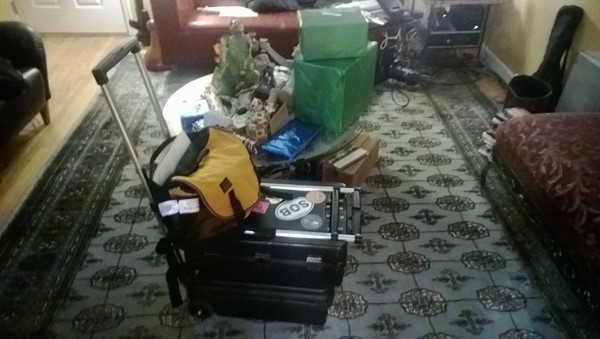 Yep – two stacked Porter Cases and a briefcase. And more packages wrapped.
And a couple of things that I haven't had time to report – End of Year Status on my airlines:
Alaska –

Welcome, Uncle Markie

Member Name:Â MARK STEPHEN SOUDER MVP Gold
Mileage Plan Number:Â XXXXXXXX
Available Miles:Â 165,397
Elite Tier Status Qualification

YTD Alaska Miles
Flown: 25,251
14,749 Miles to Gold
YTD Alaska/Partner* Qualifying Miles
Flown: 25,251
24,749 Miles to Gold
YTD Alaska/Partner* Qualifying Segments
Flown: 18
42 Segments to Gold
Alaska Miles toward Million Mile Flyer  Million Mile Flyer
Flown: 253,788
746,212 Miles to Million Miler
*Â Flights operated by Aeromexico, Air France, American, Delta, Emirates, KLM, and LAN
All that gibberish means that I'll be MVP Silver next year. After the first I'll apply for a status match with Alaska using my United Platinum Status. That should get me at least Gold for 2014 on Alaska.
United –

| | |
| --- | --- |
| MileagePlus Number: | XXXXXXX |
| Mileage Balance: | 59,263 |
| | |
| | |
| --- | --- |
| Regional Premier Upgrades:Â  Expiring 1/31/2015 | 2 |
| Global Premier Upgrades: | 0 |
| MileagePlus Status Level: | Premier Platinum |
| Star Alliance Status: | Gold |
| Year to Date Premier Miles: | 77,057 |
| Year to Date Premier Segments: As part of Premier qualifying segment requirements, members must fly at least four paid flights on United or Copa during a calendar year to qualify for Premier status. | 28 |
| Lifetime Flight Miles: | 964,376 |
Now I just have to figure out how to use those Regional Premier Upgrades – and hopefully the roll over to next year! Which a handy "roll-over" link says January 31st, 2015 – meaning that I'll get two next year as well. That would make four! Wonder if I can use them on my cheapie ticket to Turkey next spring. I'll look into that. But look at that lifetime flight miles — so close to Million Miler Status!
So – things I need to look into:
Regional Upgrades for Turkey Trip
Boat for Victoria Trip in January
Day or Two before BBush Winter which I'm not going to
Forks to work on Zebra Lederhosen (hopefully first week of February)
People to meet me at train stations for hugs the next two days (Julian has to work all the sudden)
Booking a wedding trip (not mine) to Ireland in July
Not sure any of this is going to get done tonight.
Had my little lamb chops with salad dinner, set my alarm for 6am, called Yellow Cab for a "Time Call" at 8am… not the friendly dispatcher that I got the other week. Apparently they all assume that "Time Call"s are all to the airport (rather than the train station).
Time to call it a night.
[205.6]