Minor issue with the cab driver this morning for my 8am Time Call… he called at 7:45… lost. At least I knew the cab was coming.
Got to the train station an hour early as is my usual…and the station is looking good – you can now even get up to the second floor viewing gallery (previously hidden by a hideous fake ceiling):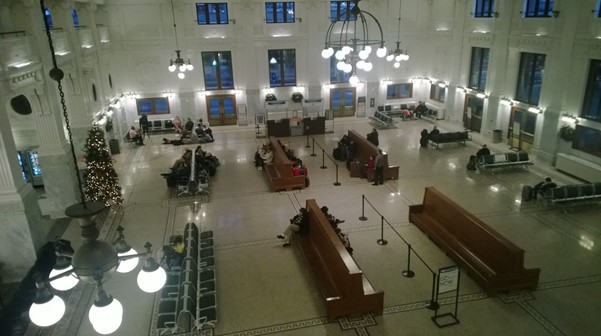 And I spotted a place that would make a great "Metropolitan Lounge" on the second floor that LOOKS like there is still some construction going on. It would be FABULOUS to have a Metropolitan Lounge with an open air view of the main waiting hall. I'd posted that I hope they'd "pimp out" the paint to highlight the details, but the semi-gloss white is starting to warm to me: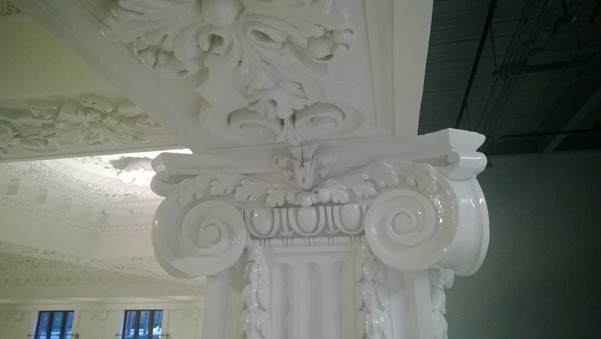 It is great to see the station come back to life – the other train station in town (Union Station) is basically the lobby for one of Paul Allen's office buildings (co-founder of Microsoft, my former employers.
Onboard the Coast Starlight Train Number 11, Room Number 8 – I settle in a half an hour before departure with a couple of splits of California Bubbles and get the "office" set up: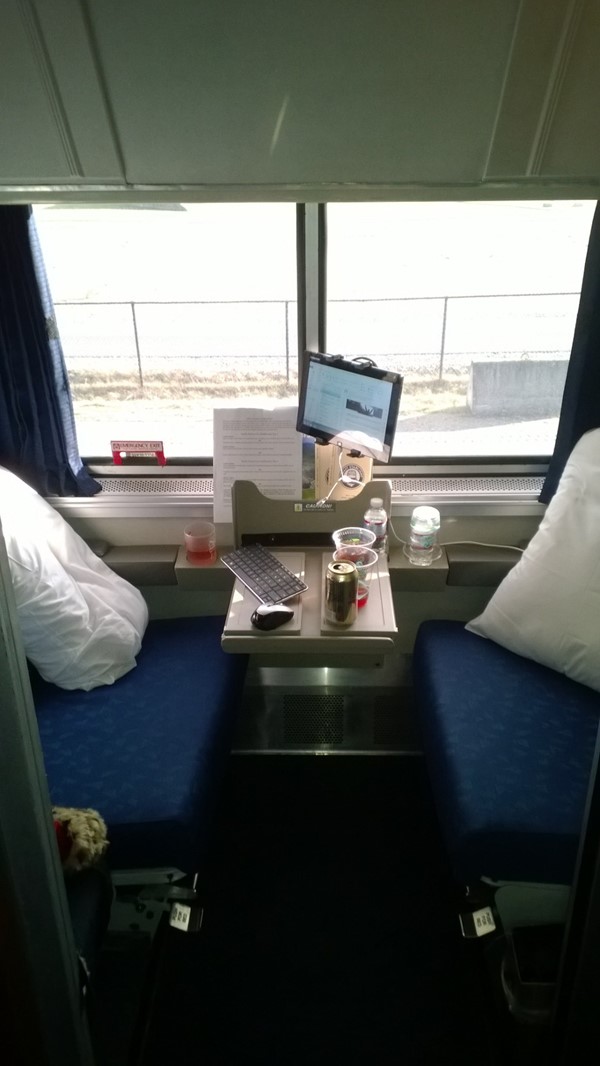 In honor of my mother I mixed the bubbles with a wee bit of cranberry juice to make a Red Baron. I really liked the suction window mount for the tablet until the seal gave hold and it tumbled to the ground, dragging the cell phone with it. Maybe tomorrow I work on seeing if it mounts (and stays) on the tray table.
This is what awaited Dwight when he boarded the train in Olympia (he is headed to his Moms for the holidays):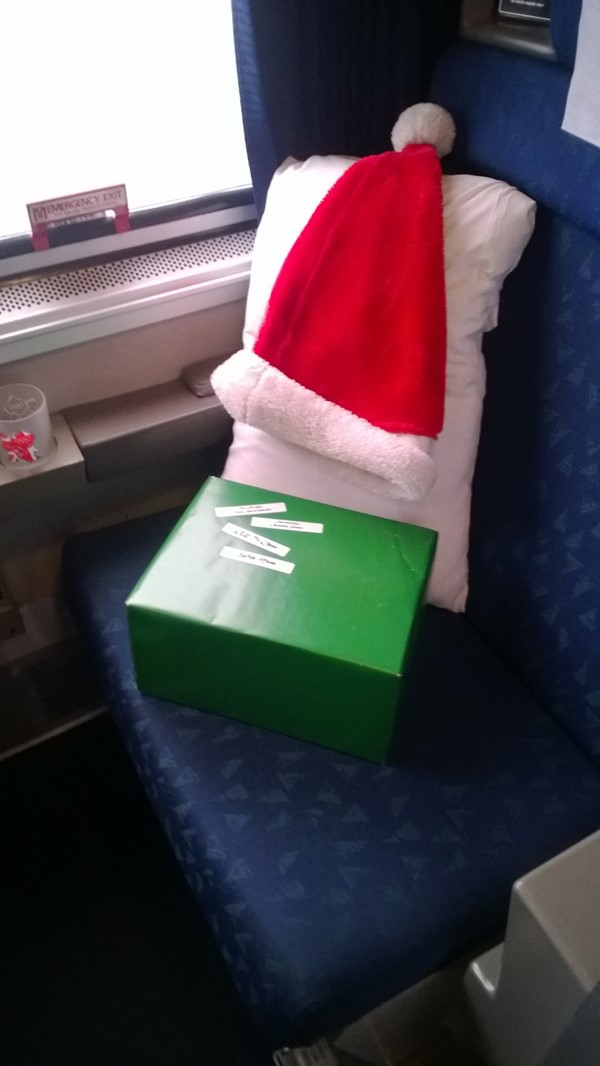 His xMess (thanks for the phrase CharmPop) present and a Santa Hat (which he refuses to wear for "father-son" pictures, or at all. Sigh.
Here is a great shot of Dwight and I at dinner: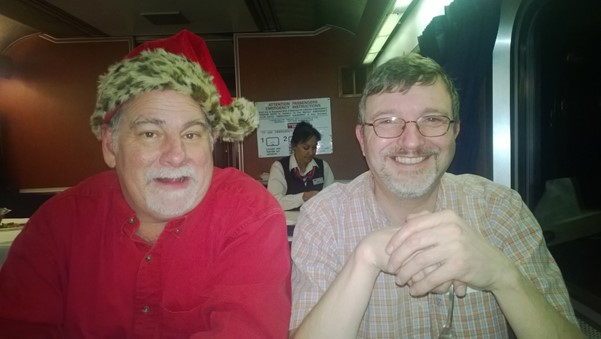 And then again at the Klamath Falls smoke stop – yes, Dwight still has that habit, though at 2 packs a WEEK it could be worse: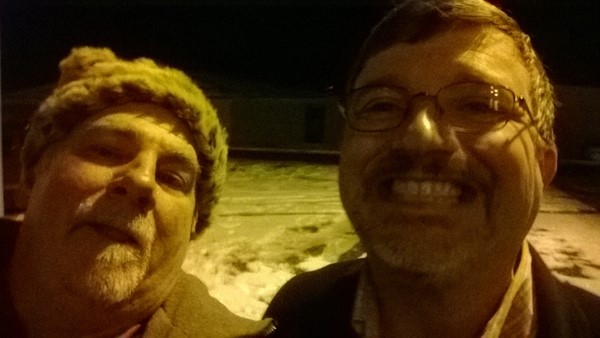 Not the best selfie but at least you can see the snow in the background.
Dwight brought supplies for Black Russians (Vodka and Kahlua), and I packed Bourbon and Diet Verners and a couple of bottles of wine to have with dinner: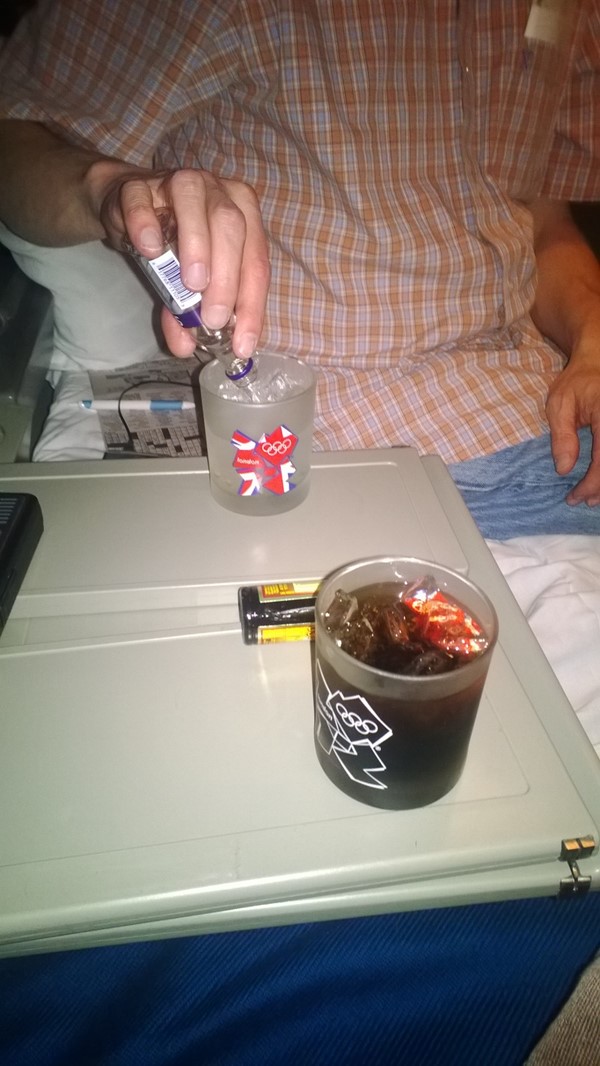 Did I mention that I brought real glassware on the trip? Thanks Swanda for the Vancouver Olympics booze glasses.
Burger for lunch, steak for dinner (with the Southard Syrah).
Let's just hope the train stays on time.
[205.4]