Slept in late this morning – still trying to kick this head thing.
The first meal of the day was lunch at Modern Eats in the Silver Lake neighborhood of Los Angeles… I had the turkey pastrami Rueben with double cole slaw, Craig had the seared ahi tuna salad – both reasonable priced at $10 and $12 respectively, and tasty. Almost as tasty as the waif skinny busboy.
After lunch it was a booze run to Topline Wine & Spirits in Glendale which is located in a strip-industrial center, and looks small from the outside – but inside is a warren of rooms with wine and spirits stacked to the ceiling. Didn't end up getting anything there as they didn't carry Evan Williams and none of the other bourbons were attracting me. Then BevMo (two 1.75ml of Even Williams Black), then Trader Joes (two 750ml of the Trader Joes Bourbon). Ended up the maximum checked bag amount of spirits allowed: 5 liters and it must be under 110 proof.
Got back to the house an took a long nap – getting up just in time for this wonderful sunset: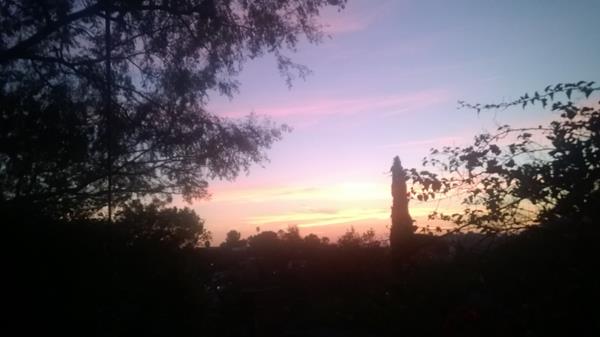 Left for the airport WAY early, and it's a good thing we did. The FlyAway bus (GREAT deal at $7.00 each way between Union Station and the airport) was STACKED with people heading out. There were people standing in the aisles on the way to the airport – something I'd never seen before. They were running about 30 minutes late so I was just happy to have a seat.
No TSAPre this trip – they had the lines but my ticket didn't qualify for once – guessing it's that I am on a one-way First Class ticket. But the lines were short so I quickly was off to the Board Room to set up my temporary office: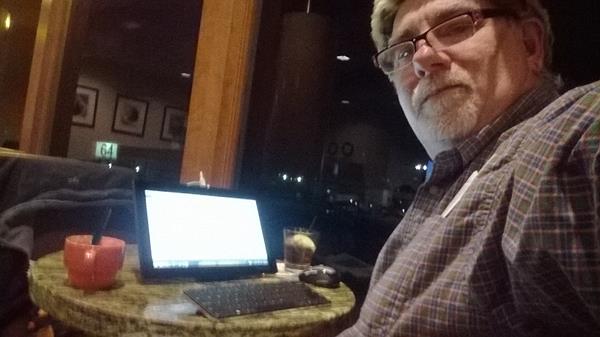 That would be Boston clam chowder on the left, a Whiskey and Diet on the other side. Something new I noticed – they actually had a menu for more substantial food available for purchase. Me, I was happy with free booze, free clam chowder and free salad – notice a theme here.
Got to the gate just in time for the Gate Change announcement – and as I was walking to the new gate – a Christmas miracle unfolded – my buddy Ray Araujo was coming in the opposite direction. I literally hadn't seen him for at least 5 years. Turns out he and his boyfriend are on the same flight, and also in First Class. Here is the selfie: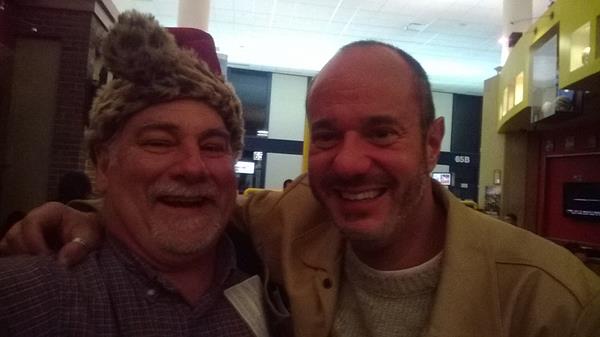 Ray owns an ad agency with offices in Seattle and Los Angeles (and offices in both cities) with about 80 employees. Needless to say he is doing well.
Nice Christmas present Santa!
Plane was late leaving Los Angeles and with massive head winds we didn't get in until almost 2am – at least my bag made it and it wasn't leaking.
[? ? ?]