I got some bad news this evening. Another friend lost to depression. Michael's roommate/ex-boyfriend called me tonight around 10pm with the news that Michael passed on Christmas day. Dylan came home to find him "asleep" in bed. When he went to wake him he discovered he was no longer with us. There will be an autopsy, but it being Christmas day I'm guessing an overdose of pills. Michael had been suffering with depression for the last handful of years – mixed with his alcoholism, it wasn't a very pretty mix. Several of his close friends, including me, received morose late night calls from Hong Kong over the years.
I choose to remember him smiling and happy. This was from a trip to Hong Kong to visit him and his boyfriend Dylan: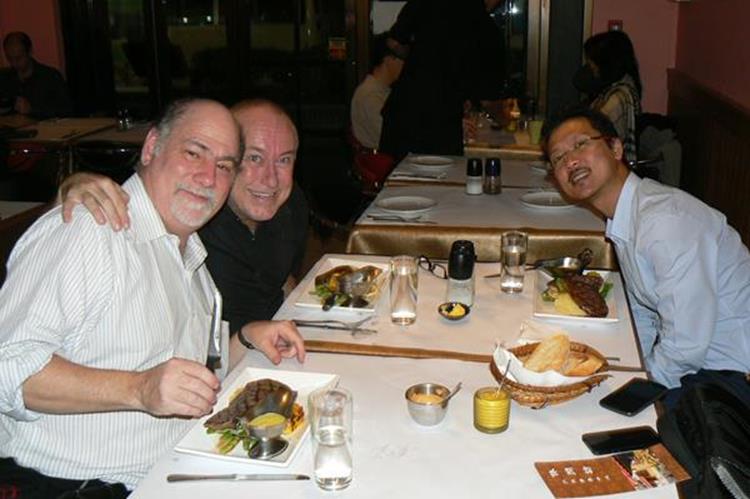 The photo above was taken in March of this year at Steakhouse Lardos. It was on the first of my four trips this year to Hong Kong – the last one, a couple of weeks ago was to Macau since Michael and Dylan had relocated to the Bay Area for Dylan's job at Google. As in Hong Kong, Michael struggled to get and keep copy editing jobs. His resume included the English language paper in Bangkok, the Everett Herald, and most notably, the Asian Wall Street Journal. With all print media cutting back, seems copy editing is going the way of the…. [fill in the blank].
Over the years I'd visited Michael when he lived in Bangkok, then Everett (Washington), then Hong Kong, vacationed with him in Phuket, gone with him to Hong Kong Disneyland. We had dinner a couple of months ago in the Bay Area with Mark and Onyx…and he wasn't in the best of shape emotionally sorry to say.
My heart goes out to Dylan. He and Michael have had a rough patch for the last couple of years. It was their hope that the move to the states would make it easier for Michael to get a job so that they could start living apart. Seems the universe had other plans.
Tomorrow I'll try and track down some pictures over the years.
There but the grace of the universe go I.
Until then.
[206.0]