Woke up at 1:30am this morning, asleep on the couch – and only the wine shipment was packed – not my other bag. Shit.
To bed for a few hours before getting up after the alarm had been blaring for 15 minutes or so… need more sleep. But the airport calls.
Took the station wagon to the airport…picking up Jameson on my return on Wednesday and I have no idea of how much stuff he is packing for his month in Southeast Asia based out of Ho Chi Men city.
Had breakfast in Board Room headed to the gate, got on the plane and went back to sleep for the entire two hour flight… think I still need a nap (which I got when I got to TheBoys place.
And amazing Onion Soup for dinner (72 servings for some odd reason)… followed by samples of my hooch: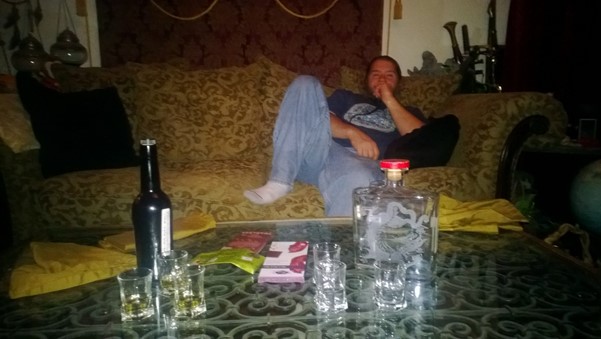 The one on the left (the more golden colored) is from last month's run – the one on the right in the pretty dragon bottle is from a 2009 still run… both are tasting great – the younger because it's had time on oak chips, the older one because of Jim Croce (Time In A Bottle). Sorry, bad pun.
[208.4]