This is an experiment in the style of one of the Colonels – the trip report rather than the day-by-day, blow-by-blow. Comments please.
Dateline Tuesday:

I love noon flights. You don't have to get up early, lunch is set out in the Board Room when you get there, you don't' feel self-conscious having that cocktail like you might at 6am.
Speaking of the Board Room (the Alaska Airlines lounge), they've added these new "pods".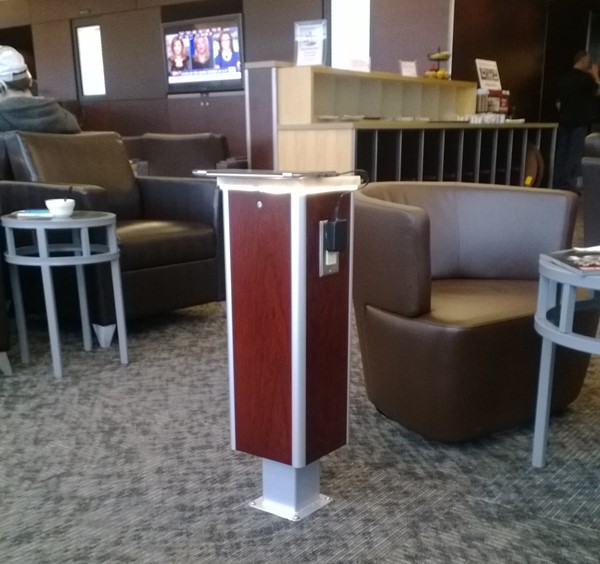 Though you can't see it from this angle, there are outlets on the other two sides – each of which has two outlets AND two USB ports. I want one for home!
I resisted the temptation to take a $300 voucher for a later flight via Salt Lake City – which in retrospect I should have since:
I would have gotten double EQM (Elite Qualifying Miles) on Alaska as they are feuding with their Frienemy Delta (though I would have had crappy seats on both legs)
Because of limited T-Mobile service in Bozeman and other issues, didn't get to meet-up with HockeyBoy so arriving a couple of hours late wouldn't have made any difference
Oh well – lesson learned.
My plane – painted in Boise State Broncos colors (last spring I printed graduation announcements for them):

On my arrival in lovely Bozeman I was surprised at how gorgeous their airport is – when has anyone described airports as gorgeous?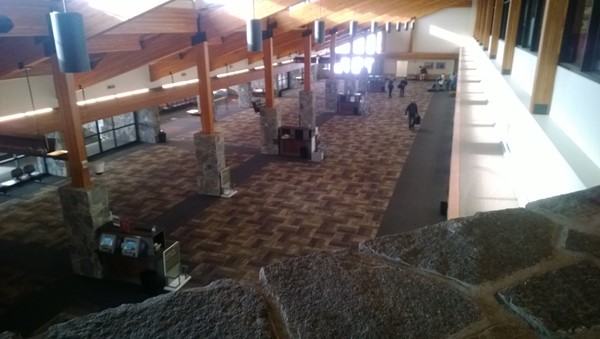 The ticketing area viewed from above. And below, waiting areas complete with gas fireplaces (I counted three):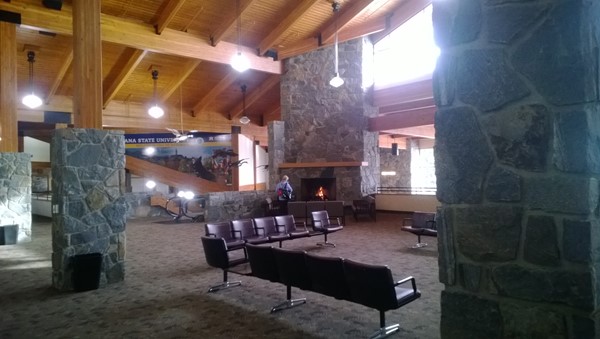 Got to the Dollar Rent-A-Car counter only to be told that they were out of SUVs and that they had transferred my reservation to the Enterprise Rent-A-Car counter right next door. So, my $50 a day mid-size SUV (cheapest car you can rent in Bozeman according to my research) turned into this (for the same price):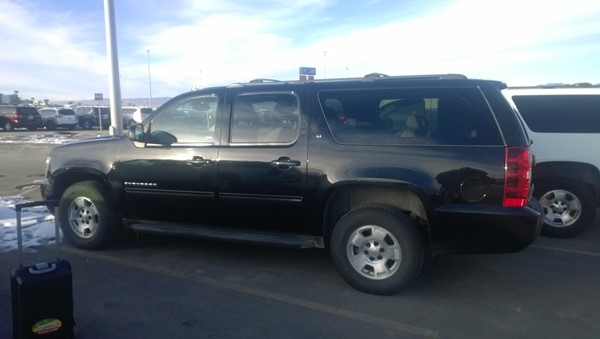 A honkin' 8-passenger leather lined, boat complete with 4 sets of headphones and a remote to go with the DVD entertainment system. You'd (well, I would have) have expected a navigation system, but oddly it wasn't equipped with one (though I think there was satellite radio).
Got checked into the Day's Inn, went back and forth with the boy who fell asleep so we never hooked up, had a late dinner I brought in from Dave's Famous BBQ which I liked until I read the ingredients on a couple of their sauce packages, both which started with "High Fructuous Corn Syrup", had a couple of cocktails and went to bed as tomorrow is an early day – of watching the boy play hockey at 6am.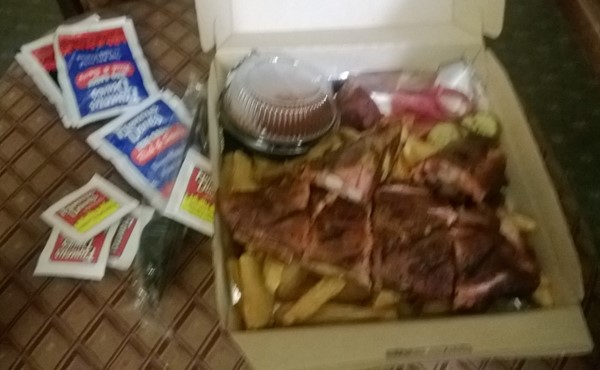 This is there 1 pound rib-tip APPETIZER for $10.50. I had them put in extra sauce. I didn't think it came with fries, but there they were. I got through about half of it – which means lunch and snacks for tomorrow.
Dateline Wednesday:

Sorry – no picture of the hockey game. I didn't want to distract him since as he told me, and he was correct, that I'd be the only spectator at the game. I only stayed for a little bit for the same reason (and it was cold as shit) and headed back to the hotel for breakfast and a long nap.
Got a little shopping done in the afternoon (notions for the next sewing project, all at 50% off), along with some reading. Finally hooked up with the boy at almost 8pm for dinner – having spotty cell service and oddly working but slow internet makes is very frustrating to try and hook up – wish he'd have just picked up the phone and called the hotel. Maybe next time.
Dinner was at Burger Bobs – I had the steak salad and a Manhattan or two – HockeyBoy had the Bob's All In Burger which comes with an egg, though he opted out of the bacon. Not much time with him but it was a great first date – the conversation was easy on flowing. Need to do some more of that.
The upside of all of this is that I got to watch the State of the Union address.
One ODD thing about this trip to Montana is that for the first time in a decade I'm not here to visit Steve who for 8 years was in prison is Shelby and then Deer Lodge, got out for a bit, didn't take his meds, lost it, violated parole and is now back at Deer Lodge. Years ago he stopped communicating with BrightHeart (who he was lodging with when I met him while he was awaiting sentencing) I think because he thinks he let us down. These days I know where is he because the Montana Department of Prisons sends me updates every time they move him. He went into the can at 19 or 20, those formative years of adulthood without ever having a chance to mature. The meds I mentioned were basically the same meds that they prescribe to our soldiers for their PTSD. He is back at Deer Lodge after his "proxy marriage" which is allowed in five states (surprisingly California is one of them, the rest are Texas, Colorado, Montana, and Alabama) to a Russian woman dissolved and she was forced to go back to Russia — they had been living with Steve's mother — under allegations of domestic abuse on his part. Back on his meds he started a house painting business (but couldn't drive so he had to hire employees), got a girlfriend with a child and things were looking up so he stopped taking his meds and the same cycle started again — drinking, abuse, and he got popped driving. Probably blowing over the limit and back in the system he went. A sad story that I can't change.
Dateline Thursday:

Today he is working – he's off on the weekends, which is, of course, when I work, so off to the museums go I. First up is the Museum of the Rockies – home to a very large dinosaur bone collection since Montana is prime dino hunting ground.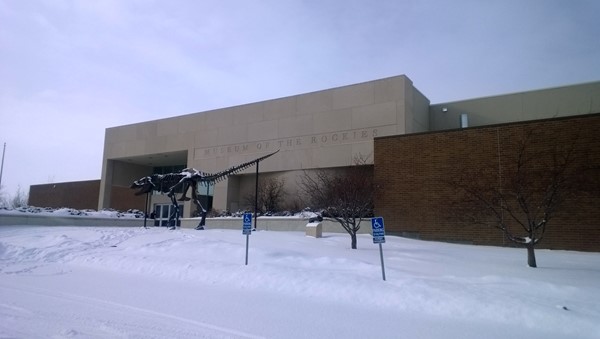 First up was a stop at the lab where they are dremmelling out the bones from the rock: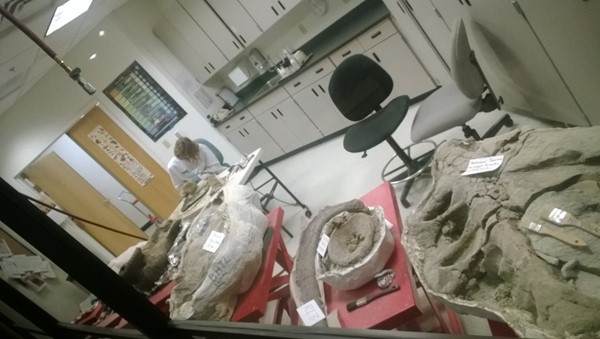 Then to their exhibits (I felt like I was in the Museum of Natural History in Chicago):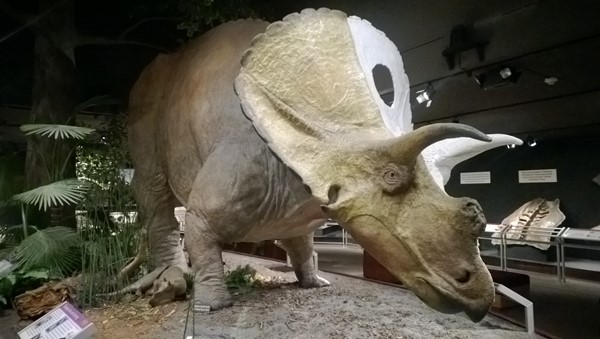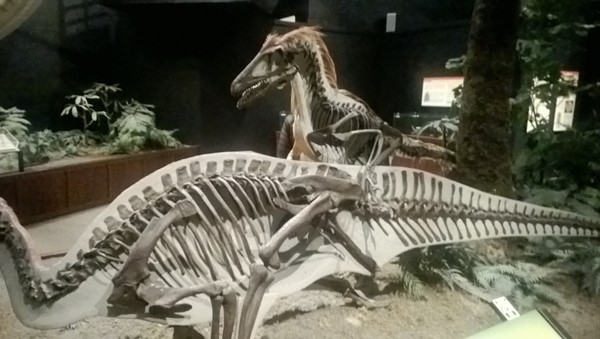 Through a decent historical exhibit on Native American culture – no photographs allowed, and finally onto the culture early western life in Montana: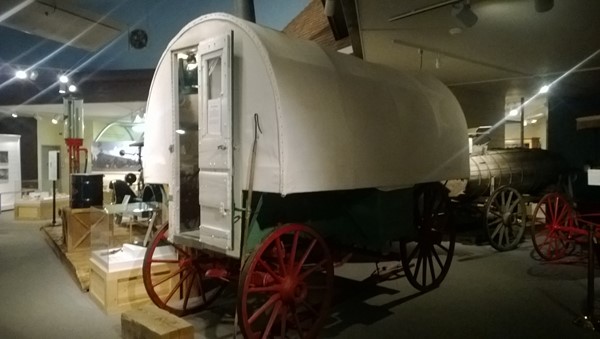 Discount admission because they are between exhibits – and a future discount with my AAA card — $10.50 (regularly $14).
Next up is the American Computer Museum which is located in an office park. It's the first computer museum in the United States (Berlin has one that's older) and only one of two in the US – and I've been to both of them in the last month!
Lots of autographed items from astronauts to the Apple & Microsoft founders – early computer legends and a very eclectic collection that apparently only 6% is on display. Some of my favorites: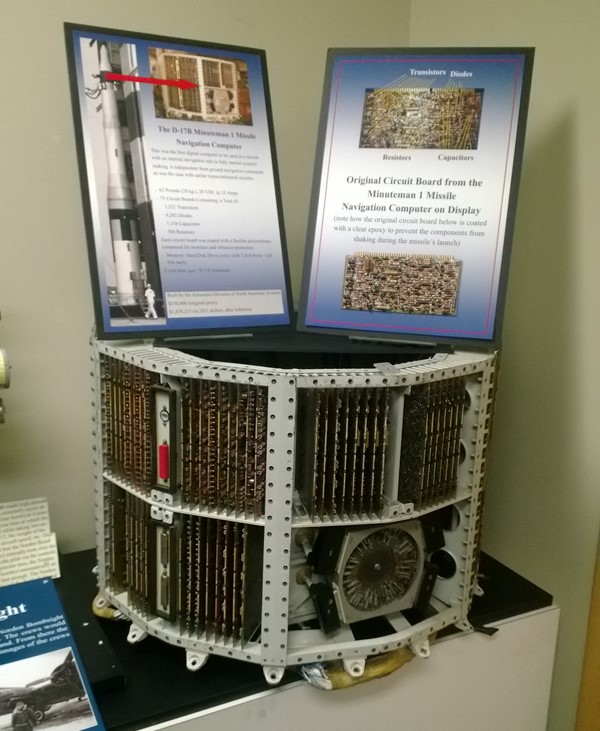 The control board from a MinuteMan 1 rocket (in honor of the Colonels).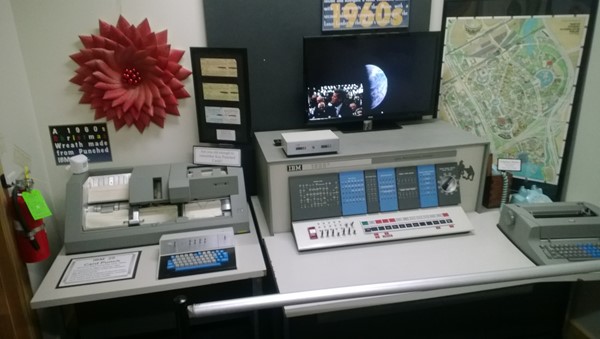 More punch card readers and related equipment.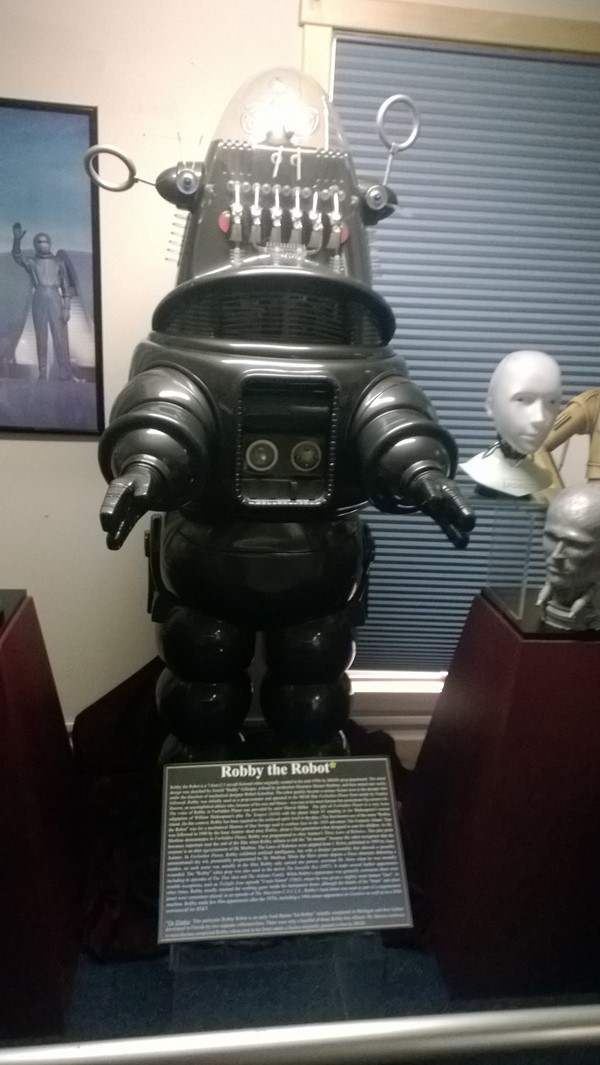 And then there is Robby the Robot – the original.
The museum is free, and signage to get there is poor but worth searching out. I bought a lapel pin and gave them a donation.
Then it was off for a late lunch where the boy works… The Roost. It's a hipster chicken place.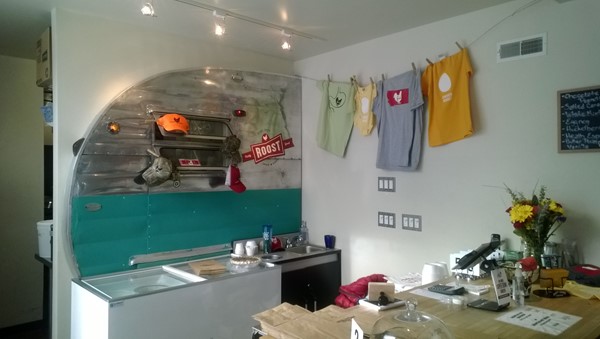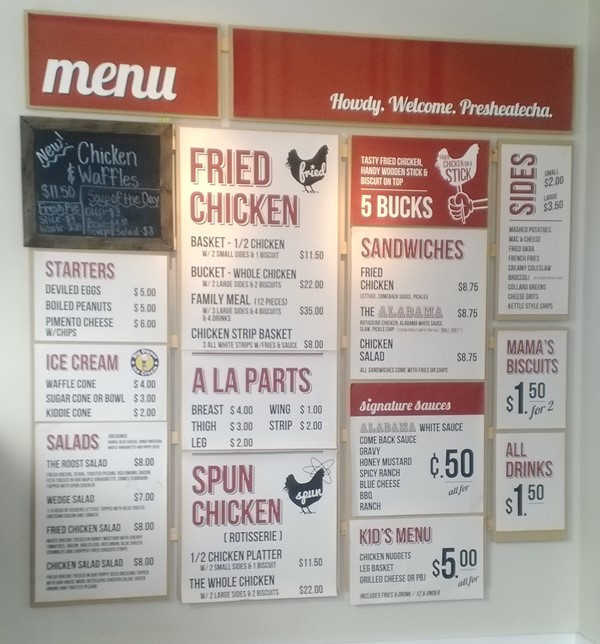 I had the fried chicken salad, which was excellent: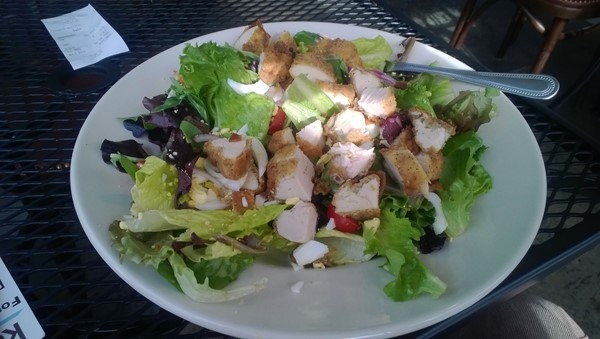 Only got to see the boy for a minute – it being the lunch rush as all – gave him my receipt to the Museum of the Rockies since its good for two days.
With that I was off to the airport – no offer of being bumped today (damnit). One person in front of me in the check-in line, nobody in the TSA-Pre line, though during the afternoon it's just "expedited" which means shoes, belt and coat stay on, liquids (which were in my checked bag) and laptops out – and the metal detector rather than the body scanner.
Time for one last Manhattan – which I had to teach the bartender at the Copperhorse Restaurant how to make, she:
Didn't know the ingredients
Didn't know that "up" in the case of martinis and manhattans meant shaken over ice
Didn't know that a Manhattan goes in a Martini glass
But it was a good one (when you choose your own recipe it should be good) and she found some AMAZING cherries in the kitchen to go with it (apparently in Montana they don't stock maraschino cherries at the bar). And the bar itself was pretty: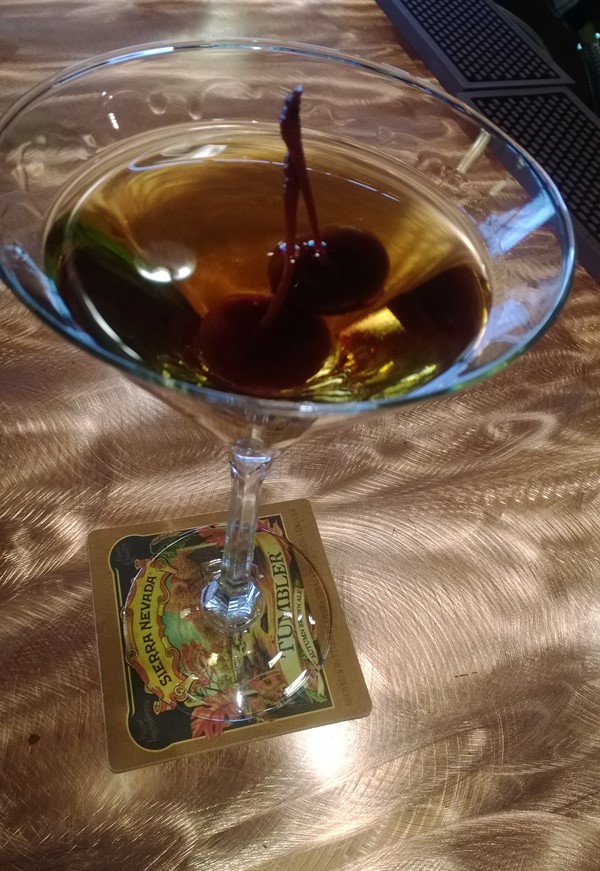 That is a brushed copper bar top. And she called the cherries "Bordeaux cherries" which I'd never heard of, but she brought three of them out for me. Doing a little research – seems that Oregon produces them for sale. Basically they are like the Luxardo cherries ($18 a jar at Madrona Wine Merchants rather than $23.77 with shipping from Amazon that we carry at the shop). Description here and cheaper than on Amazon.
And yes, she got a good tip.
Flight was on time – seat next to me which was empty when I checked in was full – luggage arrived with its wheels still on – found some 30-50% off ribeye steaks on Safeway's markdown rack on the way home from the airport.
All is good.
[211.4 the following morning]