Welcome to land of tourists and touts. Reminds me of my trip to India in 1976 with the masses of humanity. Of course if you start your first day sightseeing at the Blue Mosque then you have it coming.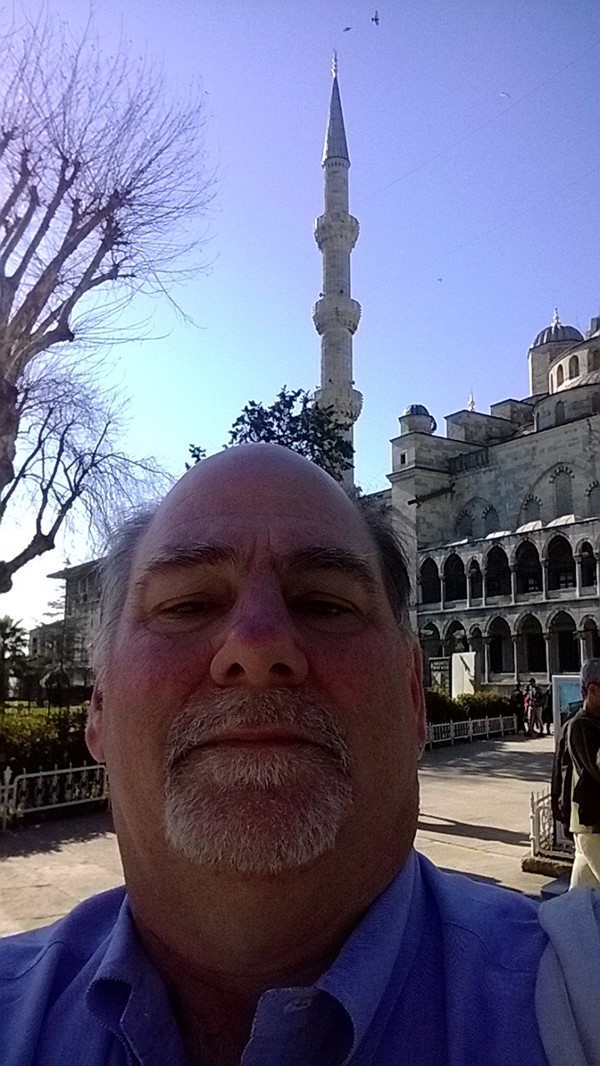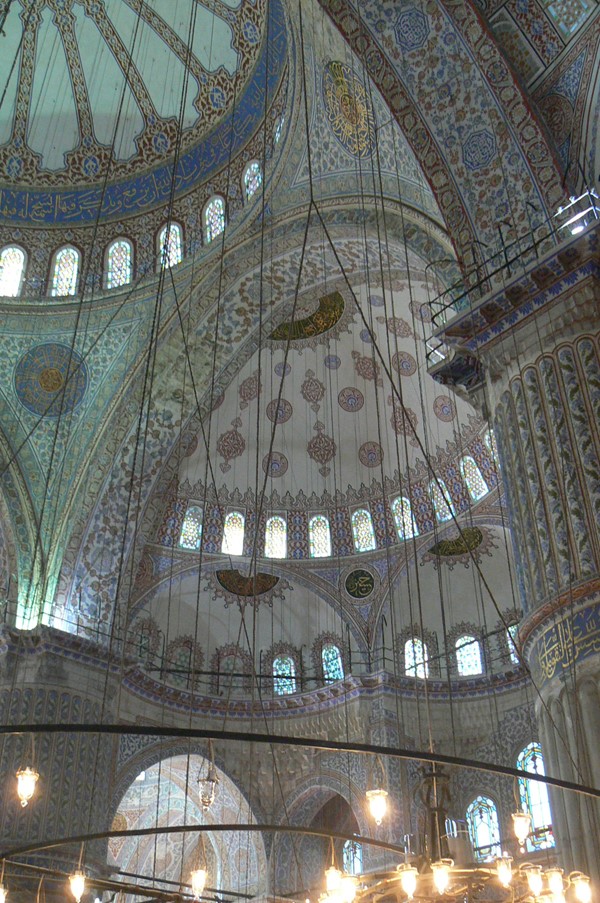 There is some great ornamentation on the mosques, but when your fist overseas adventure was when you were 20-year-old, in India, at the Taj Mahal… that's a tough act to follow.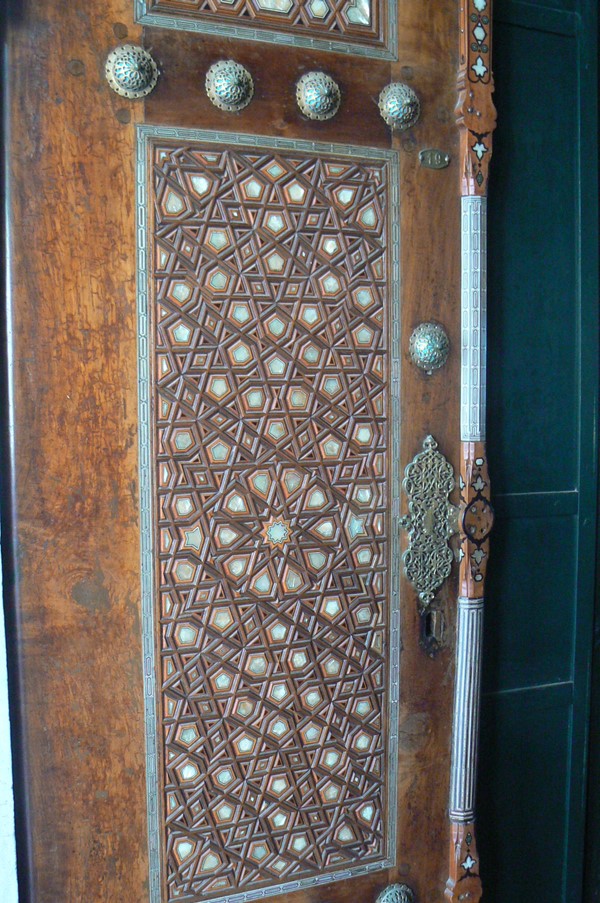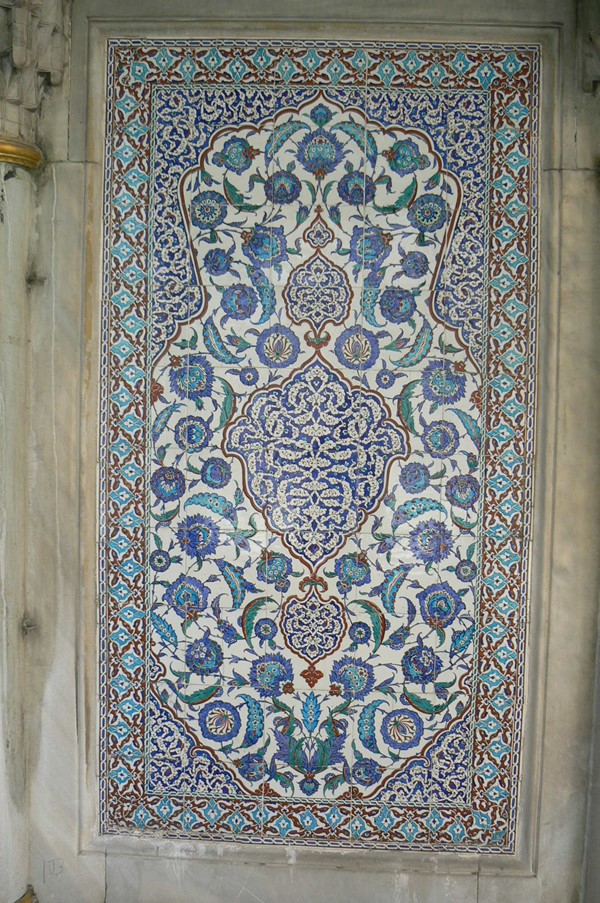 Then it was off to the carpet museum, the tombs and another couple of mosques – I'm starting to feel like Europe and Cathedrals – how many can you see before you start zoning out.
The hotel is a couple of blocks from the T1 Tram line with is 3 lira (about $1.50) each way. It is a VERY popular way for tourists and the locals to get around so when you see this posted, it can get a little crowded: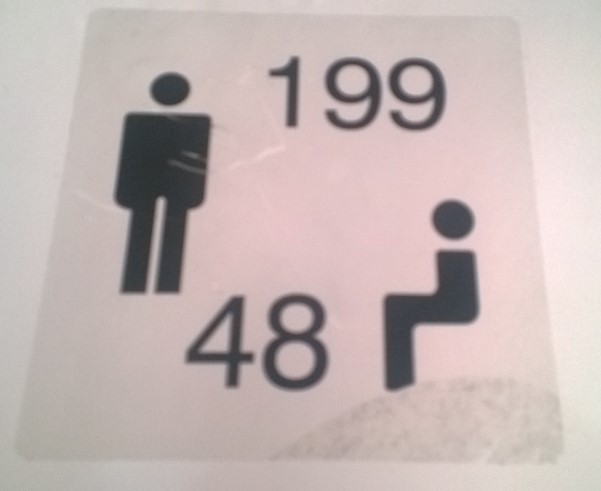 And I've been on several that were that full.
Next up it's off to the train station to try and get my ticket on the overnight train from Istanbul to Bucharest. The first attempt failed. Prices that were quoted a couple of weeks ago had suddenly gone up 30% and my credit card wouldn't run – I blame operator error, I think he was trying to use it in Debit mode. Off to get cash, and more importantly a note from Reception at the hotel, in Turkish, telling him what I wanted. His English wasn't good and my Turkish is nonexistent.
It is political season here with the embroiled Prime Minister Erdogan fighting for his political life as he turned off Twitter on Thursday. When I got back to the train station for round two of trying to get my ticket, I was greeting by this: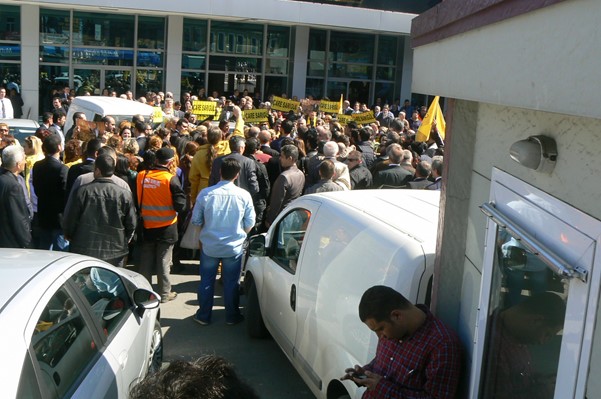 There have been candidates and their sound trucks my most of the neighborhoods I've been through. Nothing like trying to negotiate a ticket with loudspeakers blaring.
And while we are on the topic of politics, I spied this poster from the Tram window: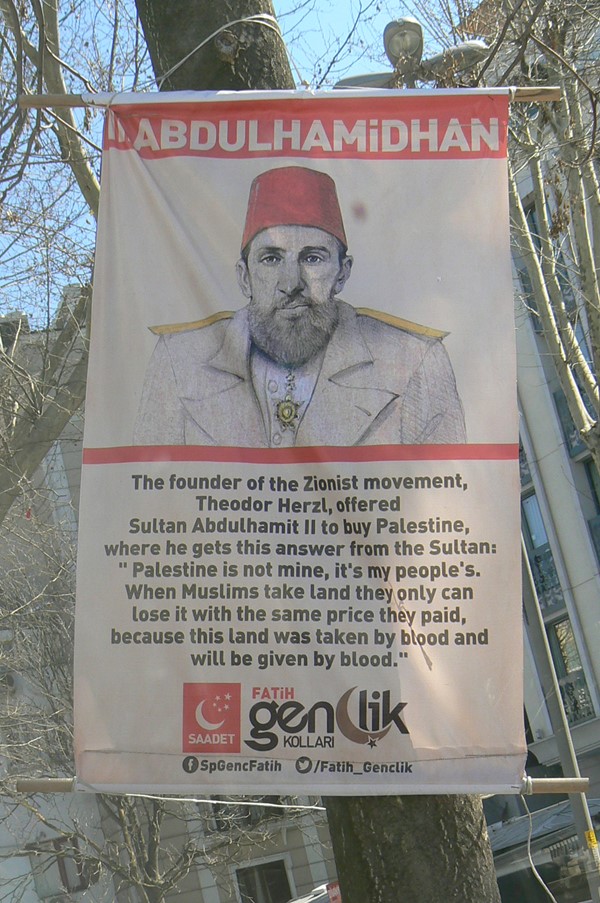 Definitely a Muslim country with many websites blocked – SilverDaddies.com would be an example of one, though Craigslist is up and running complete with MFM (Male For Male) postings under "Casual Encounters" and "Looking For".
By the end of the process I have a ticket TO Bucharest but not the return. For some reason the return was showing up at 220 lira rather than the 194 lira of the outbound – I should have had him just issue it for the extra $12.50 USD. It would have offered me more piece of mind. So, instead of one person in on room, I may be sharing with one other (which is better than the 4 or 6 person rooms) though he said the train was pretty much empty so maybe I'll get lucky.
Next up was the Grand Bazaar to look for a lightweight jacket to replace my lost one. Over the course of two days I attempted to find something in the massive bazaar, even with the map so I knew where the men's clothing section was (luckily close to the Tram line).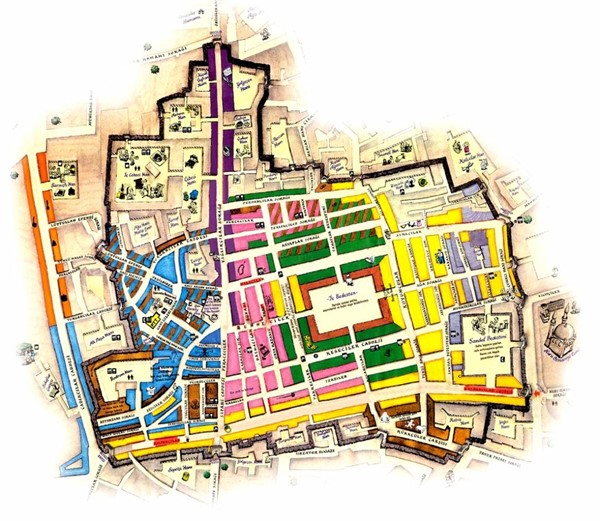 Each of those roads/aisles/etc. are packed with aggressive vendors trying to lure you to their stalls. Same with the Spice Bazaar down near the train station. Or near all the monuments and mosques. It just gets tiring trying to politely say you aren't interested. I think the new plan for the jacket is to head to the Outlet Mall which I spied on my tram tour to the far ends of the T1. And there is a grocery store in the mall as well so that will be good to pick up supplies for the overnight train since there isn't a catering car (which is crazy on a 21-hour trip). That adventure will be my final day in Istanbul for this part of the trip. The plan is to have breakfast on Friday morning in Europe, then take the Metro line UNDER the Bosporus to the Asian side of Istanbul, have lunch, poke around, then head out to the mall for supplies, then dinner, then onto the train (well, the bus to the train) at 10pm having a nightcap at the Bulgarian border on the way to Romania.
One of the things that I like to do when visiting large metropolitan cities (Istanbul has a population of 14 million compared to New York City's population of 8.5 million) – I call it Tram Touring. The idea is that you take random Trams to the end of their line, stopping off wherever it looks interesting. It gives me an idea of how the people live rather than just all the tourist hotspots.
Other topics in random order:
Lots of folks delivering tea and meals EVERYWHERE. Assuming it's so the shop owners who they are delivering to don't have to close down for meals
Man do these people smoke. Yes, you can still get smoking rooms in the hotels
Lots of feral cats in Istanbul, not as many as Athens but still plenty. I've only seen one dog so far, and a refreshing lack of dog poop on the sidewalks. I get Istanbul is a cat city, not a dog city.
Everything seems to move by human power on giant hand trucks – with the traffic I can see why: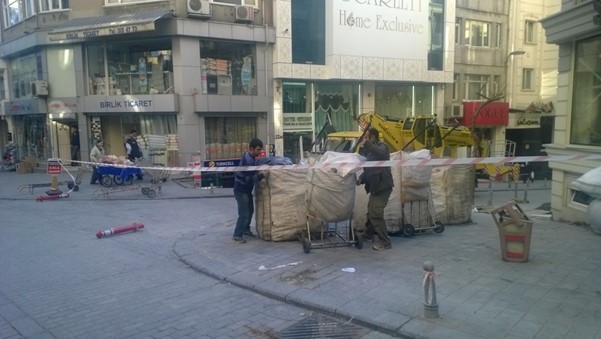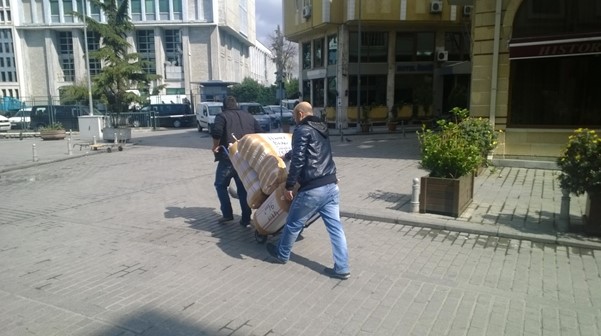 From garbage on the top to textiles below. I'm in the textile district so I've see a TON of stuff being moved around by hand. Seems that each chunk of the inner-city has their own "theme".
I'll close with a short video clip of the call to prayer – a constant background in Istanbul. Six time a day. Here is the schedule. Each mosque has their own call, so the overlapping cacophony can be either calming or jarring.
Click Here For A Short Video:
And a couple of sunset pictures: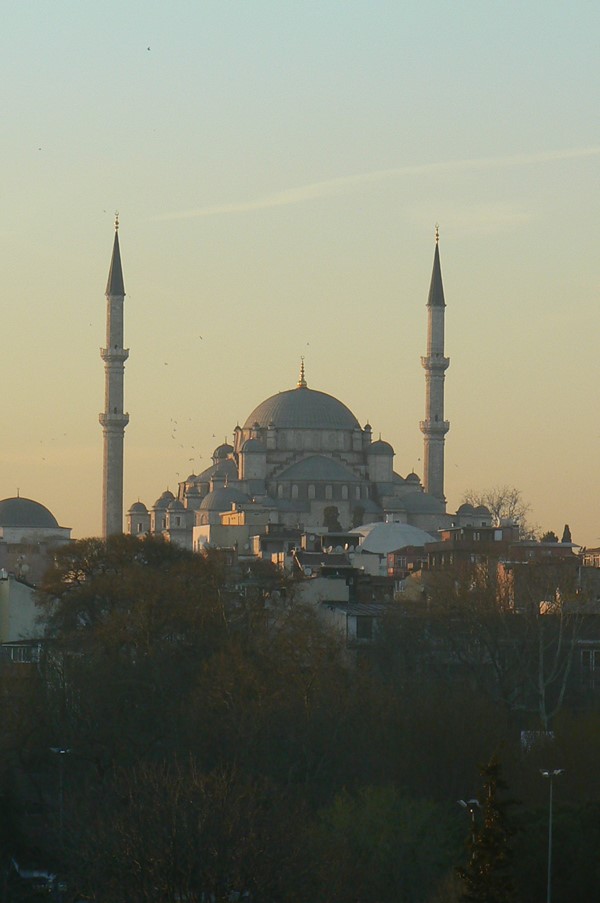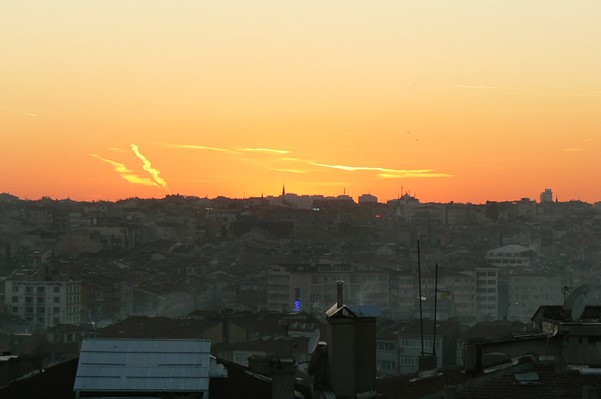 Both of these were taken from my hotel room.
[? ? ?]