How nice to get off at a real train station… multiple platforms… multiple trains.
I feel/felt like I'm back in Europe. One lone fly on the platform hitting up the Berliners for a hotel room, to which they replied, "we have a place and it's already paid for" in English. Nobody hitting me up. No gypsy throngs at the cash machine. Life is good.
A 10 LEI (Romanian currency which would be about $3 USD) ride from the train station to what turns out to be the quiet suburbs of Bucharest near their big Village Museum which is a recreation of a typical Romanian Village if you took buildings from all generations and regions and plopped them down "Dorothy Kansas Style" in a FolkLoric ThemeTown. 300+ buildings – it wore me out just driving past them in the cab. Maybe next time. But for reference, here is a picture off their website: http://www.inyourpocket.com/romania/bucharest/sightseeing/essentialbucharest/Village-Museum_14745v
Think 250+ buildings like this over 15 hectares (about 40+ acres):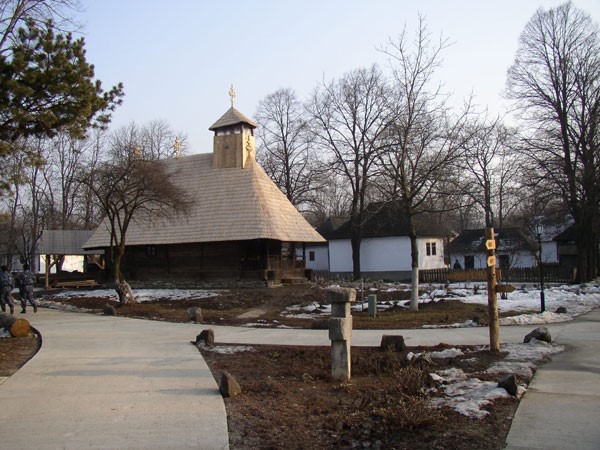 But I digress – you don't even know yet that I didn't make it to the Village Museum (though it's on my list for the next visit).
First I have to get checked in, get ice, shower (because I didn't shower on the train, though I did shave and brush my teeth), then return to the desk for "a clue" as to what to do. Of course he wanted me to eat in "the very good" onsite restaurant, but when pushed he circled a couple of others walking distance from the hotel – which is amazing since I'm in the suburbs.
And then there is the sunset over the new spa building….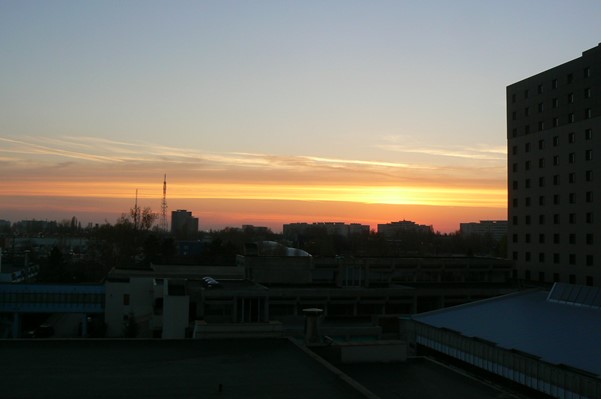 Where I went for dinner – wandering down a road with little traffic and no people, I found the restaurant with NO parking anywhere which meant cars on sidewalks, etc. Turns out they should have had a parking garage according to the brochure I picked up – 500 people inside 400 people on the decks. The food? Serbian. And good.
Taverna Sarbului is the place – I had the onion salad (marinated Bermuda onions, much like Julian made in Portland a couple of months ago) and the lamb, and a glass of Rose – no credit cards so I had to moderate my spending (which is good for me). Here is what the place looks like (but add LOTS of people):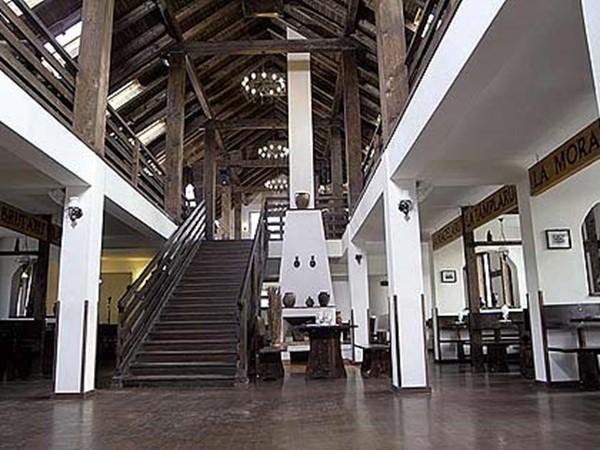 HUGE, noisy, children, but good food.
Home and off to bed – no getting up at 3AM to deal with the border for me tonight.
What the morning held was the oddest of scenes – a HUGE crush of people at the morning breakfast. Heavy on the Germans: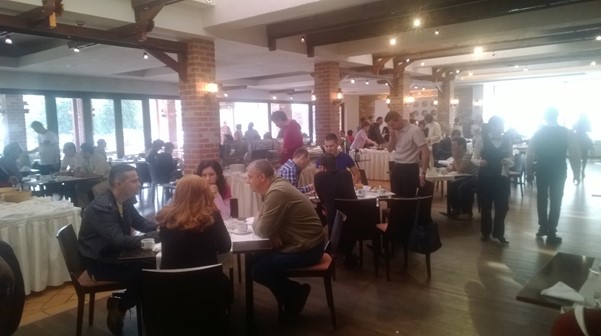 Hopefully it's just because everyone is checking out after a conference. Good food, probably better than the Ramada in Istanbul, but no whole fruit to snag for the return train, though I did spy some hard boiled eggs.
Next stop is BACK to the train station – had I my wits about me when I arrived, I would have picked up the return ticket then. Oh well, gives me a chance to scope out grocery options for the return train. Busy place the train station: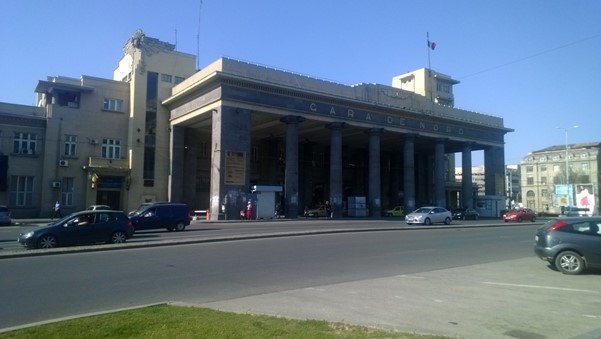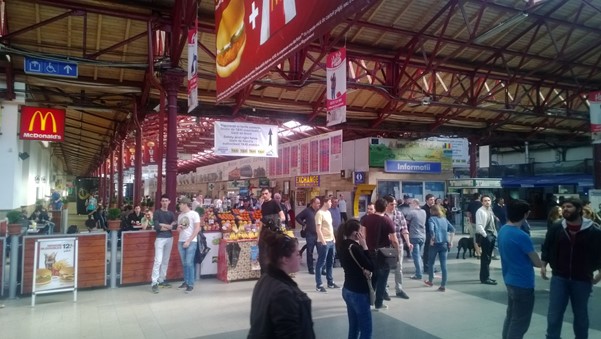 Got my ticket in what seemed like record time – the International Desk in Bucharest quick and efficient – not even having trouble with running my credit card (unlike the Istanbul folks who I believe tried to run it as debit rather than credit).
The plan was to go see the Palace of the Parliament — CeauÈ™escu's massive civil administration building that was to also have contained his personal residence. The residence was never completed because he was thrown from power. According to the World Records Academy, the Palace is the world's largest civilian building with an administrative function, most expensive administrative building and heaviest building.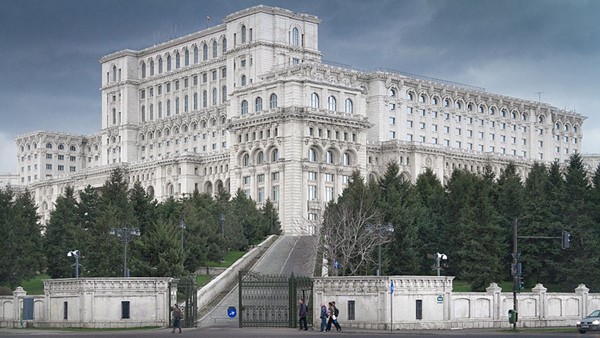 I decided to walk from the train station getting some food along the way – and that was the end of getting to the palace by closing time at 4 – it was after 2 by the time I finished lunch at the Derby Pub and Restaurant. A lovely afternoon meal on the terrace of Greek chicken soup, octopus salad and, shockingly, a Manhattan – I had to see if they could actually pull one off, and they did quite well substituting a wedge of orange for the cherry (which is healthier anyway).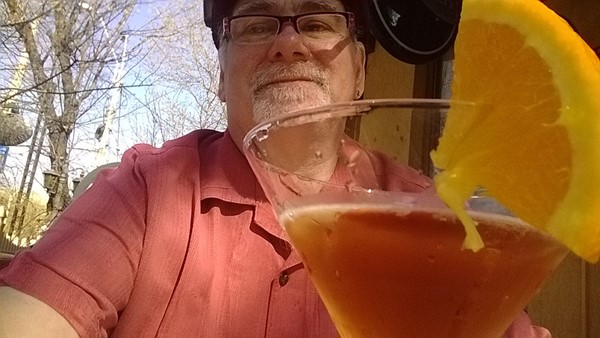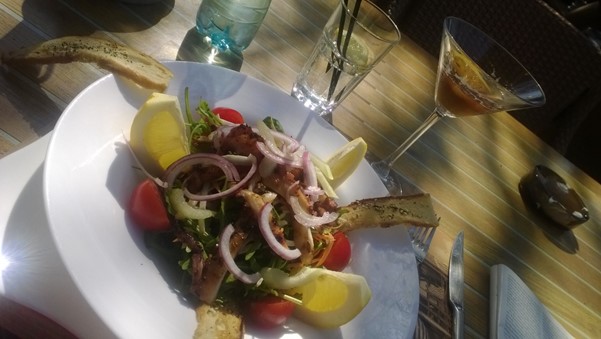 Luckily I had enough cash on me since they only took the chip style card with I foolishly left at home, not following my own advice to travel with one, especially in Europe.
Since it was too close to when the palace was to close I viewed it from a distance, turned around and headed back to the train station to scope out supplies for the train ride back to Istanbul. Found a small supermarket in the arrivals/departures hall that even sells hard liquor – which is good because the Jameson died by the end of my evening.
With that all sorted it was back to the hotel since it was also too late to take in the huge Village Museum which is a collection of 272 of historical Romanian houses and buildings relocated from around the country and set up as a village.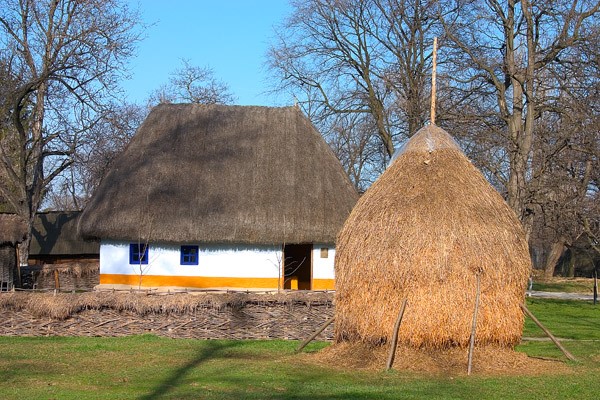 At 100,000 square meters – that's a lot of walking after all the walking I'd already done.
But getting back to the hotel was an adventure in itself as the cab driver was young, new to the city, and instantly got turned around, even with his GPS. On the bright side he instantly kicked off the meter and told me he take me to the hotel at no charge since he screwed up. And he let me take a picture of him: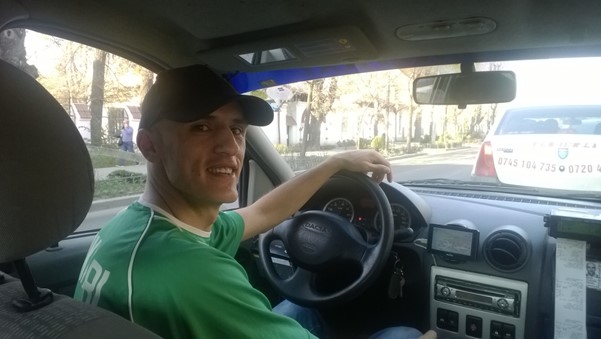 When we got back to the hotel – after a really nice conversation as well – I paid him the 10 Lei that the fare would have been even though he turned off the meter. This experience just amplifies my feeling that the Romanian people are friendly and helpful – not unlike the desk clerk on the first night with all his suggestions.
After what I'd spent on lunch I decided to finish the rest of the supplies from the train trip from two days ago, thought about supplementing with a salad from downstairs, and in the end just went to bed early.
Next up, the return train to Istanbul.
[? ? ?]