Checked out of the hotel at10:30, was to the train station a little before 11 – two hours before my train. Probably way too much time but better safe than sorry.
As the last shot from Bucharest – here is where I'd like to be doing my banking.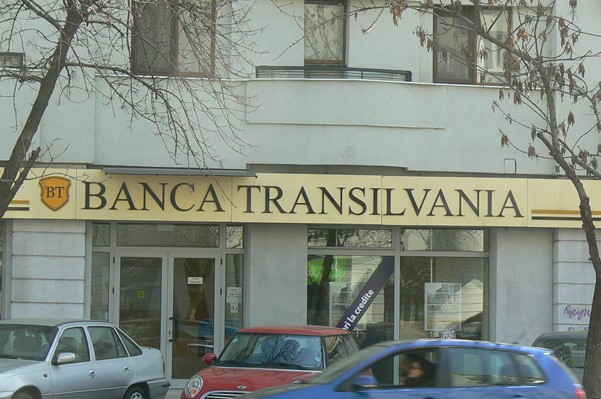 Shades of Young Frankenstein!
Having scoped out the shops yesterday, it's just time to assemble the goodies for the train trip:
(2) 1-liter bottles Coke Light
(2) 500ml sparkling water
(1) 700 ml Greek Brandy
(1) 200ml Pear Brandy (to take back to the states)
(1) 200ml Plum Brandy (also to take home)
(20) Spicy Wings from KFC (a bucket worth – good either warm or cold)
Now I have FOUR bags to get on the train:
Suitcase
Briefcase
Shoulder bag
KFC bag
I should have gotten a picture of that pile. Luckily to suitcase also functions as a hand truck.
The train boss, the train…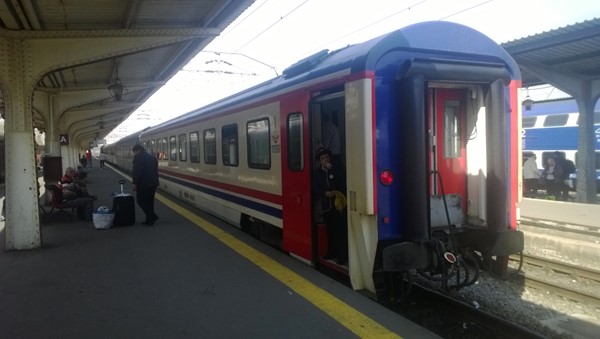 That would be the couchette card – no beds, just seats.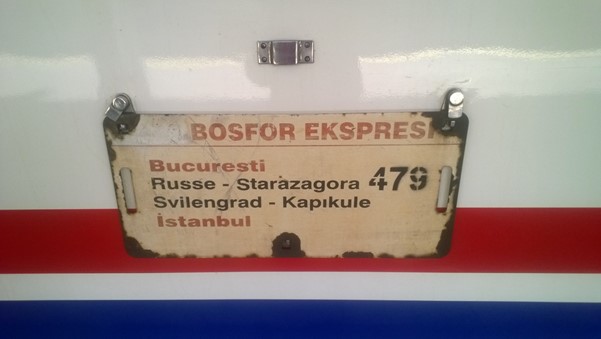 Technically my car is 478, but its sign isn't as pretty. After a little run-in with a panhandler (let me help with your bags) I got settled into the compartment – pretty much the same layout as the last one, just different veneer. And then came a young American girl with the room attendant… apparently they had put her in the top bunk of my cabin. Seems this was what was on MY ticket:
Woman. Why they sold ME a woman ticket, I'm clueless, unless the ticket agent was trying to set us up since she bought her ticket the same day. And which all the empty compartments, why double up at all. The room attendant moved her next door.
One of the first things I noticed was that there were more "amenities" on the southbound train — complete with a sealed baggie with washcloth, soap, toothbrush, wipes, etc.  — and paper towels in the dispenser in the bathroom! Dwight will be getting the amenity kit for his train collection.
In short order, the bar is set up but now that I know the routine I didn't bother with locking the luggage to the rack: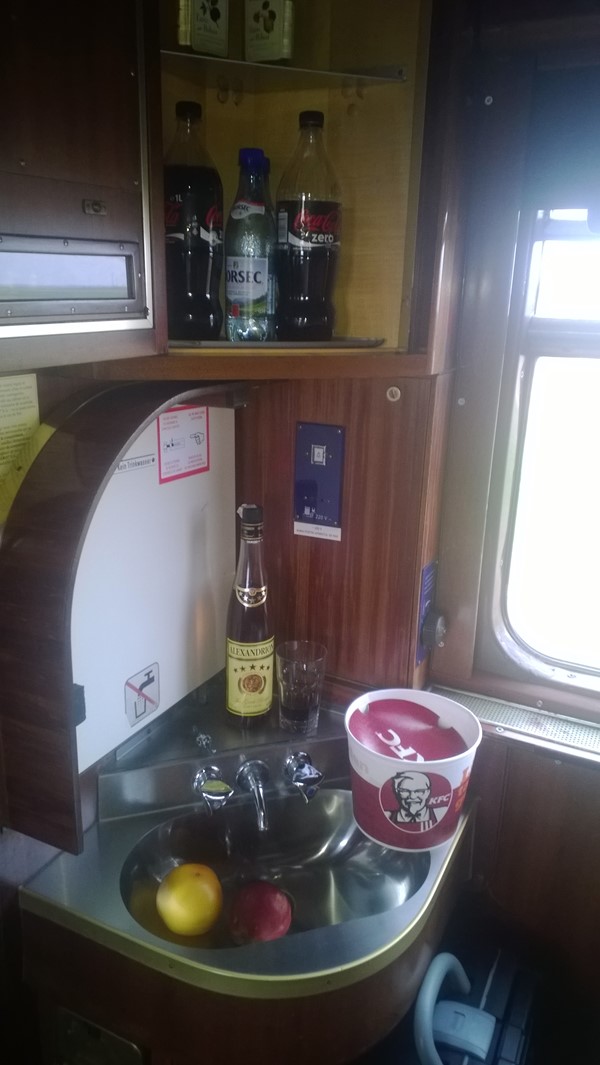 And time to meet the neighbors Eric (British) and Chandi (Texan):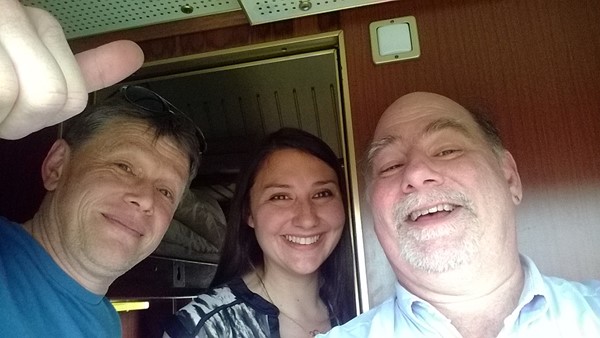 It wasn't long before the room attendant moved Eric next door to Chandi who was next door to be since we were all getting along so well. Eric is on a week's holiday between jobs, and Chandi just finished up six months of living in Spain, working as an au pair and learning Spanish. Lots of lovely conversation as we share a little food and drink. When it was time for me to bow out, they got this great shot of me…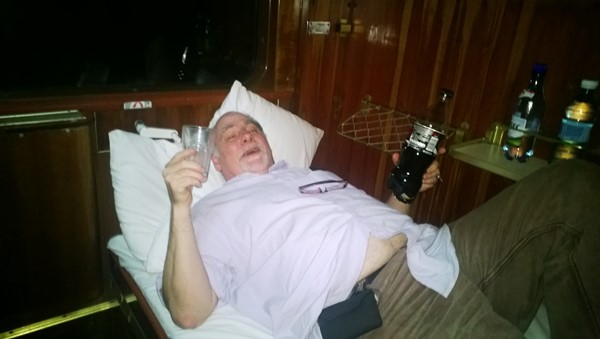 Which was shortly before this: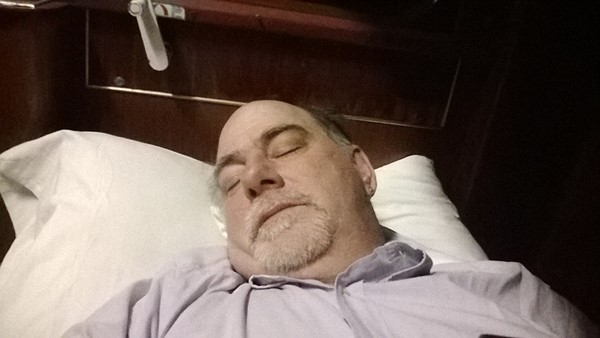 The first border stop was in Romania to get out passport stamped to get out, then 10 miles later, in Bulgaria to get our passports stamped to get in, then at 2am in the morning to get our passports stamped to get out of Bulgaria, then 3am to get stamped to gain entry to Turkey… and there is where the fun began. While Chandi and I had electronic visas for Turkey, Eric did not, nor did two other people on the train. And the visa office at the train station wasn't open… finally one of the guards DROVE them to the car/truck crossing so they could get a visa. Those three got a pretty sticker in their passport – all Chandi and I have is a crappy piece of paper with a barcode. Sigh.
And then there was the Midnight Express (the 1978 movie about an American college student arrested and thrown in jail for trying to smuggle drugs out of Turkey) aspect to the final border crossing as the room attendant wanted Eric and Chandi to buy him four cartons of cigarettes with dollars that he had. And here is the tatty Duty Free store: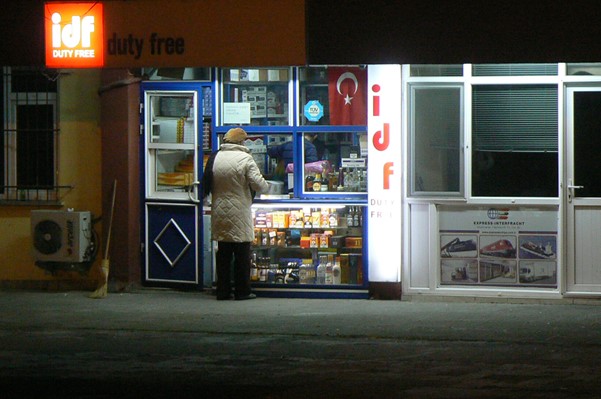 Lots of inspections – even of mine and Eric's luggage. Needless to say, that put us a bit behind schedule.
And a better shot of the terminus of the current train station: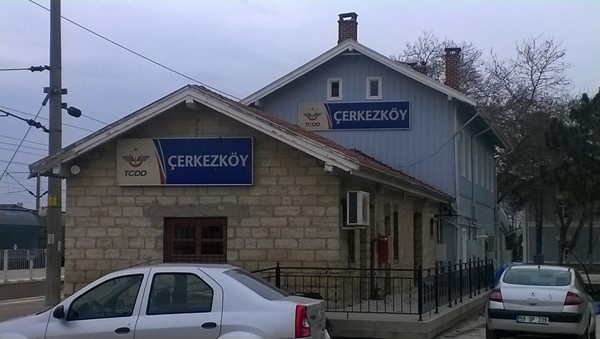 Our scheduled arrival in Istanbul was to be 7:50, in was closer to 9. Grabbed my bags, headed to a bank machine (because when I bought my Jamesons at Duty Free I paid in Turkish Lira and they gave me change in Euro – there went my cab fare Lira, then to the cab stand for the ride to what I think is the suburbs to a Radison that has a free airport shuttle.
And we'll pick up the story from there in the next post.
[213.4] Middle of the afternoon in a wet Speedo