Many of my friends just shake their head at my mileage-run antics. The question is "why?" I think part of the answer is "Status".
Why is Status important? Because when the flight poo hits the fan, you are much further up the food chain to get back on track.
It was early in my last evening in Istanbul when I got this text:
"Flight Cancellation – UA 47 departing FRA".
This is NEVER good – especially when you are on a partner airline flight to get to Frankfurt from Istanbul. Logged into United… nothing, then 20 minutes later my reservation was changed… instead of leaving Frankfurt on Thursday – they had me schedule for SUNDAY, with no word on how I was to get from Houston to Seattle. Oh shit, oh shit, oh shit.
Call to the local Istanbul United representative – I'm sorry, we can't change routings, you need to call the US number.
Initial call to the US number said that I needed to call Turkish since my itinerary started with them.
Call to the local Turkish Airlines representative – I'm sorry, they cancelled part of your itinerary so we can't even get you to Frankfurt. Call United.
Well – there went the calls that were merely 50 cents a minute using the hotel phone (not counting the call to the US United number at $2 a minute).
Back to the expensive option of calling United in the states. That would be from the cell phone as international calls were more expensive from the hotel phone Apparently there was labor dispute at the Frankfurt Airport, though that doesn't explain why Turkish is still flying but United isn't.
So, the status part… dedicated phone line to United's Platinum Desk – basically NO wait time getting to an agent who could actually fix the problem. She got me rerouted leaving Istanbul 10 minutes earlier, but through London's Heathrow airport, then to Houston, and onto my original flight from Houston to Seattle which I'd already been upgraded to. The only hold time was with the "fare desk" having to manually enter my ridiculously cheap airfare ($613 round-trip) – but 30 minutes later I'm booked and done. Well, 30 minutes and about $60 in cell phone charges. Beats showing up at the airport at the desk and trying to work through it in "English As A Second Language" when they can put the blame on United and even though they are Star Alliance, Platinum means poo to them.
I did the math later (as I'm shooting for Million Mile mark on United before summer) – the new routing nets me TWO less miles, something I can live with much easier than missing a weekend of work at the wine shop and pissing Jim off.
Off to bed I go – because it's a 4AM wake-up call (for either routing).
A surprise at the desk in the morning – if I can wait 15 minutes there will be a Turkish Airlines shuttle picking up people who missed their flights last night. Well, that saves me 40 Turkish Lira ($20). The downside is 20 minutes less in the Turkish Airlines lounge which is the most over the top airport lounge I've ever been in (that's another bonus of "Status" – lounge access on international flights: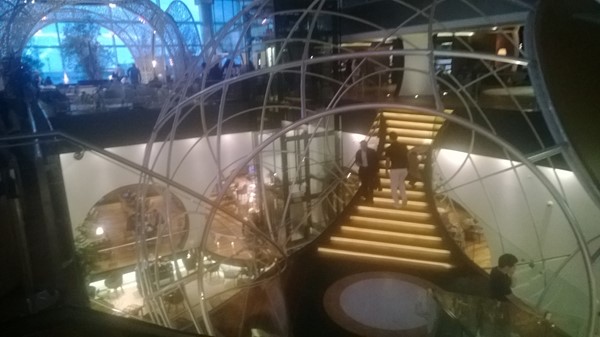 The Atrium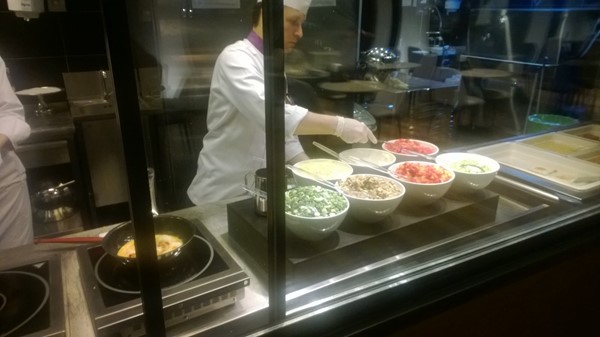 The Omelet Station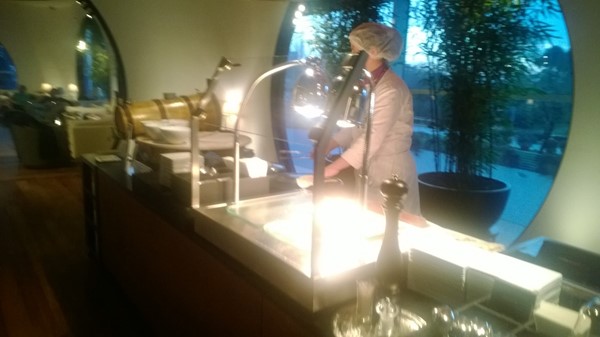 The Quesadilla-like Station, fresh made tortellini in the afternoon
One of many "help yourself" bars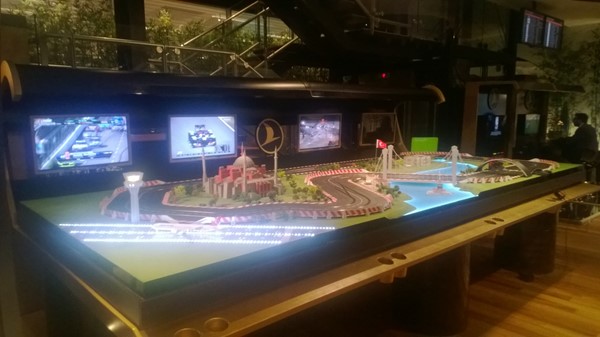 The slot-car race track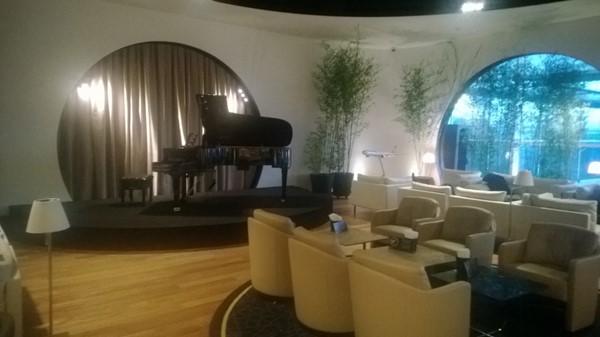 One of two player grand pianos (one on each floor)
Big-ass Macs (and printers) for people to use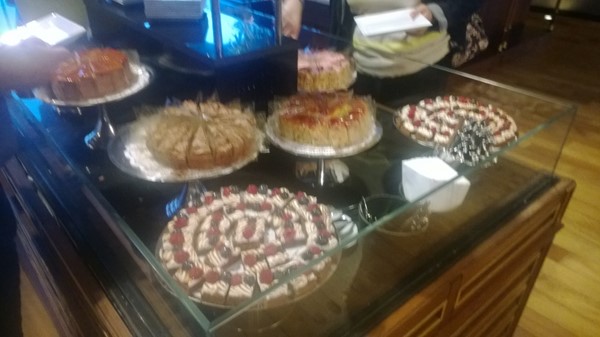 Need dessert?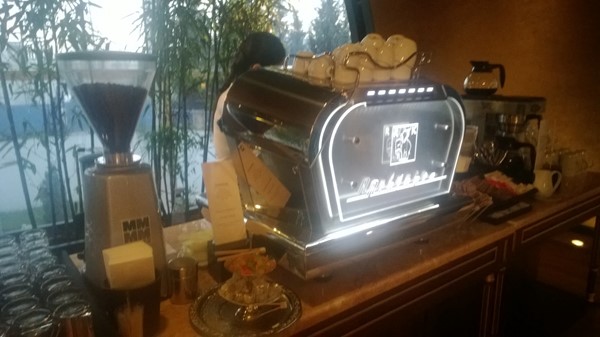 Need espresso, coffee, or Turkish coffee?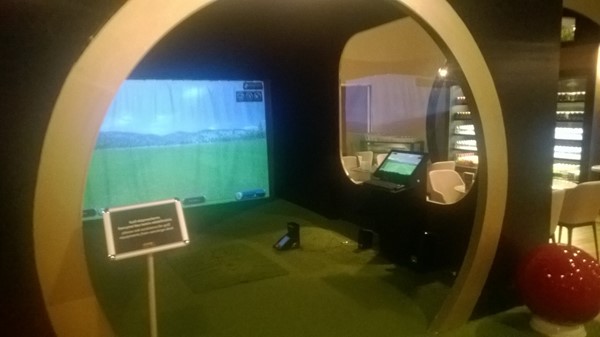 Maybe do some virtual golf?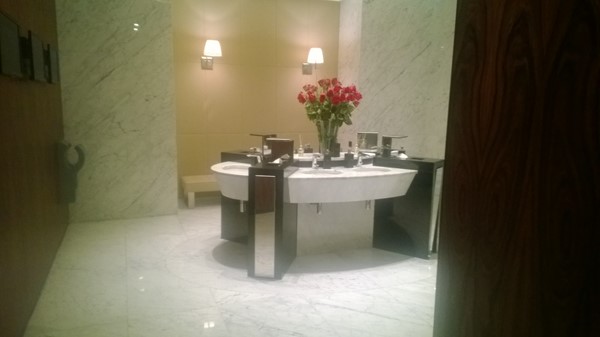 Or maybe just wash up in the men's room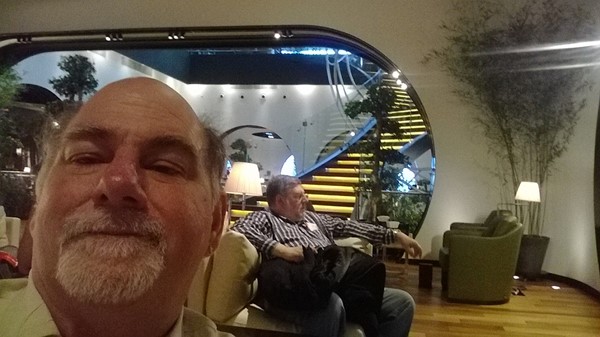 Or a selfie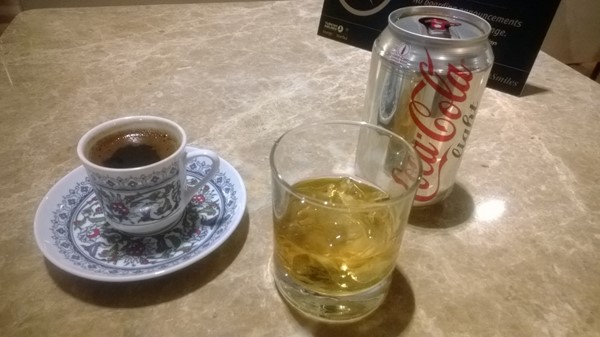 With my Turkish Coffee, Woodford Reserve, and a Diet Coke on the side
Should you need honey for your yoghurt – oh look, there is a dripping honeycomb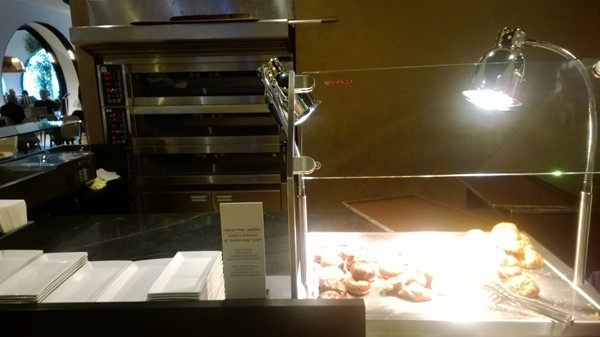 Or the pastry bake station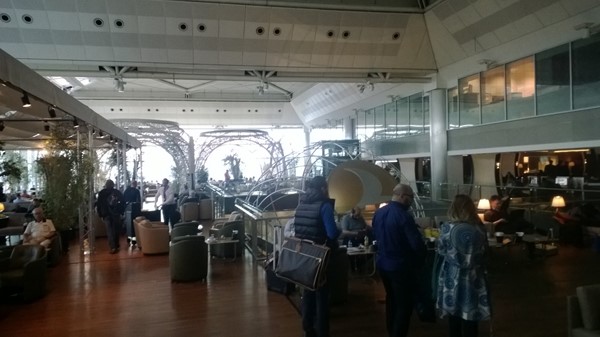 Or maybe just an overview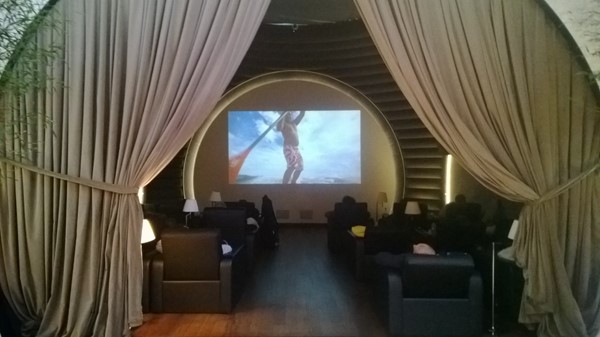 Or the movie theater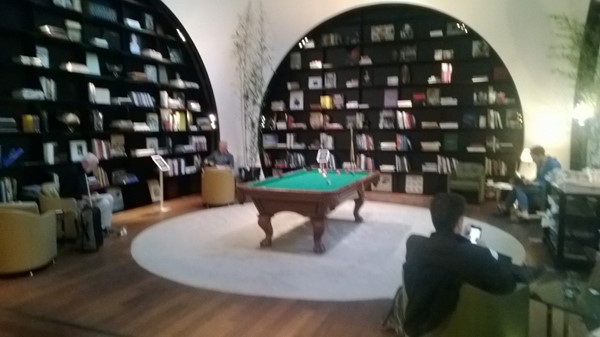 Or the library with the pool table….
Never have I taken so many photos of an airport lounge. Before the flight I popped out and bought some Turkish Cigarettes for the freezer (for my smoking friends I like to have unusual cigibutts on hand for them) using all put 3.5 Turkish Lira that I had on me…so that's where the cab fare went (well, almost twice that).
Now, by comparison, here is the lounge at Heathrow, which oddly is a SkyTeam lounge from Continental's past but now with access to United fliers – but NO reservation/resolution/seat-change services: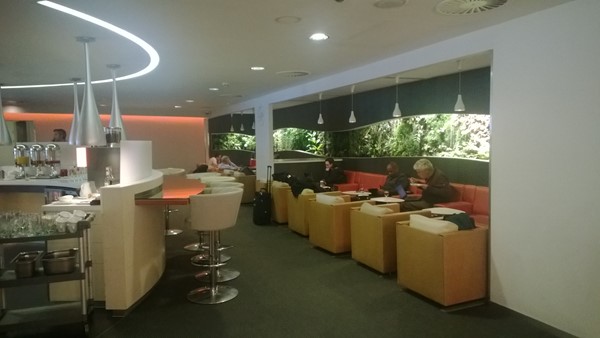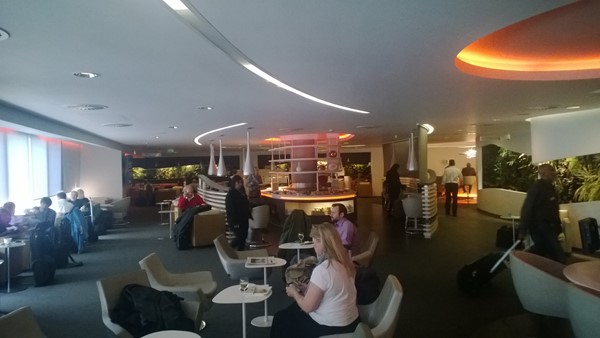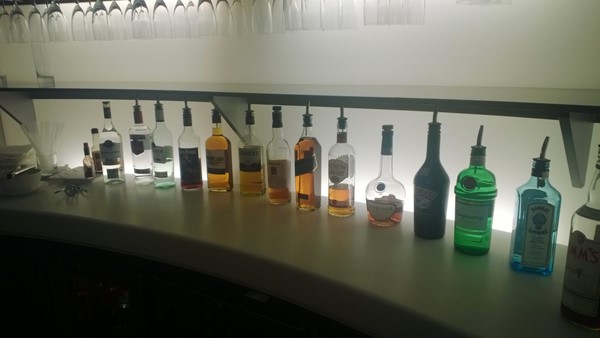 Nice (Arberlour rather than Woodford Reserve as the drink of the morning) but after the Turkish Lounge in Istanbul…well…. Also two floors, but the section of food… well, less. But free is free.
Sort of odd to be in public transportation where English is the first language – apparently 9 days has made me more sensitive… off to catch my flight to Houston, where I miss an possible upgrade by one seat, but it's OK, as it turns out I've got two to myself…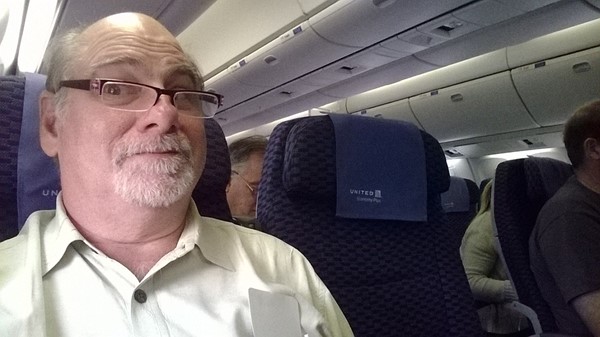 A very light load to Houston – not surprising since there was another flight, same itinerary, just over two hours earlier. Here is my view: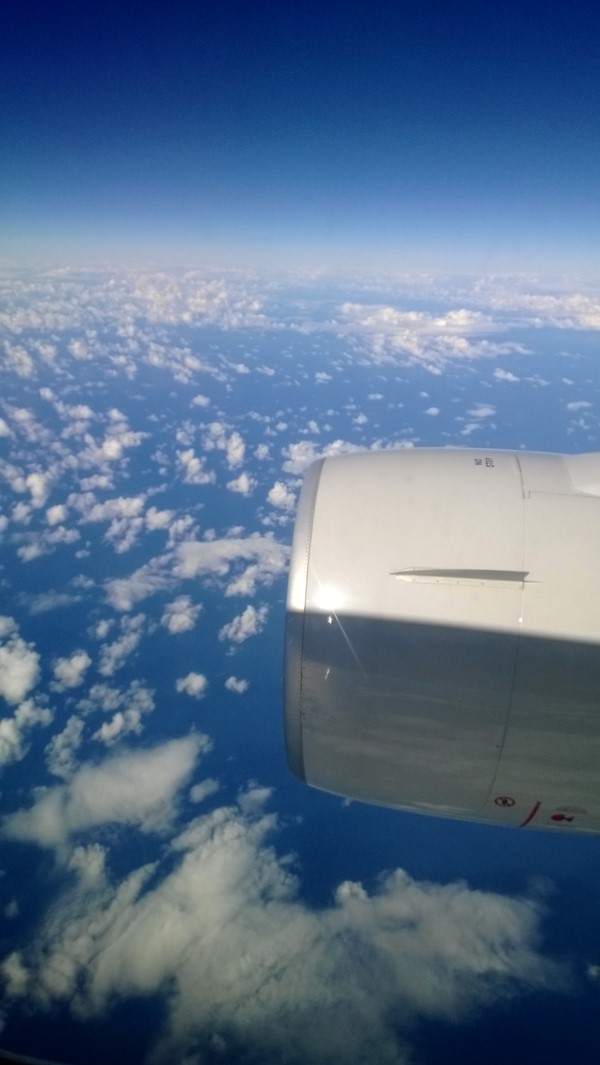 Of course, that was AFTER the lightning strike to the nose of the plane. A nice BIG crack and boom. Flight attendants on quick – saying no worries, pilots will be on the intercom after they get close to cursing altitude….guess is bad to yell "YOOHOO".
The plane got off a little late…and we LOST time in the air, usually you GAIN, so by the time we hit Houston I'm an hour late and have to do immigration (thank goodness for Global Entry – spend the $50 for Nexus and get Global Entry free, or just pay the $100 for Global Entry if you aren't in a northern border state) which was like a minute (compared to the 30+ minute line I saw), wait for the luggage, breeze through customs… and then a line. No tsaPRE after 7PM in Houston for transferring passengers.
No time to check out the Houston lounge as it's the slog from Terminal E to Terminal C and only 45 minutes to departure…yes, I'm hot and sticky by the time I plop as the last person in First Class into my seat and beg for a Jack on the Rocks.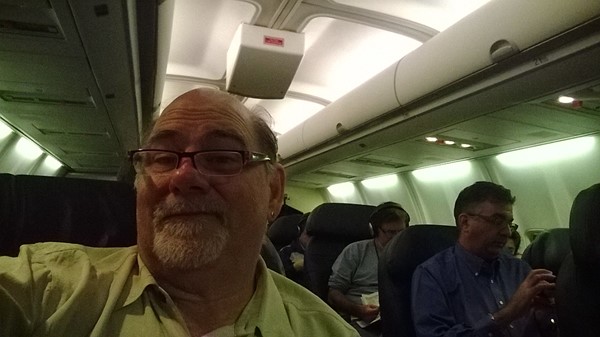 Nice guy next to me – coming home from Switzerland. Me – I'm happy to have made my original final flight. Four hours and I'm back in Seattle grabbing bags and grabbing a cab home.
And our second good cabbie story of this trip – Indian cab driver, no surprise, Sikh, no surprise. Flawless, non-Indian English, not used to. He moved here at age 7 – and finally I can ask the question I've had for years after a news report… is the pronunciation of Sikh "seek" which is what I learned at 20 in India/Nepal, or "sick" which I heard on a news report a couple of years ago…turns out "sick" is the winner. Great guy – spent the entire trip taking about flight deals and how to travel as a POS (person of size) since he was 6'4″ and 410 and goes back to India with the family once a year.
It's almost one when I get home (and I stay up until 2:30) so that I can deal with the MOUND of mail from the last ten days: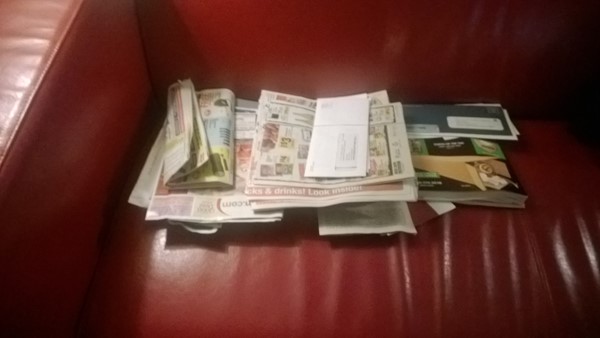 And what I threw out…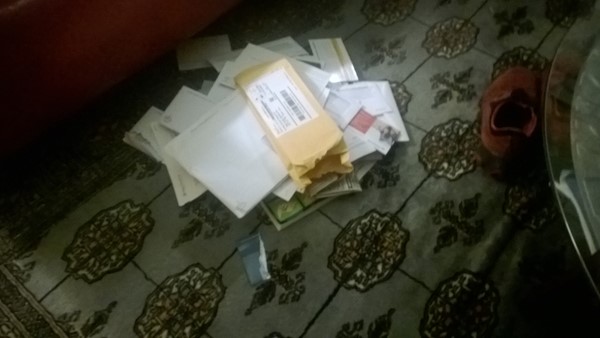 Three bills, one person note from Swanda's sister thanking me for the gift of toiletries for her church who makes packets for the homeless, and a couple of things for one of my "registered agent" clients.
I'm home, I'm off to bed.
[210.2] Friday morning, after the fact, but not bad considering the road carbs.