Well, it's that time of the year again – time to read those pesky scholarship applications for the Mark Stephen Souder Scholarship For Information Dissemination. This year the scholarship is kicking off a grant of $2,688. The cost to attend Evergreen full-time? Out-of-state (which gets you an extra point on the grading scale) $35,856, In-state is $22,803. Those numbers include tuition & fees, books & supplies, and room & board. And this is at a STATE school.
This year we had 14 applications to read, almost double last year's number, but closer to the average of what we usually see. 8 out of the 14 are fresh from high school or GED. Also pretty typical since many of the other scholarships don't except applications from incoming freshman.
Here are the scholarship criteria:
Offered to a new or currently enrolled student attending full time who demonstrates an interest in information dissemination (e.g., writer, web designer, teacher, musician, activist; anyone helping to influence the way people think about their world) to change the concepts of "nons"—non-residents, non-Caucasians, non-heterosexuals—to create a more equal, intelligent and compassionate society. Preference will be given to non-resident gay or lesbian students demonstrating quality and creativity of prior work in the area of information dissemination. Financial need will also be considered.
And here is how we score them:
Financial Need:Â Â Â Â Â Â Â Â Â Â Â Â Â Â Â Â Â Â Â Â Â Â Â Â Â Â Â Â Â Â Â Â Â Â Â Â Â Â Â Â Â Â Â Â Â Â Â Â Â Â  1Â Â Â Â 2Â Â Â Â 3Â Â Â Â 4Â Â Â Â 5
Quality of Introduction Letter: Â Â Â Â Â Â Â Â Â Â Â Â Â Â Â Â Â Â Â Â Â Â  1Â Â Â Â 2Â Â Â Â 3Â Â Â Â 4Â Â Â Â 5
Quality of Recommendation Letters: Â Â Â Â Â Â Â Â Â Â Â Â 1Â Â Â Â 2Â Â Â Â 3Â Â Â Â 4Â Â Â Â 5
Quality of Portfolio:Â Â Â Â Â Â Â Â Â Â Â Â Â Â Â Â Â Â Â Â Â Â Â Â Â Â Â Â Â Â Â Â Â Â Â Â Â Â Â Â Â Â  1Â Â Â Â 2Â Â Â Â 3Â Â Â Â 4Â Â Â Â 5
Award one point for each of the following:
Non-Resident
Non-Caucasian
Non-Heterosexual
Point Total for "Nons": Â Â Â Â Â Â Â Â Â Â Â Â Â Â Â Â _______
TOTAL POINTS FOR THIS APPLICANT: Â Â Â Â Â Â Â Â Â Â Â Â Â Â Â Â Â Â Â Â _____________
Here is the venue for the scholarship reading: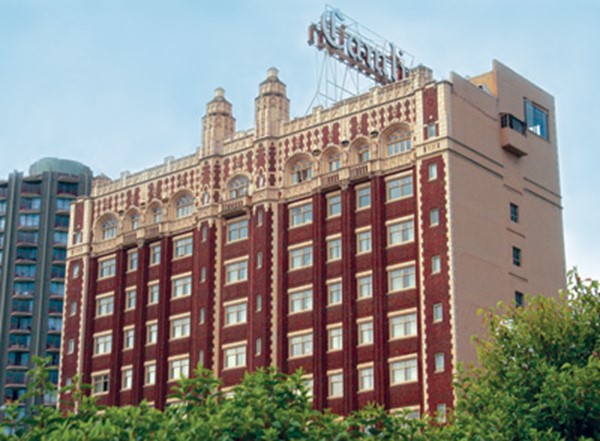 We were in one of the Courtyard Studio Plus units. But you can't grade papers on an empty stomach…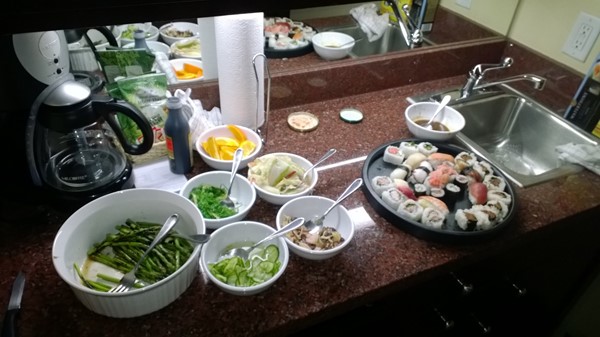 And I baked a couple of loaves of bread to go with the various spreads. Rum and mixers were the cocktails – need those too!
The panels of readers: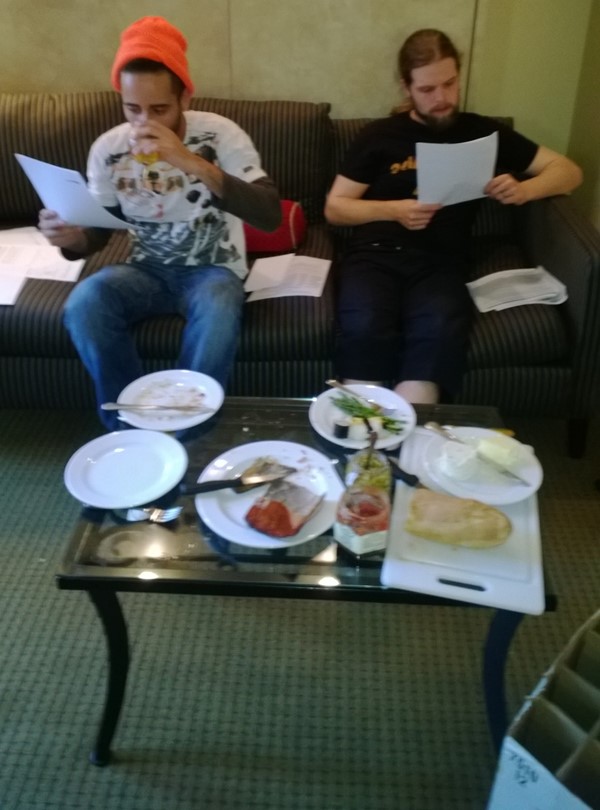 Xander and Roxy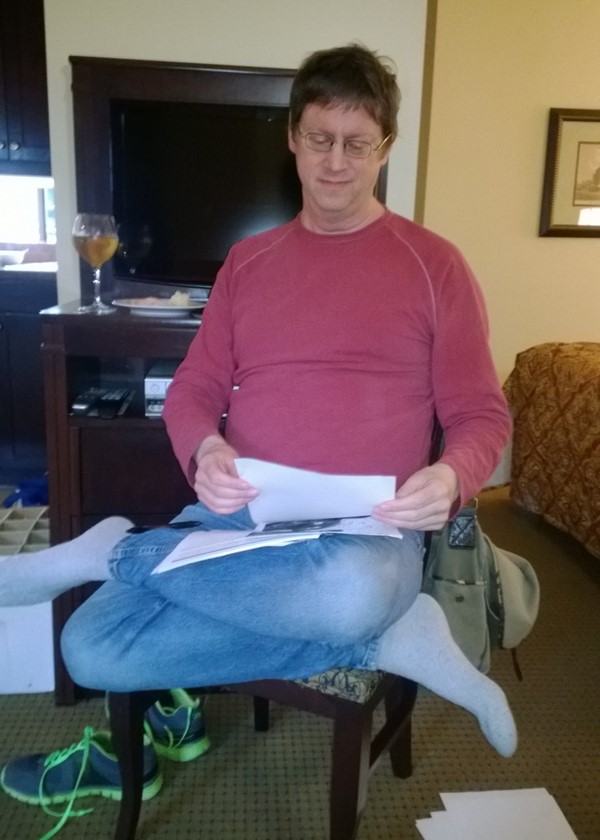 SalamanderHellBender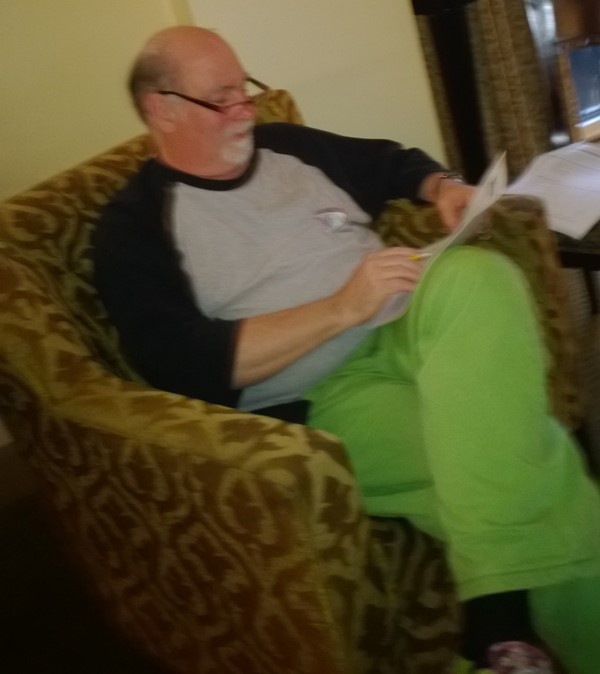 UncleMarkie
And the results? Here is the chart reflecting each of our ratings – pretty amazing how they mostly track to each other: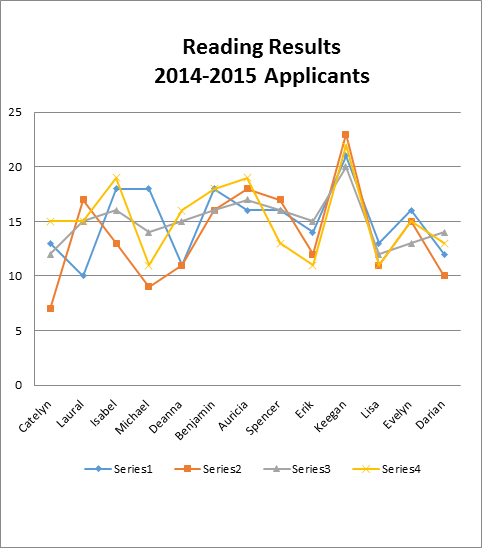 I attribute the mismatch in the first couple to getting our sea legs. The translation to the Series numbers is I'm 1, SalamanderHellBender is 2, Roxy is 3, Xander is 4.
After all was said and done, it was time to clean up – think we used 90% of the dishes in the place.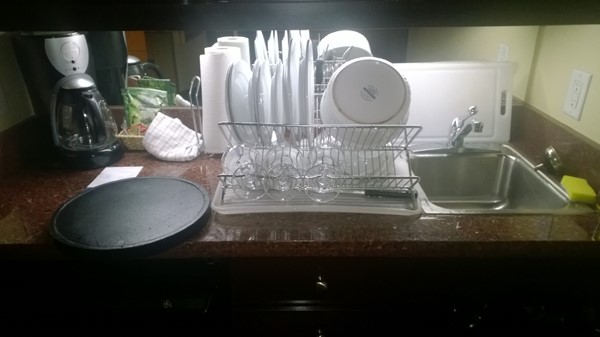 Called for a 4am wakeup call – I have a 7:30am mileage run to Hong Kong.
[207.2]