Yep, I'm at it again – spending hours flying for no reason other than the miles. Destination? Hong Kong for 15 hours.
Off to a good start in the lounge, even considering the hour: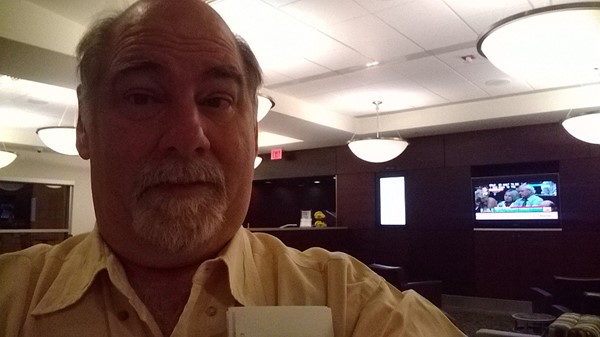 But I noticed this on the way to the gate – TWO United flights, both to San Francisco (not unusual), but at the exact same time (unusual, and I'm guessing confusing for some):
Got upgraded to San Francisco, bulkhead window next to a dead person: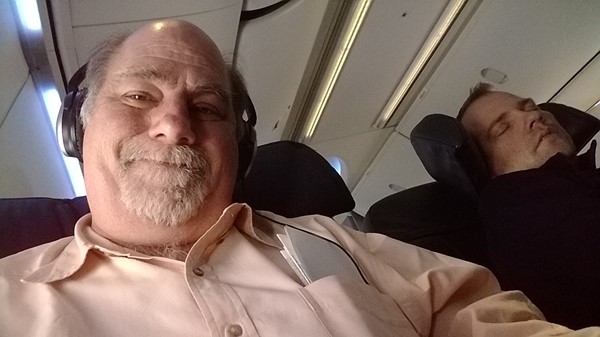 Plenty of time in the United Club in San Francisco to get a little buzz on to facilitate sleep on the Hong Kong leg. Premier Gold (and above, I'm Platinum this year) get free access to the lounges if their itinerary includes international legs: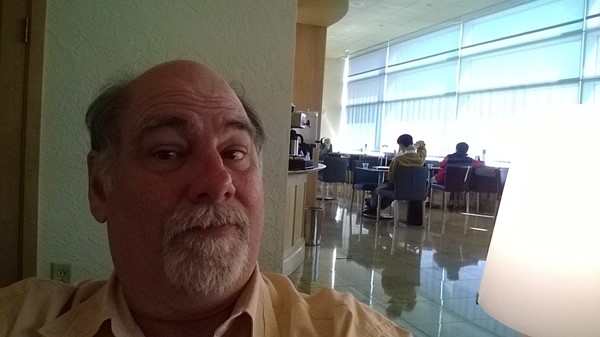 The downside of the United Club locations in the states is that while they offer free booze, the food selection is minimal at best. Yep, lots of United planes leaving today: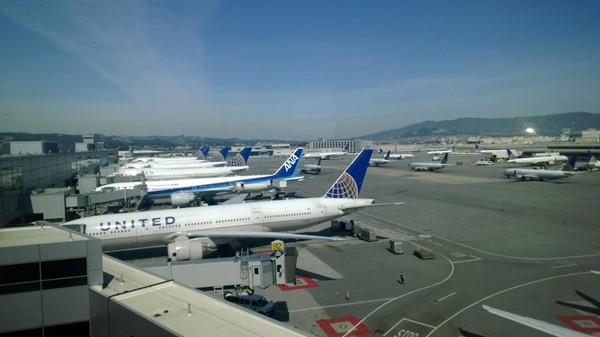 And mine even had two spare seats between for added comfort: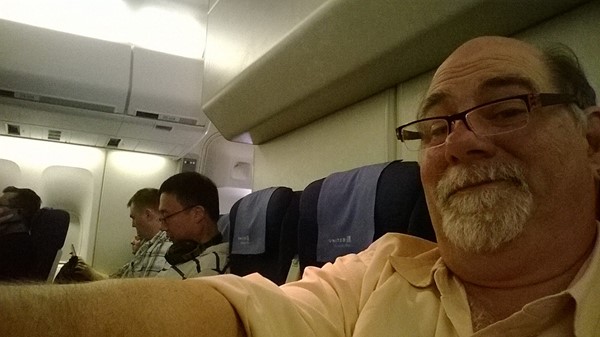 But it was an older 747-400 without any seatback entertainment – good thing I brought a book…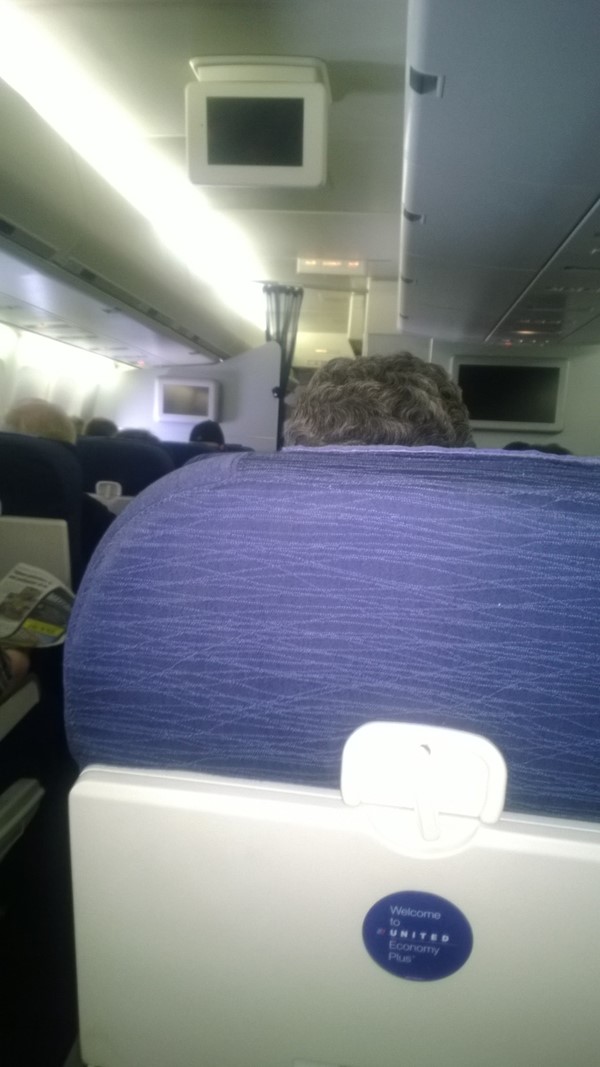 One dinner and a movie down, a little whiskey and Ambien and I'm out for 6 of the 12.5 hour flight – arriving in Hong Kong a little before seven and headed to the airport hotel for a shower, some duty free drinks and a really good fish and chips dinner from room service: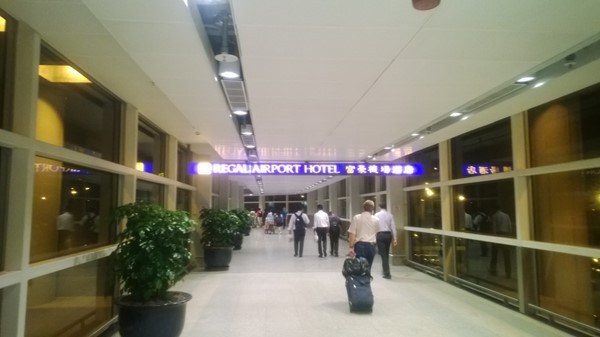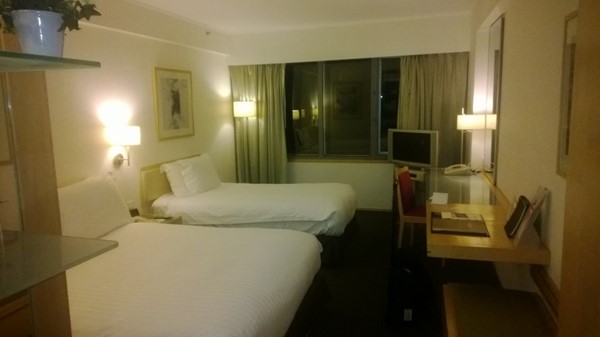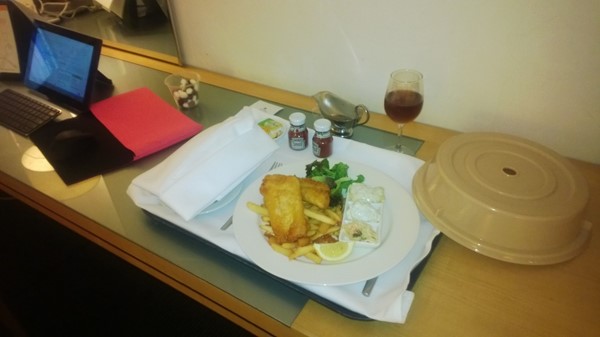 Not cheap, but I had a bunch of Hong Kong dollars from previous trip. Money well spent (and half of rack rate) compared with hanging out in airport lounges overnight.
Up in the morning for a quick stroll to check in—arriving just as they were getting set up. Short immigration and security lines and ready for the long walk to the lounge for breakfast.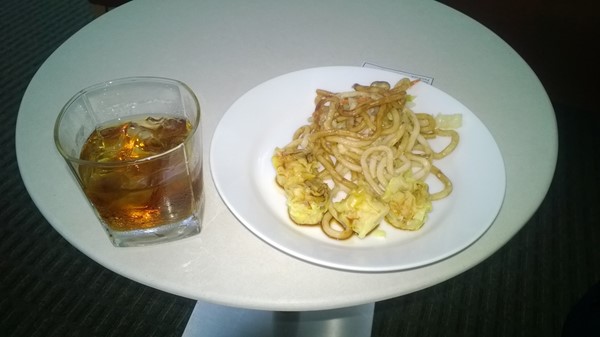 That would be an Early Times (for the early morning) and Diet, noodles and pork dumplings. The Hong Kong United Club is actually one of the better lounges: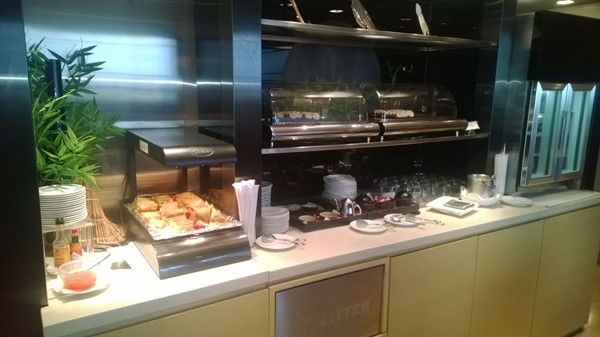 But alas – time to get back on a plane, this time an ANA 767-300 (which unfortunately doesn't count towards my lifetime miles with United) with in seat entertainment and a pretty seatmate for being stuck in the window seat again…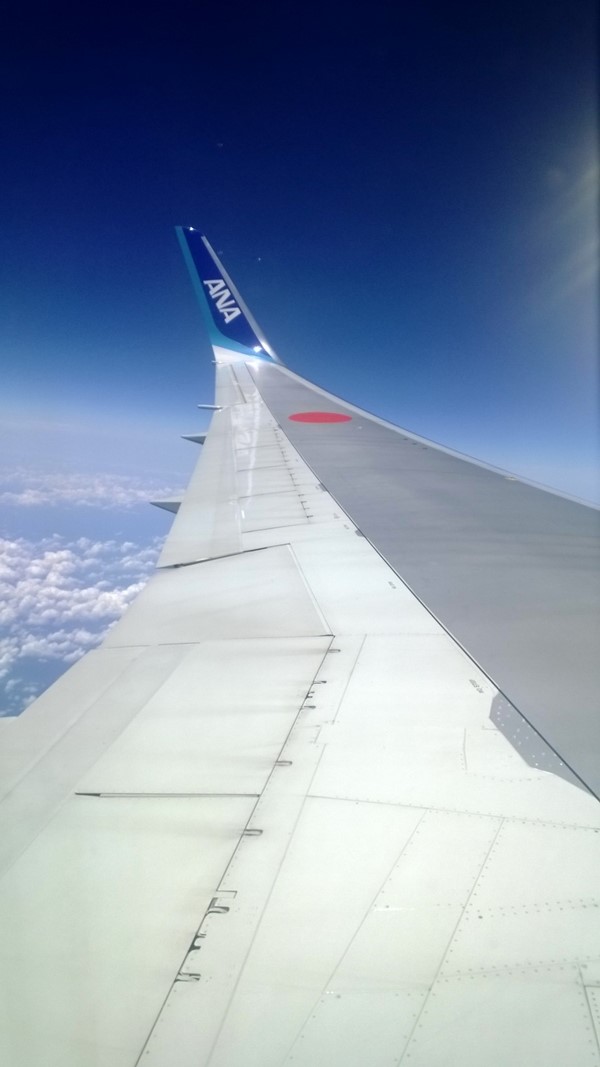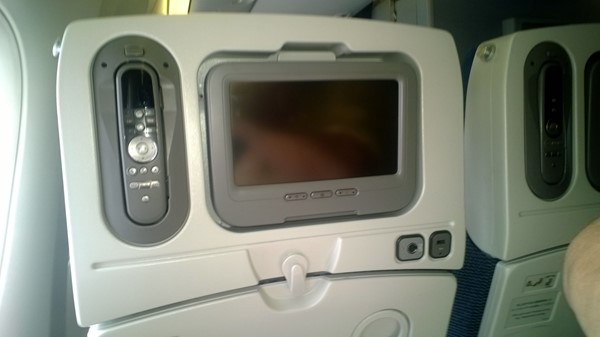 I have a little time in Tokyo to explore the United Club – doesn't hold a candle to the Hong Kong Club…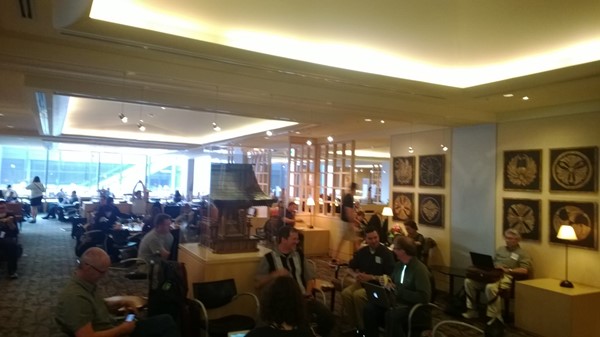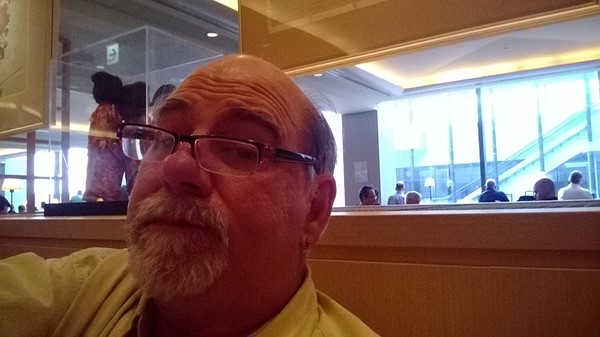 And time for another flight – this one from Tokyo to San Francisco. One thing I noticed in the lobby waiting to board was a distinct lack of people considering it is another 747-400… and when the door closed on the aircraft I had four seats to myself – and lots of other people in Economy Plus did as well (more threes than fours, but still):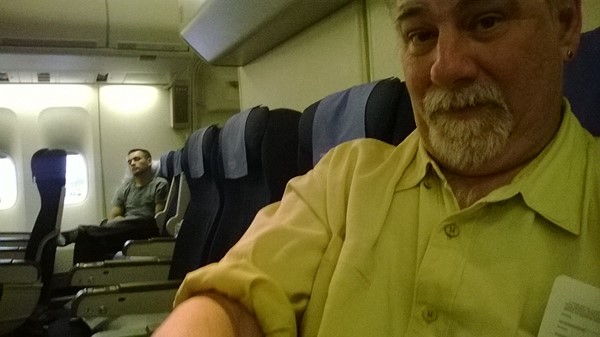 And eye candy across the aisle.
When I posted the picture below on FaceBook of me stretched out (and buckled in) somebody commented that my "selfie" was actually a "footie".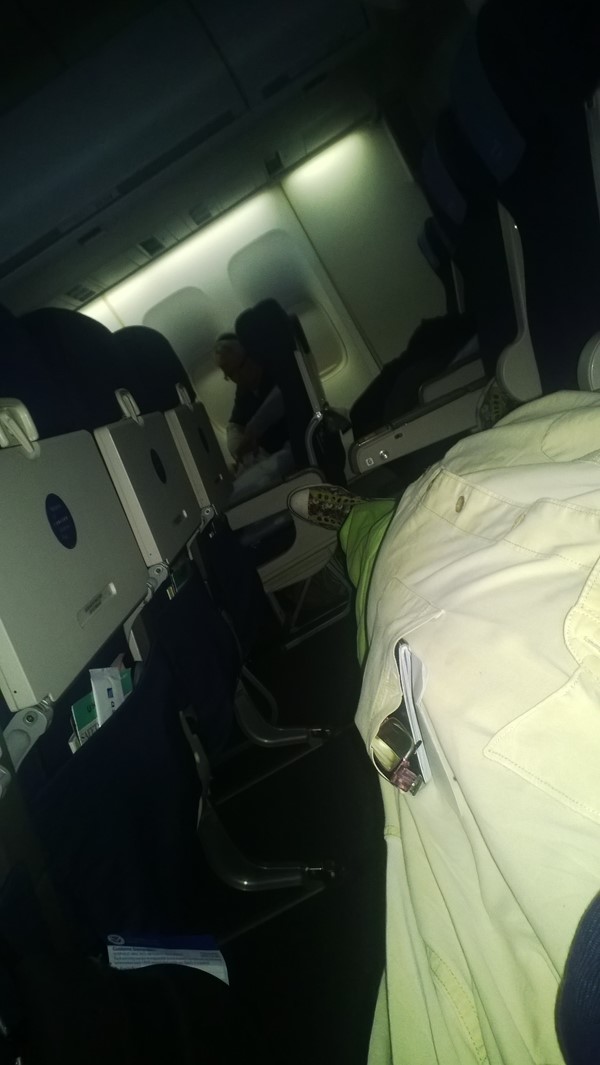 Got to San Francisco with TONS of time between flights, especially when you have Global Entry (no lines) and TSA-pre (short security lines) – time enough for drinks in the United Club and oysters on the half shell and chowder at the Yankee Pier: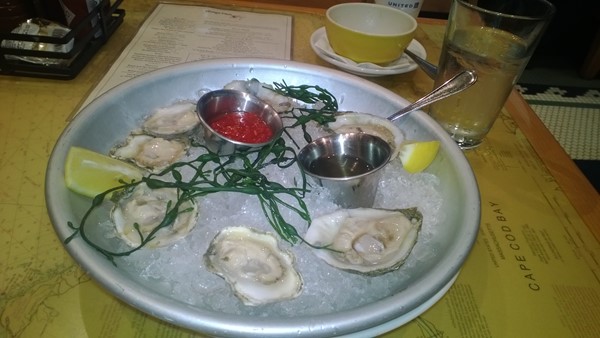 No upgrade on the way back to Seattle, exit row aisle – but almost snagged a $300 travel voucher to take a flight a couple of hours later – alas, they didn't hold the plane for the 26 passengers on a late arriving flight from Hawaii so off we went with seats to spare. Sigh.
Back at home in time for a late dinner which puts me in bed at the standard time: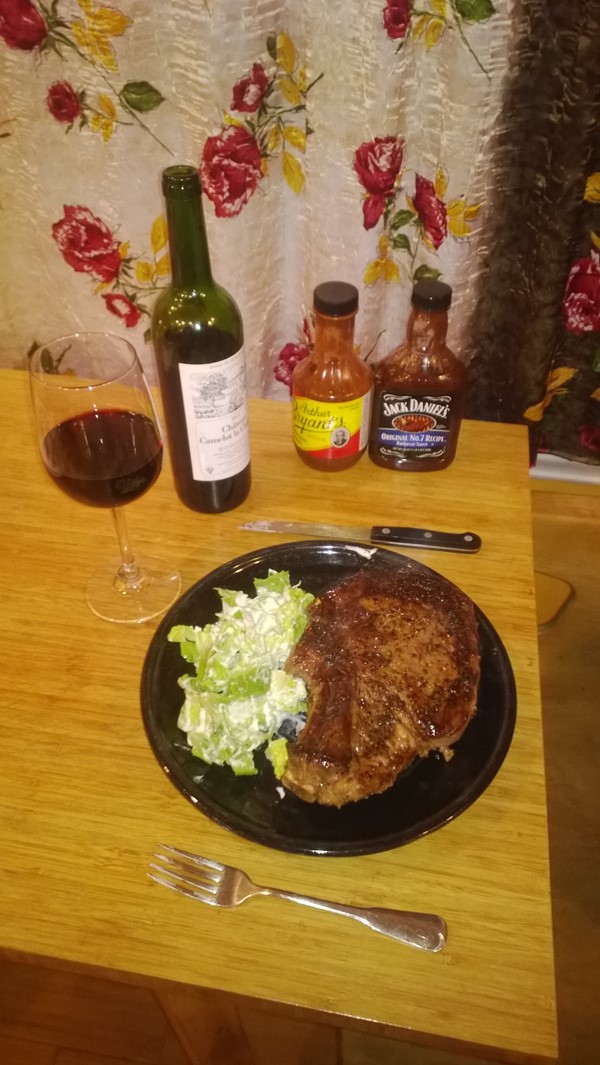 Another mileage run down – a little closer to that elusive Million Mile mark. Can't wait to get there so I can open that five liter bottle of Chianti I've been saving for the celebration.
[210.6]