Another week another trip – this one to check something off SalamanderHellBender's Bucket List – Hawaii.
The initial spreadsheet shows about $425 per person for 4 days, 3 nights with guaranteed First Class on the way there and most likely an upgrade on the way back. That doesn't include food and other stuff while we are in Waikiki, but it's still cheap in my mind.
The downside/upside is that we travel out of Bellingham, but they do have a great restaurant in the terminal: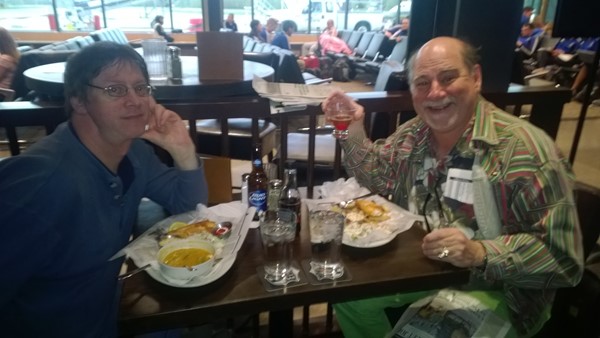 Crap – is that a Manhattan in my hand and some fish and chips on my plate – bad UncleMarkie! We got there in plenty of time – time enough for three Manhattans — $8.00 each, which for an airport isn't bad – and I saw them pouring Maker's Mark to make them.
Onto the plane we go into seats 1A and 1C:
Too much fun. I'm really glad my friends have "bucket lists" and this one is in honor of Salamander's 51st birthday which was last week.
Nothing like starting the flight with a POG Mimosa (Pineapple, Orange Guava) followed by our meal:
Appetizer:
Green Papaya Salad
Haricot Vert and Roma Tomatoes
Sweet Thai Chili Lime Dressing
Warm Hawaiian Sweet Roll
Choice of Entrees:
Mango BBQ Beef Short Ribs
Coconut Milk Mashed Potatoes
Buttered Green Beans
Or
Red Curry Shrimp and Pineapple
Cucina Fesca Rigatoni
With a dessert of Pineapple Upside Down Cake, and all the booze we could choke down.
We got in around 7pm and made our way to the bus to Waikiki – if you just have carryon luggage for $2.50 a person you can just catch the bus to Waikiki, which beats the $15.00 a person slower than the bus (which takes at least 45 minutes).
We missed check-in times so we grabbed the keys from security for our one-bedroom condo at the Royal Kuhio: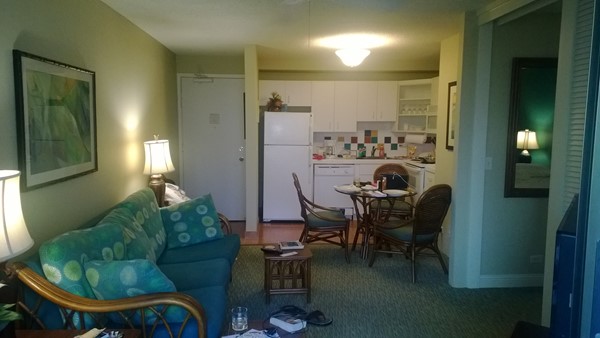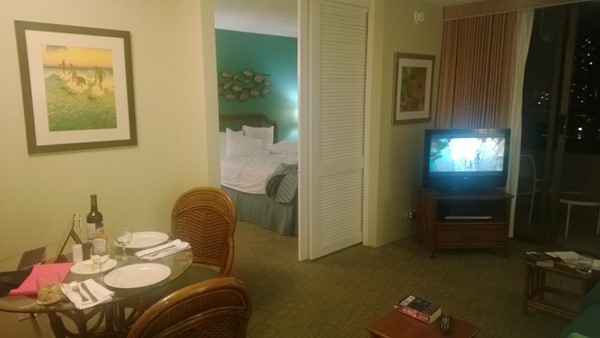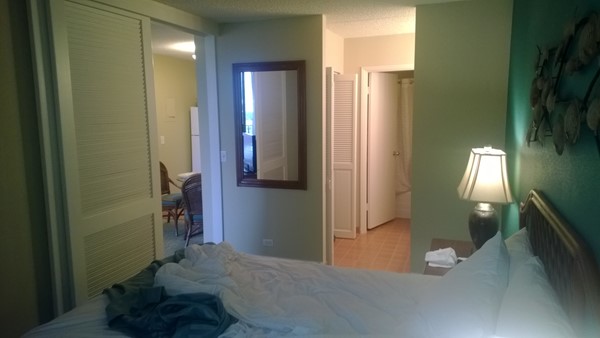 And the view…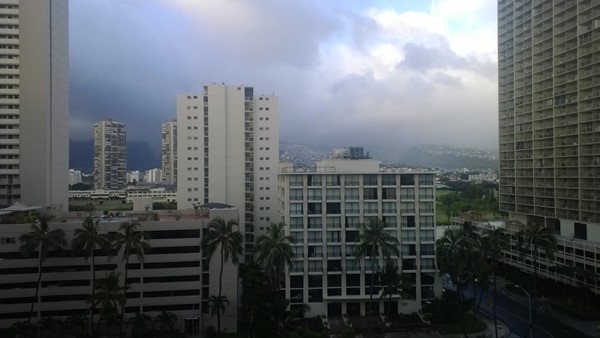 Nope, no ocean view, but we can see the canal.
First stop of the night is to Foodland for a Rotisserie Chicken, bourbon, mixer, salad, eggs, and breakfast meats – basically condo supplies. We pulled some pieces off the poor dead bird but were ni bed before any thought of salad happened.
In the morning we are off to Hilo Hatties – not so much for the overpriced Hawaiian shirts but for the shuttle that takes us a couple of blocks from the K-Mart and the Salvation Army where I convinced Salamander to get a couple of Hawaiian shirts – the one I wanted (A Tommy Bahama) didn't have a price tag so they wouldn't sell it to me – damn.
Salamander and I are on different agendas – his more gogo boys, mine more laying in the sun. Luckily we don't need to run together.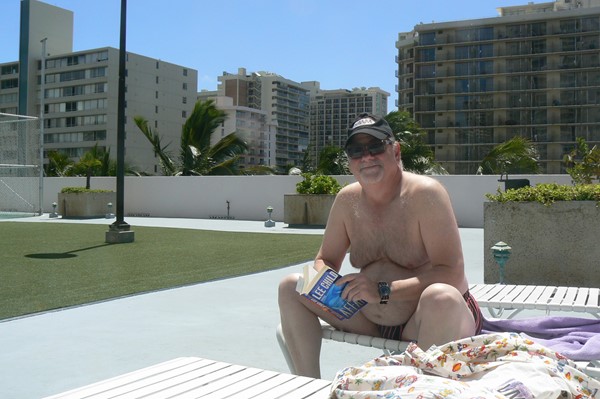 Dinner tonight is trip-tip steaks, salad, Hawaiian sweet rolls (yes, I know they are bad for me, but then in Rome…)
The next day my goal is laying in the sun and Salamander is out and about…in the on again off again rain – which cut short my suntan time. Don't trust Salamander with a map in the rain: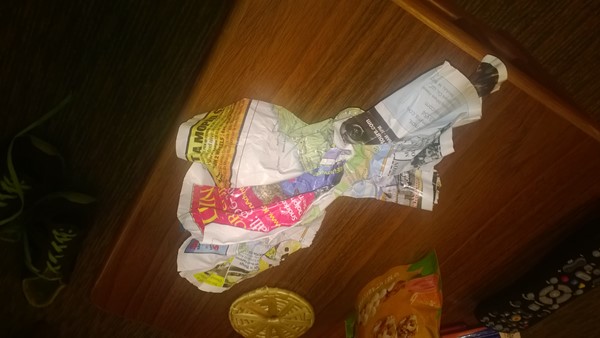 And I have to say that the next day – another ruined map: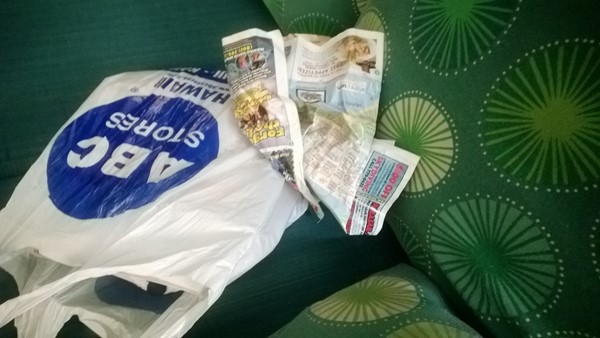 A little better, but still a mess – good thing it's out last day in town.
But let's not forget interesting things we ate when we were in the islands….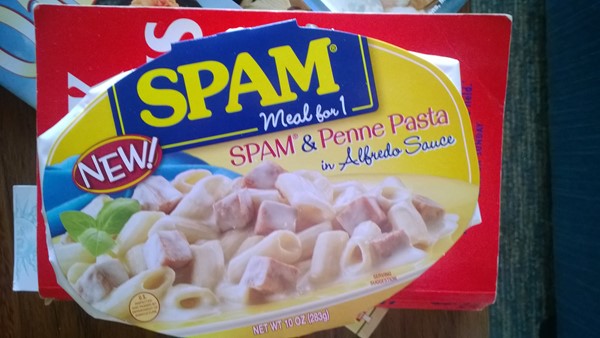 Salamander needed Spam since he was in Hawaii – it was a side dish with the Filet Mignon and the salad for dinner.
Our final day was a tour of the island after we checked out and picked up a rental car from the airport – here are some random pictures: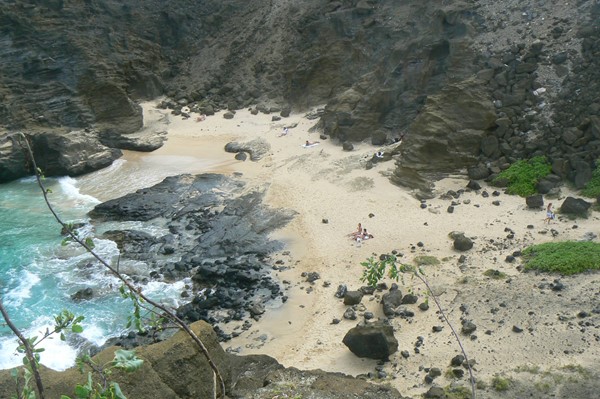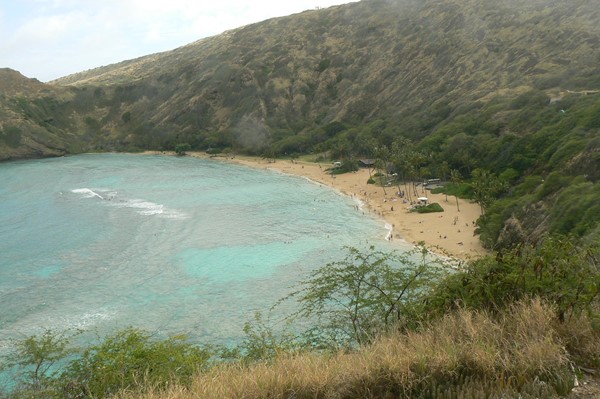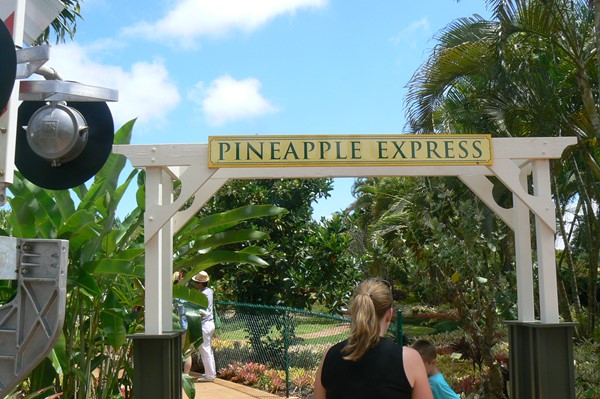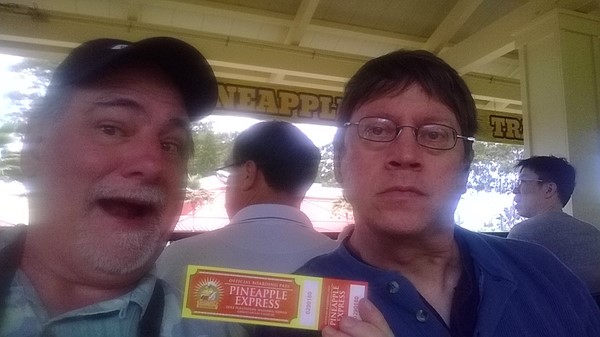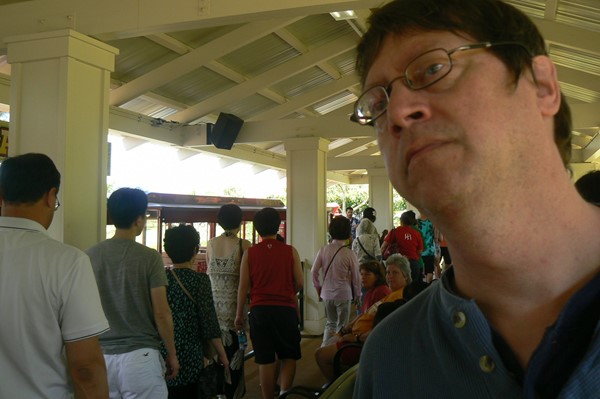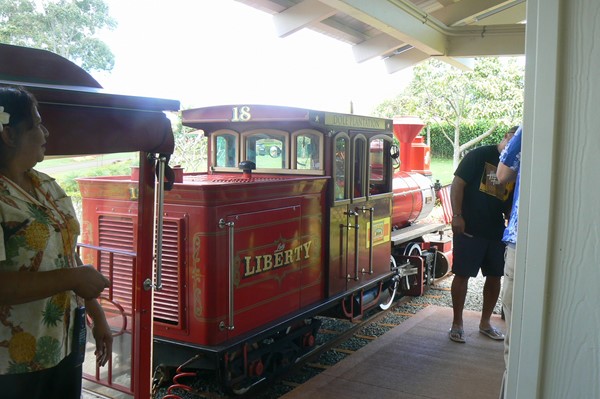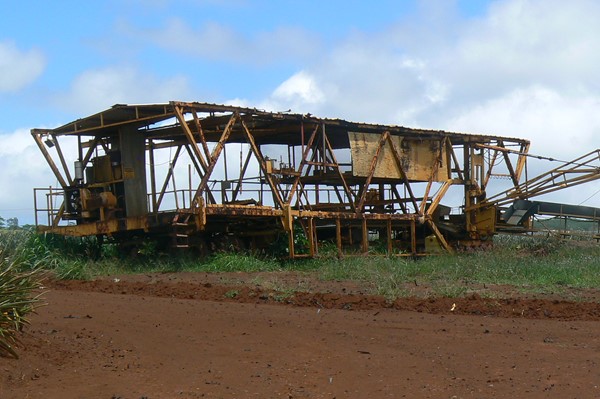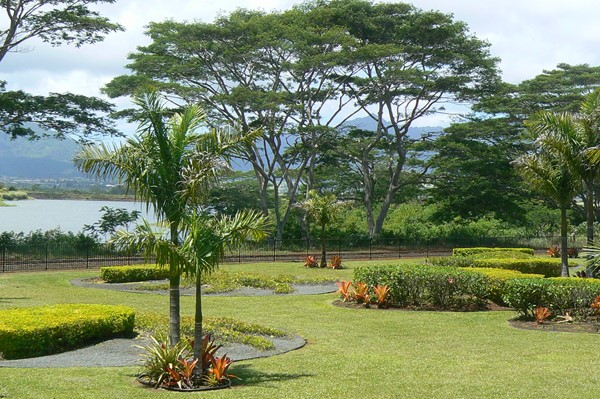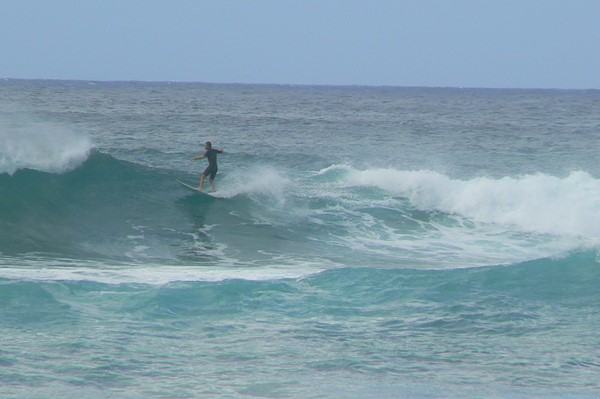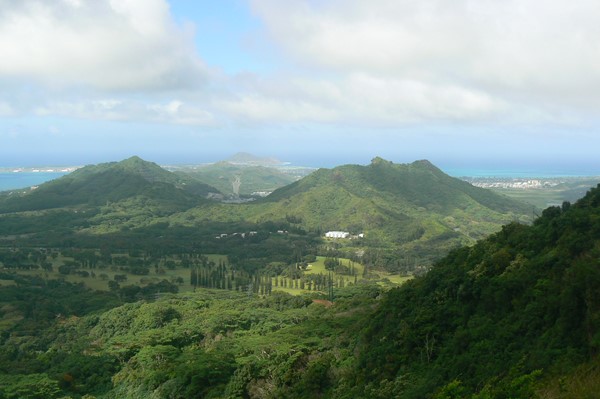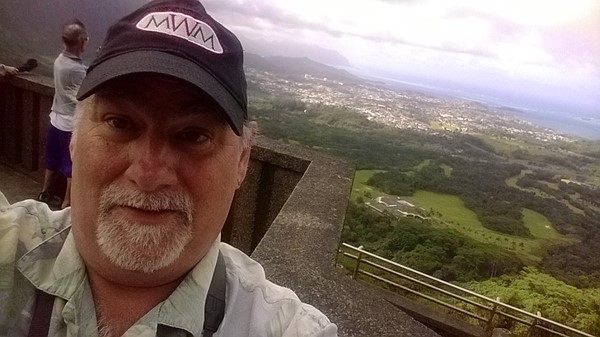 The above were the result of an around the island car tour… a great way to see the island and really make sure that Salamander has ticked off Hawaii on his Bucket List.
At the end of the day we returned the car and checked into the Delta Sky Room before our 11:55pm red-eye (yes, upgraded) back to Bellingham: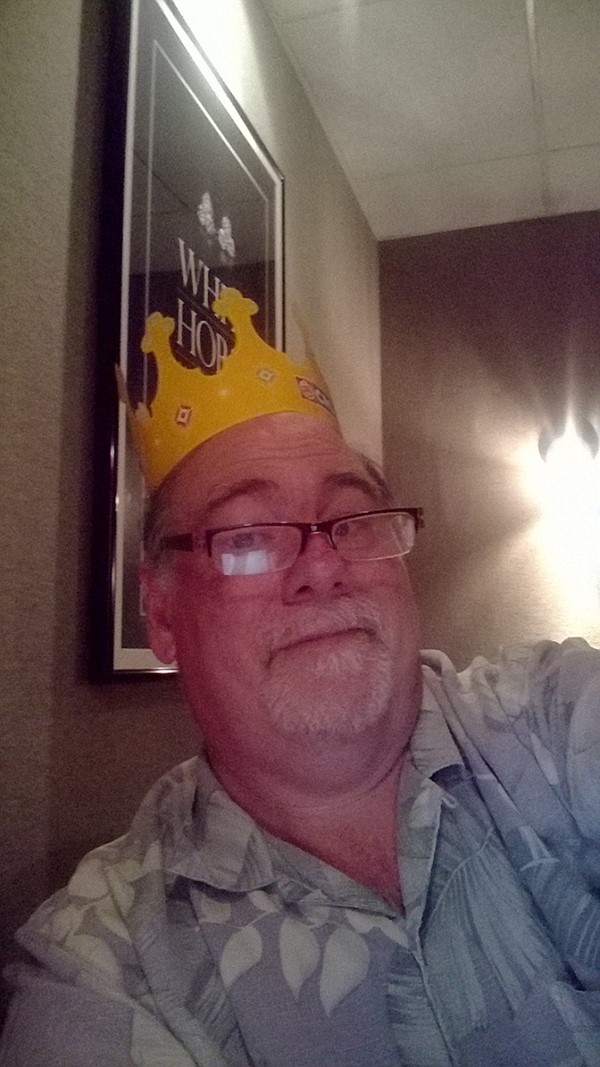 What can I say, Salamander needed a Burger King snack and I was stressed from trying to find a gas station near the airport returning the car – FOUR that were in GPS were no longer there (smells like a conspiracy to me). They did say "welcome your majesty at the front desk"…. Even got Salamander to try on the crown…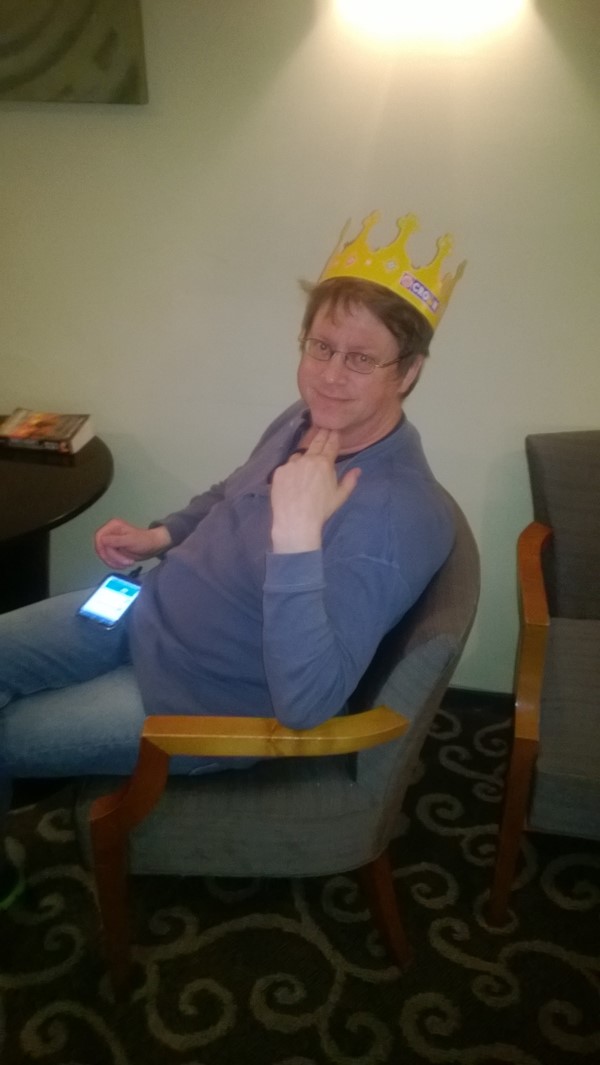 I got a little sleep on the return flight (just a small snack so no reason to stay awake)… but not enough. Still had to take a nap or two driving back south for a full day of errands – AND – cooking dinner for a sweet man who I have a crush on (no, not Salamander).
All together a VERY long Friday, the final day of holiday. Wish that sweet man that I was necking with had spent the night, but alas, he has a job interview in the morning and needs to be fresh.
[210.6 or 208.8 yesterday]