It really isn't a cruise to nowhere… just an overnight from Vancouver, BC to Seattle, WA – with a couple of nights in Vancouver with friends at the beginning.
Since Swanda wants to see lots of selfies, this might be a report in selfies….starting with not getting to bed early enough…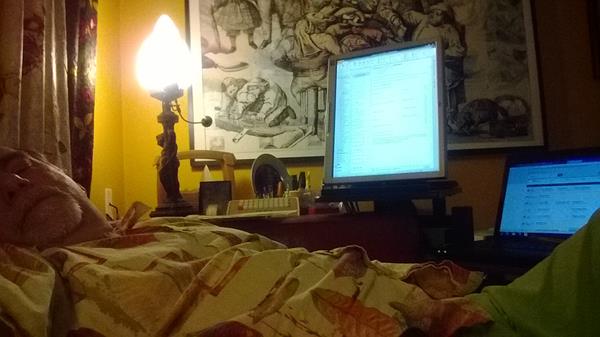 But I make the train – cab is early so I boxed my breakfast and headed out. Luckily they boarded 40 minutes early so I could just chill and snooze.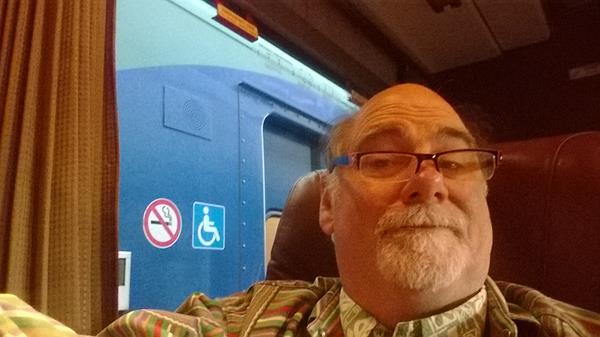 Three hours later and a couple of drinks later, we stop at the Canadian border for a red signal…more delays.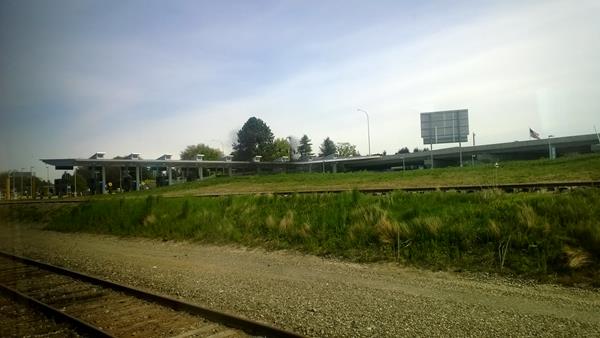 Finally coming into Vancouver, British Columbia with snow-capped mountains in the background…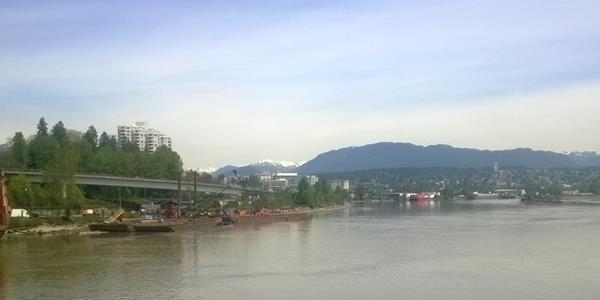 A beautiful day in Vancouver…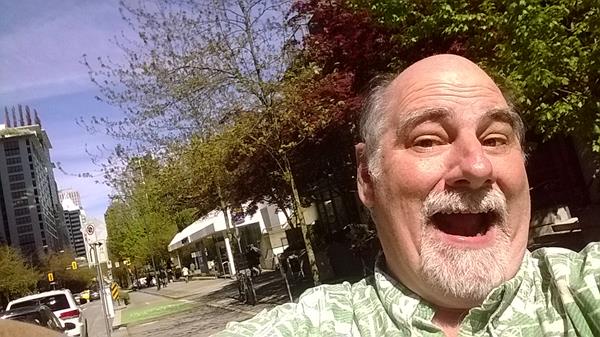 Had lunch with Solus+ at The Parlour – a great little Yaletown eatery. He was kind enough to pick me up at the station. We shared a bunch of appetizers:
Arugula — Anjou Pear, Red Onion, Butter Croutons, Parmesan, Pumpkin Seeds, Walnuts, Maple Shallot Vinaigrette

Ahi Lettuce Wraps– Tuna, Avocado, Citris Ginger Soy, Mint, Spicy Ponzu Aioli, Crispy Shallots

Brocco — Garlic, Shallots, Jalapeño, Pine Nuts, Sweet Soy Sauce

Stacked Short Ribs — Hosisin and Tamarind marinated, Granny Smith Apple and Jicama Slaw

Solus+ had a couple of stouts; I had a couple of Manhattans. What was I thinking! No selfie? No food shots.
Got to the condo after lunch – and only had to wait20 minutes to have my room ready – a couple of hours early. Hummingbird had left me bread and wine with the front desk – what else would a priest leave ( body and blood of Christ).
The early check-in gives me time to grab 10% off coupons and head to the IGA for some grocery shopping. Much wandering later the meal plan is in place:
Pupu platter which BamBam will decimate and not have it effect his appetite
Southwestern salad (pre-packaged kit)
Bread
Rolled pork roasts on a bed of multi-colored potatoes
Hummingbird showed up with white wine and dessert. Their friend showed up with more wine, which is good since there are four of us and all I have is two bottles of whiskey.
Great views from the apartment – we lucked out and got one of the few balcony units at WorldMark at The Canadian.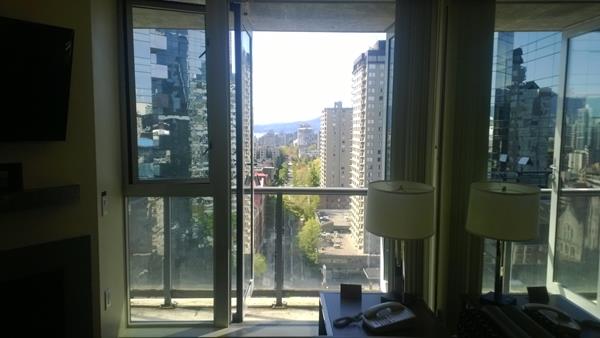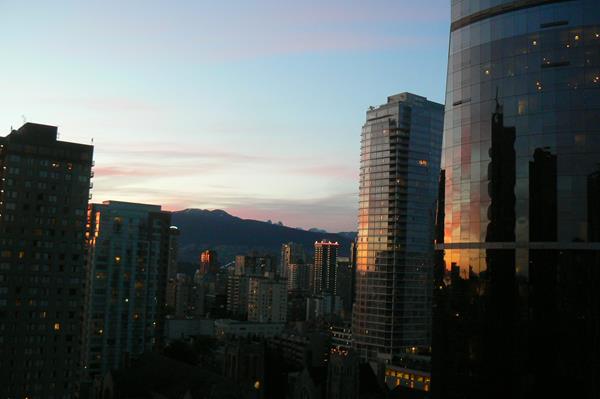 After dinner the silliness begins…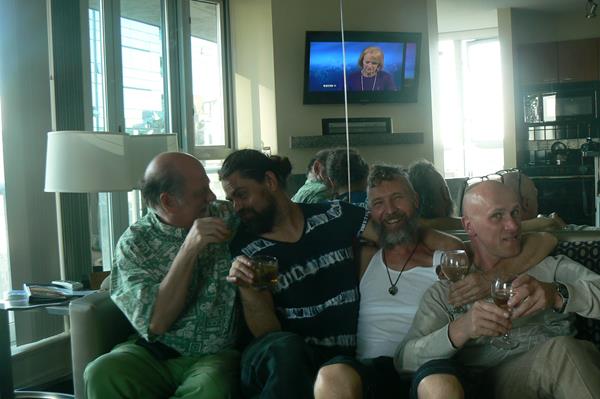 No, it's not a stitched picture, it's a times picture with two pieces of mirror in the background, showing off the BBC News we are watching.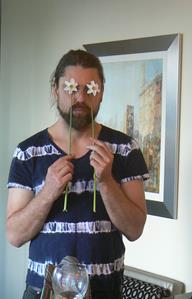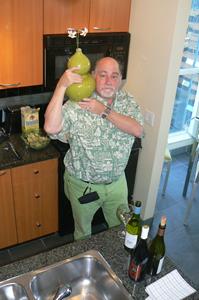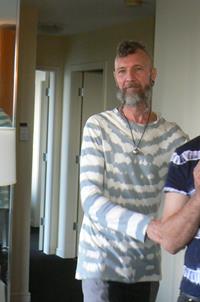 The boys (minus Kevvy, their guest) spent the night since they now live north of town in the Frasier Valley. Way too much whiskey was consumed, so in the morning we were off to church after a breakfast scramble: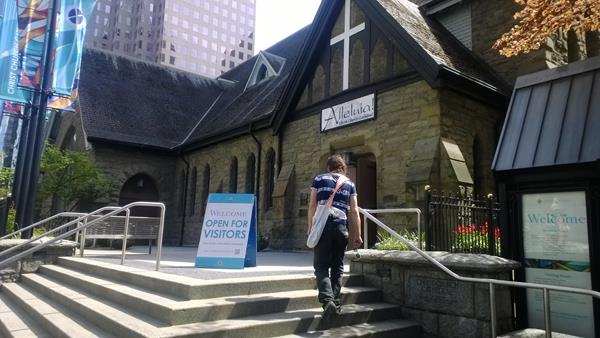 Hummingbird is an Anglican priest who does regular Eucharist Services at the Cathedral in Vancouver.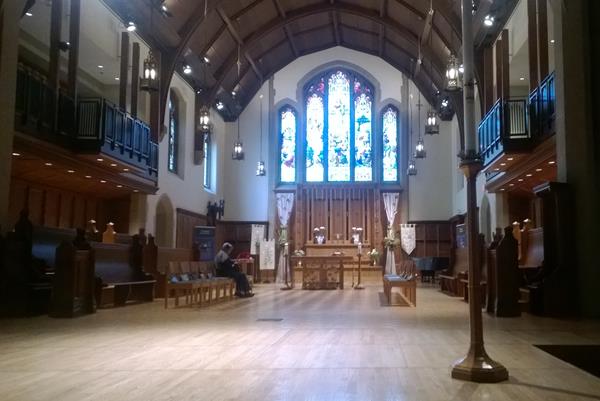 At the noon service he asks for healing thoughts for the family and friends of my buddy CaddyDaddy who would have been on this trip had he not crapped out last year. He is due to be planted tomorrow at 11:15am with full military honors in Olympia. The mere mention of him in the service left a huge lump in my throat – I can't imagine the mess that I would have been had I attended his interment.
The boys were off after a quick run back to the apartment, giving me time to make a run for tonight's dinner with Helene, and a quick nap, and some work on wine shop stuff (site updates, blog postings to other sites, graphics).
Tonight's dinner:
Bread of Helene (a small baguette which wasn't large enough for the carb carnivore)
Mixed greens salad for from the salad bar at the IGA
Broiled salmon on a bed of buckwheat noodles (leftovers from the boys – the noodles that is)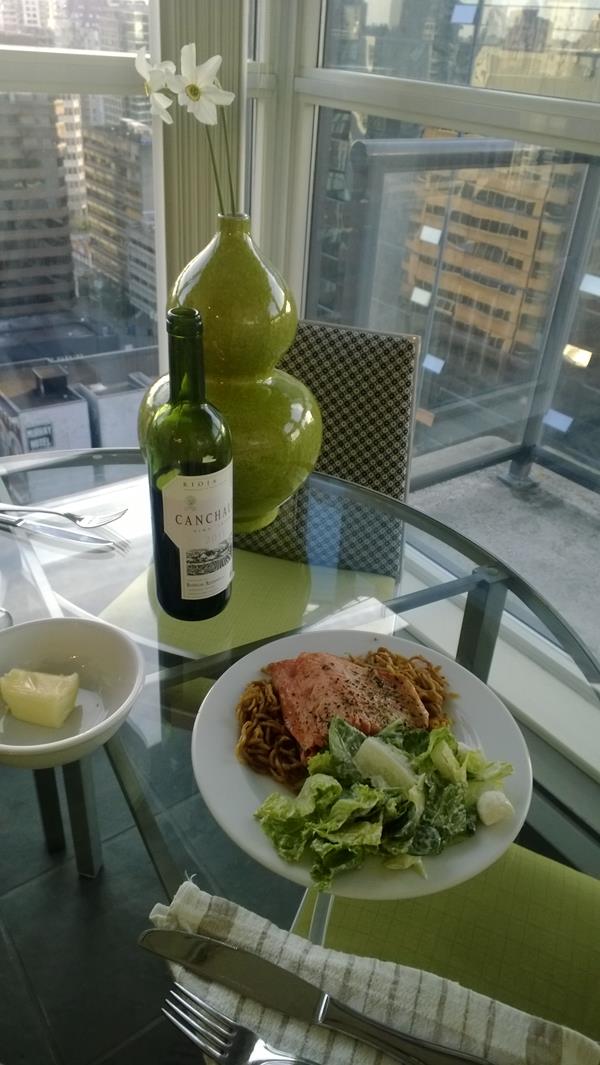 I love the condo vase with a couple of stems of fresh flowers. I'm sure that vase has NEVER held a flower in its life in the condo.
Luckily Helene brought wine, though with DancingBear dropping off wine on his way to dinner with friends, we didn't get to it – but I was glad I popped next door and picked up another bottle of whiskey.
DB got home just as we were finishing dinner and we popped in the DVD that I bought the other night at the IGA – The Poseidon Adventure (the remake) which is appropriate since DB and I are going on a cruise tomorrow.
HUGE scramble in the morning:
Eggs (5)
The leftover potatoes from the first night's roast
The leftover cheese from the Pupu platter
The leftover pork from the first night
Seems it's a WorldMark tradition to have scrambles in the morning with the leftovers from the night(s) before. Now you know why I pack butter, olive oil and balsamic vinegar (not the last for breakfast).
We (DB & UM) bail on the condo at 11:15am for the Golden Princess for our cruise home to Seattle. The lines were moving OK, in contrast to one of DB's cruises from the same terminal when four ships were in port (as opposed to two today) where the line went out the door and around the building. Think three hours in line.
Selfie of us in line waiting for the Golden Princess with the folks also on the Holland American Westerdam :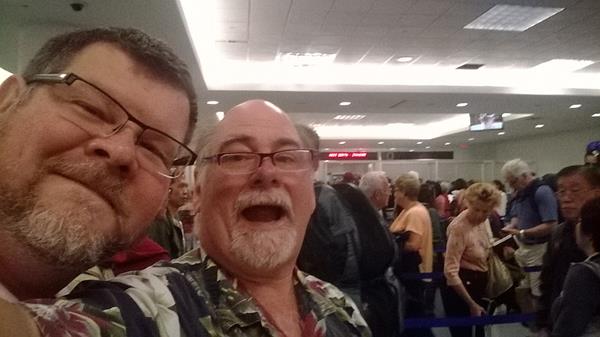 DancingBear and I booked separate cabins so we could each get 2 Princess Cruise Credits (rather than 1 for a double occupancy cabin). I booked a balcony, he booked an inside and the plan was that we've hang in the balcony cabin and he had Princess put him 4 doors down from mine…but the upgrade gods (yes, even on Cruise Ships there are upgrade Gods) intervened and he got bumped from his Inside Cabin to a Balcony (a two-class upgrade), and I got upgraded from a Balcony to a Suite – a sweet Suite. I hadn't looked at what cabin I was in for a while so I didn't notice the upgrade until I got to the room and thought "this looks bigger than I remember balcony cabins".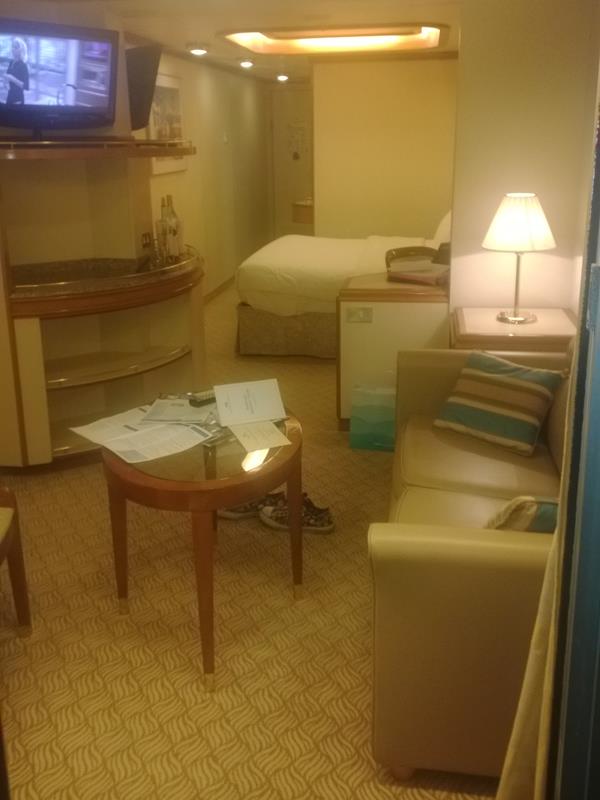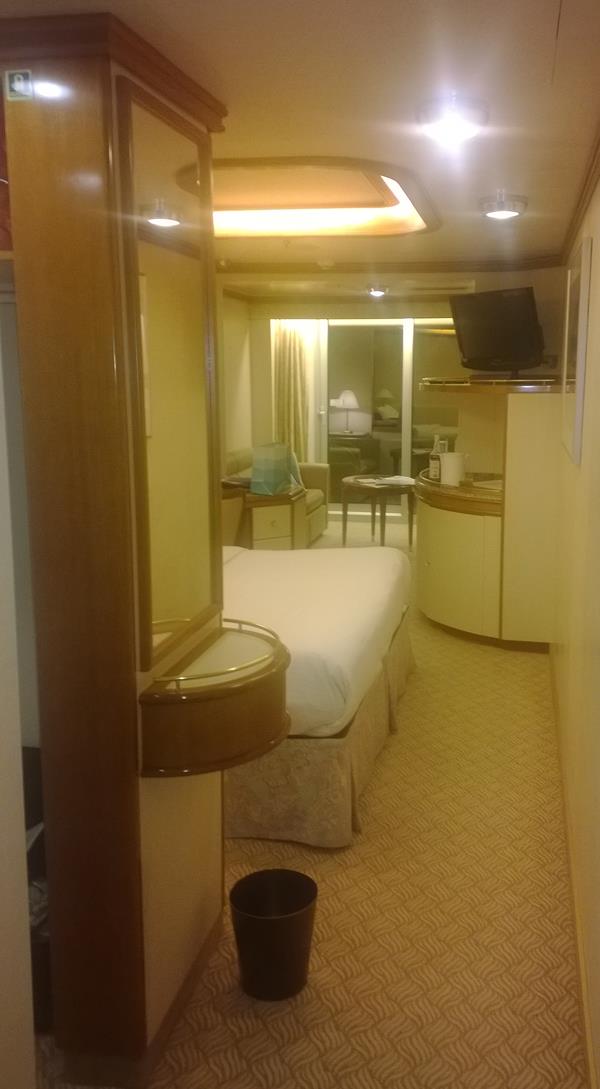 Yes, that is a King Size bed on a Princess. Yes, there were TWO flat screen TVs. Now add a porch with a couple of lounge chairs and a table.
We had a quick drink in the cabin before heading to the Donatello Dining Room for lunch, bypassing the huge crowds at the buffet: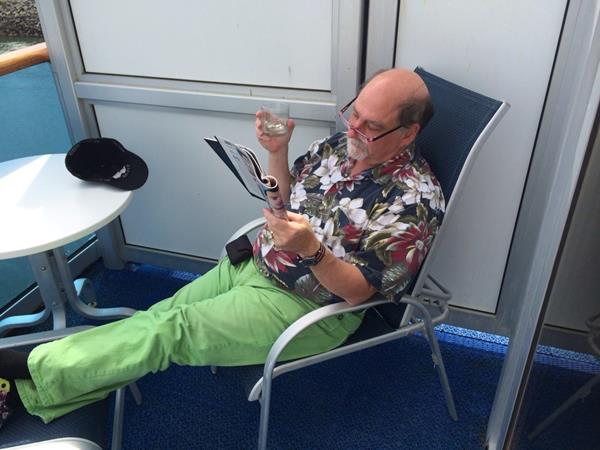 Our quite sit-down lunch at a shared table with other cruisers was:
And yes, we both had dessert (Orange Soufflé). There weren't many people having the sit-down lunch (only open until 1:30pm)
A little quiet time after lunch and before you know it we are in full swing – 3:45pm is the Mandatory Life Boat Drill: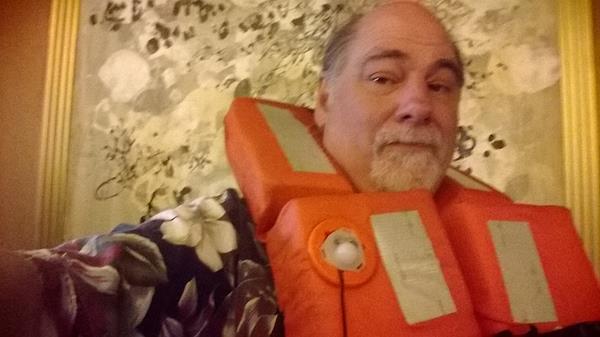 After the drill it's time to get underway. Here is us sailing away under the Lions Gate Bridge in Vancouver: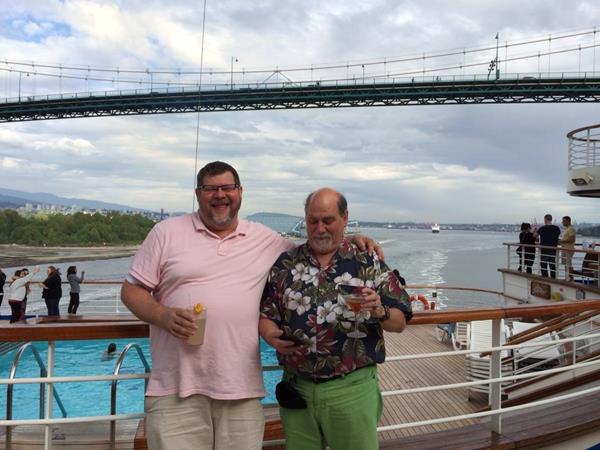 Honest – I was trying to get my phone ready to take a selfie, and not drop my Manhattan. We were out there for the LGBT gathering – formally known as the "Friends of Dorothy" which I sort of miss… "code and all", like "beard". Apparently the youngsters don't get the old reference. FOD is to the old gay world like FOB (Friends of Bill [W]) is for the people in "recovery". It always amuses me on cruises with they have the recovery people meeting in a bar that isn't open.
That party quickly moved to the Skywalker Lounge (17 Aft) because it was Happy Hour with Hors d'oeuvres in the Platinum Lounge with discounted drink of the day. We ran in to a couple of other Gay Short Curisers – or as they are known on Facebook as the Seattle Princess Sea Men.
Some chips and guacamole, a way-to-sweet top shelf Margarita for cheap and we were back to the cabin for another round before dinner – the way-sweet margarita was helped by watering it down with the last of the white wine we packed on board. The red wine was headed to dinner with us ($15 corkage fee – on Princess you are allowed to bring one bottle of wine per person free and the corkage fee only applies to having it in one of the restaurants.)
Speaking of dinner: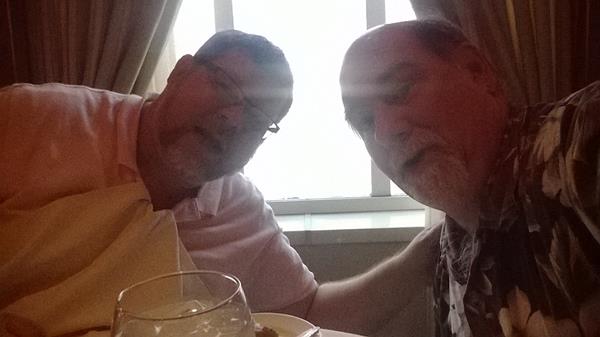 Starter of the red snapper ceviche, then the indecision of two choices for dinner — order both. That would be the Prime Rib AND the Crawfish Étouffée.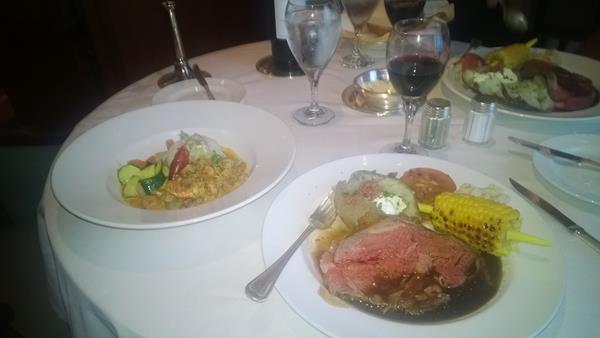 We probably DIDN'T need to order THREE desserts…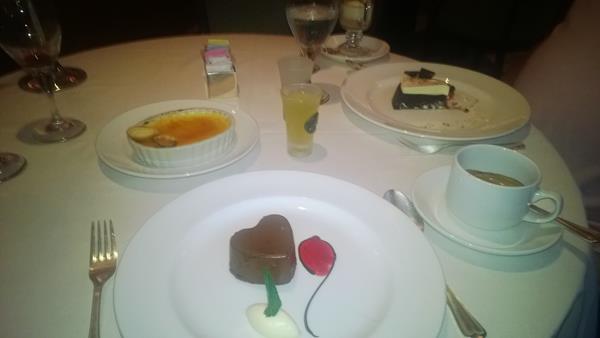 With Limón cello for me and Bailey's in Coffee for DB (both on sale). My best shot is of the heart "broken" to share: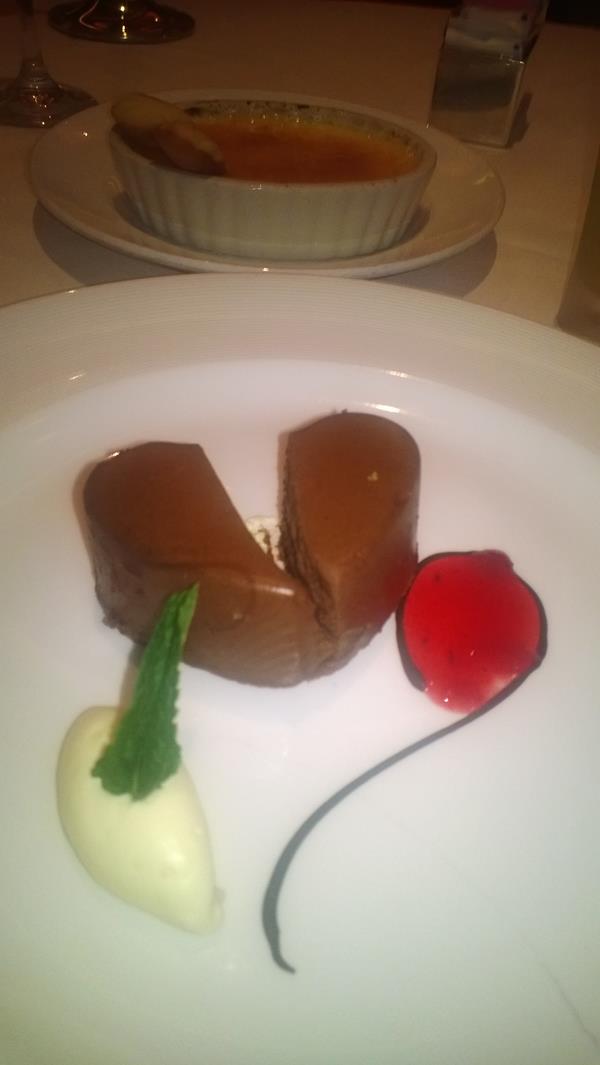 That's the Princess Loveboat Heart in the foreground and the flan in the background (the other was a flourless chocolate thingee).
DB was done after that… and I surfed the internet until midnight (150 free minutes to use as a Princess Platinum) until hunger called again at a little after midnight. I didn't reen the cheeseburger and fries (free) but I did need the Diet Pepsi Mixer ($2.25 with fees). I asked for a "bucket of ice" – and they brought me a damned bucket: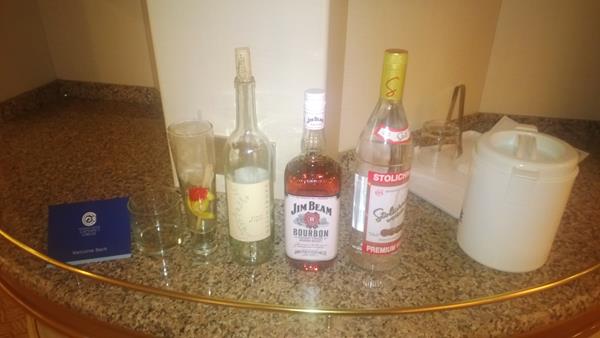 Things from duty free and some emptys… and the "bucket" next to the ice bucket: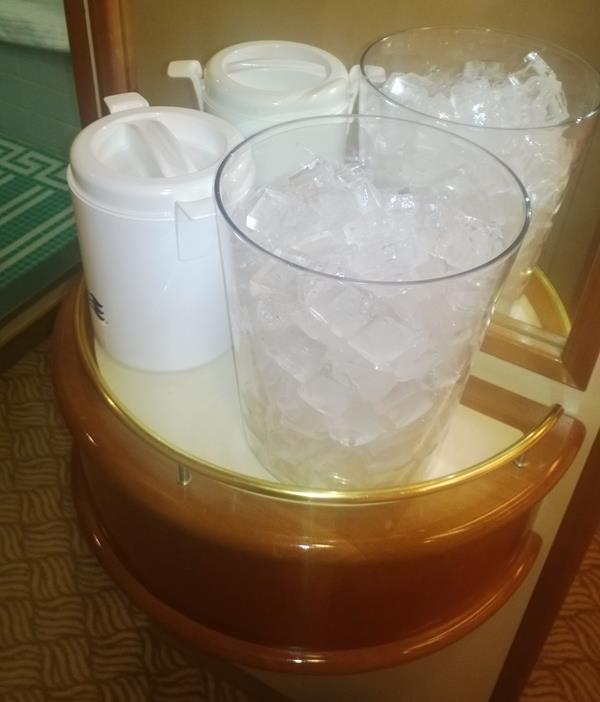 Don't worry – the ice is sitting in front of a mirror.
Up early – yet another meal in the dining room – so far haven't hid the buffet at all – a record.
Separate disembarkation lounge for the Platinum Folk (both DB and I) so it was basically leave when you want and it was home by cab (in different directions) for both of us. I actually got a nap of over an hour before heading to work for the opening shift.
Dinner at Swanda's for dinner with two mutual friends and then it was hone to bed. Long day. Or should I say long days.
[211.2]