My morning flight was at a civilized hour – 10:30. Alarm at 7, but I was already up – and in the bathroom when the wake-up call came.
Checked email, had a little bad instant coffee, finished packing and headed back to the train station to catch the automated shuttle to Terminal One.
I'd forgotten how much Terminal One reminds me of a giant habitrail….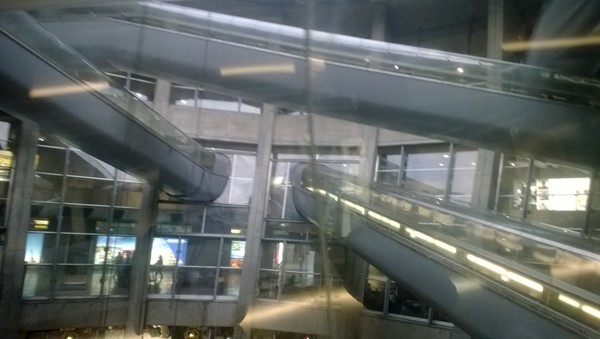 The sort of weird thing – you can tell the airport is from another era, not unlike the Kansas City Airport – built before the security conscious hijacking days. You go through passport control to get to lounges, restaurants, etc. but you don't do security until you are actually headed to the gates which are in pod-like things linked to the main terminal by the world's longest moving sidewalk – like a quarter mile of sidewalk with no breaks: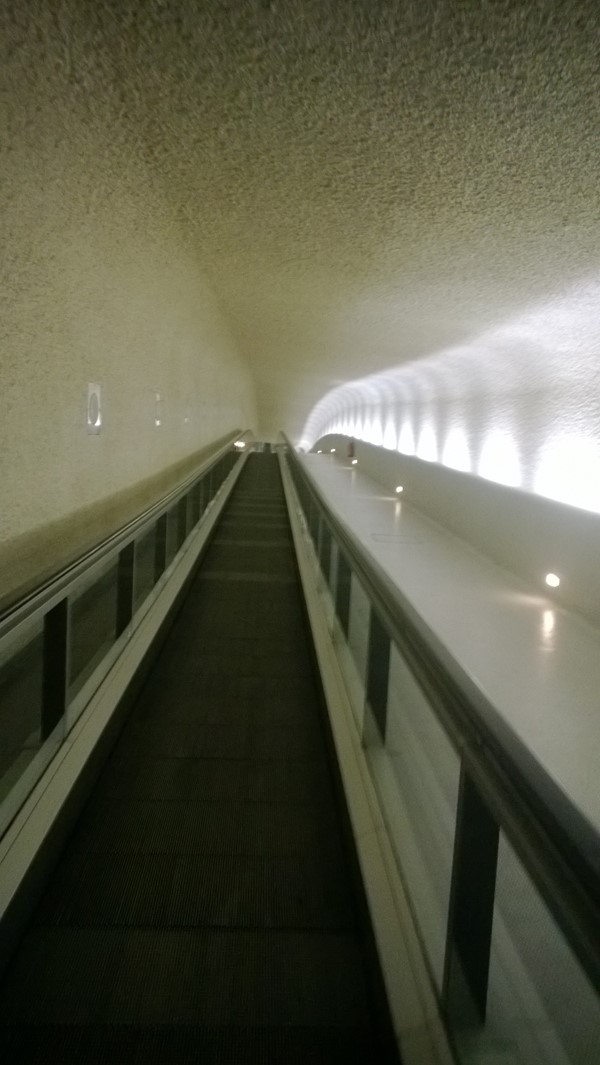 These pass under the runways… very odd.
I got to the airport with tons of time…mostly so that I could have breakfast in the United Club which is this two story affair with the entrance level being the First Class lounge with Business Class lounge downstairs – and, of course, the elevator is out of service. Seems to be a theme. Pretty deserted this early in the morning…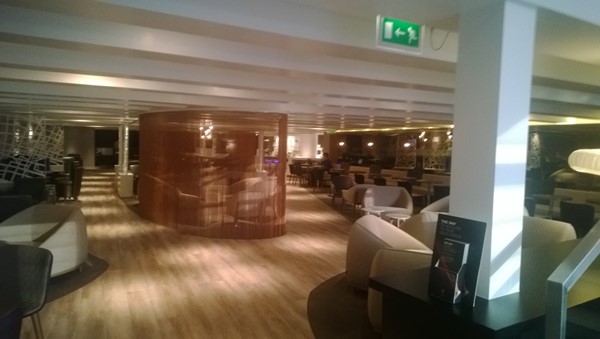 The quiet zone where I set up camp:
And part of the breakfast buffet: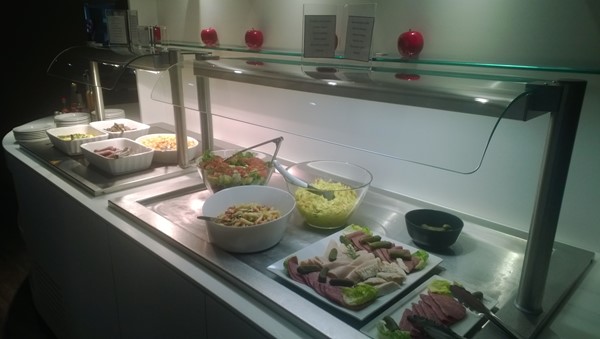 Stuffed myself silly, got a little work done, read a couple of papers and headed to the gate. Not much of a line at security because the pods only have about six gates apiece. And the plane is waiting for me: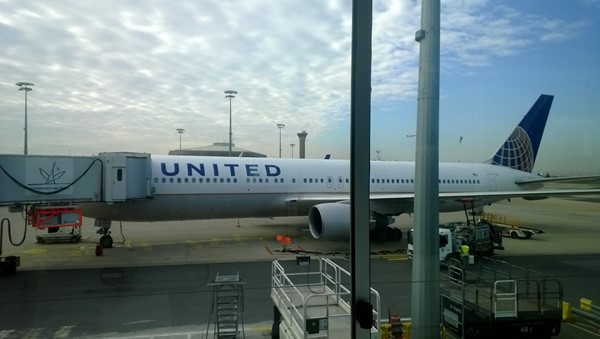 That would be a 767-300 for my Economy Plus seat from Paris to San Francisco. And since it's an exit row center, they are serious about the "Plus":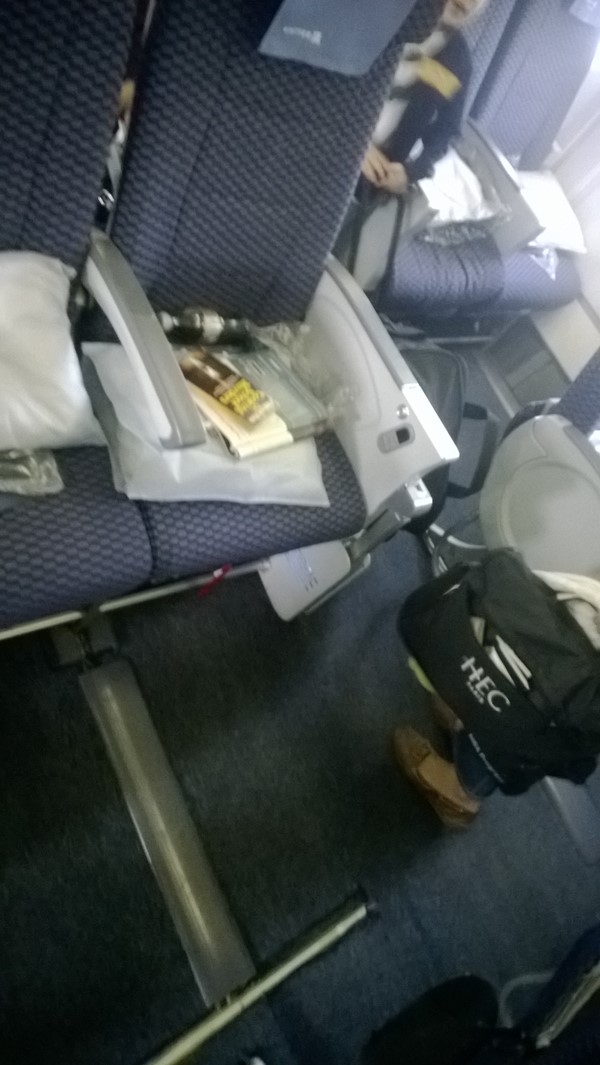 You could easily sleep in the amount of floor space – and there is still another foot of space in front of my stretched out feet: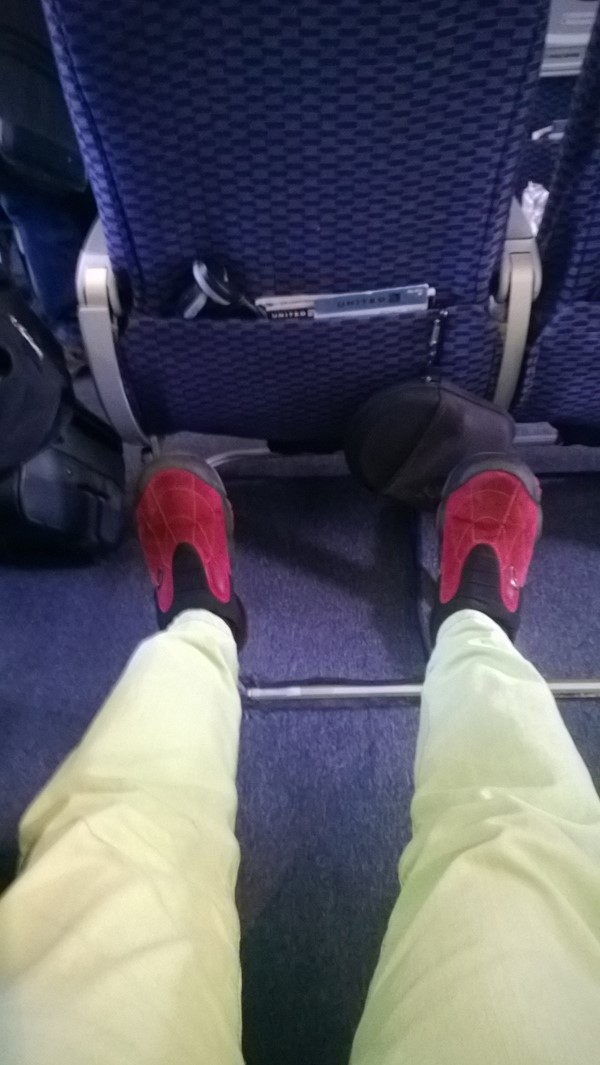 Not business class but excellent for an Coach seat. Want seats like this for your next flight – use www.SeatGuru.com to check out seats by airline and jet model.
Definitely isn't Business Class when it comes to meals: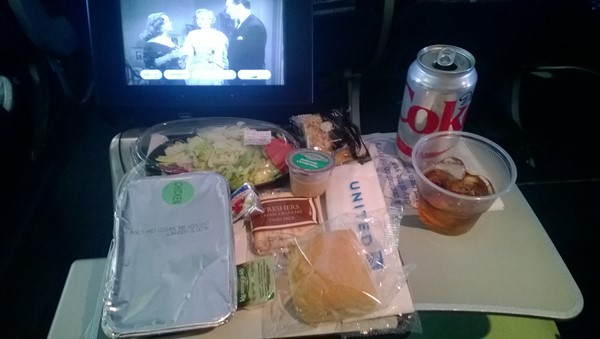 And in case you are wondering what movie is playing… that would be All About Eve staring Betty Davis with a bit part by Marilyn Monroe. My favorite line was when they were talking about Marilyn's character: "She went to the Copacabana School of Drama."
Unlike on the trip east, on the trip west I had the sense to wash down an Ambien with some whiskey that I'd packed along with me. Actually got 5-6 hours of sleep, awaking momentarily to see that the "mid-flight snack" was ice cream – seems to be a standard practice. At the end of my extended nap it was time for a light meal before landing. Watched a handful of TV Reruns, not really enough time for another movie – but if I' had time it would have been Young Frankenstein for the umpteenth time.
Got to San Francisco on time, which was good because I only had an hour and 50 minutes to get through Immigration and Customs (LOVE Global Entry), and then back through Security to get to my Seattle flight. With no checked baggage I flew through with enough time to have a couple of cocktails in the United Club and even pick up a sandwich from Klein's Deli. I love their pastrami on rye. Totally worth the carb hit.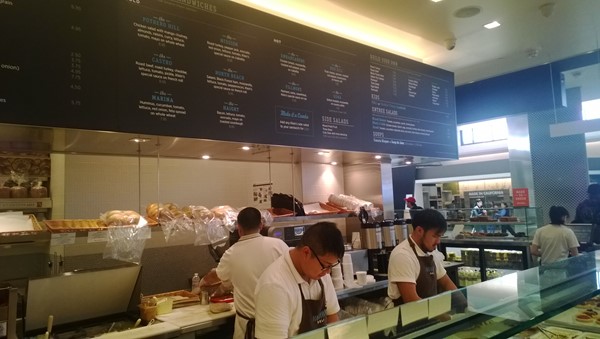 Last year United changed its policy on Award (Miles) Flights… domestically they will upgrade you to first if there is space available, even if you are flying on miles. Not that I was expecting it, but I welcomed it: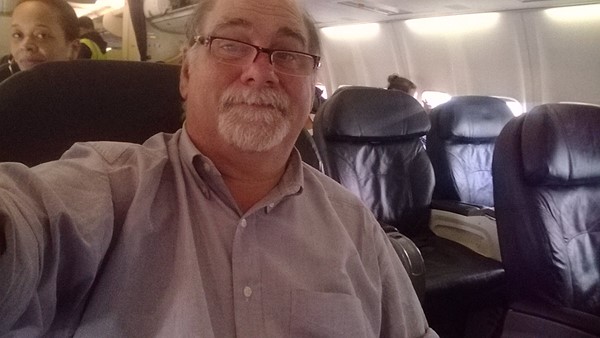 It's always amusing to see who gets caught in the background of a selfie.
Routine flight which is always good. Back home around 6…working in the morning.
[215.0]