This week's adventure was to head to Santa Fe, NM to visit with mom and work through the "honeydoo" list.
Decent flight time out of Seattle, but that means a late arrival in Santa Fe. Late being 9:15pm, which by the time luggage came (took back wine and cherries for the family) it was 10pm by the time I got to El Castillo (The Castle) where mom lives.
The flight plan is Seattle to Los Angeles on this bird: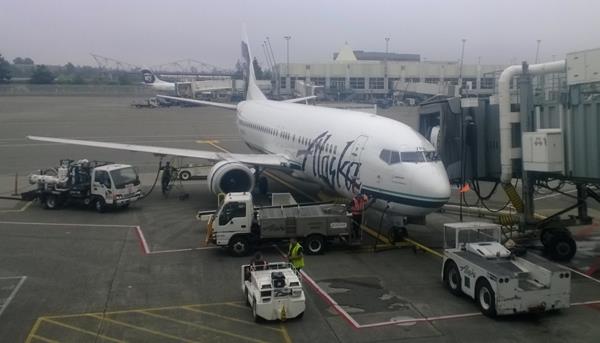 In an exit row seat, without the leg room of previous exit rows:
In Los Angeles, it's a terminal change after a stop at the Board Room to get a little work done since I have a four hour layover…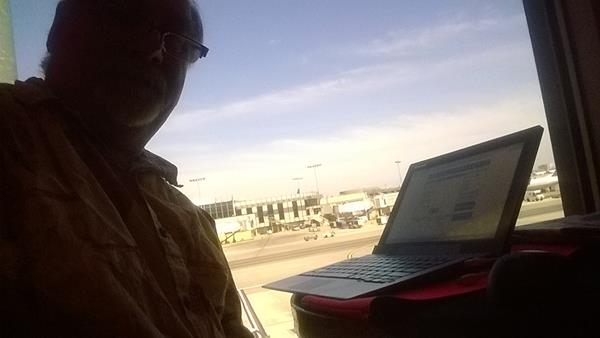 The flight from Los Angeles to Santa Fe is also an exit row – with the seat next to me open: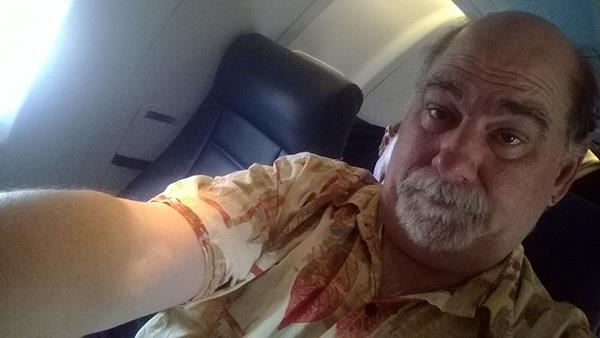 Got the Road Runner Shuttle to El Castillo getting there around 10pm. Mom left the door to her condo open a bit — I'm sure my father is rolling in his urn over this – he was a tad security paranoid. Mom as asleep so it wasn't unitl 10 in the morning that I got to see the "honeydoo" list over my morning coffee.
Here is what I accomplished:
Installed new cordless phone/answering machine
Unpacked all the boxes of geriatric gear
Set up spring-loaded lift assist for bedroom chair
Set up shower stall seat
Set up raised toilet seat

Made Deviled eggs

I wanted to do eight eggs – Mom said that was too many – hopefully Jon and Norma will eat (or Devil) the rest of the eggs when they come next month.
Broke down all the boxes and got them to recycling
Ran to the store to restock all the bourbon, vermouth, soda, eggs (for me and the Devils)

Picked up the mail, droped off the mail
And probably lots of things I forgot but did anyway like going to the fridge and tossing past date leftovers.
We didn't my name transferred onto one of the bank accounts (Jen is on one, Jon is on another) but I'll be back in October if we can't get this done through the post.
Dinner tonight was take-out from the Santa Fe Bite, formerly the Bobcat Bite which used to be out on the old highway headed to El Dorado where my parents used to live, and sis-in-law Jenn, bro-in-law Kennan, and niece Karen still live. The food was good the service from awful. Mom had the Bacon Cheeseburger and a Strawberry Shake (example of awful service, not only did the food take way too long to get out of the kitchen, I had to wait while they made a strawberry shake because they gave me a chocolate one) and I had the Rib Eye steak with slaw (a little too vinegary and dry for my taste) and sweet potato fries (a little soggy from waiting around for the proper shake). Yes, I know – ordering a rib-eye from take out, what was I thinking – but it was perfectly cooked.
More puttering around the condo on Wednesday – time to hang out with Mom, both of us in the living room, her reading, me catching up on work (updating the wine shop's website, catching up on TripAdvisor reviews for the places I stayed, eaten, visited). In the afternoon I wandered into town to pick up a Hemmingway Short Story cigar for my niece who is on a Hemmingway kick. Of course the funny thing is that Hemmingway didn't smoke – it's just a line of cigars by Arturo Fuente. The cigar is going in a gift bag with two miniatures of Scotch –Dewar's White Label (a blend) and Glen Livet (a single malt). Hemmingway did drink scotch.
Here are a couple of shots of the area around The Plaza in Santa Fe:
Above is the St. Francis Cathedral (Catholic).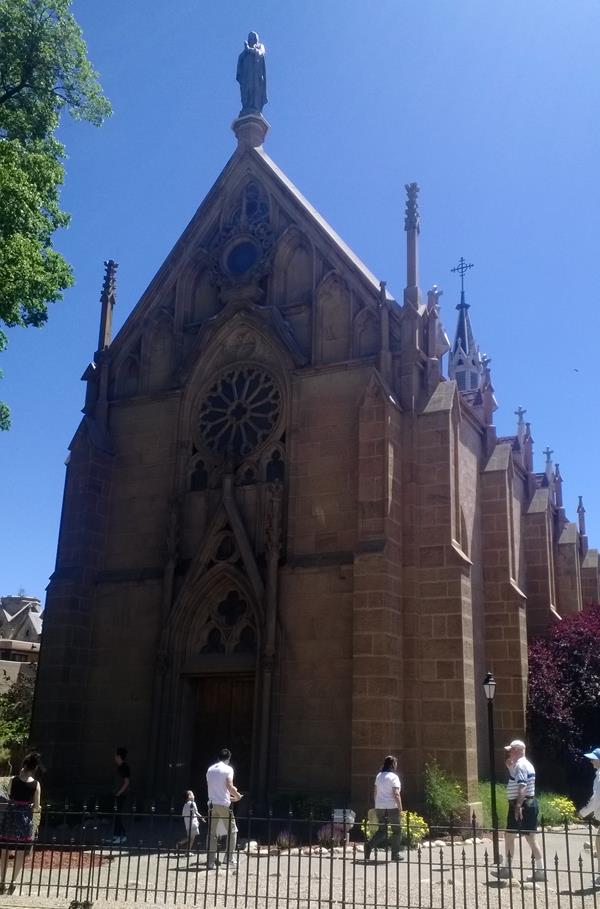 Above is Loretto Chapel with its amazing carved spiral staircase (image on Wikipedia link). The couple that bought my church on Lopez Island got married in this church – for their honeymoon they toured Northern New Mexico to look at all the small churches in the region – apparently making them want to buy one of their own. If you click on the My Church link you can see the real estate video from 2011 when they sold it. Trust me, it didn't look that nice when I owned it. They dumped a ton of money into the place and I'm sure they didn't get it all back considering they bought it in 2008 in the middle of the real estate mess.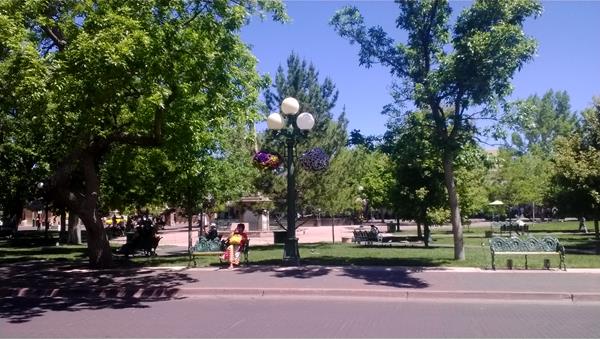 And The Plaza itself. The Palace of the Governors Museum is on the far side of The Plaza.
Big dinner out tonight with all five of us at SantacaFé just off The Plaza in Santa Fe.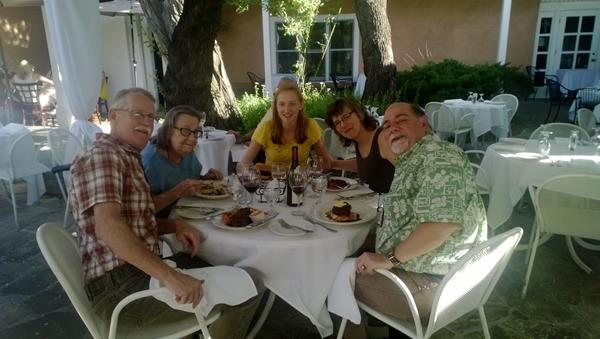 From left to right: Bro-in-law Kennan, Mom, Karen, Jenn, Uncle Markie.
Great food (reminds me that I need to do a TripAdvisor review!) I had the Filet Mignon, Kennan and Jenn split a Rib Eye, Karen went for the Green Chili Cheeseburger, and Mom for the tempura soft shell crab special appetizer along with the special pasta for the night (most of which went home in a doggie bag for lunch).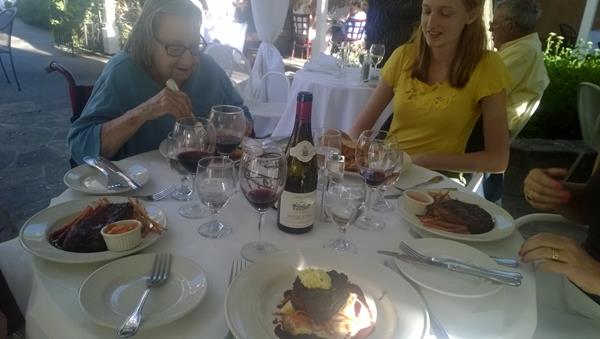 Paired with a lovely 2011 Famille Perrin Vacqueyras "Les Christins". Tasting Notes: Clean, fresh and juicy with black raspberry, cranberry and spice; smooth texture, meaty and bright; long and balanced. Syrah, Grenache.
And what a pretty dessert that Kennan and Karen shared: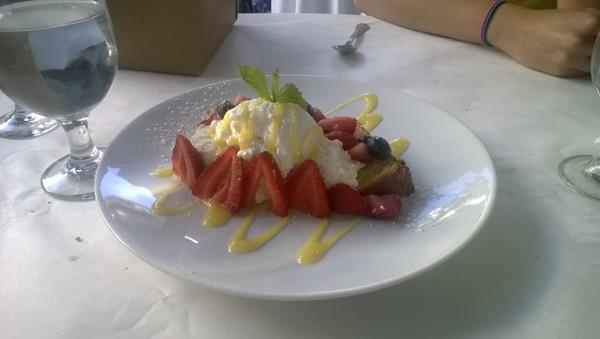 I've totally forgotten that is was – I do remember eating the mint leaves off the top as my dessert.
The morning brought an early flight on not much sleep – and a rather large gentleman in the seat next to me on the commuter jet back to Los Angeles. Only a couple of hours in Los Angeles to change terminals and grab a drink and a snack in the Board Room before catching my flight to Portland on one of the newer Alaska Airlines plans with the Sky Interior and their new Recarro seats.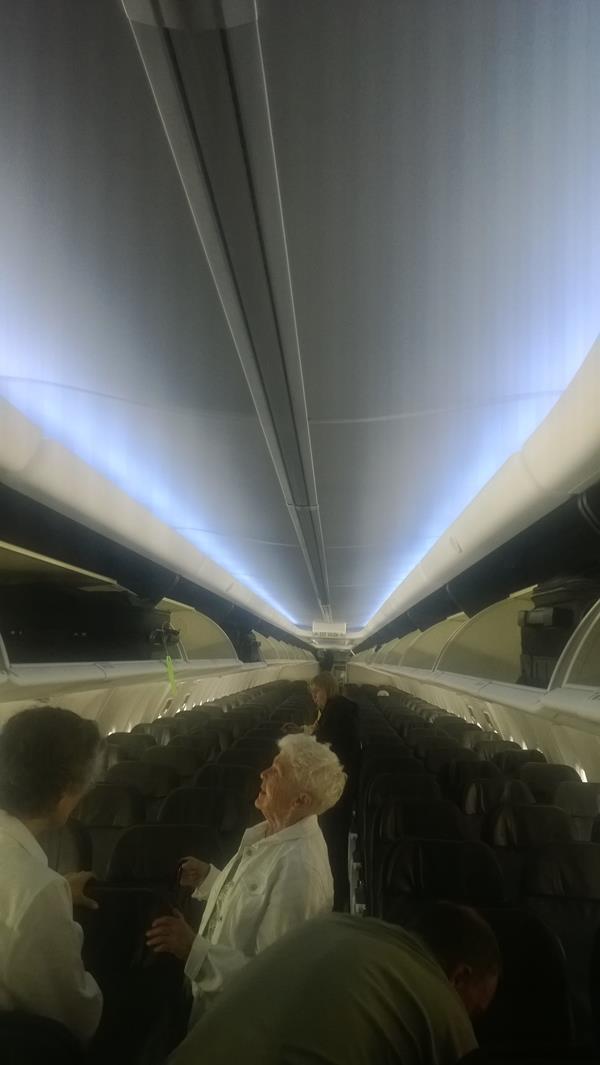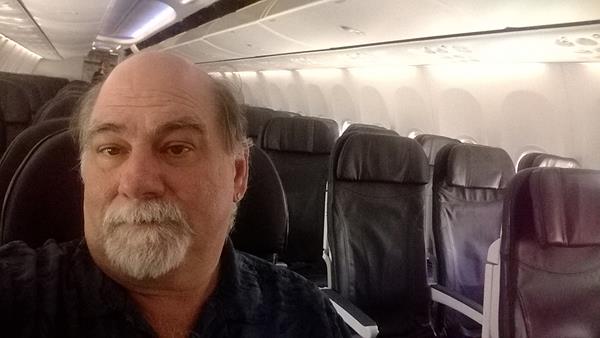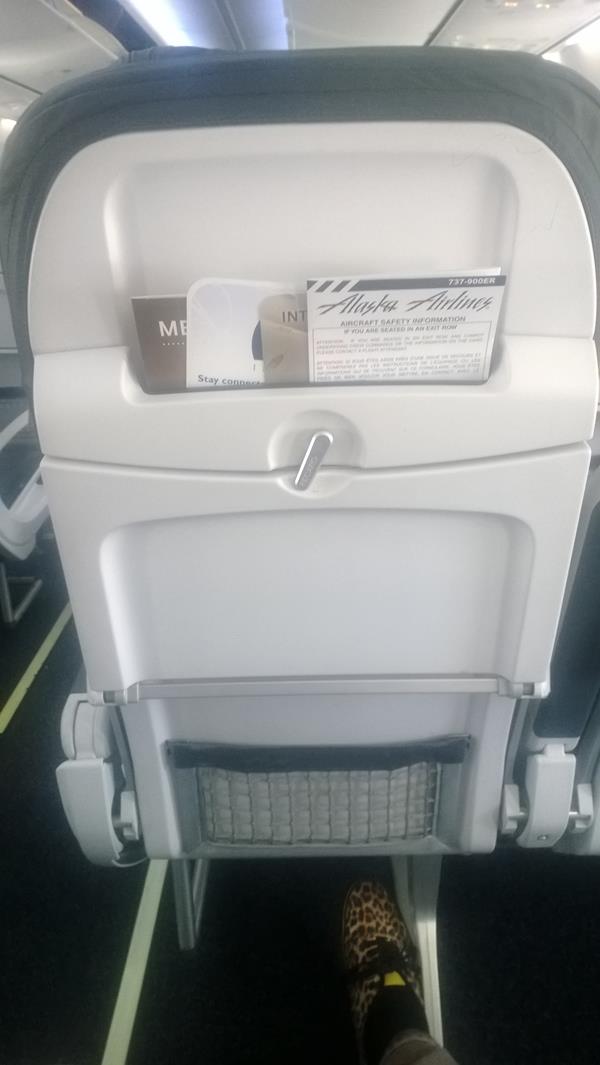 Odd since I thought they were also installing outlets and USB jacks at all the seats with these new airplanes. I had a little over an hour in Portland to grab some wine and cheese in the Board Room before my flight to Seattle on the UW-themed Horizon flight: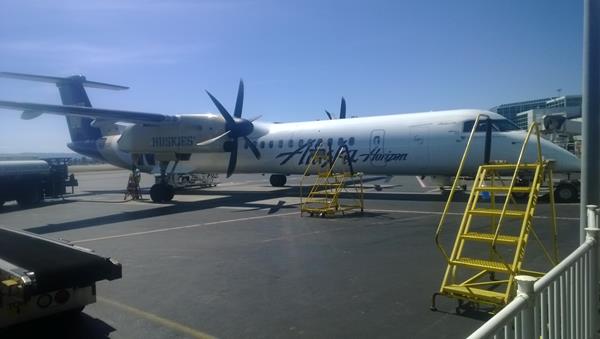 The only casualty of the trip was my Porter-Case when once again suffered some damage – this time a latch that was completely ripped off at the hinge:
They offered me $100 in flight credit or 4,000 miles on the spot – or the offer of possible repair. Looks like I'll be going back to T.R. Carroll on Monday to see if they can fix it at the airlines expense. Porter-Case has bordering on bankruptcy so I'm not sure if there will be parts available. I'll keep you all informed of the outcome. Friday, Saturday, Sunday work schedule for me this week.
[213.0]