The third and final train trip in this month's rail adventures – The Coast Starlight.
Arrived 15-20 minutes late on The Southwest Chief – unshowered and unshaved but at least my teeth were brushed. First stop…wait for it….The Metropolitan Lounge on the second floor of Los Angeles' Union Station.
This lounge has only been open since December of 2013 when I was through on my way back from Santa Fe – when it still smelled new. It's sort of hard to find…to the right of ticket counter and left of the Hertz desk, then up an elevator and then to the left. Signage is a little lacking.
Plain from the outside: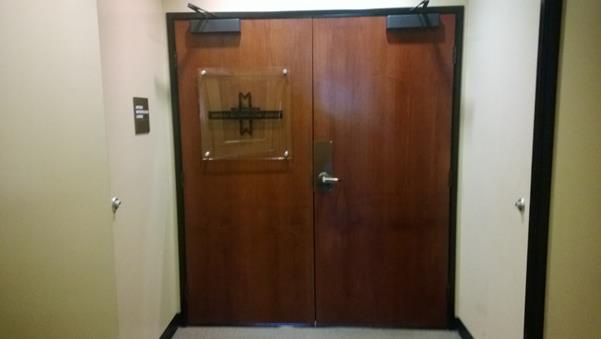 Snazzy on the inside: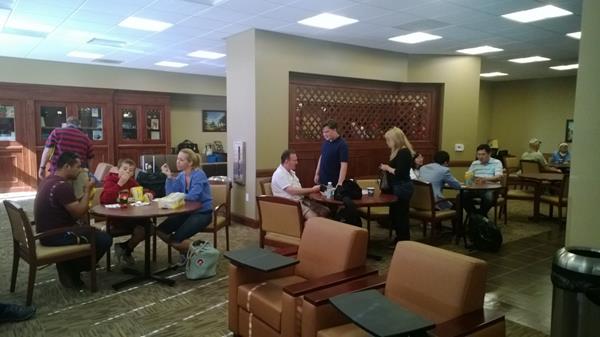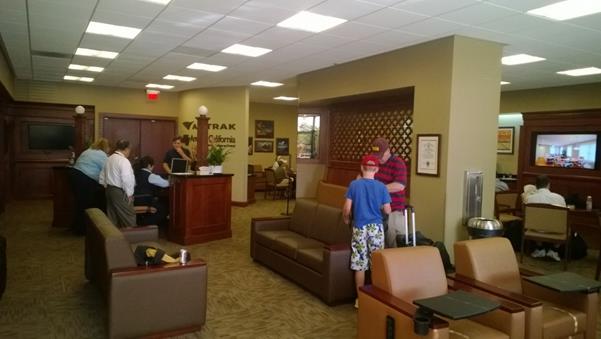 Juice, soda, coffee, espresso, sweet rolls, and a conference room with this really great photo of the previous era Coast Starlight: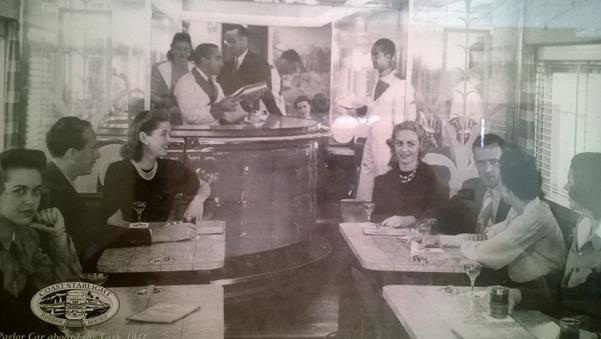 Craig and I track side for one of the best "Platform Memories" yet – well, the photo is the best quality – and I should be as he's a professional photographer.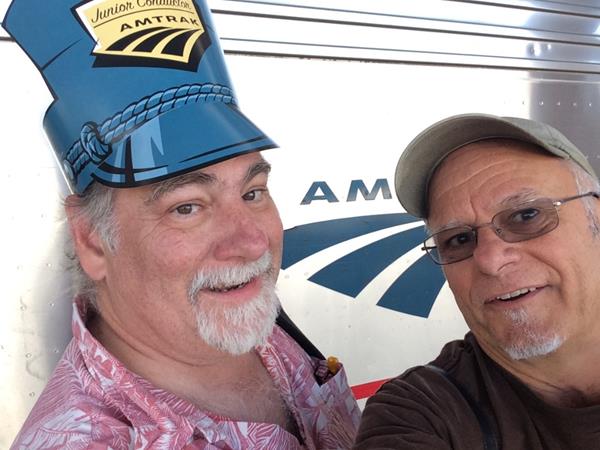 We got to hang out for twenty minutes or so – and I got to give him a tour of the sleeper car. He wants and invitation the next time I want company on a train trip.
First order of business – even before the train left the station was a shower. I really should have done it on the Southwest Chief, but live and learn: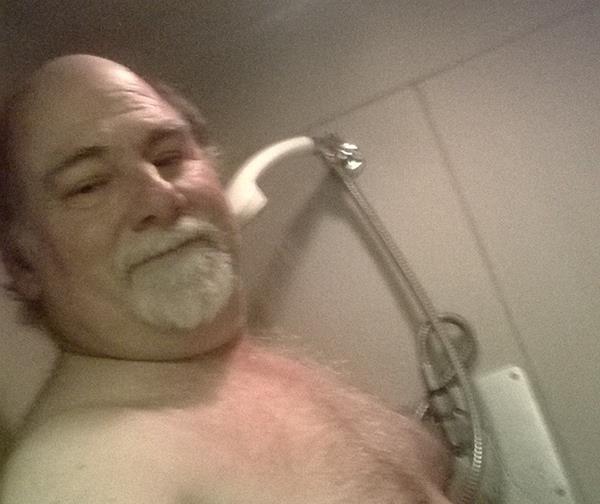 It much easier to shower when you aren't bouncing off the wall of a moving train.
Greek Salad for lunch in the Parlour Car (this one from 1956) which alternative dining option to the Dining Car. Much more limited menu, but you generally don't have sit with other people though not in my case as there was another single dinner – so much for my plans for reading USAToday while I ate.
Spent the afternoon working on the Southwest Chief post, jotted down a couple of ideas for future posts on weeks I'm not travelling. So much for getting anymore of the book I started on the airplane completed. The book (Crow Planet: Essential Wisdom from the Urban Wilderness) is the required reading for all incoming Evergreen Students for the fall semester. Yesterday I took one of those silly FaceBook quizzes on what your spirit animal is…and I got crow. Go figure.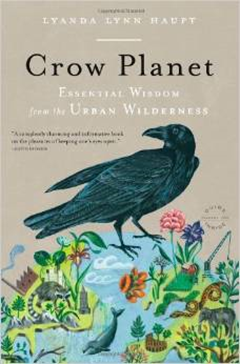 I took dinner in the Parlour Car as well, with the same single gentleman as at lunch – and with each interaction it's feeling odder and odder. It doesn't help that his roomette is right across the hall from mine.
The main reason for the Parlour Car again for my meal was the Red Wine Braised Lamb Shank – which I've had before, and liked enough to track down the recipe which I posted in a previous entry. LINK.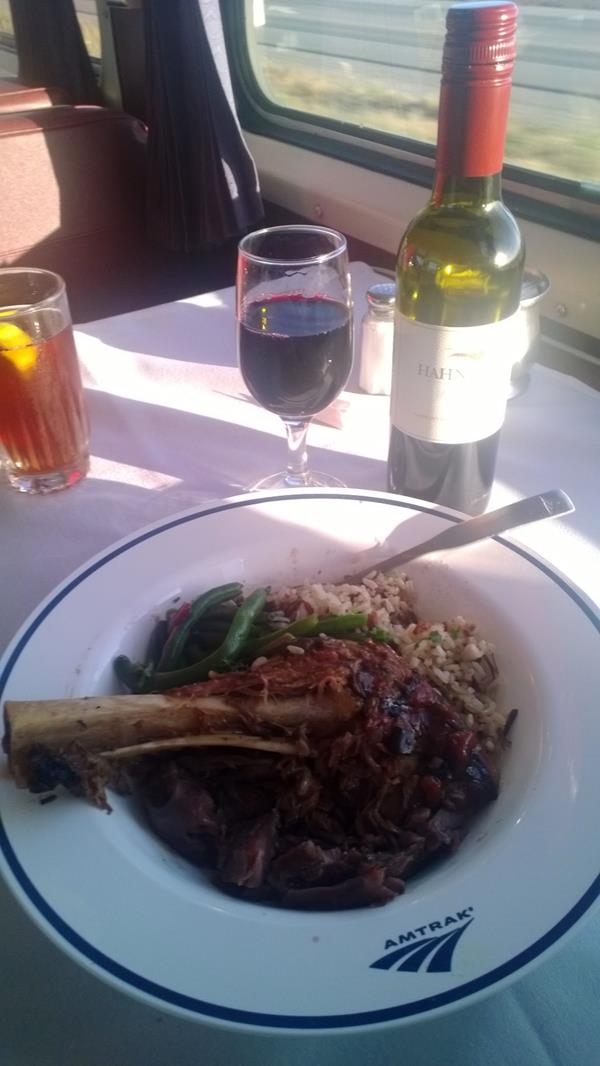 The lighting is a little funky, but you get the idea. Luckily my "less than ideal" dining companion gets off at Sacramento around midnight.
After dinner I got text from Lunetta – apologizing that they wouldn't make it to the platform (which I hadn't expected they would) –his plane ran late, and he and Onyx were still at dinner. Nice of them t text – guess they enjoyed the last "Platform Moments".
My last FaceBook post before I got out of range was "Bedtime For This Bonzo".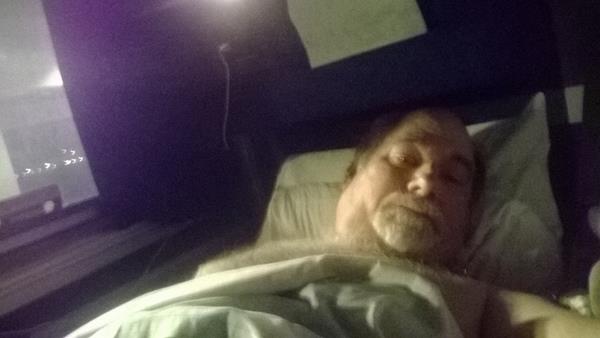 After the weirdness of lunch and dinner I opted to have coffee and breakfast delivered to my room at 8am. How civilized. Mostly they provide this service for mobility limited people (like my mother who always gets the handicapped room downstairs) but anyone can request the service – though the last morning on the Southwest Chief you'd probably have to tip the room attendant in advance. But here was my breakfast: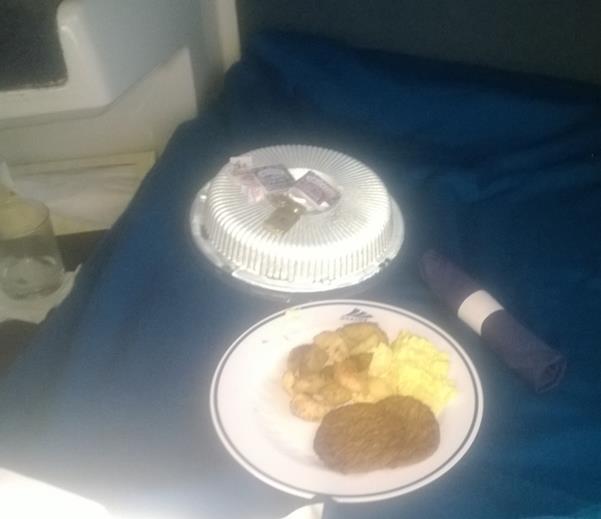 Scrambled eggs, pork sausage patties, home fries (which I mostly didn't eat – and I requested to biscuit/croissant either).
And for Swanda a "footie"…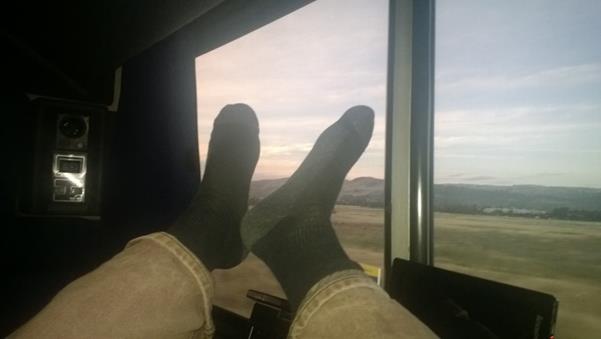 For the rest of you a slightly maniacal "selfie"…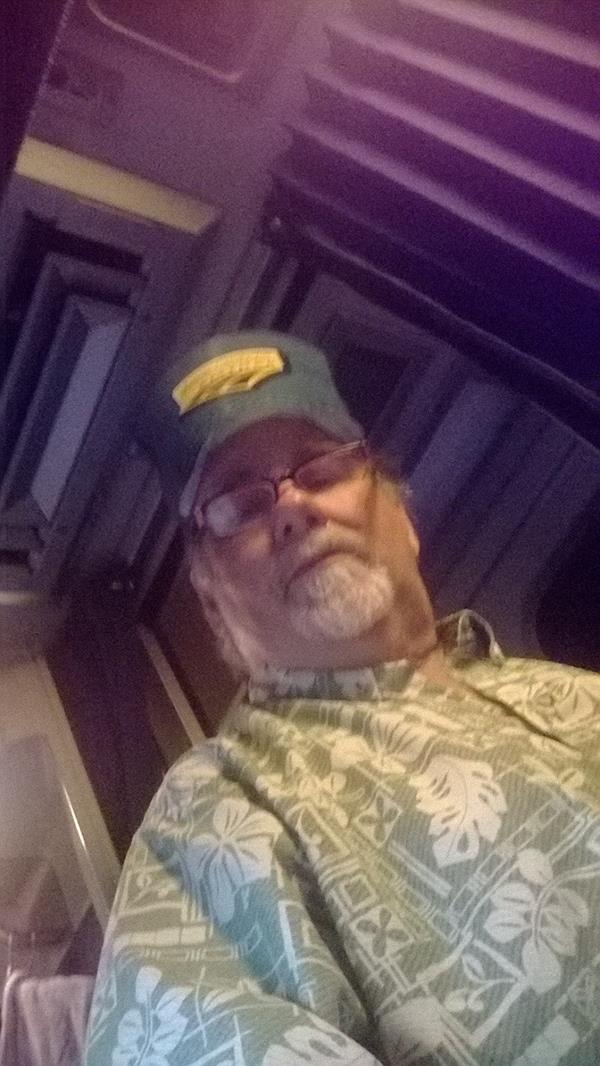 Had the burger (again) for lunch, again using Newman's Own Two Thousand Island dressing as the "secret sauce". Damn tasty, sorry, no photo – it disappeared too quickly.
At Eugene I texted the boys (Travis and Leo) saying the train was on time and that I was in Eugene: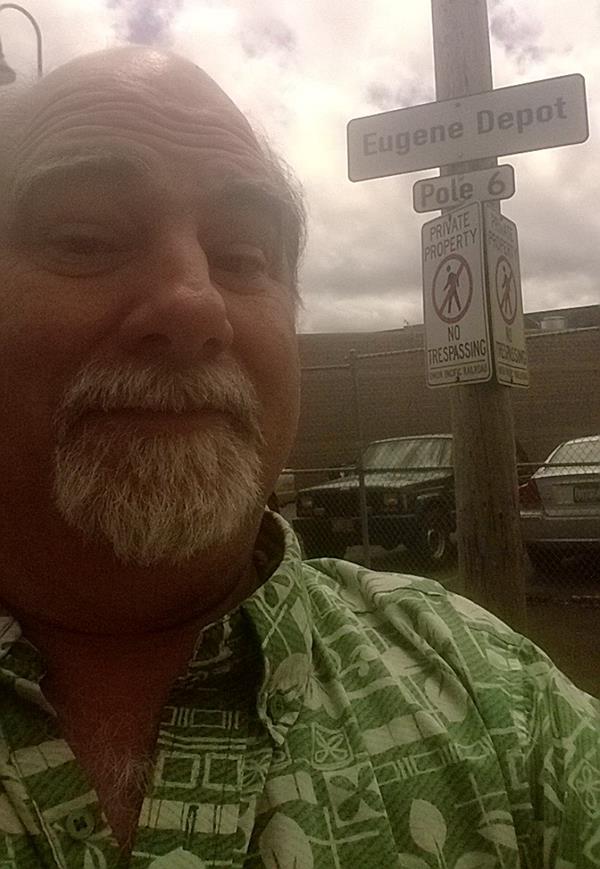 Got a quick response back from Travis saying it was doubtful he was going to be able to make it after all. Sigh. Such a photogenic guy. And then Leo was stuck at the post office – a total bust for "Platform Memories" other than..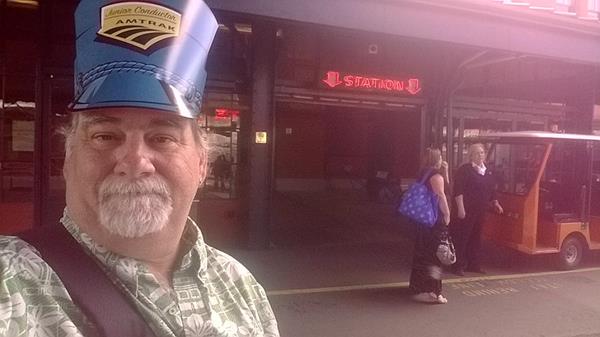 We were thirty minutes early into Portland, which means probably 30 minutes early into Seattle – meaning a compressed dinner schedule. I was surprised when I got a 6:20 reservation…the last seating.
I finally remembered to take a picture of their "Signature Cooked To Order Steak":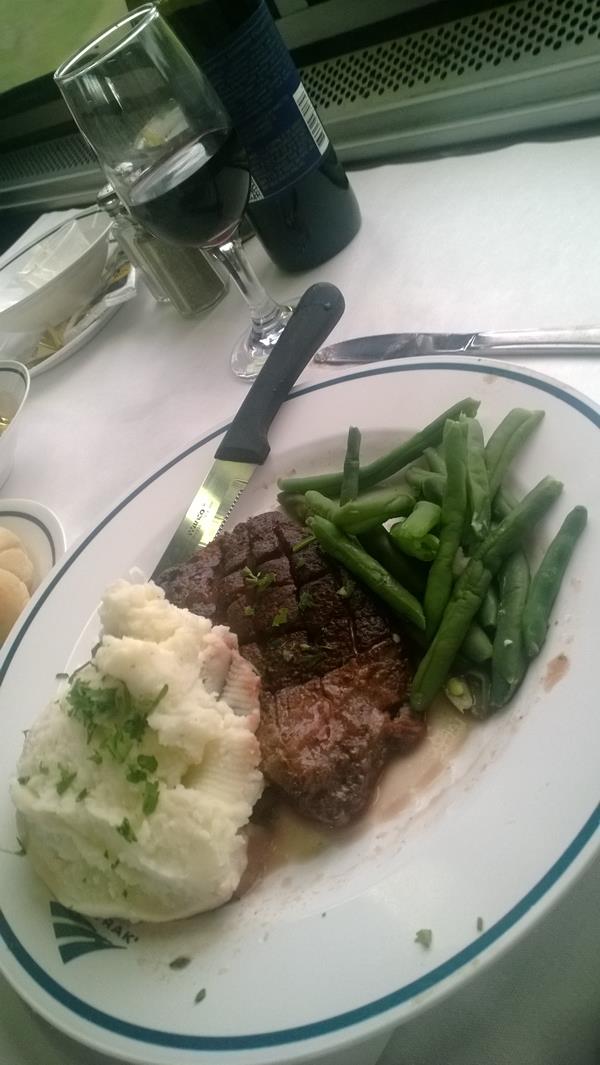 Shared the table with a lovely couple from Stockholm who were headed to Seattle to catch the Norwegian Cruise Line boat to Alaska – thereby achieving their goal to see all 50 of the United States. How many citizens of the US can claim that. I can, but I'm definitely in the minority.
Caught a cab back from the train station and dropped off my Junior Conductor hat with Casey, one of the Evergreen Grad neighbors that moved in a couple of months ago – I think it looks better on him than me.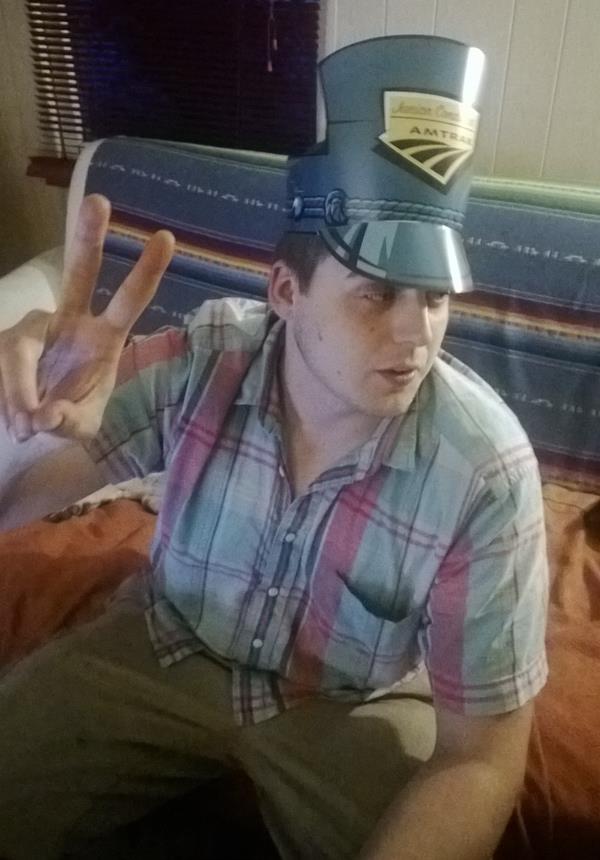 [217.6] Better than I was expecting – only a 3.8# weight gain after 5 days of 3-squares a day via Amtrak.