Roxy goes back to college at The Evergreen State College in the fall, and left both of his jobs at the beginning of the summer to have one last fling before academia. With that in mind I've booked us three nights in the WorldMark Whistler Creekside – a one-bedroom plus.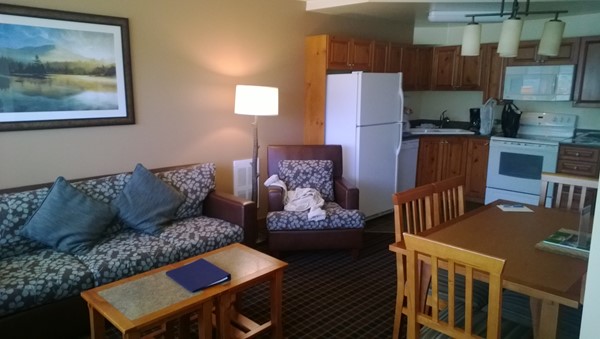 Roxy's bedroom – albeit meant for children: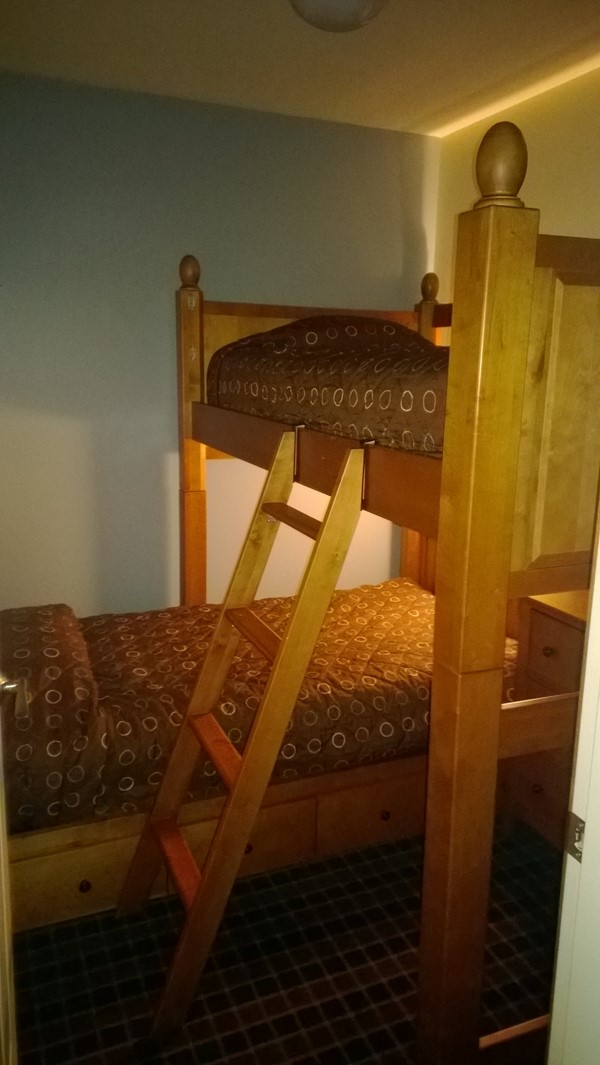 My bedroom was meant for the adults: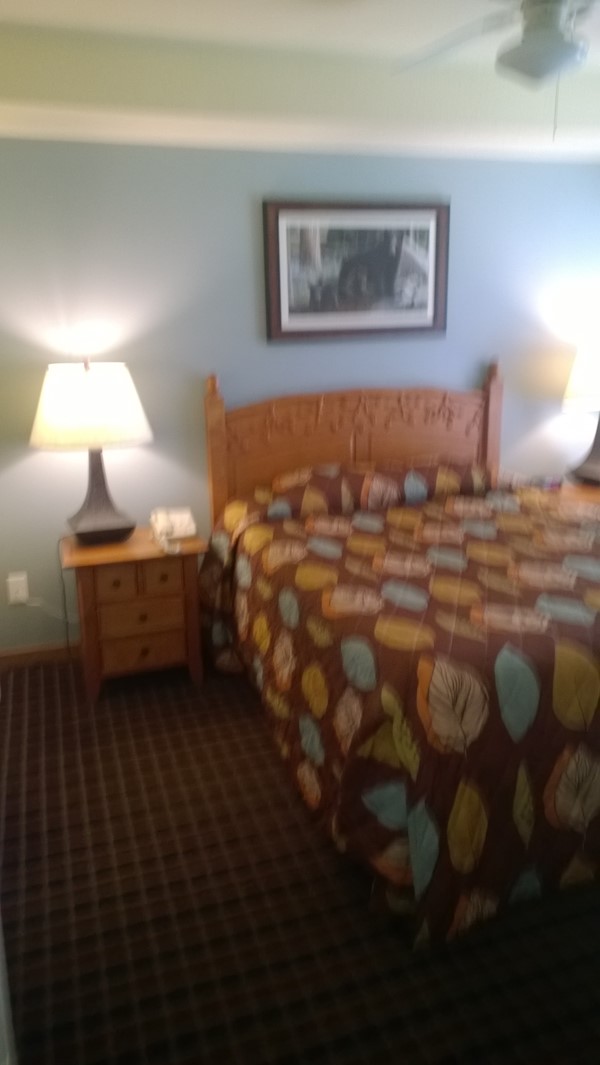 Not a bad view – and this was taken before they came and whacked down some of the closest trees for an even better view: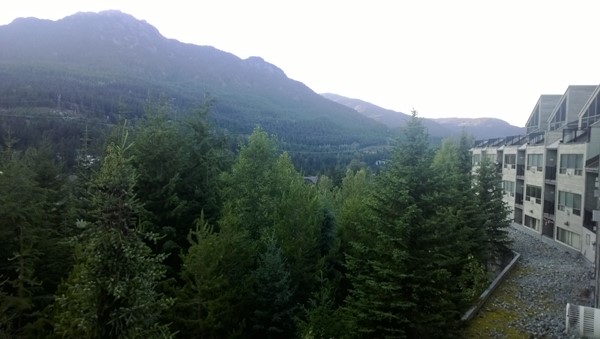 We got to the place about 3:30 after stops in Squamish at the liquor store for wine and cider, and Nesters for groceries. The room was ready and I think I've even had this room before since it's on the third floor – but that's the entrance floor. Room was at the end, close to the back door for convenient parking.
Since Roxy is a PescaTerian, it's fish rather than fowl for dinner – halibut with salsa to be exact, along with a nice salad: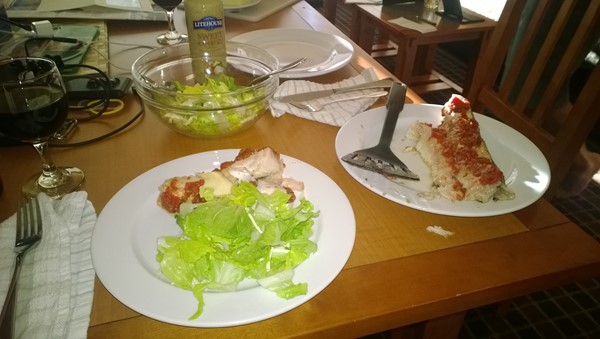 In the morning it is up and out – according to what I have read, the 7th Heaven Express lift has limited hours. A little breakfast and out the door with the first stop be Guest Services to pick up our lift tickets – if you book 5 days in advance, you get a discount (which pretty much pays for the tax) and a second day free –which is a huge discount. Basically it works out to $25 a day for unlimited mountain top rides, but only one time up the mountain. We were in line behind some nice German boys: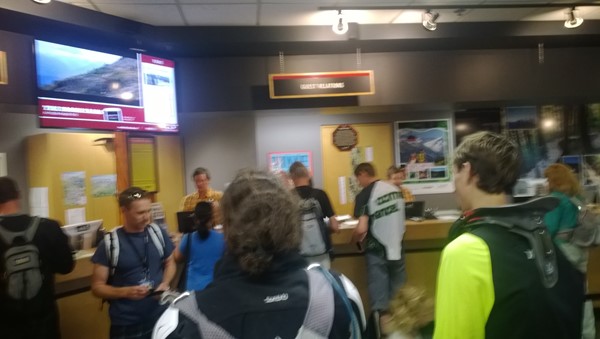 What I discovered over the two days on the mountain is that Whistler/Blackcomb is truly an international destination. German, Italian, French, Kiwi, Spanish, you name it.
Our first ride is up the Whistler Gondola:
That takes you to the Roundhouse Lodge where we caught the Peak-to-Peak to get to Blackcomb.
The Peak-to-Peak is the world's longest gondola run at 1.88 miles. From there we caught the bus to the 7th Heaven Express. So weird to see people waiting in line half in and half out of ski gear – I prefer the half out: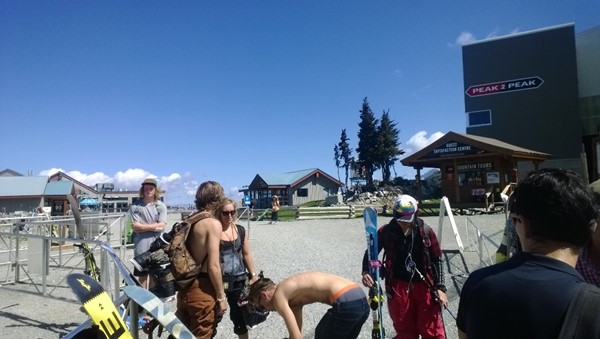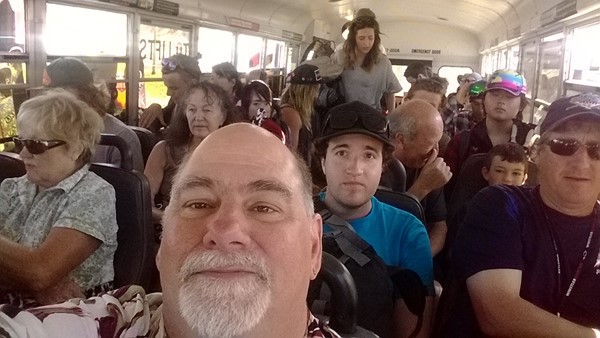 The bus was crowded since the lift had only opened half an hour earlier. Figure half tourists, half ski/snowboard.
Here is a selfie with Roxy on the open-air lift: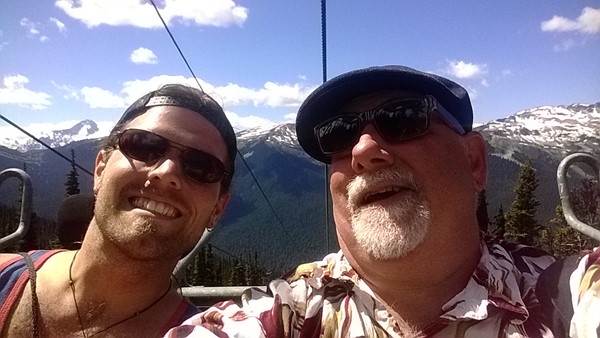 A beautiful day to be in the mountains. And from the top, which is 7,494 feet….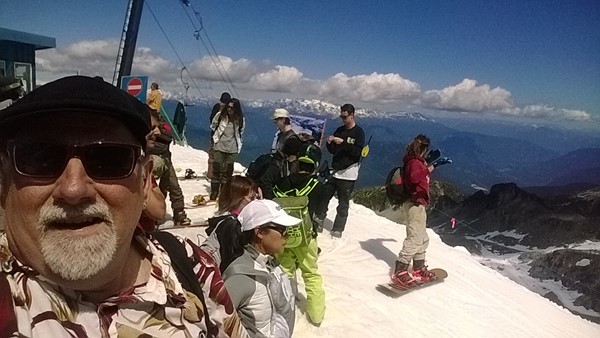 And the ski-bowl, which is open until July 27th this year: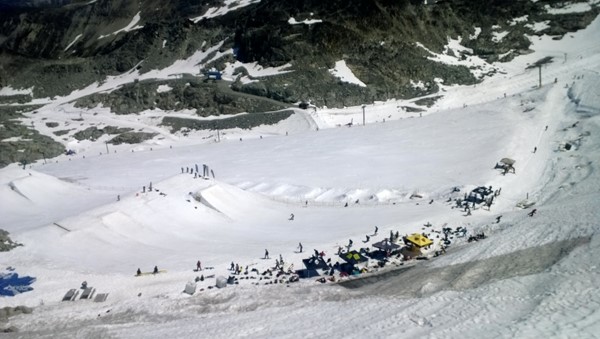 Complete with skiers doing aerial tricks:
After hanging around for a bit, it was time for a little snack: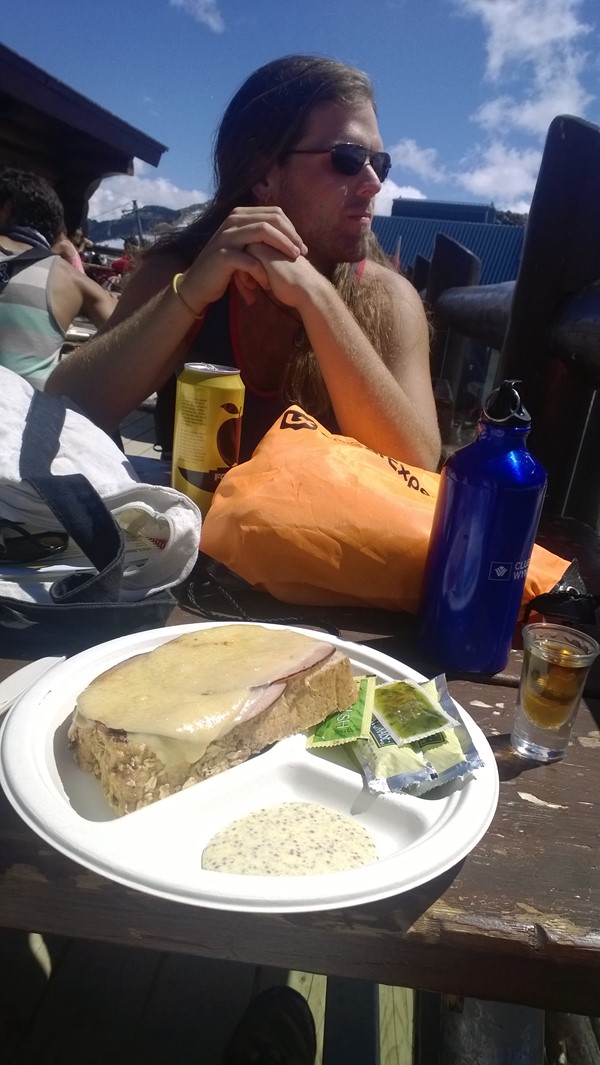 That would be the ham and cheese melt on a big slab of multi-grain bread, a shot of cognac (which hits you like a ton of bricks at that altitude), and my "water bottle" filled with Whiskey and Diet which lasted me all day – got to keep hydrated. As for Roxy – just a can of cider, he's not much of a mid-day eater.
We caught the bus back down and grabbed the Peak-to-Peak back to Whistler and set off for the summit via a .37 mile hike (elevation change 180 feet) and yet another open-air chair lift. Whistler Summit is 7,807 feet in elevation and needless to say has stunning view.
Just to give you a feel of the ride down – several people have commented….no way in hell!
We decided to take the Solar Express to Blackcomb Base Camp since it looks on the map like it will be closer to the Free Day Lot (Lot Number 4) where we parked. We saw a black bear on the way down, but I didn't get a good picture of it. For this ride on the Peak-to-Peak, we waited for one of the two glass-bottom cars: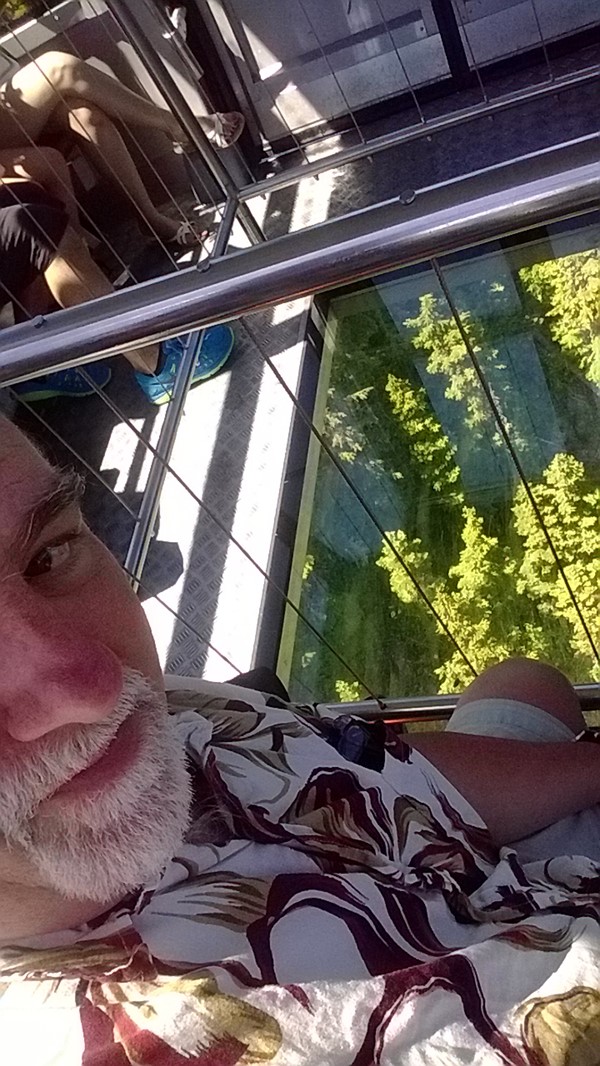 The downside of these cars is that you have to wait for them rather than immediately getting on one of the regular ones, there are not as comfortable (i.e. you can't put your feet up), and most importantly they are stuffed with other people.
Back at the condo – it's another fish night, this time was a slab of grilled salmon with grilled eggplant – did I mention the condo had a grill?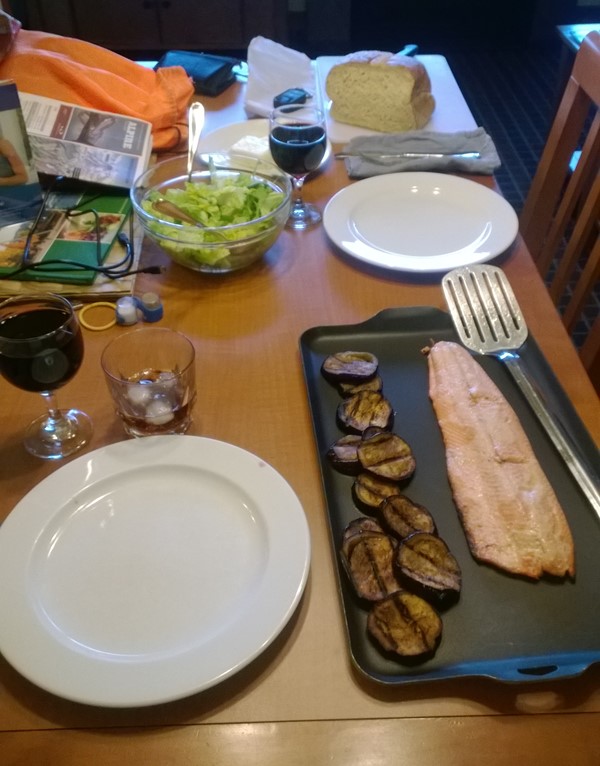 A quiet evening for the boys…a little whipped by the altitude.
Up the next day – not as early since we've already done the summit with the early closing time – today is all about hiking – yes, I used that word. Granted, we are only doing the "Green" trails, not the "Blue", and god-forbid, the "Black" trails. But nonetheless, yes, I'm hiking. Here is the hiking trail map.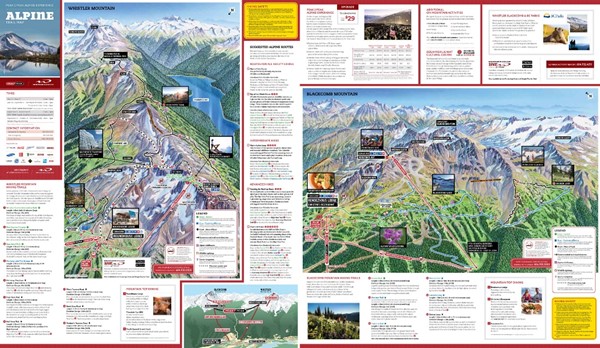 We did one hike on each of the mountains, coming up the Solar Express from Blackcomb Base Camp in the morning. The first hike was the Spearhead Walk, which was .74 miles long with an elevation change of 55 feet. Twice the trail passed over the downhill run from 7th Heaven: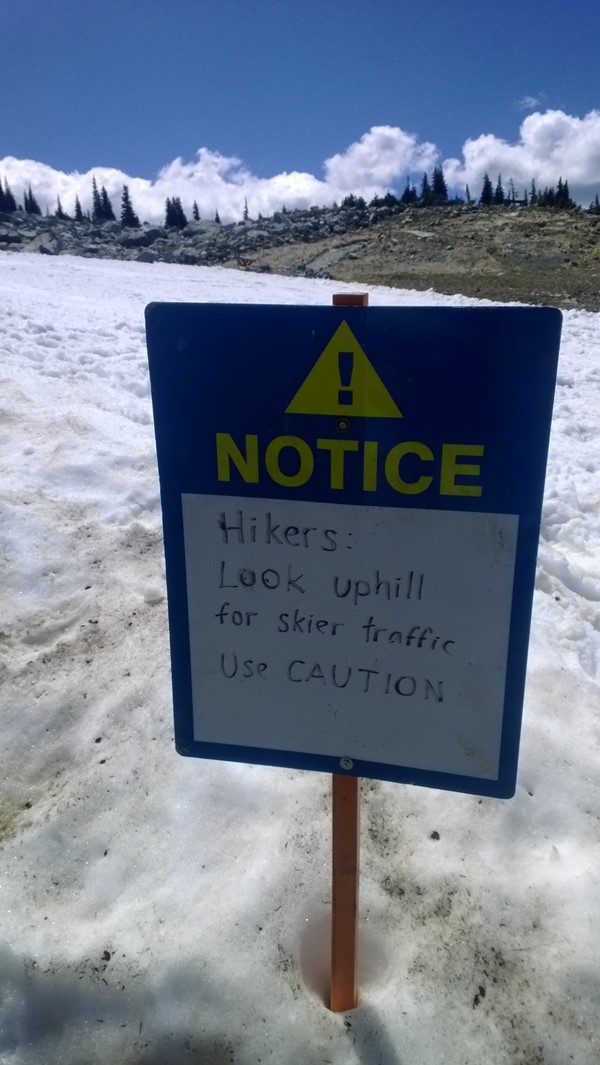 Lots of great views of the valley between the two mountains on our little hike: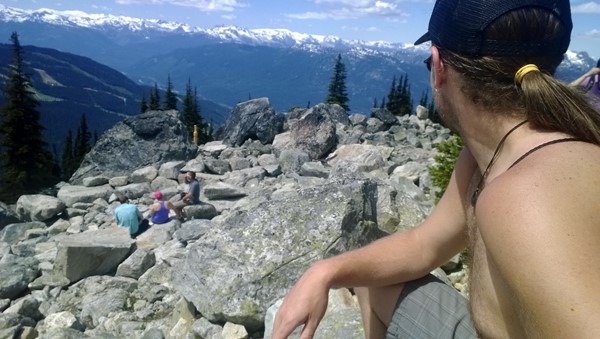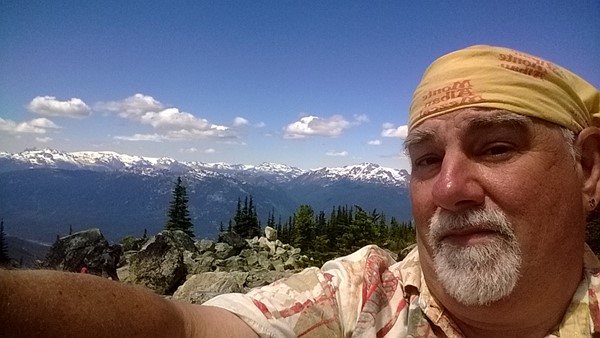 After our first hike of the day, it was back onto the Peak-to-Peak to hit the Alpine Walk on Whistler. This one is .96 miles long with an elevation change of 213 feet. More great views, just no great pictures.
With that hike done it as time for a late lunch at Christine's back on Blackcomb – onto the Peak-to-Peak we go….Christine's is the fancy sit-down restaurant and I thought we should treat ourselves. It's also a great way to avoid parents with children. My expectation was OK food and that you are really paying for the view….but first… cocktails: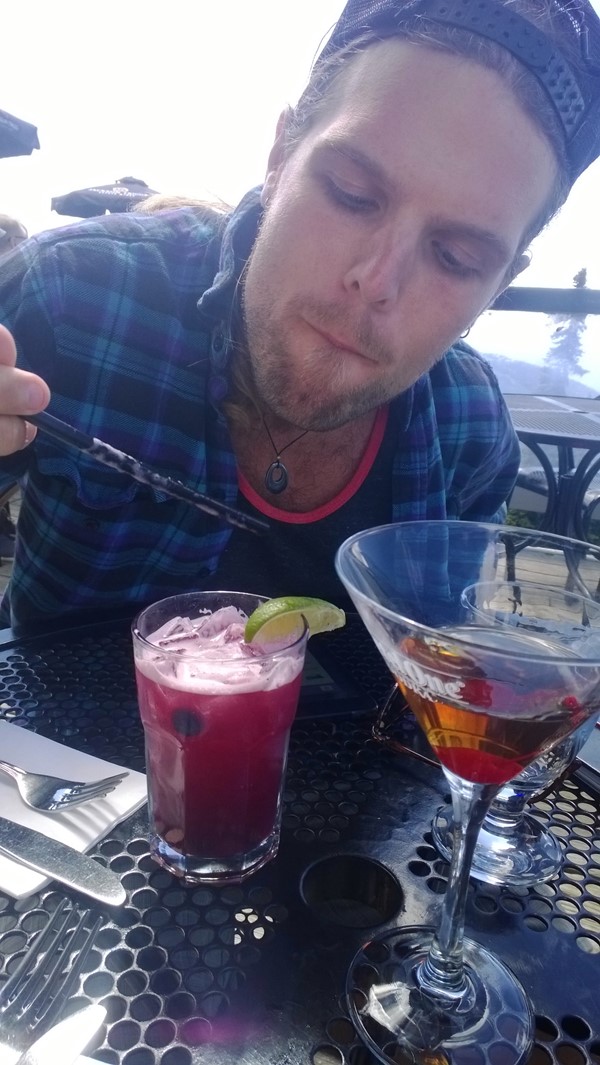 Manhattan for me, Blueberry Margarita for Roxy. As for lunch, Roxy had the hot ahi tuna sandwich with arugula and black truffle aioli and I went for the pound of steamed mussels: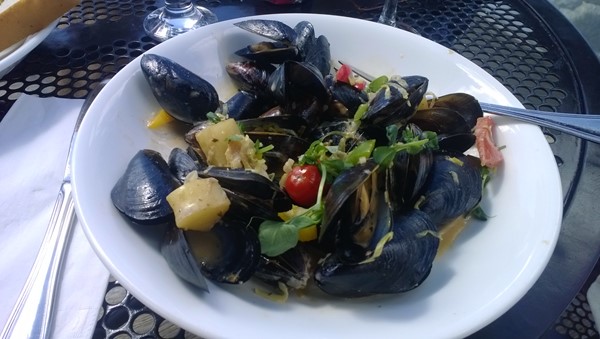 We shared bits and both were EXCELLENT – one of the best meals that I've had in YEARS. The bill? $88 CAN not including tax for the two entrees and three drinks. Any yes, the view was STUNNING as well: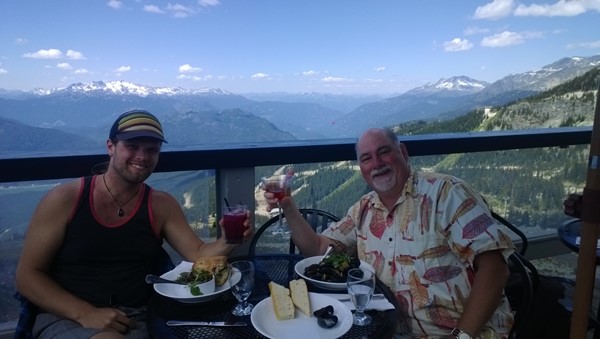 It was after 4 by the time we were done with lunch, and time to head back down the hill.
Today there were four black bears out foraging for huckleberries – and I got a nice little video of one of them:
On the way back, we stopped at the new grocery store (Creekside Market) in Creekside Village where the condo it. I hadn't been to this one, it's only been open since the Winter Olympics in 2010 where Creekside was at the bottom of the downhill run.
We found a great selection of sausages – salmon sausages for Roxy, lamb for me.
Well after dinner, Roxy found some playmates down the hill – and me, I had another drink and went to bed.
Off before 11 in the morning as I have to been Susan at the Costco in Burlington to pick up some more bindery equipment that she is getting rid of – that after an easing short line at Customs after our trip to Duty Free (2 liters of Dark Rum for Dark and Stormy' s since I still have some of the Reeds Ginger Brew). Roxy still needs to apply for Nexus so that when we go to Cabo San Lucas in September that he has Global Entry.
Both of us got a ton of sun on this trip…. 5 hours with the top down on the way up, 5-7 hours each day on the mountain, another 5 on the way home.
It was nice to switch off driving on the way home. Speaking of home, got there at 4pm after dropping Roxy off at his place in the old brewery.
And my next house guest was patiently waiting for me – he'd arrived yesterday. Luckily I have a lock box with a key in it for such emergencies.
[? ? ?]