Well – it's another early day – luckily my buddy Ray is in town to get me to the airport at a little after five for my three-hop to Dublin for Mark Pucci's wedding:
Seattle-Portland (Coach)
Portland-Atlanta (Business)
Atlanta-Dublin (Business)
Left the house a little after 5am, and here is a selfie of what I look like at that hour (with an Alaska 737 with Disney livery in the background):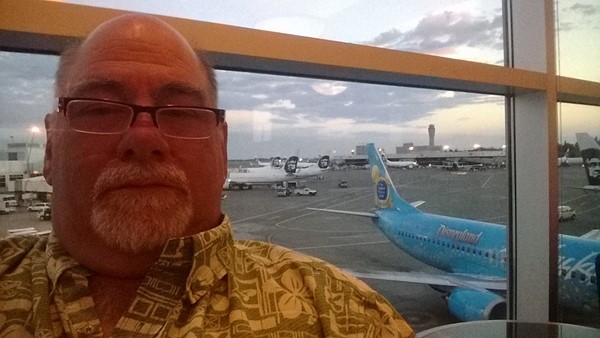 Looking a little "gruff" – but then again, the bar doesn't open until 6am – time for a couple of bagels with cream cheese. I'm looking a little better in Portland, and another Red Baron (bubbles and cranberry):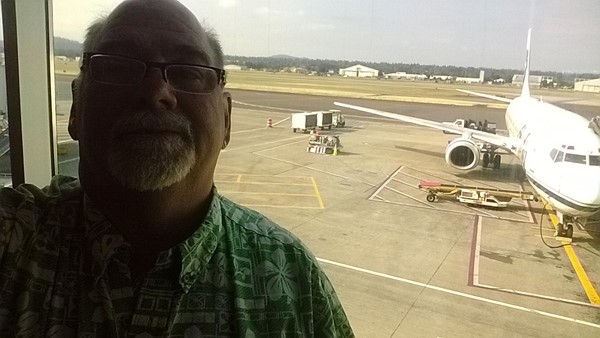 And yes, that's my plane, which I thought was a 737-400 because it didn't have the winglets that the majority of Alaska' fleet has. Turns out that it's a 737-900 that is in the middle of renovations – the new Recaro seats in the back and no hard divider between First and Coach – apparently they haven't gotten the curtains installed yet since the current divider seems to be blue painters tape. Classy. I wonder if it's the same on as in this YouTube video? LINK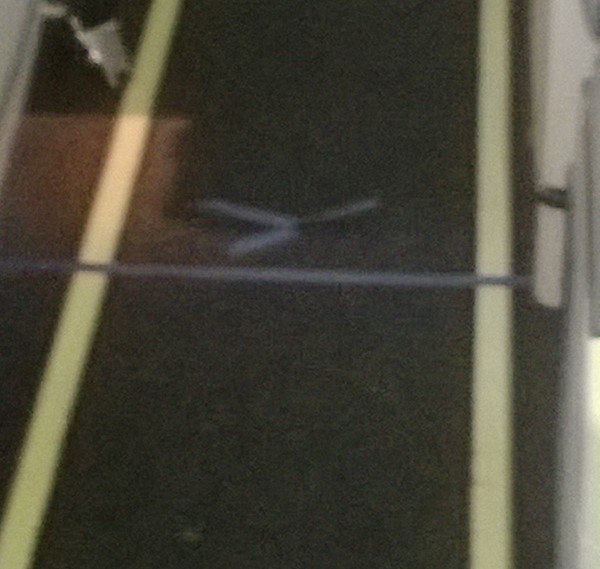 But my seat is comfortable (notice the lack of divider):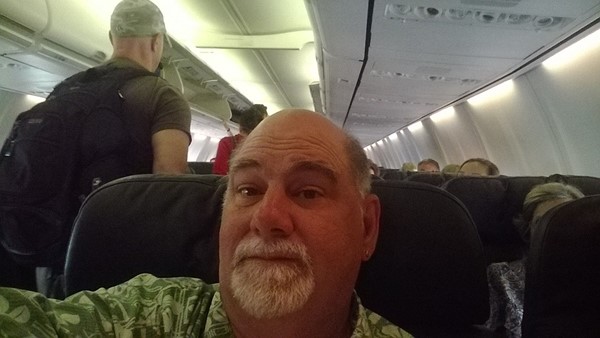 I tried reading my current book – but it's more of a page-stoner than a page-burner. I picked it up several trips ago at Compass Books in the San Francisco Airport on their remainder stack. The book is Pornographia, by Polish author Witold Gombrowicz. This is a new translation direct from the Polish. The previous edition was translated from Polish to French and then from French to English. Not a good idea.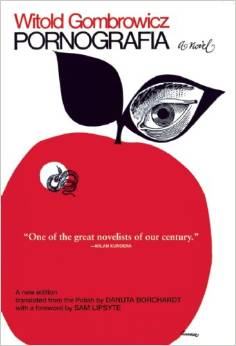 I should say, tried and failed – at least so far. I hate travelling with hardback book (even when skinny) and then not reading it. It reminds me of the six weeks touring Europe while at Evergreen trying to get through Lewis Ferdinand Celine's Journey To The End Of The Night.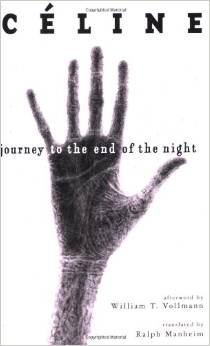 Instead it was the call of dinner and reruns: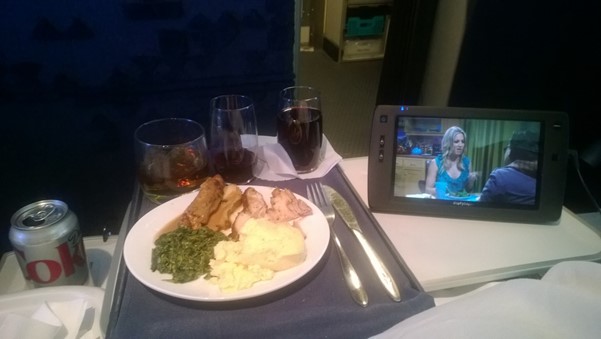 That would be The Big Bang Theory and:
Farro Salad
Warm Dinner Roll
Blackened Chicken
Creamy Polenta
Creamed Spinach
Chuckanut Huckleberry Cheese Cake
And both of their red wines to sample. I'll give the book until the end of the trip and then it's getting left behind, read or unread.
Got to Atlanta with enough time to walk across the airport, do some duty-free shopping and head to the lounge for a couple of drinks. Between my United Gold and my Alaska Board Room membership I'm pretty much covered. It did amaze me that the Knob Creek (at 100 proof) was the same prices as the Jack Daniels (80 proof). In stores there is a big difference in price: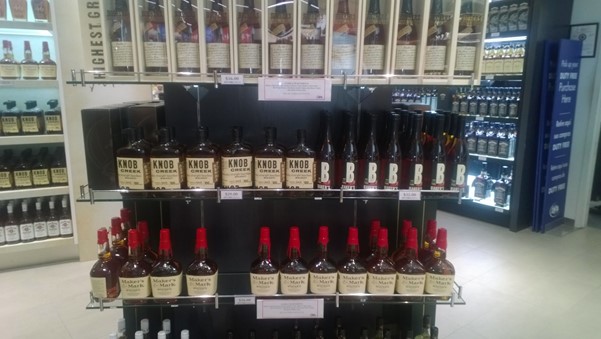 Nice international lounge in Atlanta: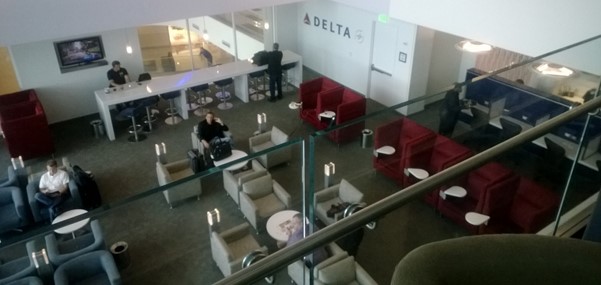 Even opted for a quick shower: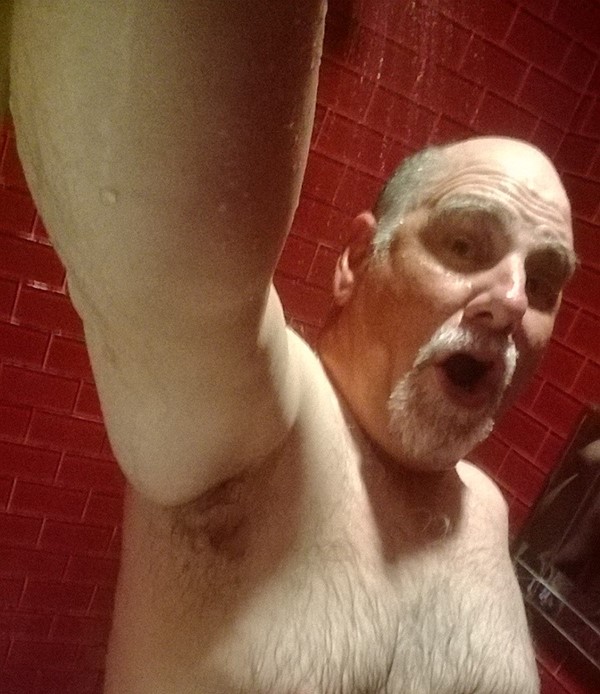 And I needed it since it is another 6+ hour flight before I get to Dublin.
The plane boss, the plane (as Tattoo would say on Fantasy Island):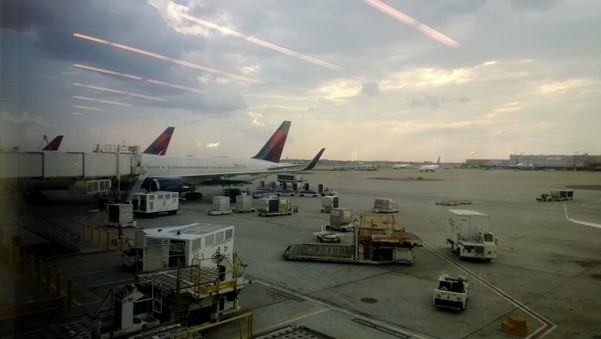 That would be a 767-300 and what the business-class seats look like: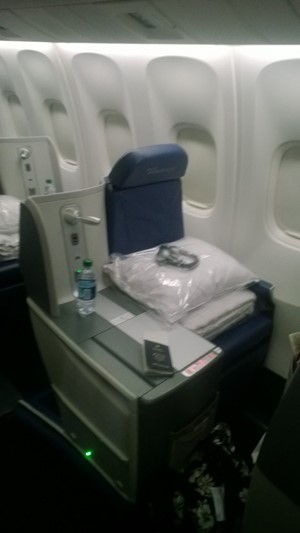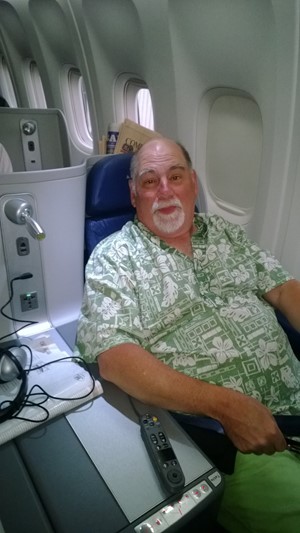 My two movies for this leg (before I got into the reruns) were classics – which is what I'm seeming to revert to in my on plane movie watching: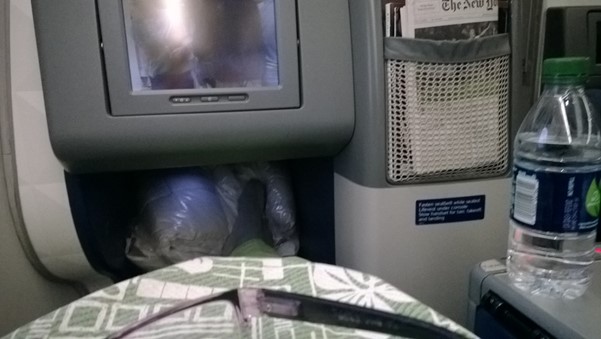 Started with Ferris Bueller's Day Off and moved onto Breakfast At Tiffany's. I'd forgotten how light-hearted Ferris was and the dark themes of Breakfast.
With a two-hour delay (mechanical) out of Atlanta I was almost done with Ferris (and pleading for more champagne) by the time we took off. It was with dinner that I watched Audrey:
Shrimp with avocado

Mixed greens with cranberries, pecans and feta cheese
Squash soup

Beef tenderloin (amazing tender that loin) with Béarnaise sauce, buttered asparagus, lobster macaroni and cheese

Some cheese and sweets for dessert


I passed on the ice cream sundae (second shelf) because before you knew it some more reruns and little naptime: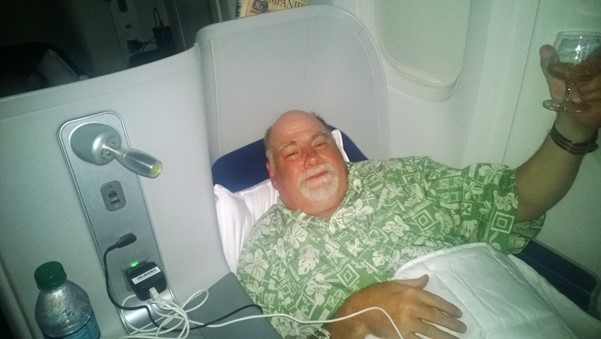 About 90 minutes before landing it was breakfast time:
Seasonal fresh fruit
Portobello mushroom omelet with asparagus, potato wedges and bacon
I was actually impressed with bacon since you know everything is reheated. So much for the diet.
There was a curious thing about the meal service…the silverware was magnetized and you could do amazing balancing tricks with the cutlery: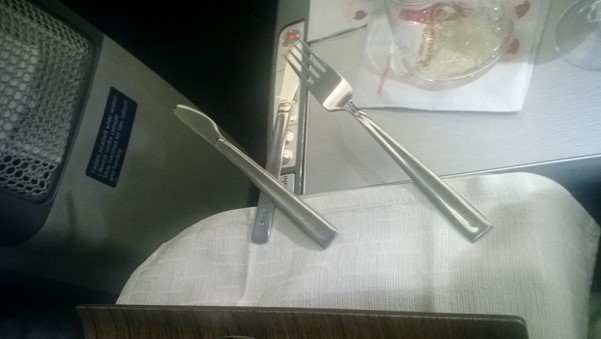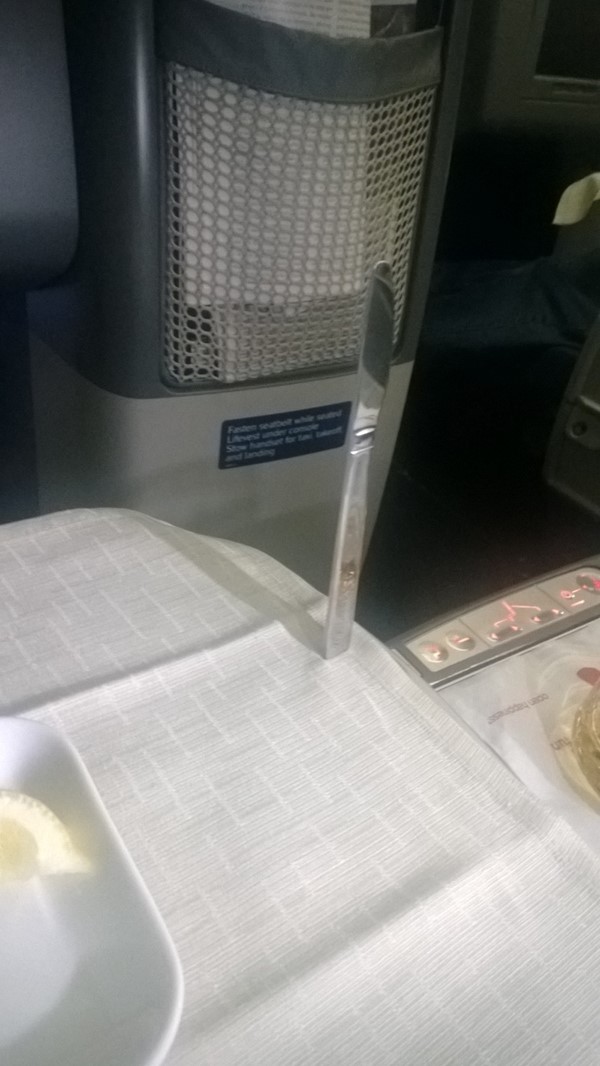 One of the things that I like about flying into Dublin is the "low key" entrance form you fill out: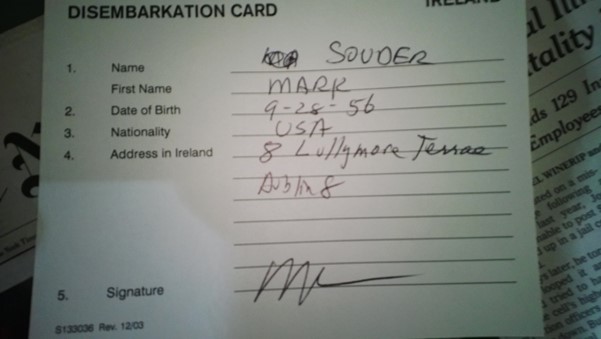 They don't even ask for your passport number. And it's quick when you are on the ground, especially if you are in seat 1A and they are disembarking from the front door.
By 11:30 or so (should have been 9:30 or so) I was at Mindy and Jeff's – sadly only Mindy as Jeff (aka Mork) was in the states for "management training". The perils of becoming a General Manager for a tech company.
Chatted for a bit with Mindi before heading upstairs for a 5-hour nap, waking just in time to start working on that duty-free Knob Creek.
[? ? ?]