After arriving in Dublin – well, at least at Jeff and Mindi's place though no Jeff (aka Mork) – made pleasantries and went to bed for a 5-hour nap, which by the way is exactly what you are not supposed to do to help with your jetlag….I have other tricks up my sleeve for that. Awake at 5 while Mindi is on her daily work call – time for a little Knob Creek and seltzer: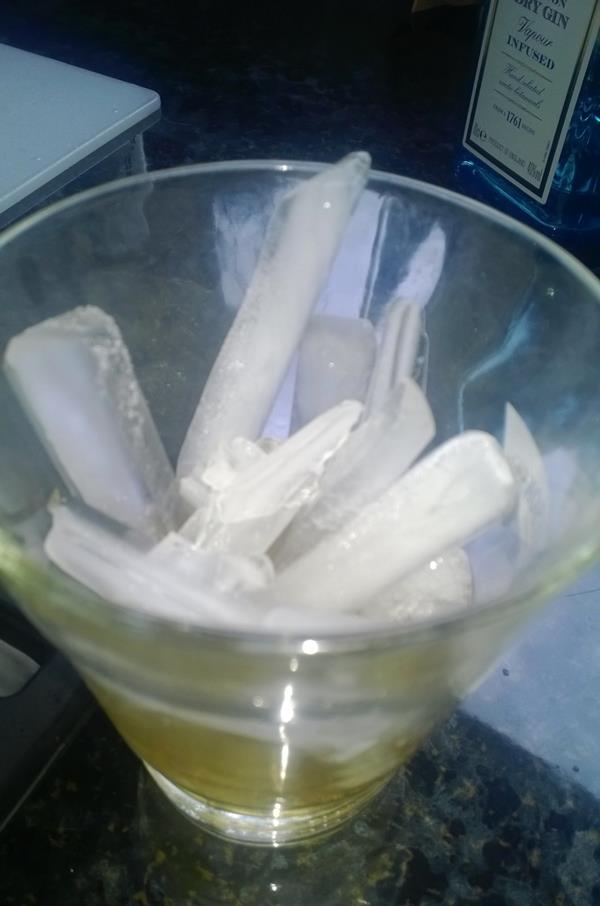 Yes, weird ice "cubes" more like ice stalactites. The gin is waiting for Mindi's G&T after her call.
Mindi works at home so I'll be able to see lots of her this trip – and more importantly (for continued invitations) be able to cook our meals in.
Since I've visited before I know where all the closest markets are and they have a "veg" delivery service all we really need is some protein and some wine. Got the protein for tonight and tomorrow around the corner at the Halal market (no pork!). But before that we need to restock the wine rack – and no, not with this which made me CRINGE: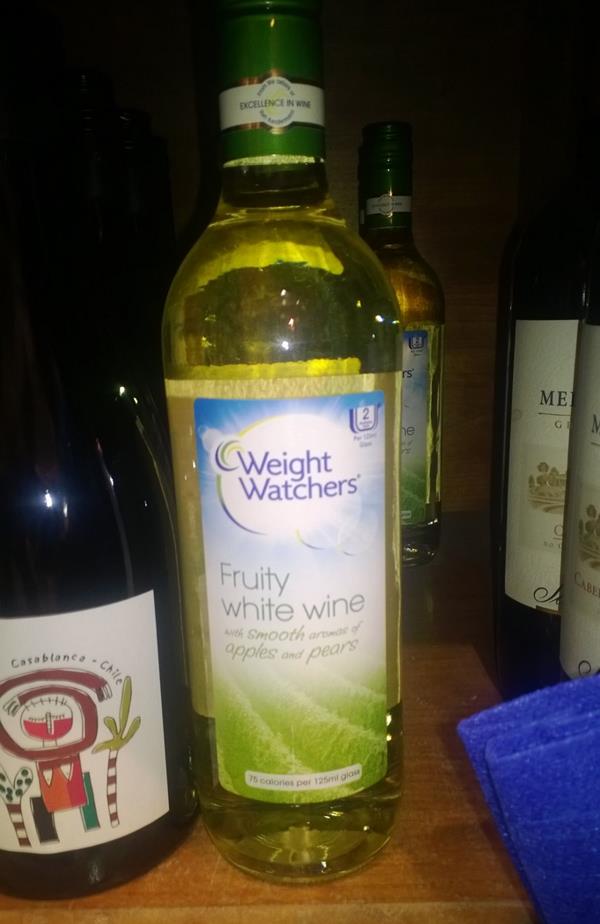 The first evening's meal was marinated chicken bits in a semi-spicy curry sauce with a bunch of the "one their last day" vegetables…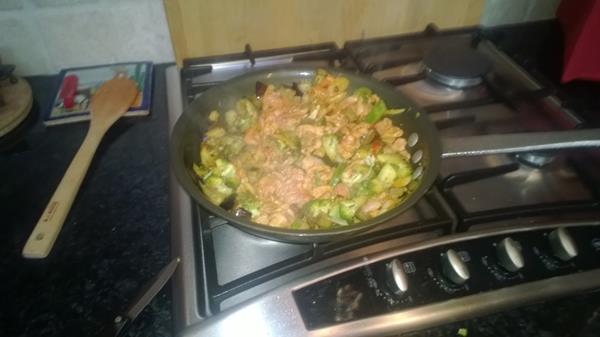 And the incomparable Mindi waiting for me in the dining nook: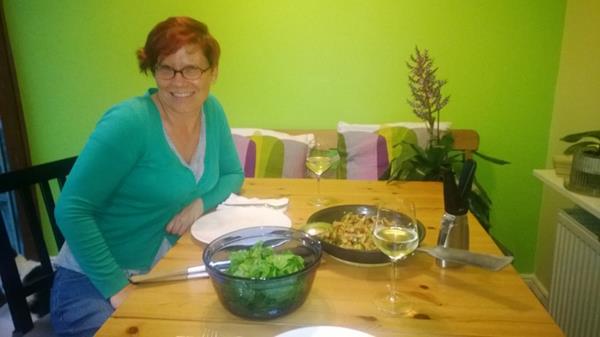 An evening of drinking was enough to get me to sleep through the evening until 10ish the next morning – we were both running a little slow.
Today's outing is a new hairdo for Mindi – her monthly appointment. While that's going on I wander the streets, pick up supplies like booze and diet soda and stumble into a gay bar – the big purple thing – called The George. No time to really go in, and I can only imagine a gay bar at 2pm in the afternoon – though it would have given me a place to sit. As I learned from the website later, at 2pm they would have been just opening so it would have been me and the bartender most likely:
And a couple of doors down, another place I should have tried but didn't. Pitt Bro's BBQ which apparently uses American-built smokers. I seem to have read something in an advert (as the Brits say) about these folks – even before stumbling across them: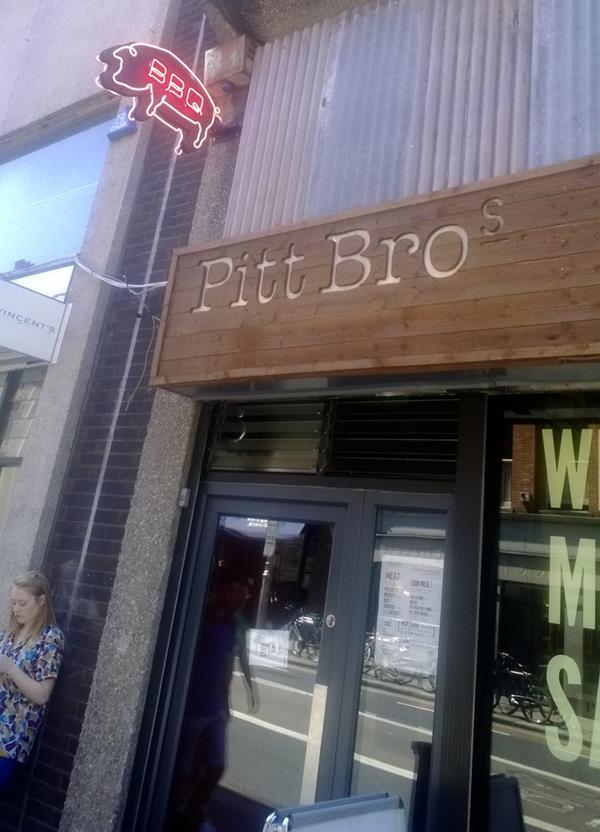 My motto is that if you see everything on your trip you have no excuse to come back. Guess I need to ask Mindi when she is getting her hair done again. That would make the afternoon:
After Mindi's hair was finished – she had a little shopping to do…at the Celtic Whiskey Shop – and this is only ONE wall – the even had a hallway filled with small bottling's in minis – too tempting.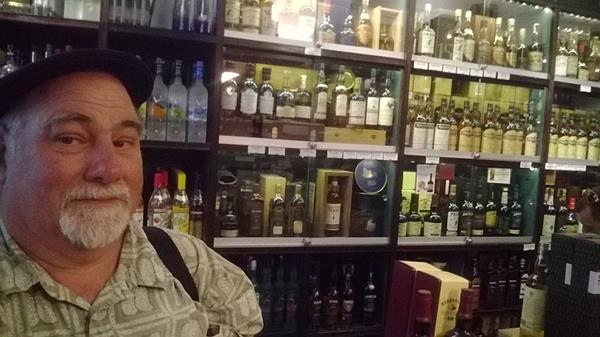 Here is the one that Mindi picked up for Jeff's birthday – only EU125 ($168 at today's exchange)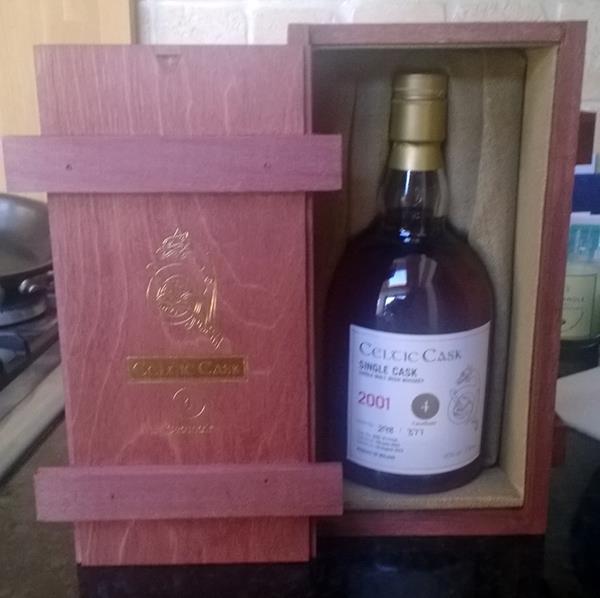 The salesman had ME at Madeira Cask aged. One of 377 bottles made just for this shop.
Tonight's dinner is a lemon pesto roast chicken on a bed of root vegetables: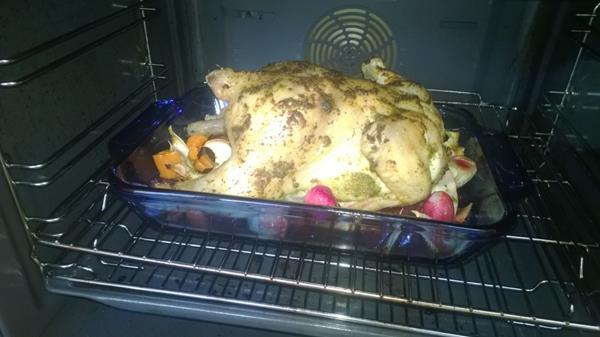 While that is going I worked on a little ratatouille for tomorrow night's dinner – to be tossed with greens in an oil and balsamic dressing: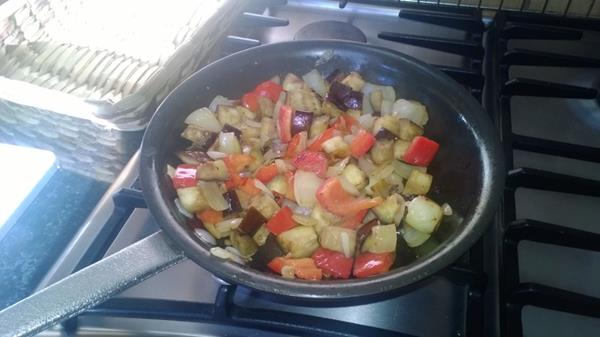 Got to use those vegetables before they expire.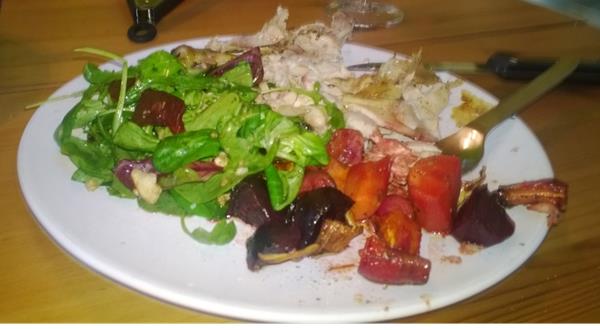 Can you see why I get invited back? Especially since after the meal it was pulling off all the remaining chicken to make chicken salad out of for tomorrow's lunch – and stock for the freezer: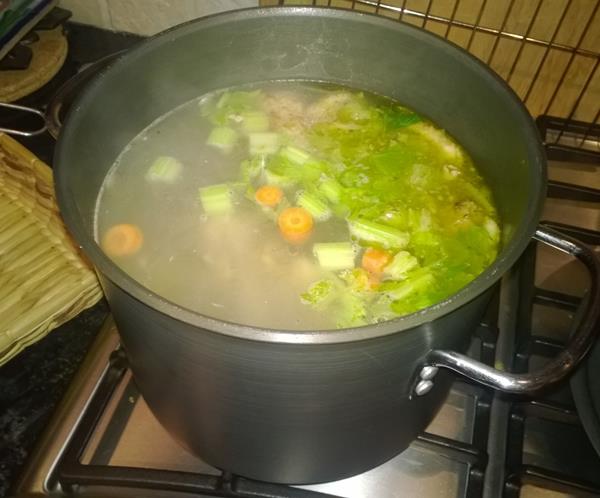 Well, stock for cooking and chicken vegetable base – just add noodles.
Another late evening of staying up way past midnight shooting the shit – didn't get out of bed until noon today, so breakfast was definitely brunch but without the Bloody Maries or bubbles. More like cheesy scrambled eggs with oven re-roasted root vegetables: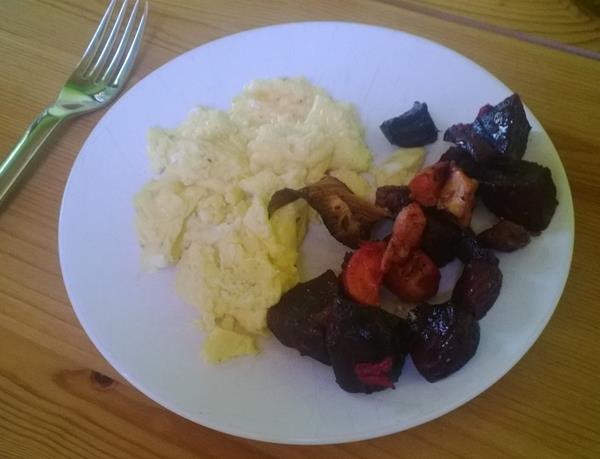 Got an email mid-day from the Groom (Pucci) saying that Aisling was going to be out tonight on the traditional Irish "Hen's Night" and that he was free….off to the Halal butcher go I as we'd just had another batch of "veg" delivered (even though I wasn't through with last weeks). Tonight's meal in honor of the groom is an American BBQ dinner with a Mediterranean Flare: Grilled lamb chops (yes, these ex-pat Dubliners have a charcoal Weber), served with a zucchini-based tzatzkiki sauce, and the ratatouille and garden greens with olive oil and balsamic. Didn't get a pretty picture of it before, but here is the during: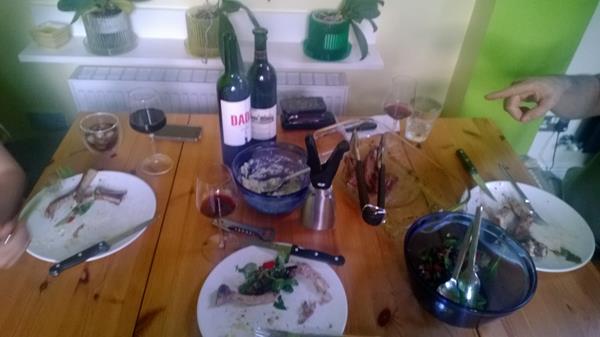 And in the background you see a bottle of 1994 Mondovi Cabernet Sauvignon… that didn't survive the move from the states too well – the cork was shot. I had to strain it through a paper towel. It really was about TEN years beyond its prime… luckily we had another bottle handy.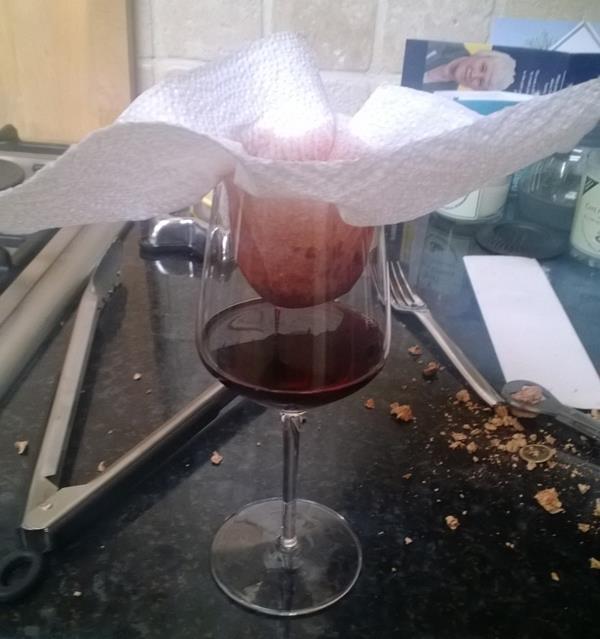 Oddly not corked, just no fruit left – it wasn't their Reserve which might have still been drinkable. This one was slated to drink between 2002 and 2008… 6 year ago. It was well after midnight when we stuffed the groom into a cab, not exactly knowing the address he was headed for but he knew the area and the street. Luckily he DID make it home in one piece.
And just to get us off the food track for a minute or two – the house where I'm staying: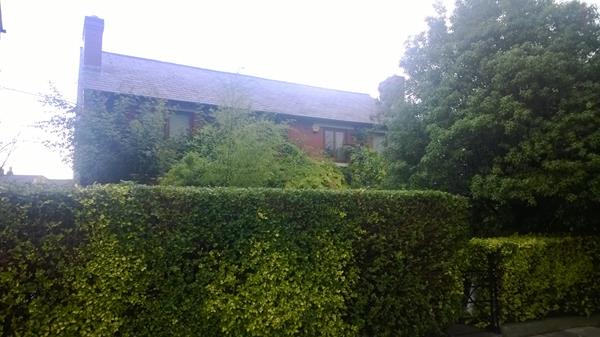 And the back yard with the Weber: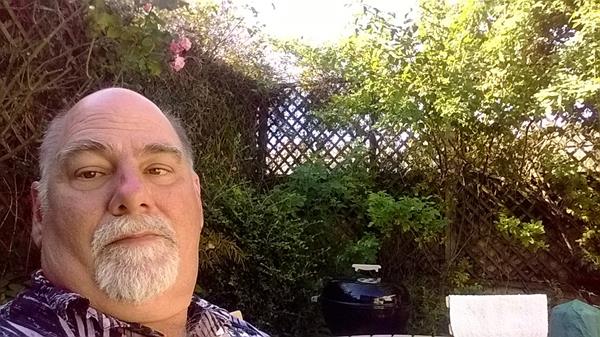 Before you know it – the last supper has arrived. Walked a little further afield today to get pork for dinner and supplies for the trip – tonight's meal are pork cutlets in chili-garlic sauce, cucumbers in yogurt, and the standard salad we've come to love: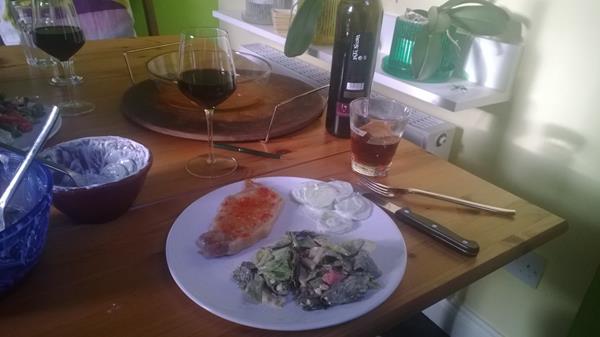 After dinner it was off to the neighbor's – Paul and Mary who remembered me from my last visit… a VERY LATE NIGHT of chatting and playing with the dog – Paul didn't get in from the airport until after midnight and Mini and I didn't leave until around 3am – and then talked back at the house for another hour: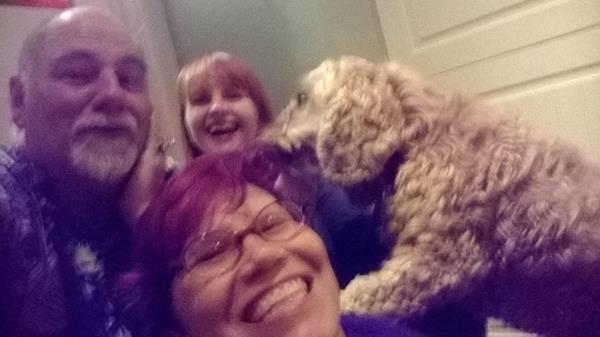 Even with the late night, I still had time for a final meal – Heavos Rancheros that I'd prepped the night before so the eggs could soak into the corn tortillas…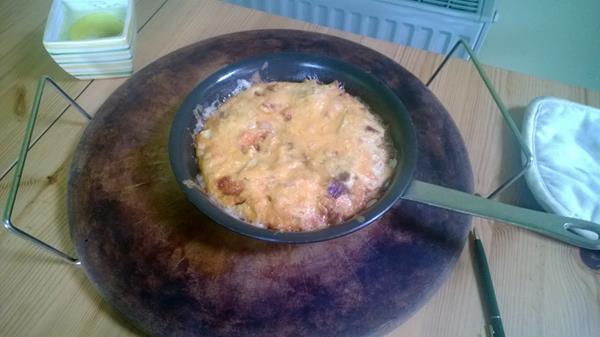 Too bad I'm leaving for the train station at the same time that Mork, I mean Jeff his headed home from the airport. Guess we'll have to just have drinks when they are in Seattle in August.
Before I knew it I was on the train to Bray to catch a cab to the wedding venue – more on that in the next post.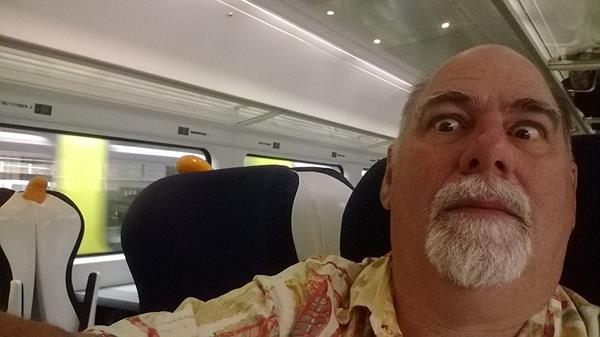 See what I look like with not enough sleep. At least we all ate well in Dublin.
[221.4]