Man 5:15am is early – especially since I'm always nervous out a hotel's wake-up call. It came. And as I was almost out the door when the phone rang again… "your cab is here"… ten minutes early.
I had LOTS of time at the bus stand since the Airport Bus wasn't due until 6:30. Here is an over the top house by the stop: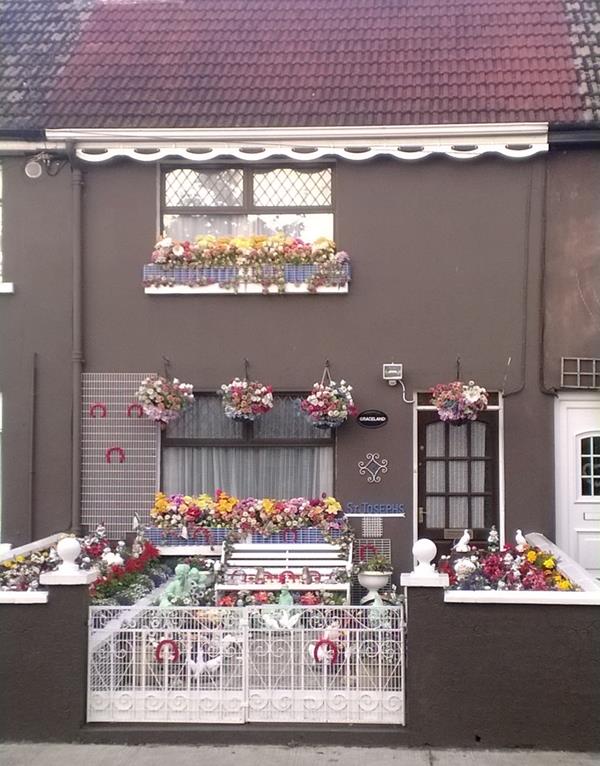 Just a few flower boxes/baskets/concrete farm animals.
Uneventful ride to the airport – lots of stops but they remained on time. My plan was to check in and head to the Star Alliance Lounge…plans that were thwarted by Lufthansa not opening their ticket desk until 3 hours before the flight. Seems they don't have many flights in/out of Dublin. So yes, I went upstairs to the food court and had an Egg McMuffin with Sausage.
Once in the lounge – all was well – more food, drinks, newspapers, life is good (again).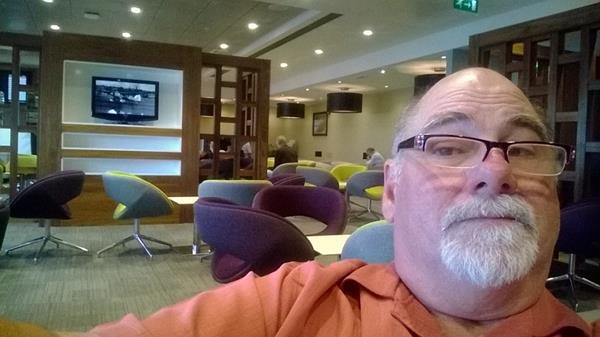 Very tasteful the Dublin Star Alliance Lounge was actually a "contract lounge" for many airlines run by the Dublin Airport Authority. Pleasant enough.
12:30pm flight to Frankfurt….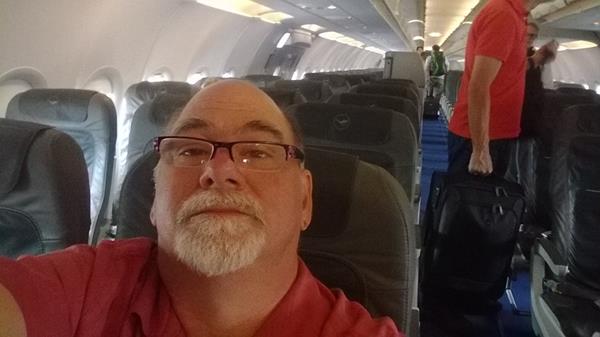 …and a scant 50 minutes to make my connection, which for some reason I had to go through immigration, and catch a bus to the other side of the airport. When I booked this ticket I worried about it being enough time but thought I wouldn't have to do any lines. I made it, but I was sweating – and one of the last half dozen people on the plane. Needless to say…no lounge time though.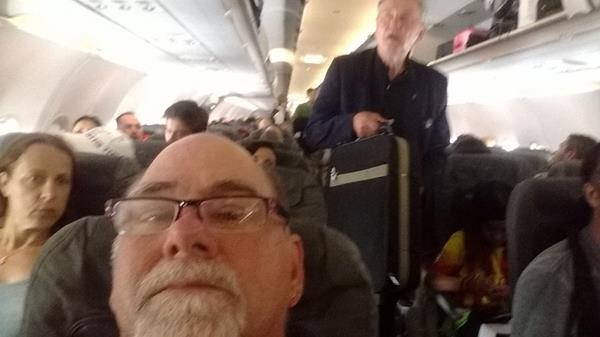 Arrived Stockholm a little after 4PM and waited an eternity for luggage, and then immigration/customs, and then for the airport shuttle to my hotel, which is located on the Parking Lot shuttle route.
My hotel – The Jumbo Stay: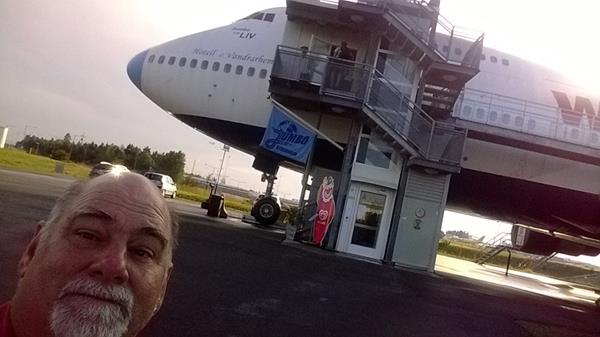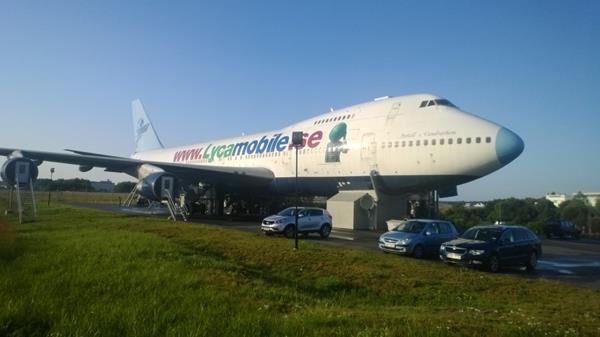 Yes, it's a hotel (actually a hostel) in a converted 747-200. Of course, the elevator was "out of service" so I had to haul my bag up a couple of flights of stairs to check in… after taking off my shoes in the "mud room" since they are a shoeless hotel. I was booked into the Wheel House Room which is basically where the landing gear folds up into the belly of the plane.
The entrance to my room: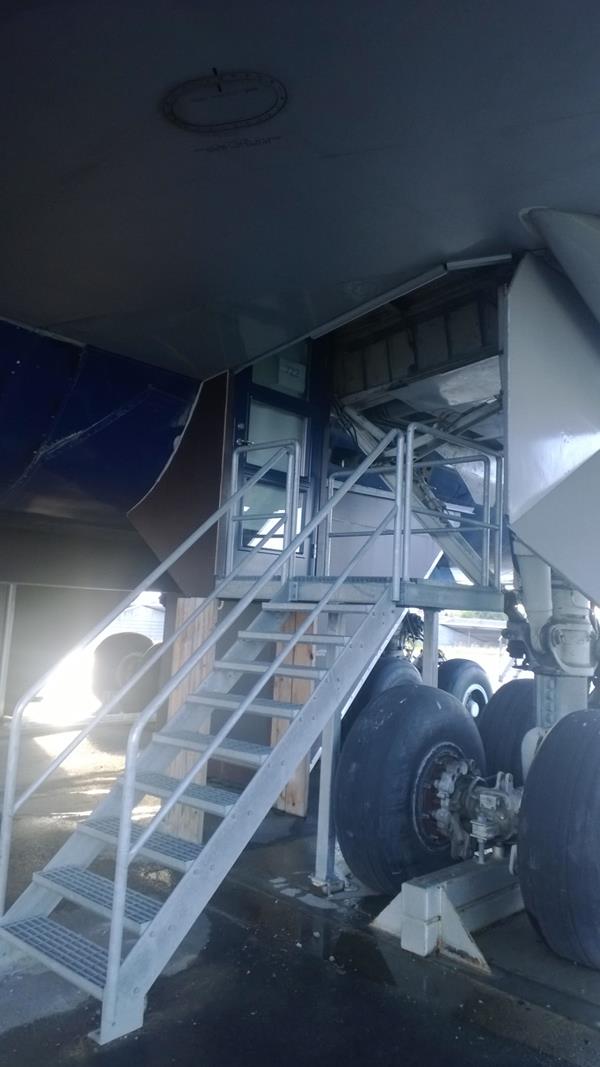 My monastic wheel well cell: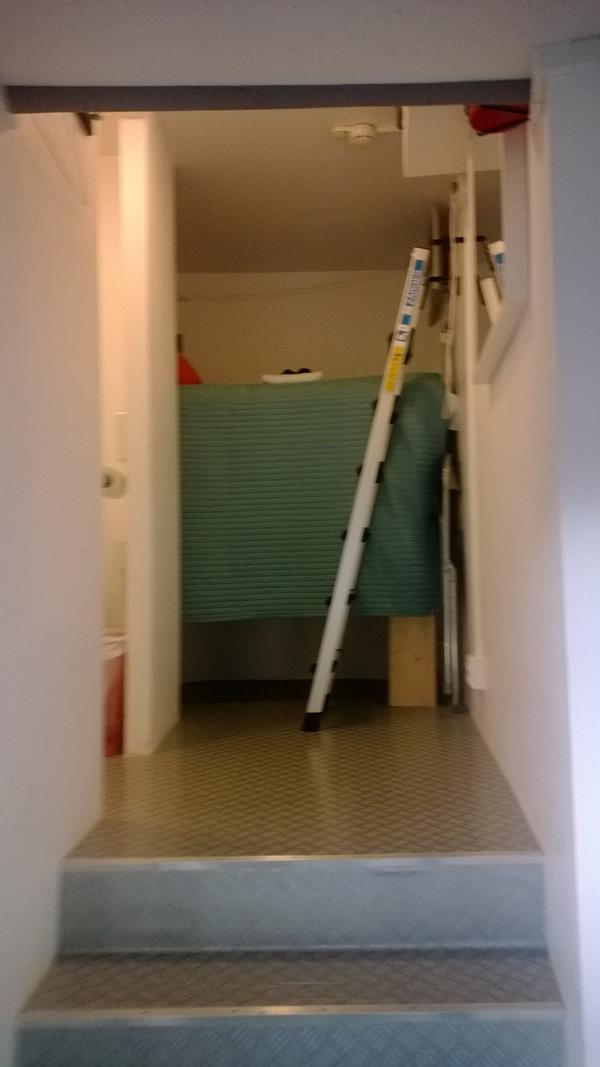 And where I set up the computer:
No shower… that's upstairs on the main deck. Here are some other shots of the exterior, the "wing walk" patio, etc. And just FYI, just as Ireland was unseasonable warm, so is Stockholm.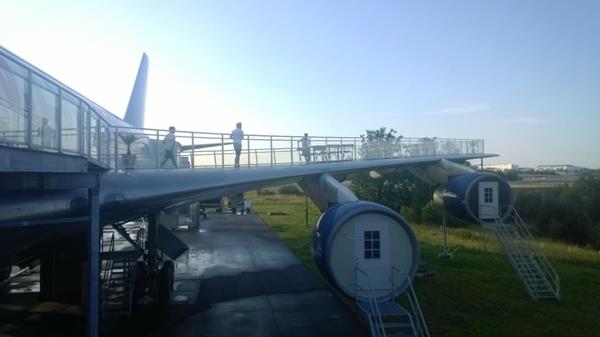 They are working on four "engine rooms" which look like they would be a lot of fun. Next time I think I'd take a shared room upstairs. Not sure the single room with toilet and sink is worth the extra money.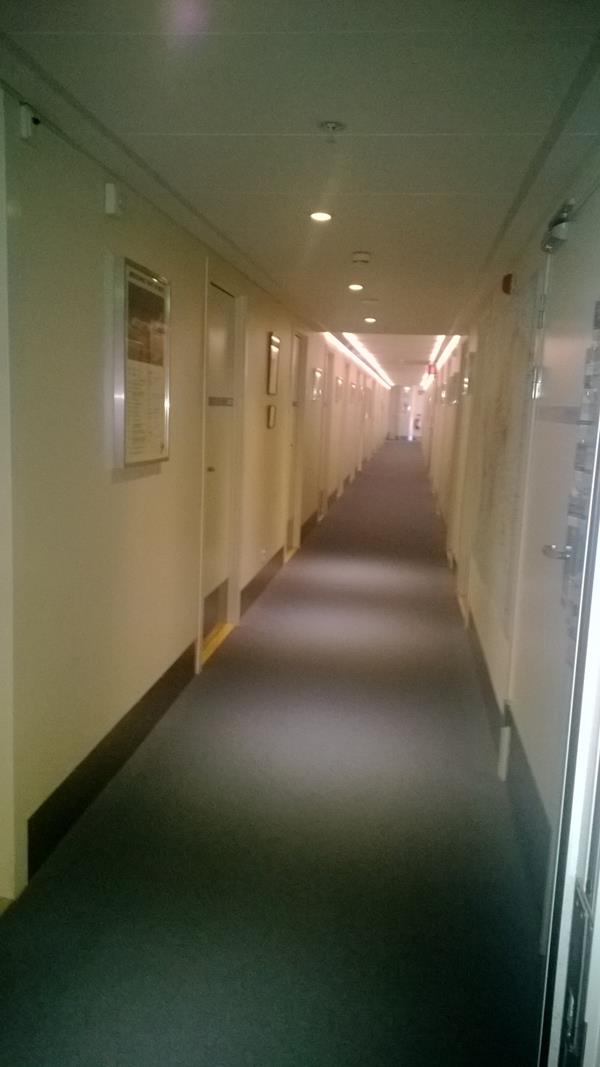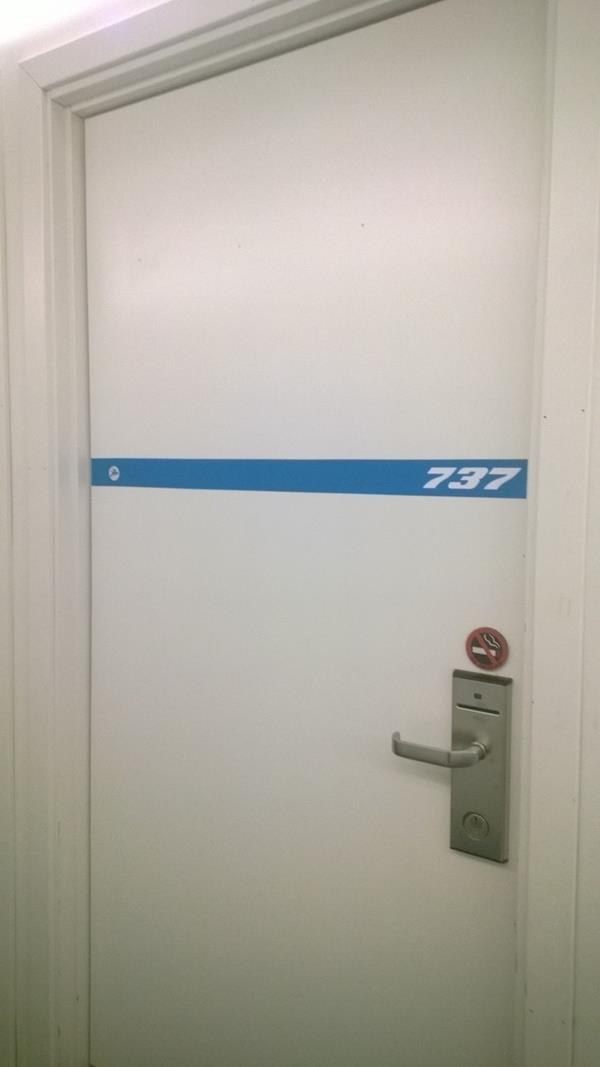 And the lounge: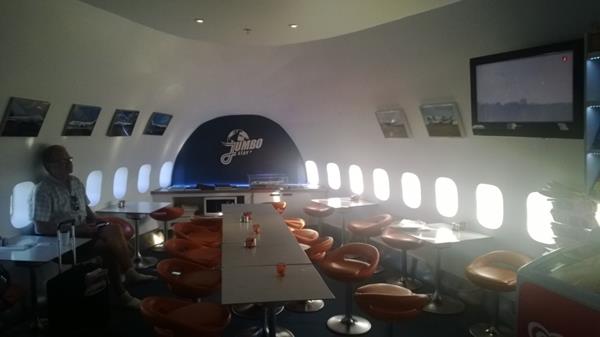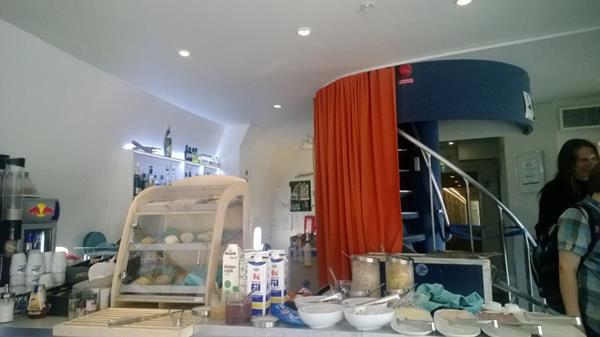 With the lounge menu VERY limited, I walked across the road to the Radison Blu Armanda for a Caesar Salad, which turned out to be a Chicken Caesar: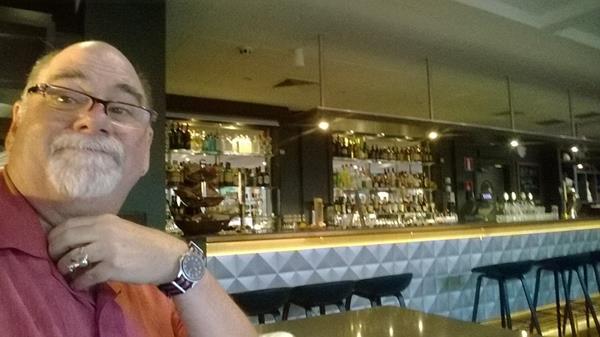 And it being Scandinavia, that is what a $40USD meal looks like – and the drink was half that bill for a "double".
Breakfast is included in the private room price – typical European Breakfast: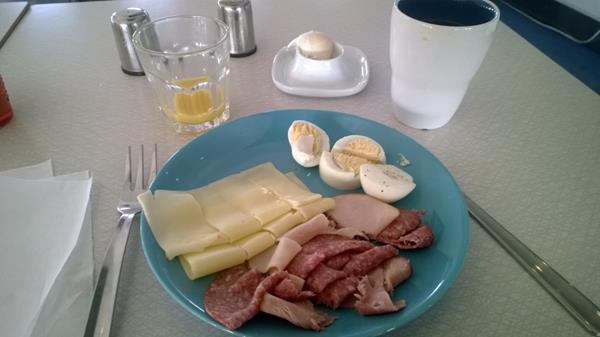 I passed on the bread, cereal and other carbs. At 11 I'm headed to the airport for my 4pm flight…the airport is WAY outside the city of Stockholm, so I'm just going to sit in the lounge, read, blog, eat, drink, be merry.
The Star Alliance Lounge at the Stockholm Airport is run by SAS (Scandinavian Airlines System) which means it's way Scandinavian….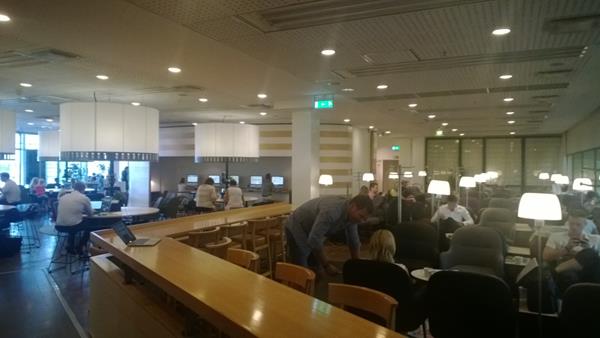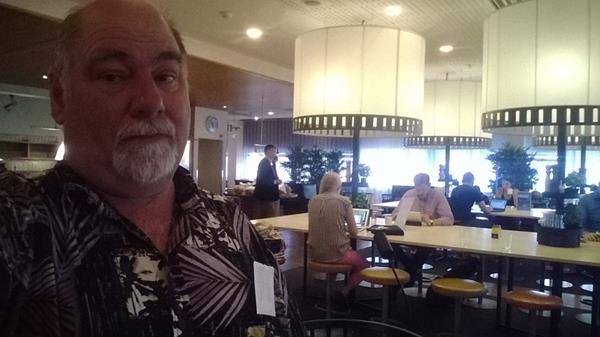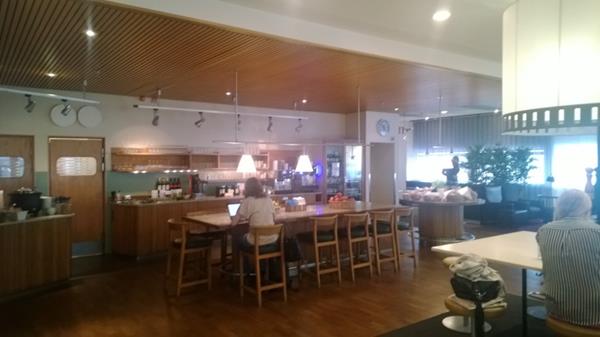 And they even had the fixings for a Rusty Nail: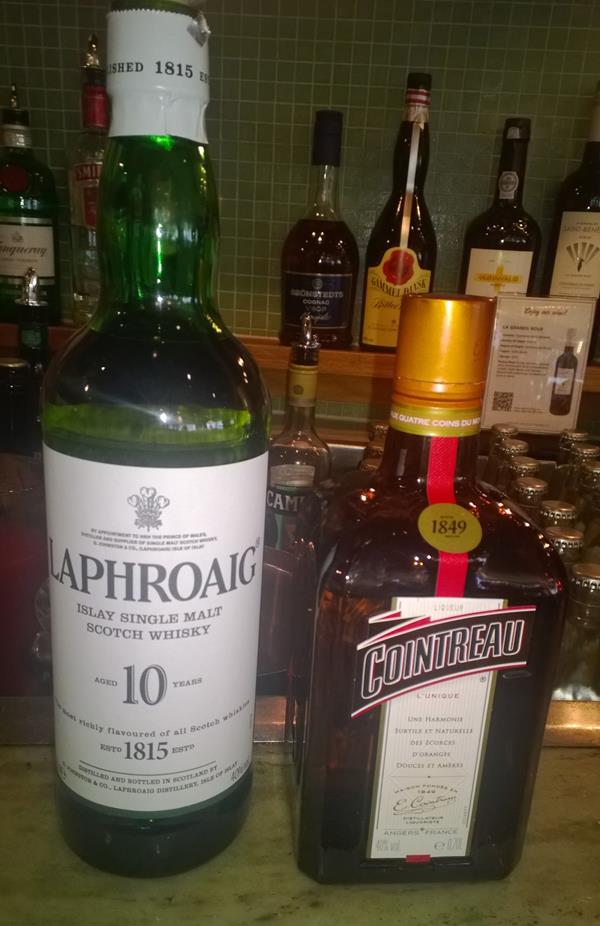 I think a Rusty Nail in Sweden would cost about $40USD
Before I knew it was time to head to the plane – a special plane for me, on I haven't ridden on, a 717-200. The 717-200 was a McDonald-Douglas airplane that Boeing inherited when their two companies merged, and wasn't all that popular so it got killed off.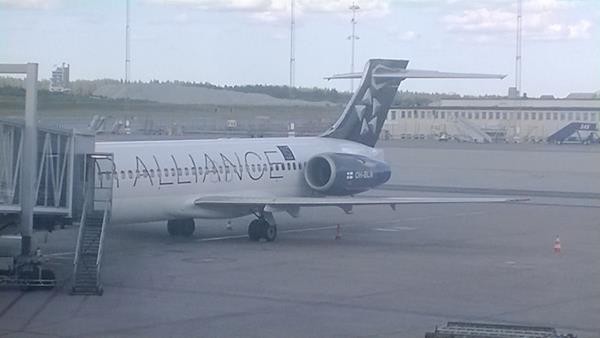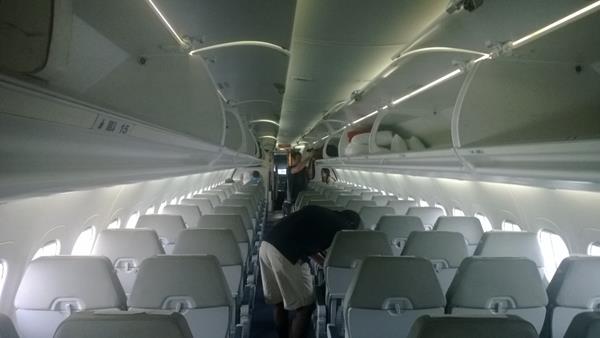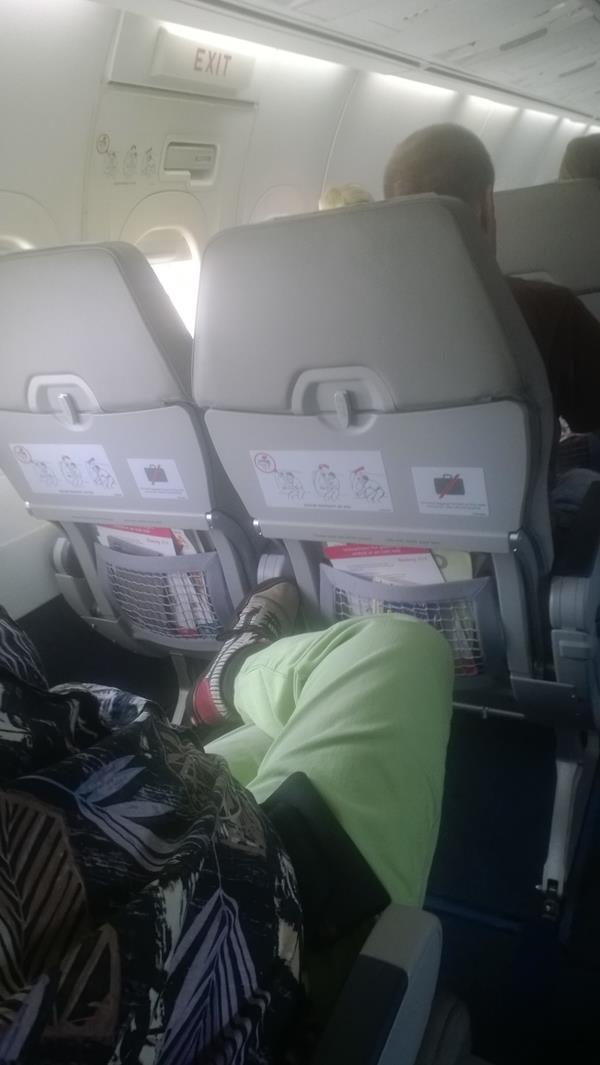 My exit row sit had plenty of room in exit row seat in the plane's 2-3 seating.
Hello Amsterdam – and my connection to my Delta flight to Newark and my Alaska flight back to Seattle.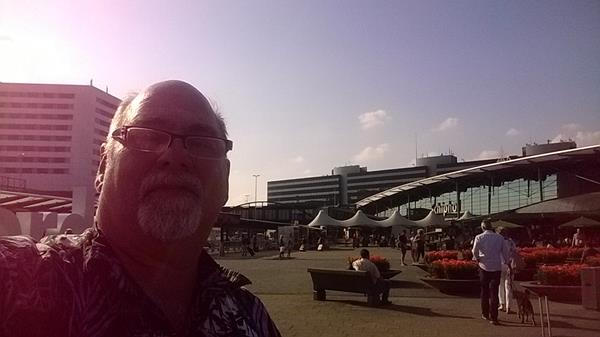 It was a free shuttle to my hotel – first a bus to their sister hotel, then a van ride to mine… the Bastion Schipol Airport/Hoopddorf (after the town that it's in).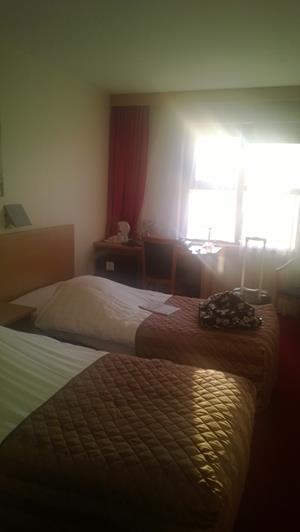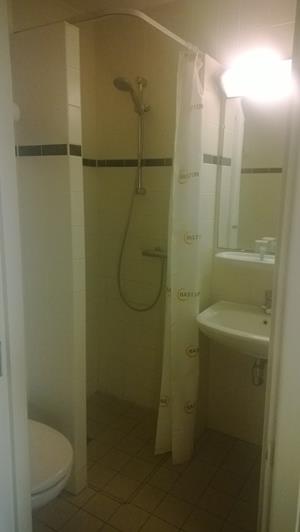 Clean and functional and cheap at 49EURO for the night. And the burger was fantastic, though I'm not sure why in addition to the fries it came with green beans with bacon…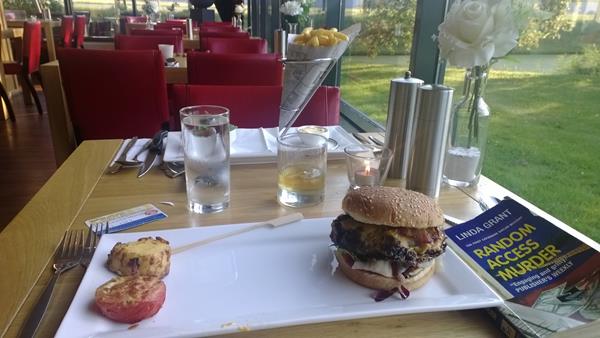 And what hotel isn't complete without snacks, water, pop, wine and beer in a vending machine…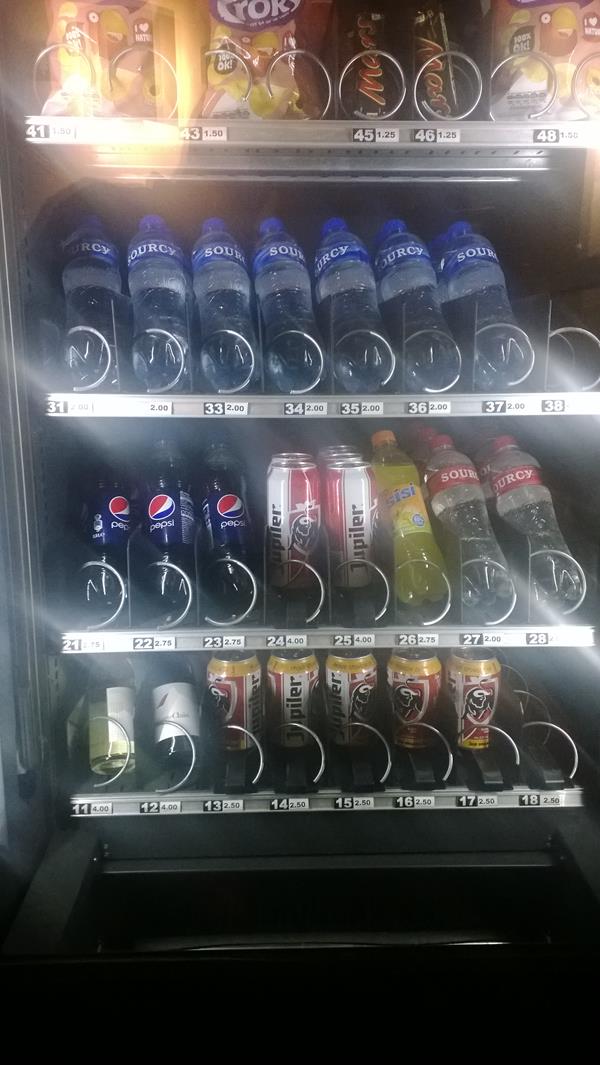 Another morning of up and out early – off to the Star Alliance Lounge, this one run by KLM (part of Air France). Since Delta has lots of flights out of Amsterdam, the ticket counter was open and waiting for me.

Then it was the Priority Lane through immigration for another pretty stamp in my passport and off to the lounge.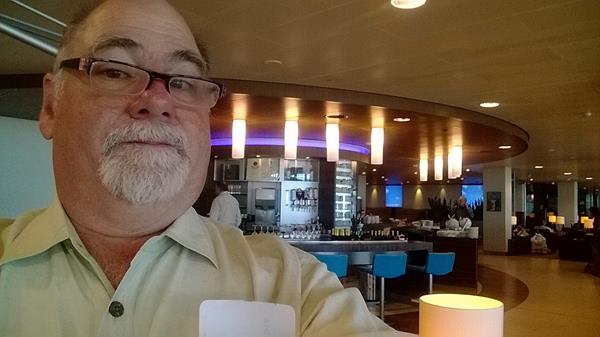 Huge place with a huge bar…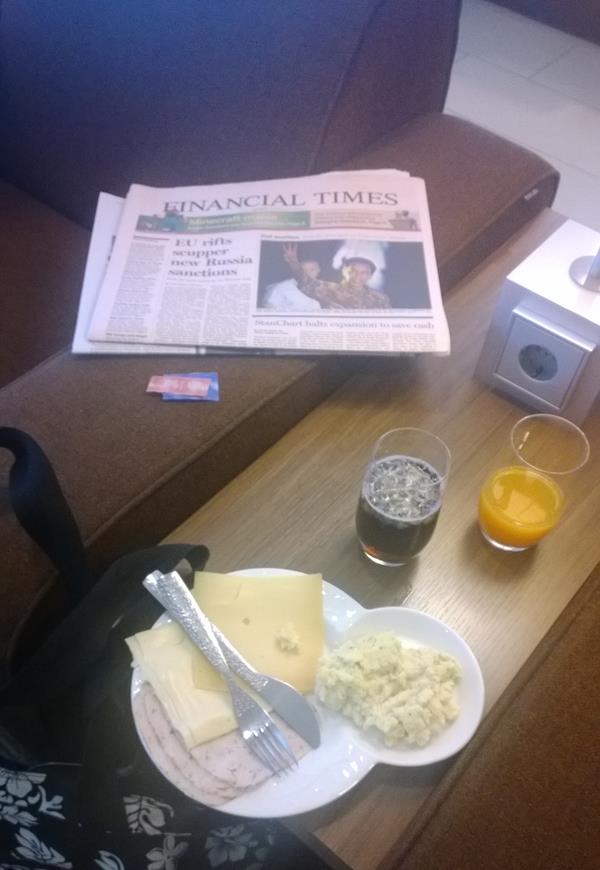 My typical European breakfast with the addition of some scrambled eggs…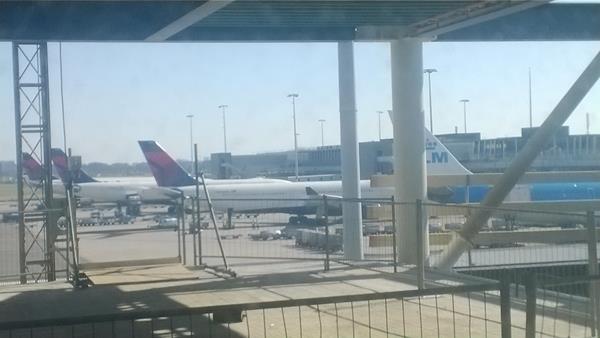 And my plane waiting for me. On the way to meet the plane, and go through security AGAIN because that's what they do for flights coming into the US from Europe, I passed a coffee shop where you could have your coffee in a giant coffee cup: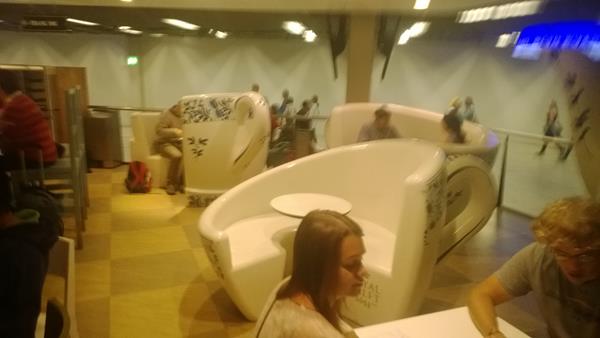 Very odd and very Dutch.

Got through security and settled into my preferred seat on the 767, 1A:

On time out of the gate… and into the day's entertainment. Two long flights up front. Glass of Champagne in hand (Champagne Jacquart Brut Mosaique).

Here are the movies from the Amsterdam to Newark flight… Charade with Audrey Hepburn & Cary Grant and The Breakfast Club:
I'd seen both before, but I'd forgotten how "dark" Charade was and how "light" The Breakfast Club was.

And then there is the food…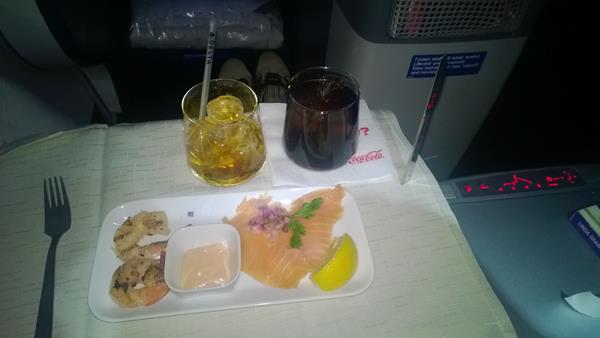 That would be the Smoked Salmon and Grill Shrimp starter. The wine was the Selbach Incline Riesling to go with all the fish.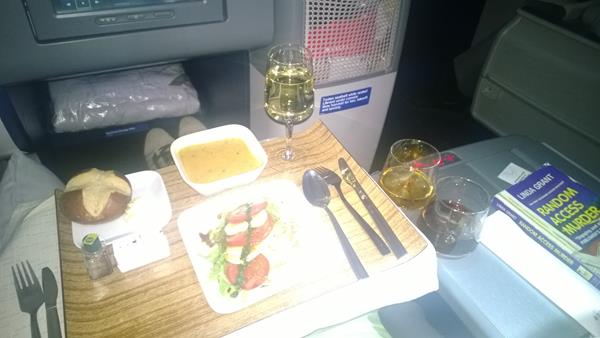 Followed by the Caprese Salad and the Thai Coconut Soup (the Selbach Incline Riesling, Woodford Reserve rocks, and Diet Coke.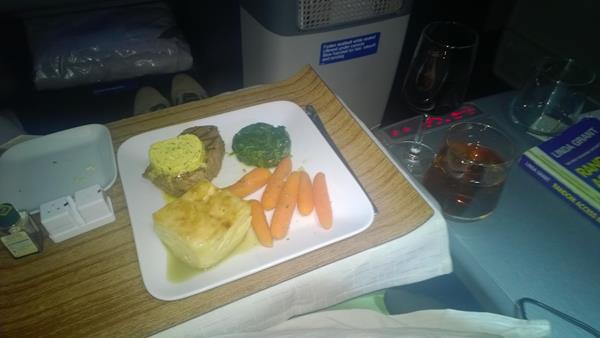 And a repeat (though with herbed butter) of the Beef Tenderloin that I had on the way over (other choices Roast Chicken Breast, Five Cheese Ravioli or the Chilled Deli Plate). I had to try both of the red wines: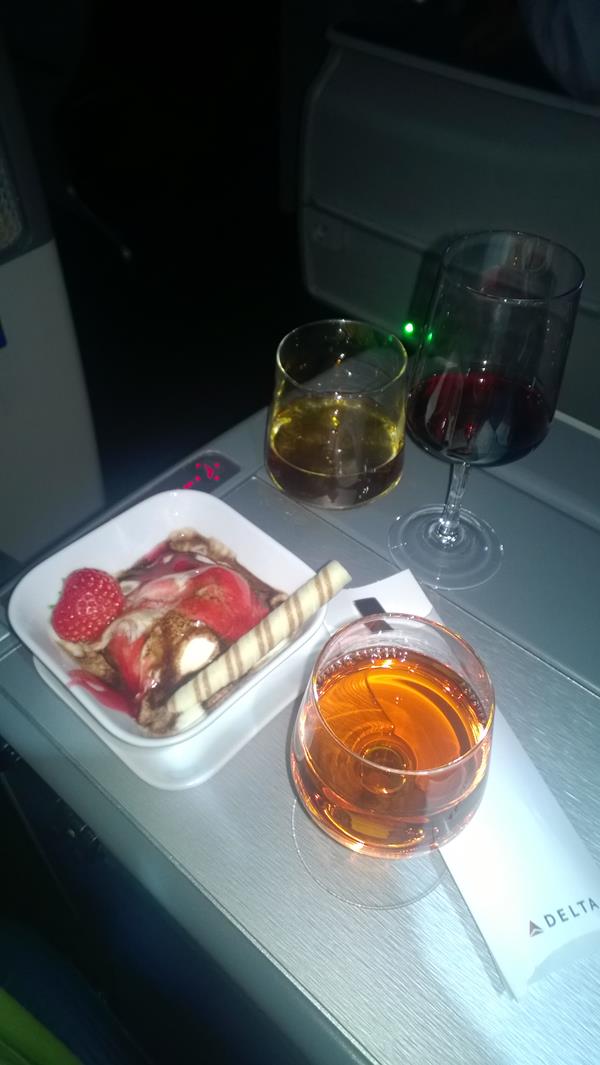 And I went for the Vanilla Ice Cream Sunday – with a Chambers Rosewood Muscadelle from Australia.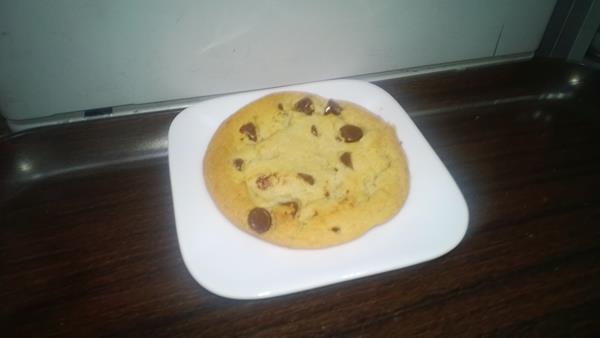 The mid-flight fresh baked cookie.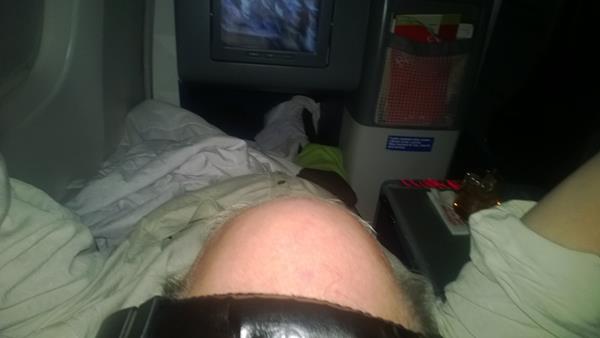 And it's time to recline and watch movies…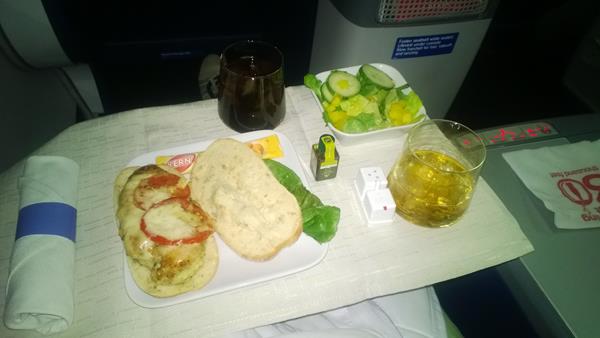 While waiting for the Hot Chicken Parmesan Sandwich – with yet more Woodford Reserve rocks, and Diet Coke.

With the research for this post it seems that they aren't spending a lot of money on their wines – that said, they are getting interesting stuff that one doesn't normally find on the shelves other than specialty wine shops like Madrona Wine Merchants in Seattle. Shameless plug.

Before I knew it – I was in Newark (by plan, not accident). Immigration (a snap with Global Entry), waiting for bag, Customs… and yet another lounge – NOT. Alaska doesn't have an agreement with American (one of their partners) to use their lounge in Newark since they changed Terminals a couple of months ago (reminds me of SFO). Terminal is overcrowded and the air-conditioning can't keep up. Uncle Markie not happy – and tweets Alaska with his concerns, still no pass to the American Lounge. Damn.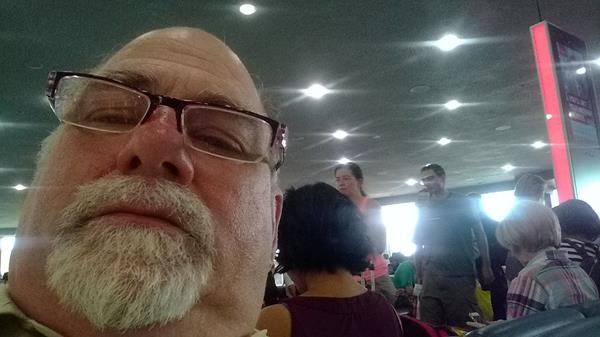 We load, we taxi, we wait, we turn the engines off (so the crew doesn't ding their "flight" hours), severe storm passing through, drinks (alcohol) served in First, Coach gets water and the chance to use the bathrooms, we wait…two hours plus. No Digi-Players while on the ground. Pilot announces we are headed back to the terminal to wait out the storm with the other 75 planes that are stuck… and minutes later the Captain on the PA saying "Flight Attendants Take Your Seats" – seems there is a break in the storm, we are close to tarmac limits (new Federal Rules) and since we are already rolling they clear us to take off – in front of the other 75 waiting. Whew!

Watched a movie (and some TV) on the flight – 2001 A Space Odyssey: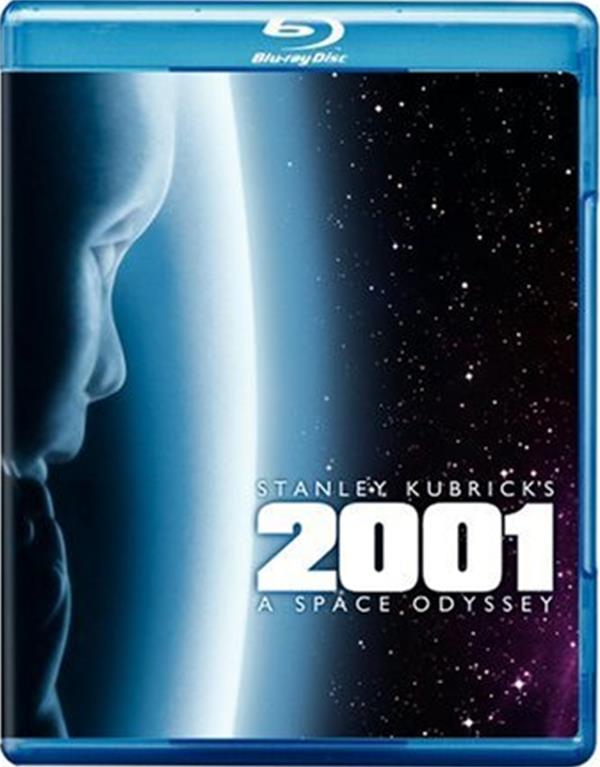 I'd forgotten how crappy 2001 ASO was. Useless ape opening sequence, bad special effects (but good for the day), weird plot lines, bad acting.
Honestly I'm so tired at this point that there are no pictures of the Alaska food in first, but here is the menu:
Appetizer Salad of butter poached shrimp with tropical salsa and warm roll with butter
Pork Tenderloin with wild mushroom sauce, broccoli and sweet potato mash (other option was the Beef Provencal with artichoke potato puree and fresh baby carrots)
Crème Brulée Cheesecake with mixed berry compote
No remembrance of wines. Or of drinking Jack and Diets for the rest of the trip, knowing I'd be getting in well after midnight.
Add a chatty seatmate at the end (with are both hammered at this point) talking up his business (greaterchina-usa.com) which I need to remember in case I need Chinese-based manufacturing, which it's always good to have a local contact for.
Landed, got bag. Bag banged up badly (and this is only ONE of the cracks – did they run over it?):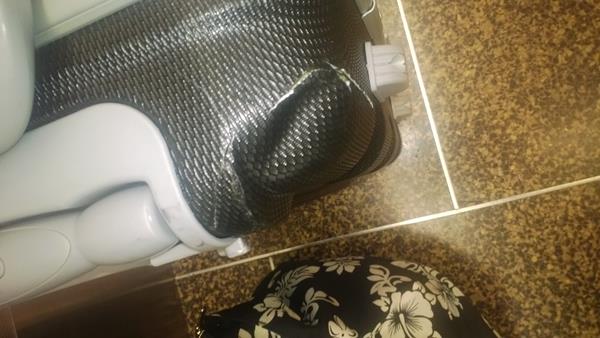 Alaska Airlines solution to a bag that can't be fixed…give me a new one of about that size. At baggage claim, in under 20 minutes: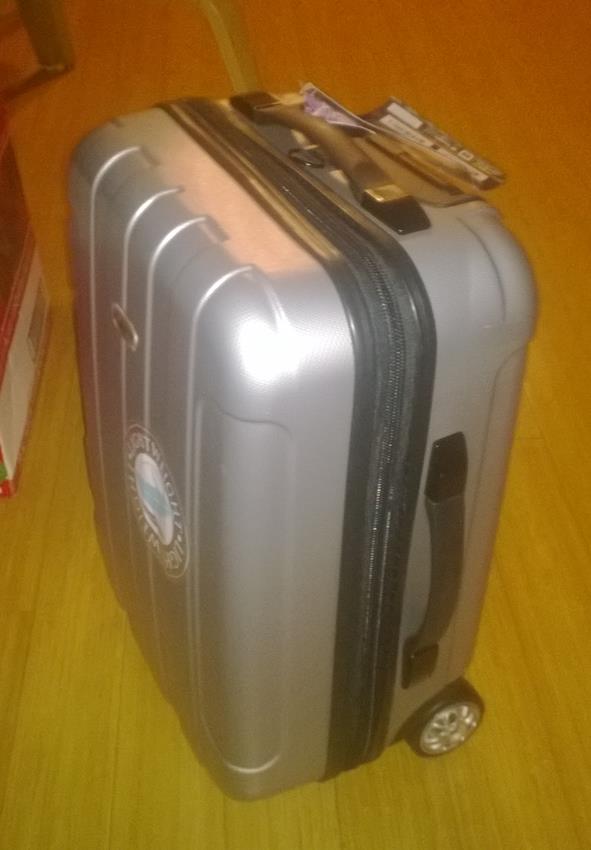 Well, it's pretty and it isn't black (great for ragtops, bad for luggage as everyone else's is black).

Home by cab – great driver, good tip. Had to wind down for another hour or two before bedtime. Luckily a day off before a Friday/Saturday/Sunday shift.

[219.8]