What a lovely couple of days with The Colonels in town on their epic journey from Kentucky to Alaska (and back):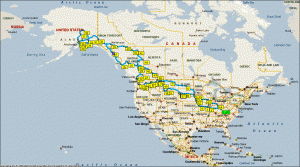 Now THAT is an epic trip. And as full disclaimer, I've raided their trip blog for some of the photos (and the map above).
I'd arranged for The Colonels to stay at the WorldMark Seattle at The Camlin for their three day stay: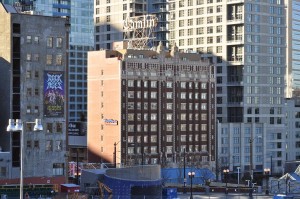 The unit I got via the "waitlist" was a Courtyard Studio Plus – which means stairs to all the units. Luckily, they got a unit with only one set of stairs, AND had the bell-staff schlep all the bags and boxes into the room.
They arrived at 5PM from Eastern Washington, and I got stuck in traffic so I didn't make it until 5:30. As the room was a little warm (no AC, but a fan), we had snacks and drinks in the courtyard. Had I thought about it I would have brought steaks and salad since there was a BBQ unit right across from their room.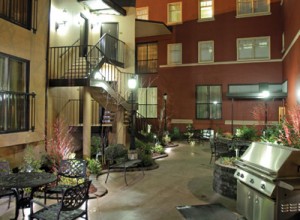 We were at the table to the left (WorldMark photo).
After a couple of drinks – and a tour of the property (the museum in the basement and the Cloud Room on the top floor) we were off to Dragon Fish Asian Café which is walkable for all of us. Here is a picture from The Colonels blog: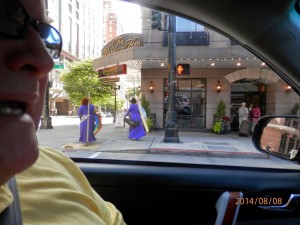 The Lady Colonel took this photo as they were passing in front of Dragon Fish Asian Café on their way to dinner on Friday (that story to come later). His blog comment had to do with the ladies in blue dresses dragging huge crosses down the street:
Now, I know I'm an old white guy, rather conservative, and from a small town, but there were lots of folks in Seattle that just left me shaking my head. We didn't get to photograph many of them, but the following photograph of two women in long blue dresses, each woman carrying a cross, might give you a sense of what I'm speaking of.

Our dinner at Dragon Fish was wonderful – I'd worried that the menu might be a little adventurous for The Colonels, but it turns out they like everything we had and shared – and then back the next day for lunch – that's a testament to the quality of the food (or the close proximity to The Camlin). Here is what we had (as best I can remember):
CHICKEN POTSTICKERS 7
garlic, ginger, cabbage, sweet hot soy sauce

ASIAN CURRIED STEAK FRIES 3
curry spice, ketchup

KOREAN BULGOGI SKIRT STEAK * 8
pickled cucumbers, sesame seeds

GRILLED MISO RIBEYE * 11
tempura onions, sweet miso sauce

WAWAII ROLL WITH TOASTED COCONUT 12
smoked salmon, macadamia nuts, blueberry wasabi sauce

CHICKEN YAKISOBA (wheat noodles) 8
vegetables, yakisoba sauce, sesame seeds, pickled ginger

LIME RICKEY SHRIMP ** 8
quick fried. peanuts, hichimi, lemongrass vodka sauce

Hung out at The Camlin with The Colonels for a bit after dinner, and headed home for tomorrow we are doing The Museum of Flight, then a tour of Madrona Wine Merchants, then dinner at my place.
Here are a couple of photos from our adventure at The Museum of Flight. But first a stop at The Taco Truck: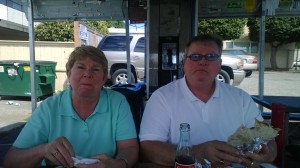 It was pronounced good – and a good thing I talked The Senior Colonel into only one burrito – those things are HUGE. Beef for The Senior Colonel, Spicy Pork for me (we both had burritos, a rare treat for me), and Lady Colonel has three tacos, one each beef, pork, and spicy pork.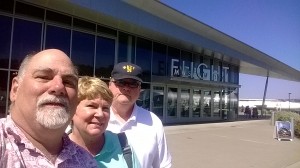 Not a bad selfie with the three of us. First stop was the new building that I haven't seen which is on the "air park" side of the museum, over the new bridge over East Marginal Way that I haven't been over. The new building houses the mock-up of a space shuttle that we got from Houston – alas, no retired shuttle, just the full-size mockup. This will give you an idea of size: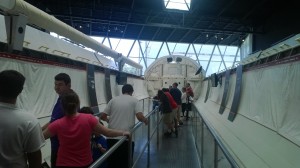 And then to go crawl around some planes: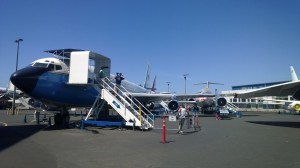 In front of a retired 707-based Air Force One – think ancient technology. And The Colonels inside a retired Concorde – like one I flew on several years ago.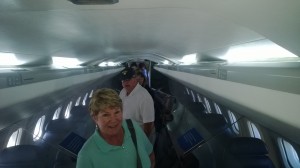 The aisle is only 12″ wide, and seats more like 16″, and if you are over 6 feet tall you didn't want a window seat since you'd have to bend your head for the entire flight. Here is photo from Pigletté Takes The Concorde for pictures from that trip: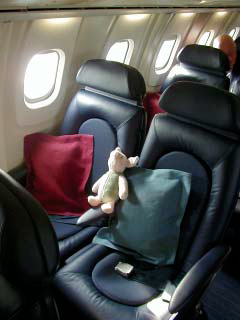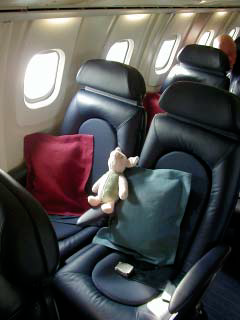 That would be with the appetizer of caviar, smoked salmon and a lovely 1986 Pol Roger Cuvée Churchill Champagne.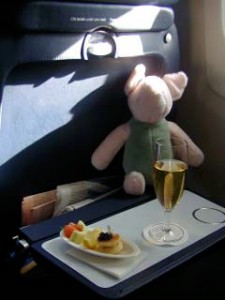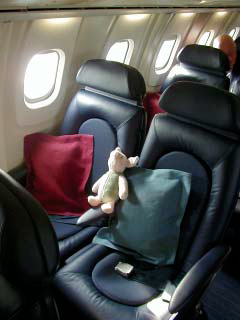 Or doing Mach 2 (which is 1380 miles per hour) at 51,000 feet….while feasting on lobster rings with cucumbers accompanied by a 1994 Château Petit Village Pomerol. Damn tasty – don't remember what the main course of wine was: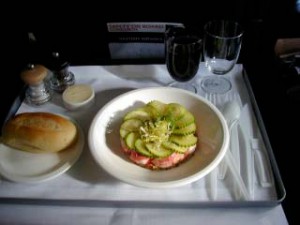 But enough of my old travels, let's move back to the present – a final shot of The Senior Colonel in the grand hall of The Museum of Flight: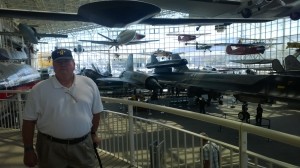 All tuckered out we headed back to my house to hang out in the semi-air conditioning (the bedroom, with a fan to push it into the living room). We chatted while I worked on dinner, figuring that a 6PM start would be better for The Colonels. The menu was:
Fresh home-made bread
Salad
Rib-eye steaks off the grill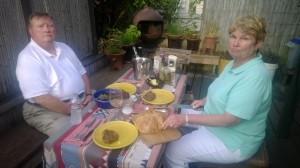 The plan for The Colonels the next day was to visit The Living Computer Museum, partly funded and supplied by Paul Allen of Microsoft fame. But alas, trying to track down medical information kept them in their room until it was time for dinner with Swanda – and quite a spread it was: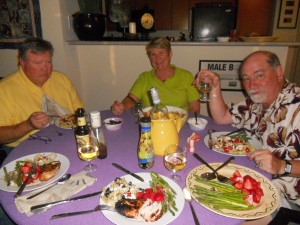 And the group shot with The Colonels camera, somehow minus The Caveman: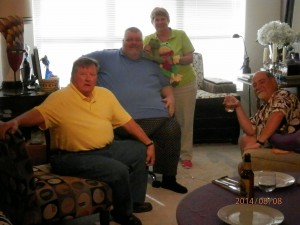 It was a fun dinner with The Lady Colonel bonding with The Caveman, Swanda's partner. I left before The Colonels did which might be a record.
The following morning The Colonels were on the road to Kamloops, British Columbia. Guess it's time for me to plan another trip to Kentucky, but not until they get back home.
For The Colonels blog of this trip, you can visit: http://froghollowfollies.blogspot.com/ once they are back from their trip (it's private for the moment).
[223.2]