Apparently "the way" starts WAY EARLY. The things I do for a free (actually $91.98 in taxes/fees) ticket to Cabo San Lucas.
Up at 3AM, out the door, forgetting the two breakfast burritos that I'd made last night and bemoaning the fact that my favorite parking garage no longer gives Alaska Airlines Miles for each day you stay.
At 3:30AM, only the center checkpoint at Sea-Tac is staffed…an I almost panicked until I noticed that there was a TSApre line open – I was no mood to take off my shoes, dig out my liquids and pull out my laptop. This should give you an idea of my mood: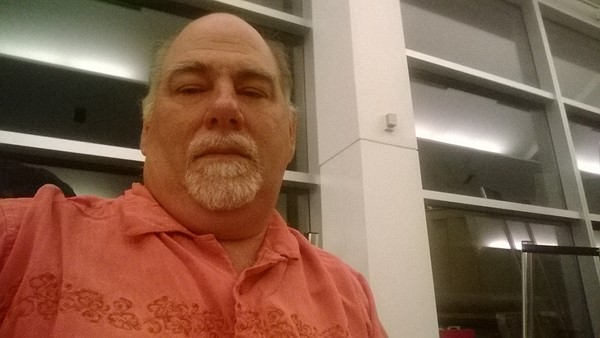 The United Club doesn't open until 4:30 and we were to start boarding at 4:45 for our 5:20 departure. No coffee, no snack, no newspapers. Sigh. I get free lounge access on any itinerary that includes international flights, a lot of good it does me this morning. There was one bright spot – I was the only person to get a gate upgrade to seat 4F in First Class. This is a happy Uncle Markie: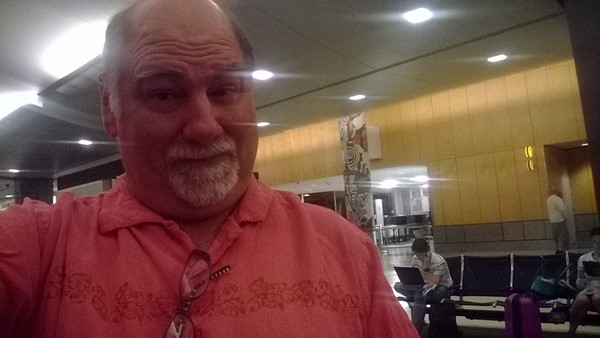 Guess I didn't need to buy that ham and Swiss sandwich at Starbucks. United Airlines are the only folks I know of that will upgrade you even if you are flying on a Frequent Flier Mileage Redemption Ticket for Premier members according to their level and are paid. I'm guessing the started that as compensation for all the other benefits they took away when they changed their program this year.
One of the goals of this trip is to try out a new tablet backpack – the never-ending quest for the perfect bag…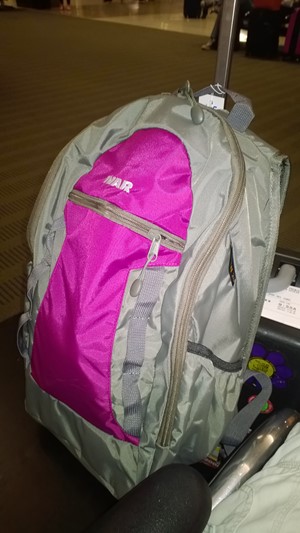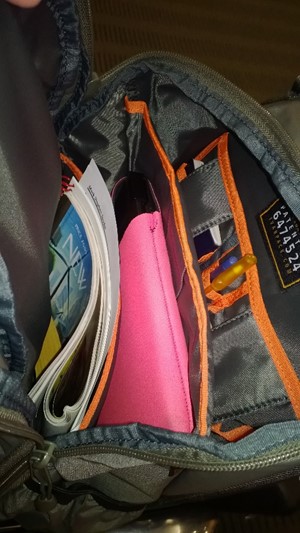 If it doesn't work out, it's getting returned on my return.
I really do enjoy sitting up front – not enough to pay for it, but still – it gives me an excuse to have a cocktail at 5:15 in the morning: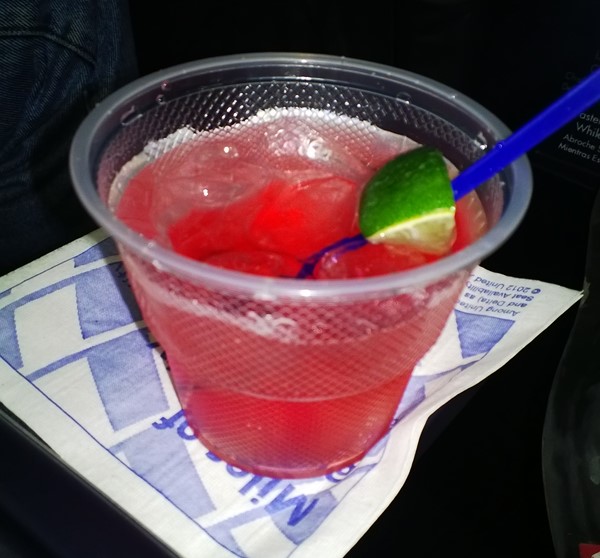 Vodka/Cranberry squeeze of lime – it's a little too early to be drinking whiskey, and Bloody Mary mix gives me heartburn. One advantage of United Airlines over Alaska Airlines is that United serves the first round while you are on the ground.
And maybe it's a good thing I got that Starbuck's sandwich as this was "breakfast" in United First: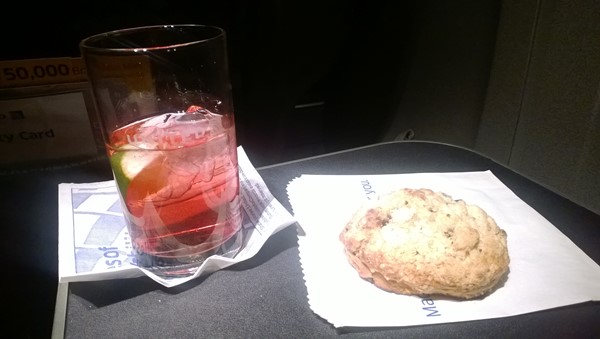 Luckily I have a three hour layover in San Francisco…and the opportunity to try out one of the newest United Clubs – which to get to is a labyrinth of corridors, but the end result is pleasing: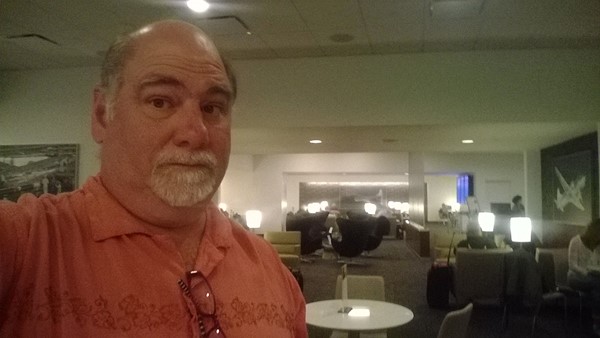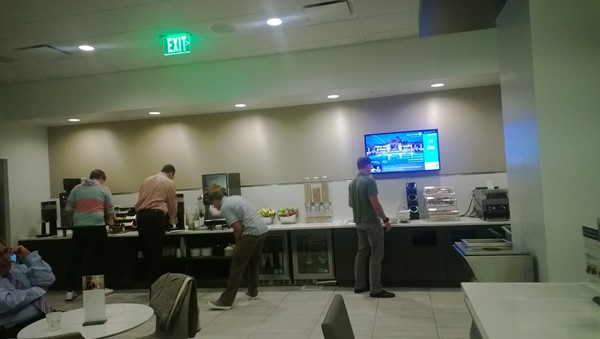 This is the only United Club I've been in that actually has a toaster for the bagels! Though, on the downside I miss the Garden Vegetable Cream Cheese of Alaska's Board Room.
Hung for an hour or so, then it was off to Duty Free to get supplies for the timeshare….might be enough to hold us for the week since Roxy apparently picked up a bottle of Jim Beam as well: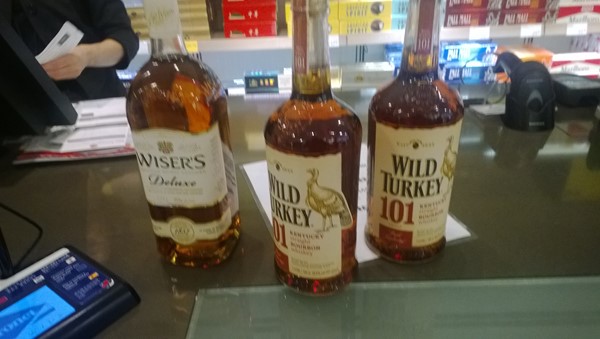 Pretty amazing that Mexico allows three liters per person on the way in.
A little time at the Club Room (two whiskey/diets) before heading to the gate for my flight from San Francisco to Cabo San Lucas, which I knew I'd been upgraded to seat 2B. Apparently there aren't many Premier's on this flight according to the number of empty Economy Plus seats….no wonder I got upgraded on this flight 72 hours in advance: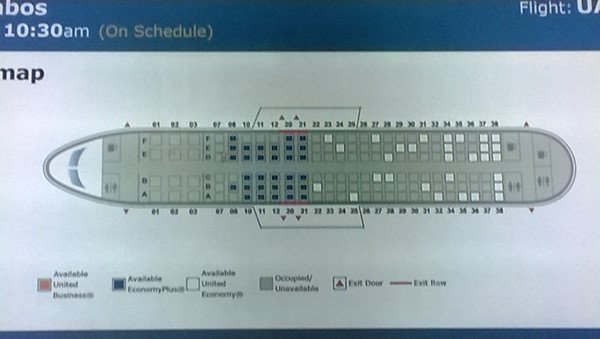 All those blue seats are empty Economy Plus seats.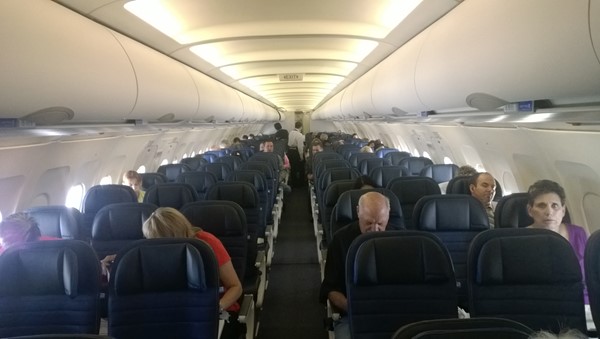 And as you can tell after we were all loaded, LOTS of empty seats. But then again, September and October are the hottest months in Cabo San Lucas.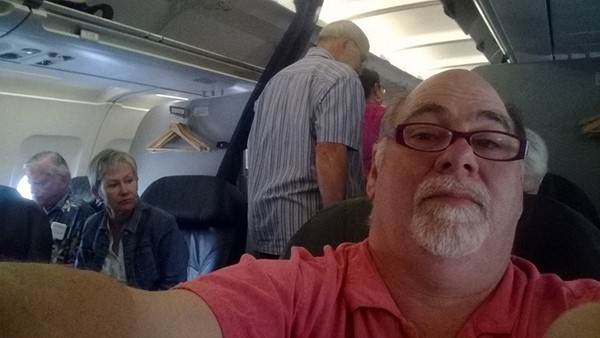 Luckily the lunch is much more filling: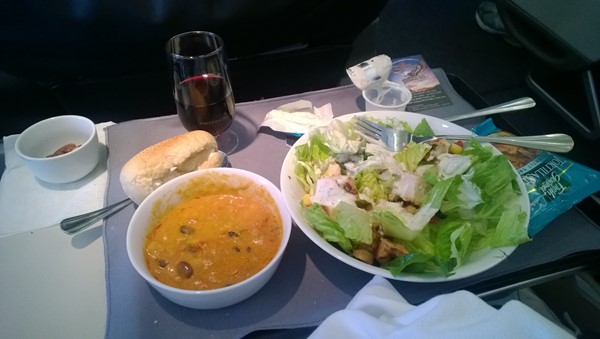 That would be the Chicken Salad – my seatmate (2A) had the prosciutto and mozzarella salad which looked bad – and turns out it was cold as well. Speaking of seatmates – if there are any German speaking motorcycle enthusiasts, he runs a tour agency – usa-biker-tour.com. Tours on Harley's to all of North America great road trips – Key West, the American West, Baja, etc. He was headed to Cabo San Lucas to check out a new hotel in Concepción, on west coast of the Baja Peninsula.
I didn't check luggage so I was the first through immigration and customs, which just means waiting outside for the shuttle for all the people with luggage. Since they wouldn't let me back in the terminal to use the facilities, I had to use the ones for the taxi/limo drivers…with some amusing graffiti….
Translations welcome.
Being in central Cabo I was the last of the stops…but it was all worth it with the view from the room after I poured myself a cocktail: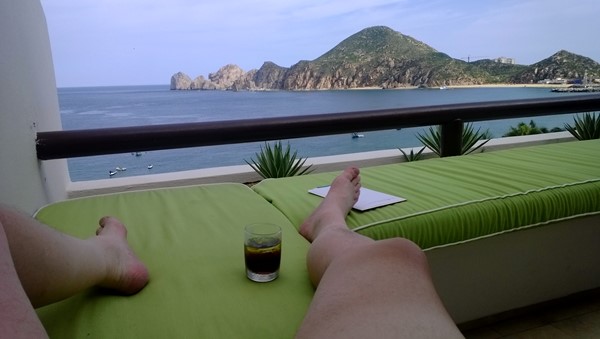 I don't think I'll be moving for the next five days. Wish me luck getting return trip upgrades.
[? ? ?]