This post will mostly be pictures, since I didn't really do anything other than lay around on the outdoor couch. A place that is so comfortable (after 3PM when it's in the shade) that I'm going to post the picture again: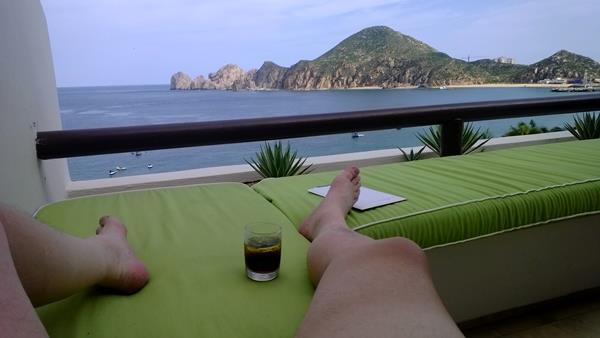 Now all I need is a houseboy…alas, Roxy isn't that type of boy.
Speaking of Roxy, he was out playing when I arrived at the resort so I was all by myself for the "owner/new owner/upgrade" reception at Baja Brewing on the roof of the building next door to ours in the complex.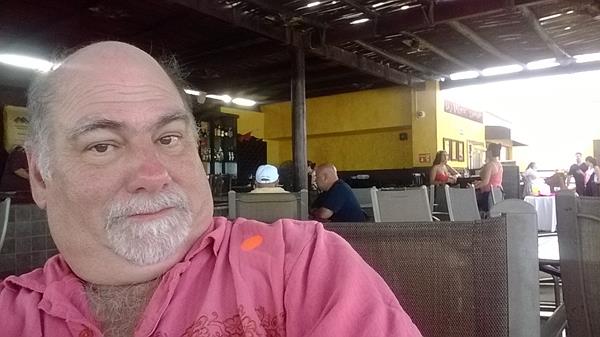 Alas, I didn't win any of the prizes….so it was back to the condo with its wonderful view: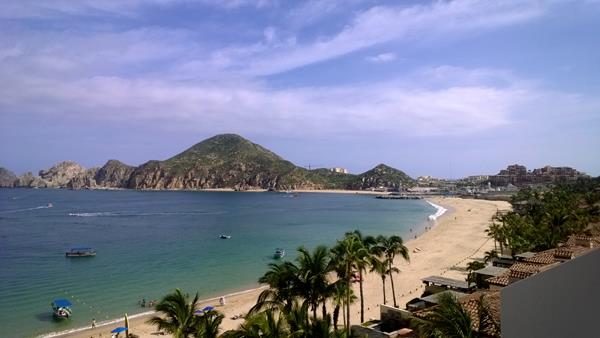 And the condo isn't too bad either…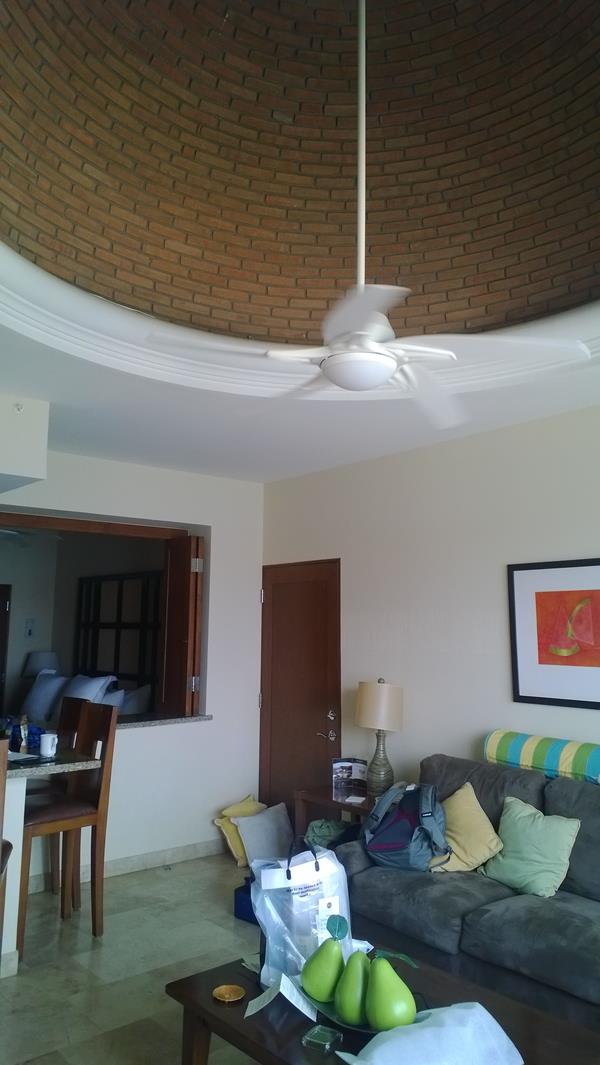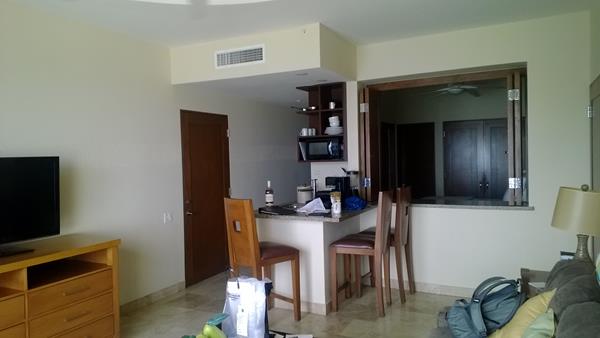 Sorry, forgot to take pictures of the bathroom which had a walk-in shower for four people, including a nice bench.
Roxy finally arrived, with a boy in tow (a theme that was to develop during the week)…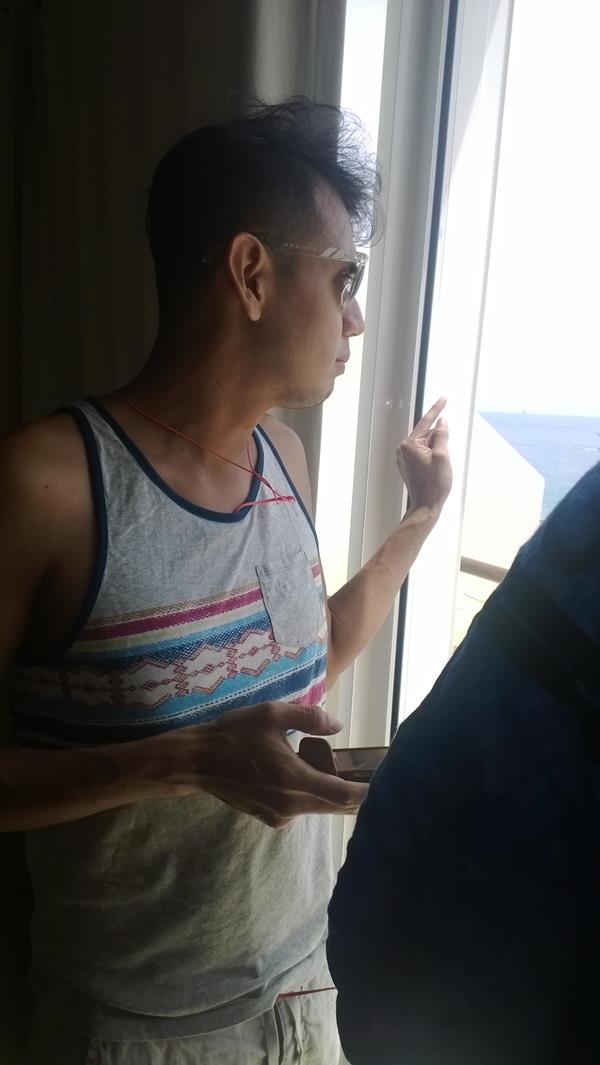 I shouldn't say boy as Carlos is 28 (Roxy will turn 31 on Friday, the day I leave). We ordered room service for dinner my first night.
Tuesday at noon it was off for the "owner update" for $60USD in restaurant vouchers. Had I known Roxy was going to tag along (for the free lunch and drinks) I would have had him listed on the presentation and we would have scored $160USD. Add this to the $100 in restaurant credit I got for paying my dues early, and that should make a dent in our food expenses (and whiskey expenses were trimmed at Duty Free).
We got a buffet lunch (value $18USD according to them) with a decent Margarita at the restaurant while we went over the preliminaries, then it was on to the real "sales pitch" and several more margaritas….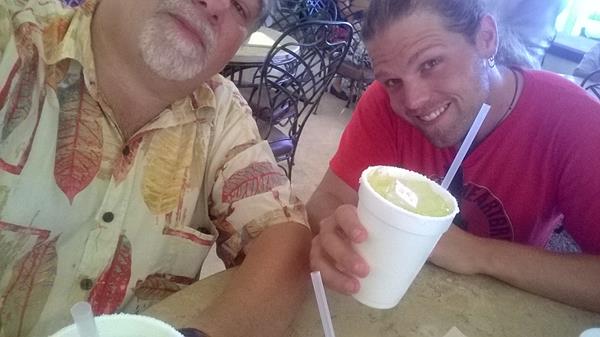 I've never seen someone put salt on the rim of a Styrofoam cup – but they were like 16 oz. Margaritas… I got through another 1.5 and took the rest back to the room after they finally realized they weren't getting any money out of me…when you only paid $1USD plus a $100USD transfer fee (THANKS COLONELS!) they'd have to set the bar REALLY low to get me to pony up. That and I'm pondering if I want to keep it at all, preferring the WorldMark Cabo San Lucas for its full kitchens and closeness to the Mega Mart just up the road (and walkability to old Cabo – San José del Cabos).
Not that the scenery by the pool is lacking at Cabo Villas: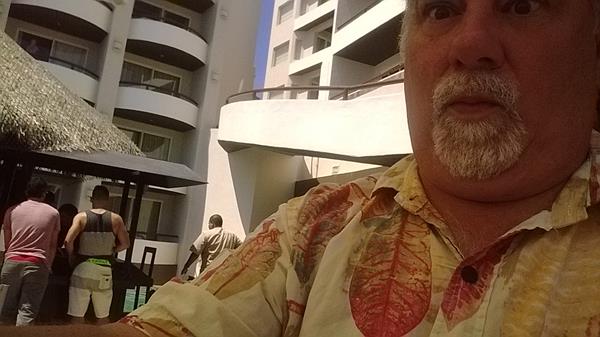 I can only imagine what a zoo this place is at Spring Break (when Linda, Peter and daughter Claire are coming next spring)…
With all the restaurant credits at Baja Brewing, we took many meals on the rooftop, including this lunch one of the days.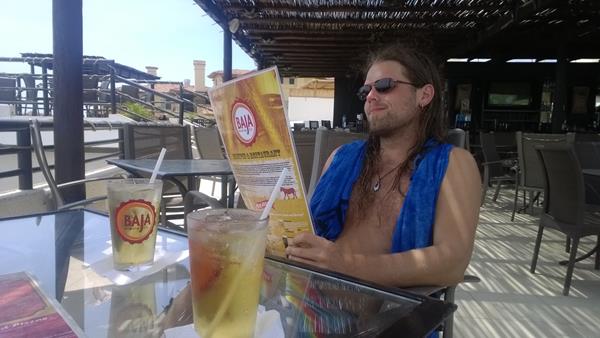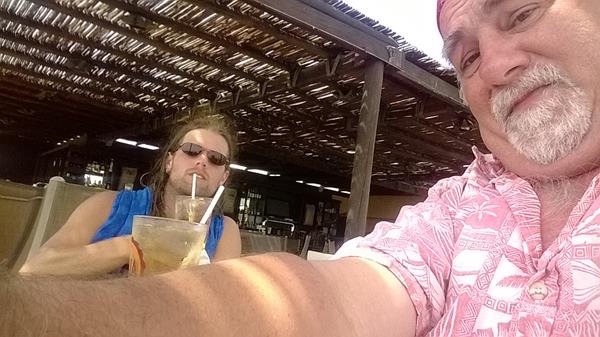 Enjoying a couple of Bourbon and Gingers on the roof while waiting for our food.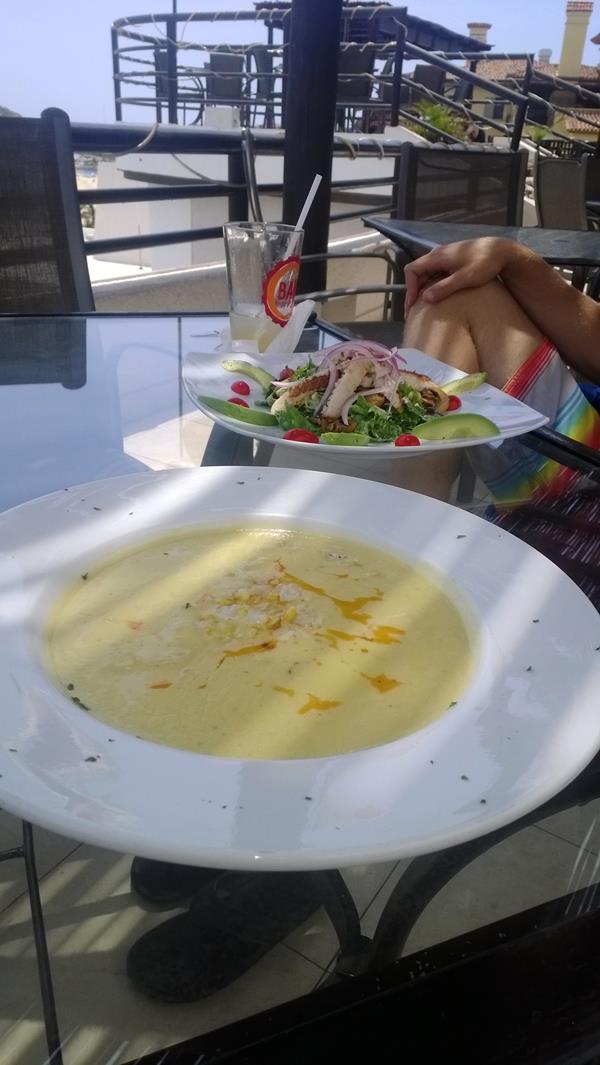 Champagne corn chowder with bits of catch-of-the-day, and Roxy's grilled catch-of-the-day salad: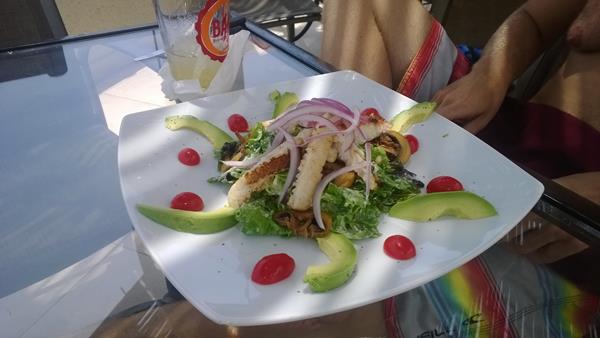 Ack! The view is so boring!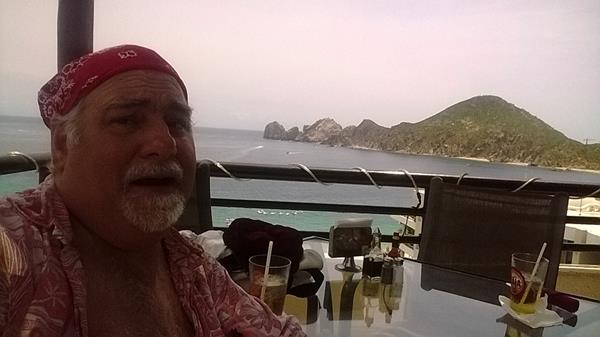 If you wanted water-based activities, there are certainly lots to choose from: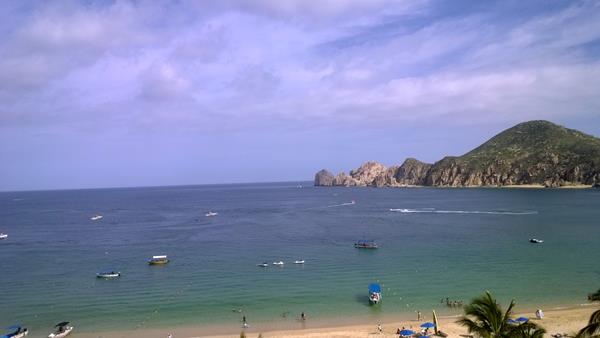 Jet ski rentals, glass bottom boats, parasailing, dinner cruises: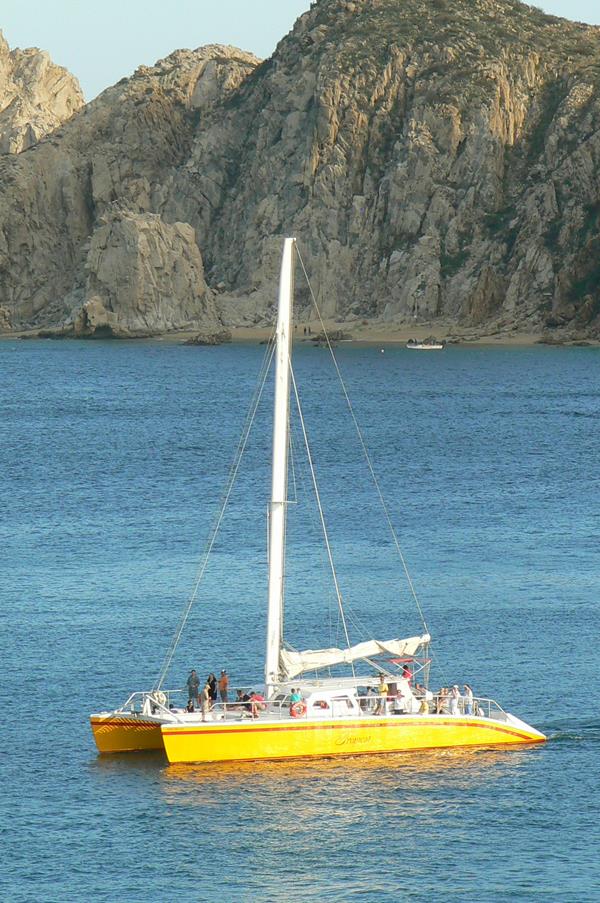 Including one on a "pirate" boat: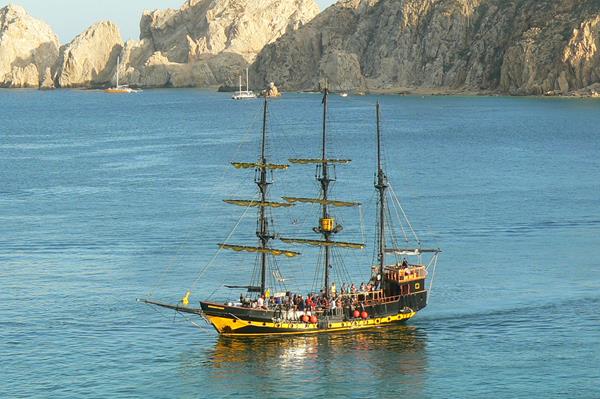 Though I'm a little unsure about the name of the boat…yes, that would be the Buccaneer Queen: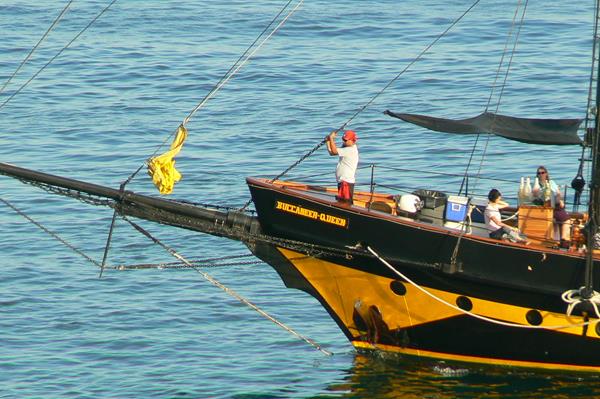 Though, my former Tall Ship Captain buddy, Bebbe-Center, recommends you check out the "Sunderland" which moored at the marina in the center of town but sank in 2013, was refloated but not allowed out of the harbor for dry dock repairs so it was broken apart to be used for educational exhibits…sigh.
Or, you can just experience the sunset: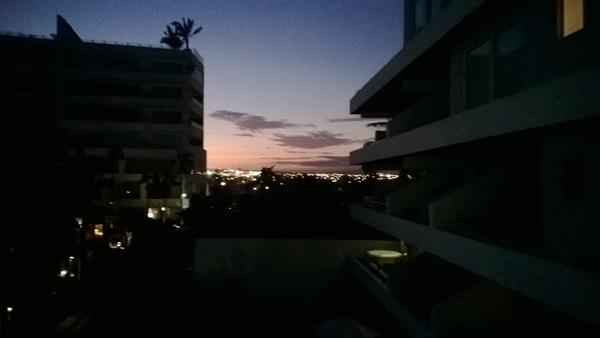 A truly lazy week laying around until you are hungry, go to one of the restaurants on the property, use the 10-15% off card, or order in (and transfer it from the Styrofoam to real plates), then go back to relaxing.
Finished up all the New Yorkers that I brought, killed another paperback (that wasn't even worth coming home with – Night Watch, by Alistar Maclean), leaving the hardback for the trip home.
Whilst I was lounging about, Roxy was working the local scene like a pirate plundering booty…of 9 meet-ups arranged, 8 showed up and he ended up plundering booty from 7 out of the 8, and one came back for an additional plundering, another for three. Made me tired just watching the effort involved. But I guess when you return to college in a week after a seven year absence you need to all your oats in the ground before fall. One more metaphor and even I might puke.
My last night (Roxy stays another night) he didn't get home until 2:30AM – good thing I'm not his mother (or father).
That said, we both had a great time doing the things we love. Maybe I should sell the timeshare to Roxy and go back to staying at the WorldMark – just a thought.
Back in the air tomorrow. Now to figure out how to get to the airport.
[222.4]