I didn't put in a time call for a cab – something I usually do, especially if I have an early flight. With a cruise where I have until 3PM to get my ass on the boat, I could wait a few minutes for a cab.
Assuming I could get them to pick up the phone. Yellow Cab … "please stay on the line for the next available agent"….5 minutes later, Orange Cab, "please stay on the line for the next available agent"… 5 minutes later. Uber. Car is ten minutes away. I'd never used Uber before but I had it on my phone with a $30 credit towards the first ride. If you aren't already signed up for Uber – use promo code 7eo06 and get your own $30 credit (and I get a free ride too!).
Honestly is was closer to fifteen minutes, but only because the computer said I was 2 blocks further up Rose Street – but the driver has your number so it was soon fixed. When you can't even get a taxi company to ANSWER THE PHONE no wonder Uber, Lyft and all the other services are eating cabs lunch and dinner. Cost for my ride in a private car with a former Metro Access driver?
FARE BREAKDOWN

Base Fare                     1.35
Distance                     12.98
Time                         4.90
Subtotal                    $19.23
Safe Rides Fee (?) Â Â Â Â Â Â Â Â Â Â Â Â Â Â Â Â $1.00
City of Seattle accessibility and admin fee     $0.20
Free trip up to $30 from James             -$20.43
CHARGED
Personal •••• 2459                 $0.00
Yes, I left money on the table, but the ease of setting this up was AMAZING. And I got to the terminal in time to have lunch in the dining room (rather than the buffet) which was off limits to most other travelers if they were preferred early boarders or showed up after 12:30. Many of my Princess SeaMen (a group of gay frequent cruisers on Princess) were turned away. Of course they got there later because they'd been on the cruise the day before, on the same route, and caught a shuttle back from Vancouver to catch this one.
Boarding was the SMOOTHEST that I've ever had…maybe showing up a little after 11AM is a good plan. Preferred Lines for security and check-in, and almost instant boarding of the Golden Princess. I'm on this cruise to get my Elite Status on Princess. Since I'm going solo, I actually get 2 cruise credits for this trip – meaning my 14th and 15th cruise by their bookkeeping (not counting the 3 that I added that weren't in their records). Dancing Bear (DB) completed his 14th and 15th on yesterday's cruise so we'll have to see how quick they are at getting status levels updated. This is, of course, a concern to me because my 16th cruise where more benefits kick in is this coming Wednesday after a couple of days in Vancouver.
Since it is just an overnight cruise, I opted for an interior cabin ($173.00 total — $118 for the cruise, $55 for taxes/fees/port expenses) rather than my usual balcony cabin – DB got upgraded from inside to balcony on his, lucky bugger.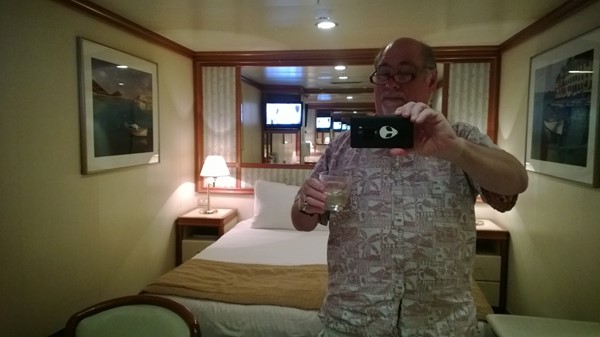 Good food at lunch, though with my 10AM breakfast I was less than hungry which didn't stop me from the Shrimp Salad (so awesome, no photo, got eaten too quickly) and the beef tenderloin followed by a sherry trifle: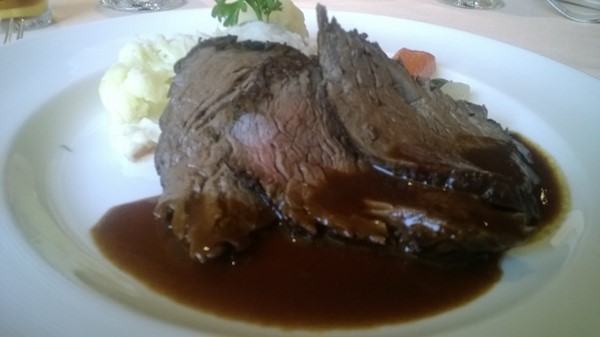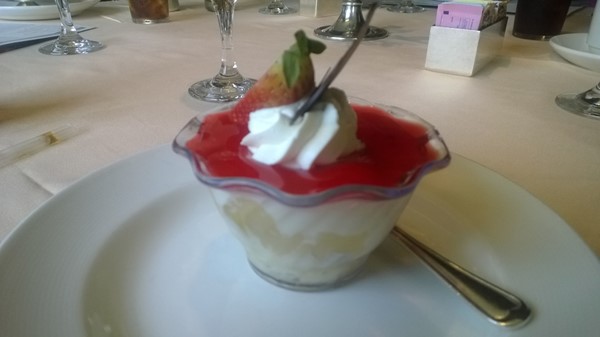 I'm not sure I'd really call a Jello-based dessert a "trifle". Others at the table had the Salmon and the Burger: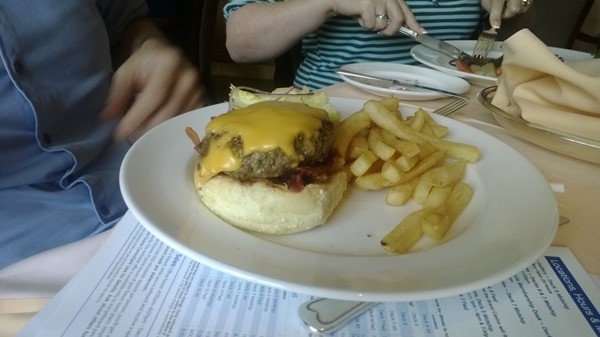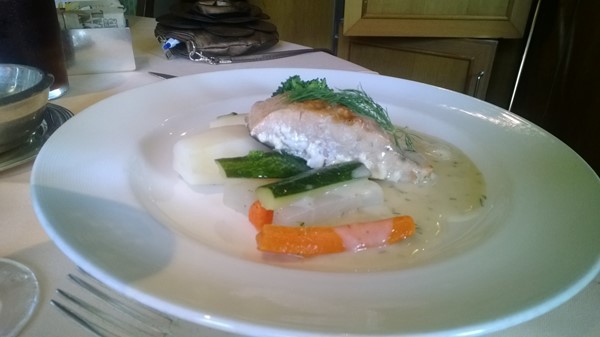 Even the appetizers were tasty and beautiful: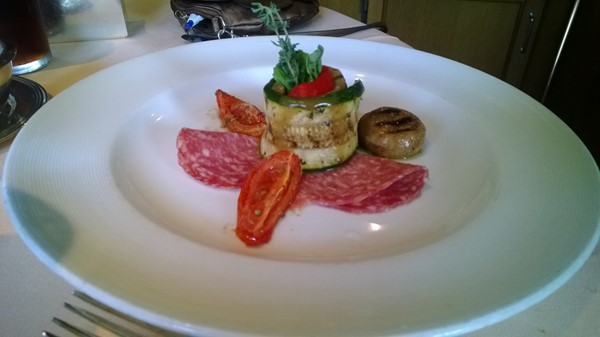 Speaking of DB, met up with him after lunch….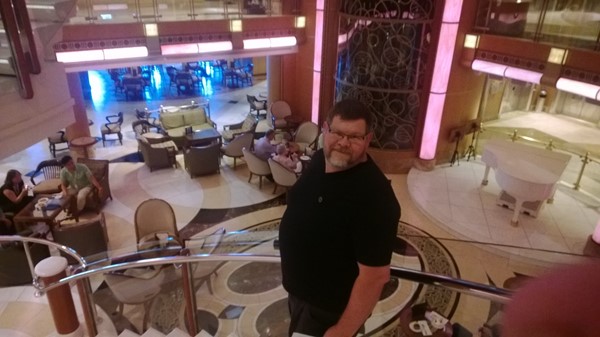 And a tour of his cabin…nice view: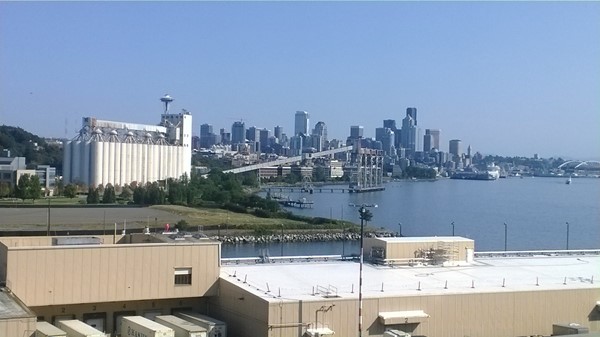 I even grabbed some little desserty things from the International Café in the atrium: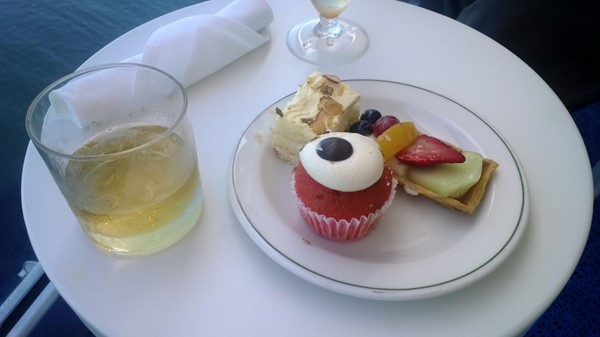 And a cocktail for myself from the minis I'd brought on board in the toiletries….DB is on the all drinks included for $49 (+15%) a day plan. They wouldn't make a dime if Swanda were on this boat, but he does tip well.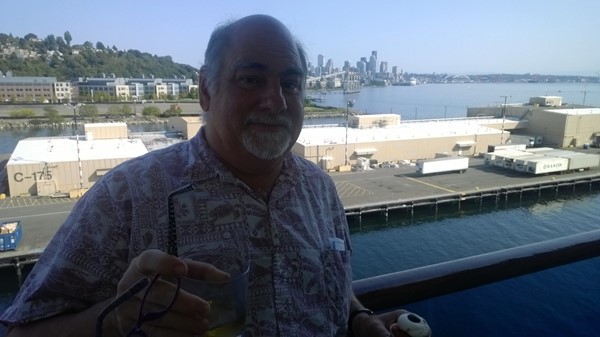 At 3:30 was the mandatory lifeboat drill – and a twist is that you no longer have to bring your life vest if you've done the drill before – gone is the sea of orange vest wearing people. As for me, I brought a cocktail instead of the life jacket – and plopped on the floor rather than stood: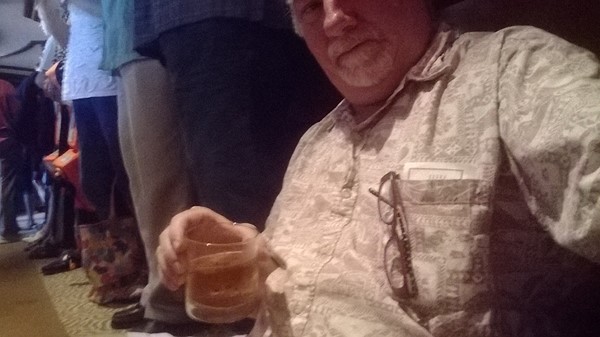 Sail away at 5, LGBT (Lesbian, Gay, BiSexual, Transgender) Meet-up at 5:30 in the Wheelhouse Lounge. It used to be called the "Friends of Dorothy", think Wizard of Oz, sort of like the "Friends of Bill W." for the folks in recovery. I miss the name, but the younger generation is sort of clueless about the FOD term.
A crowd of 20+ showed up. Men, Women, mostly around my age, mostly white. A couple of out-layers, older black gentleman, youngest Eastern European boy (Anthony).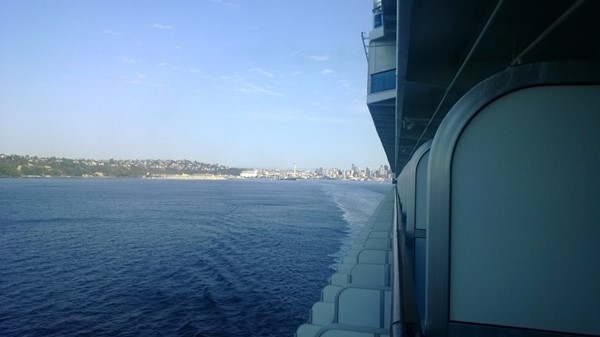 After hanging out for a couple of hours, the consensus with crowd that I'd been on other cruises with was that it was time for a swim in the Lotus Spa pool (with adjoining wet and dry saunas), followed by an 8:30 dinner. With free drink coupons and refilling from the room which now had a full bottle of Maker's Mark in it from duty-free (a perk of being on a one-day cruise is you get your liquor the minute you purchase it), luckily there are no pictures from dinner – where I added a bottle of wine to the meal since I have a $50 room credit I need to use up and Mick picked up the cost of the Maker's (for which I still owe him). Shared the wine with one of the others at our 9 person table. And a noisy table it was.
Lovely sunset off the railing….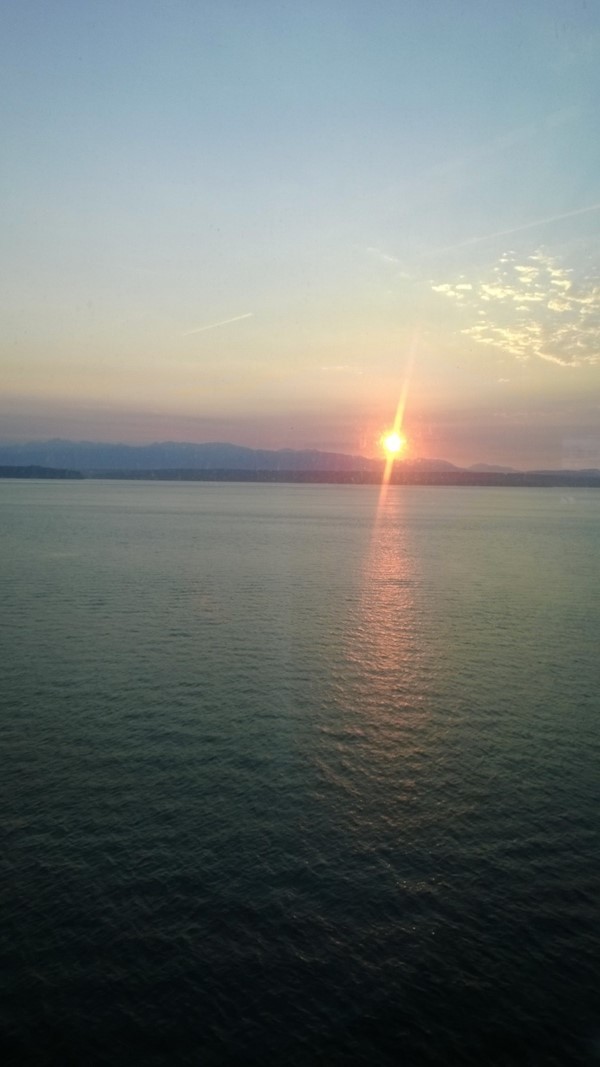 One of the joys of cruising….
Up until 2AM,and need to be out of the cabin at 8AM, then breakfast on the Lido Deck, and then taking a nap until my 9:30 disembarkation time….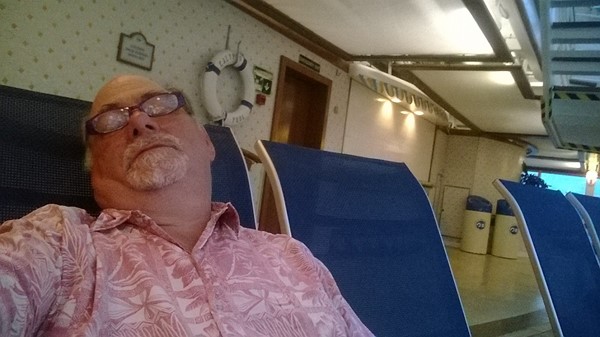 Customs was a snap…hand them the form…and then the hell of two 5,000 person boats being in dock at the same time. This was the cab line: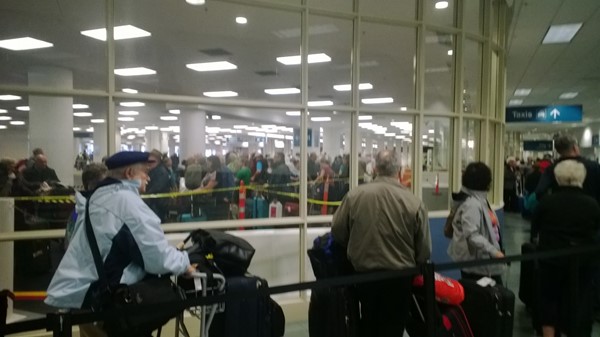 That's about ten switchbacks – I gave up after five minutes and decided to walk the 12-15 blocks to the WorldMark at The Canadian – even in the drizzle I got there in 20 minutes at which point I would have only been a third of the way thru the cab line.
Next up, two days in Vancouver, BC.
[? ? ?]