Got to the condo around 10AM – and check-in as at 4PM.Been there, done that. Left my name and number at the desk, went down the hall to the lounge, gathered a couple of pillows and took a 3-hour nap.
The nap done, it was off to find some lunch…and a coupon from WorldMark to make it cheaper. The choice? Relish, a European Gastropub just around the corner. The deal? 15% off food.
Got there to find the house wine, a Naked Shiraz on offer for $4 a glass, VERY cheap by Canadian standards and not a bad glass pour. I paired it with the Duck Confit tacos ($11) for a wonderful little lunch: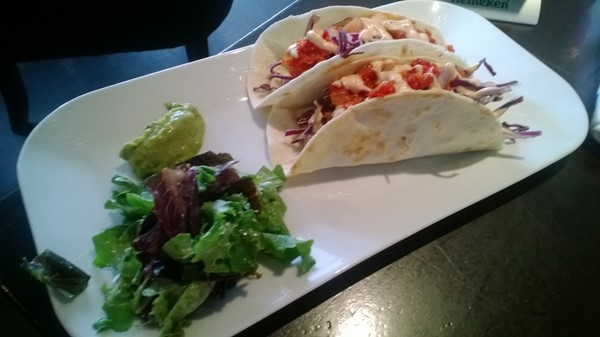 That put me back at the WorldMark around 2PM – room still not ready, so it's off to the IGA Marketplace with a 10% off coupon to get the rest of the stuff we need for dinner.
Tonight's dinner guests are Solus+ and Helene. The dinner menu is:
Fish that Helene is bringing
Sourdough bread
Caesar salad
Red and White wine
Croatian cookies for dessert
But before that can happen, I have to get checked in, which turns out to be around 2:30 – after declining to have them fix a broken light in the kitchen. I think I can suffer.
And oh how I suffer at The Canadian…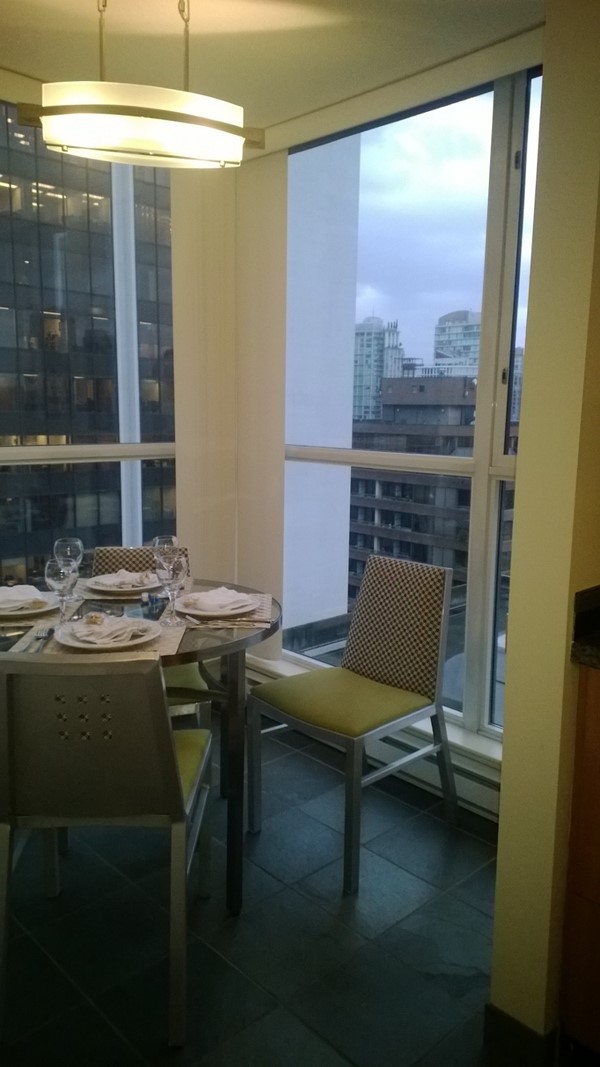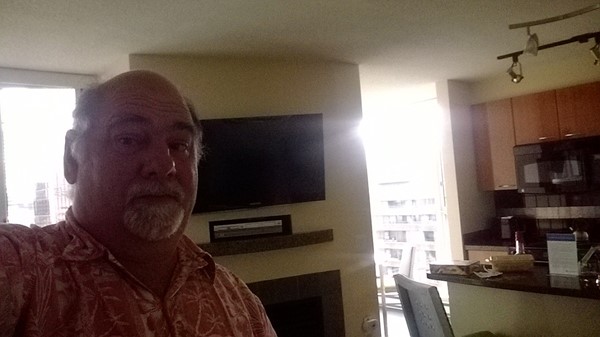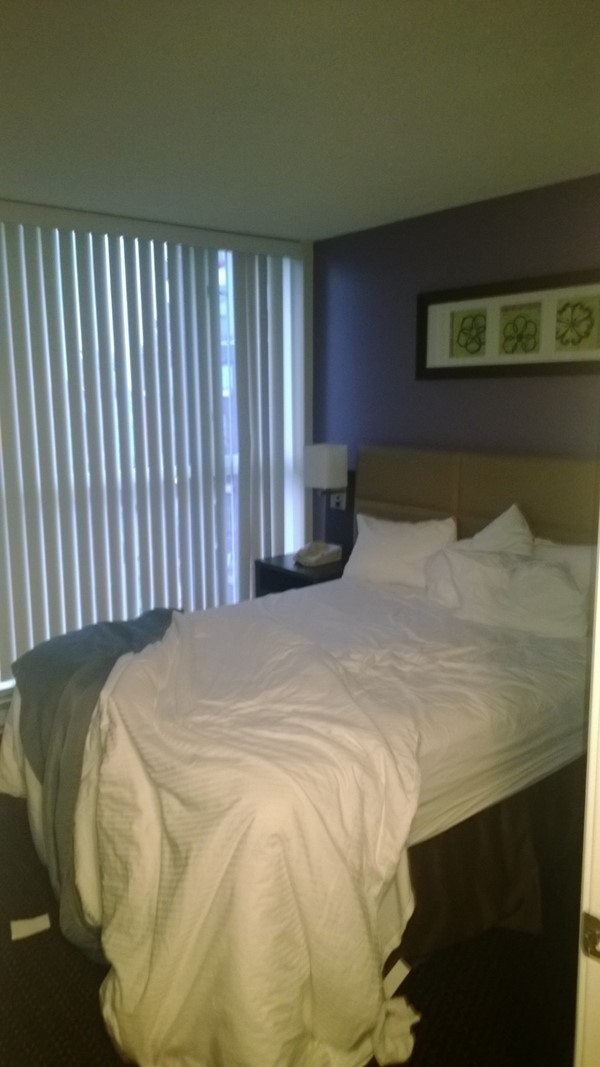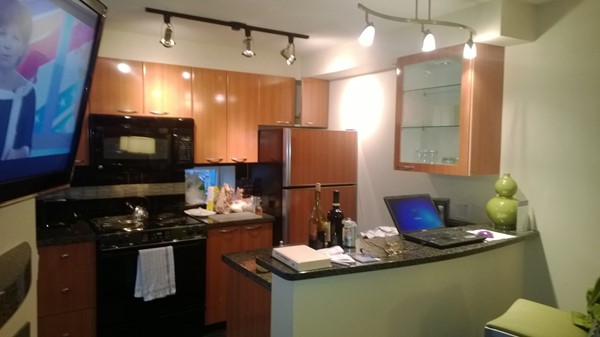 Helene arrived around 5, Solus+ around six…alas, none of the dinner picture turned out…might have been the wine…
A late night, and a late morning of sleeping in…did a 3-egg fish scramble with cheese for my breakfast this morning, before settling into getting caught up on the blog… and by 3 it was time for another run to Relish for their oyster happy hour from 3-6PM with oysters at a "buck-a-shuck" – paired nicely with a Beefeater slightly dirty martini in honor of Pucci: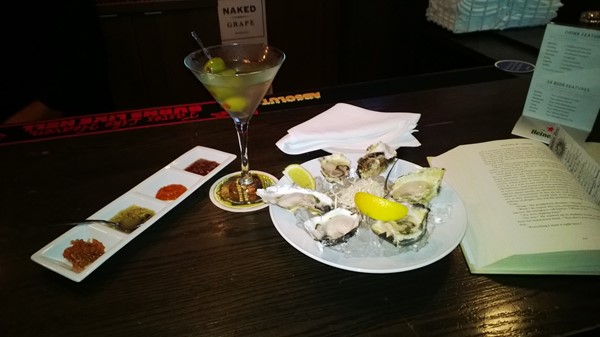 I ended up having a dozen of those "buck-a-shucks".
Back to the IGA for a little more fish – Helene brought more than enough, but not quite enough for two meals – more salad and a little more for the pupu platter that BamBam always devours….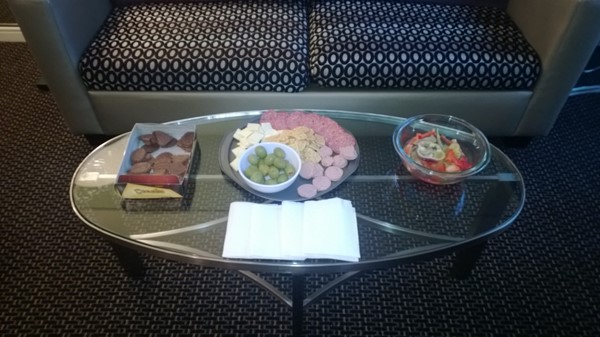 Croatian chocolate cookies on the left, sliced up heirloom sweet peppers that were on sale at the IGA for .99 a pound.
The boys (Hummingbird and BamBam) got there a little after 6, and with no word from Epick since I emailed him yesterday, finally a text response that he wasn't coming….would have been nice to know, might not have bought more fish.
But a good dinner it was: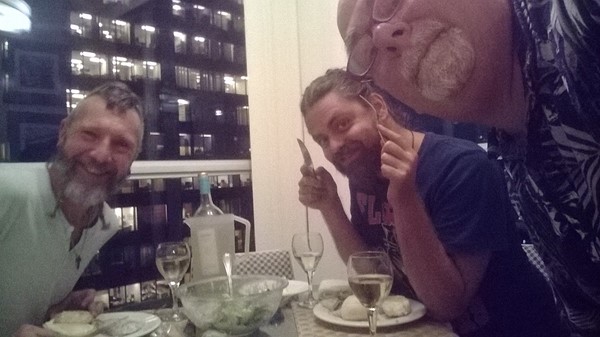 With leftovers for the boys to take home.
Their big news is that they finally, after seven years, have settled with the insurance company over their house fire. The money is in the bank, and they've found a place that they want to put an offer on in the city, in a neighborhood that I really like (as does Helene), so I'm wishing them the best of luck.
Another relaxing morning capped with another 3-egg omelet (no fish this time – sent it home with the boys for the cats). Checked out a little after 10:30AM, waited a few minutes trying to flag down a cab and finally just decided to save the $10+ and walk back down the hill to the cruise terminal – at least it wasn't raining!
This is one of my favorite oddities on Hornby – it's actually the bottom floor of what is now the Vancouver Art Gallery, but obviously in the past it was a police station…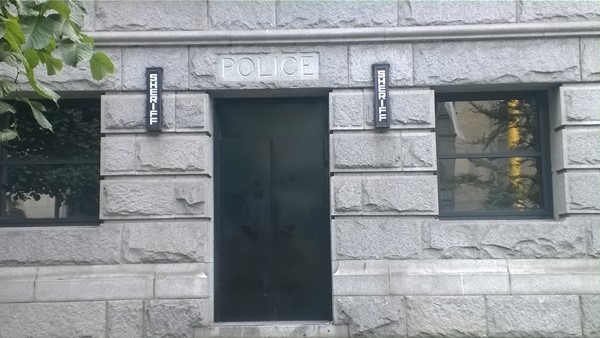 Showing up at 11am seems to be the thing to do…unless you are on the Holland America boat that isn't boarding until 1PM since they had a little norovirus outbreak. The downside of the Vancouver Cruise Terminal is that everyone, no matter how many boats are in dock, are all shoved through the same security line….meaning to Elite Line. At least past security – where they always notice my bottle of wine and direct me to the registration table – which I've started ignoring since no one seems to notice – there were dedicated lines for Preferred Passengers.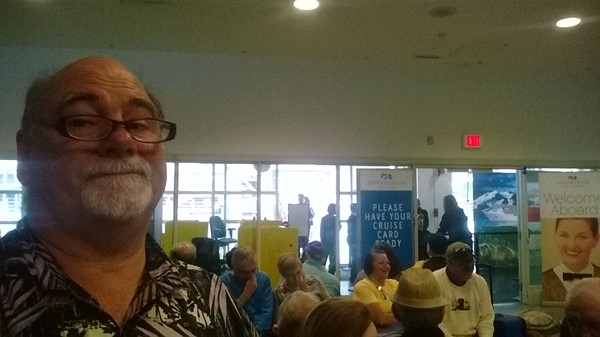 And a waiting area with coffee and pastries — too bad my Cruise Card is still showing Platinum (Silver) rather than Elite (Black) …I hate to start my cruise by bitching someone out, but I want my free mini-bar setup and I've got shirts that need laundered and starched.
[? ? ?]