For those long time readers you might remember my New Year's Resolutions…if you've forgotten, it's here: https://blog.unclemarkie.com/2014/01/01/new-years-resolutions/
So, how am I coming on these goals?
Achieve Million Miler Status on United Airlines, which will give me United Premier Gold status for life for me and a significant other (accepting applications).

Achieve Elite Status On Princess Cruises, which will give me these lifetime benefits when cruising with Princess:

Achieve Alaska MVP Gold status by match (applied for at 12:15am) and keep it for next year by flying 40,000 flight miles. Benefits?

Reduce blog posts to only the interesting stuff, rather than the day-to-day stuff that I've been doing for the last five years – unless there is an outcry from the readers. That said, don't expect a post until Sunday when I'm packing for my Bay Area trip and having Salamander Hellbender to dinner.

Get some more "billable hours" to quit sucking down my 401K. Have a lead on another "registered agent" gig.

Not piss off my business partner

For the benefits associated with each of the top three, go to the original post.
United Million Mile status (Gold For Life!):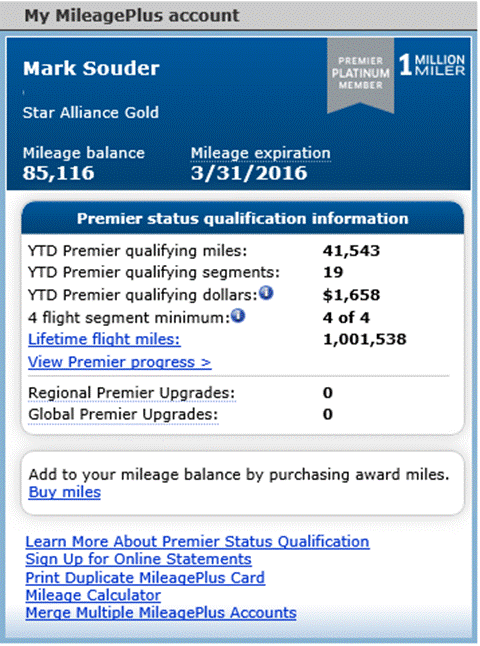 Princess Elite (Black Card) status:
And Alaska MVP Gold status: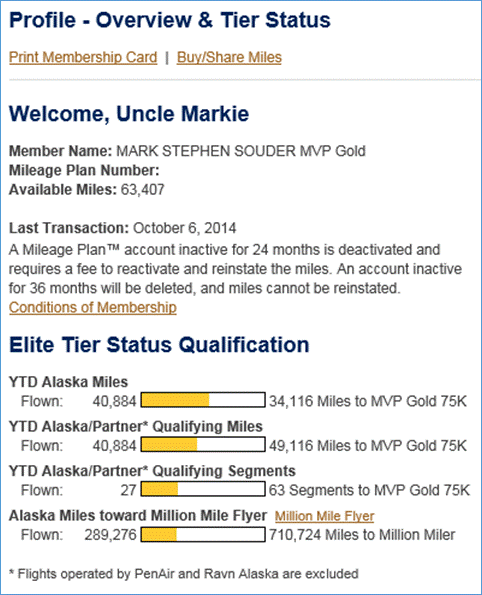 That covers all the status goals… and I still have a few more flights for the year:
Next week Sacramento r/t that I picked up for $96.20 to see Jameson
End of the month an Albuquerque r/t that I picked up when Alaska announced their new flights. $218.00 with double miles (three times for me being MVP Gold) to visit Mom
First week of November a 4-night cruise so flying to LA for $198.20
And I want to take one more train trip this year so that will be a one-way flight someplace.
As for the last three New Year's Goals?
Kept blog posting to travel or event related stuff rather than day-to-day
Have picked up a few more billable hours… gained one and lost one this week but the one I gained pays more
Business Partner is still alive so that means we haven't killed each other, and it's worked its way into a comfortable situation.
Well, there's my year-to-date report.
[224.4]