Yes, I know, Sacramento – lots of snippy comments on "The Pit Called Sacramento." "Why?" they asked. $96 round-trip and I got upgraded to first class in each direction. The cheap fare was the result of a two-hour "flash sale" announced by Alaska on its Twitter Feed. A week or so later it was $128 round-trip to Denver (snagged to see Dan and Lisa), this week it was Omaha and Salt Lake City – I passed on those two.
And then there is Jameson – my "faux nephew". He has moved from the public sector end of the environmental business to the private side, moving from Lake Tahoe to Folsom (it's more than just a prison). As for the "faux" part, he's me dead brother's widow's new husband's nephew – but with his parents often celebrating Christmas Eve at my parents' house when they lived out in El Dorado, it's really more like a three family circus.
I booked a nice midday flight, but still means setting the alarm, just not for 5AM. That's means I'm not as cranky in the Board Room: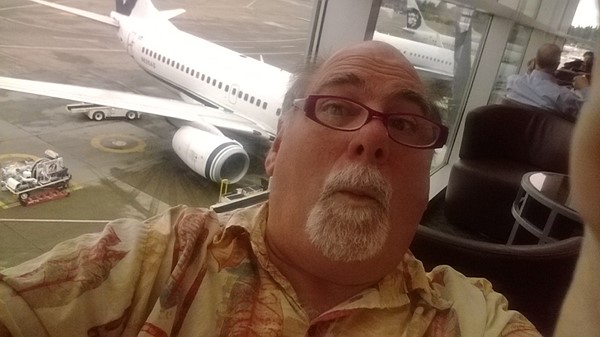 And who could be cranky when you are flying on the Disney Cars Alaska plane:
Though I was a little confused by the need for this sign on the jet way…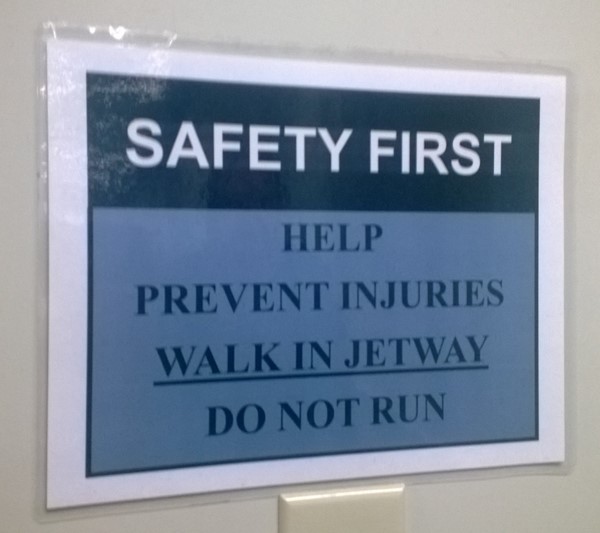 One I boarded, the most amazing thing happened. Instead of water, they asked if I'd like anything to drink – so of course, Jack and Diet. On the ground! A first on Alaska. Maybe is was because the back half of the plane was only half full (First, of course, was packed). The view from seat 1D: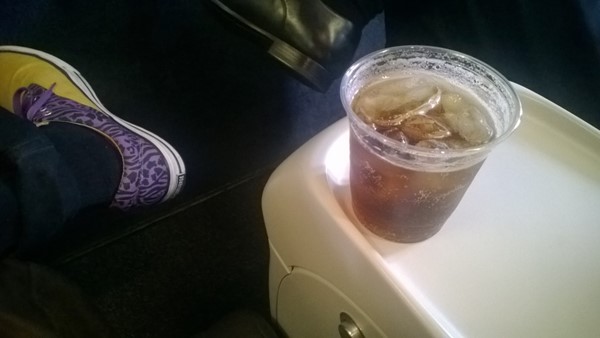 And there was even a light lunch on the hour and a half flight – a curry chicken salad that was quite tasty: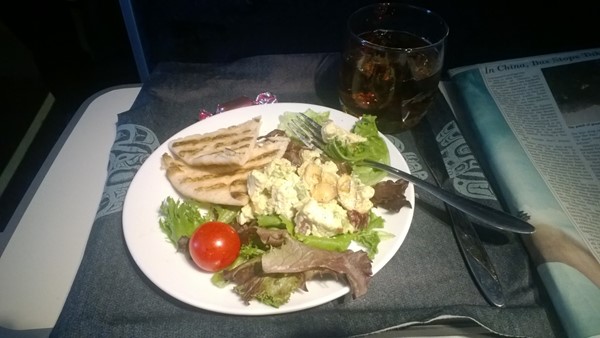 Picked up my bag and headed to the rental car place where they tried twice to sell me an upgrade. Tip: if they are trying that hard, they don't have the compact car you rented. I ended up in a mid-size Mazda 3 that they were trying to get an extra $20 a day for…almost new, less than 2,000 miles on it.
Got to the hotel and checked in – Hawthorne Suites by Wyndham – I get 20% off lowest rack rate as a result of my WorldMark ownership (they are managed by Wyndham). Nice room: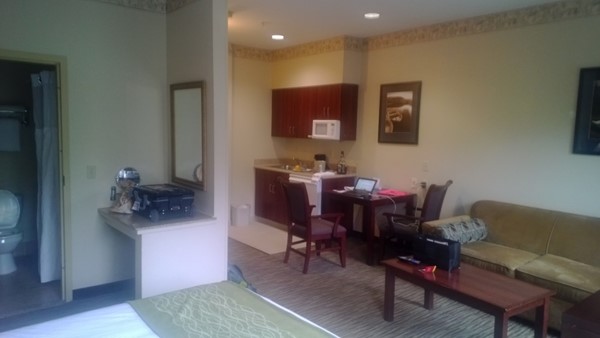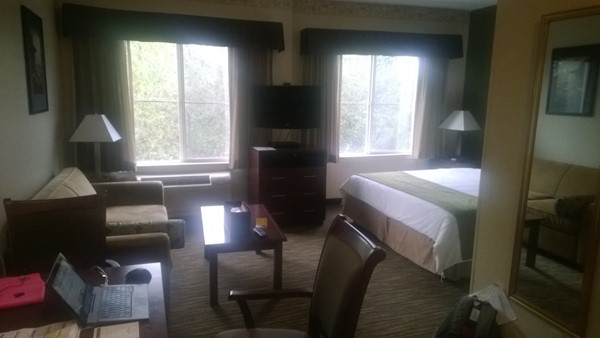 Had a little nap, did a liquor and mixer run before Jameson got off work. We hung out for an hour of so catching up before it was off for a sushi dinner at Mukuni in Citrus Heights.
We opted for the Sho Chiku Bai Nigori (unfiltered Saké) and the Two For $45 tasting menu…one from Column A, one from Column B, two from Column C and one from Column D (the dessert column). Not a bad deal, we were both full at the end which is not cheap to so at a sushi restaurant: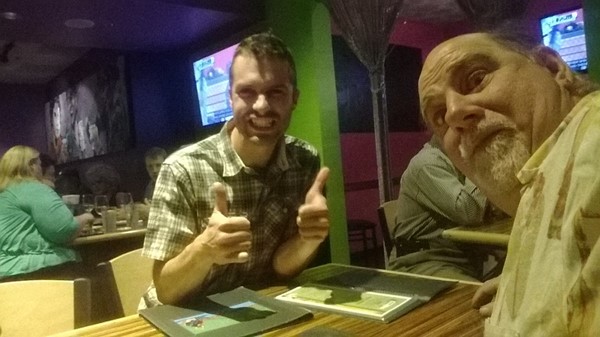 And the "shooter" that I thought about, but didn't get: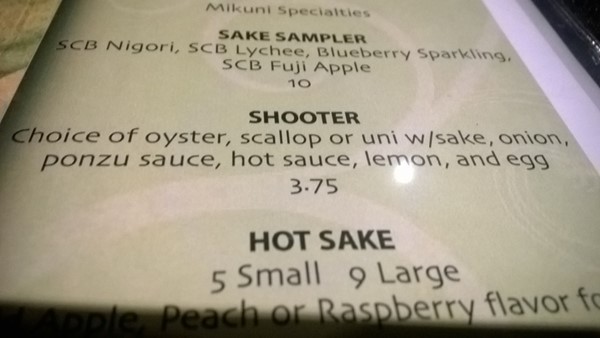 And the "cheesecake" dessert which was really quite good – and I'm not a dessert person: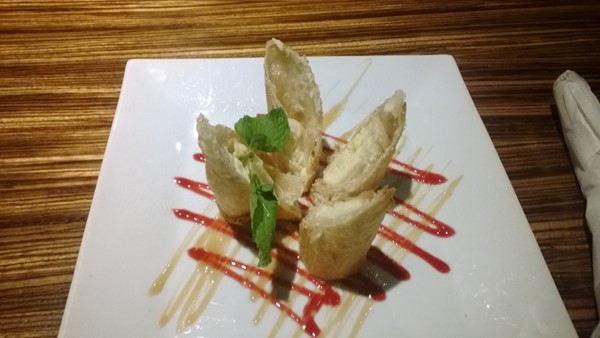 A few more drinks at the hotel and Jameson was off to the house where he rents a room – a situation that he is trying to change. He has an eye on his own apartment, the first living by himself in his life – at 31. Wow.
As for me, it was TV and bed for tomorrow it's off to Amador County, home of one of California's premier Zinfandel growing regions.
A hot breakfast comes with the room – lots of starch (make-it-yourself waffles, cereals, toast, rolls, etc.) and a steam table with a protein, potatoes, some egg dish (changes daily). First stop is Renwood. We carry three of their wines…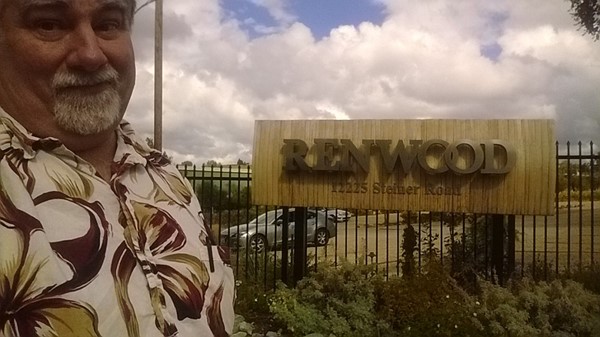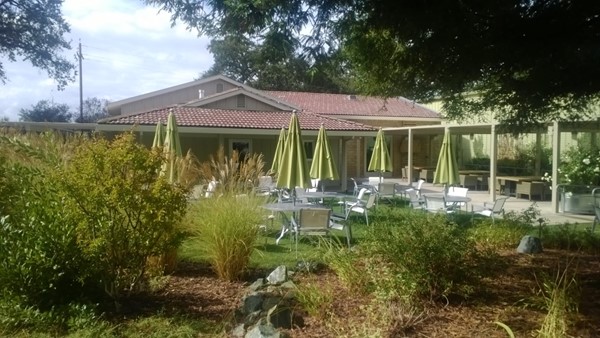 Very quiet it being a Wednesday, but it is crush season, so there are a few people. Basically I had the tasting room to myself – with Stephen as a guide: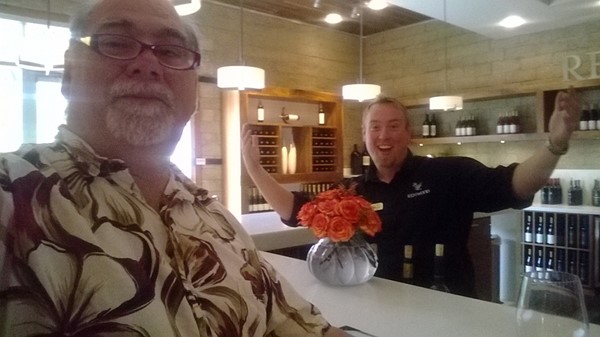 The benefit of owning a wine shop (and bringing your business cards with you) is complimentary tastings and the 20-30% off trade discount. I try not to abuse the privilege and generally buy a bottle – in this case for Jameson's new girlfriend whose birthday is tonight. She got a bottle of the 2011 Barbera. I didn't realize how much Barbera they were growing in Amador County. One slight emergency during my visit – Alaska announced a Flash Sale and I had no cell service in the country. Luckily Renwood has public Wi-Fi so I quickly logged in on my phone – only to find that this week's specials were Omaha and Salt Lake City. I'll pass.
I'm afraid the hot buffet breakfast didn't last, so it was off to Villa Toscana who has a nice little restaurant at their winery.

That was my view while eating my pastrami and swiss grilled sandwich: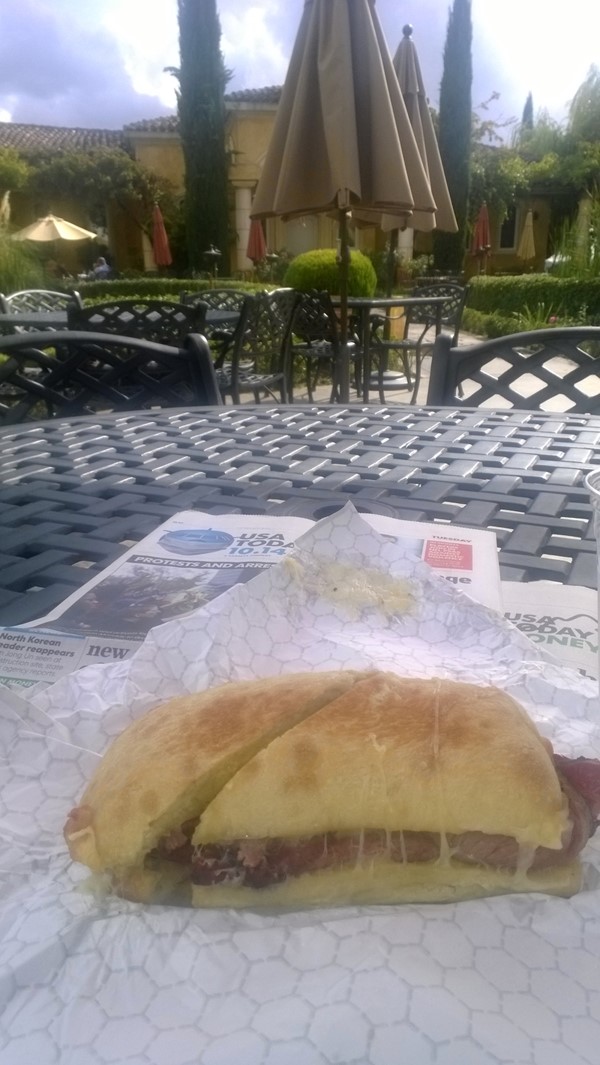 I've had their wines before and I think they are one of the "direct to customer" wineries that make all their money on selling their wine at retail and renting out the grounds for weddings. Which also means no trade discount since they don't wholesale.
Sated, it was off to Villa Noceto – another of the wineries that I used to visit for the years that the Labor Day Manscouts Gathering was held just outside Plymouth on Bell Road at Rancho Cicada. We used to carry their Sangiovesse, which I bought a split of for my mother (headed there next week).
Didn't get a picture there, or Terre Rouge/Easton where I sampled some more free wines, and bought a split of their Zin port (only a 20% discount), then it was onto Sobon Winery, which I'd been to before, and we carried their Zinfandel a while back. By this time I'm sort of done with wine tasting – didn't even sample their ReServe line…until I noticed that they had a Tannat. Tannat is a fairly obscure grape (unless you are in Uruguay). Their Tannat is an 93% Tannat, 7% Zinfandel. Here is their tasting room: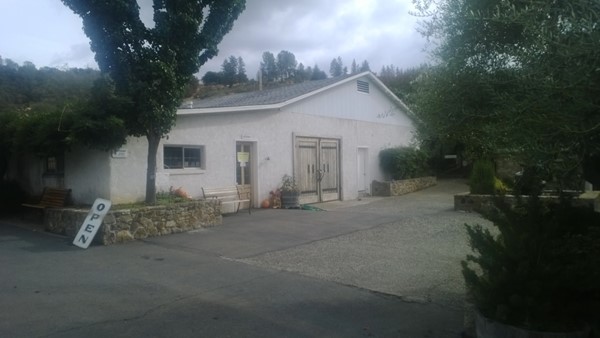 No time for a nap when I got back to the hotel – time enough to have a drink and check email before Jameson showed up have cocktails before the new girlfriend's dinner party at Hamptons in downtown Folsom. We even had enough time for a little walk around. Cute, old city center.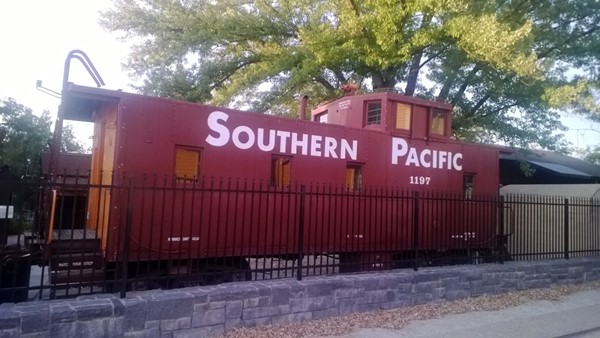 So apparently there used to be a rail yard in the middle of town.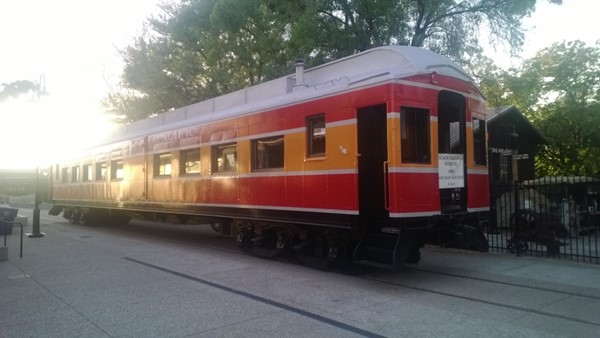 Now there is a Museum in a rail car, and the old roundhouse, minus house: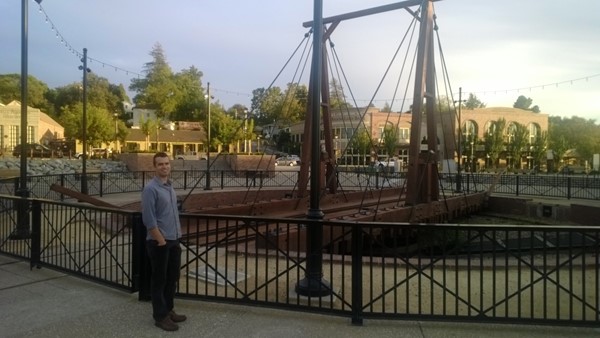 And then it was off to dinner at Hamptons – dinner for 8, plus one who showed up, late.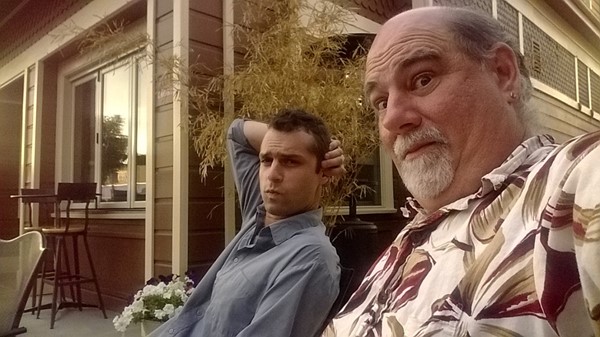 With a flaming table: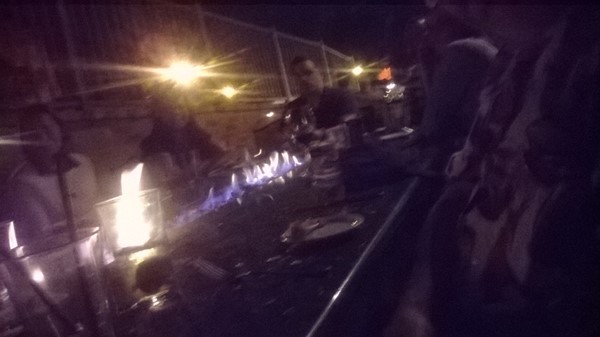 Arrived during daylight, but at the end, we were in the dark, lighted by the flaming table:
Once everyone was gone I got a little better picture of the flaming table: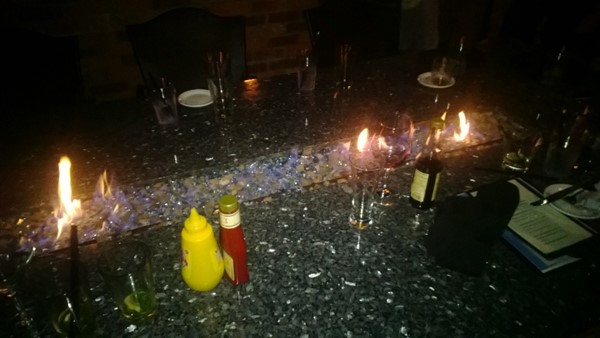 Not bad for being the oldest person there and I passed on going "caving" drunk after dinner – back to the hotel room for me as I've got a flight tomorrow.
Couple of more drinks after Jameson dropped me off in his "adult" car – Mink (Audi's name for dark gray) A-6. Considering I last saw him driving a beat up Nissan pickup truck (which he still owns), definitely a step up.
Up and out in the morning to the airport (apparently my second home, any airport). If I can only get there…. I've never seen 40 people in line for a rental car shuttle back to the airport: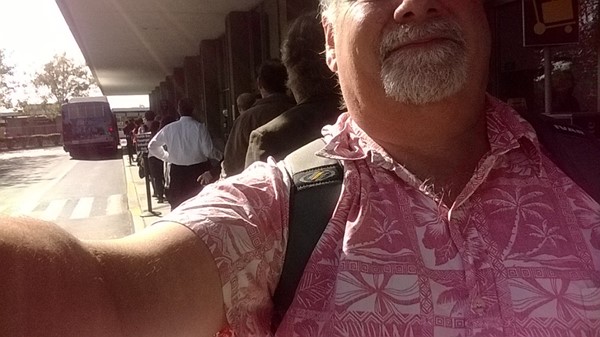 No lounge but a great airport, good food options, and charging stations everywhere, light, airy…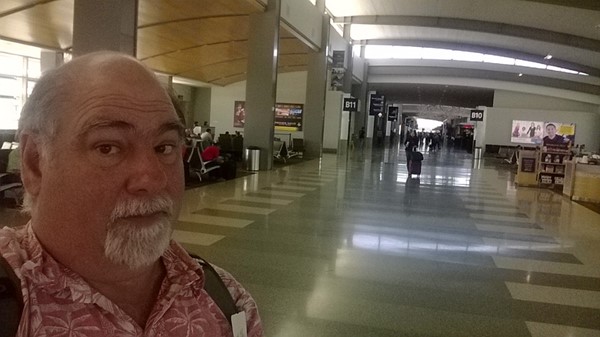 But soon enough I'm back in seat 1C…but no cocktail until we are at 10,000 feet: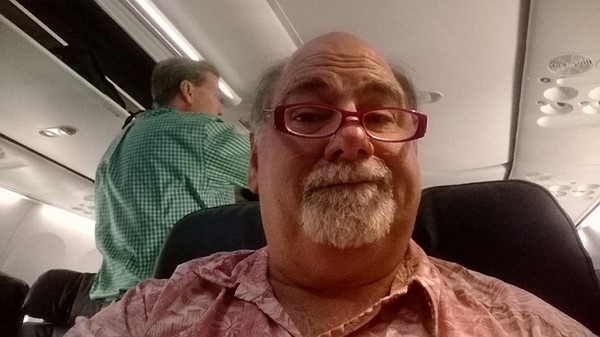 Boeing Sky Interior, but new in the transition phase, no outlets. No worries, I'm offline.
Best $96 dollar flight I've ever taken.
[224.0]