In the morning we were in Ensenada. Last year I was in Ensenada, but I didn't do any of the tours…I just wandering around town to a church I saw in the distance. Those Posts Here.
This year I signed up for the Two Winery Tour with Free Bottle of Wine. First stop with L.A. Cetto winery…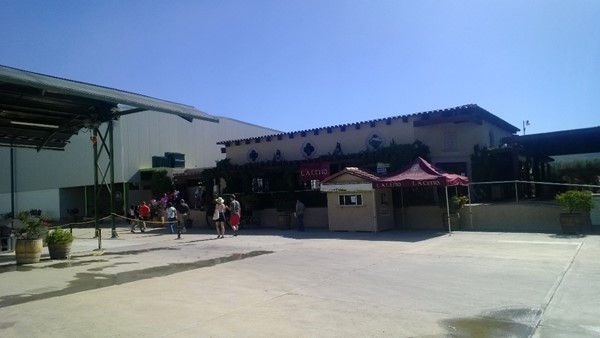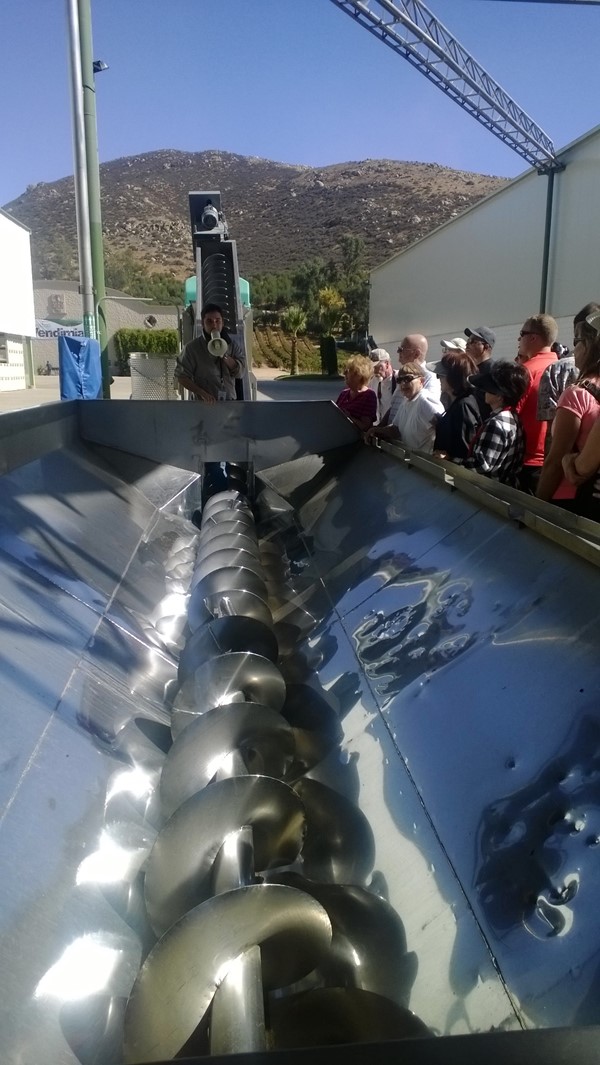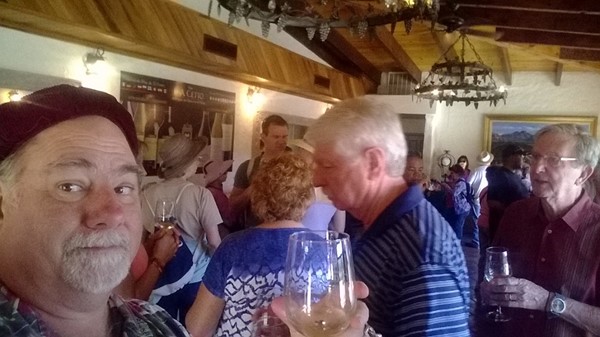 The joys of having T-Mobile service is that I have data and text coverage in 200 countries, not high-speed, but3G – enough to book a ticket to Kansas City in mid-January for $156.20 on Alaska Airlines Wednesday Flash Sale that runs from 11am-1pm…announcements on Twitter to remind you. And in Mexico's wine country they have 4G…and in Amador County outside Sacramento where I was last month, there was just no cell coverage at all during Wednesday's Flash Sale. But I digress….
So, apparently the region outside Ensenada produces 90% of the wine produced in Mexico, and Cetto's wasn't too bad, unlike the next winery (La Casa de Dona Lupe), an organic producer…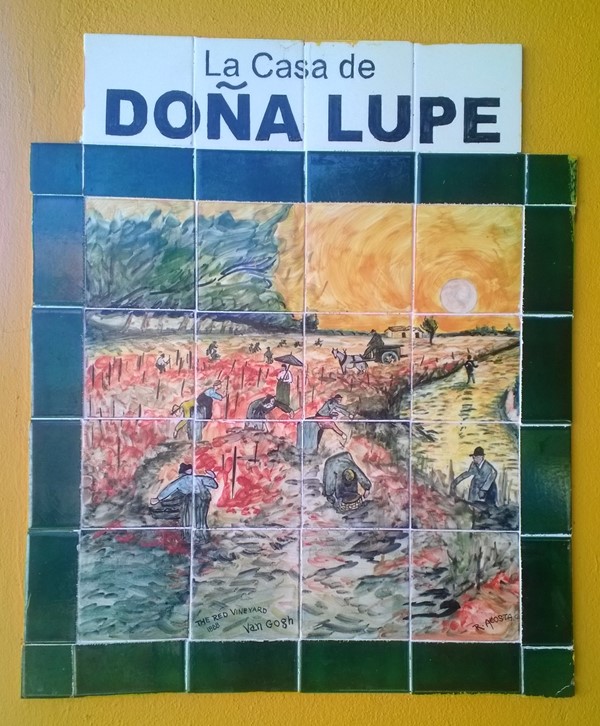 The wines were watery…and the food…well, I've never liked whole wheat as a pizza crust. But they did have a like folkloric show: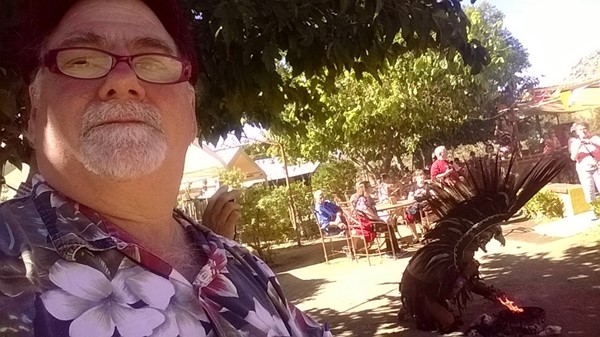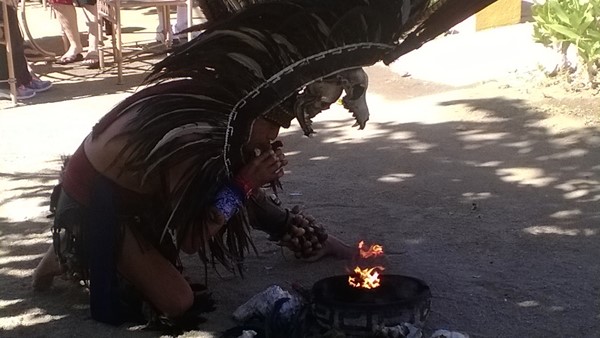 Back to the boat for me, though others got off for the "shopping opportunity". Funny thing is that they didn't even question my free bottle of wine I brought on – was sure that they were going to hold it until the end of the cruise.
Because today is all about wine, I had to get back to the ship for their "Grapevine Wine Tasting" which is $9.50 per person or it's a freebie for Elite Card Holders (but not their guests). They were serving the following:
Schramsberg Mirabelle Brut Ros̩ Р$48 in their dining rooms
Chardonnay Fetzer – $28 in their dining rooms
Garanacha Artadi Artazuri – $34 in their dining rooms
Cabernet Sauvignon Simi Reserve – $29.40 in their dining rooms (this would seem to be the deal on the menu)
Prosecco Villa Sandi – $34 in their dining rooms
One might suspect that they were charging people $9.50 to get them to order more wine with dinner. Looks like the mark-up is double retail, and they would be getting it at duty-free prices, so that would be buy for $10, sell for $30 – that's a nice mark-up. Wish we could do that at the shop.
On my last boat I looked at the line of people wanting to get in and turned around… no line this time, but man these people were bored: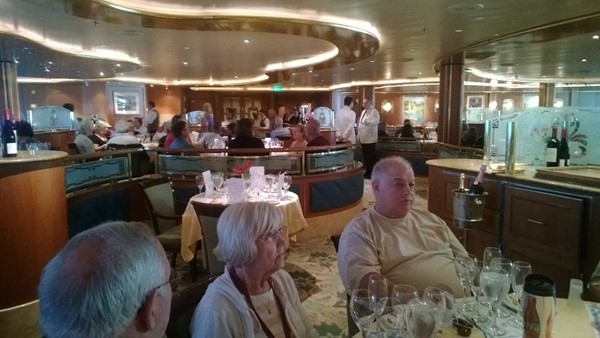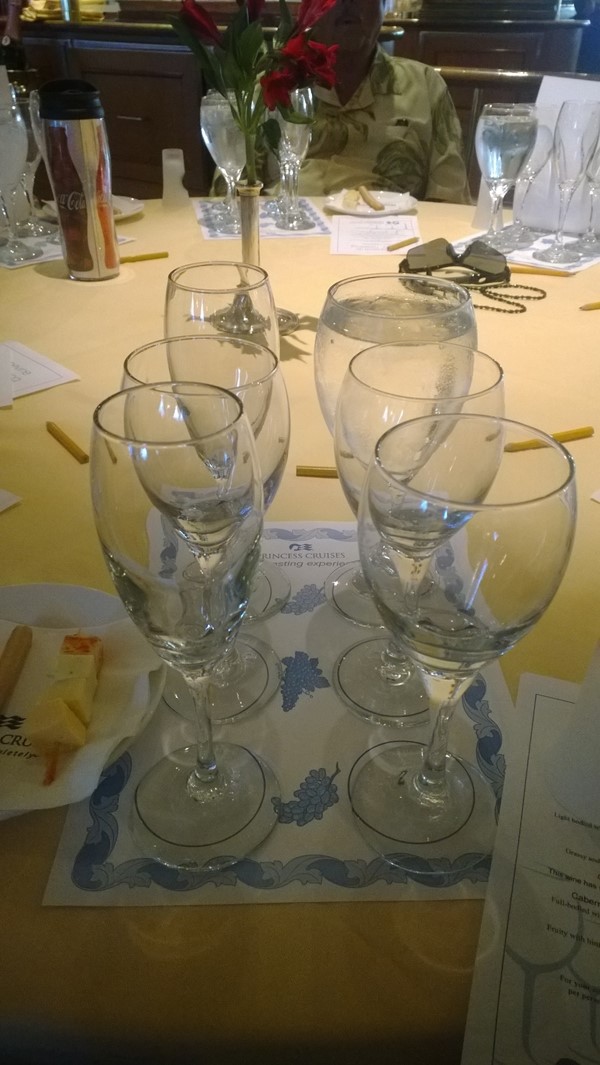 At least I got a souvenir glass out of it – and apparently they are prized as no one left me a second one…
Here is my sail away picture of Ensenada: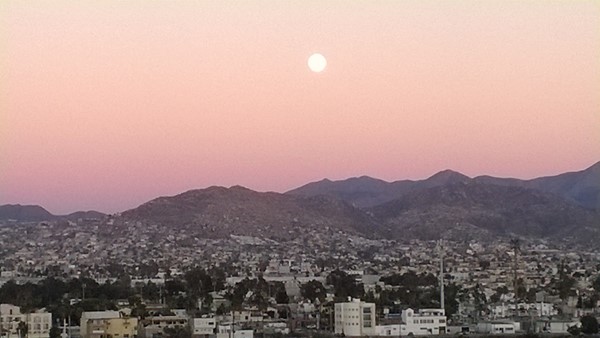 Full moon over pollution….and the Carnival Cruise Lines (parent of Princess) in town as well…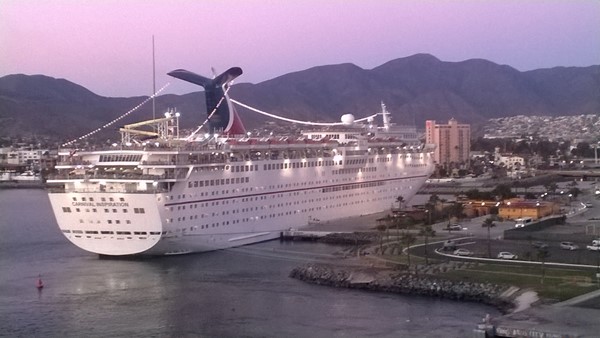 The LGBT gathering dwindled further… four tonight. But the Ohio Delta Flight Attendant was there (one of the one's I'd met on another cruise) and we checked out the third bed in my cabin – one that comes down from the ceiling – I got my room steward (the first woman I've had on cruises) to drop the bed: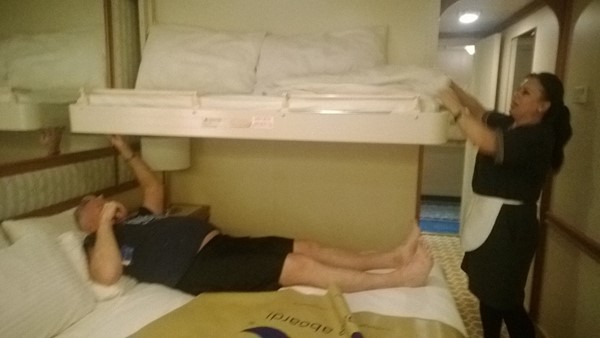 So, if you are ever tempted to put a third person in your cabin…this is what it will look like. And yes, there is a ladder.
For dinner I chose "potluck" seating on a whim and had nice company – nice enough to share the bottle of L.A. Cetto Red Blend (which isn't on their website) that was my freebie from the winery (Cabernet/Merlot mix).
Tomorrow is a "sea-day", an excuse for the ship to fleece people at the casino…
[? ? ?]