Off to see my ex and his wife because the fare was so damn cheap… $135 and some change round-trip. No First Class on the way out, and a bad on-line seating chart left me in a middle seat, but at least it was an exit row.
Lisa met me at the airport and we stopped at Total Beverage to stock up the house on Bourbon and Boxed Wine, and to stock my suitcase with 3 bottles of bourbon (to replace the couple of bottles of Captain Rat Cinnamon Brandy that I brought.
And then there was the weather that greeted me: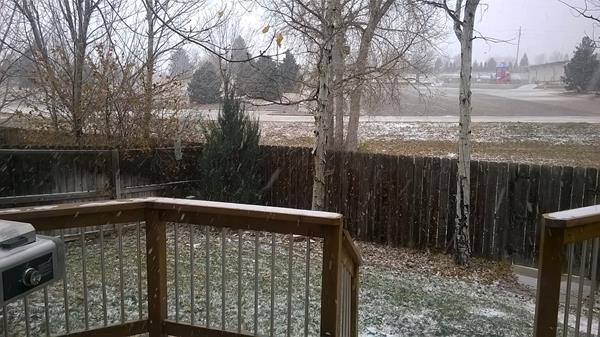 Poor Winston who had to go out and do his "business":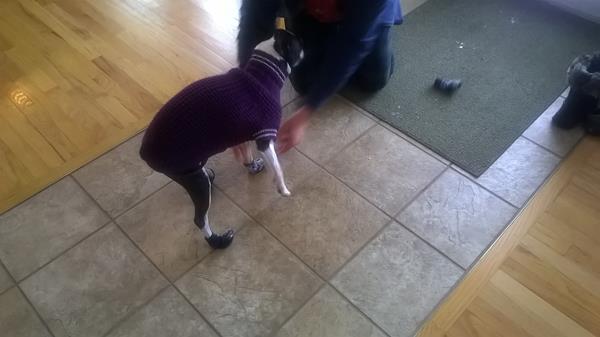 Yep, little booties and a sweater as its below freezing.
Dan was off this Wednesday (with Lisa working, so that was a change from the usual) so we ran a couple of more errands and engaged in unhealthy lunching. Yep, that would be Five Guys Burgers: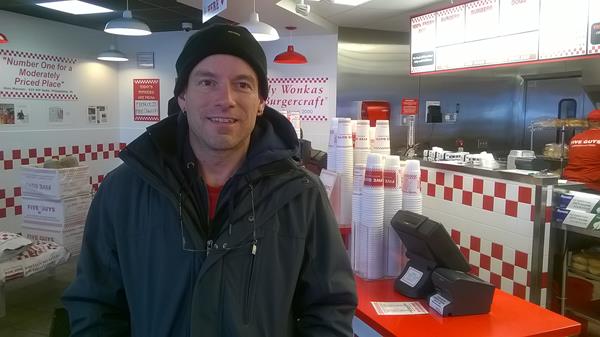 I do like their product – and even ate the bun.
The afternoon was filled with installing a recirculating pump on the hot water heater so that the hot water is almost instantaneous…got all done but the upstairs bit before we had to leave for BrightHeart's Buddhist monk ordination. Fairly amazing that I just happened to have booked this trip before I got the invitation. It was a bit like an episode of Portlandia with nothing set-up when we all arrived at the church. We could blame the snow – took me pushing Dan's Miata up the driveway to get us there. The ceremony was long and drawn out, with lots of audience recitations – clocked in at an hour.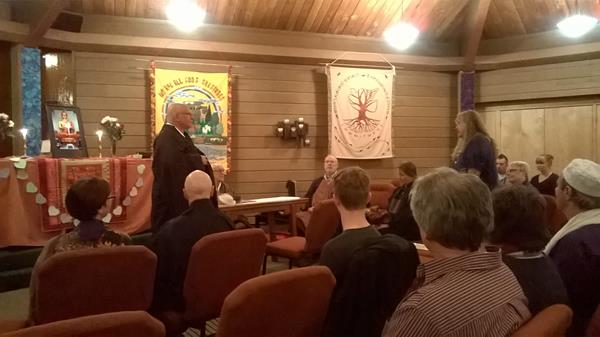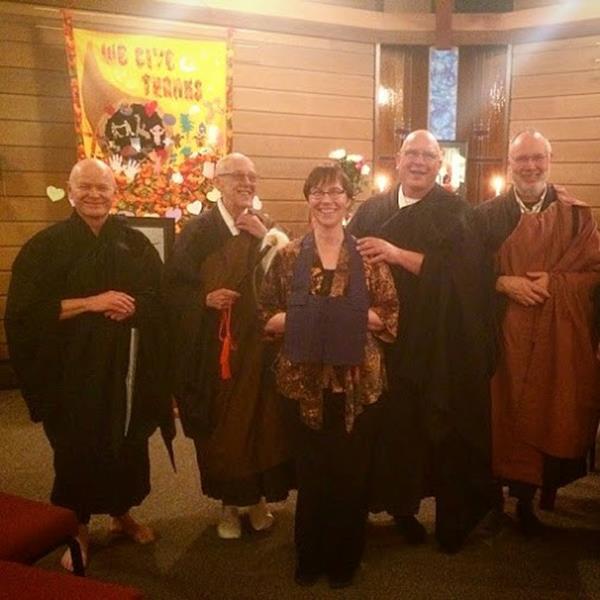 We didn't stay for the reception – the fear of more snow. Both starving we stopped at Old Chicago Pizza and split a cup of soup and a couple of crispy chicken salads, with me having a couple of Manhattans to wash it down. Nothing for Dan as he was driving.
Got back to the house and finished the plumbing project while working on some nice rye – and before you knew it, bedtime.
Noon flight back – Lisa was going to drive me since she was off, but Dan woke up sick and called in and ended up driving me because Lisa was apparently in worse shape.
Took a bit of time to check-in, luckily it turned out to be a delay with a good reason – a First Class upgrade to seat 1F. Window, but I'm not complaining. And my plane is here! It's way at the end.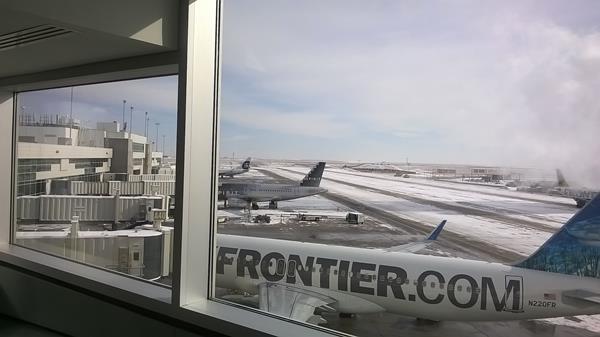 And it's still snowy out: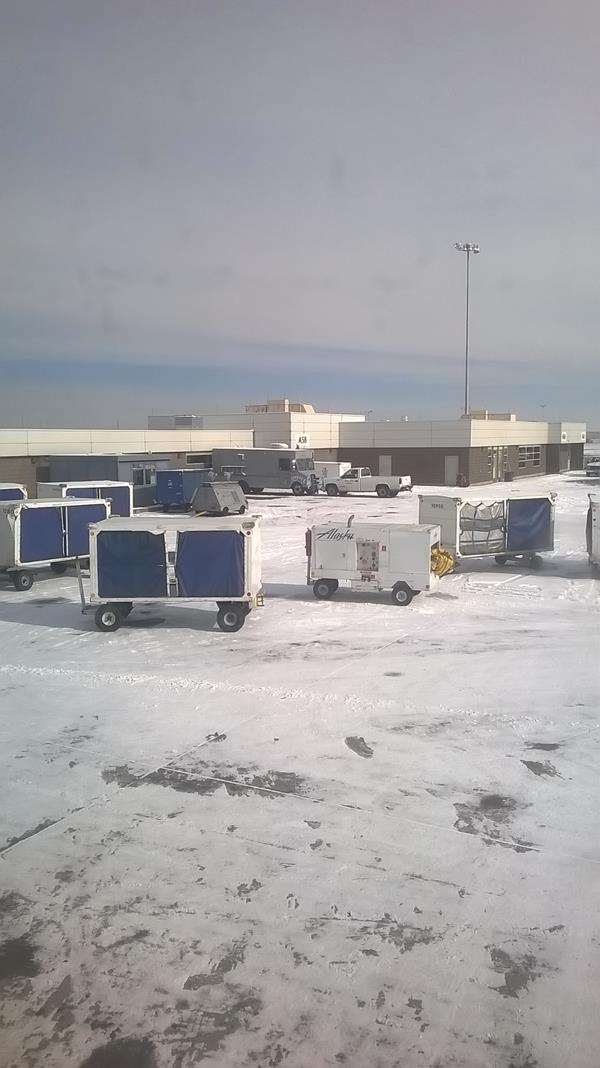 Alaska has an agreement with American to use their Admiral's Club in Denver. I've been there a bunch of time. Nice, airy, free booze and snacks…I ordered a Whiskey and Diet – and this is what I got: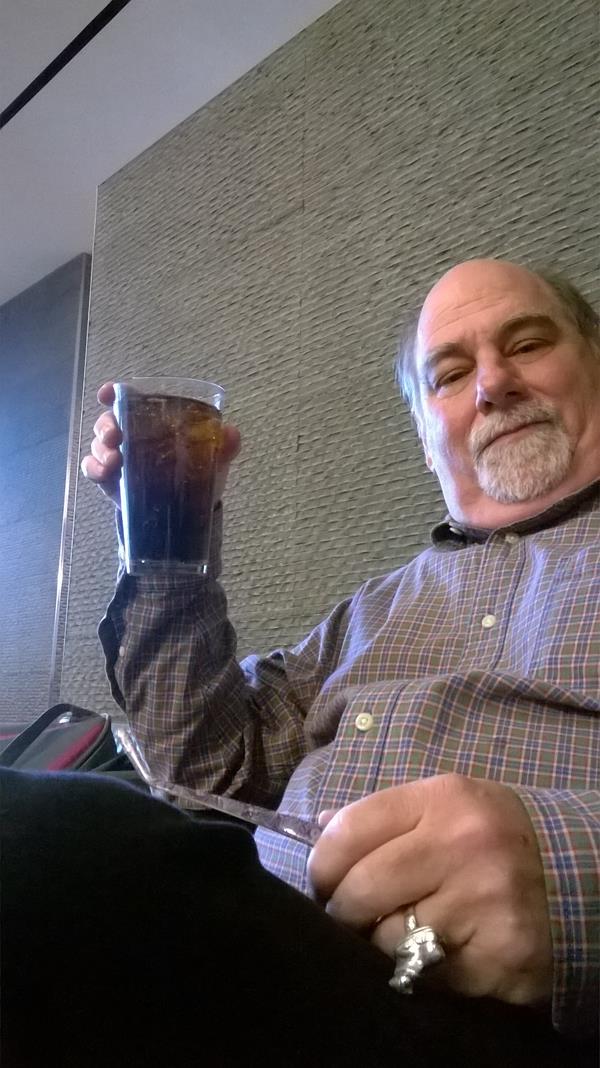 Only one of those and a couple of cookies and it was time to head to the gate.
Now all we need is the flight crew which is stuck behind an accident on the way to the airport – luckily we did get out on time considering the number of folks onboard who had connections heading to Alaska (from cold to colder).
Not a bad lunch in First: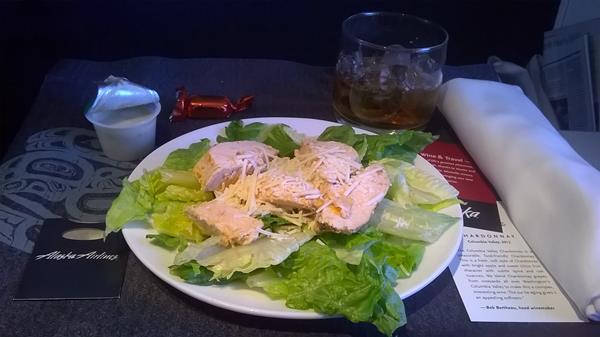 A nice Chicken Caesar.
I was home in plenty of time to make myself a nice quite evening meal and relax away from the cold and snow (well, away from the snow).
[225.6]