A couple of weeks at home (working lots, though) and its dinner with friends and succumbing to the joys of Cyber Monday. Here is a quick photo round-up of the last couple of weeks.
Before Turkey Day it's a visit from friends returning from Hawaii and New Zealand and Roxy out of college (Evergreen) for Turkey Day Break: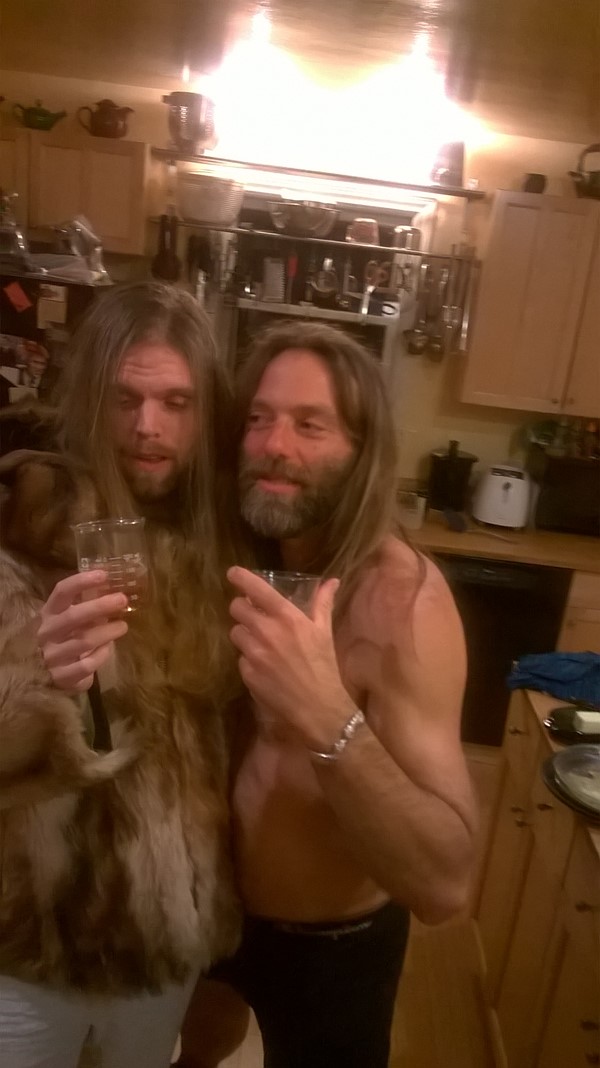 And the return of a long lost (OK, only three years) piece of artwork – the Legs of Christ but David Best (best known for making the structures at Burning Man that get torched):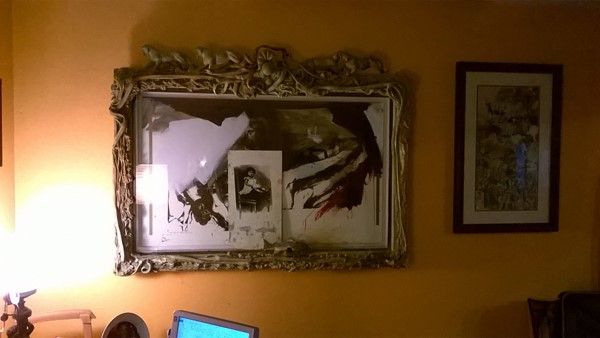 The Legs of Christ would be on the left, and weighs about a hundred pounds and comes with a box of parts. Here is it in its original state (from the Butterfield and Butterfield auction catalog in the supporting AIDS benefit in the 80's which I tried to find the catalog for – it's somewhere in boxes of books in the garage)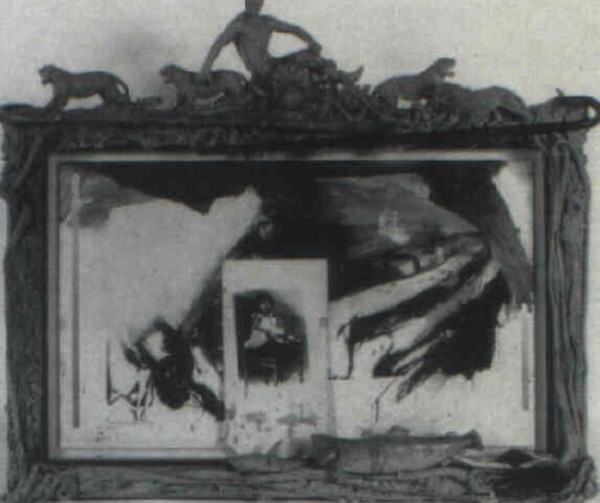 As you can see, the man on the top, along with the canes, and the fish at the bottom are now in a box below the painting. Another dinner had the arrival of a friend of Roxy's who actually knows David Best, as does one of my contractors. Sorry, no pictures, but suffice it to say I ended up with a Malaysian couchsurfer in my bed in the morning. A first (bedding a couchsurfer). Sorry, no pictures – check back for and update of the evening – he took lots of pics.

 
And then we are at Thanksgiving…I worked the 11-3pm shift at the shop (http://www.madronawinemerchants.com) and then it was off to dinner at Swanda's place, and here was the spread: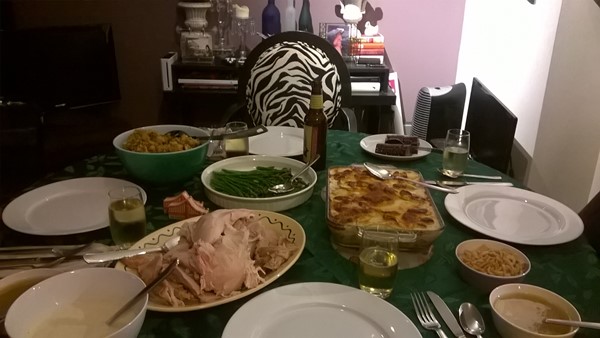 Several miscues on dinner – turkey cooked upside down (damned moist) and the combined Green Bean/Yam Casserole (it was supposed to be two different dishes, but still worked).

 
My response to the excess of Turkey the following day was just a Ribeye Steak and a Wedge Salad: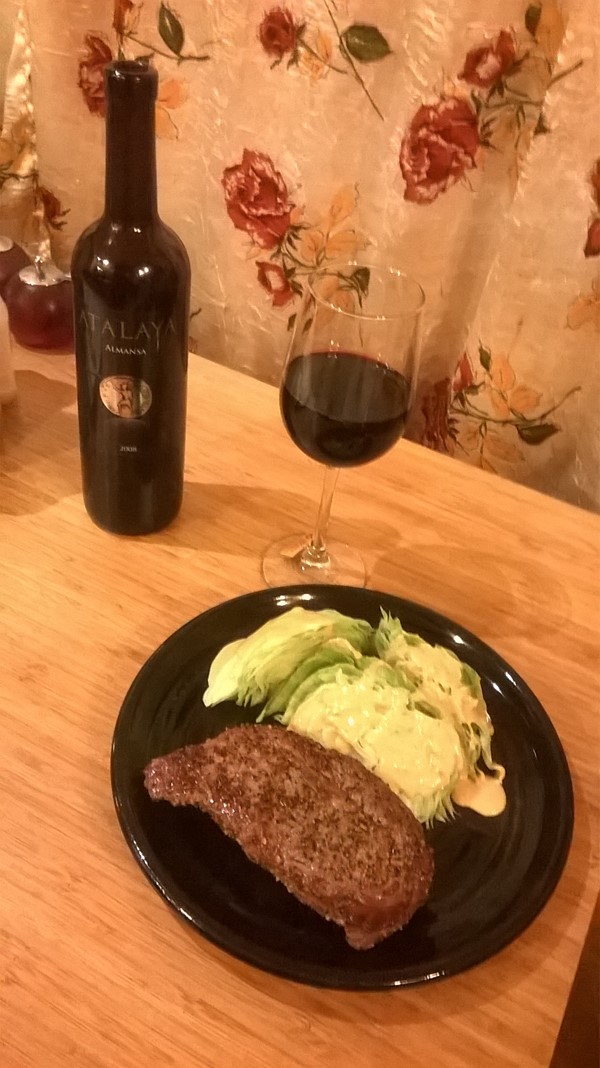 With the trip to Detroit and Santa Fe coming up, it's time to start wrapping presents – it's nice to be able to print your own wrapping paper, albeit on bright yellow paper with an image of a late seventies world map…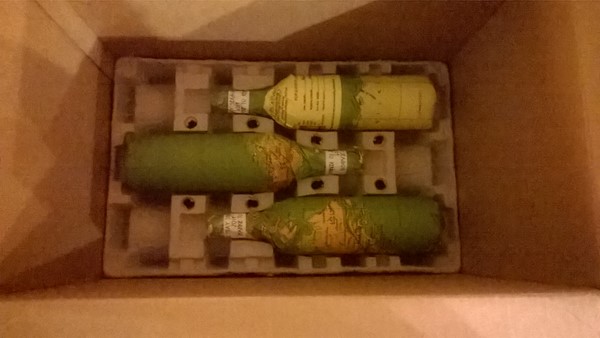 Saturday brought around me at work, closing the shop, and the annual Shop Small Saturday from AMEX which this year give you back $10 for each $10 you spend at three different small merchants on the Saturday after Thanksgiving… I spent it at St. Clouds: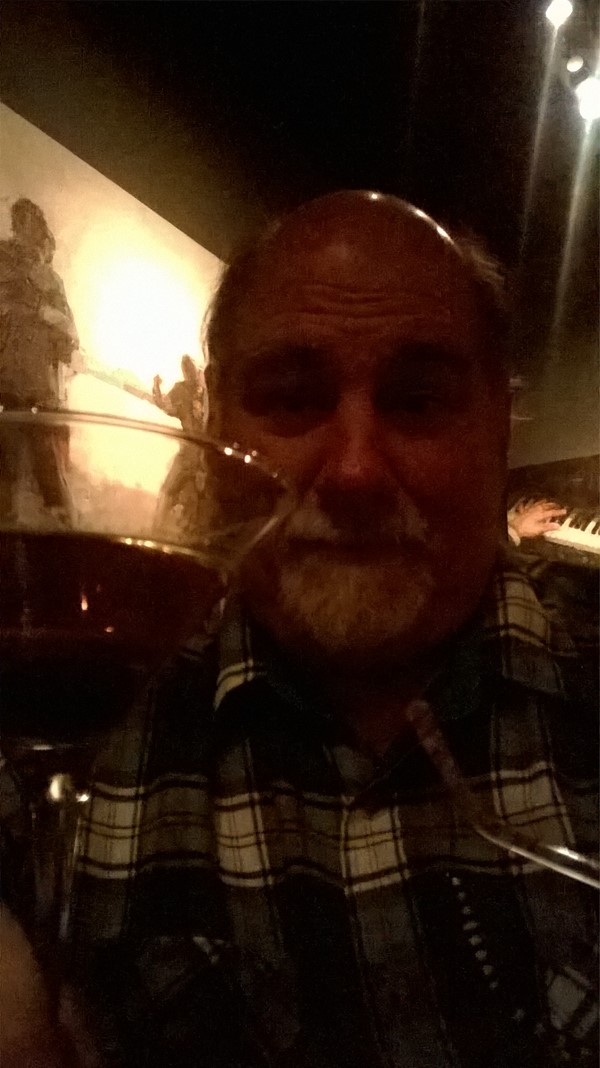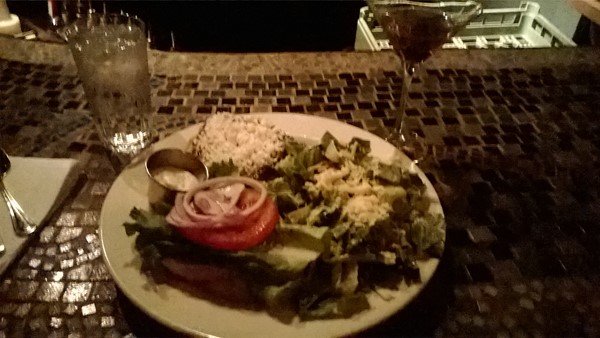 Manhattan (2), with the cheese burger with Mexican Cheese and a Green Chili Aioli and swapped the fries out for a fresh Caesar that you could actually taste the anchovies in! GREAT.
Dinner with SalamandarHellbender on Sunday – had to send him home in an Uber as it was late and seriously COLD in Seattle. Really nice lamb chops: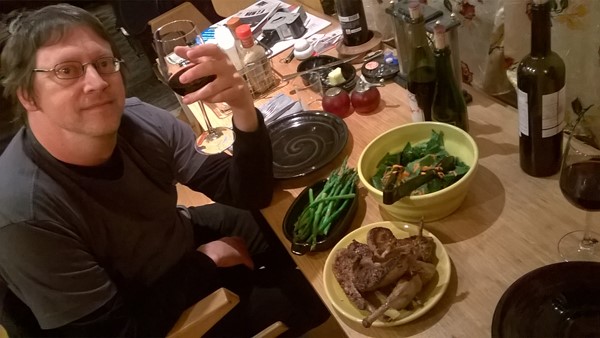 And Alaska Air started their "Cyber Monday" fares at 4PM on Sunday so chock up two more (ignore Spokane, I booked that for SalamadarHellBender). Think I'm taken care of this winter for travel: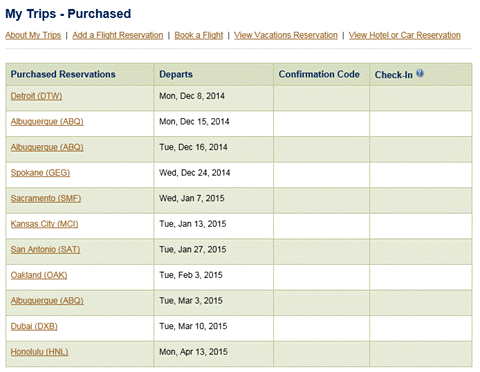 I still have two mid-weeks in February. There are two trips that aren't on here, late January in Victoria with Lunettaand Onyx, and late February again in Victoria that I'm looking at partners for.
Monday's project was an alcohol Menorah – keep in mind that there will be bottles on each side of the display I created since it's nine candles/bottles for Chanukah, but only seven for the temple: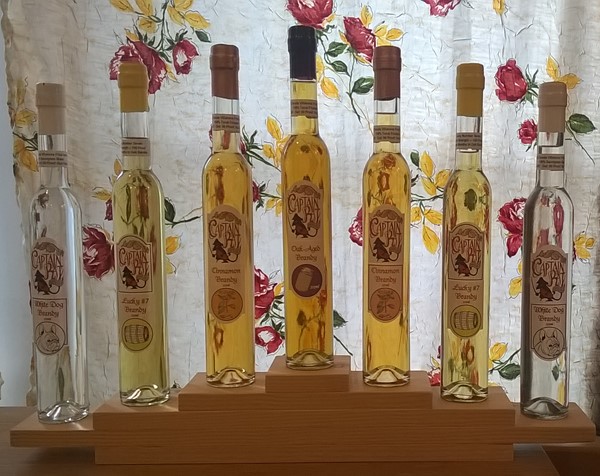 At the shop it will have nine bottles of Kosher Wine. The shop was so cold I had to come in the house and varnish the piece because my fingers were numb – not a good thing when working with power tools.
Dinner with Jonathan – another food fest – cranking up three burners on the Wolf: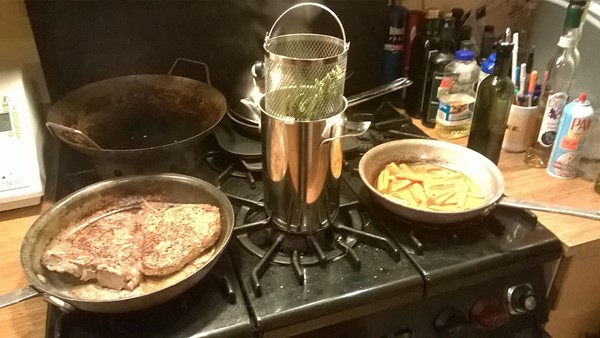 50% off Safeway T-Bones on the left, asparagus center, carrots sautéed in butter, triple sec and fresh squeezed orange juice.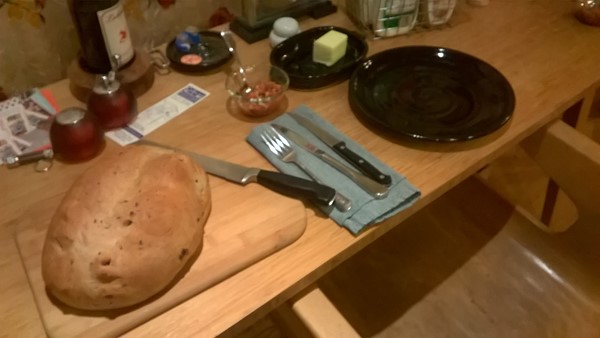 Black Olive Challah (with a Bloody Mary Ceviché in the small bowl next to the butter)….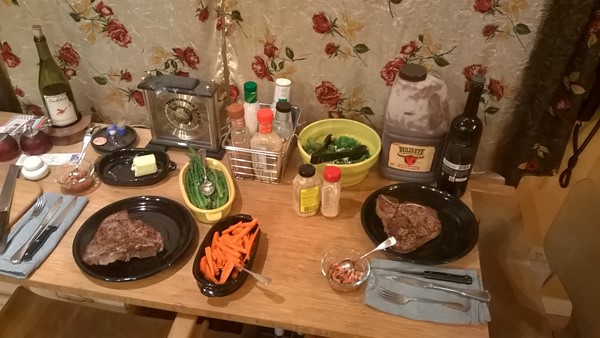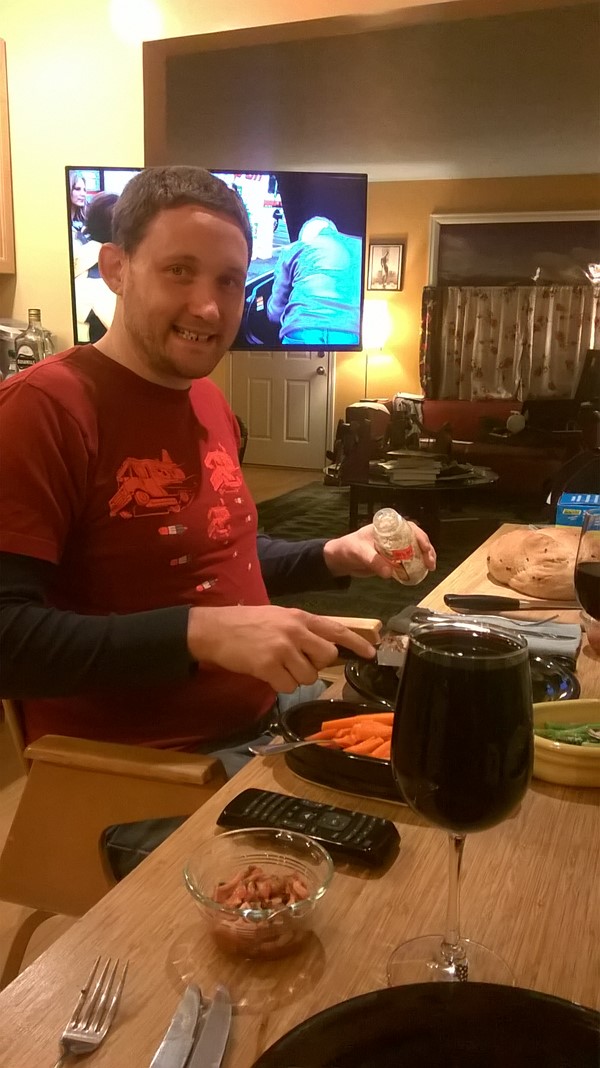 And Jonathan who has his first shift as a UPS Driver Assistant in the morning. No, he isn't having any of my wine! His is Caffeine Free Diet Coke…in a wine glass.
A crazy day at the shop today…the first work day of the month is running all the wine club sales…manually. We don't store our customer's credit cards electronically.
Dropped wine off with Swanda (two cocktail delivery fee, often times dinner, but not tonight as I didn't get off until 7 and it was almost 8 by the time I arrived) and home for another steak and salad dinner.
And tomorrow it's back in the freezing garage to build some more storage for the shop – that and the dentist (thank goodness they use Nitrous when they clean my teeth).
[226.0]