All packed and ready to go: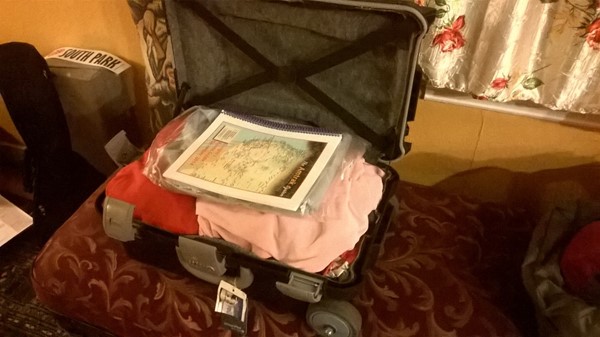 More presents buried under the shirts… and here is the whole stack of what is going with me: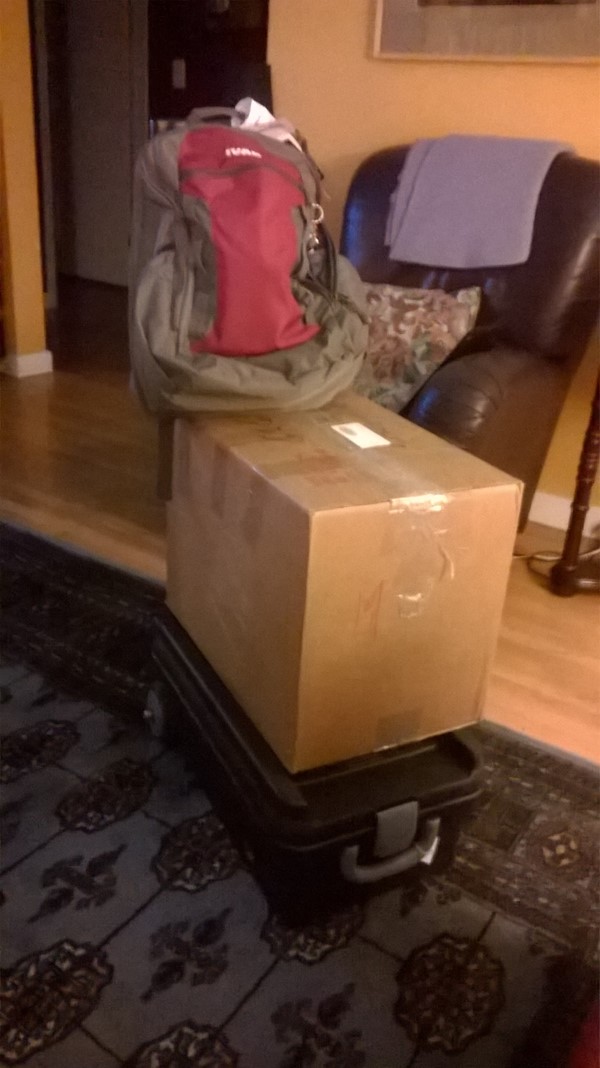 Can you say "Christmas Presents"? Good thing I get two free checked bags on Alaska.
Uber (click on link to get free $20 ride for you and me when you sign up) to the airport, man is that convenient! And somehow I got the last first class seat 2F a day and a half before the flight – which is odd because it should have loaded me at 72 hours. Not complaining and I made the woman next to me VERY happy when I lent her my tablet stand.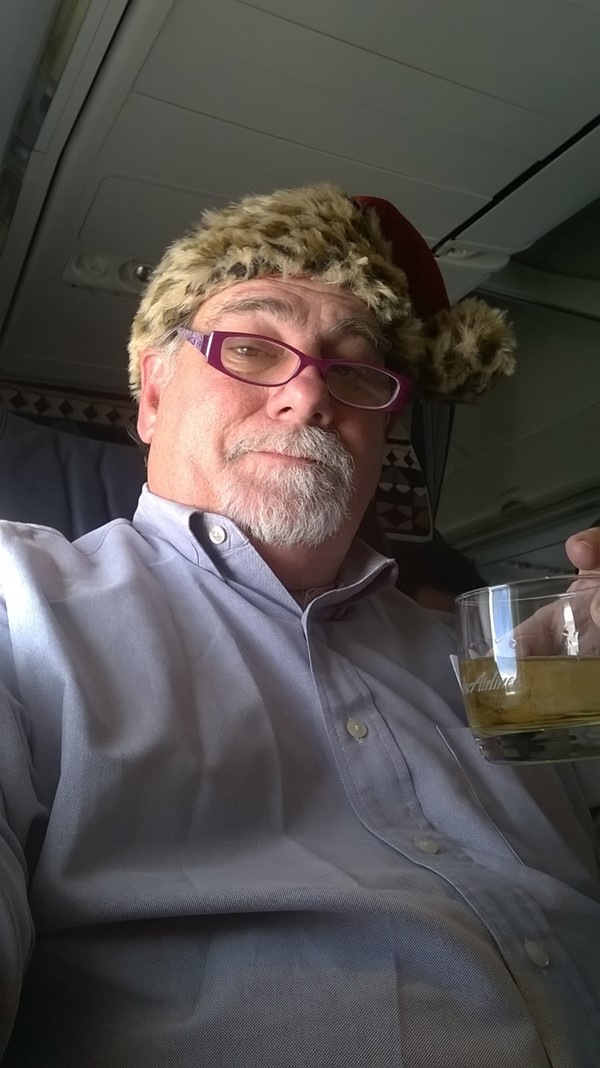 Really nice lunch on board – Green Chile Chicken (how New Mexican!). Wish they had put another tortilla on the plate.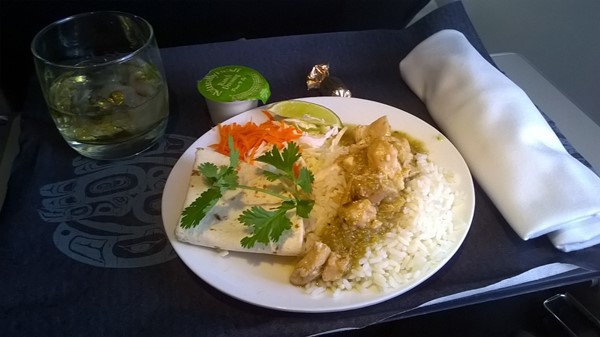 And a nice view from the window seat, which I don't usually get: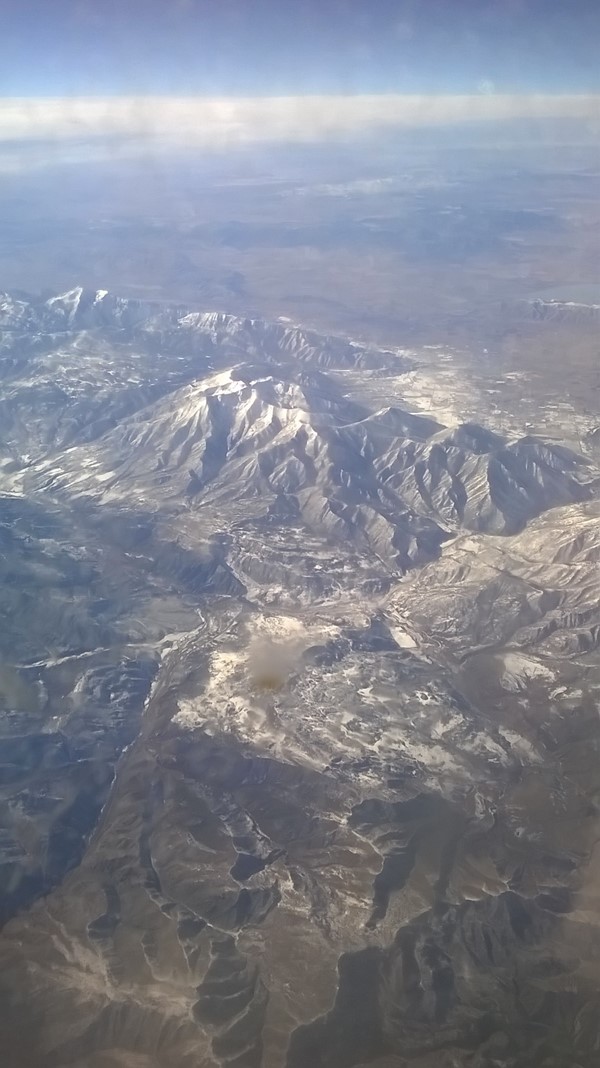 Got into Albuquerque early, got the luggage, got the car, and crammed everything in…good thing it's just me in this tiny car: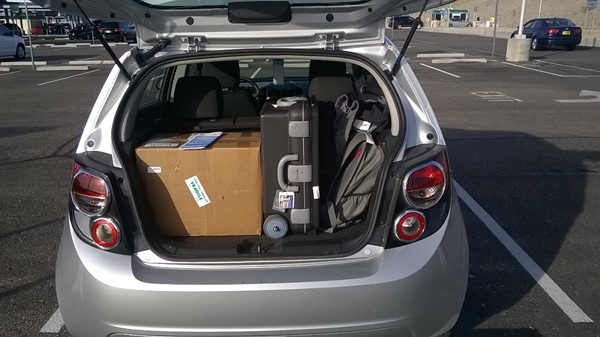 No snow, good weather, all is good and before you know it (well, an hour plus later), I'm in Santa Fe at El Castillo with Mom waiting.
Tonight's dinner was from 5-Star Burgers which I picked up after hitting Albertsons for booze to pack home. I wasn't impressed with 5-Star Burgers. The burger looked OK, but even though I had a take-out menu with crab cakes on the menu – they weren't available. And the Caesar I chose instead did not have the "shaved" parmesan, but as the beertender (where you order to-go) said was absent because "there was lots of parmesan in the dressing". So – basically some chopped up Romaine with a container of dressing.
No sleeping in the following morning as The Colonels are picking me up at 10am for a run to Taos to see the Millicent Rogers Museum to see the exhibition "Fred Harvey and the Making of the American West".
No pictures allowed inside, but here is the outside with The Colonels: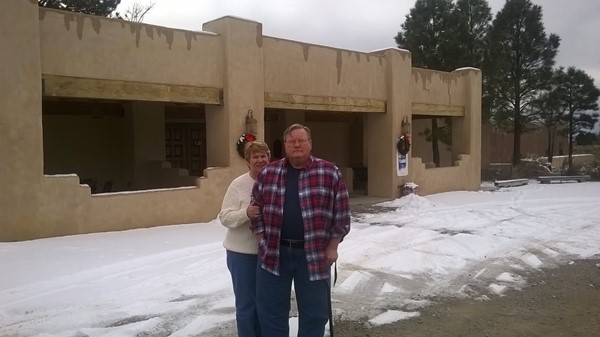 A late lunch afterwards at Michael's Kitchen Café in downtown Taos, just across the street from the WorldMark Taos where I have booked The Colonels into next July in exchange for some of their Wyndham Points they used to book me into the Royal Gardens in Waikiki in March with my buddy Bliss.
At Michael's there is this FUNNY sign posted by the two handicapped parking spaces (The Colonels have handicap plates):
We probably shouldn't have had that big a late lunch as we are due at El Castillo's private dining room at 6 (with cocktails at the apartment starting at 5). With seven you get eggrolls – just kidding. Seven is the magic number for reserving the private dining room.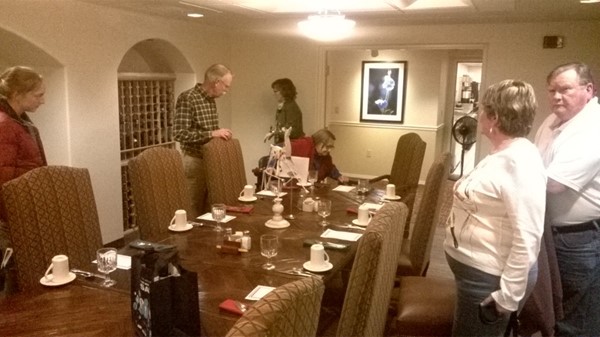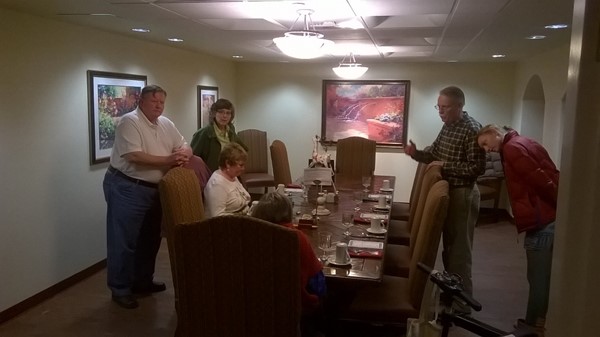 It was a good meal even with the rather unexciting buffet choices of the evening – but they did have liver and onions which made at least three people in the crowd very happy and they even did up a fresh batch for us!
A dusting of snow greeted me in the morning: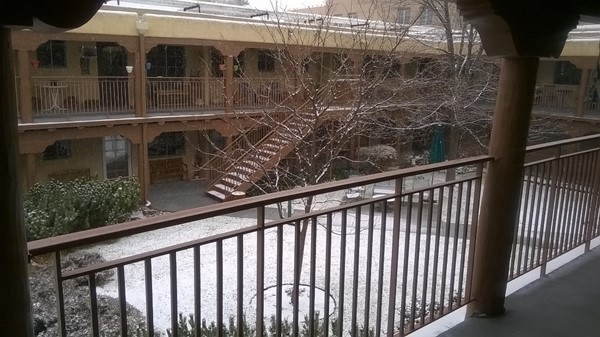 Not enough to muck up my drive back to Albuquerque where I pick up Dwight for the remaining chunk of this trip – and a separate blog post.
[223.6]