Slept late, then went for the Owner Update in the Shark Tank — $75, a big glossy hardback book of all the resorts in the system, and a fairly lame lunch. And thirty minutes longer than advertised Man did I need a drink after that!
Tonight's excitement is dinner with Lunetta, Onyx, and Onyx's old BF Caliph, starting with drinks at the Pied Piper Bar and Grill in the Sheraton Palace on Market Street: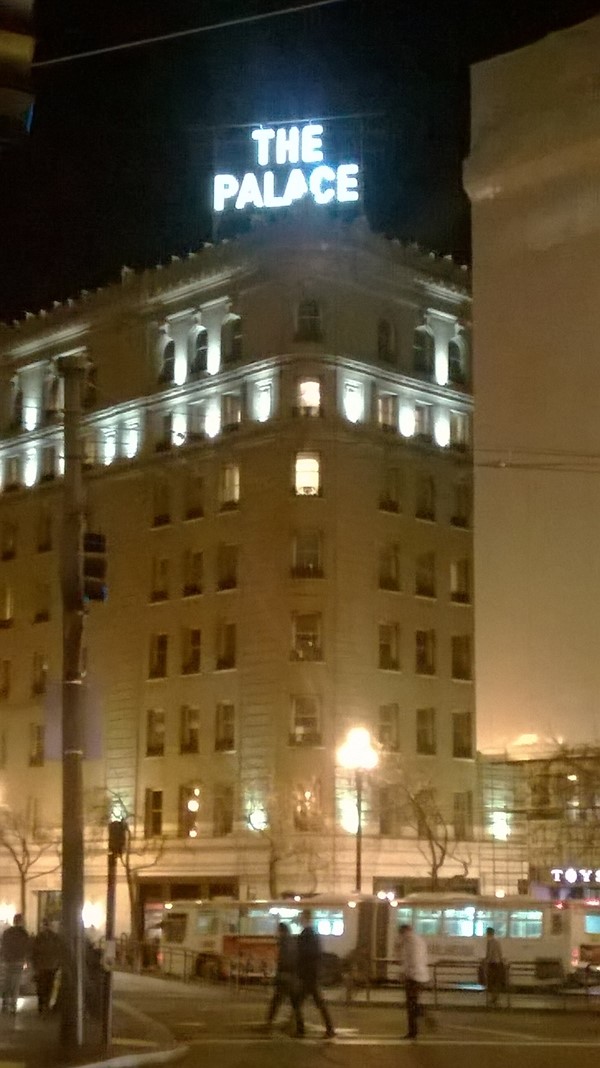 Behind the bar is a huge Maxfield Parish mural of the Pied Piper leading all the children out of town: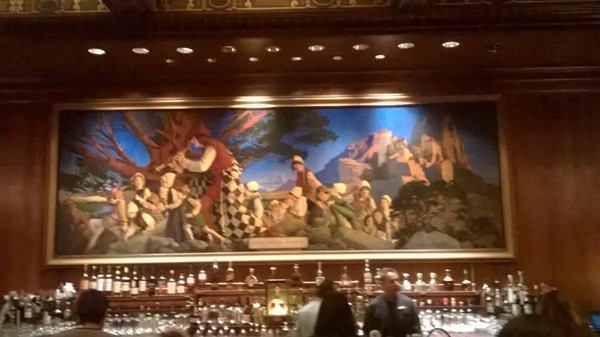 Here is a great 2 minute (or so) video that is on the Palace website about the painting:
Many Manhattans with our appetizers of oysters (stunningly good with a little apple slaw and fish roe), cheese and fruit plate (how healthy!) and the calamari (very good, but not very healthy, but it did come with a squid ink dipping sauce.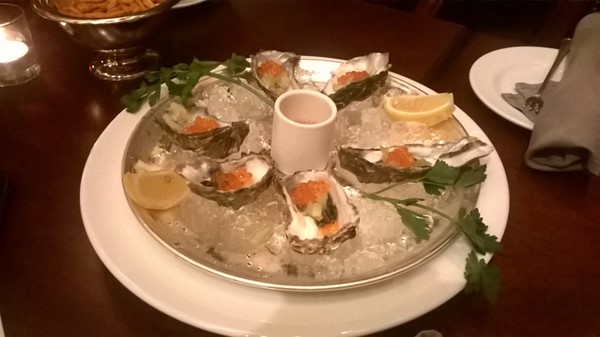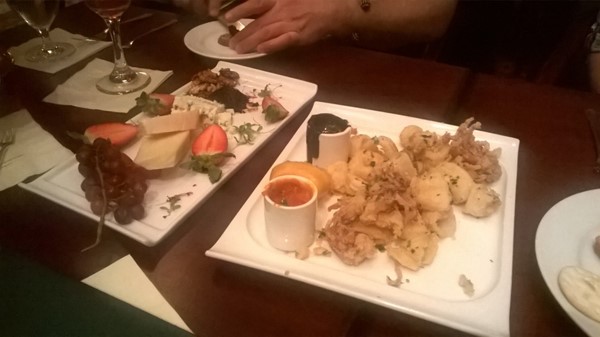 And a photo of the boys, though not the best: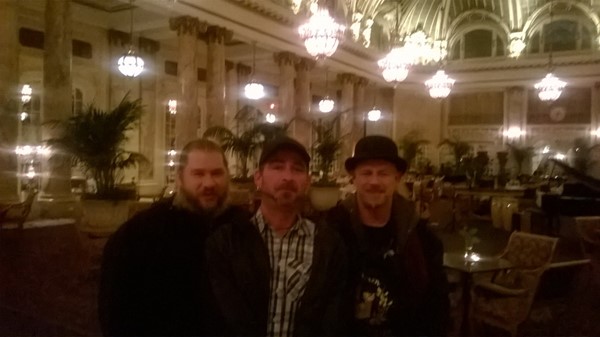 But it does give you an idea of the lobby.
Up the hill we went – back to the condo to order take-out for the real meal. That was my tab since Lunetta picked up the cocktails. Did I get a picture of the food – no. But I did manage to get one of the bar. The boys showed up with a couple of bottles of wine for dinner, and some bourbon for me to take back to Seattle: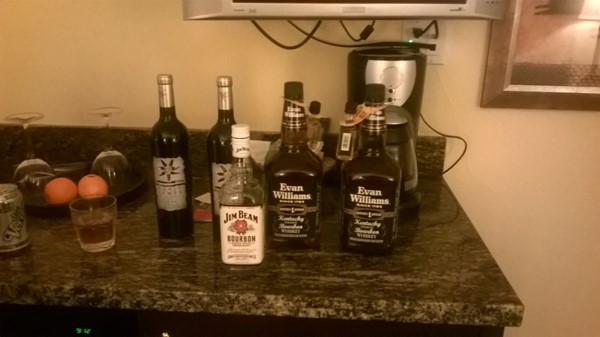 Dinner was from Million Dollar Thai, which several days later I got a notice that I got miles for dining there – they are part of the Dining For Miles program. I picked them because they were in the resort handbook and they offered free delivery for orders over $25, which certainly wasn't a problem with the four of us.
Another late night, but at least I have a late afternoon flight. Hung out in the condo until the noon checkout and then it was back on BART to the airport. And the final tourist shot – the entrance to Chinatown, just a block or so from the condo: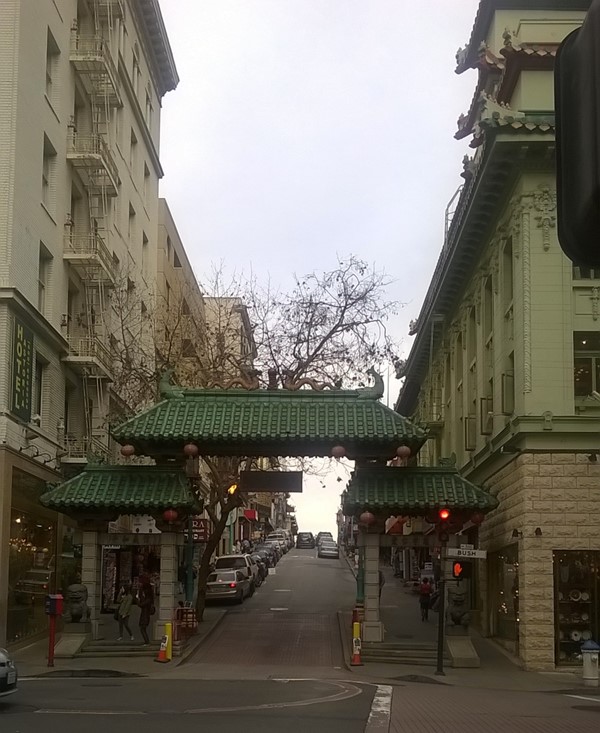 A light lunch at Chili's Too (enchilada soup – perfect amount of food) and then it was back to my bulkhead seat in First Class. Even I'm amazed at my luck some time. $96.20 round-trip, and upgraded to first in both directions. The joys of travelling mid-week in the winter.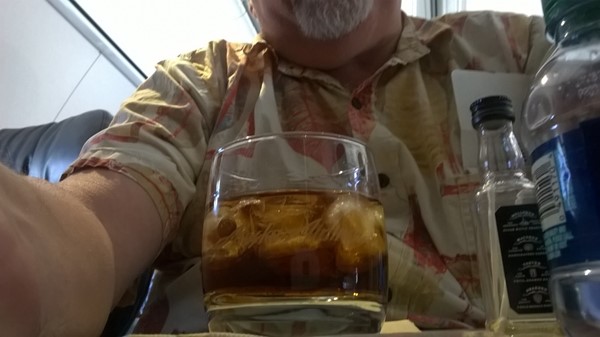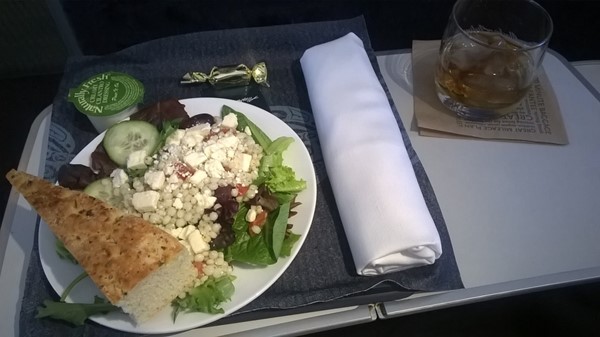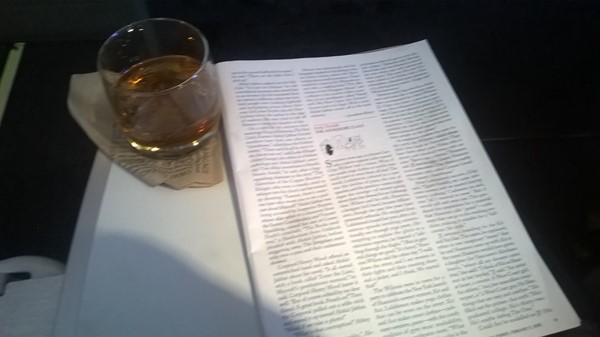 Another hard flight day.
[225.0]