The plan: two nights at the WorldMark Victoria in the handicap access Penthouse with its own hot tub and BBQ with DancingBear.
Revised plan: add a date for myself since its two bedrooms with queen-sized beds in both.
Outcome: FAIL.
I think that I set a new record in travelling with a "high-maintenance" guest. It is surprising that there wasn't a death on this trip. Oh, let me recount the "I need it this way" ways:
No meat other than chicken (which has the highest rate of E.coli of any processed meats)
No seafood other than Salmon (and he'd probably be happy with Farmed Salmon filled with food coloring)
Two pairs of underwear PER DAY, the morning set and the evening set
Which requires AT LEAST showering twice a day
And when people pack THREE different things to wipe their bum with in between all those showers….
And then there is the constant "chatter". God forbid there should be a moment of silence. My nickname for him is "SeaPrincess", while DancingBear prefers "Magpie", so he will be Christened Magpie SeaPrincess throughout the land.
Dear Load, the boy is HIGH-maintenance. My evidence: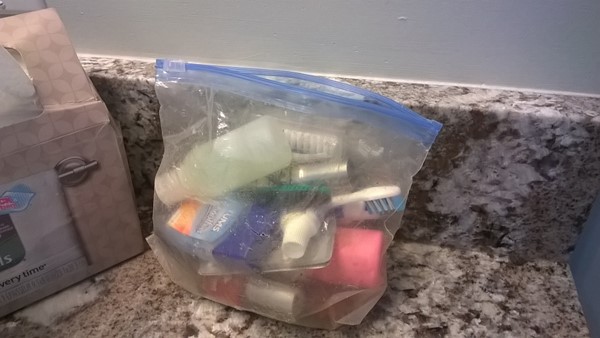 That would be MY toiletry bag, next so some of his "wipes".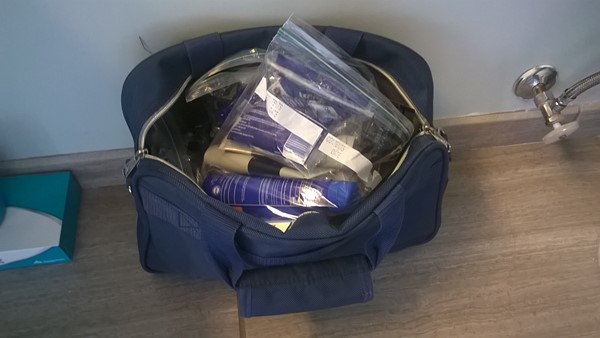 That would be Magpie SeaPrincess' toiletry bag, NOT including any of the wipes. And let's not talk about all the towel exchanges through a two-night stay.
Before the trip when I inquired about luggage (I drive a Miata and so there is only so much space for luggage) his response was 14x18x22 which is carryon size…that was NOT what showed up at the dock.
Lemonade out of lemons? You do what you can do. I felt particularly bad for DancingBear who signed on for a relaxing holiday, and got less than that. He was amazingly helpful at offering tips to get the poor (and unemployed) boy's life back on track. Way more patience than me, but luckily all the knives in the unit were dull as dirt.
But I digress, the trip:
Arrived in Victoria and got the shuttle to the rental car place, where Magpie when into overdrive flirting with everyone trying to get an upgrade. There was a possible plan for going to the West Coast of Vancouver Island on a day trip so a bigger car would have been nice.
I'm No, No, No, and the agent is coming Down, Down, Down in the price of an upgrade, whispering so the other clerk doesn't hear (actually guessing that they didn't have our car class), and when it was $10 CAD ($7.50USD) per day for twice the size I finally bit.
With the ferry arriving at 11:30, and a hold-up in immigration because DancingBear and some other Canadian fugitive have the same name, it's noon-thirty when we get to the WorldMark Victoria. Not surprising that the room isn't ready (though it was on the January trip which was a total shock). Off to Santiago's we go for, as DancingBear would call it, an expensive lunch, even if the drinks were cheap by Canadian standards.
As we are putzing around afterward I check email – apparently calls weren't coming through but email was – unit is ready!
Check in, get everybody keys, send the boy out to explore, DancingBear hanging in the apartment, me chopping for groceries….
Did I mention the muffins – poppy seed, like the ones from Costco. 15 freaking minutes in the store looking for Poppy Seed muffins (had to settle for Cranberry Orange, which, of course he didn't eat – though I did and they were damn tasty).
The meal plan, grilled salmon the first night (wild caught, none of that farmed crap) and a roasted chicken the next night.
But, again, I digress from the good parts of the trip. Maybe some photos will help. The waterfront at sunrise:
I hate getting up this early, but it is a really nice view of Mount Rainier (Tahoma) with the Edgewater Hotel to the left.
This would be DancingBear and myself on the boat: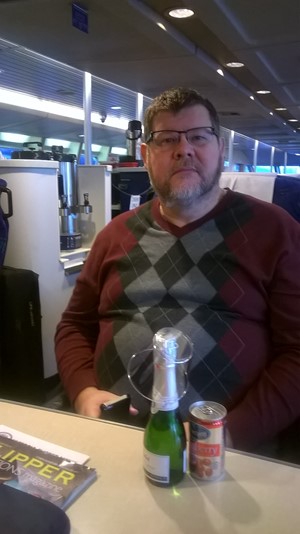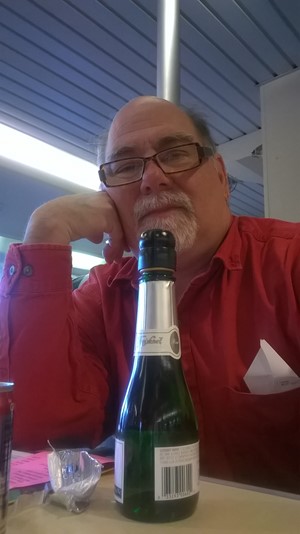 Red Baron anyone…
And where was MagpieSeaPrincess?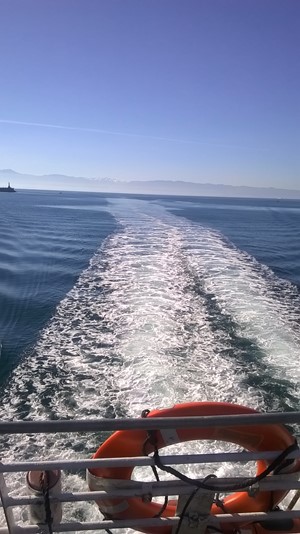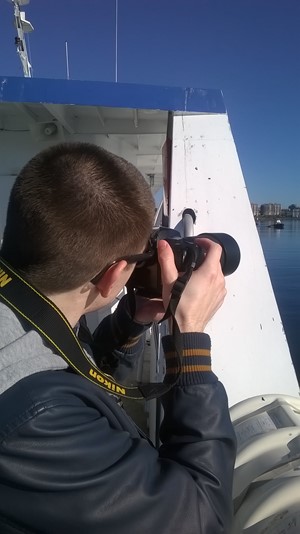 Blessedly at the back of the boat taking pictures. An hour in and we were already trying to ditch him.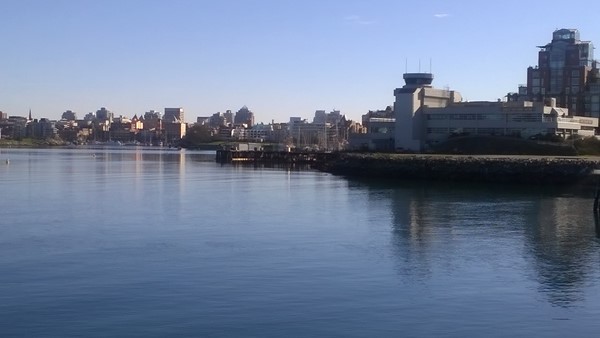 Welcome to the Inner Harbour of Victoria.
Lunch at Santiago's….our entrees. DancingBear's burger: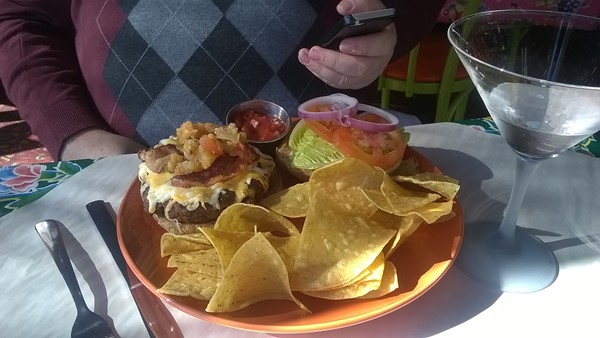 My ceviche…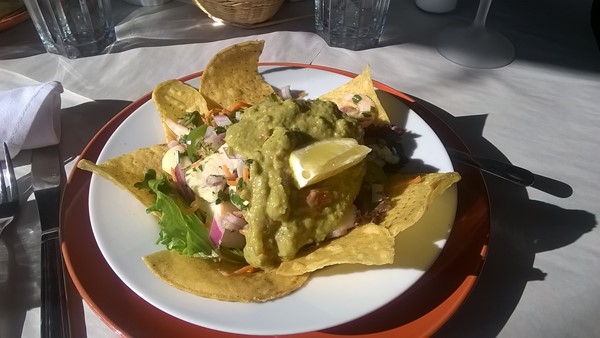 MagPieSeaPrincess' quesadilla: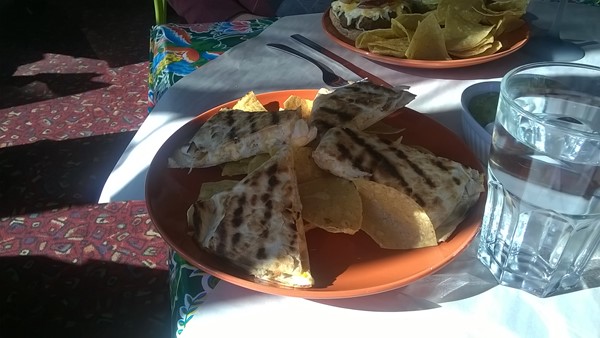 Company for dinner tonight… though not Royce (who came to dinner my last visit), who I found at the grocery store working his shift: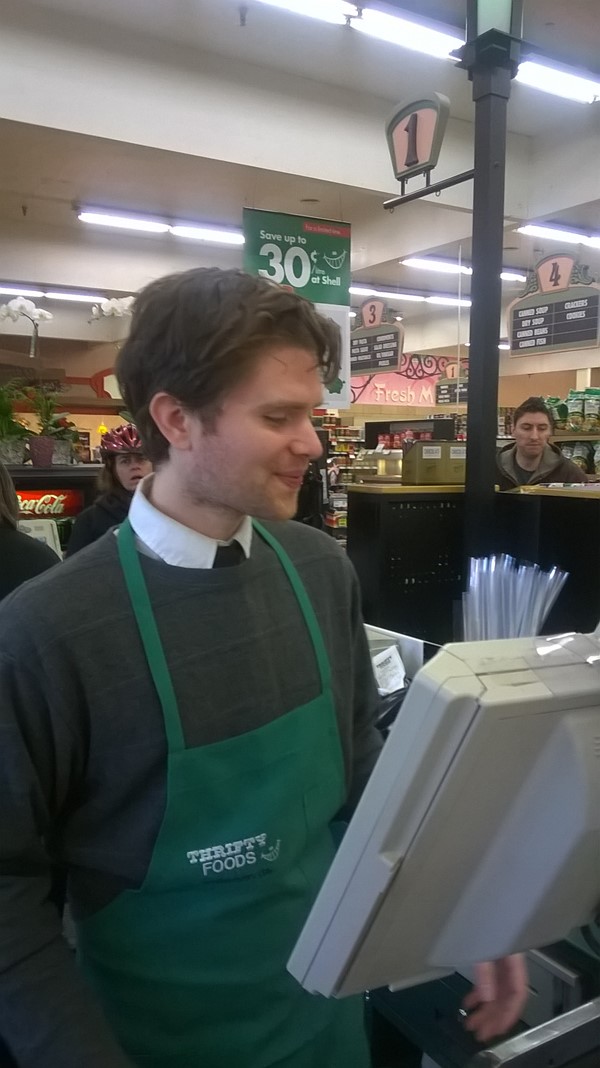 It was just DancingBear, UncleMarkie, MagpieSeaPrincess and Elliott "The On-line Psychic".
A good time was had by all, but I have no photographic evidence. Pupu Platter, slab of salmon on the grill, big salad, bread (except for Elliott who has issues with gluten). No pictures of the hot tub party (just as well). Elliott brought the wine, we supplied the hard liquor. It was a fun evening.
There was a concept of taking a drive up the West Coast of Vancouver Island. It soon became clear that DancingBear wasn't going along on a 4+ hour "journey from hell" (his words), and I wasn't up much for it as well, so we cast off the boy to make his own adventure, and DancingBear and I went out for lunch and shopping. I needed lunch, DancingBear needed shoes (and lunch).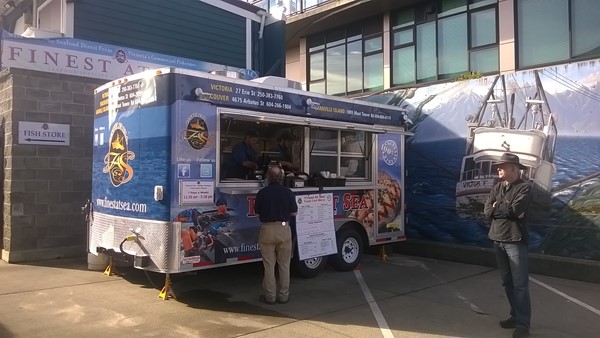 This is the Finest At Sea food trailer in their parking lot – much easier than putting in a full kitchen, and if it doesn't work out, you sell the rig. We both had the Halibut and Chips (one-piece for me, two-piece for DancingBear) which was stunningly good. I'd had their rockfish cakes in January and was impressed. Guess it's time to dust off my TripAdvisor account.
Next stop, shoe shopping (for DB, not me). But before we found a cheap shoe store we found a Target that was going out of business. All the Target Stores in Canada basically filed for bankruptcy. They were even selling off the store fixtures: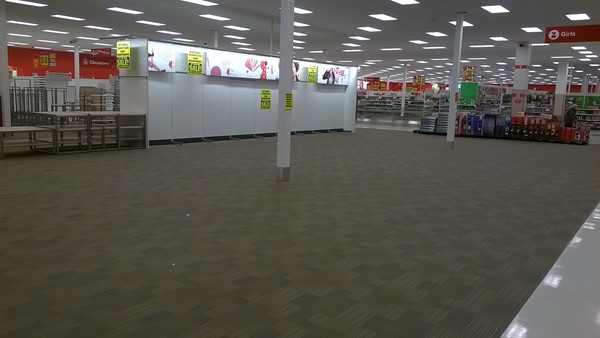 DancingBear ended up buying an iPad for his husband at 10% off (when do you ever see Apple Products discounted!) before we found him some shoes at the other end of the mall at 50% off, plus the 20% off discount because the Canadian Dollar is in the toilet compared to the US Dollar.
UncleMarkie with shoe (and cocktail):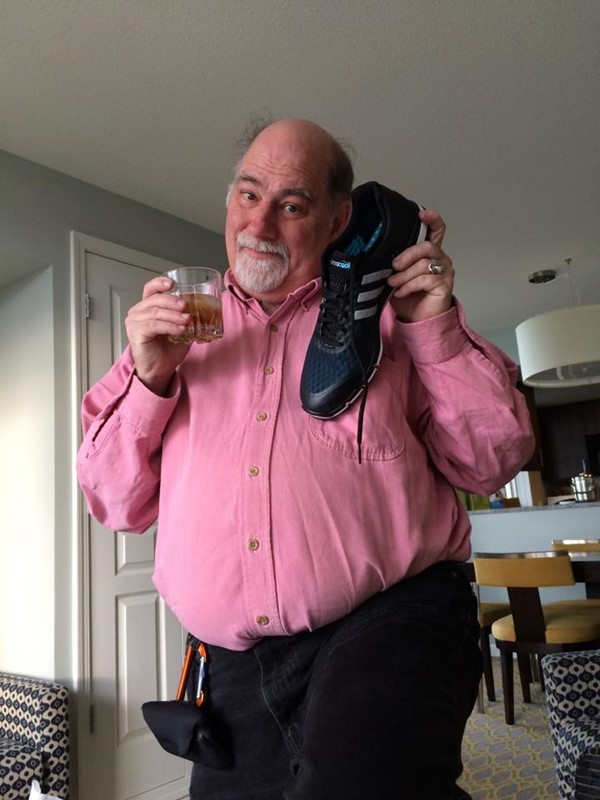 Another evening, another meal where I forgot to take pictures. Lemon stuffed roasted chicken, salad, bread… but it seems someone forgot that there was going to be dinner and gorged on Chicken McNuggets. Clueless youth. Home cooked food vs. industrial food.
In my defense, I offer the following photo: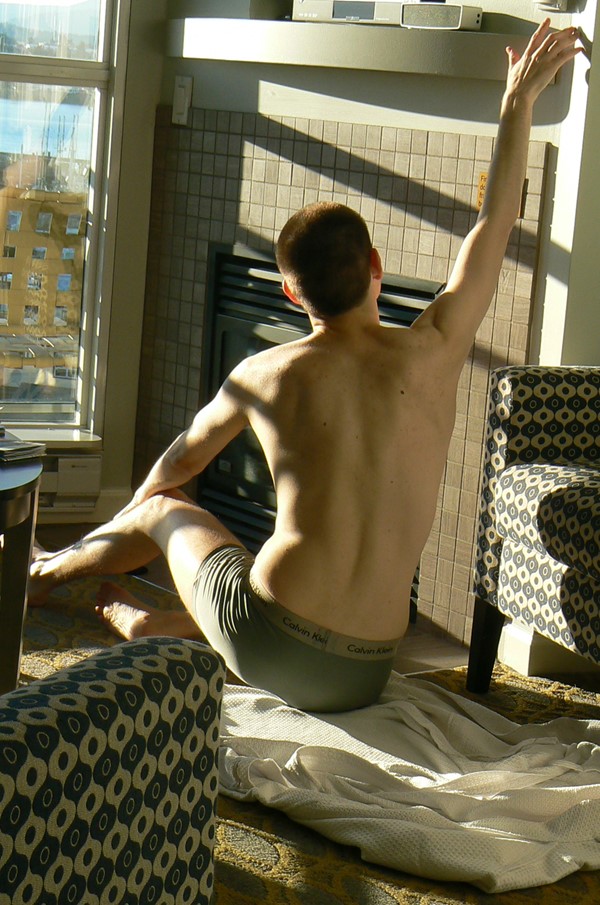 Ah, youth. When your beauty fades, may you have an interesting life, as the fortune cookies says.
The boy was off in the morning – at least he'd learned that until I've had my coffee, best to not try and engage me in conversation. Having decided to turn in the rental car at exactly 48 hours rather than 53, we were in a rush to get out of the condo…but someone decided to do a load of laundry with everything he had to wear, because "those clothes are dirty, I can't be seen in public in "dirty" clothes". He'd already called the front desk and brow-beat them into a late checkout (for him), DancingBear and I were out at 11:30. God know when he actually got out of the condo, and I'm hoping my stellar reputation with the WorldMark Victoria hasn't been damaged.
For our part, we loaded the car, I dropped DB at the ferry terminal to check out bags, I gassed up, dropped off the car (and saved $50 CAN by not needing the extra three hours) and had a lovely QUIET walk back to the ferry terminal. I could have had the shuttle drop me, but a quiet walk with no one yammering…was delightful – and it let me pick up the schedule for the IMAX at the Royal Museum since we don't sail until 4.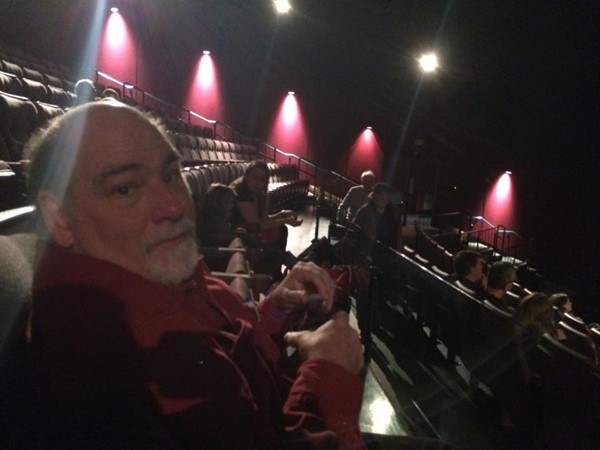 The film was something about the Grand Canyon – which I spent 3-weeks rafting through many years ago. My assignment was to show up with 115 liters of wine – and it wasn't enough. My blog posts HERE, but I'm guessing the picture links are dead.
On my Victoria post for January I have a picture of Seth and this bear (which is in the gift shop of the IMAX theatre):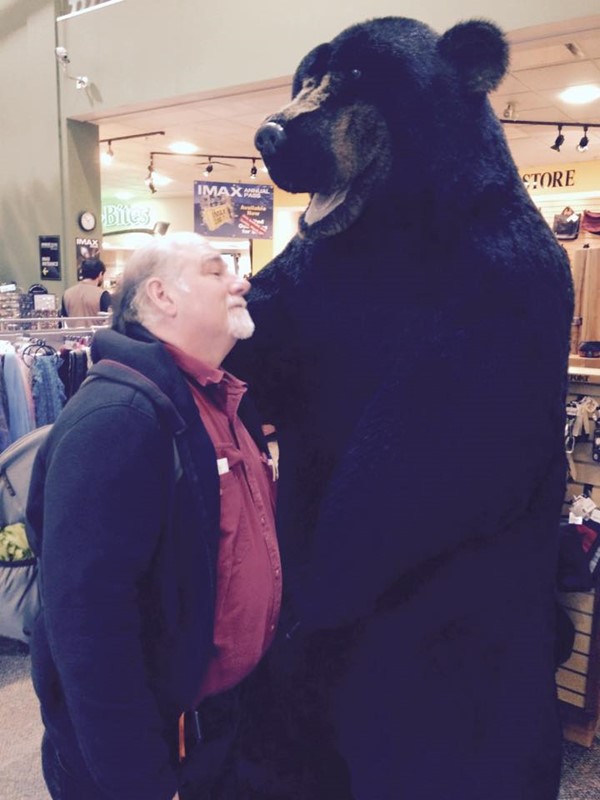 That killed an hour and then I found a great way to kill more time – DRINK! Did I mention we had lunch and drinks before the movie?
Inside the Empress, there is a lovely lounge (and restaurant) called the Bengal Lounge – VERY East Indian in theme: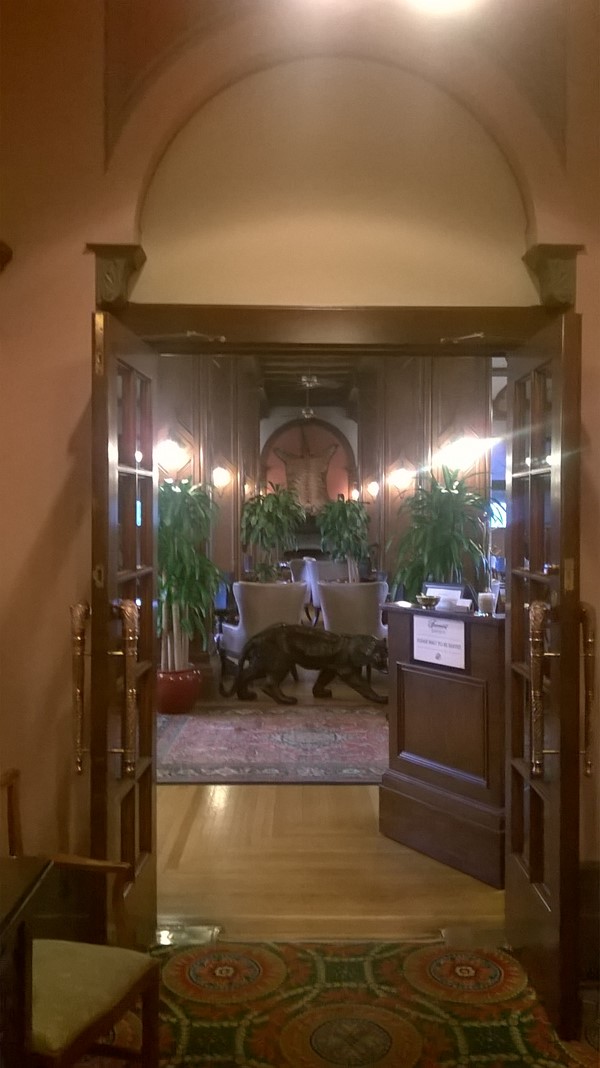 Complete with Curry Buffet (lunch and evening $30).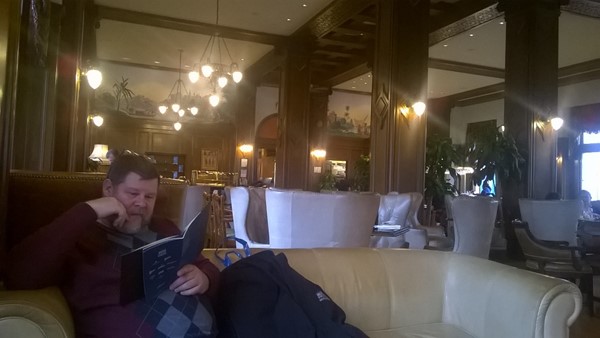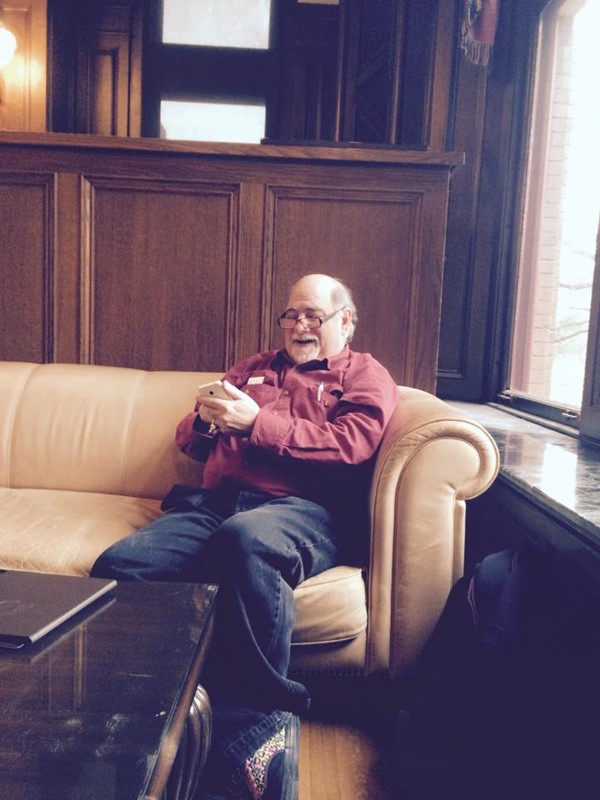 And my drink, a LOVELY Manhattan, complete with Luxardo cherry: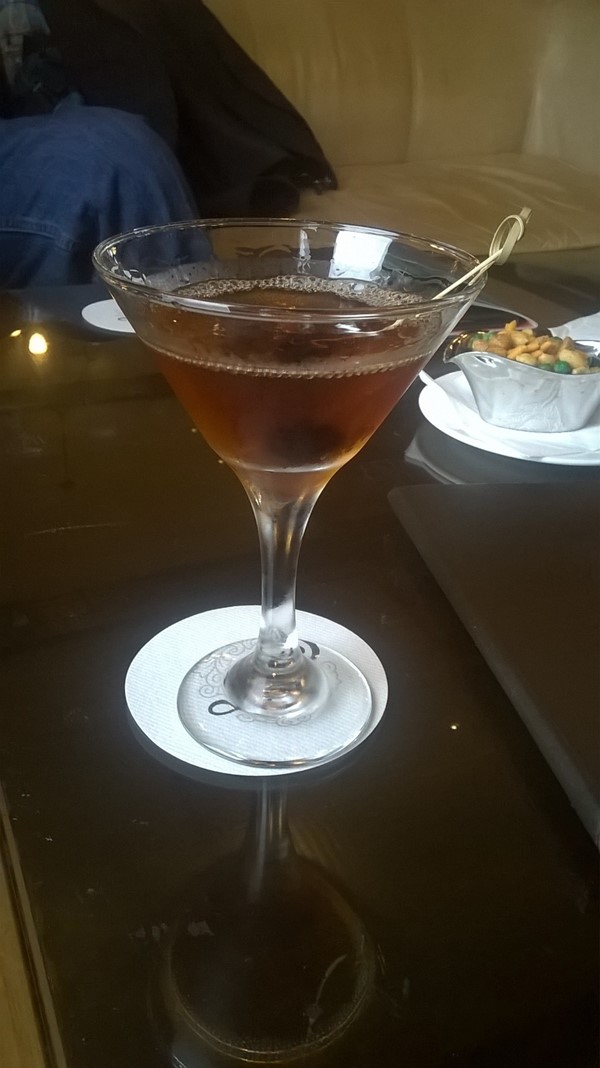 And my new favorite bartender, Len: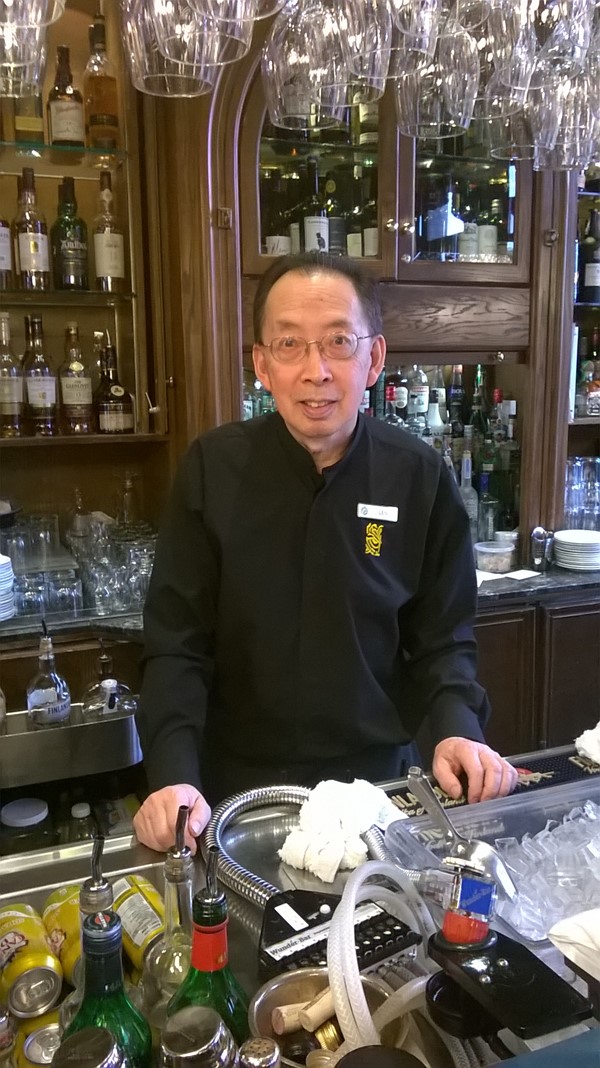 From the Empress we decamped to the ferry terminal – we had boarding number in the 100-150 range, so with luggage already checked, it was fine to be at the end of the line. I was shocked we got a table upstairs on the way home (a first for me).
In the end, MagpieSeaPrincess didn't show up for the boat home, he'd "fallen in LOVE". Instead we got 50-75 Junior High School Band Camp students, who strangely were quieter than the Magpie.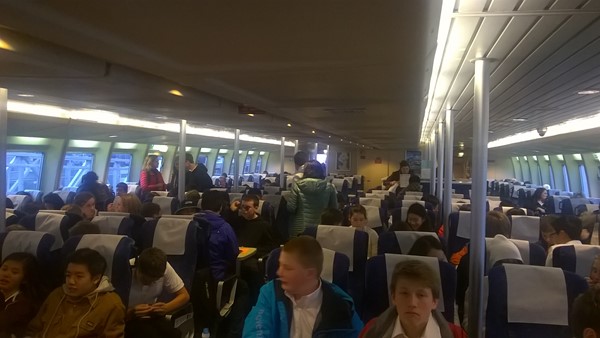 And in the end, we returned to this: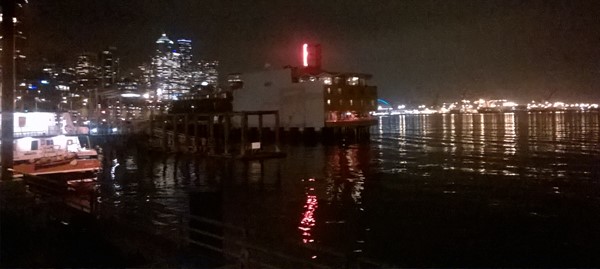 Customs was a breeze – they held off the (two) band camps until the rest of us had disembarked which is good because that many kids, passports, birth certificates, oy.
In all of this I realize that I haven't given you any pictures of the view from our condo, which is one of the major reasons I go to Victoria, so I'll close with these: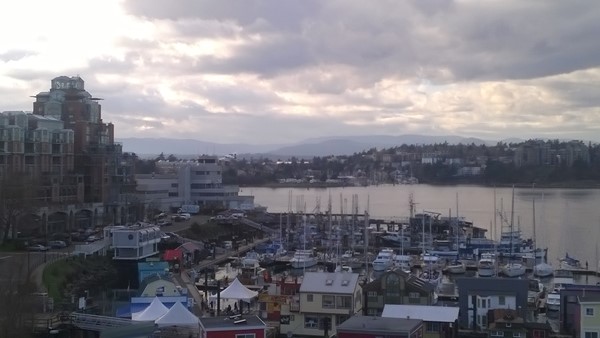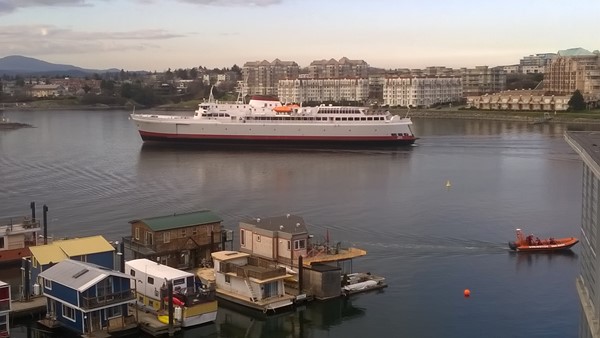 [224.6]