At 88 (or is it 89) it's time to be visiting Mom on a more frequent basis. And when I can get it at a good price ($237.20 and upgraded in both directions), why not. I'm also going out again in July when The Colonels will also be out for the International Market.
It's a beautiful day to fly….not a cloud in the sky: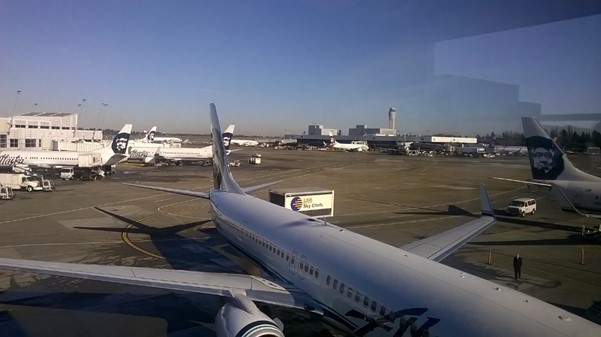 And lunch on the way down wasn't bad either – a Wedge Salad with Texas Toast. Make me think of Swanda and his passion for the Wedge…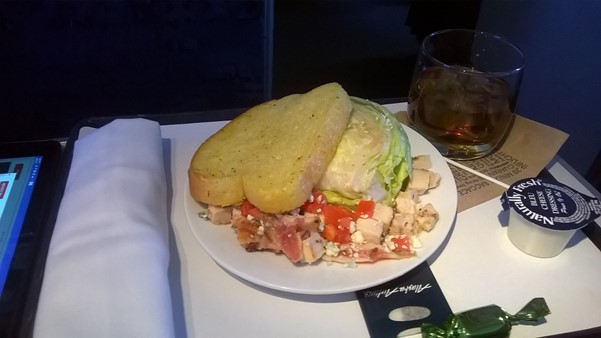 And the usual Jack and Diet.
As for Albuquerque (direct flight on Alaska Airlines [or Southwest]), some clouds in the sky: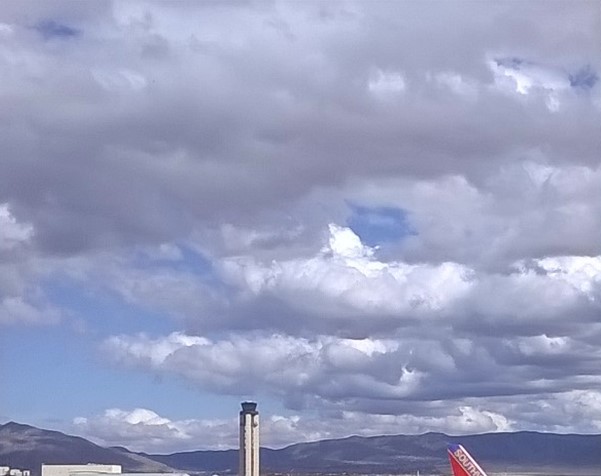 Rented with Thrifty/Dollar this time ($83.20 + $12.25 in gas for the three days). After I said no red cars, they were going to give me Kia Soul (shown to the right), but then I spied this beauty (well, everything but the baby poop tan color) on the lot: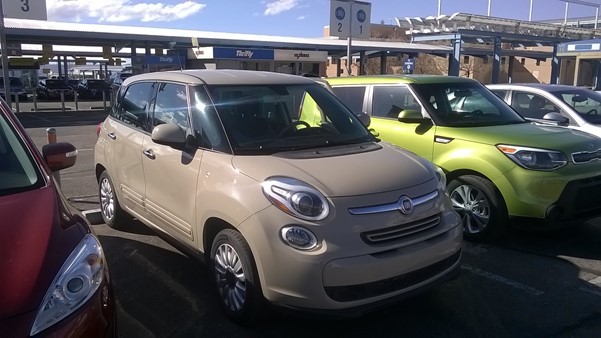 That would be the Fiat500L – complete with backup camera, Bluetooth that linked to my phone, and a killer sound system for the Classical Radio station I found, and soon I was on the road…
About halfway to Santa Fe I stopped at this monument that I'd passed for the last 30 years…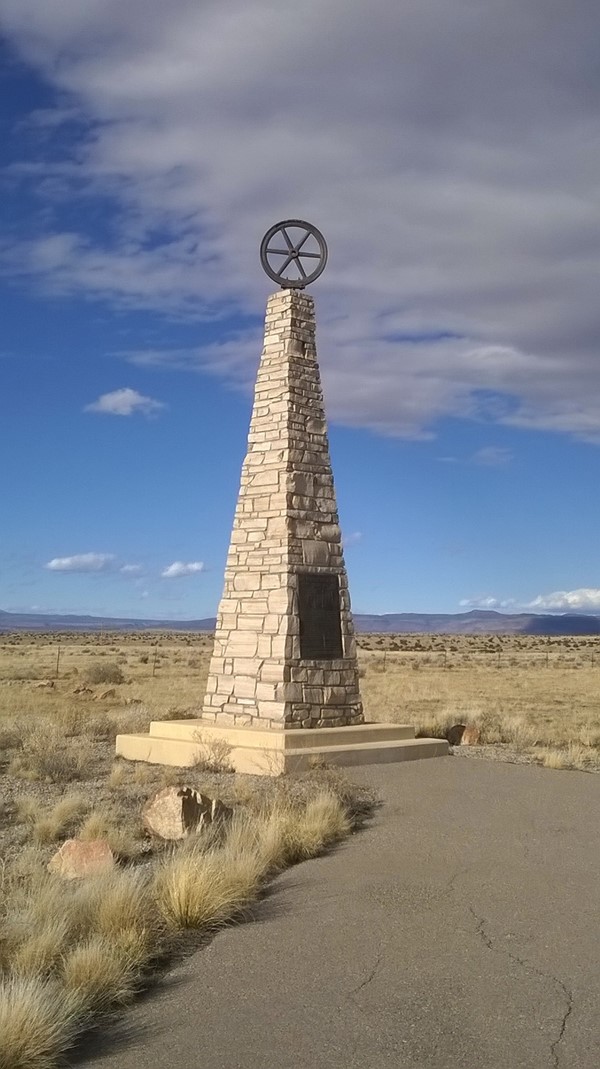 It is a monument to the Morman Battalion, which I had to look up. Thanks to WikiPedia for this summary:
The Mormon Battalion, the only religiously based unit in United States
military history,[1] served from July 1846 to July 1847 during the Mexican-American War of 1846-1848. The battalion was a volunteer unit of between 534[2][3] and 559[4]
Latter-day Saints men led by Mormon company officers, commanded by regular US army officers. During its service, the battalion made a grueling march of nearly 2,000 miles from Council Bluffs, Iowa, to San Diego.
The battalion's march and service proved instrumental in helping the US secure much of the American Southwest, including new lands in several Western states, especially the Gadsden Purchase of 1853 of much of southern Arizona. The march also opened a southern wagon route to California. Veterans of the battalion played significant roles in America's westward expansion in California, Utah, Arizona and other parts of the West.
I find it telling that the plaque on the stone tower has a word defaced out of the bronze – though not enough to obscure that the excised word was "savages". It was a long quote about the march, and the Indians that they encountered.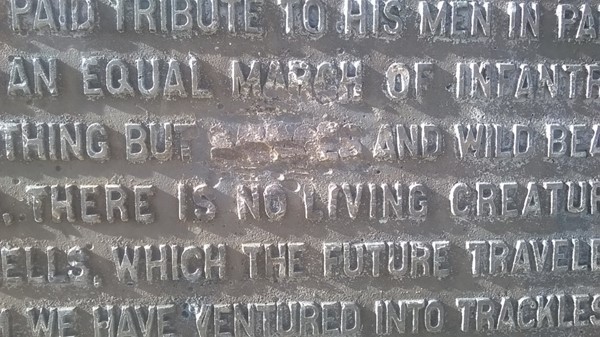 Got to Mom's about half an hour later, fixed myself (and her) a drink, and set about working through the "honey do" list. It makes me feel useful to be able to help.
Got a couple of things done before it was time to rustle up dinner. I usually end up going out and picking up food since it's a chance for Mom to eat something different (and preferably deep-fried) other than what the dining room at the complex will deliver. Tonight it was the Santa Fe Bite (formerly the Bobcat Bite which was on the way to Eldorado).
Mom's usual: bacon cheeseburger with house-made potato chips: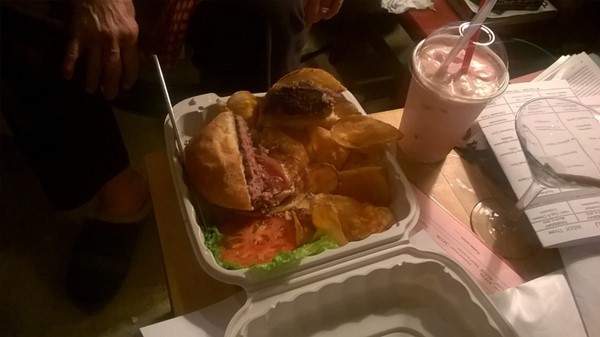 And my rather unusual patty melt. I say unusual since they didn't try and reform the burger portion to match the really nice rye bread that it was served on. The tastes were good, presentation odd (and open-faced):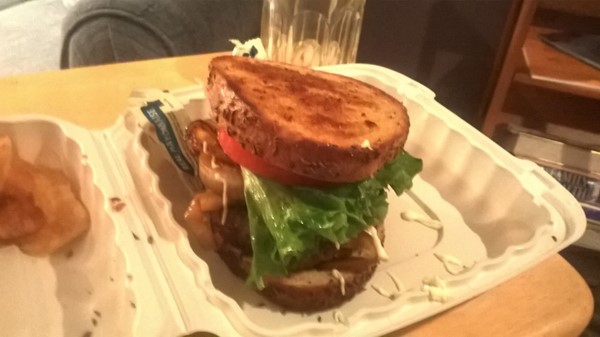 Wednesday was the big errand day – Albertsons (liquor), Walgreens (Ensure Plus), Home Depot (6-outlet wall-mounted surge protectors). But not before the most important errand of the day which is getting Mom to the Orthopedic consult.
Here is my pile from Albertsons: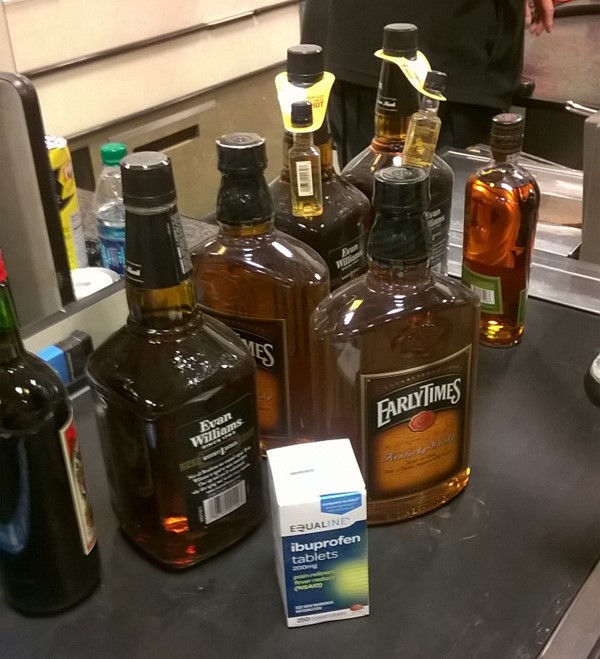 And because it isn't a blog post without some "selfies" – which the baby poop brown Fiat: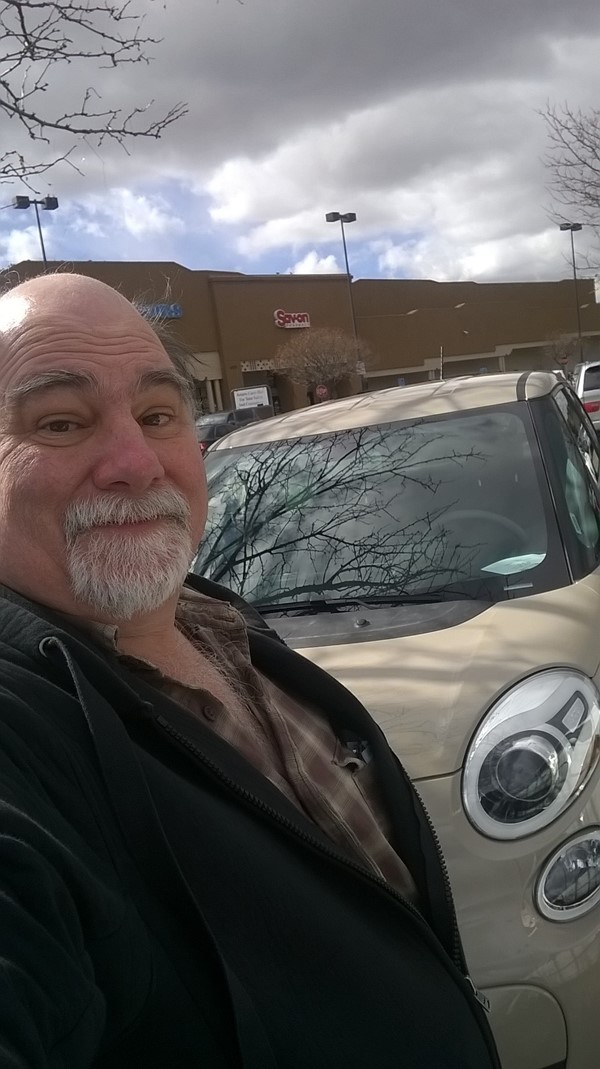 On the way back from the errands I had to stop and get photos of some of the motel signs from a different era along Cerrillos Road. Not as many as in downtown Reno, but still some nice ones: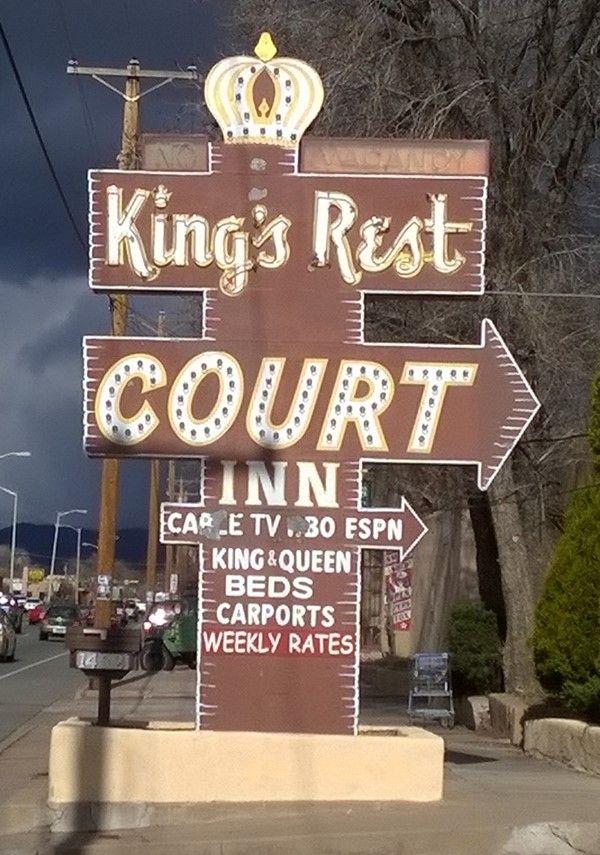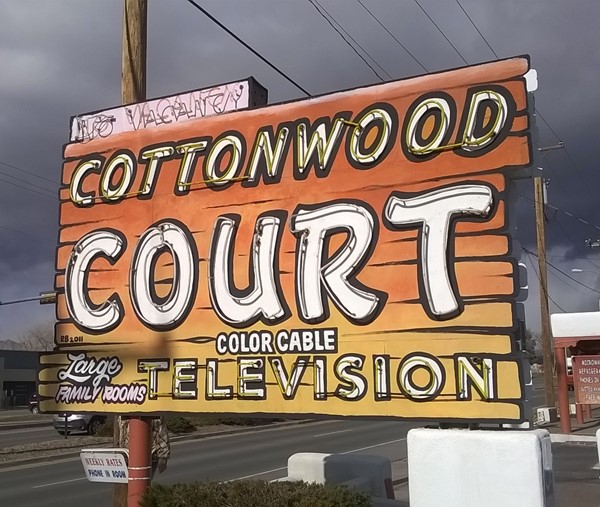 Of course, the funniest sign I saw was this "sale" sign: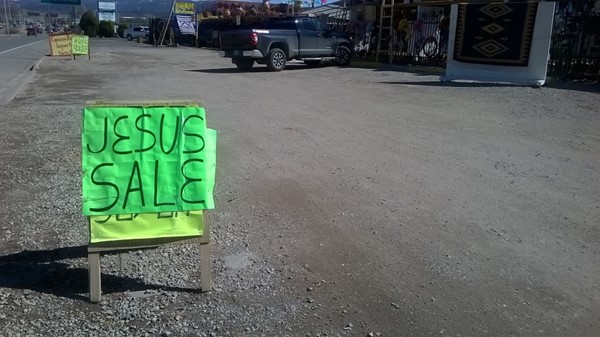 Tonight's meal was from The Whole Hog – and I finally figured out the right portion size for the two of us. Half rack of ribs, side of baked beans (Mom) and cucumber salad (me). Sorry, it was devoured before I could get a picture. I didn't realize they were a chain (but small).
More "honey do" work on my final full day, though this wasn't on the list – a required another errand run.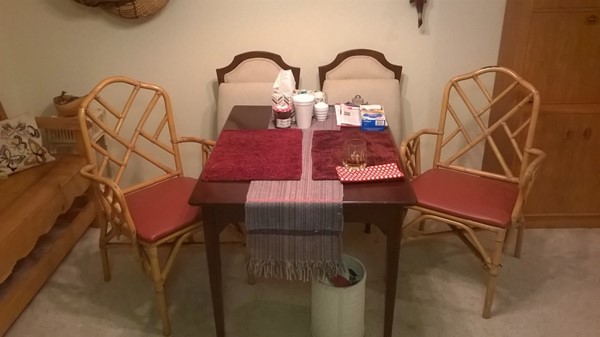 I should have done the before/after shots – reupholstered the dining room chairs in something a little more cleanable than stained off-white cloth.
Next up was a consult with my lawyer (and sister-in-law) to go over my will now that my executor has died before me (Swanda) – and it was nice enough to do it outside!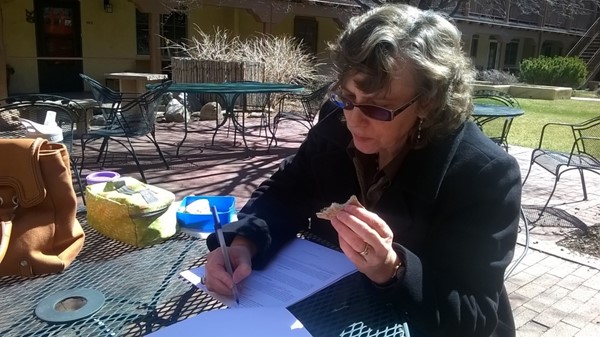 That's in the courtyard of the West Building of El Castillo – and picture of said courtyard: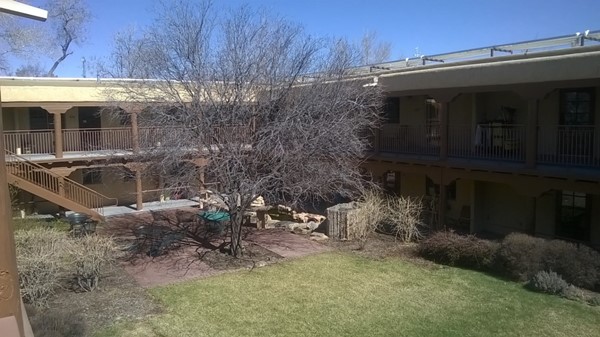 And speaking of El Castillo (Mom's Retirement Home), we went to look at the Assisted Living Units. NICE – when Mom saw the Whirlpool residents have access to she almost decided to move on the spot – here are a couple of shots of one of the new units staged: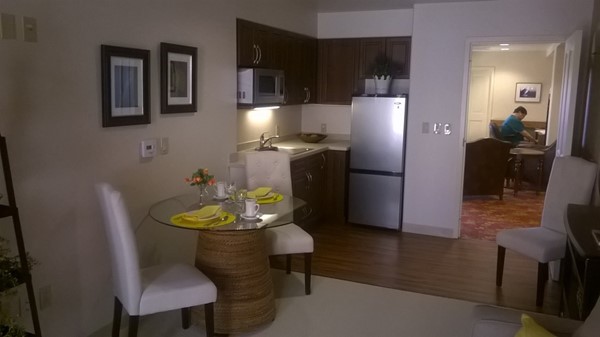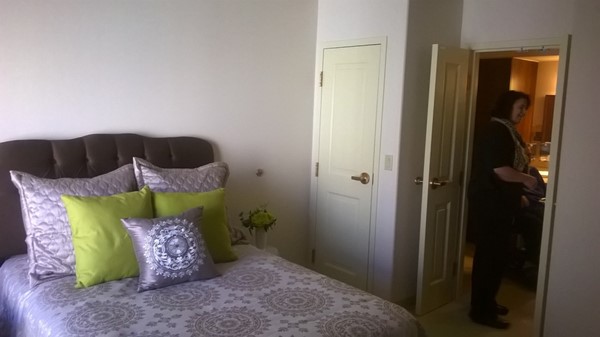 It was good for her to get answers to some of her concerns so she knows what is coming down the pike as she ages…the one-bedroom units would be an "upcharge" from her currently monthly payments – they have studio units, but those look more like dorm rooms, I say, spend the money.
BUSY day today – my last full day in Santa Fe. Next up is my nieces International Baccalaureate Art Show (funny that next week I'm seeing my ex's daughters show in Tokyo).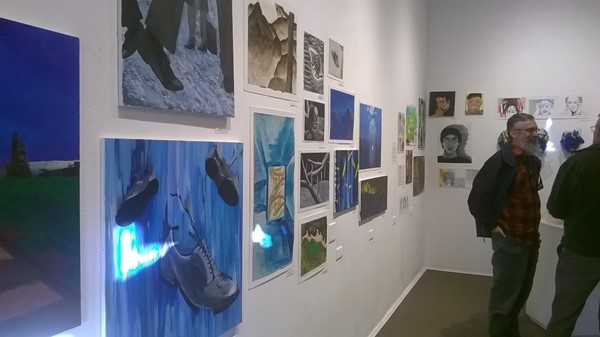 And the take-out feast from Whole Foods which included two dozen oysters on the half shell….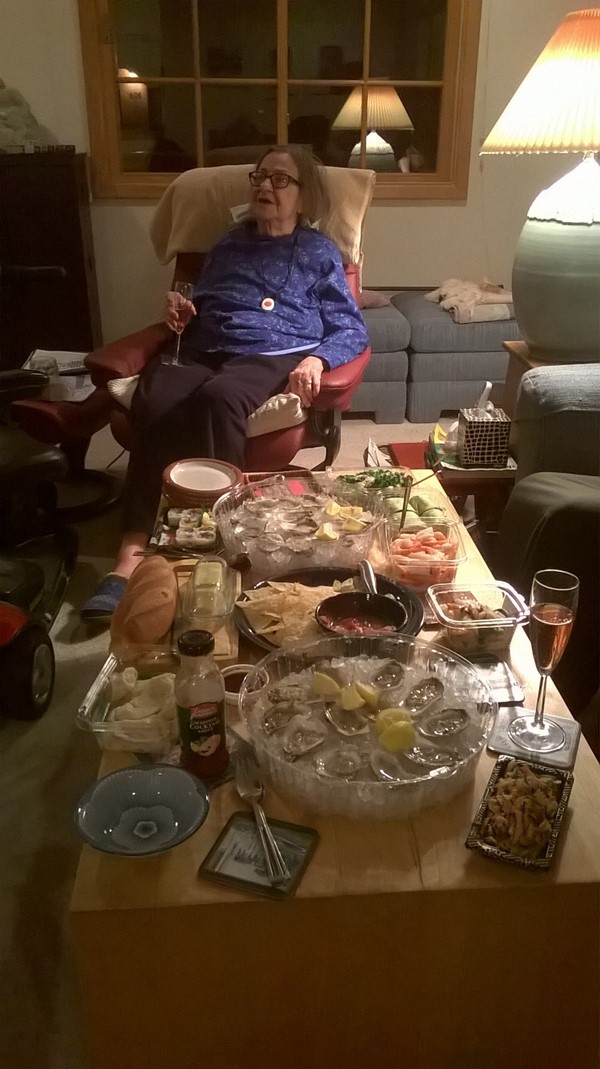 After the family left, it was back to the "honey do" list – to figure why the refrigerator occasionally leaks – seems there is A LOT of built up half-melted ice in the bottom which I managed to get out in one piece with the help of an icing knife: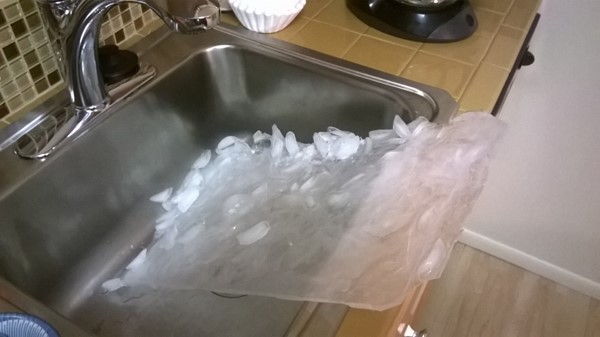 Went to bed late as usual – luckily my flight isn't until 3:35 in the afternoon, leaving me time to set up my office in the observation lounge at the Albuquerque Sunport: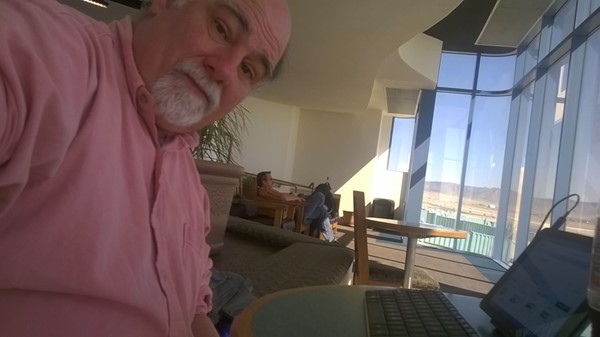 Flight running on-time, not in my favorite seat, but close – at least with this seat I get to take pictures of clouds…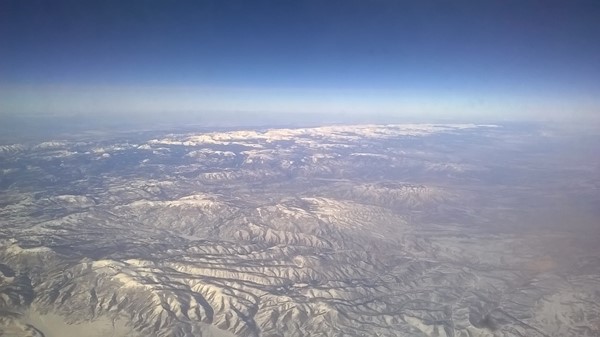 And yet get to enjoy another Wedge Salad along with a little TV…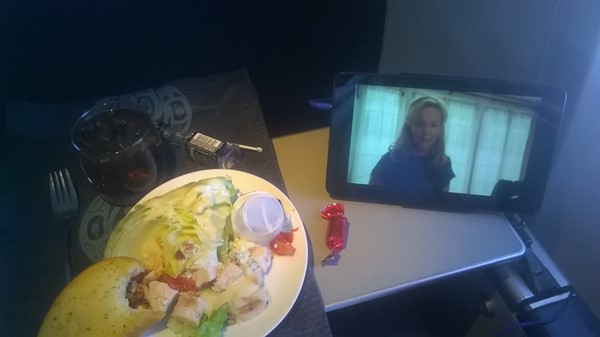 And our final selfie of the day…in Seat 1F.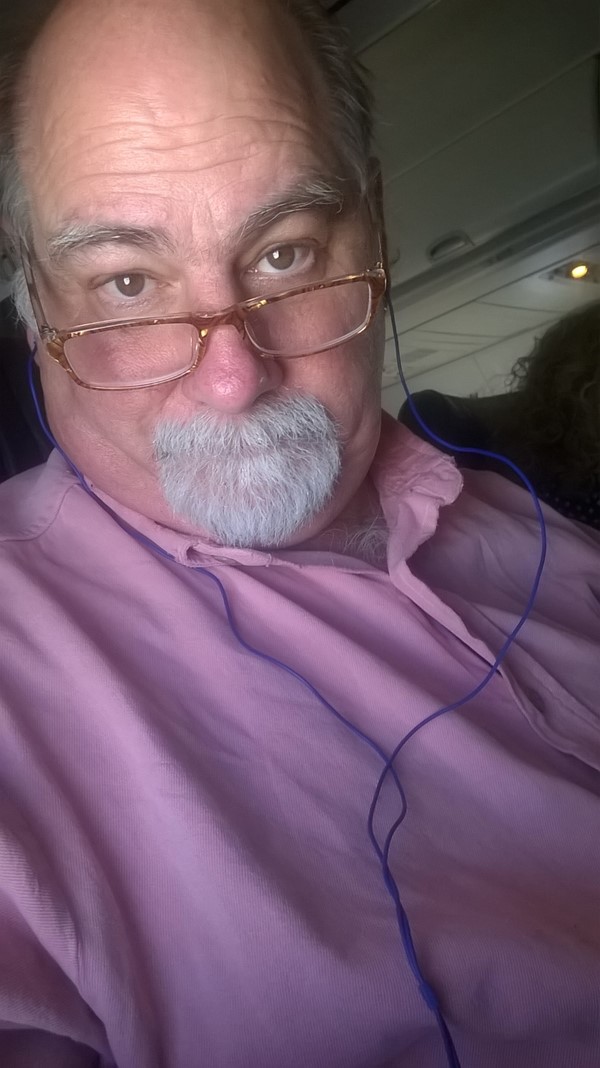 Home until Tuesday, then it's off to Tokyo via Dubai.
[225.6]