Sometimes I wonder if I like the journey more than the destination…Looking forward to both on this trip, but it's a close tie. Today is the first leg of a 10 day trip – a rarity for me. Here is the trip:

Leg Number One: Seattle to Dubai, Business Class – redeemed 75,000 Alaska miles for the one-way, Seattle-Dubai-Haneda (the close in airport for Tokyo). The cool thing with flying Emirates is the free town car service on both ends. I was a little worried about how this would work since there was no "contact" number, just a receipt saying it was booked. I booked earlier than I usually do, just in case the driver didn't show up.
He did show up – like half an hour early. This would be my driver, Justin: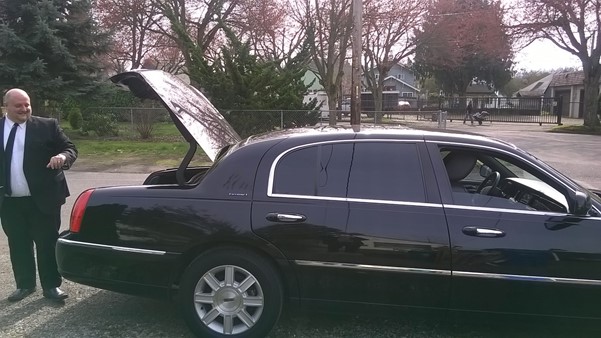 Plenty of room in the Town Car…and even bottled water – and yes, I tipped him since I made him wait 15 minutes while I finished checking email. He was, after all, 30 minutes early.
Since Emirates wouldn't let me check-in on-line, I had to wait for 15 minutes for the ticket counter to open…but soon I was off to the lounge in the South Satellite, with one detour back to security to pick up my rollaboard – I'm so used to checking luggage that I was almost on the shuttle train when I remembered that I was missing something BIG.
I'd never been in this lounge before – it serves Emirates, Lufthansa and a couple of other airlines that only have one flight a day.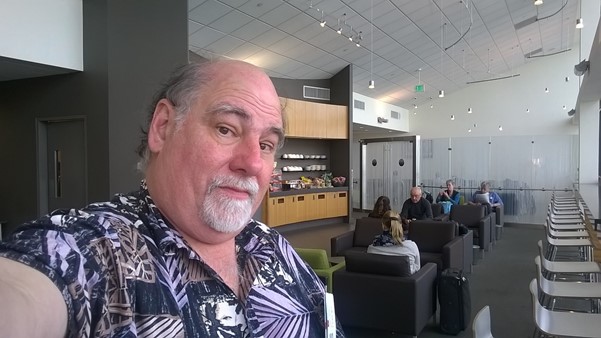 This is the first lounge that I've been in that actually has a drink menu, and someone to mix those drinks!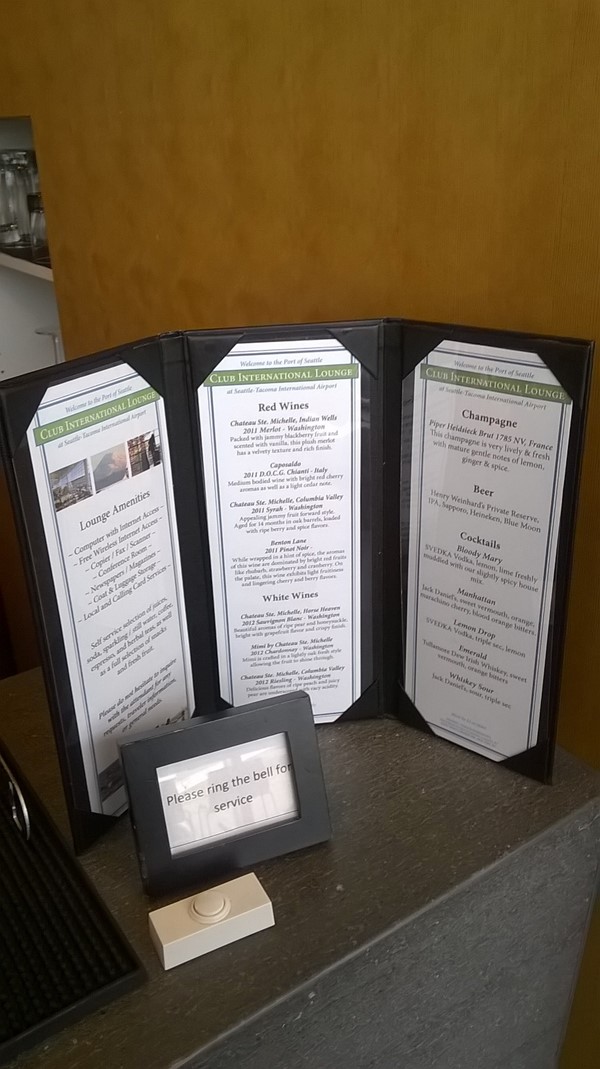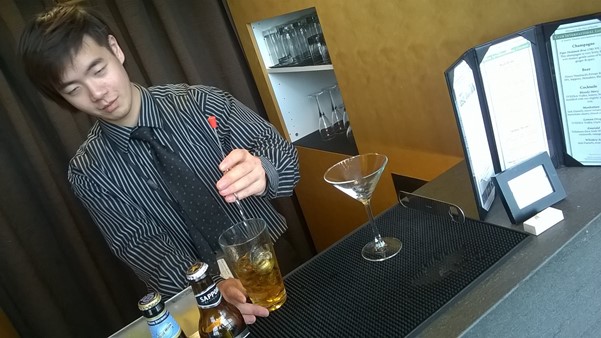 Snacks/food was on par or a little better than Alaska's Board Room – maybe next time I'm at the Board Room I'll ask if they can make a Manhattan which is what I had three off will waiting for my plane to board.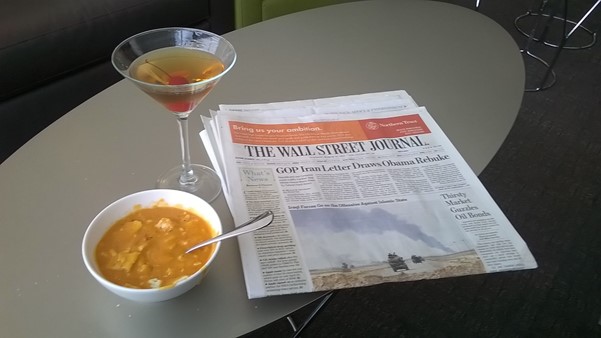 But soon enough it was plane time: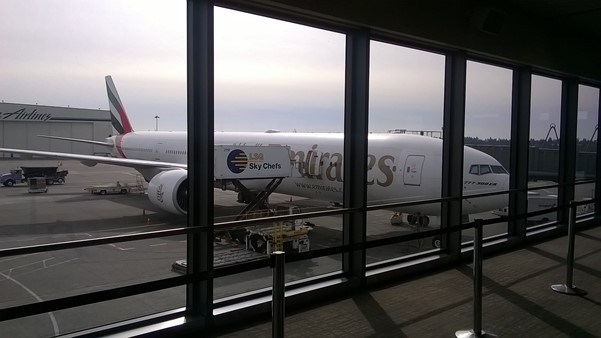 That would be a 777-300ER (tomorrows plane is a 777-200ER). But there was a HUGE number of wheelchairs (at least 13 by my count) and strollers (about twice that amount), that boarding for Business and First was delayed. Luckily I have a hard-side case which makes a nice rolling seat: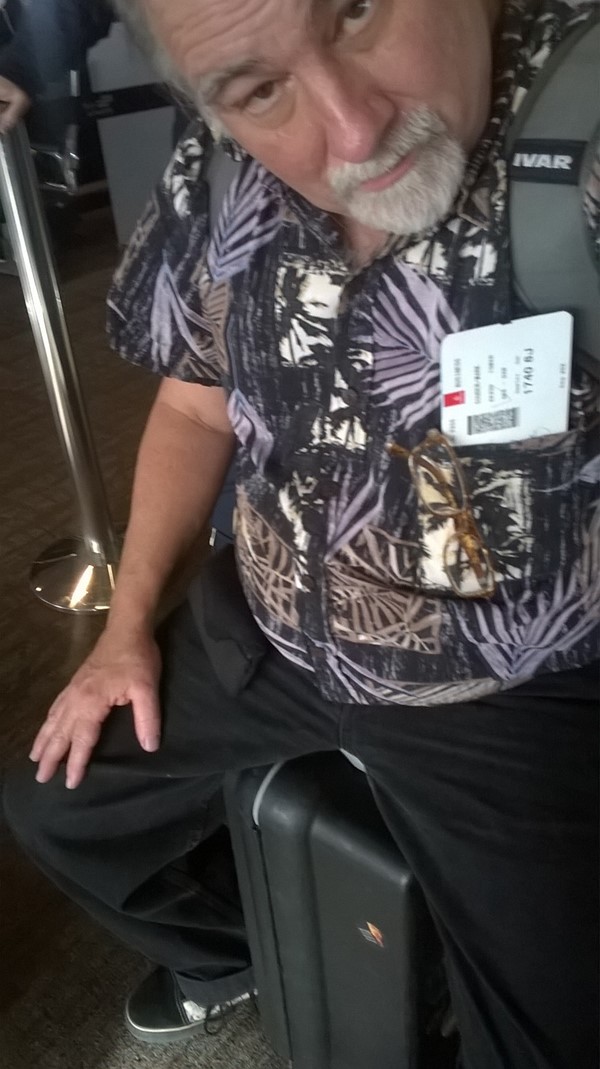 With a 14 hour flight, what's a little waiting, especially when I'm sitting here on the plane: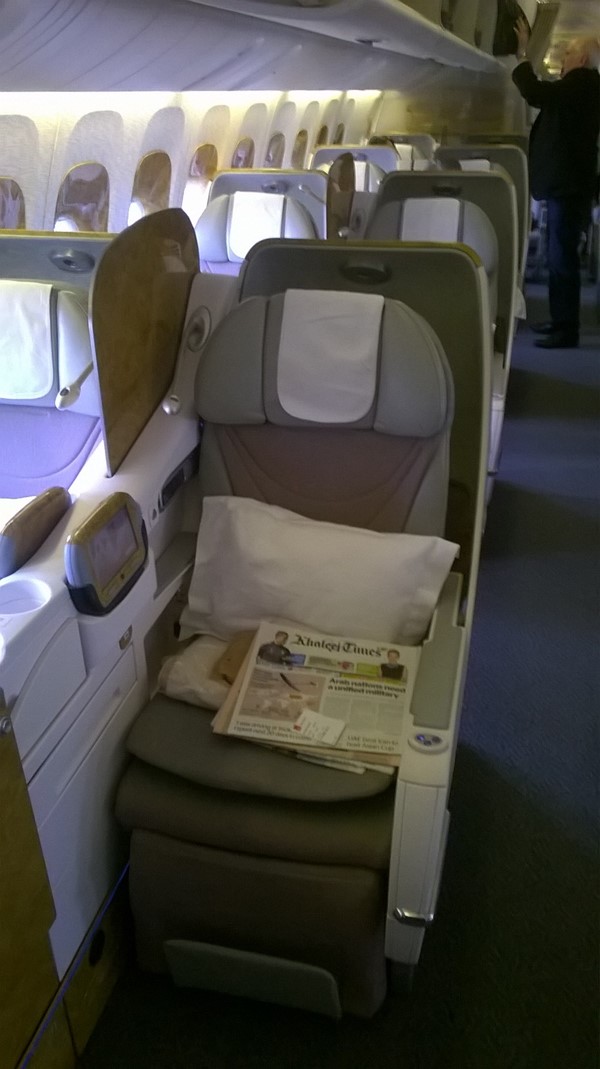 That little screen on the left is the detachable handheld controller for the 17″ inch diagonal LCD that pops out of the console for the bulkhead aisle seats on the outside. Here is what the inner three look like: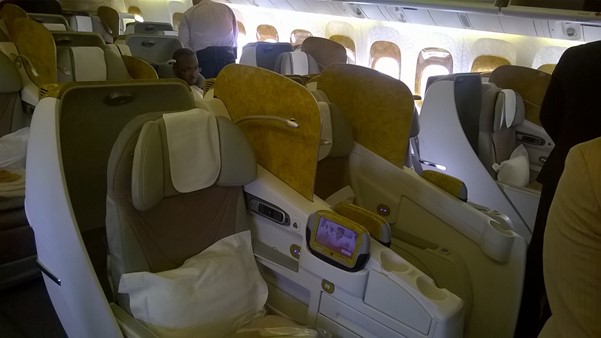 Oddly enough, those seats remained open – too bad you can't combine two into a really big seat with dual screens – even First doesn't have that: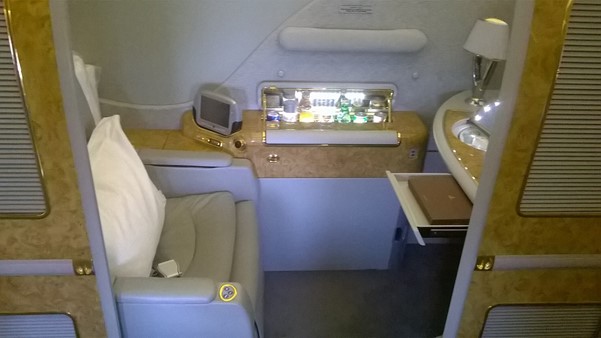 I like the fact that they have their own refrigerated mini-bar. Maybe next time (that would be an additional 25,000 miles one-way). Nice amenity kit even in Business Class, complete with Bvlgari products: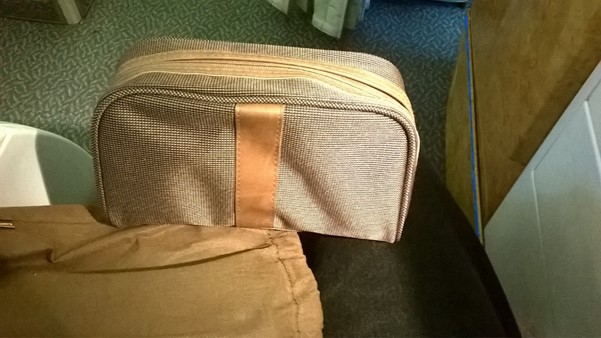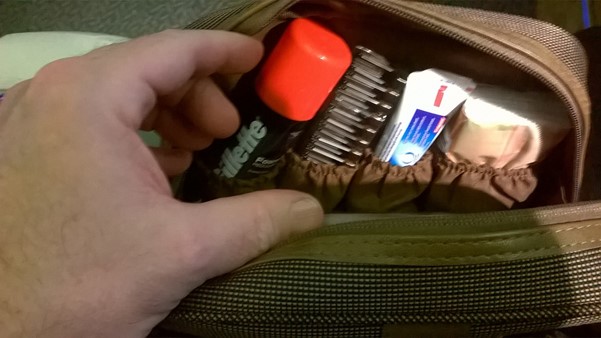 It will be interesting to see if I get the same kit on the flight from Dubai to Haneda – and to compare it to the ANA kit for the flight home.
And on the Emirates cocktail list…Manhattans (sweet, dry, perfect) – complete with shaker!
I was TOTALLY impressed – you don't find THAT on domestic carriers, even on their overseas routes. No Martini glasses, but that just a First World (Class) problem in a Business Class world.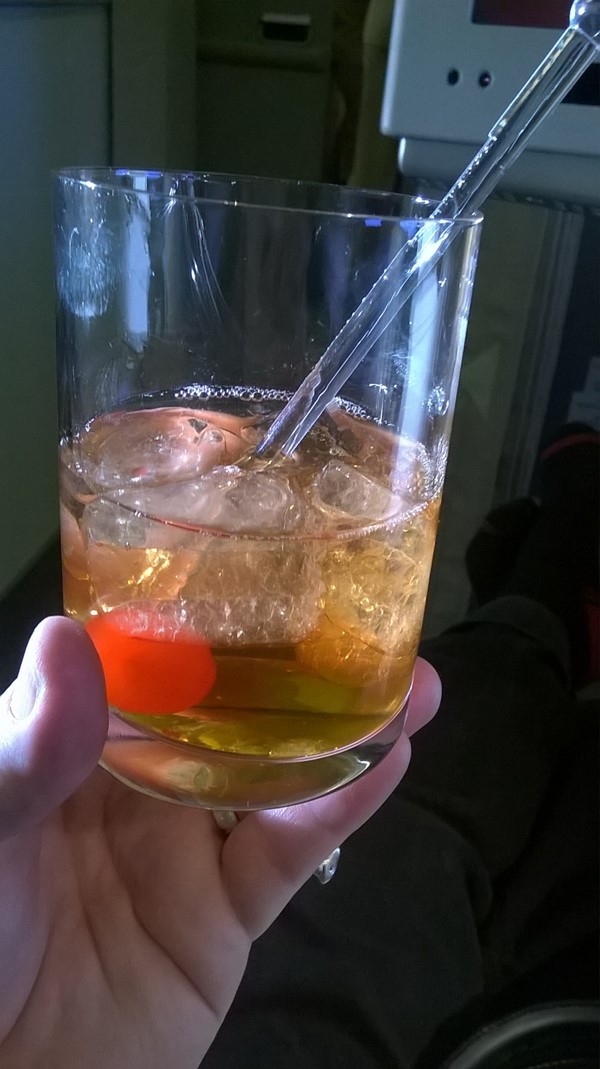 Speaking of Business Class problems, no vintage dated Champagne back here…just Veuve Clicquot Yellow Label (up front it's the 2004 Dom Perignon). And soon, it was time for the first course for dinner: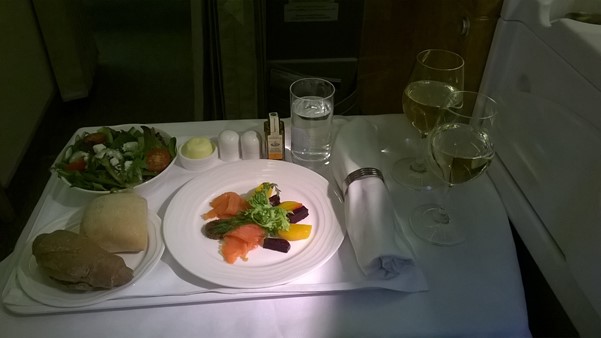 That would be the smoked salmon served with pumpernickel croutons and marinated read and yellow baby beetroots and a seasonal salad. The two glasses of wine are:
2013 Domaine du Nozay Sancerre 2013 (the winner of the tasting)
2013 Larry Cherubino Pedestal Chardonnay (too buttery for my taste – didn't even finish it)
For the main, I went with the Marinated Beef Tenderloin served with a peppercorn sauce, Mediterranean-style grilled vegetables and creamy mashed potatoes: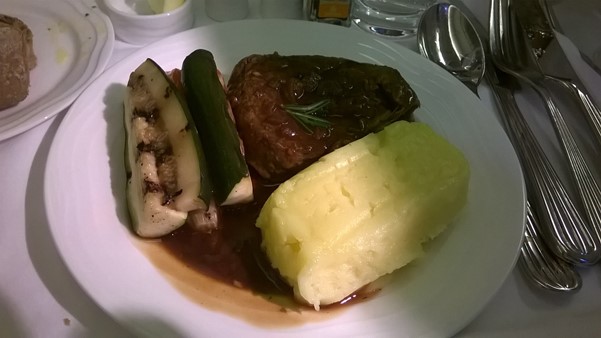 They could has done a better job on the presentation of the mashed potatoes – you can still see the warming tray marks. For the red with this course:
2008 Les Tourelles de Longueville (again, the French is the winner – damn that Jimmy and his stocking lots of old-world wines)
2012 Hahn SLH Pinot Noir (good, but Pinot from California is always a crap shoot)
My flight attendant brought me two of the reds from First Class since I told her I ran a wine shop and that was why I was trying everything open). She showed up with these two:
1995 Chateau Palmer (Margaux region) – dear lord, THAT'S the winner of the bunch
2011 Au Sommet Atlas Peak (your basic decent California Cabernet)
Then there was the cheese course with the 1985 Porto Dalva Colhheita (they were serving a 2002 Chateau Guirand Sauternes and/or a Sandeman 40-Year-Old Tawny Port):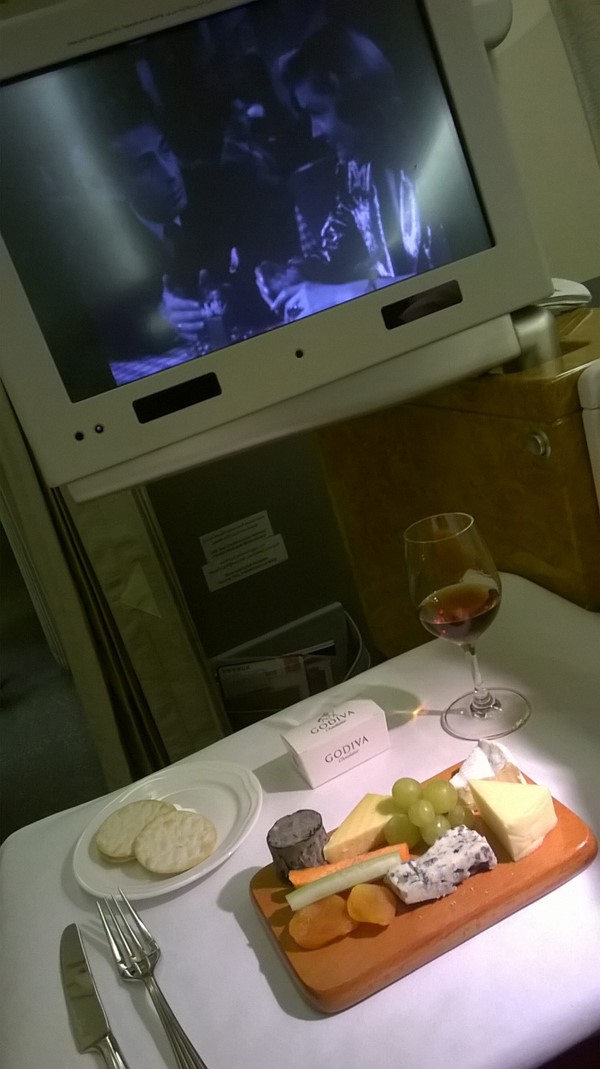 Complete with Godiva Chocolates – and you can see a bit of the big-ass touchscreen TV in the background (more on the 500+ movies in 39 languages later).
But what meal is complete without an espresso and a Cointreau to finish it off!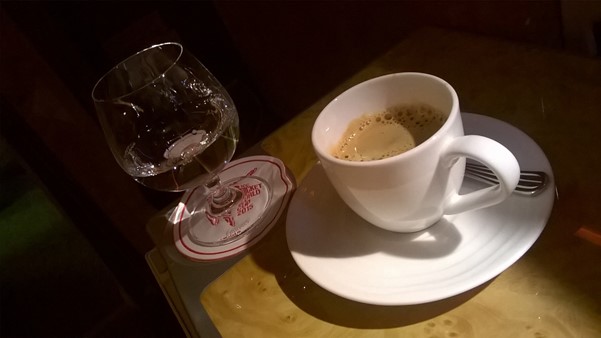 Who knew that airplanes had espresso machines!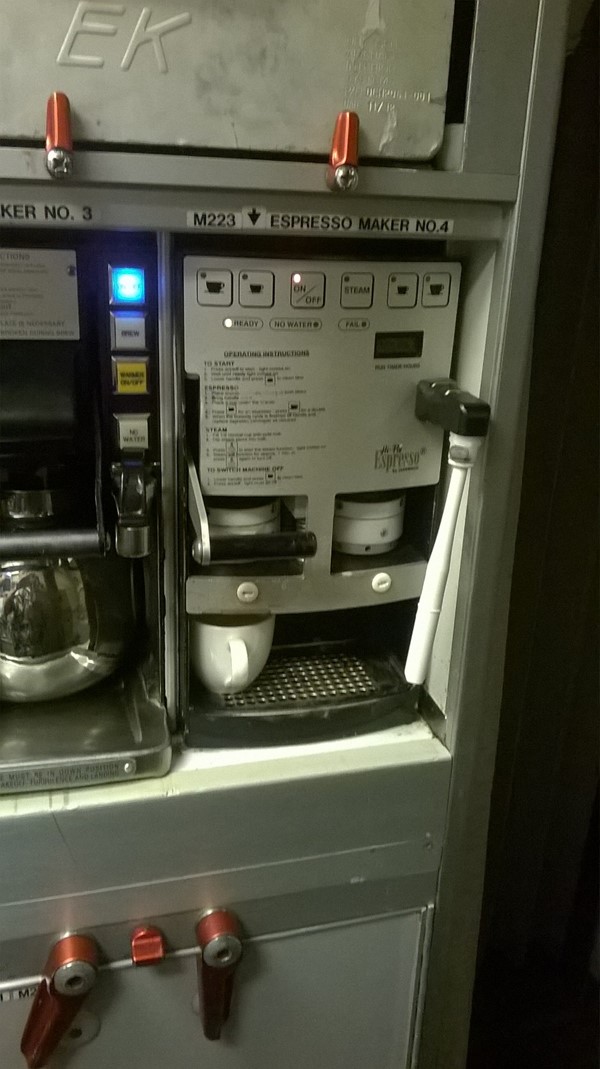 There were a couple of other amusing things in the galley other than the espresso machine….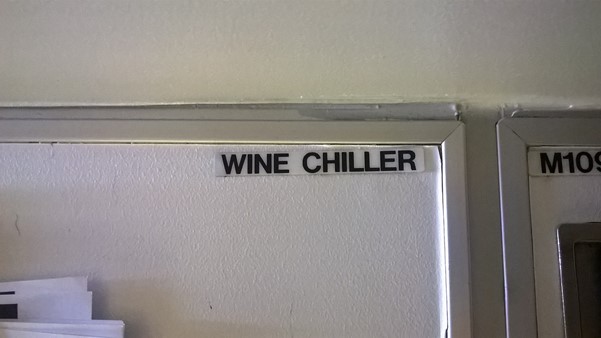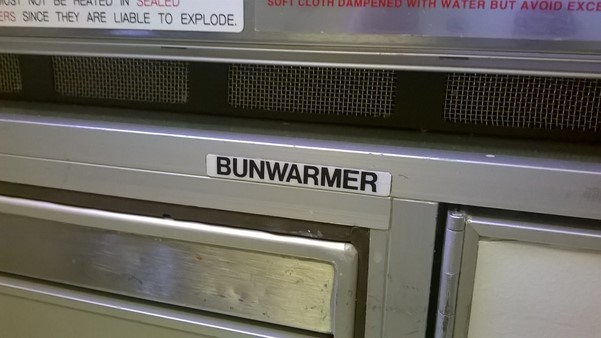 And just because they had the fixings – I taught the flight attendant a new drink (for her), the Rusty Nail: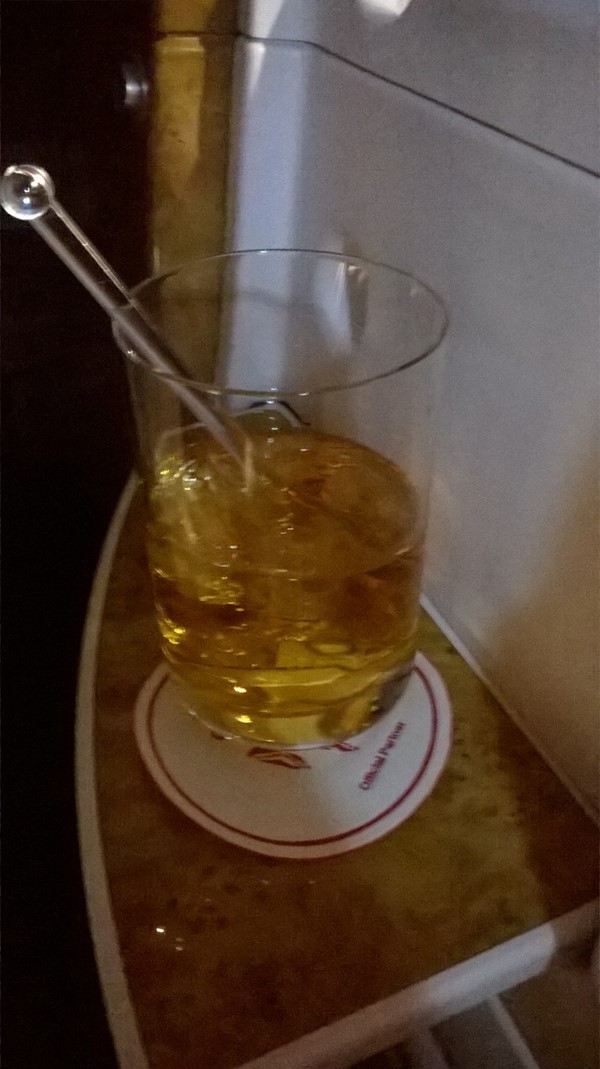 50% 15-year-old Glen Fiddich
50% Drambuie
But speaking of movies, which I mentioned earlier, here is the list of what I watched before I fell asleep (or passed out):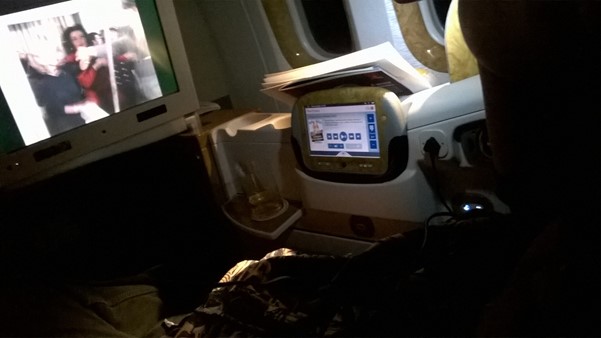 And then there was sleep, and then there was breakfast (which is odd since we are landing in Dubai at 7PM):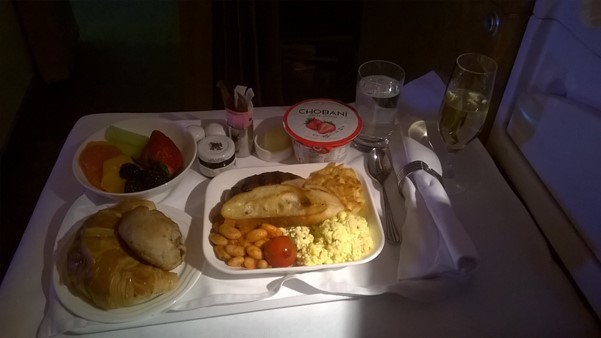 Totally British breakfast with the beans and roasted tomato….I paired that with a little more of the champagne, three newspapers left over from boarding and BBCWorldNews on the box, and then it was back to sleep until we landed.
Customs was a bit of a clusterfuck, just from lack of signage in the EasyPass lanes, which weren't working – but this way I actually got a stamp in my passport – and then it was on to try and figure out how to get to my hotel (Premier Airport Hotel – recommended by one of my wine shop customers) – I printed the pre-paid confirmation, what I didn't print was how/where the shuttle was – luckily the nice folks at the Emirates Hotel Desk (if I'd had a shorter layover they would have given me a room, as well as the car service).
It did give me the opportunity to see "sex-segregated" cabs….PINK is for girls (and me), RED is for boys — http://www.reuters.com/article/2007/06/13/us-emirates-taxi-idUSL1331205520070613 :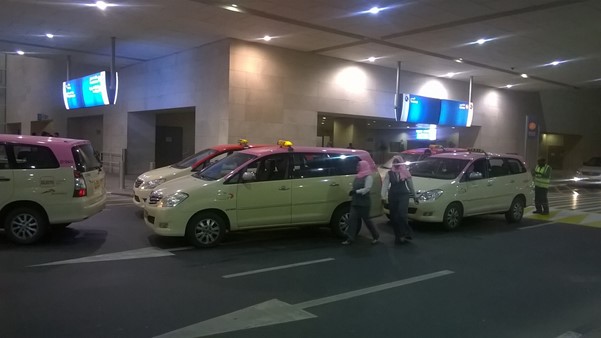 Right down to their head coverings.
Got to the hotel, dumped the luggage, toured the rooftop pool, gym area, took in the view….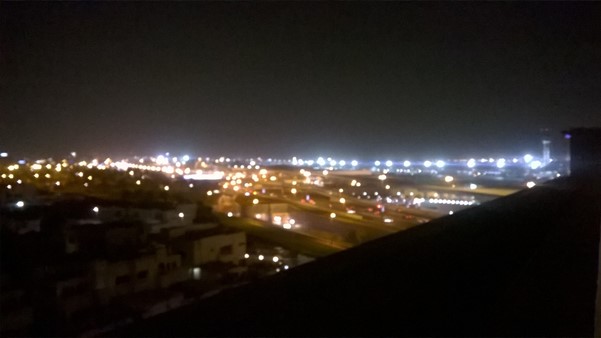 Returned to the room, ordered room service and packed it in for the night….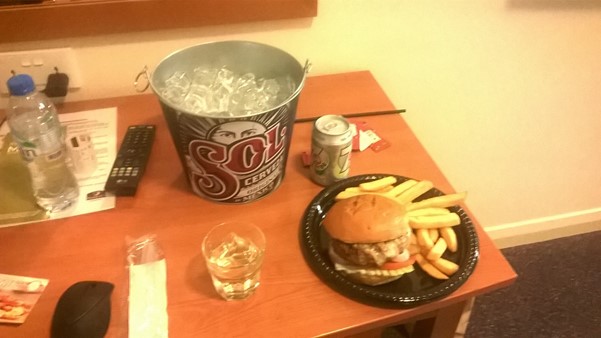 And yet another photo for my "ice bucket" collection – what qualifies as an ice bucket in hotel around the world…and that would be a seriously HUGE (think half pound or more) cheeseburger – and I only had a couple of the fries. DAMN FINE burger, GREAT BUN. And the ice was for the minis of whiskey that I packed in my toiletries bag especially for tonight – which brought smiles to ALL the TSA workers in the line – comments like "THAT'S what to fill a quart ziplock with!".
Tomorrow I get up and do it all again – wakeup call is set for 5:15AM, with take-off at 8:30, which will give me some time to get breakfast in the Emirates Business Class Lounge, which looks good from the pictures I've seen.
[223.6]