I didn't really get to see much of anything in Dubai, but that would have required a layover, which wasn't permitted under the tickets rules – or if it was, it would have screwed up my car service on both ends.
Got to Dubai in the dark last night, leaving before the sun is up – at least this morning I've got time/inclination to take a shot of the hotel: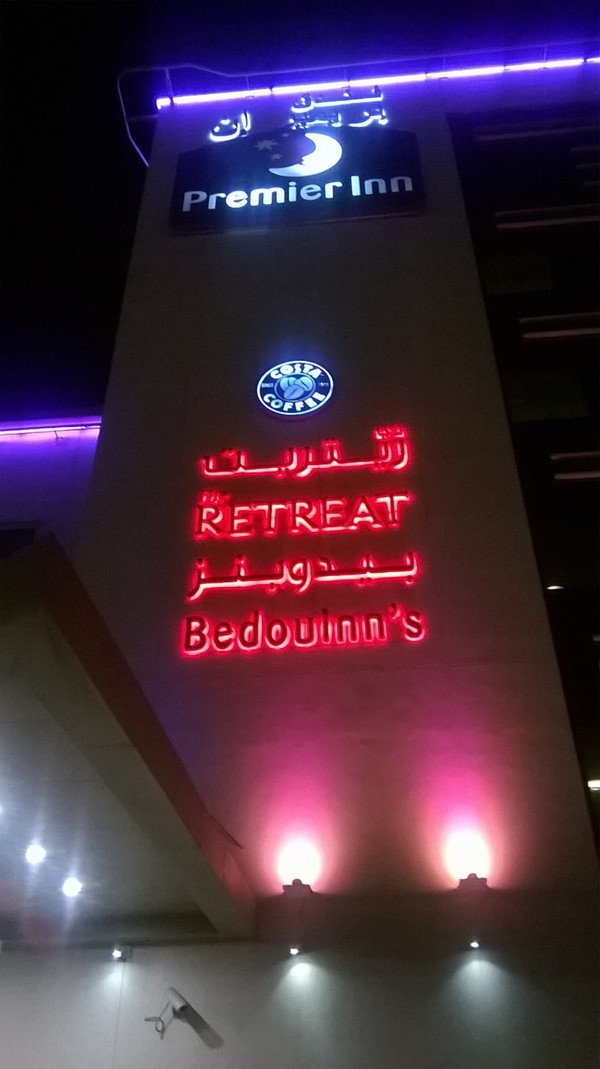 Grabbed the transfer bus, avoided check-in since I'm doing carry-on, so it's straight to the Emirates Business Class Lounge. Looks large from the outside…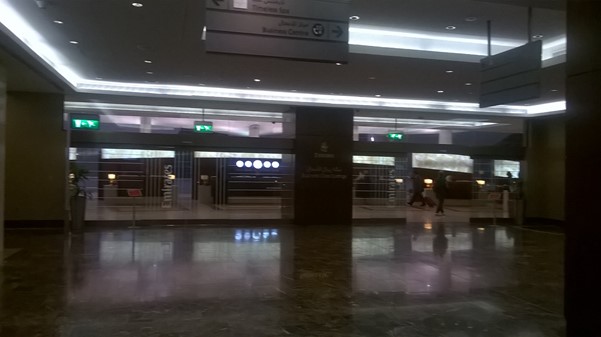 But when you get inside, you need a map!

The Business Class lounge runs THE ENTIRE LENGTH of a 25-gate terminal, as does the First Class lounge, one floor down.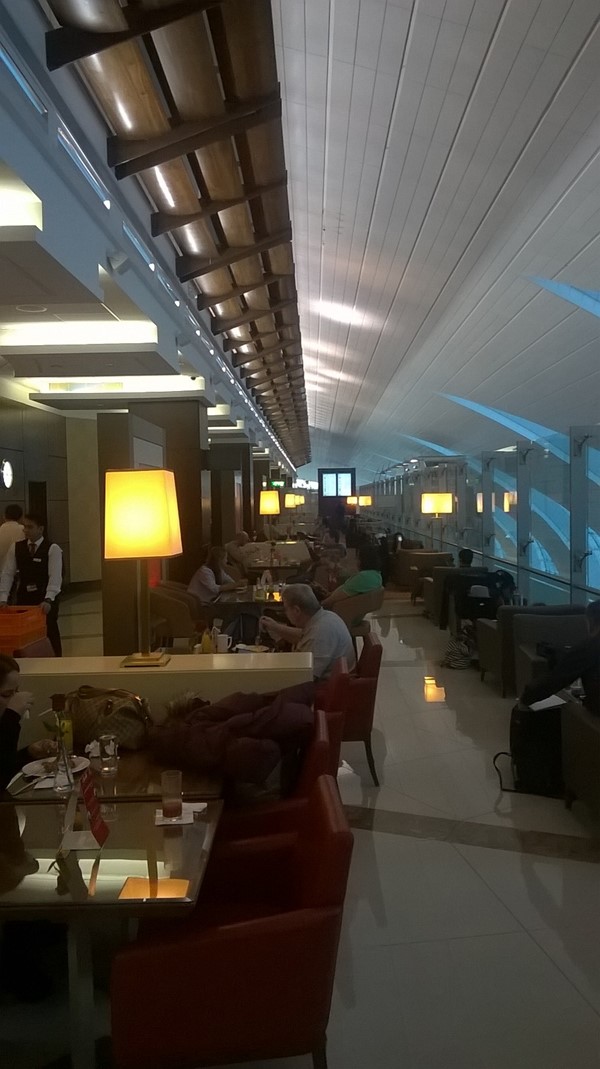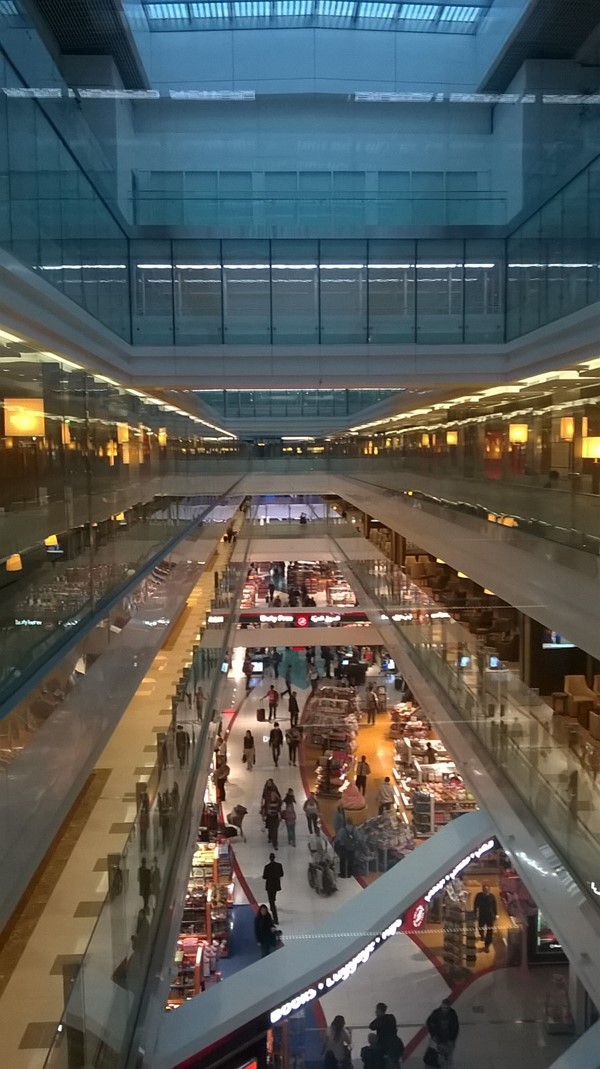 And there are dedicated check in desks inside the lounge for EACH gate, with four elevators (per gate) that take you directly to the jet bridge for boarding.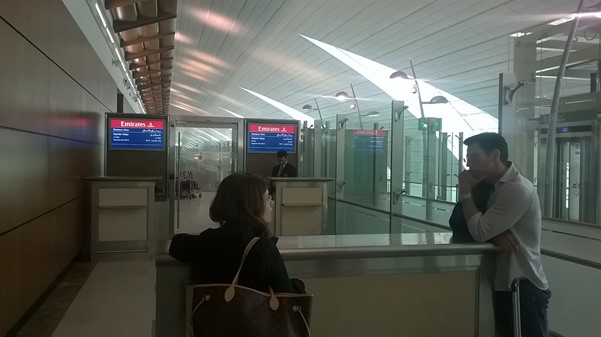 But I haven't even talked about the food service – hello breakfast!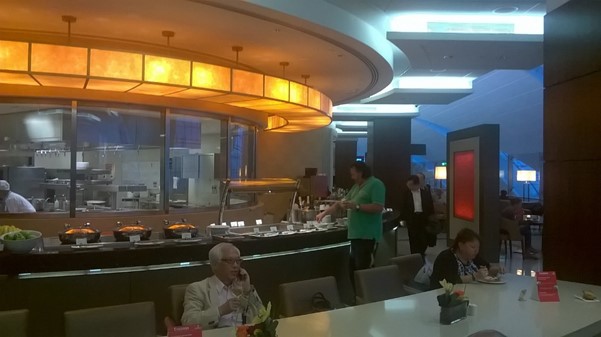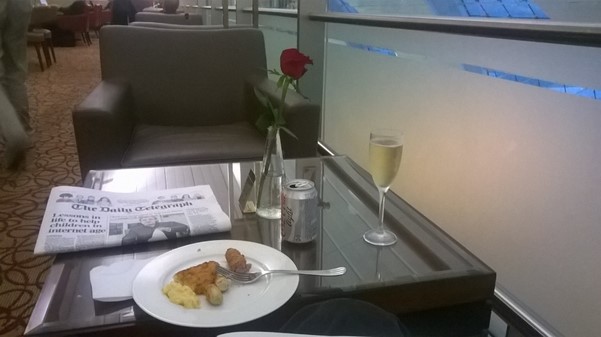 Big buffet with everything from British to Middle Eastern – I'd love to see what the dinner spread is like – maybe I should have stayed in the airport overnight rather than dropping $140 (and the cost of dinner).
Time to head to the plane…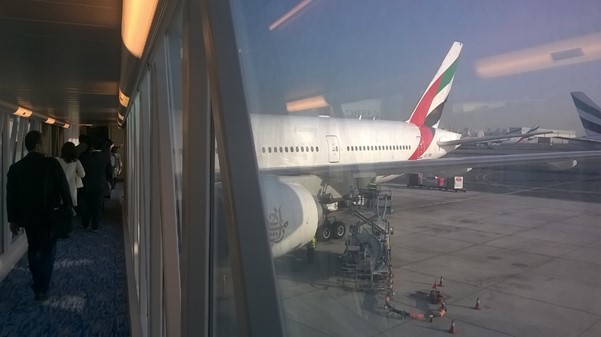 There is even a second level jetway (a separate stop on the elevator from the Lounge) for the Airbus A-380 double decker planes that Emirates has about 50 of.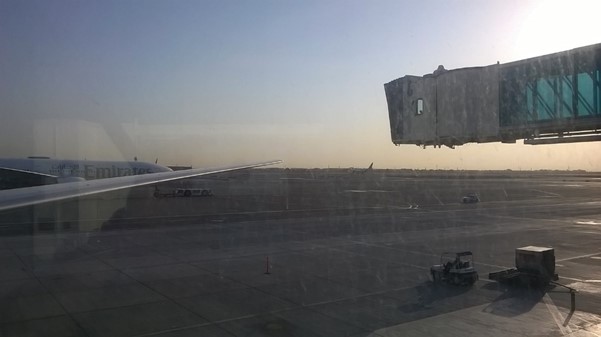 Soon, I'm back in my seat…feeling a little narrow this time, but it's exactly the same seat (just on the other side of the plane).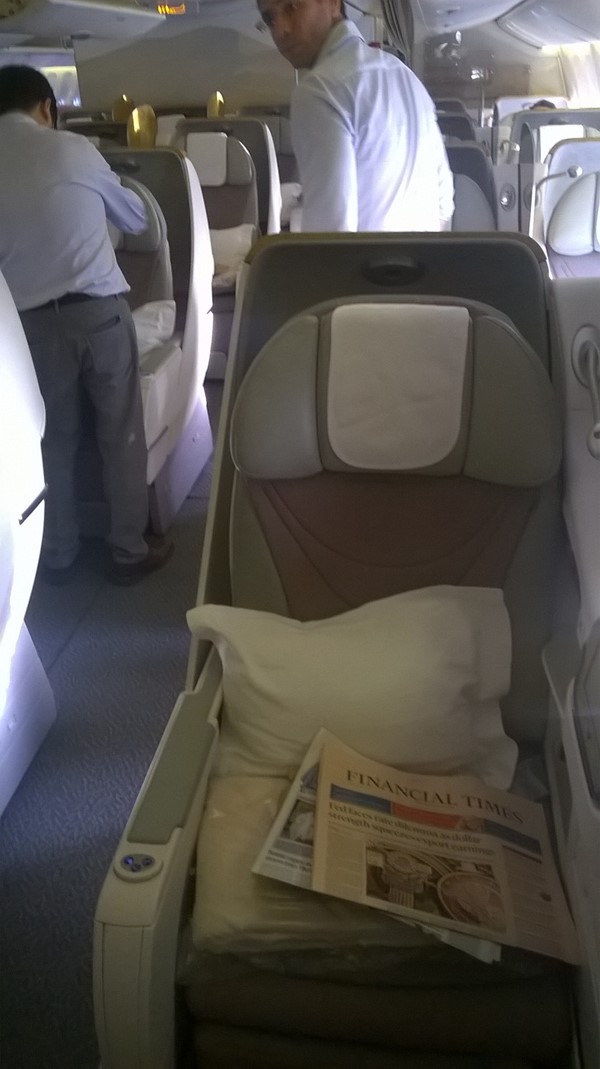 And we are in the air with a TOTALLY crowded Business Class section – seems we have a delegation (business/political?) from Tanzania. Alas – Bing Search didn't come up with anything, yet.
Every seat is full. Expecting service to be a little less attentive than on the first leg, but breakfast is served: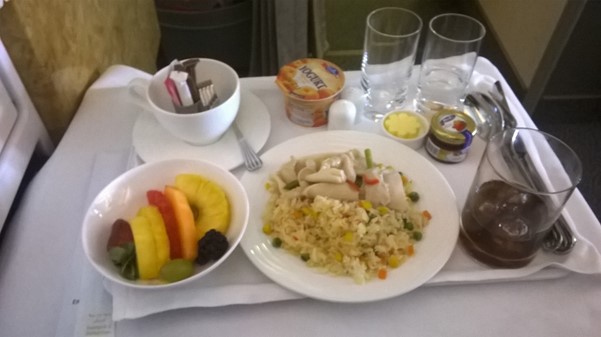 Not feeling 100% this morning – maybe too much fun yesterday?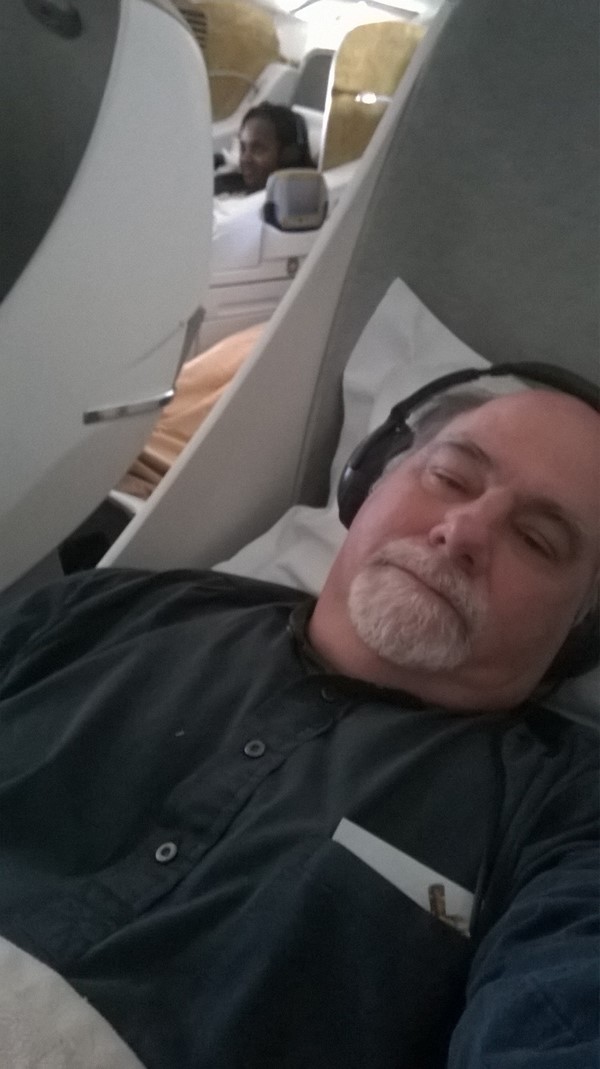 At least it isn't coach. No lunch picture, slept a good four hours (out of the nine). No movies, just Brooklyn 99 which is a cop/comedy with one of the Saturday Night boys, featuring a gay Precinct Captain – think Barney Miller updated that is a "Box Set" which means that you get the entire season that plays ene-to-end, unfortunately with the same annoying commercials between episodes.
I was a little worried about arriving in Tokyo – as I'm carrying things I probably shouldn't:
Couple of pounds of low carb flour
Couple of pounds of some hulled grain
Business Documents
Last known copy of an erotic photo from 30-years-ago of a mutual friend (that Swanda had in his bathroom for years, and I had in mine for years before)
All that was for TokyoDave, as well a couple of pairs of underwear he left behind on his last trip through.
But no problems – just got stuck behind someone with paperwork problems which delayed my arrival into the arrivals hall which was my other worry…what about this famed "car service"… but there he was, with his clipboard in hand, waiting for me.
That would be Mitsuru – my driver for the evening: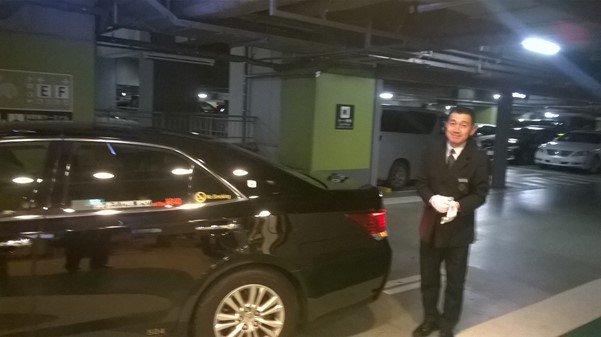 And off we go into the city!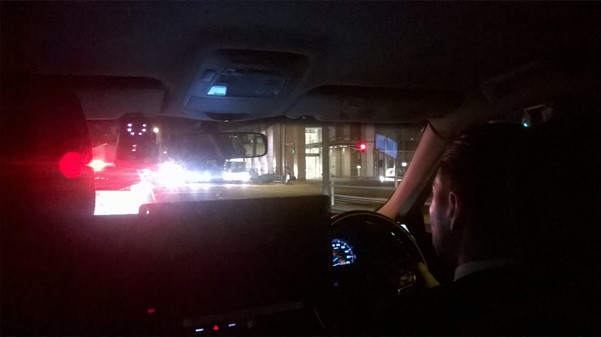 To TokyoDave's place, with a warm futon (after a couple of glasses of Bourbon).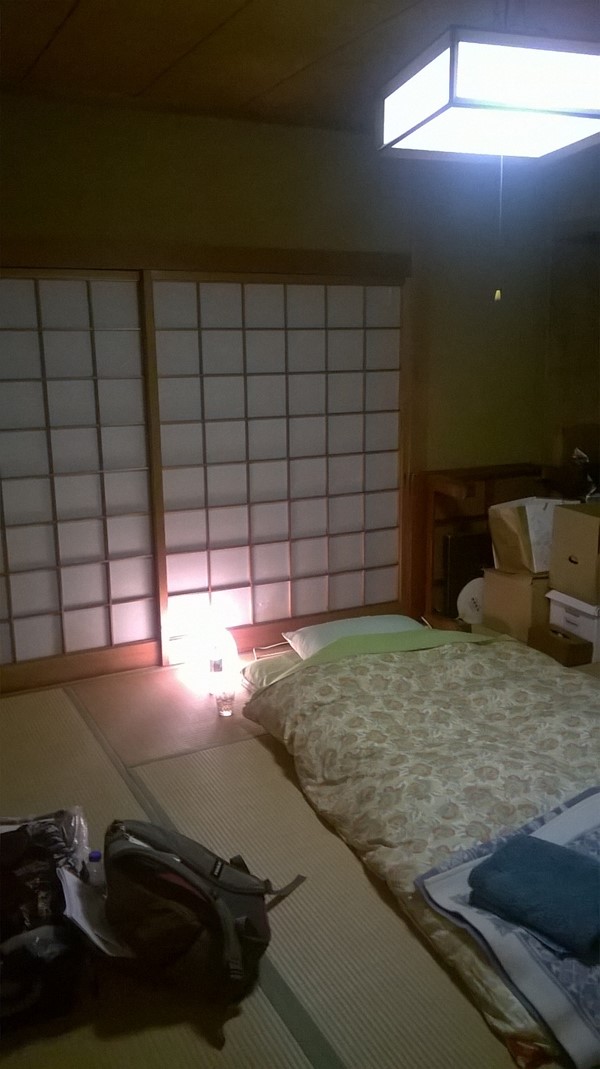 I am blessed to have spare bedrooms in two different places in Tokyo with exPat friends of mine (alas, the other is in Portland at the moment dealing with his aging mother).
[? ? ?]