Julian works until 8 tonight (usually 9) so that was the reason for the late train to Nagoya – and it takes him 35-45 minutes to get from school (he teaches English) into Nagoya. Nagoya Station is crazy busy, even at 8:30 at night: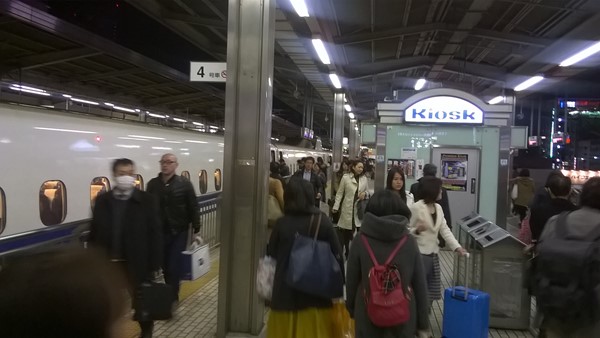 Bright lights in the big city…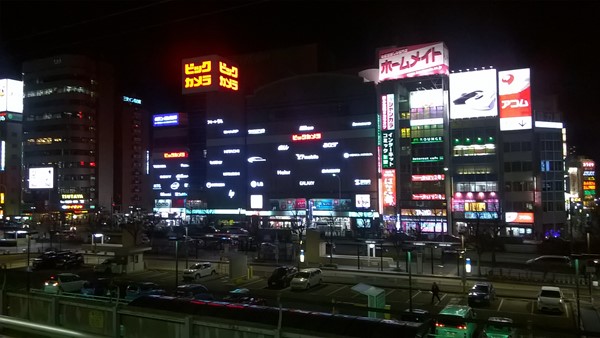 But Julian is there at the appointed time (8:50) and at the appointed place (under the Gold clock at one end of the station, not the Silver clock [with gold trim] at the other end):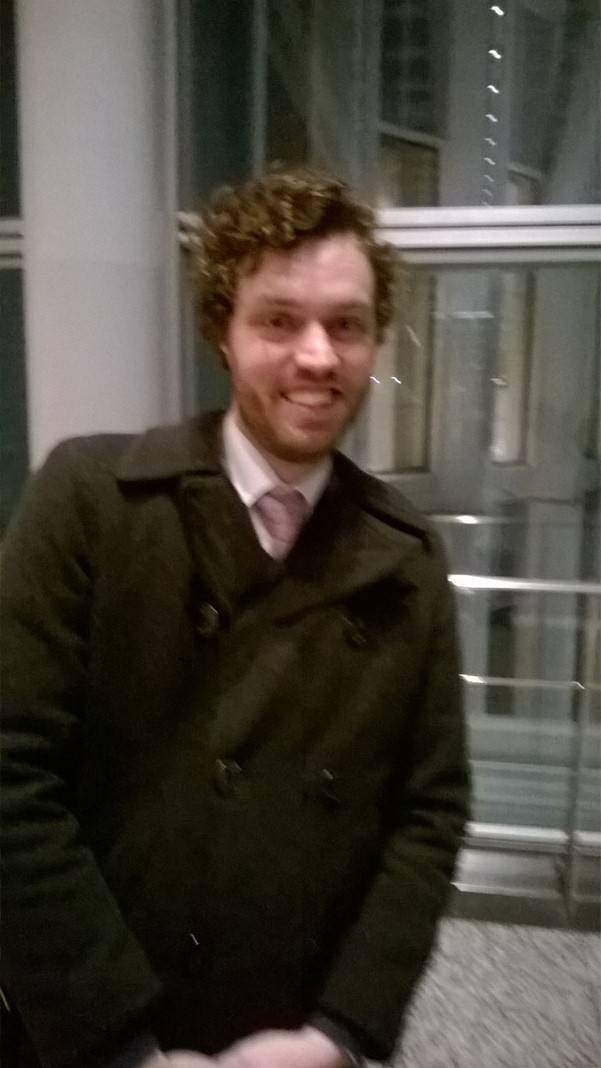 Yep – he wears a tie to work, even with the preschoolers. He teaches MANY different age and abilities. Off to dinner we go…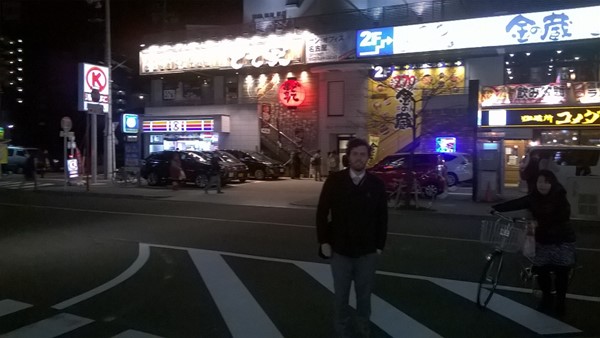 where you can order from their massive menu at a screen at each table.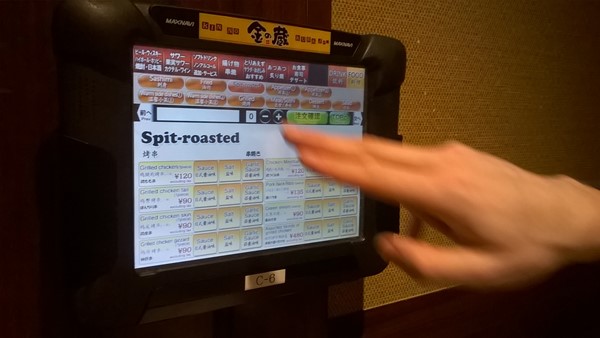 I must have been hungry because there are no food shots, nor the beer and sake…
One the way back to his apartment – which is in Komaki, an in-the-sticks suburb according to Julian because it takes two transfers to get anywhere – I saw this nice bank of vending machines. Even in residential areas you will find them basically on every corner: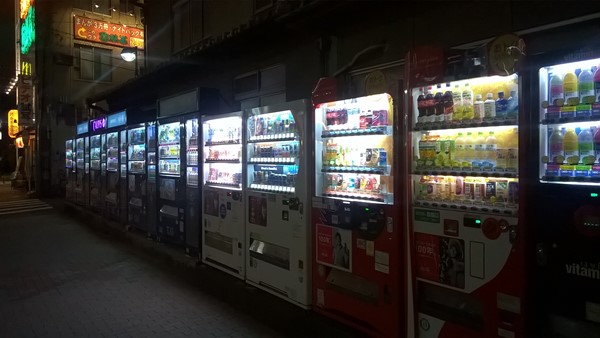 Guess I should get a day shot of this!
Welcome to Julian's Dorm Room – technically a studio apartment, but it being furnished, it has the feel of a dorm room….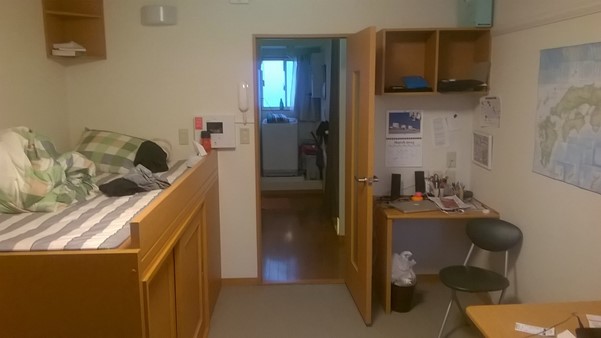 Past the door is the kitchen, toilet, shower, washing machine. Even the outside of the building looks industrial: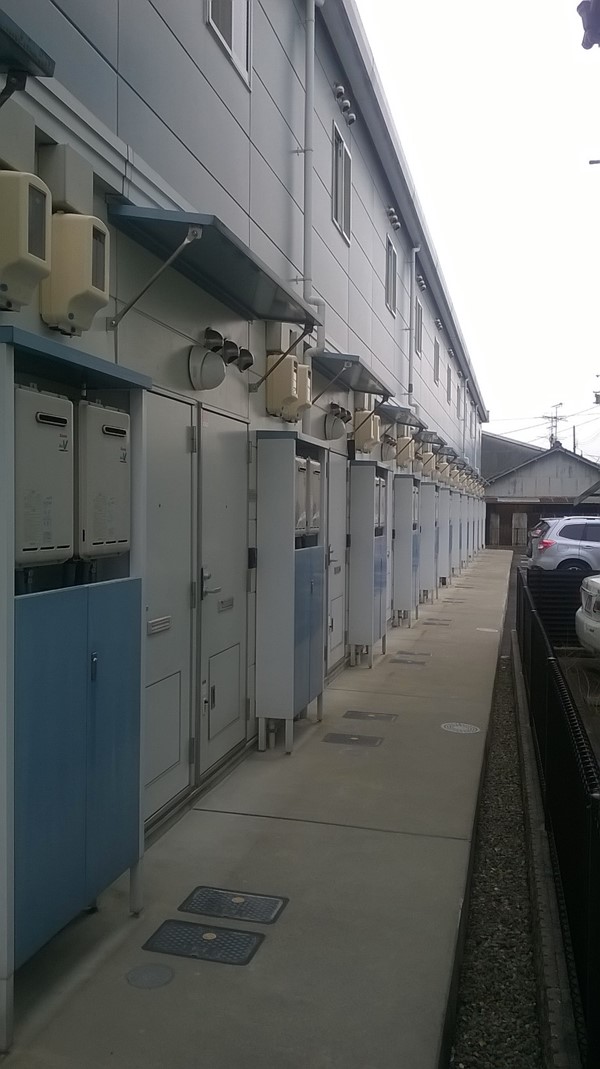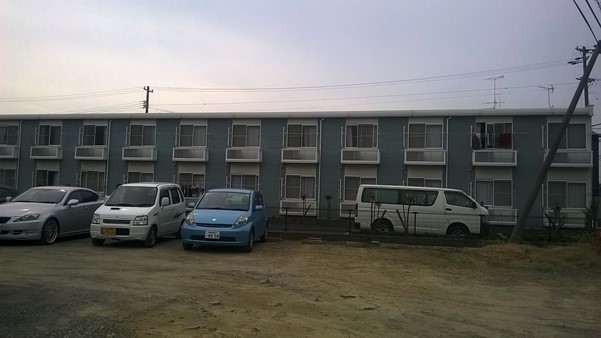 Stayed up too late catching up, (as we did in Portland as well,) luckily we don't have an early day tomorrow.
Breakfast this morning: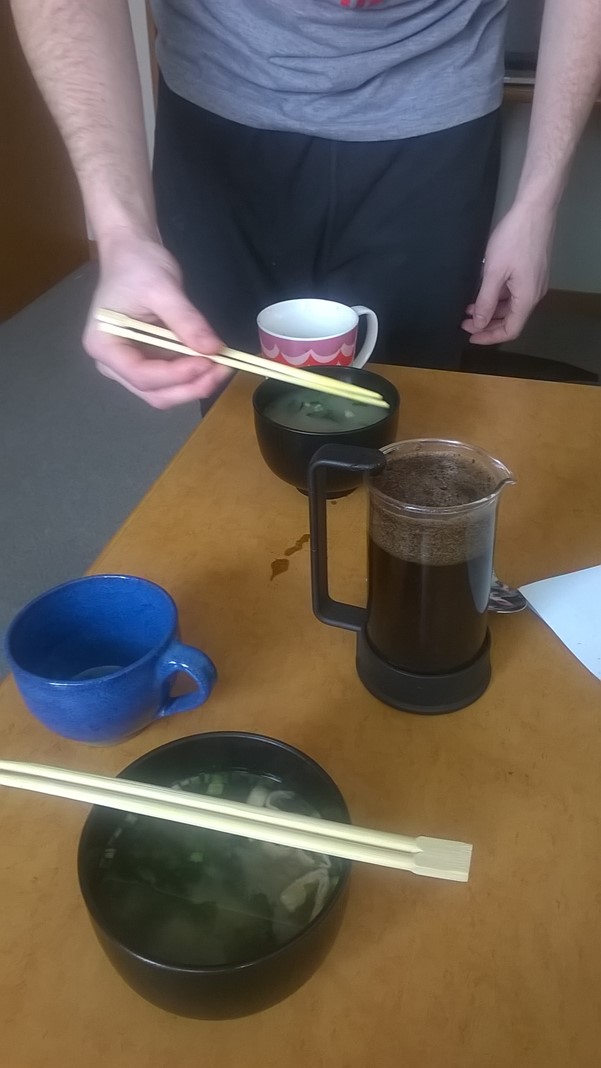 Miso soup with a side of coffee.
The main reason for the timing of this visit is to see the Hōnen Matsuri – the fertility festival held each March 15th in Komaki. You can read the whole Wikipedia at the link to the left, or here is the "bite-size" bit:
Hōnen Matsuri (豊年祭?, "Harvest Festival") is a fertility
festival celebrated every year on March 15 in Japan. Hōnen means prosperous year in Japanese, implying a rich harvest, while a matsuri is a festival. The Hōnen festival and ceremony celebrate the blessings of a bountiful harvest and all manner of prosperity and fertility.
Luckily we aren't headed there for the entire ceremony, just the final procession.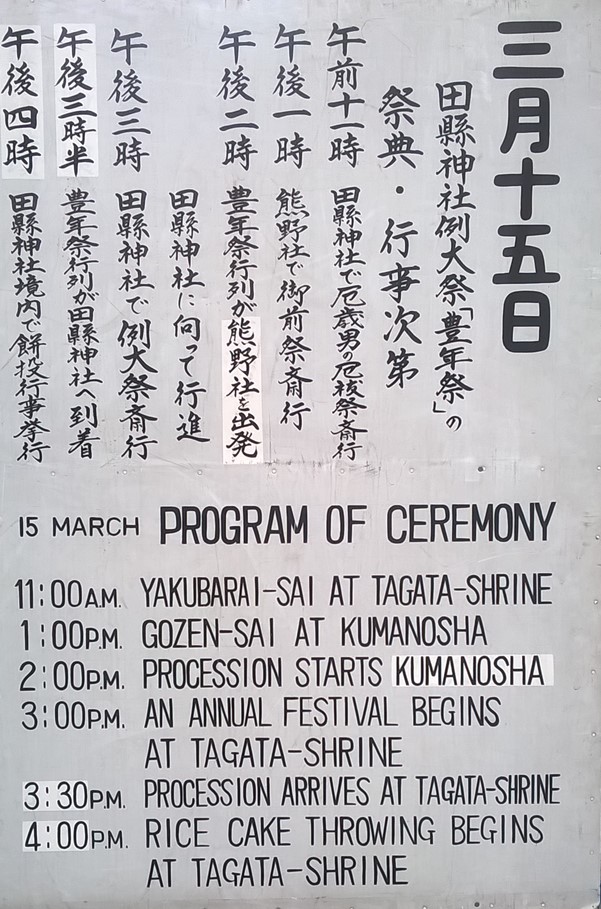 As you can tell by the English on the sign – LOTS of Westerners (gaijin) attend.
Yep – there was a parking lot full of us: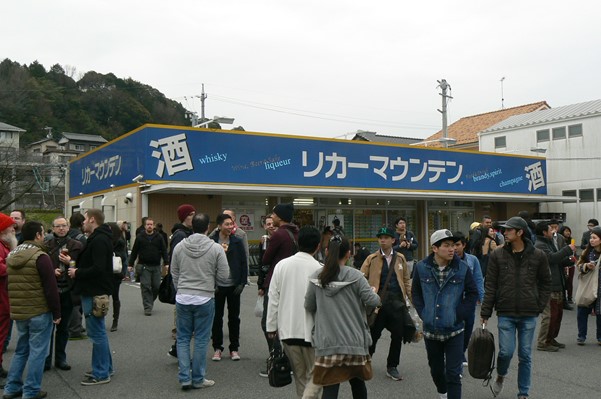 What parking lot, you might ask?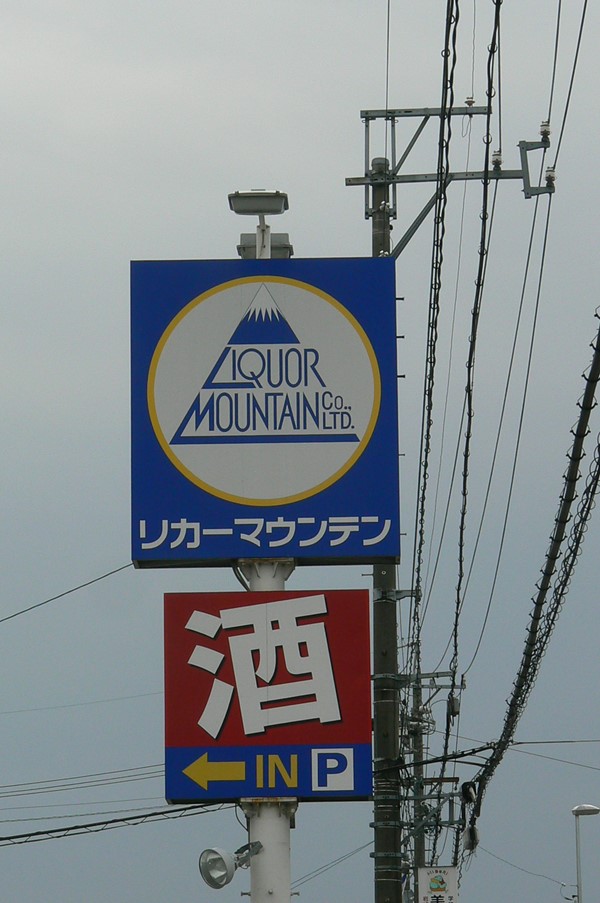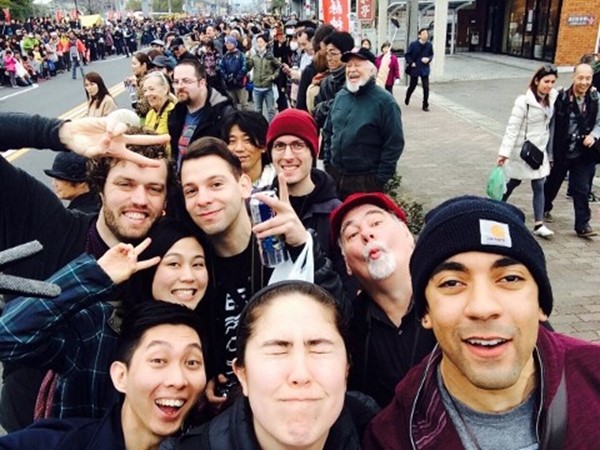 That's when I realized this was going to be a long day. Yep, a looonnnggggg day of drinking, luckily with no driving: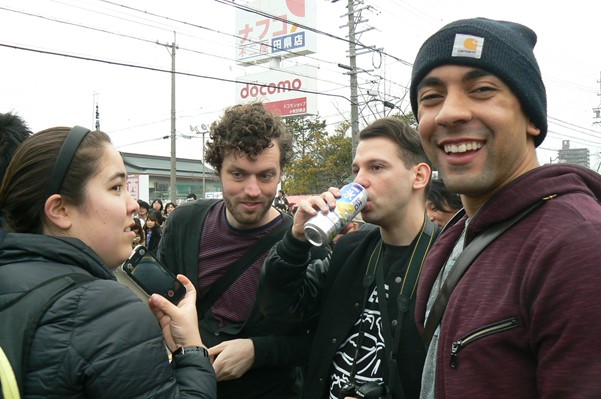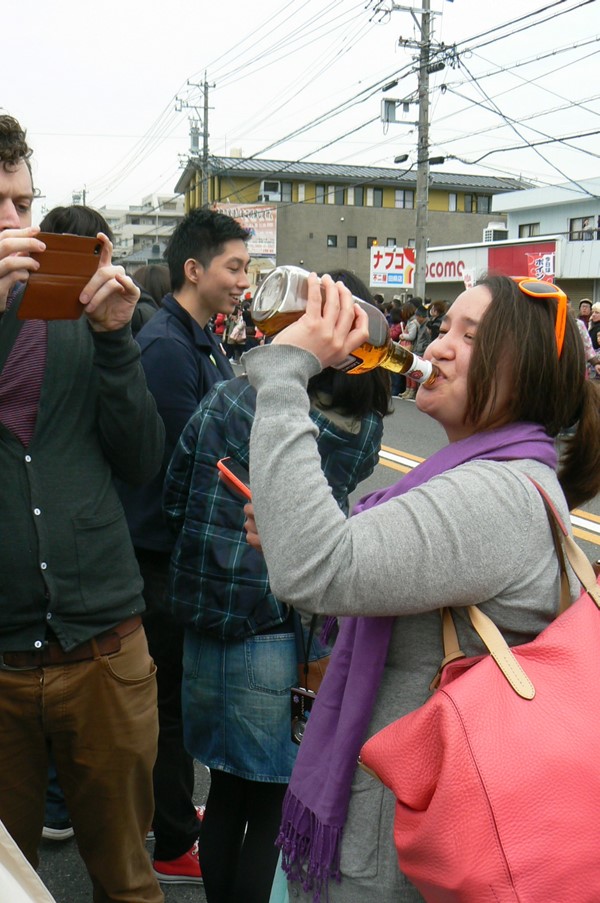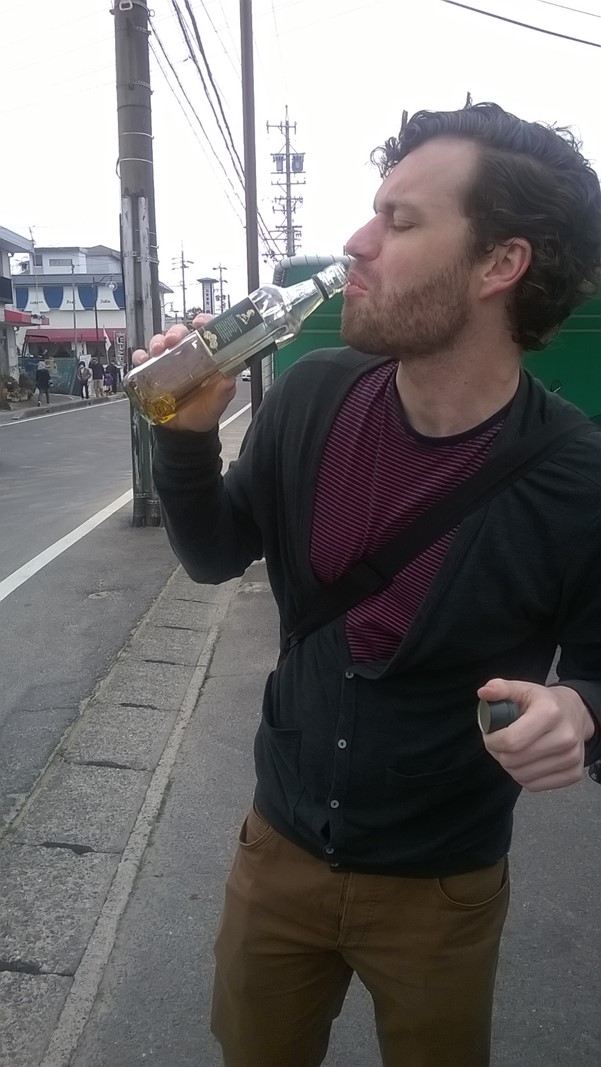 So I joined the fun and picked up this fun little number….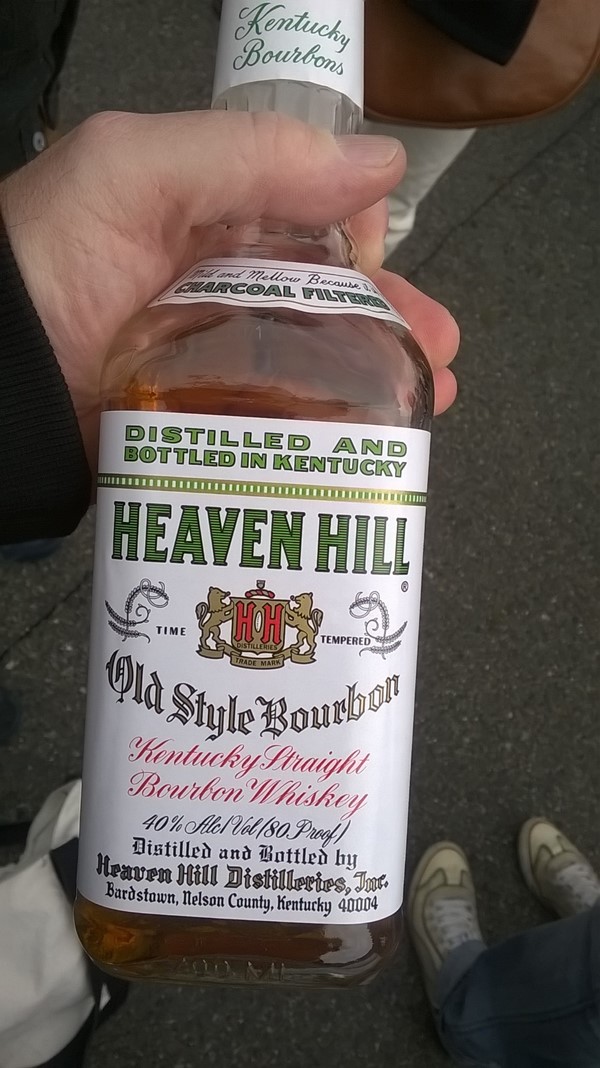 Until I did a little research on this bourbon (Heaven Hill), I didn't realize that it's from the producers of my favorite bourbon, Evan Williams.
But enough about drinking in the middle of the afternoon, let's get onto the phallus shots. Yes, even the candy they are selling is phallus shaped: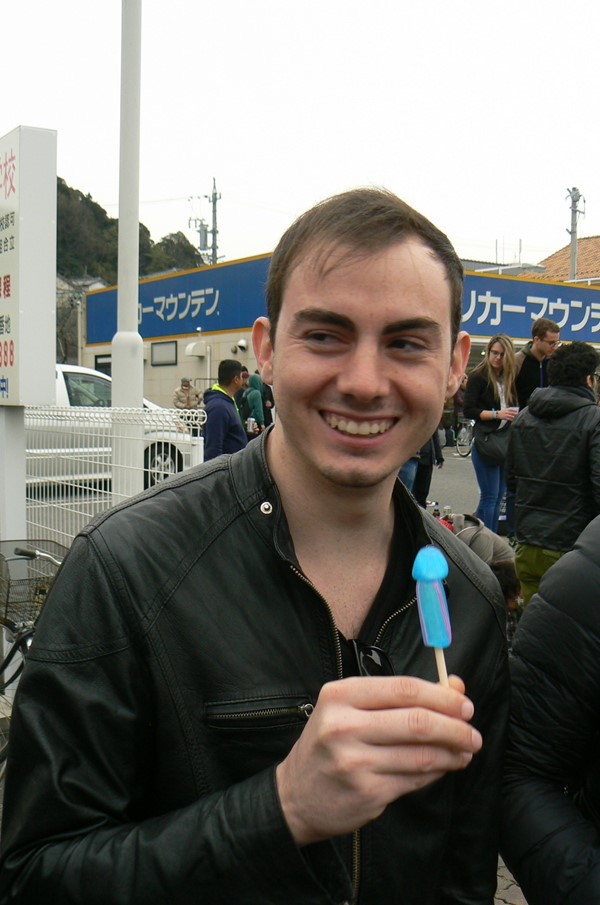 That would be Jacob – a good-old-boy from the south end of Alabama (and English teacher). Nice veins on that candy…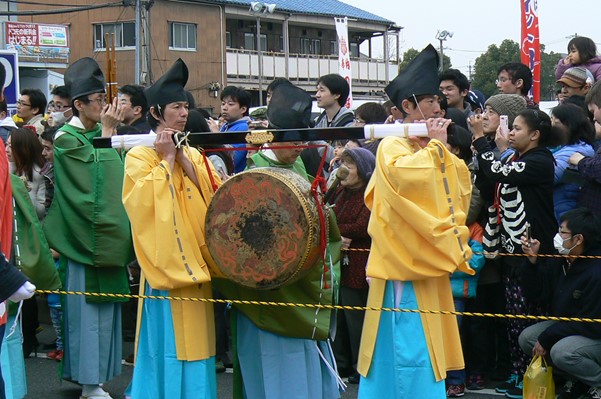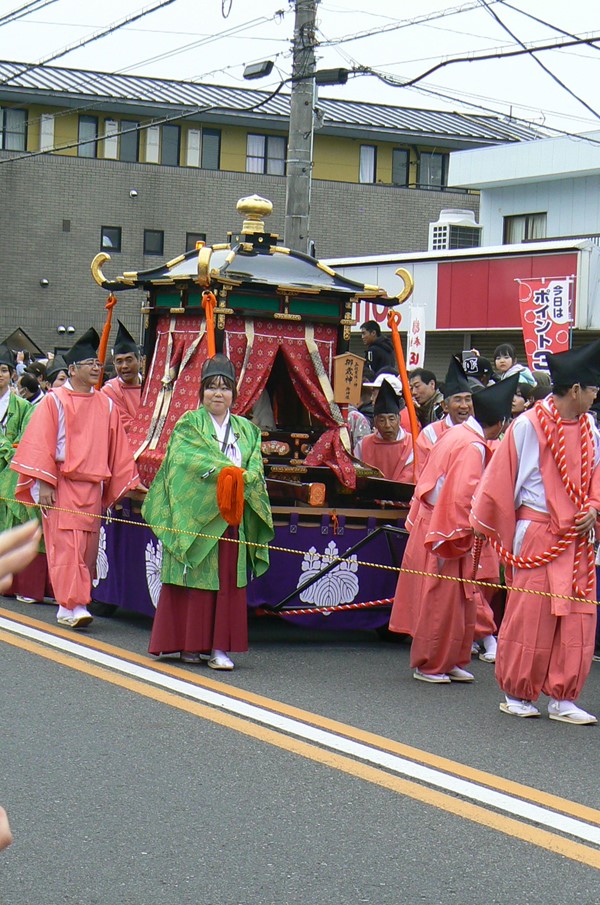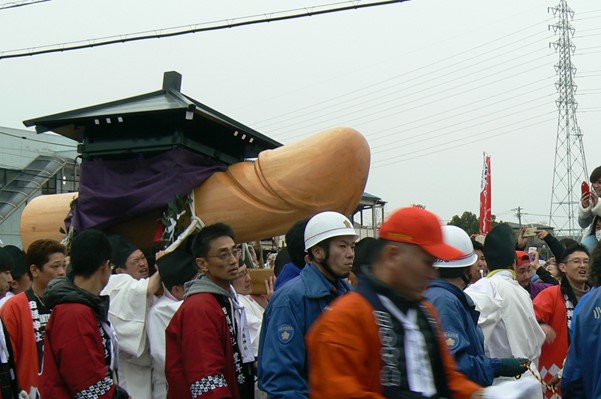 Yep, that's a big one! But it doesn't stop there, the grounds of the temple are "littered" with penis: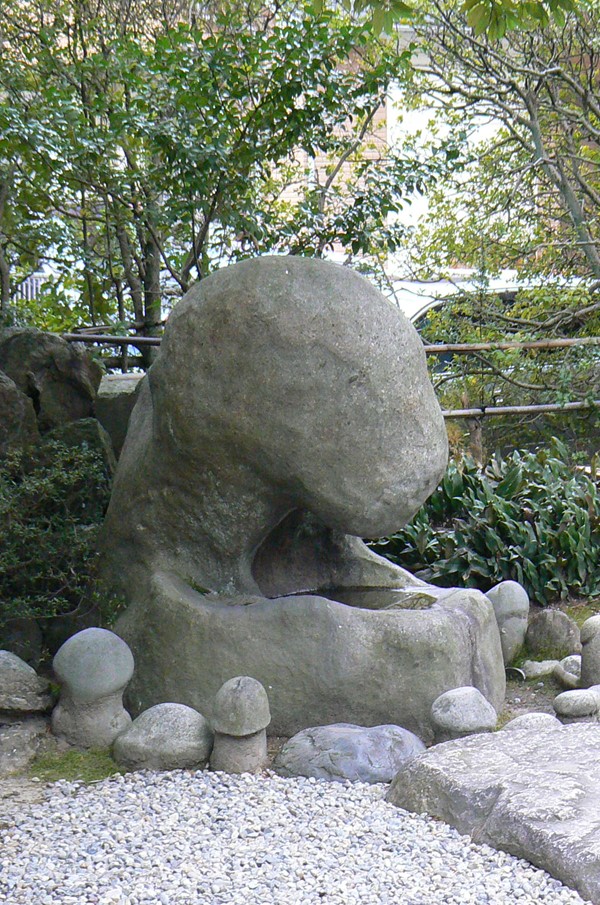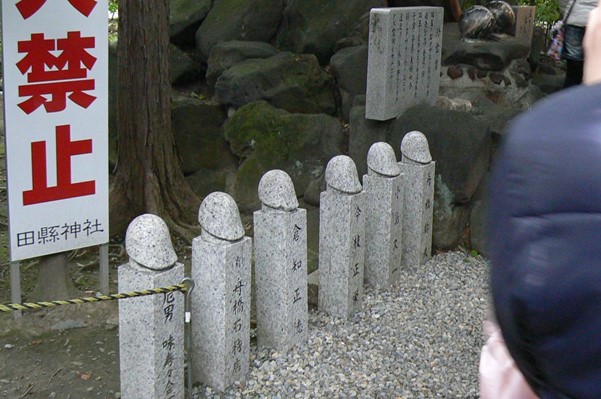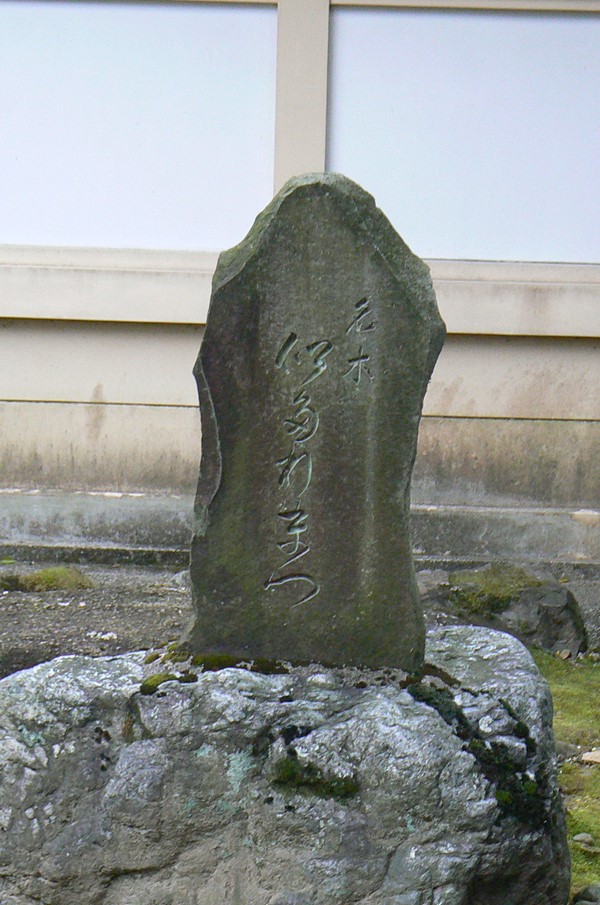 When you make an offering to this: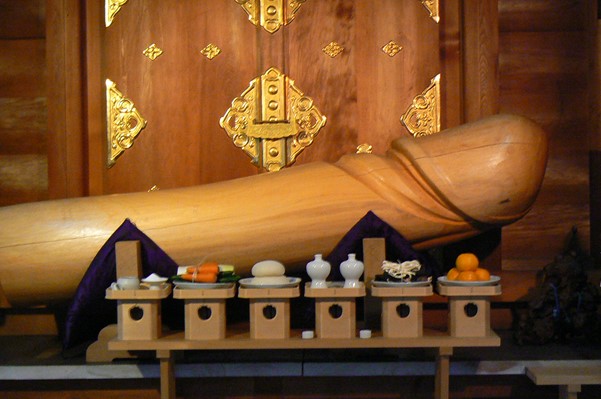 you ring this:
Gives new meaning to the phrase: Ding Dong.
EVERYBODY turns up at this festival, not just the foreigners… from guitar-toting cowboys…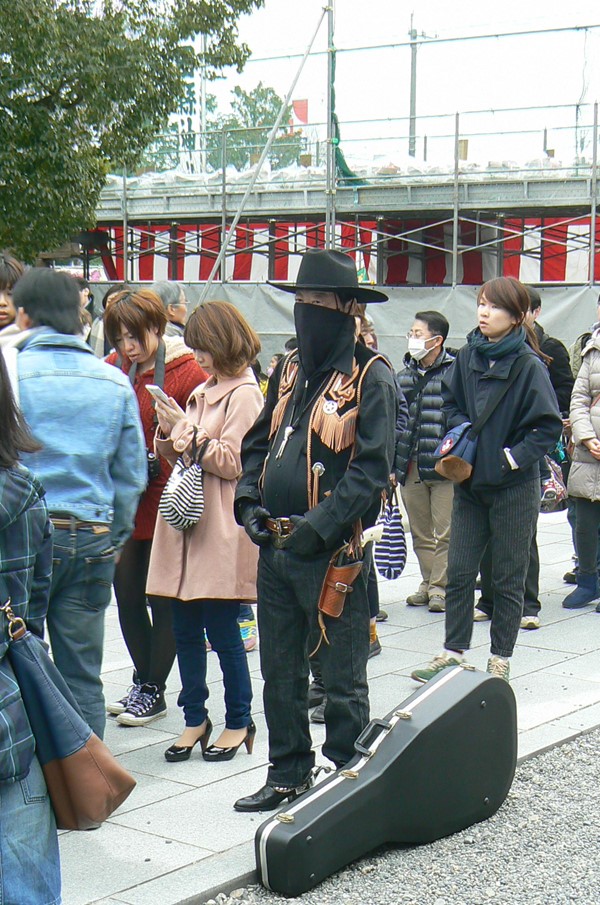 to she-males….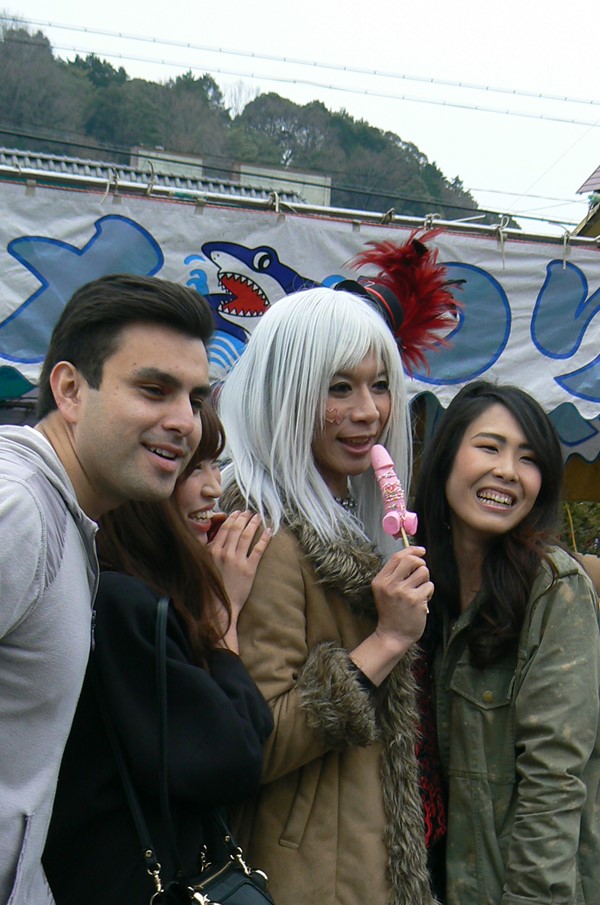 Yes, even the bananas are suggestive…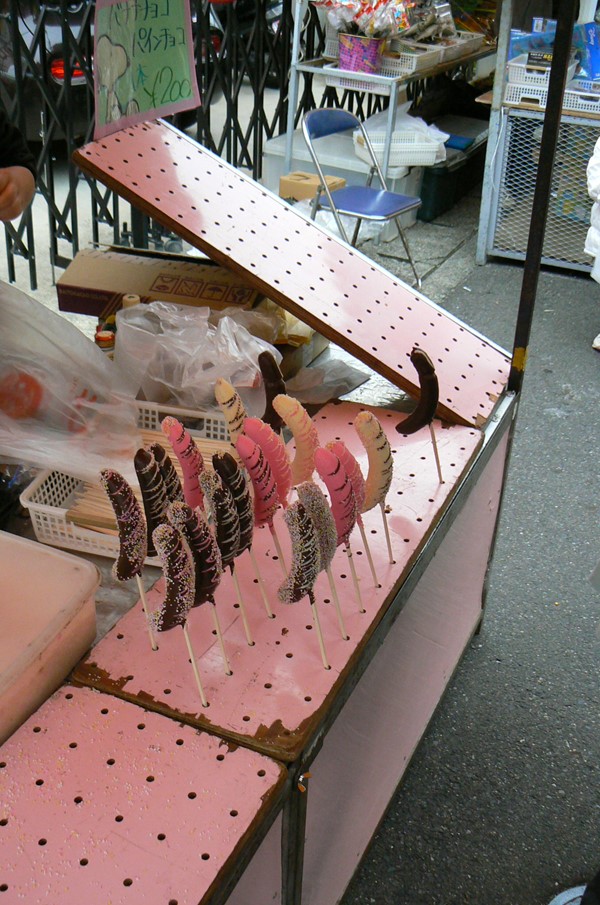 And yes, I had one. And bought lots of cock souvenirs.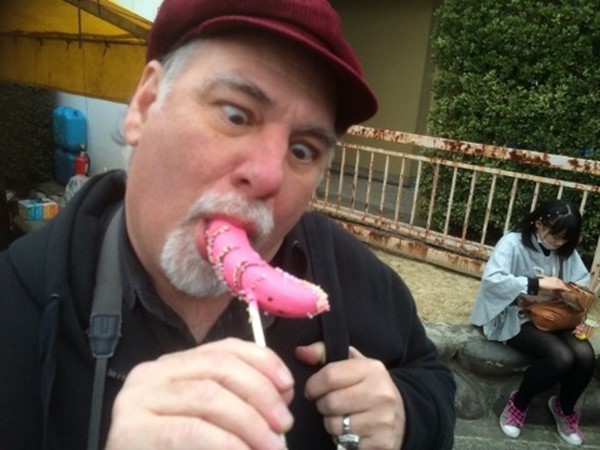 Before we move on, I have to share one video of the ceremonies:
To show how far we slid by the end of the afternoon (and because I think Jacob is cute):
Needless to say – we needed food after all this (other than bananas and penis pops)…so off we went to a place close to Julians.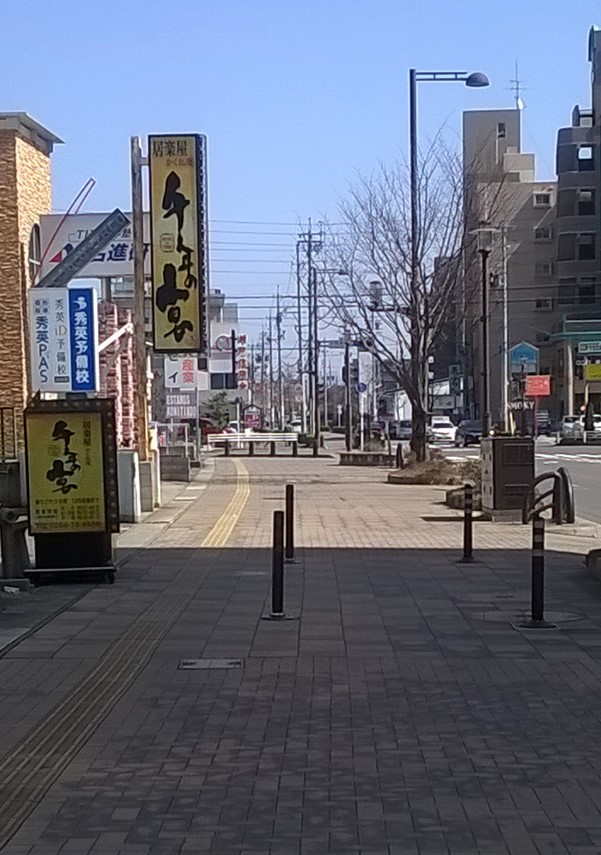 We were a decent sized party of over eight….and ate we did…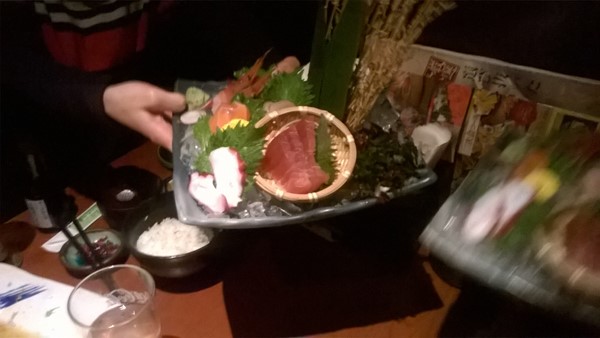 and the disaster we left…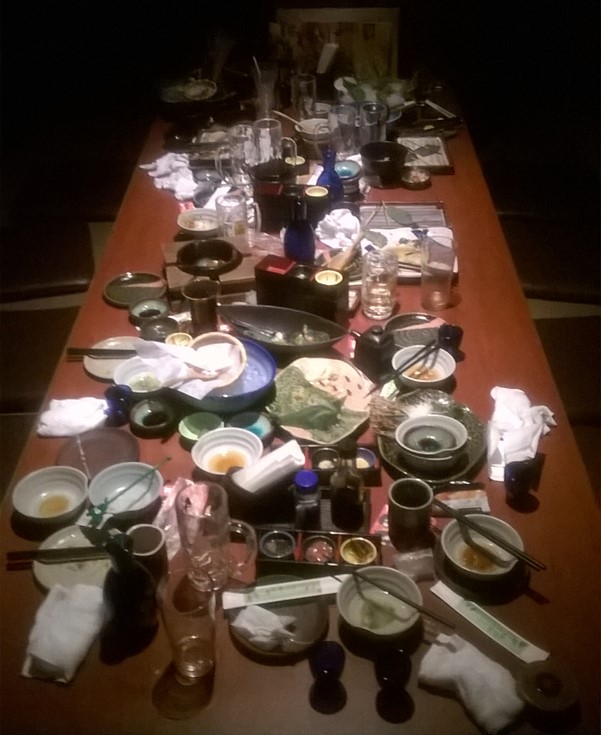 Another long night, because we were out of booze at home, so we swung by the local mega-store for some mega-booze. At this point my feet were KILLING me, and Julian and his girlfriend were kind enough to wheel me around the store….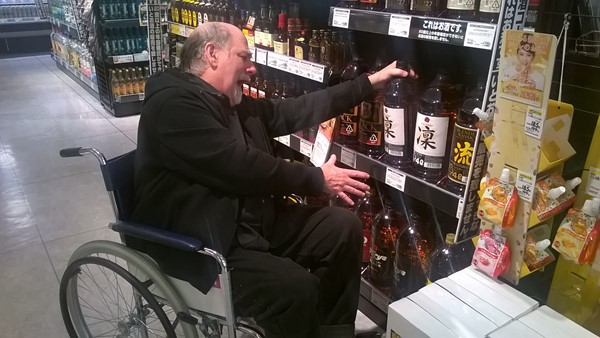 Just for reference, that is a shelf of 4 Liter booze bottles. To compare sizes, we have this illustrative photograph: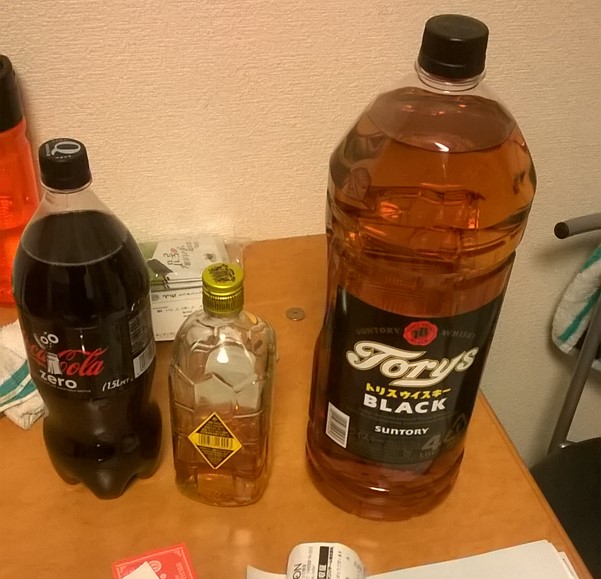 1.5 liter Coke Zero, 700ml Suntory Whiskey, 4 liter Suntory Black. The four liter bottle was $24, which my EuroFaerie friend Karl pointed out is only .15 per unit of alcohol. That should keep me through my visit, with plenty of leftovers for Julian. Of course, that might be the ONLY thing in Japan that is cheap.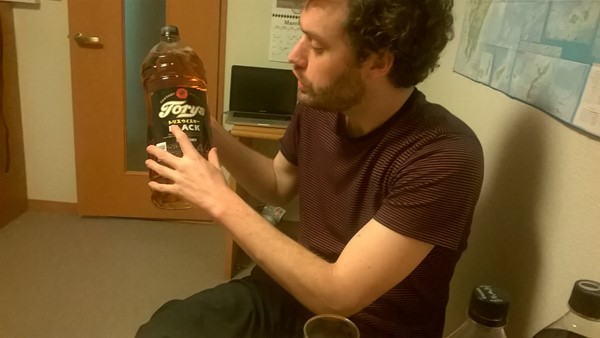 Another long evening…but this time we have to be up and out by 9am because we have a 10:30am reservation at the Asahi Brewery. Feeling the effects of last night we take the wrong train, leading to a 20-minute walk to catch our connection…and then catch the express rather than the local and have to turn around and catch a local back, and realize that the "10-minute walk" from the station is more like 20+ minutes….and surprisingly we were only 15-minutes late for our Japanese Language tour of the plant. We arrived at the same time as a bus filled with seniors – but to our amazement, an English-speaking tour guide came to our rescue!
Here is an aerial view of the complex: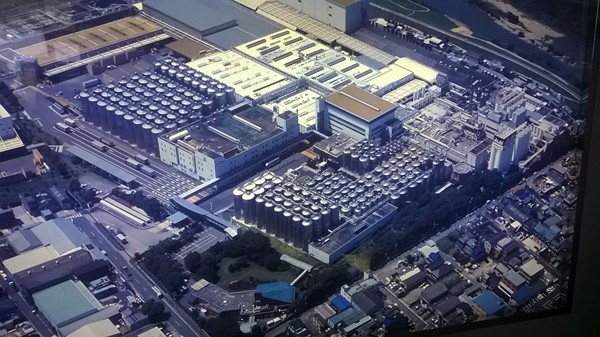 and our tour guide: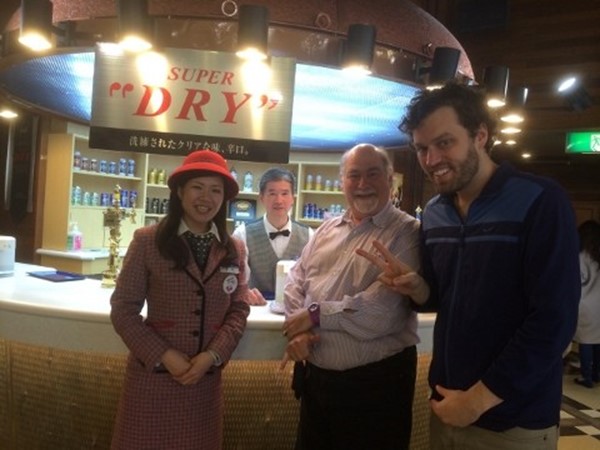 and us enjoying some pre-noon free samples.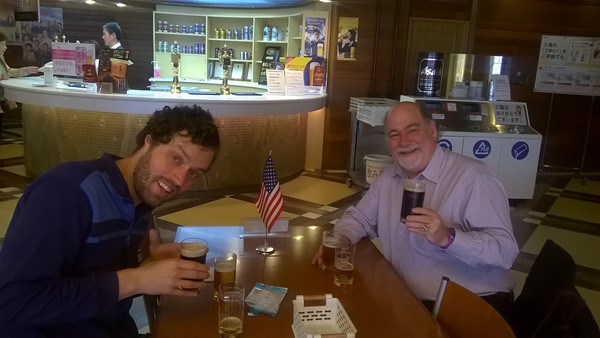 We were both hobbling on the tour, Julian from his recovering broken leg, me from some swelling at the ball of my left foot – she enquired if we'd like a cab back to the station in Japanese. Had she said it in English I would have said "hell, yes", but alas – we walked back the 20 minutes.
Then I broke my own rule (for the second time this trip) – no more than one tourist attraction or event in one day.
Off we went to the SCMaglev and Railway Park to continue on the transportation theme of this trip. We were beat by the time we got there – at the end of a train line through the industrial heartland of Nagoya.
It was a cool museum, though Julian spent a good hour sleeping in one of the train cars. Sorry, no picture. HUGE museum with lots of displays: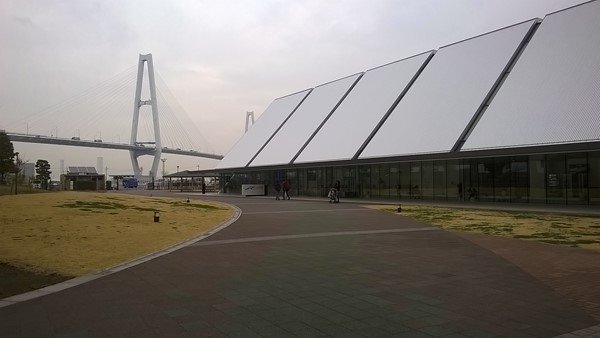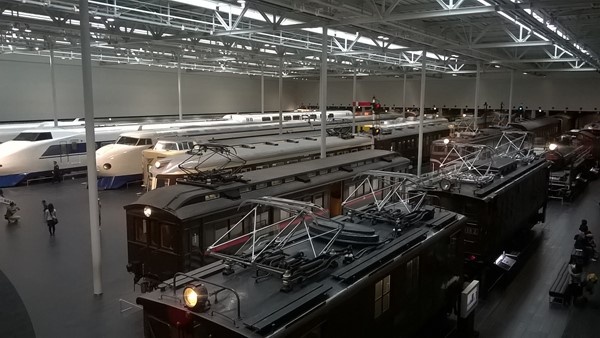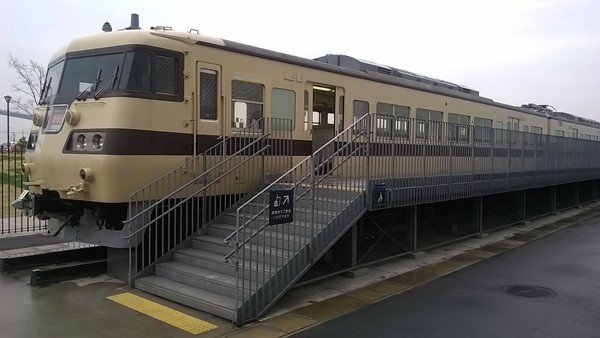 What I found interesting was the interiors of the previous generation of Shinkansen trains…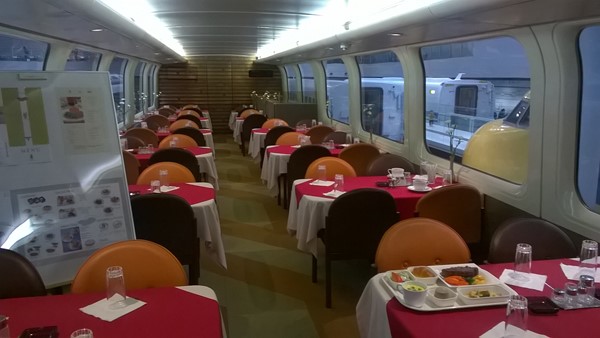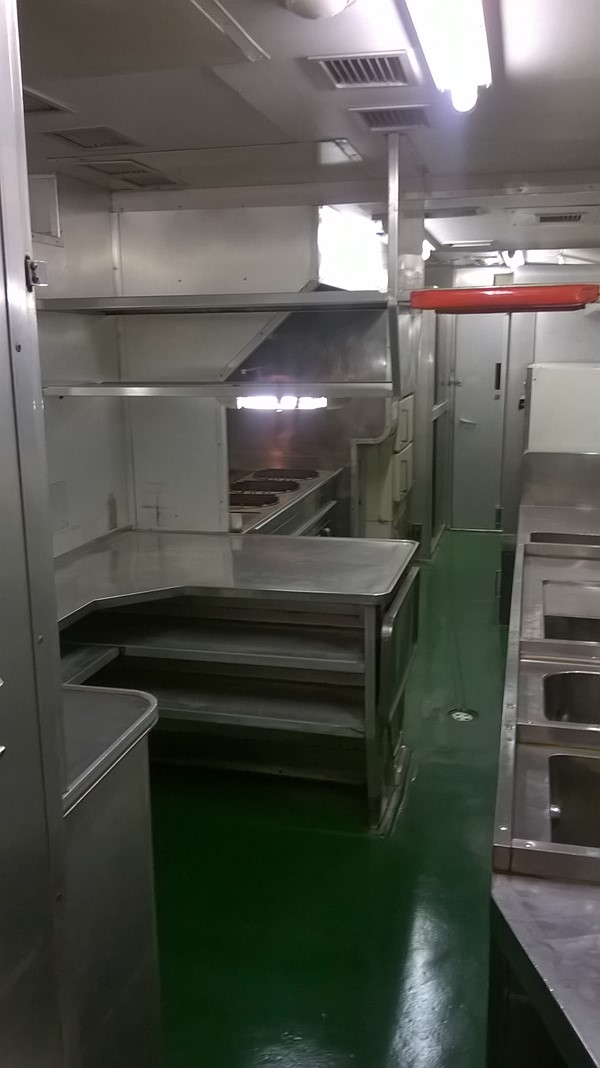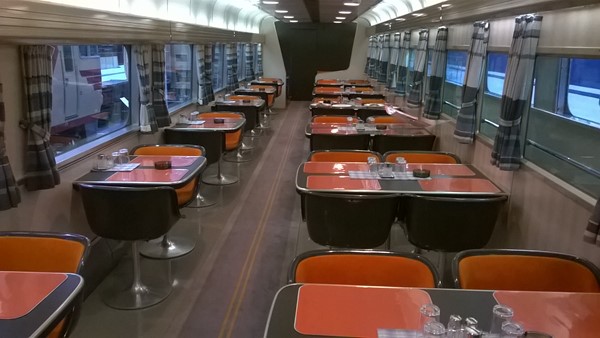 And yes, they did have a huge diorama/model train set-up as well…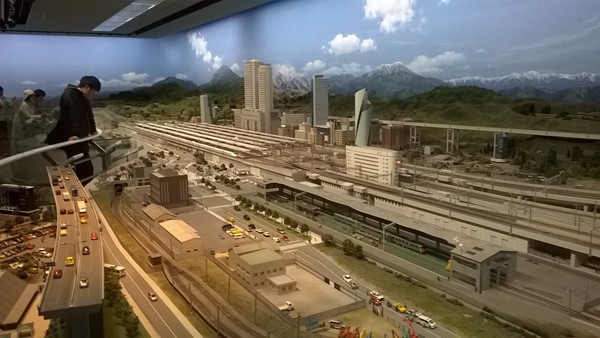 Caught the train back into the city and killed a little time before meeting up with the girlfriend and other friends for dinner – this time, a cook-it-yourself kind of place: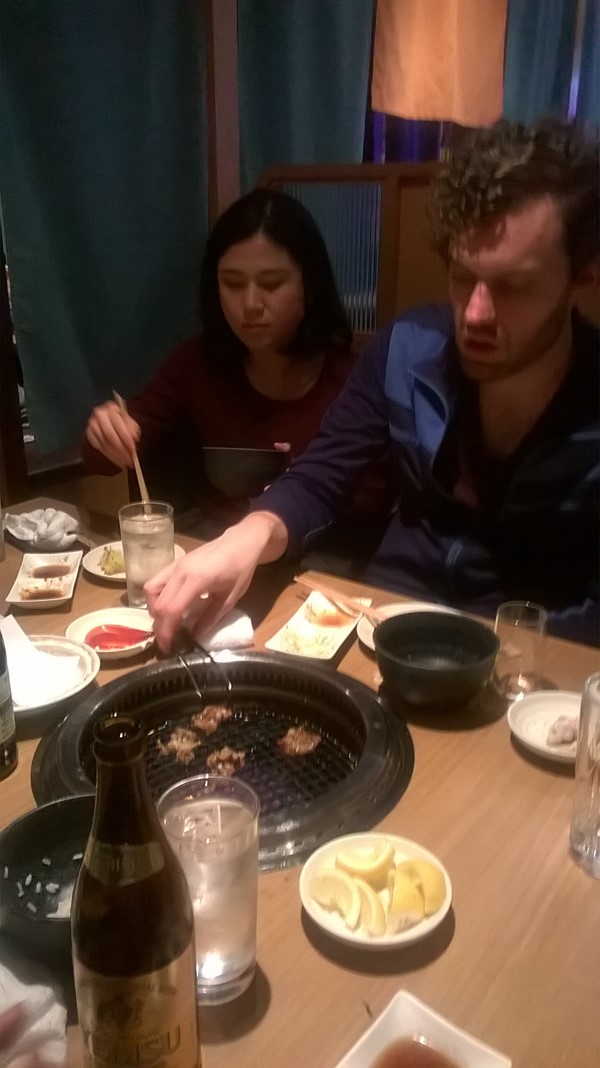 By the time we got home, we were totally beat – and Julian has to work tomorrow, though luckily not until noon.
As for me – I spent the day hobbling into the city center of Komaki to do a little exploring, a little shopping and indulged my "once-per-international-trip" US fast food stop: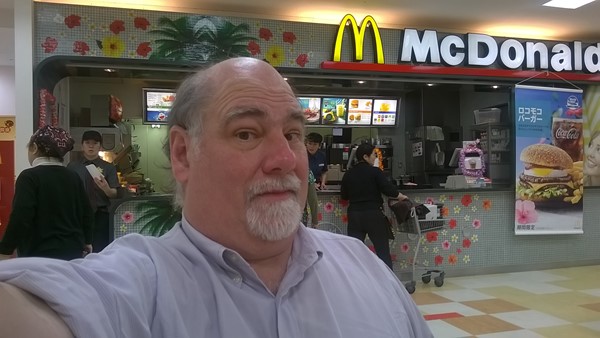 In the same department store of Ronny Macs, there was this "odd" display of which I am clueless, but it did warrant a picture: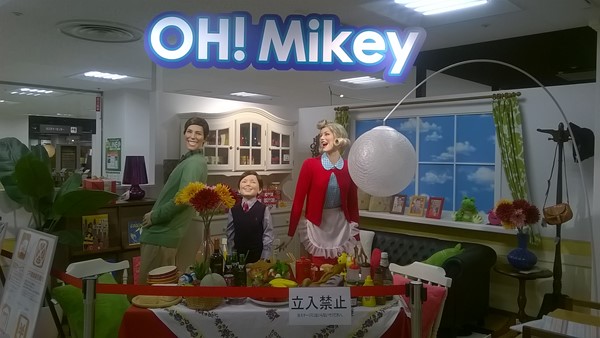 Like some bad 50's dream…but I did come back with the fixings for dinner: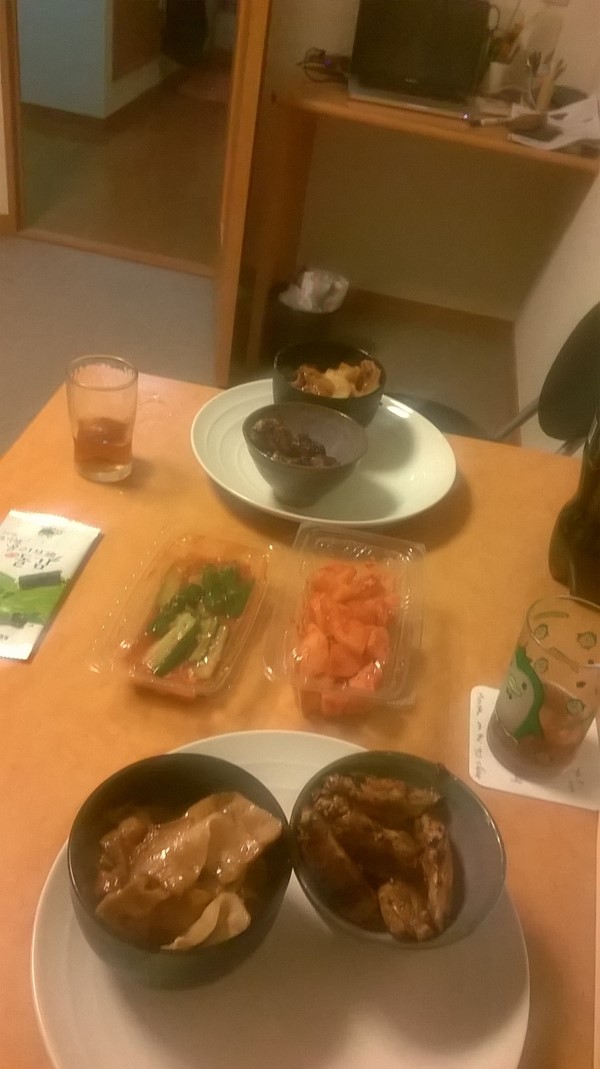 That would be stir-fried pork and chicken bits with a couple of kinds of pickled vegetables with a bowl of rice (that yes, Mr. Low Carb ate).
Here are some of my random "wandering around town" shots…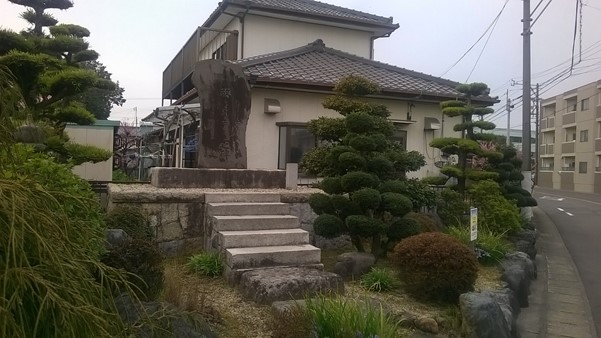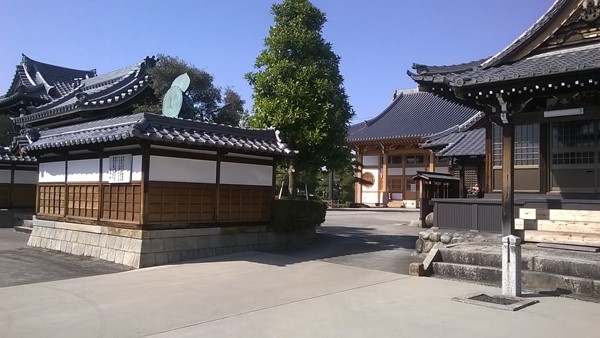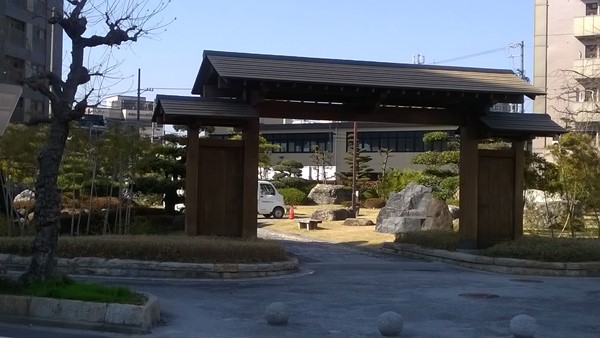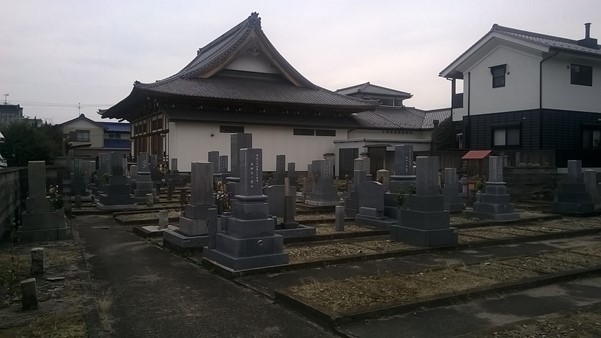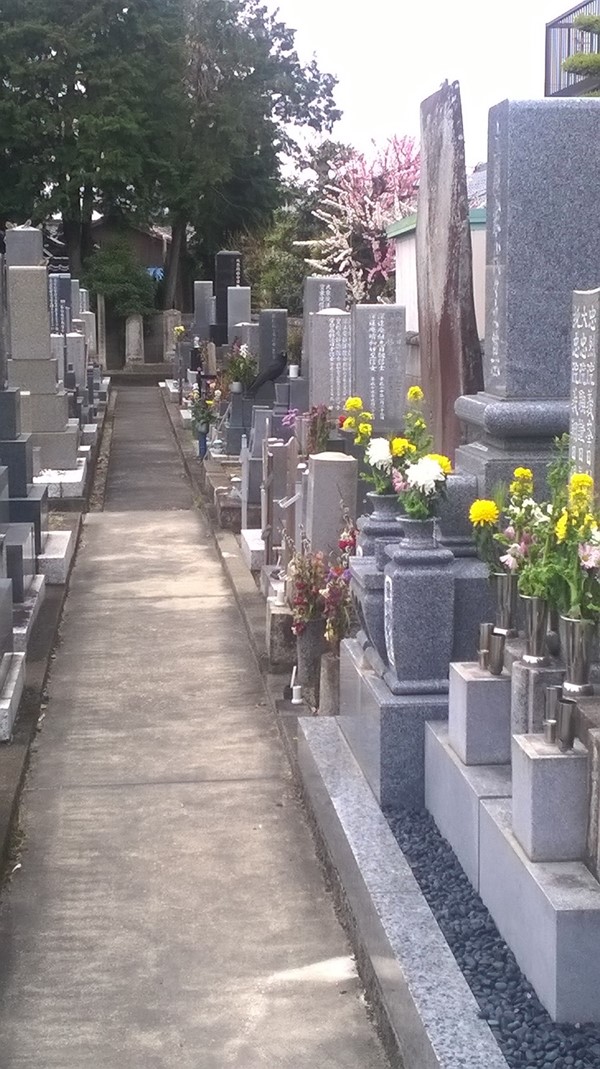 My favorite part of the above picture is the crow drinking water out of one of the flower vases…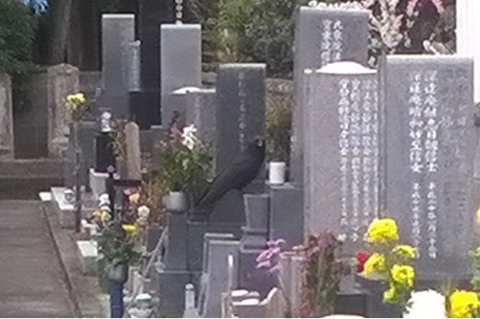 The final meal of the Komaki leg was with another of the English teachers at Julian's school, and one of their older students. We went out for more conveyor belt sushi – this time with little trains to deliver your special orders: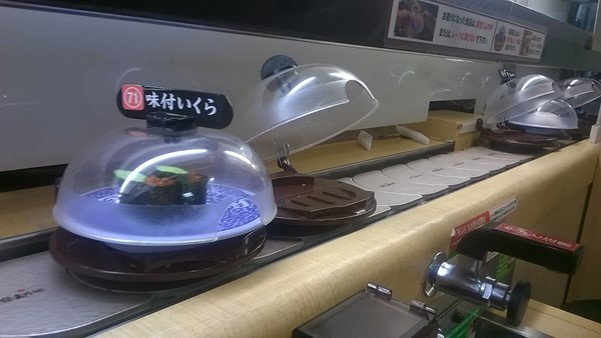 Grab from the line, or special order on the touchscreen:
And it comes on a different little train that stops only at your table: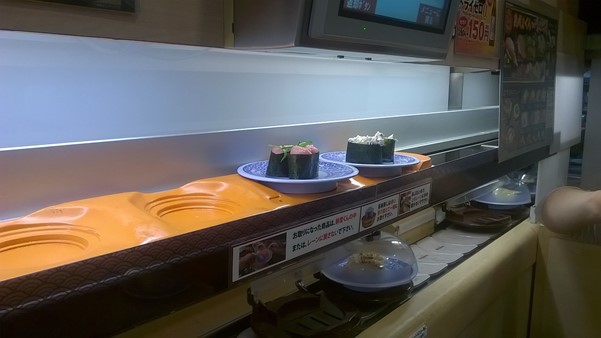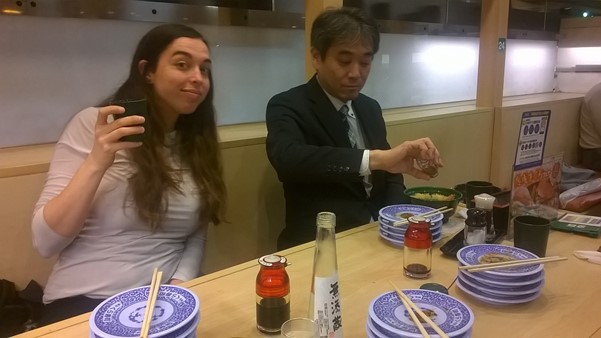 This is the stack of plates for the four of us…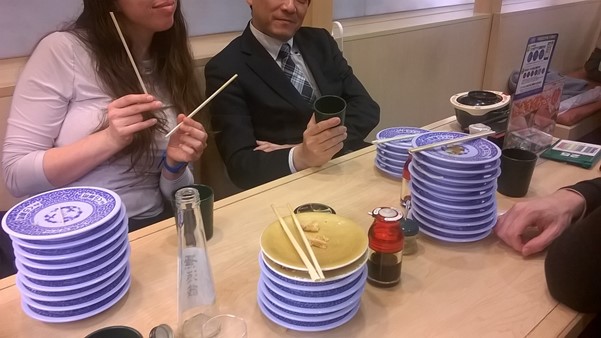 And when you are done, you slid them into the slot in the table where they are automatically counted and added to your bill: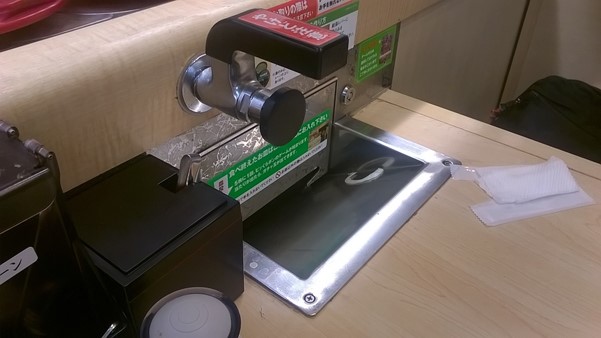 Other than pouring down rain (a BIG thanks to Julian's student who gave us a ride home) it was a perfect cap to an evening – and we even put a pretty big dent in that 4 liter bottle of whiskey…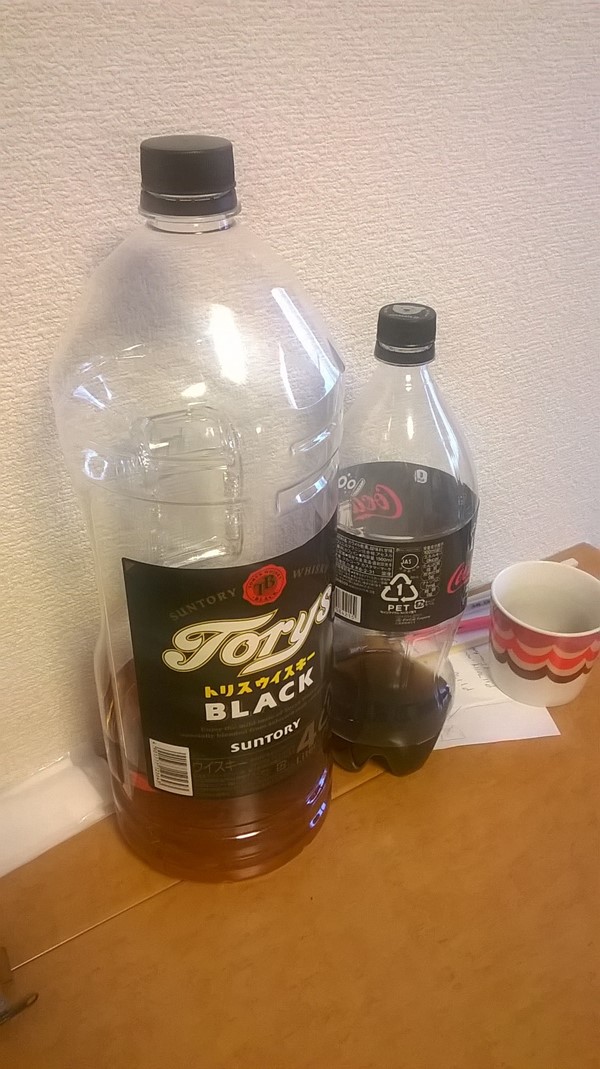 Out of the house a little before 10 to catch the train to the airport for my 2:45pm departure for Narita, connecting to my flight to Seattle.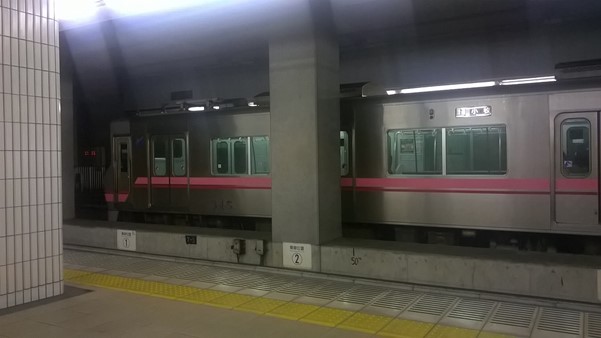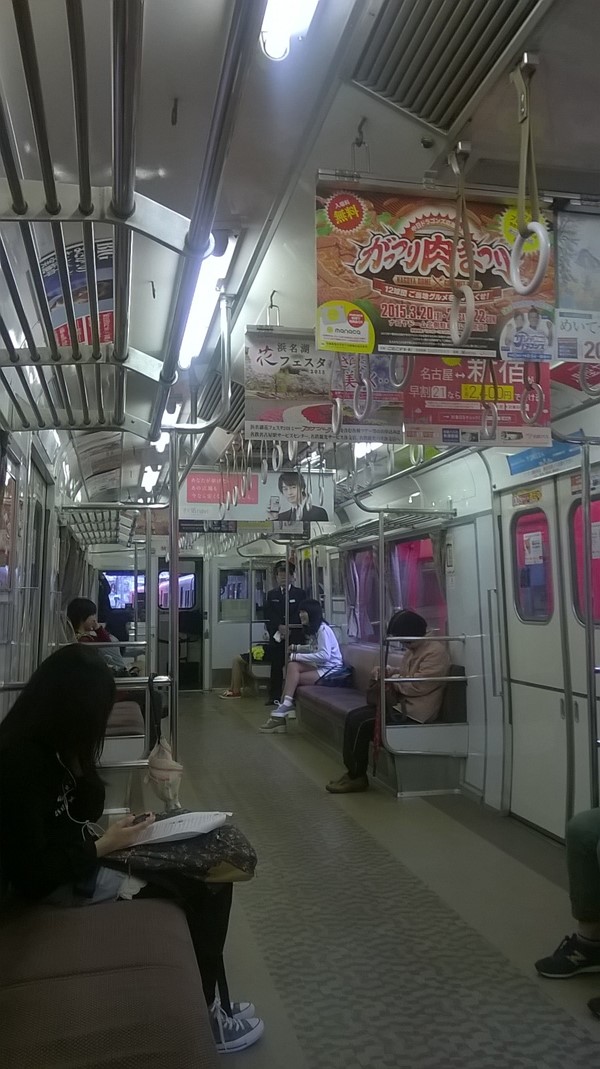 On the train, I finally found the transit map that I'd been looking for since I got here:
This map has all the various different company lines in both Kanji and English.
Only one transfer, but I'm on the slow train so basically it's almost 2 hours, but I saved 340 yen by not taking the express and going the long way with fewer connections.
Headed home.
[? ? ?]