Spring Break trip number two – another student: Jonathan. Student Spring Break trips are on the cheap: driving. Teacher Spring Break trips, frugal, but flying.
The route: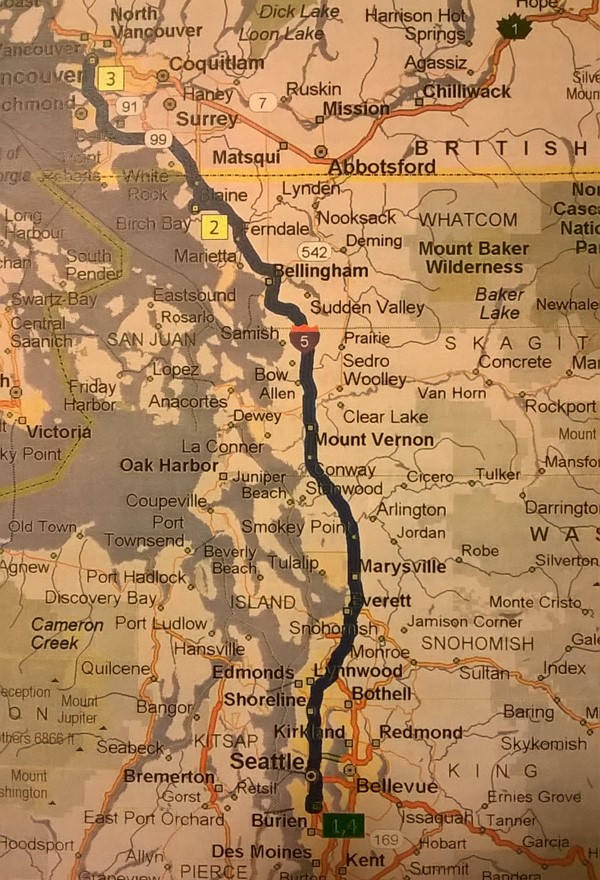 Lots of miles on the Miata this Spring…speaking of which, when you travel in a small car, forget hard-side luggage, think lots of small, squishable bags: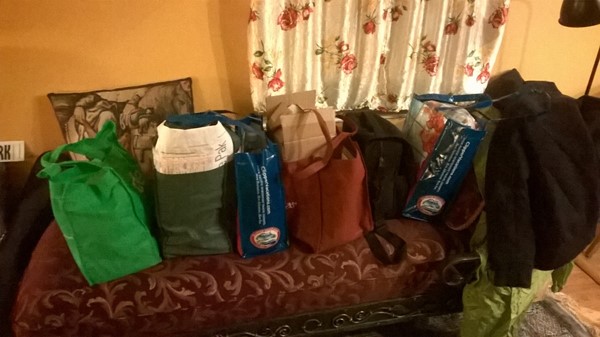 And my stuff and ½ of Jonathan's stuff in the trunk…not much room left: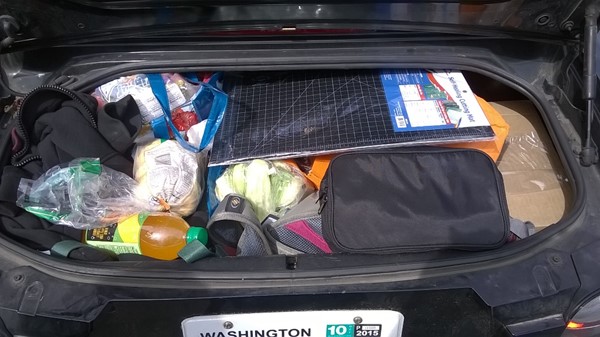 But the reason that you own a convertible is for a little Miata on Miata action…..I really don't know why they didn't have their top down: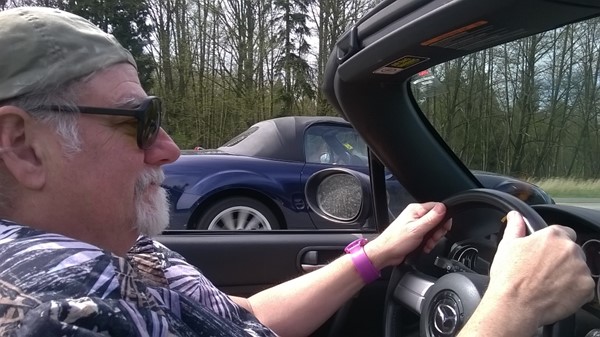 Thanks Jonathan for the great cell-phone photo with Dad's Habitat For Humanity hat on backwards.
What I'd booked in Birch Bay was the WorldMark Blaine. I've stayed next door at the WorldMark Birch Bay in the 3-bedroom Penthouse units with the private hot tub that are out of a student's network are lovely, but they just added the place next door (no private hot tub, no private BBQ). I'd booked the "2-bedroom Standard" and was somehow rewarded with a Penthouse Unit (again, no private hot tub, but the BBQs were just down the deck).
Top floor – out unit was on the end, at the other end was the communal lounge: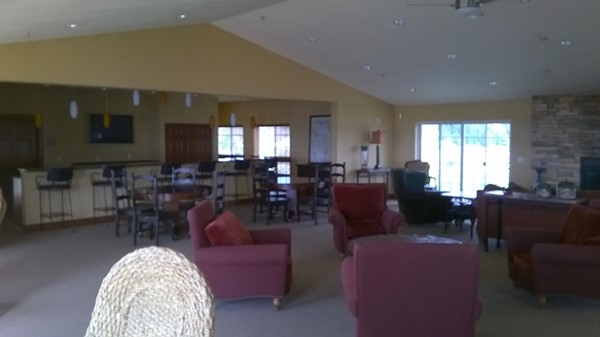 And then there is the view….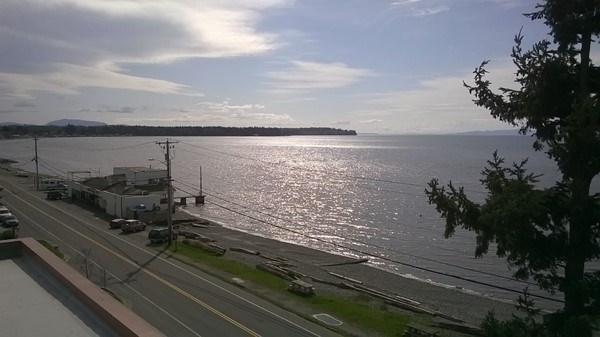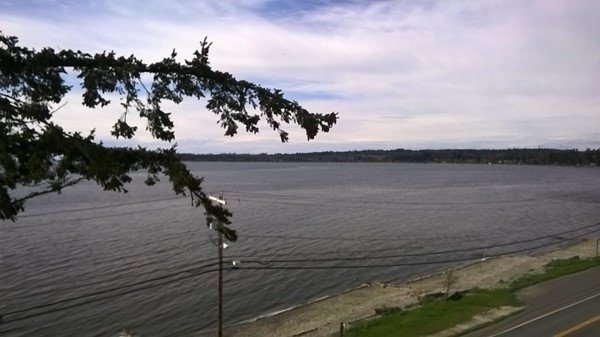 Before long, I was settled in on the deck in the sun, cocktail in hand…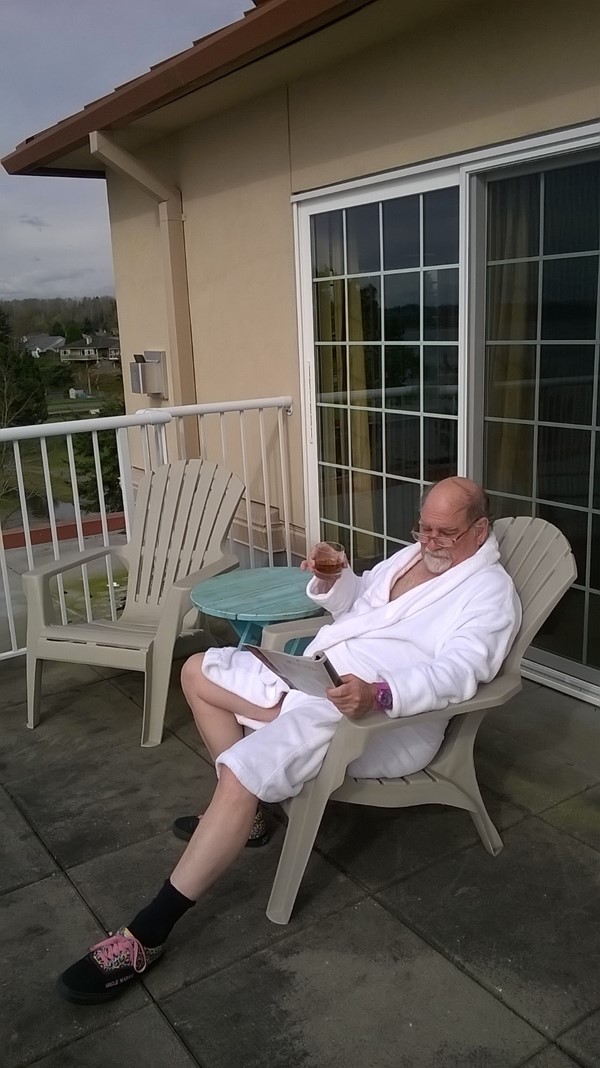 It's not a bad little place….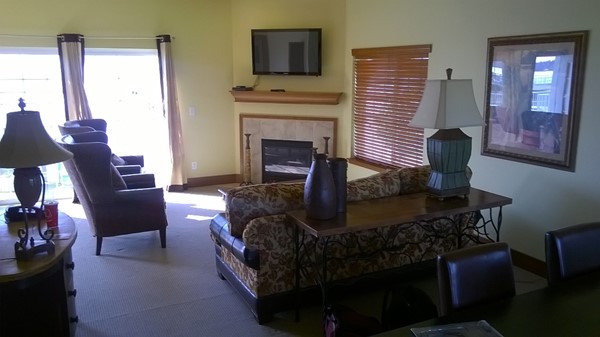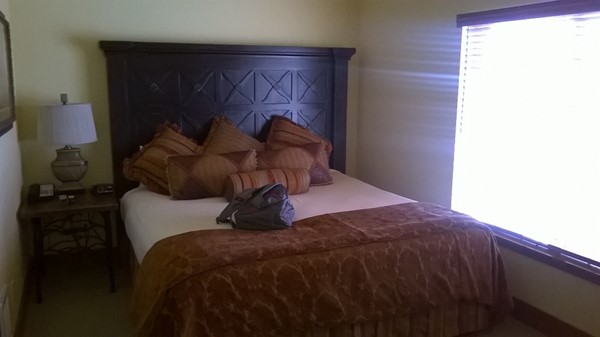 It was a two-bedroom 2-bath unit. Not quite up to WorldMark standards (no BBQ tongs, no non-stick fry pan), but the furniture was comfy.
Steaks for dinner the first night, then for me, it was off to WorldMark Owner ReEduction for a $100 AMEX gift card for an hour and a half of them trying to sell me more points. No more point purchases until I sell the next house, or Mom dies – and I don't think either of those are coming soon.
The LITTLE "event" for today is Jonathan trimming my locks – thoughts? It's short!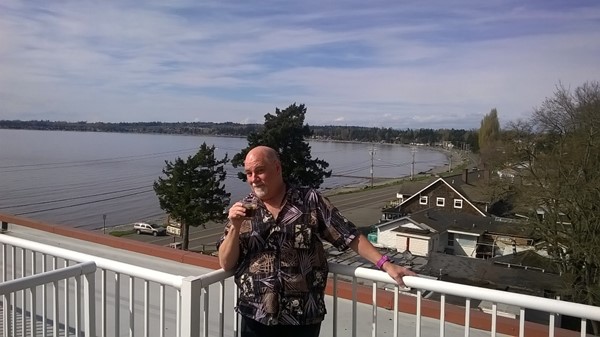 The BIG "event" for today is the Scholarship Reading….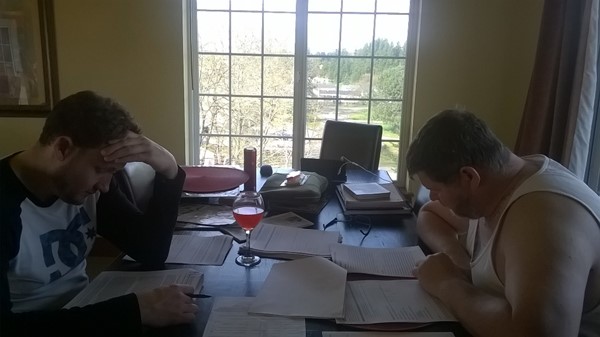 The following morning we were up and out by noon (thanks for the GREAT breakfast strata DancingBear!). The only downside was that my laptop pack got put in the wrong car – no laptop on my next stop Vancouver.
But before I move on, a couple of other pictures: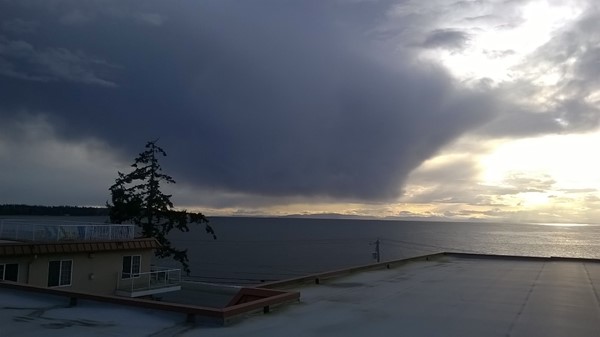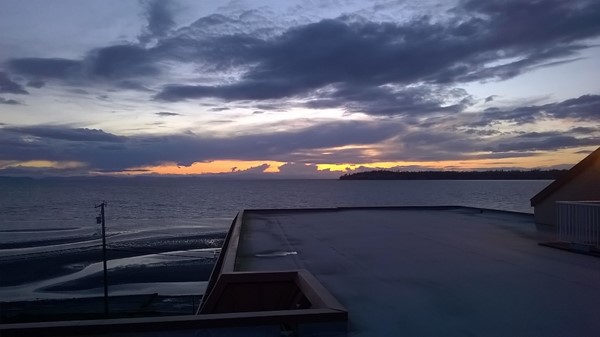 It's just me headed to Vancouver. Jonathan didn't get his Enhanced Washington State ID figured out in town.
Easy border transit even with having to cross several lanes of stopped traffic to get from Duty Free and back into the Nexus lane…hopefully this will be fixed once they open the new lanes.
Destination is the WorldMark at The Canadian in Vancouver. One of my favorites. And when I got there after shopping for dinner, the unit wasn't ready, but Hummingbird had already been by just getting off "work". That would assume that being a priest is "work".
But we did get a unit early – they switched us to get us in earlier…not a bad room: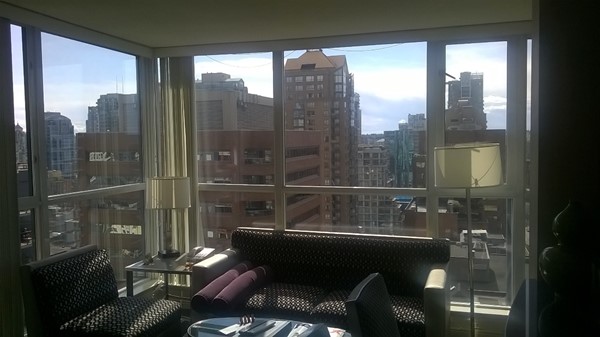 Time for Hummingbird to start reading scholarships! And me to start working on the Pu Pu Platter for the friends arriving for dinner…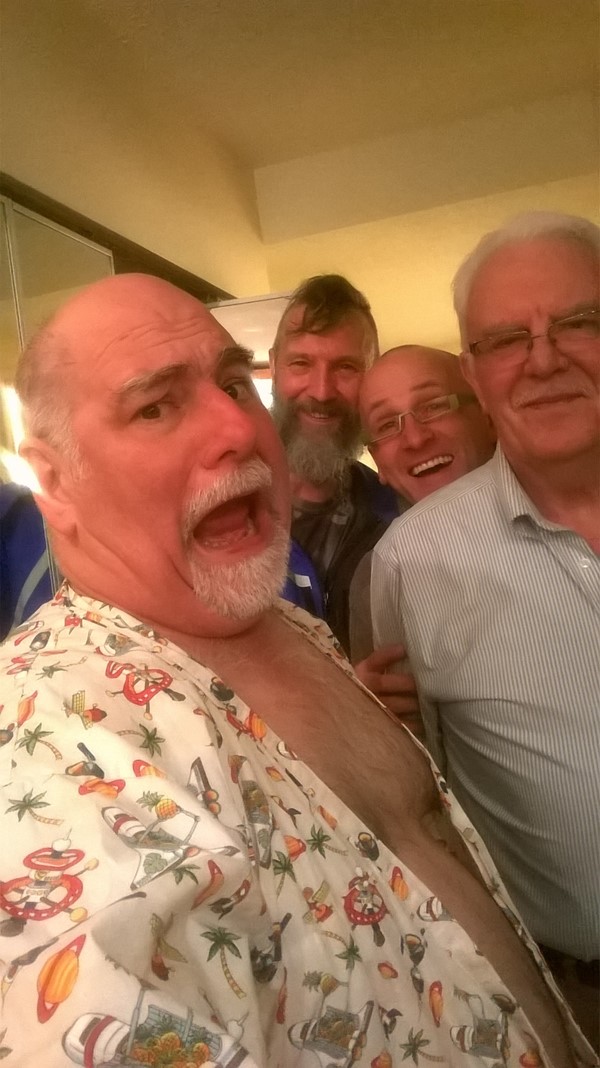 It was salmon on the menu tonight (with bread, salad, wine). Much fun. Guests were: Solus, Hummingbird, and his friend Kevin who was standing in for BamBam who couldn't make it.
Slept in, and then couldn't find the Cathedral where Hummingbird was doing the Maundy Service (the Thursday before Easter) so I went back to the condo and went back to bed. Another dinner tonight.
Second dinner of the visit was steak, brazed green onions, salad, bread – and of course — starting it off, the Pu Pu Platter.
No pictures—don't know what I was thinking. Guests Helene, Tom, Stephen – and much good conversation (and knitting on Helene's visit).
Out of the condo a little before noon – and the signs were saying 70 minute delay for the truck crossing – even the Nexus line was backed up past Duty Free – but I took a shortcut via the truck entrance to get to Duty Free which as a Nexus pass holder you get to park right out front AND get 10% off your purchases. Talk about cheap whiskey!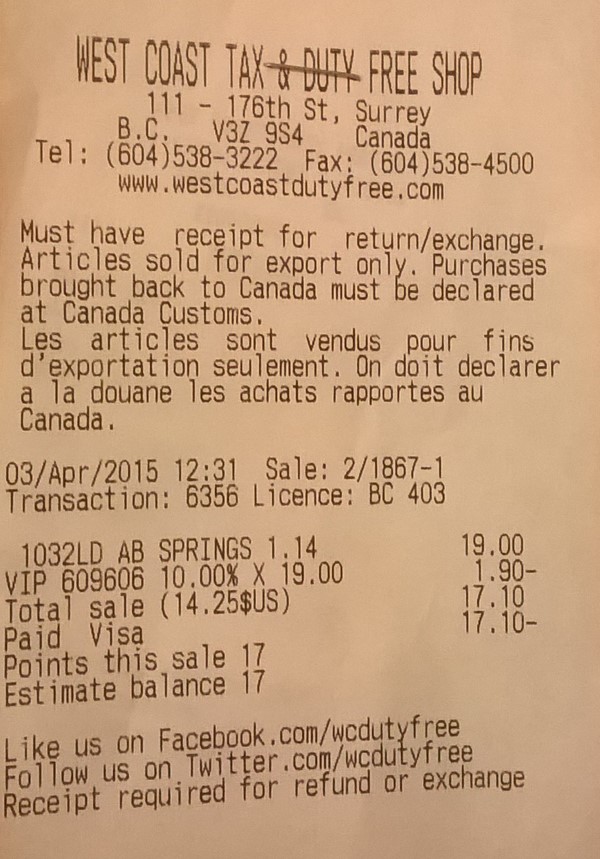 Between the 10% discount and the 20% exchange difference… that's some mighty cheap whiskey, and a 1.14 liter bottle at that!
But back in the line (they shunt you into the existing line if you show your receipt) there were only a dozen or so cars in front of me: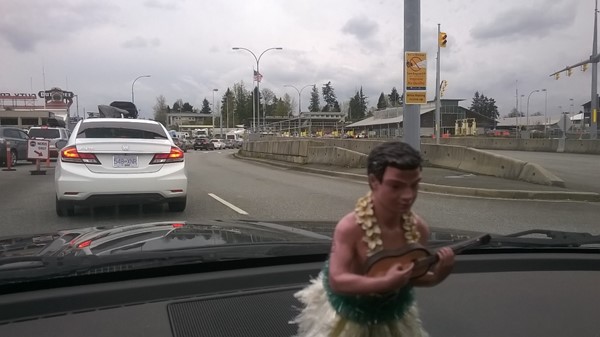 And before you knew it I was home (after picking up my laptop bag that got put in the wrong car yesterday).
[222.0]