Over the last couple of posts I've mentioned reading scholarships while we are holidaying, or in the Penthouse at the Camlin after I got off from the wine shop. Here is the low down on what we are reading and for who.
Scholarship Description:
Mark Stephen Souder Scholarship for Information Dissemination

Offered to a new or currently enrolled student attending full time who demonstrates an interest in information dissemination, e.g., writer, Web designer, teacher, musician, activist—anyone helping to influence the way people think about their world, to change the concepts of "nons"—non-residents, non-Caucasians, non-heterosexuals—to create a more equal, intelligent and compassionate society. Preference will be given to non-resident gay or lesbian students, demonstrating quality and creativity of prior work in the area of information dissemination. Financial need will also be considered.
Requirements    

Letter of application addressing your passion for and level of expertise in the dissemination of information. Tell us where you have been with this concept, what you are doing now, and where you want to go in exploring how information is shared.
A portfolio of work that expresses your beliefs about information dissemination and demonstrates how you have put those beliefs into action.
Two letters of recommendation from individuals, other than relatives, who have personally experienced the power of your work in information dissemination.
We had three different reading sites:
We had a total of 8 readers for 10 applications, which is down from previous years:
2015 = 10
2014 = 14
2013 = 6
2012 = 17
2011 = 15
2010 = 21
2009 = 19
Still working on why the numbers are down – after all, it's free money. What student doesn't want free money?
The amazing/amusing thing about reading scholarships is that we all read every one of the scholarships, and rank them on this scale:
Financial Need:Â Â Â Â Â Â Â Â Â Â Â Â Â Â Â Â Â Â Â Â Â Â Â Â 1Â Â Â Â 2Â Â Â Â 3Â Â Â Â 4Â Â Â Â 5
Quality of Introduction Letter: Â Â Â Â Â Â Â Â Â Â Â Â Â Â Â Â 1Â Â Â Â 2Â Â Â Â 3Â Â Â Â 4Â Â Â Â 5
Quality of Recommendation Letters: Â Â Â Â Â Â Â Â Â Â Â Â 1Â Â Â Â 2Â Â Â Â 3Â Â Â Â 4Â Â Â Â 5
Quality of Portfolio:Â Â Â Â Â Â Â Â Â Â Â Â Â Â Â Â Â Â Â Â 1Â Â Â Â 2Â Â Â Â 3Â Â Â Â 4Â Â Â Â 5
Award one point for each of the following:
Non-Resident
Non-Caucasian
Non-Heterosexual
Point Total for "Nons": Â Â Â Â Â Â Â Â _______
TOTAL POINTS FOR THIS APPLICANT: Â Â Â Â Â Â Â Â Â Â Â Â Â Â Â Â Â Â Â Â _____________
The amazing/amusing part is that no matter how a person grades (harsh/lenient), the numbers track on a graph pretty closely, though people have been known to give a random point just because they really liked the applicant. Anytime there is an outlier, we generally go back and reread the application: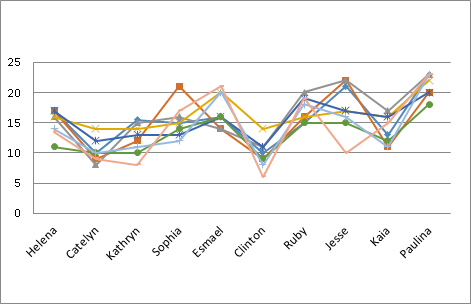 Here are a couple of great (well, so-so) photos of us reading applications: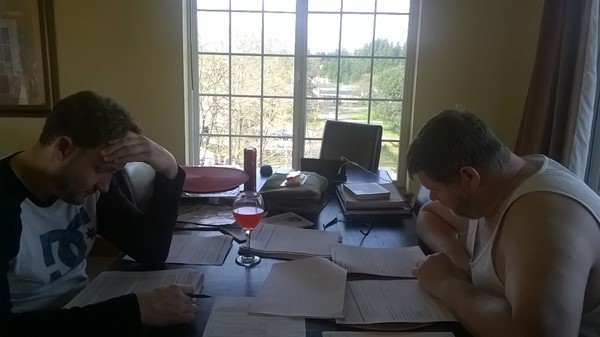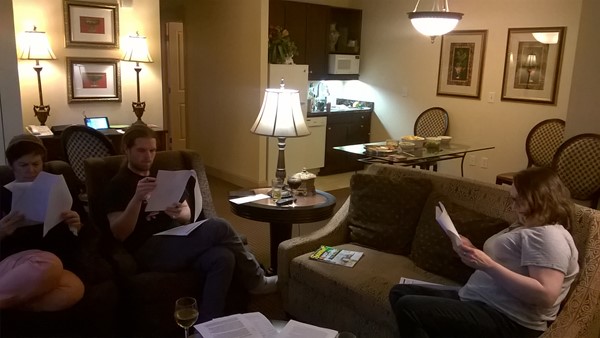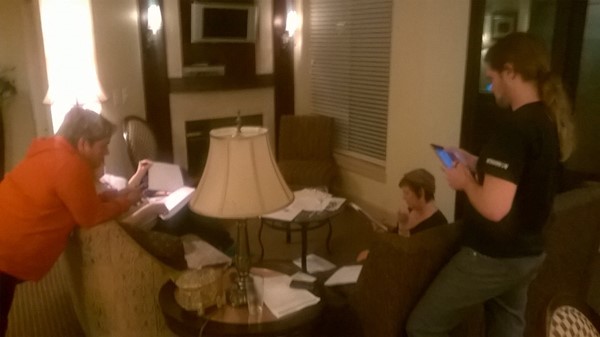 Yes, even though there is good food and booze – we really do work.
A little background on the scholarship – years ago I used to be on the Board of Governors for the Evergreen Foundation, the money-raising wing of The Evergreen State College in Olympia, Washington. When I joined the Board I gave everyone a copy of a Wall Street Journal article about non-profit board of directors, which could be condensed to "Get, Give, or Get Off." After the tech-crash of the early 2000's, I could no longer GET (all my sources in the same boat), GIVE (same boat as all my sources of donations), so it was time to GET OFF the board.
While I was on the board (before the tech-crash), the State of Washington was offering matching grants to beef up College Endowments – offering two guaranteed scholarships to the University of Washington (like their endowment needs more money) and one each to all the other state colleges, with several extra scholarship matches to assign to colleges who quickly matched their original allotment. The cynic in me thinks it so they could slash funding in the future. But matching money is matching money and I helped cobble together the Microsoft Alumni Scholarship from Evergreeners who ended up at Microsoft. The deal with the state was – raise $25,000 and the State will match $25,000. In the case of working with employees with matching benefits, the equation is different – you only need $12,500 in donations, Microsoft (in this case) matches $12.500, then the State matches the $25,000 for a total of a $50,000 endowed scholarship that runs in perpetuity (like forever, man). They kick off 5% a year to a student depending on fund performance (2008-2010 was ugly) which would be $2500. Currently that number is $2938. The Microsoft Alumni Scholarship kicks off two scholarships each year of $2008.
It is WAY easier to get people to donate if their $1 turns into $4 – this is a lesson that my dearly departed father taught me years ago. When I graduated from Evergreen and the calls and mail started coming to donate to the Foundation, he said to me, "I donate to the college I went to, and if you want to, I'll match whatever you give, and then submit it under my name to my employer and they will match what both of us put in – and in good years they will do a two times match." Those early days it was $25, $50, $100 – but when that turns into $100, $200, $400, or in good years, $150, $300, $600. It make philanthropy very easy.
Having quickly funded the Microsoft Alumni Scholarship the State announced that The Evergreen State College had received one the two "floating" matches. When the topic can up at a Board meeting I raised my hand and said, "I can fund that." Ah, being flush with a Microsoft Paycheck (actually, the paycheck during that time sucked, but with the stock options, who cared). Microsoft matched $12,000 a year when I was there, now it is $15,000. Details here for you MSFT folk. Knowing I was leaving Microsoft after almost ten years, I spent the last couple of years maxing out my charitable contributions – and my scholarship was the final hurrah.
The Board nixed my original scholarship title: "The Mark Stephen Souder Scholarship for Academic Mediocrity" which would have reflected my academic performance while at college. The next thought was about a print publishing scholarship – and then you start thinking about what "print" will be like after you are dead – "The Mark Stephen Souder Scholarship For Letterpress Printing". Being a letterpress guy I'm not opposed to that… but I would like to actually have applicants, hence the "Information Dissemination" moniker.
It is a great honor to read scholarship applications each year – and invite friends, loved ones, current students, drop-outs, Master's students to read – we've had them all over the years.
Should anyone want to contribute to either my scholarship, or the Microsoft Alumni Scholarship, you can make donations here – and yes, they are tax-deductible up to your personal limit (talk to your tax professional):
https://commerce.cashnet.com/cashnetc/selfserve/EditItem.aspx?PC=ALUMNI-SCHOL&ItemCount=1
[222.6]