Yesterday was another "train day" – not on the train but dealing with Amtrak.
As it turn out, the routing that I proposed in my earlier post, while a valid "routing", isn't a valid "redemption". Seems that ALL LEGS of the journey must be within a single zone.
The route in question was Denver to New Orleans (for my birthday ramble this year) via Chicago (California Zephyr) and Washington, DC (Capital Limited connecting to The Crescent):
After a longer than usual chat with a couple of Guest Rewards folks (who, in turn, had to check with their supervisors) the above routing would be a two zone (three nights) ticket. To get from Denver to New Orleans using only one zone, the trip would look like this and only be for two nights using the California Zephyr and The City of New Orleans: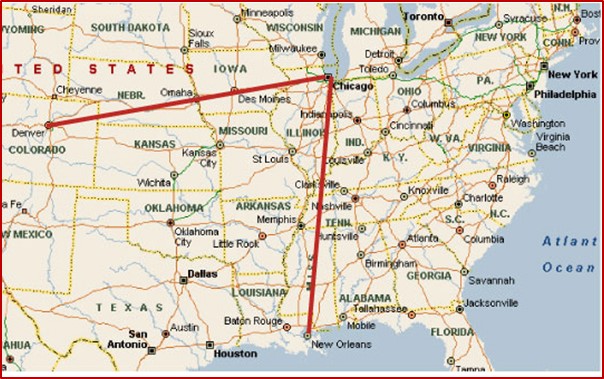 That said, if you really wanted to maximize a two-zone (four nights), this, believe it or not, is a legal routing: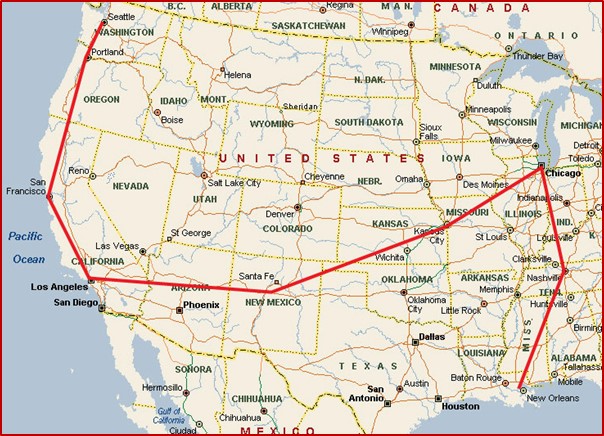 But there are other legal routings that would work: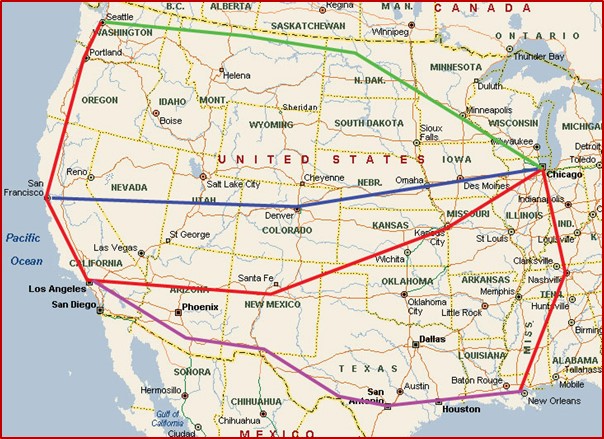 The green line at the top would be the Empire Builder, the blue in the middle would be the California Zephyr and the purple at the bottom would be the Sunset Limited.
Bottom line – my September Birthday Ramble will be two nights in Denver, two nights on the train, five nights in New Orleans.
In other train news – realized that it was Double Points time (they do one in the shoulder season of fall as well). That promotion is good until May 16th – AND I have a $75 Coupon I need to use for Amtrak travel before October 11, 2015. The coupon is from the snarky letter I wrote about being forced out of my sleeper and onto a bus between Portland and Eugene on my way to Denver last fall. You can see that blog post here:
Part One (with the bounced part of the trip)
The bottom line was I got a $75 Guest Certificate for the hassle of have to pack up my room, get on a bus, and then set the room up again a couple of hours later. Not terribly happy at the time, but feeling better about it now that I just booked a trip using $74.80 of the $75.00 – the station agent (stopped in when I took Solus+ to catch the train yesterday) asked, "Do you mind eating the 20 cents?" It might have been amusing to get a 20 cent certificate, but I said I was happy just eating it. And the seats are in Business Class (free newspapers and a $3.00 off coupon for some food/booze).
The trip? Olympia to Portland (I'm in Olympia the previous night for an Evergreen event), spend a couple of hours at Powell's Books or eating oysters at Jakes, then back on the train to Olympia to grab the car and go back to Roxy's for another sleepover. Nothing like a free trip! AND 300 Amtrak Guest Rewards points.
Well, that's my Amtrak news for today. Next post will be the much delayed Spring Break Three post.
[225.6]