The third of three Spring Break trips for friends of mine who are students or teachers…this one is with Bliss, who is a teacher, and can afford a plane ticket – so off to Waikiki we go!
Bliss and I are flying out of Bellingham, Washington which is about two hours north of Seattle. Why drive 2 hours when I'm ten minutes from the airport in Seattle? Round-trip for under $300 and $12 a day parking 50 years from the check-in desk, and a decent Manhattan (their bar pour is Evan Williams) at Scotty Browns.
In addition to a couple of Manhattans, we split half-order of Nachos, which was still a ton of food. And now onto the plane…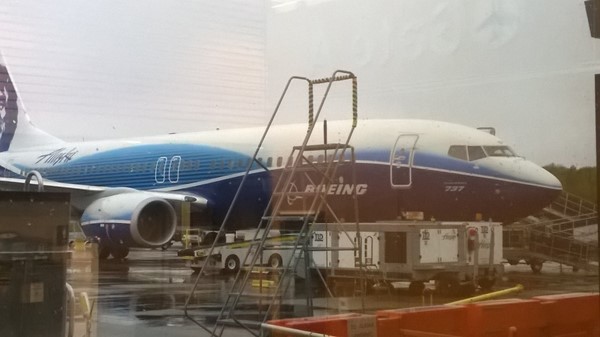 Luckily, the weather in Waikiki is slated to be 80 degrees and sunny, rather than 40 degrees and drizzly.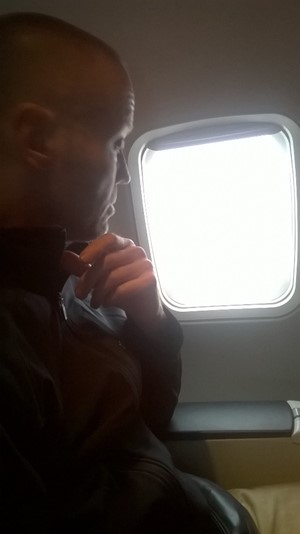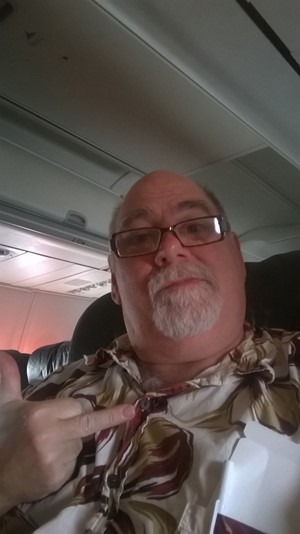 Bliss in the window (1A) and me on the aisle (1C). And up in the air we go for our six hour flight filled with food, fun, and laughter…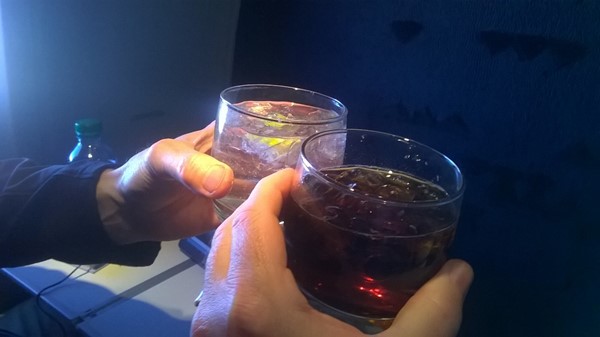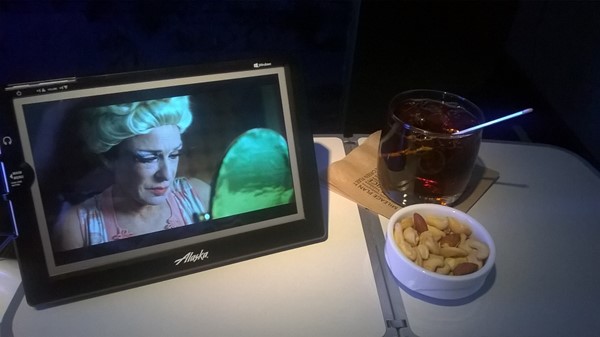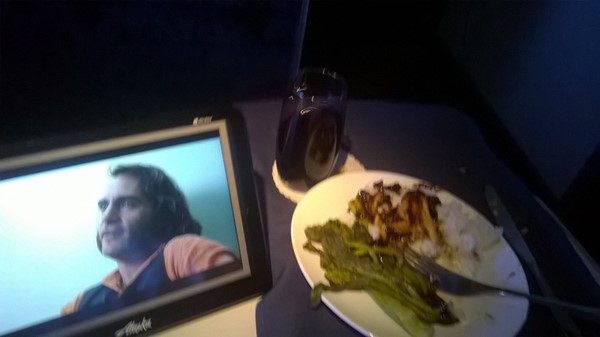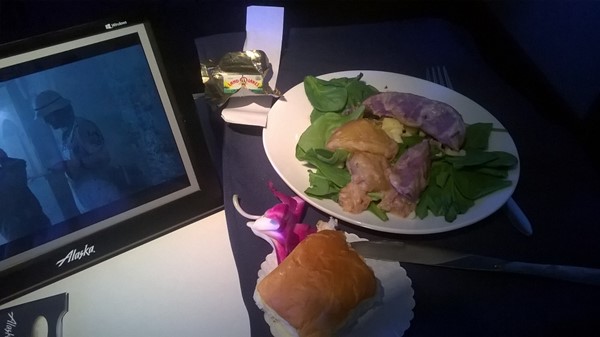 And Uncle Markie is getting into the spirt – or is that Uncle Markie is getting into the spirits….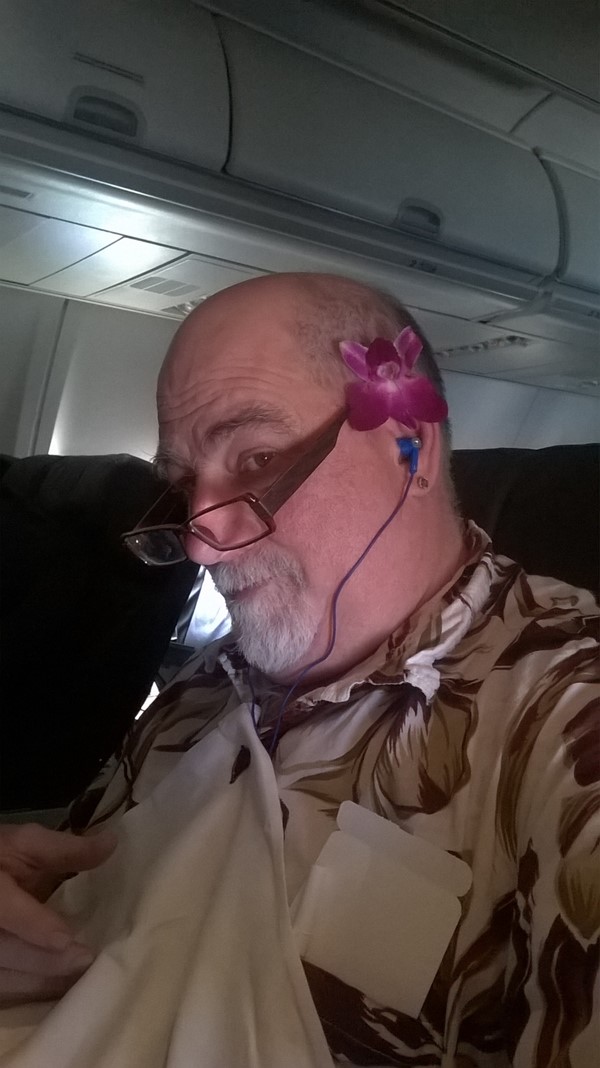 Damn I look comfortable.
Landed, grabbed our bags, found our shuttle driver and headed to the condo – tried a new shuttle service this trip (Go808Express). $50 ($55 for us since we arrive after 9PM) for up to four people directly from the airport to your hotel – handy when you get in at 9:30 at night and don't want to spend an hour+ on the shared shuttle stopping at every hotel in Waikiki. Even with two people, with tip, it's a wash on the cost.
We are staying at the Wyndham Royal Garden courtesy of The Colonels who swapped some WorldMark points for their Wyndham Points – on my next trip I'm using my WorldMark points and paying the $99 "Club Pass" fee. I've stayed here before in a studio (swanky) and this time we are in a one-bedroom Presidential (even more swanky).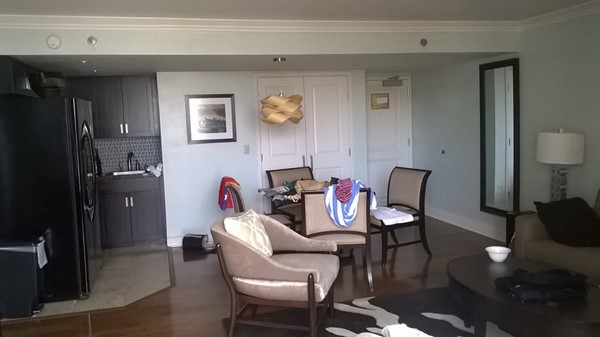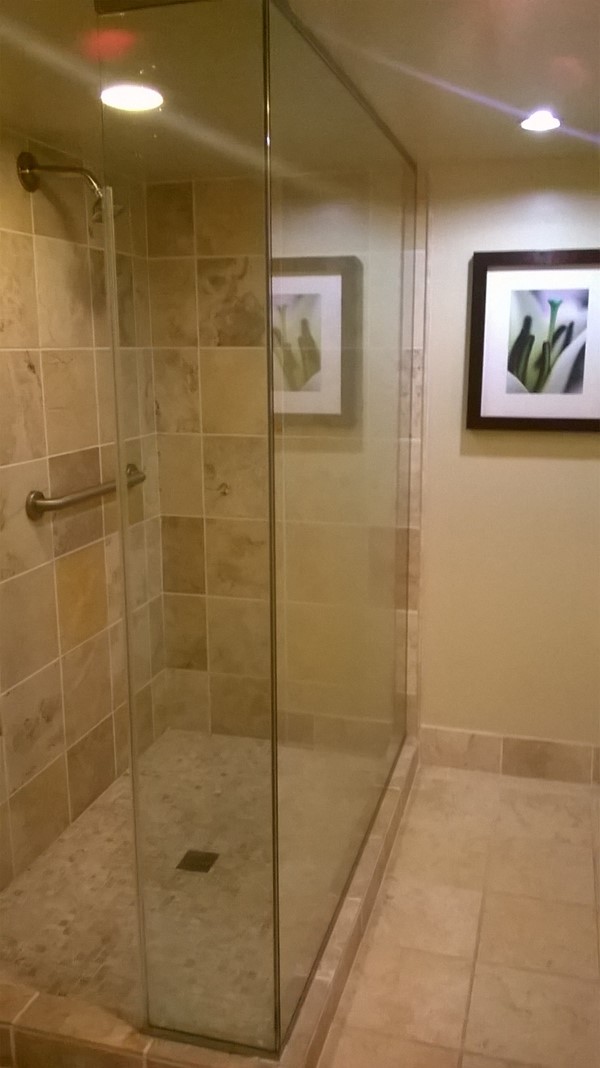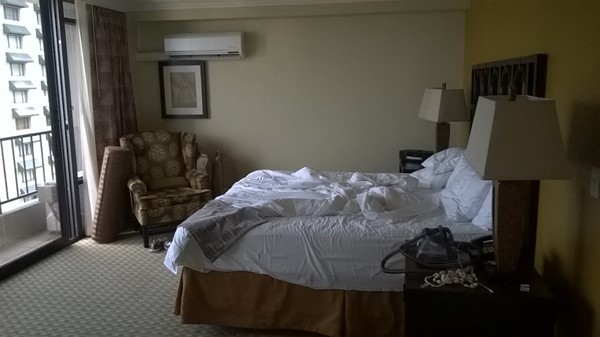 I ran across the street for some mixers to go with the bourbon and gin that I packed but before you knew it bedtime was upon us – with us sharing the king-size bed even though we are "little f" friends. Beats flipping over the fold-out couch.
Morning finds up late, and off to the IHOP for breakfast: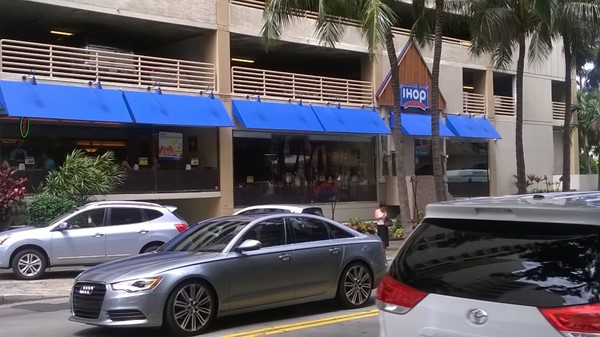 A milestone for Bliss – his first Senior Citizen (55 and over) IHOP Breakfast!
Next stop? Catch the free Hilo Hatties shuttle for my usual walk-through grabbing a free juice and looking at the sale rack, then headed a couple of blocks away for Tuesday Senior Citizen 25% off day (also 55 and over) at the Salvation Army. Found a new (to me) Hawaiian shirt and a couple of other oddities – a Suzy Wong dress for Jared, and some Thai Boxing shorts for me: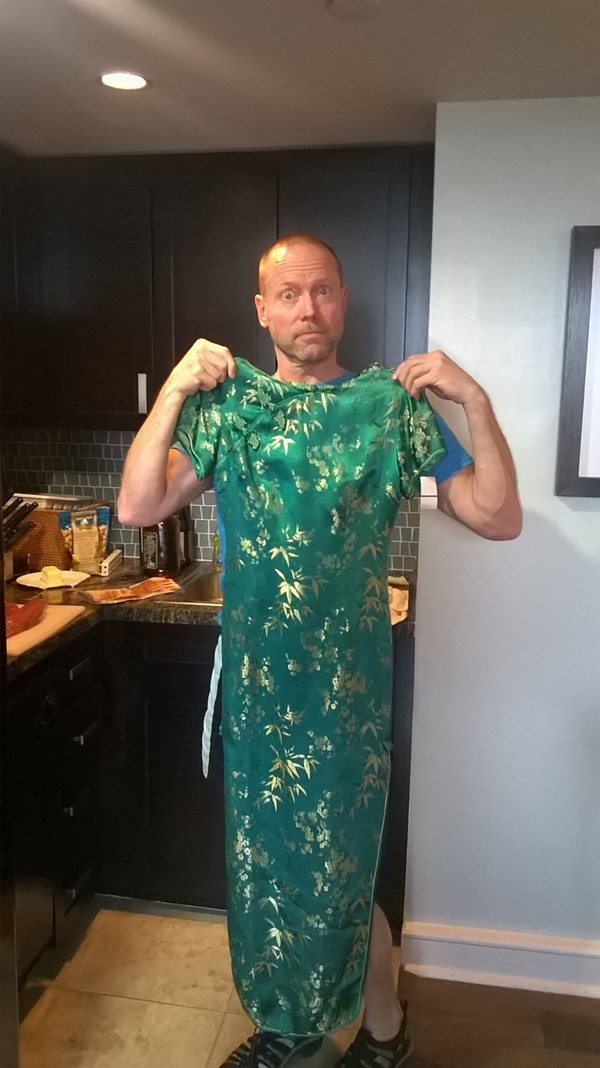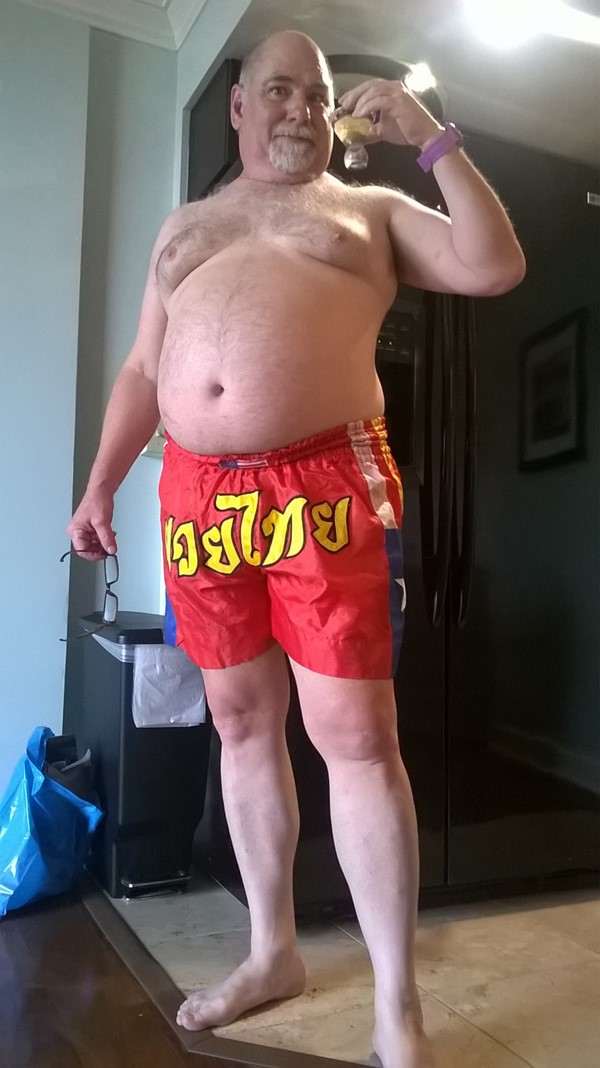 Not the most flattering photo of either Bliss or myself. Almost forgot to mention the Martini glasses that I picked up as well…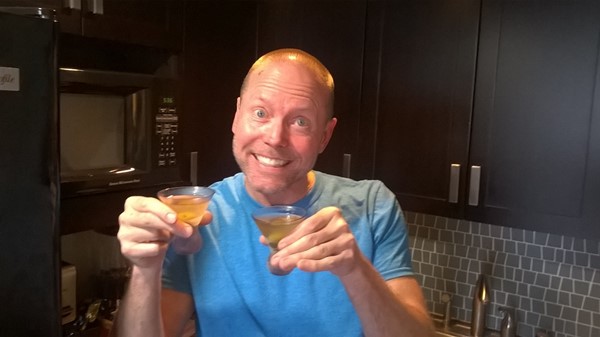 A quick run through the Kmart across the street from the Sally Ann for socks and aspirin, both of which I'm out of at home, and I'll have room on the way back with the three bottles of wine and two half-bottles of booze are gone. Did I mention that one of the flight attendants gave us a full-size bottle of wine? I think they liked us! Means I'll be packing one of the whites back home with us.
Shopping done, it's time for some sun: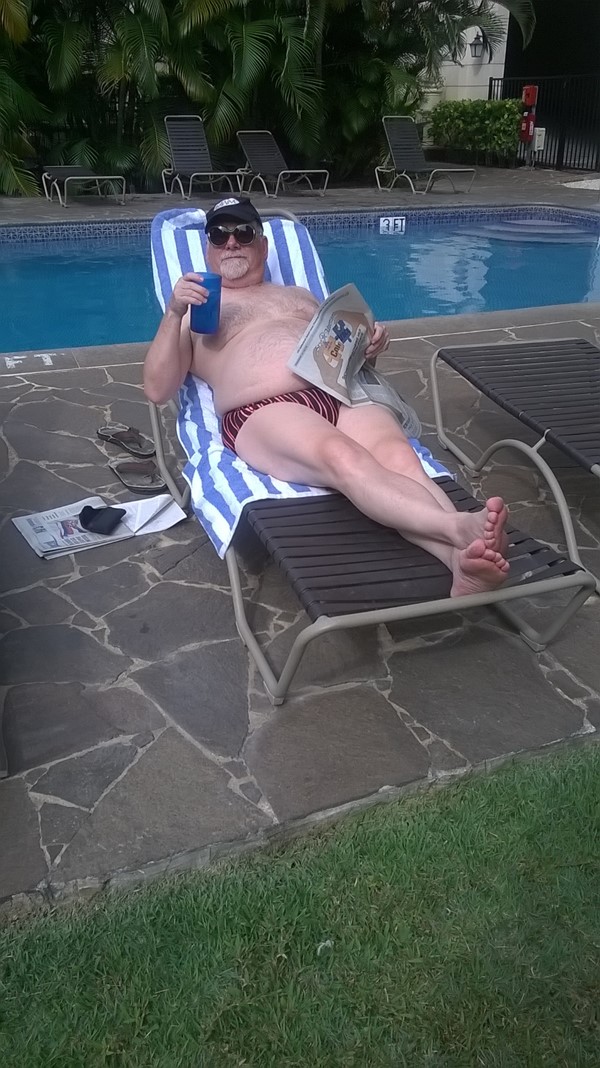 Uncle Markie in his natural environment. And before I forget – this is the view looking towards Diamond Head: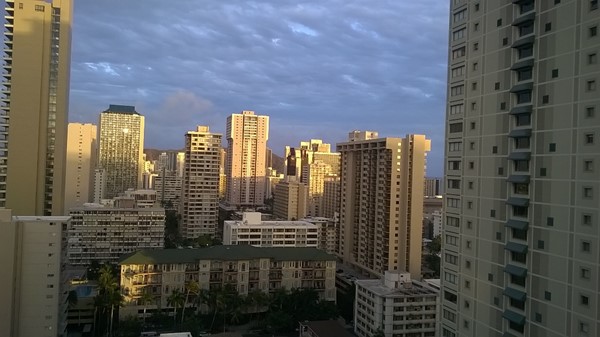 And towards the ocean: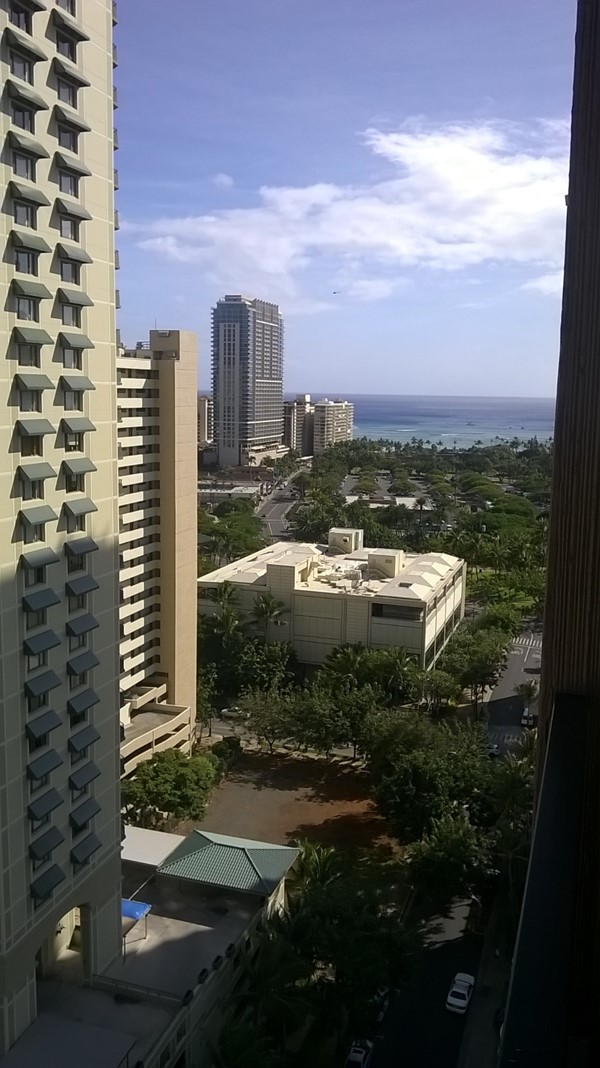 We are on the 22nd Floor (out of 25).
After pool time it's dinner time. I brought (frozen in a thermal bag):
Two pork tenderloins
One pound of bacon
Package of chicken thighs
Two ribeye steaks
Two sticks of butter
That will save us a TON of money on going out to dinner. The first night's meal is bacon wrapped tenderloins on the grill. There is no stove in the unit for some odd reason, but at least there are two grills.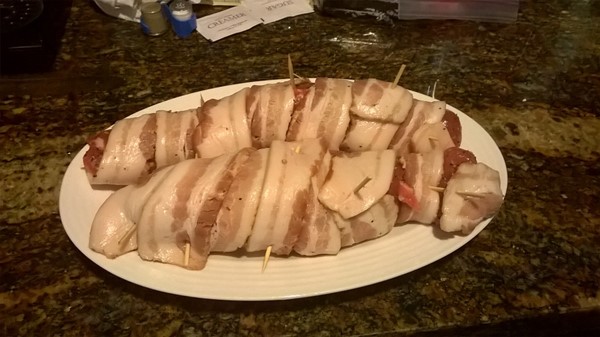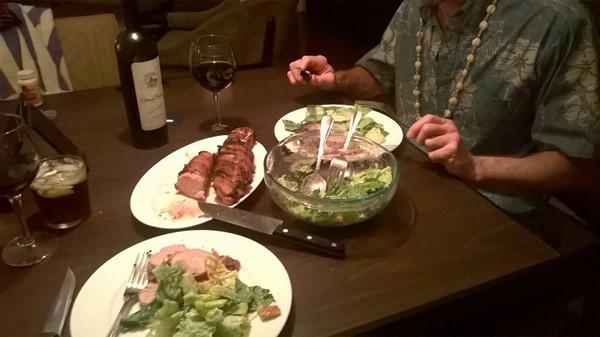 Life is rough in the islands!
Wednesday is a Wyndham Sales Pitch at 12:30pm for a $125 AMEX Gift Card. This presentation brings my year-to-date AMEX Gift Card total to $425 and a nice hard-bound "wish" book of all their properties. It's almost like a part-time job. No need for Kevin to tag along as there is no additional card for him – off to the beach for him: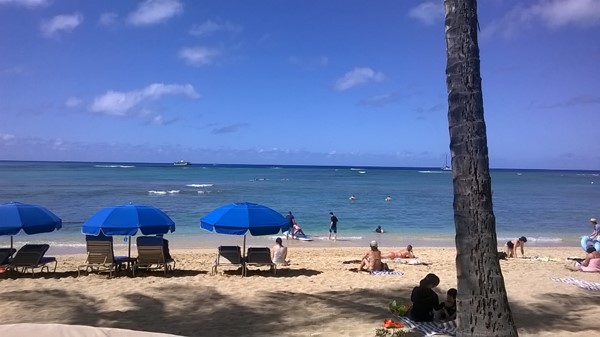 Our breakfast this morning was to turn the leftover pork into Hawaiian Roll Pork Sliders with a little extra butter. DAMN they were good. As for dinner, tonight are curried chicken thighs (with salad and MORE Hawaiian Rolls):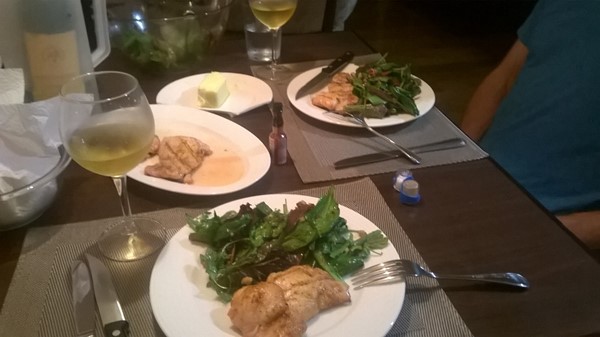 Note the butter plate in the background – I had a little accident where one of the booze bottles tipped over and nailed the plate. Oops.
Thursday is our last day here in lovely Waikiki. It being Spring Break, the only reservation I could get included Thursday night even though our flight is at midnight – but I have to say, it was convenient to be able to hang out in the room for the final day, along with being able to cook our last dinner of ribeyes: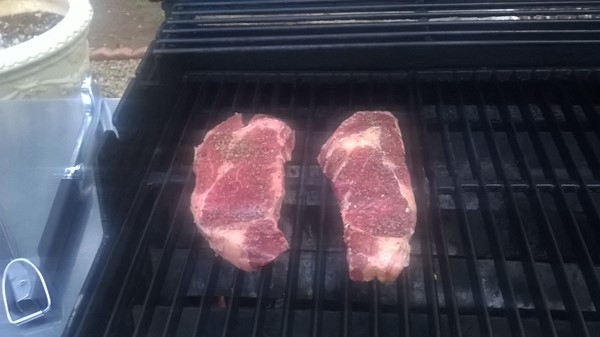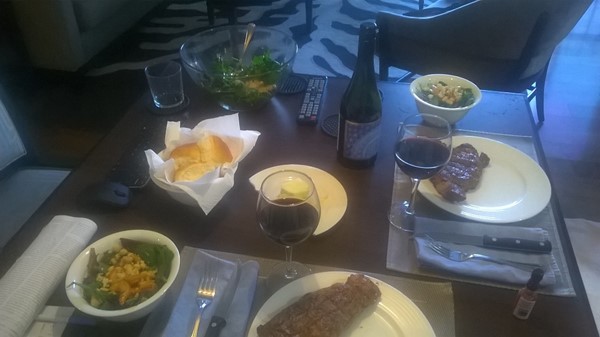 Shuttle came back for us at 8PM so we have time to hang out in the United Club (even though we are flying Alaska) courtesy of Bliss: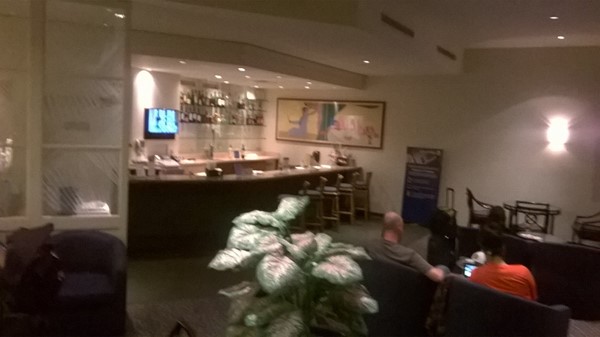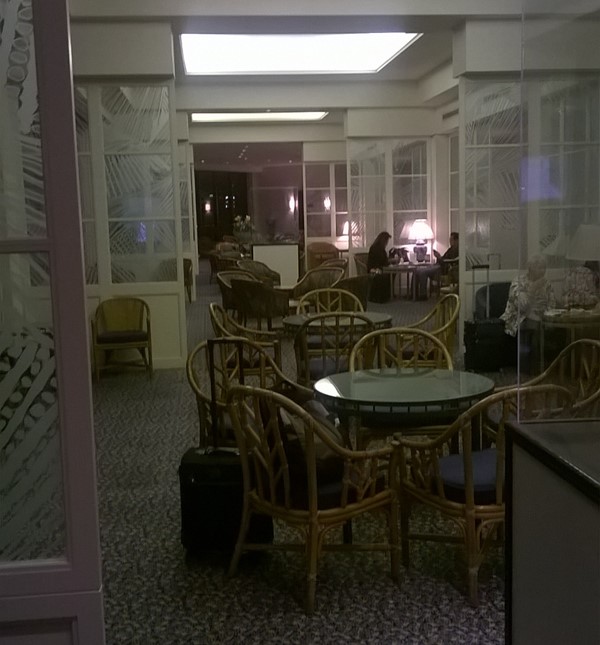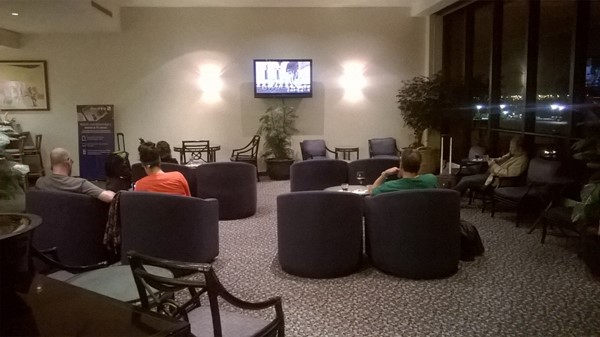 But the cocktails and wine at the condo, and another cocktail in the United Club seem to have taken a toll on Bliss: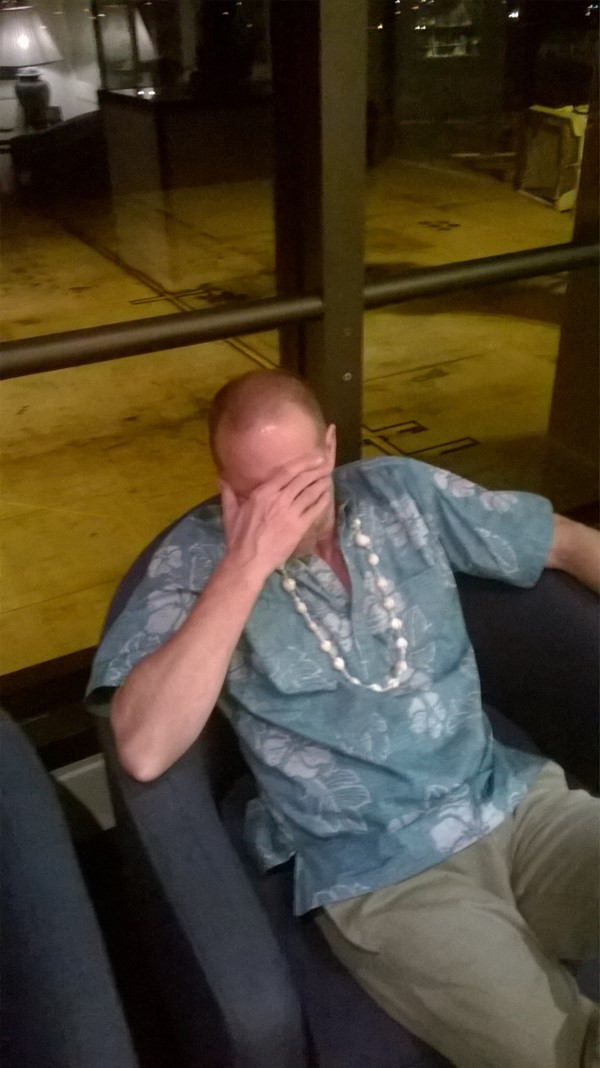 Luckily he is in a window seat (3F) and is planning on taking an Ambien. Me, I'll drink a little and sleep a little on the plane and make him drive south.
And that finishes my third Spring Break – home for a couple of weeks, and then…back to Waikiki because I got a $278.20 round-trip.
[224.0]