Yes, you read that right – I spent 2.5 hours each way on the train to spend 2.5 hours in Portland.
I was in Olympia for The Evergreen State College Recognition Dinner – a yearly awards ceremony that gets more dull and boring with each year as the keep cutting down on the number of glasses of wine you can have. At this point it is two glasses of wine for 3 hours of appetizers, dinner, and speeches. Seems a tad conservative to me – hence the reason I brought a flask. In the first years there was wine before, and then a bottle of red and white on each table for dinner – much more civilized to my mind.
But we are here to talk about my train trip, not to have me kvetch about awards ceremonies.
Caught the 12:35 train south that was really at 12:50, but we got in fifteen minutes early so no harm, no foul.
You might have thought I'd take a picture of the Olympia Train Station, but alas, I had to grab this one off the web: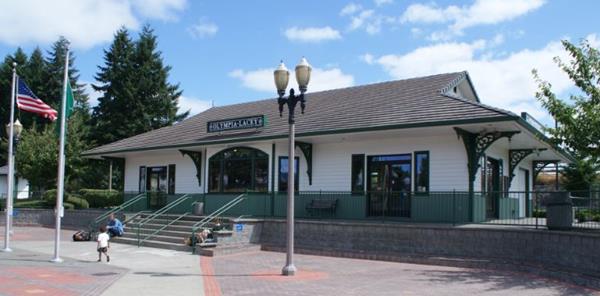 Funny that 23 years ago I bought a brick (bottom left of the photo) – that I just saw for the first time on this trip: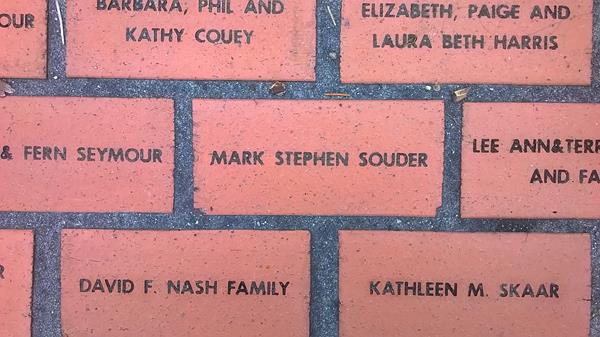 Even found a larger stone for Fluffernutter's brother's plumbing business: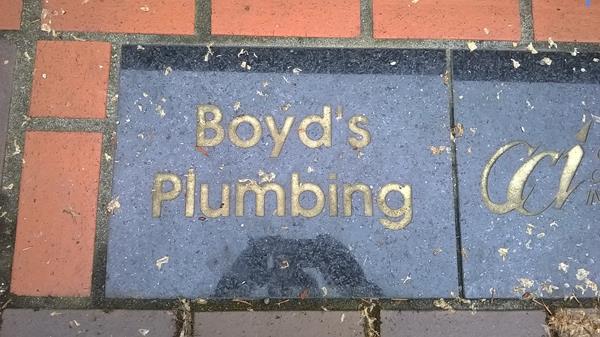 The whole station (Centennial Station) was built from donations and volunteers – no money from Amtrak. It's even staffed with volunteers. I snagged business class seats each way for $74.80 – perfect use for a $75 "bitchy letter to Amtrak" Travel Certificate.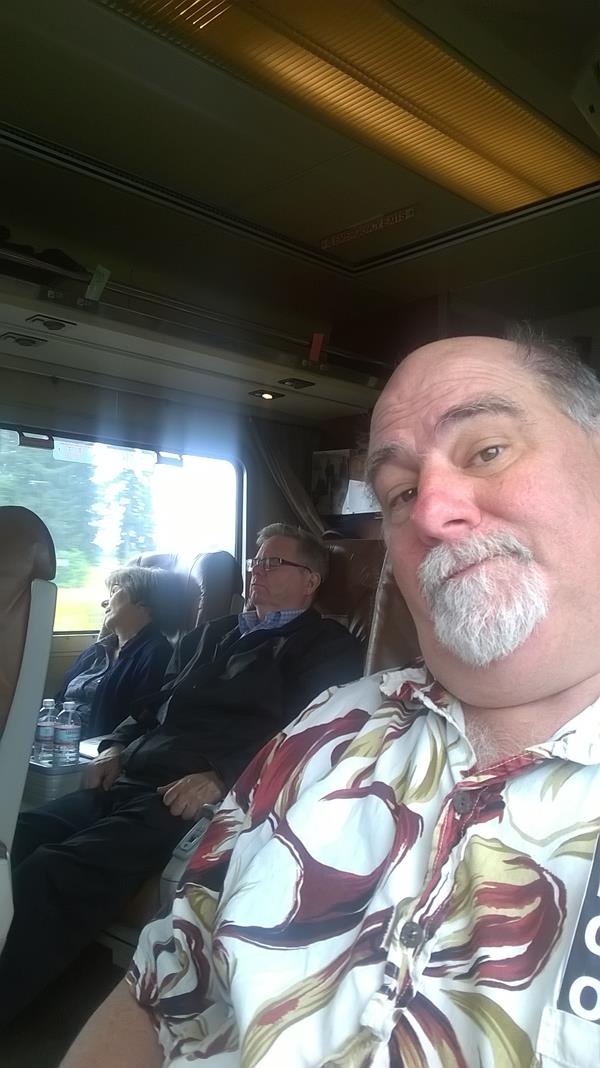 Business Class seats are in a 2-1 configuration (Coach is in 2-2 configuration) with and one outlet per row on each side of the car – luckily I brought a splitter.
At least at Portland's Union Station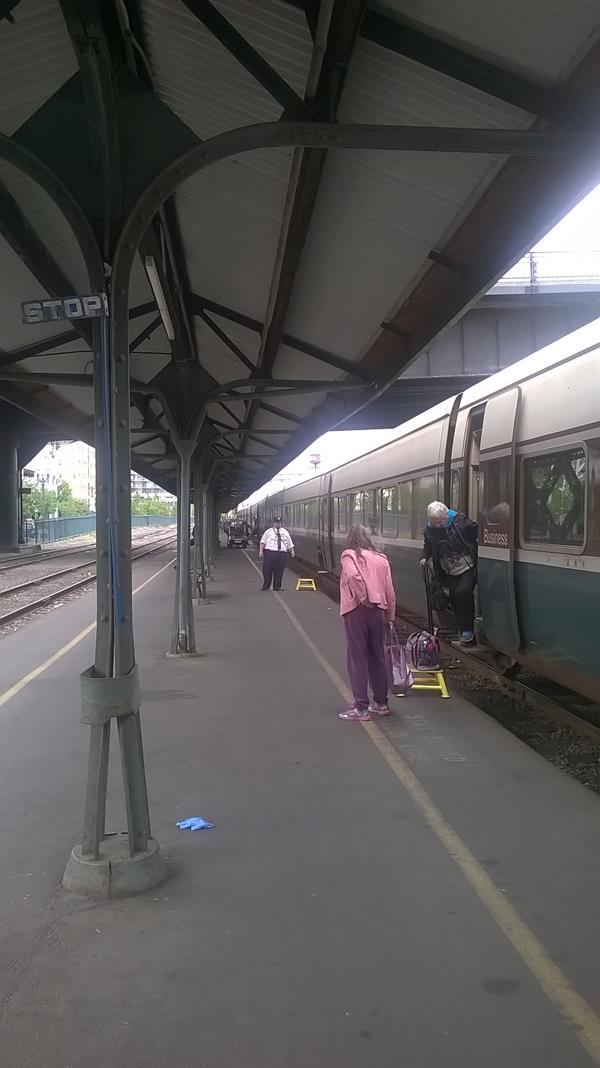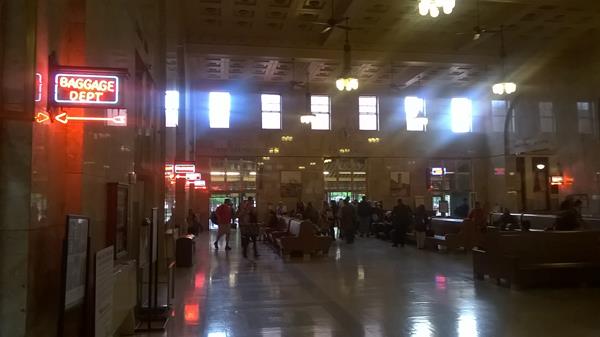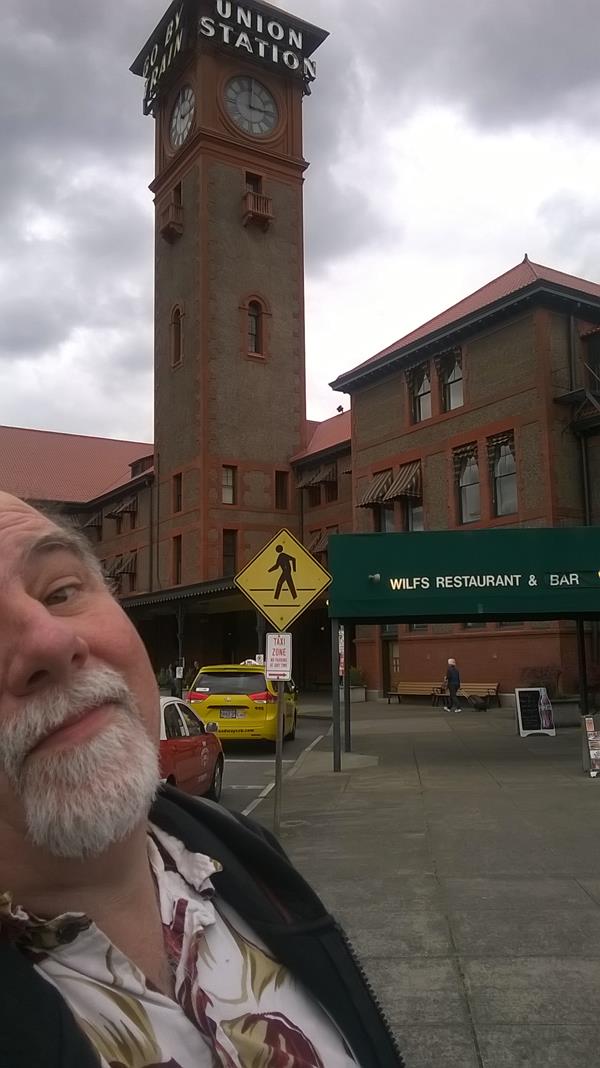 Since we are going down memory lane, I swung by the Post Office that is a block from the train station to see my old Post Office Box from my Portland days – looks the same.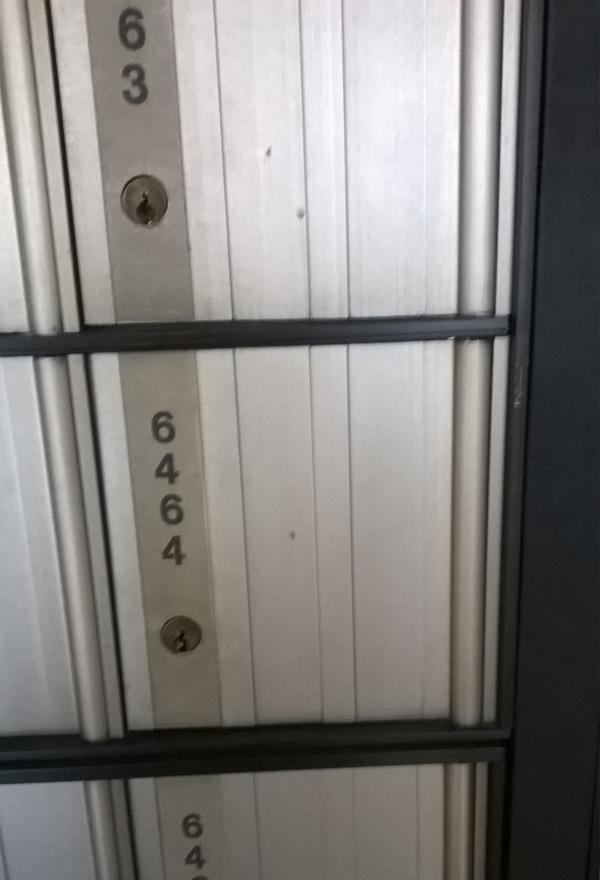 A nice walk to my lunch spot… love the sign in the Pearl District (former warehouse district, now yuppyville) – it mimics the sign of the train station: "Go By Train":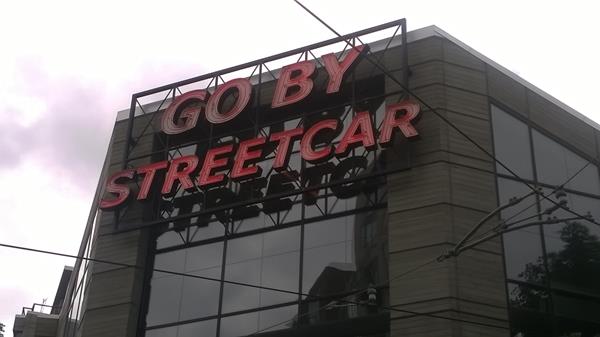 And then there all the Tiki inspired "totem poles" spread over several blocks: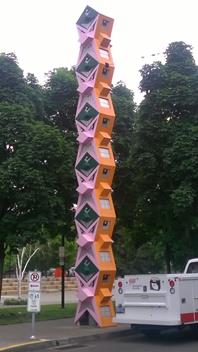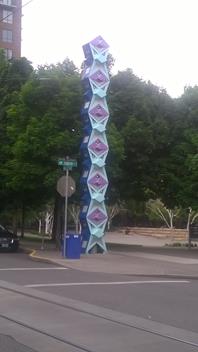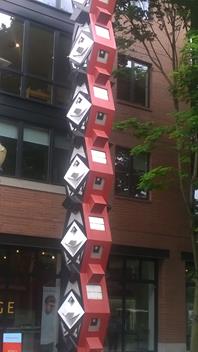 My lunch spot? Jakes Famous Crawfish – one of the first restaurants owned by Bill McCormick (a Portland native) whose McCormicks and McCormick & Schmick restaurants stretch nationwide: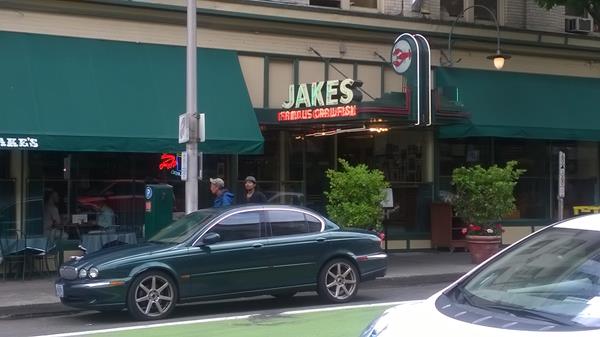 Round One – half a dozen Fanny Bay oysters on the half shell ($18) with a house Manhattan ($9):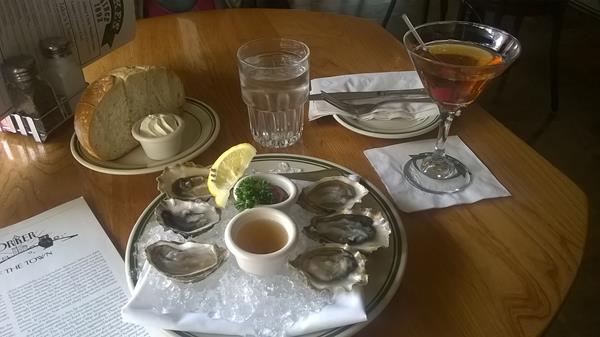 Round Two — Steamed Mussels in Garlic Cream off the Happy Hour Menu ($5.95):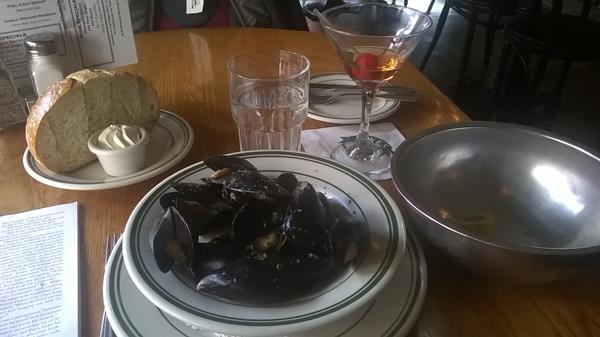 Round Three — Fried Pork Dumplings with Dipping Sauce ($3.95)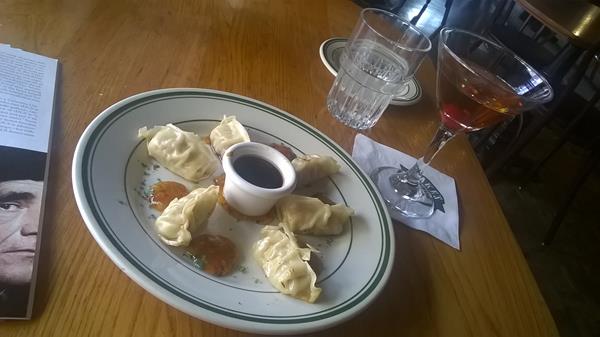 $52 (with tip) later, I'm out the door to the oddities of the surrounding neighborhood. Leather anyone?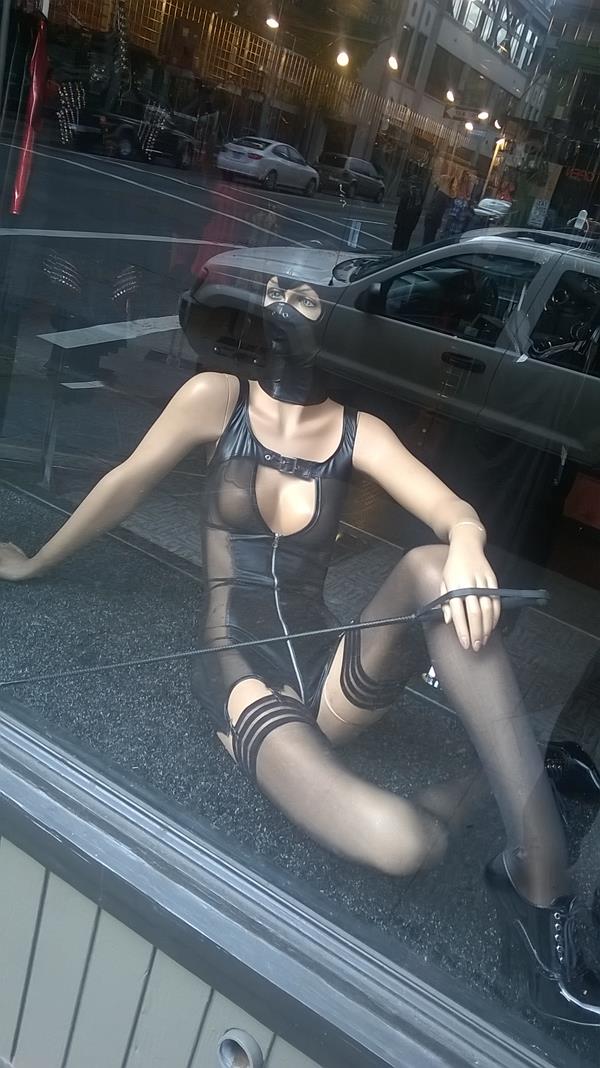 While not an oddity it's amazing that I walked past Powell's without going in…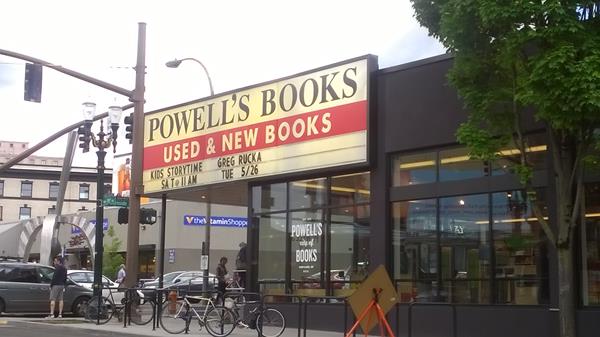 With conveyor sushi, you know the Pearl has been completely gentrified…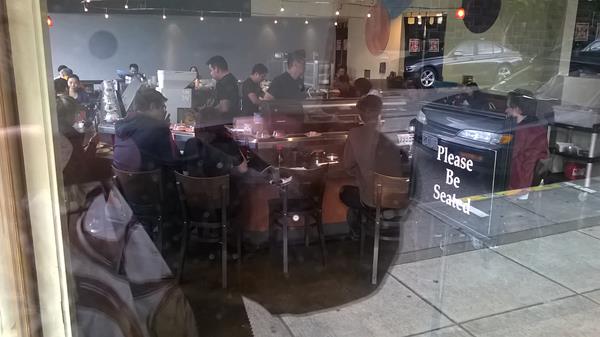 On the way down I realized I should pick up some cheaper Oregon booze while I was here…unfortunately I only had my laptop backpack with me so I was limited to one 1.75 bottle of Evan Williams. Should have brought a suitcase, it would have paid for my lunch in savings!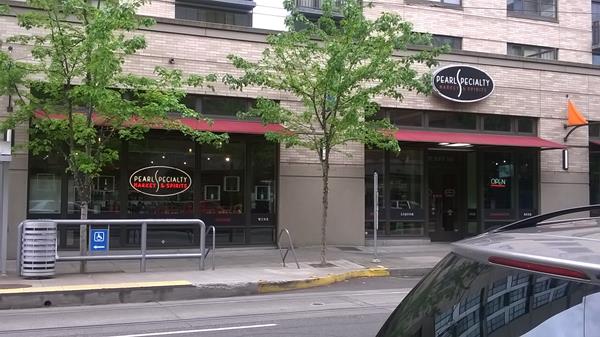 6:50 train back north – not crowded at all so the conductor offered me two seats making for a much nicer office to work on blog posts: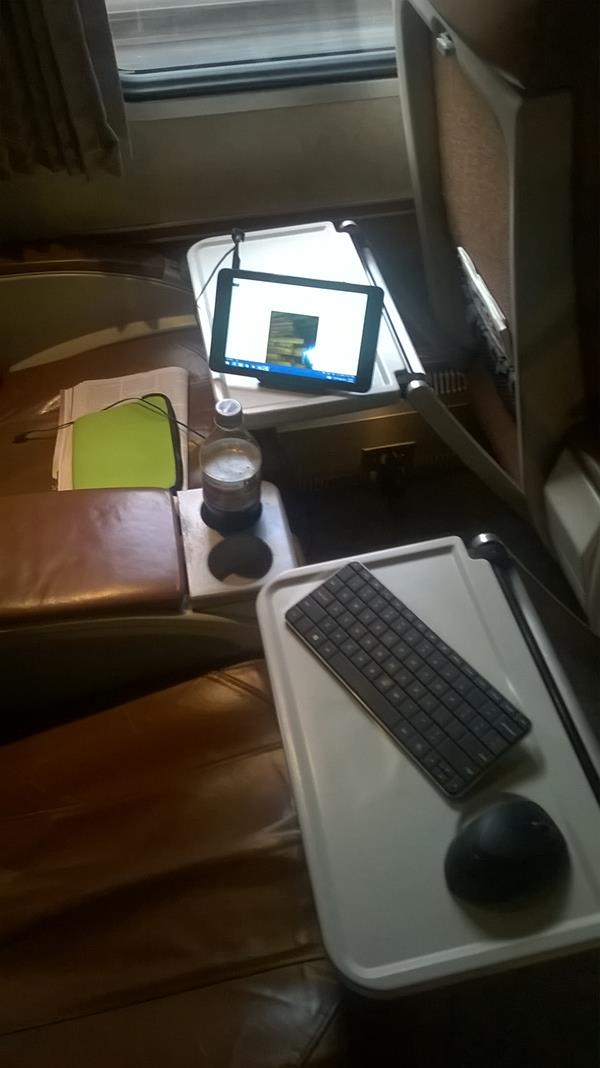 Much better than the office I had to set up outside Roxy's apartment until he returned home to let me in.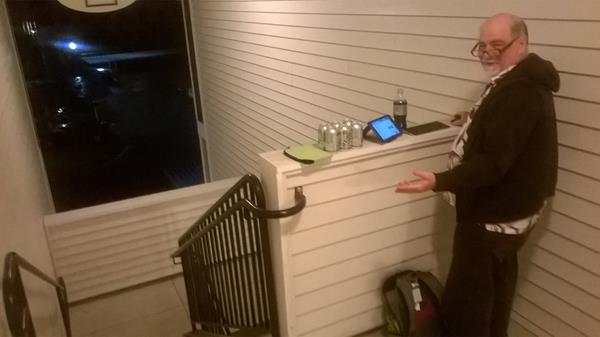 Didn't get back to Oly until 9PM so it was a pretty short overnight stay with Roxy.
[222.4]