Let me start by saying – this was a QUICK trip. Just two nights in the Caribbean, plus a day of travel on each end. But it is my friend Anne's 45th birthday, and I could find some frequent flier mile flights…. Here is the itinerary: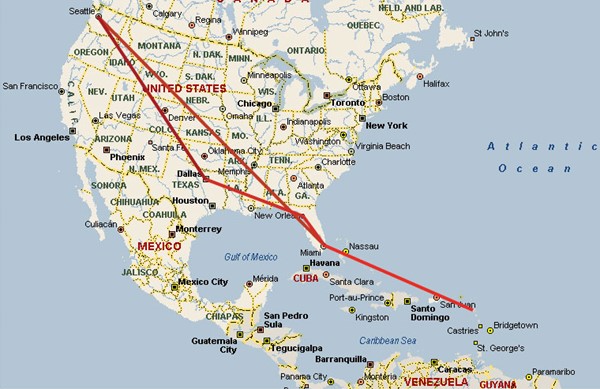 That would be the Sunday night (after work) red-eye Seattle to Miami, then the morning flight to St. Martin – the return flight is an early morning (7:30am) from St. Martin to Miami, Miami to Tampa, Tampa to Dallas, and then Dallas to Seattle. The return routing was to maximize the number of First Class legs (two, rather than one). 47,500 miles and about $80 in fees using my Alaska Airlines miles to book all these American Airlines flights.
Flights down were good – I'd packed "refreshments" and had the middle seat open on both legs (a modern miracle these days!):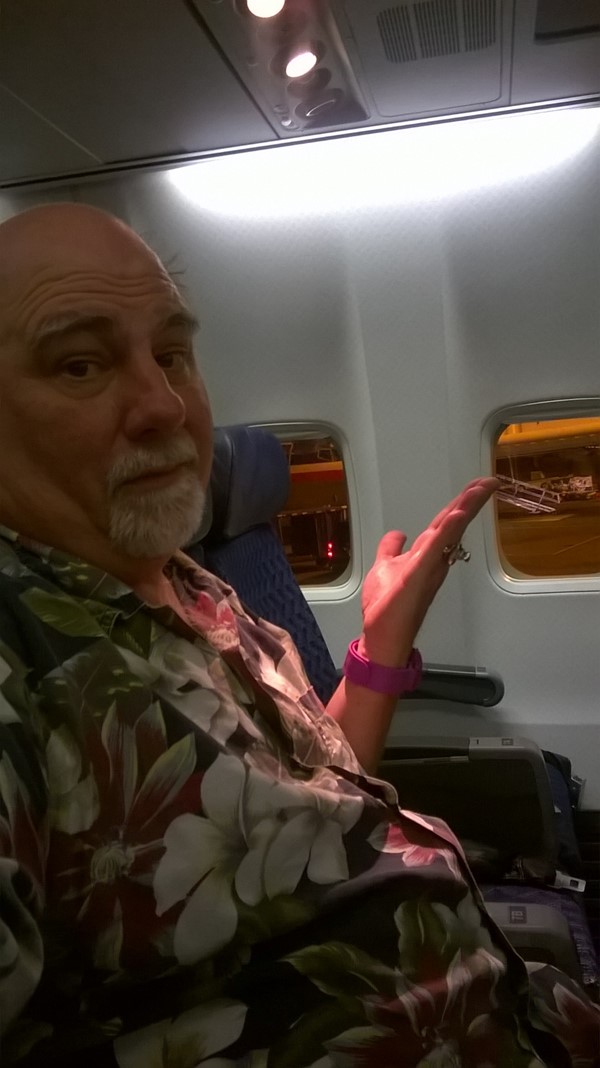 Yes, someone finally did show up for the window seat and then bitched about "so many rules" – she needed to put her bags up above since she was in the bulkhead – and she was the last person on the plane. Thank god she slept the entire flight. No food service, and only two drink runs – but I'd bulked up in the Alaska Board Room in Seattle that closed just about the time I needed to head to the gate.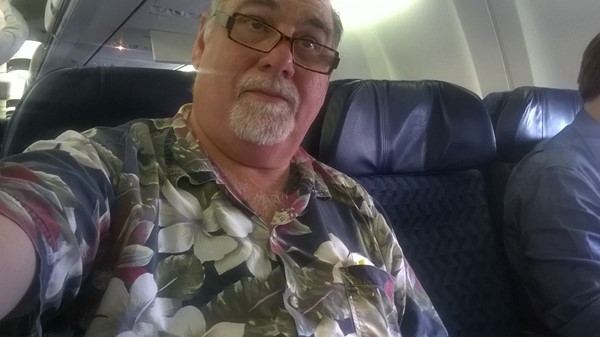 And my three hour flight to St. Martin (French Side, Sint Maarteen – Dutch Side) after a most unsatisfactory quick Nathan's Hot Dog with sauerkraut for breakfast (bottom of the bun was hard as a rock). Luckily, when I arrived in St. Martin this is what awaited me in the lobby…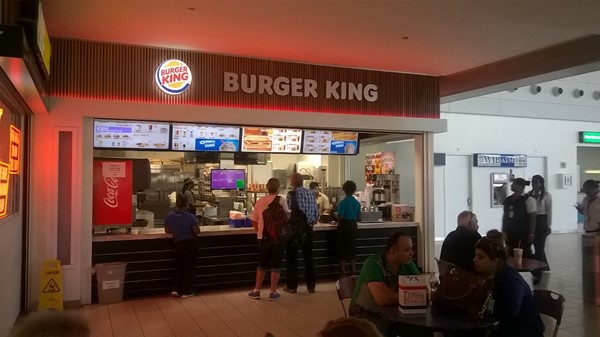 Maybe I should have gone for the Subway that was next door…a quick small burger and time to grab a cab to the condo that the girls just checked into. Mindi (who flew in from Dublin, Ireland) doesn't know I'm coming. Side note – Sint Maarten has that Caribbean/Mexico feel – but being a Dutch protectorate (the side I'm staying on) there is great signage, and even a taxi zone rate chart that the cab drivers association publishes.
Nothing like showing up at the door with a "booze delivery". Here is the place we are staying: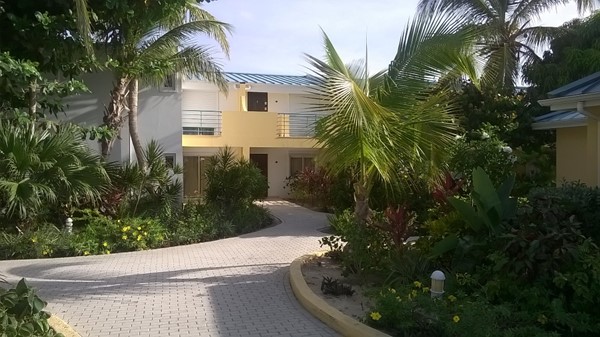 Although, if you do a 180 degree shot behind you…you see this…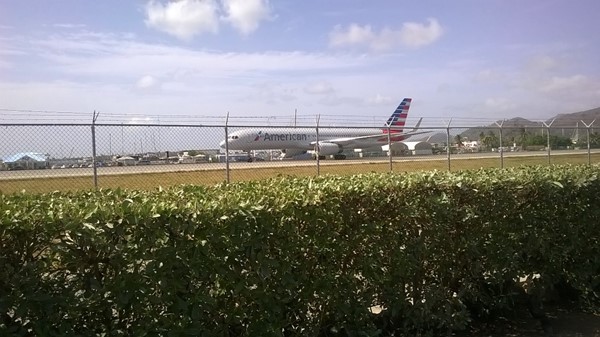 Yes, that would be the jet I arrived on headed back to Miami. The terminal is on the other side of the runway – but the place is really quite, with all the condos blocking the noise on the beach just outside the back door…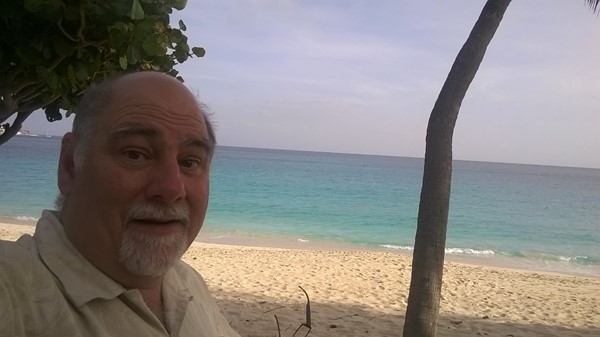 And the inside of the place is nice as well – and the couch look comfortable, which is good because that's where I'm bunking for the next two nights: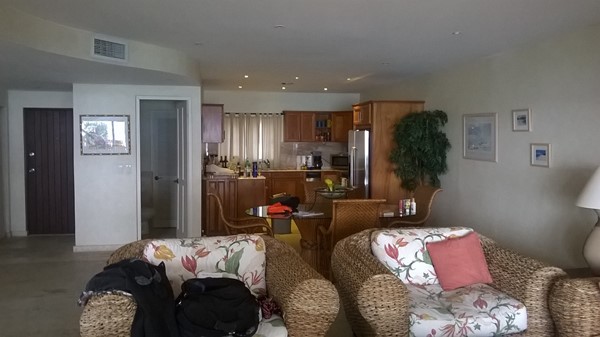 Upstairs there are two bedrooms and two baths, with a half bath on the main level – sweet place.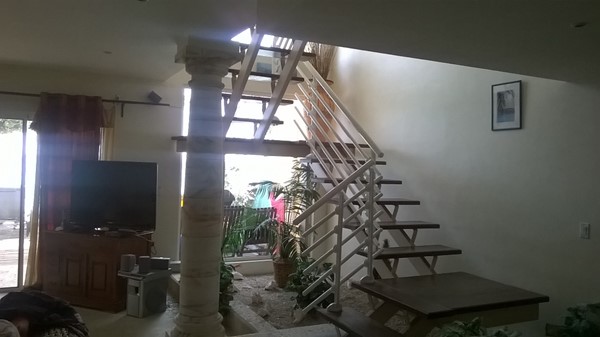 And we have a fabulous deck with a BBQ! Hello cooking in!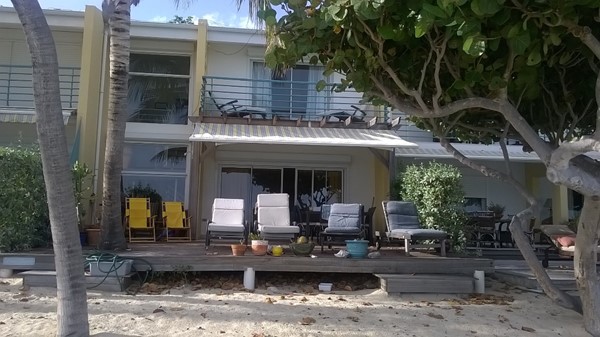 But before we can BBQ, we have to hit the road (thanks Anne for renting a car!) to get the girls lunch (weirdly enough, at a different Burger King) and pick up groceries for the condo: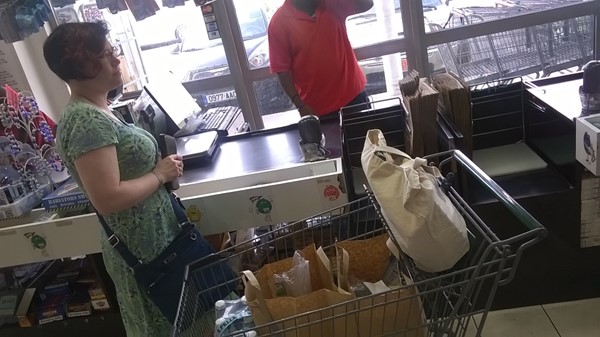 Several hundred dollars later we have food, mixers, rum, coconut syrup – all the things for a perfect vacation….but first, some ocean time – and the girls afterwards….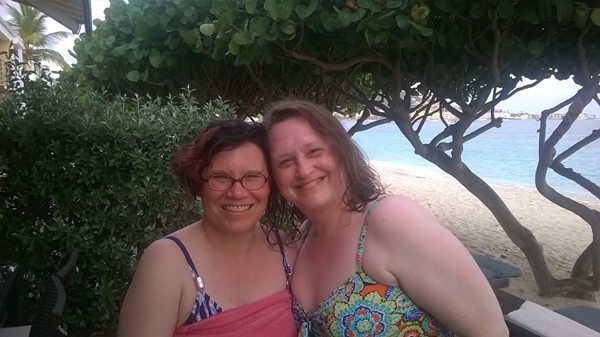 This is Anne's 45th birthday ramble – having just finished 10 years at Amazon she has 2 months off to recharge – she bought my condo in Cabo San Lucas so she will have another week sometime before the end of the year. I like the condo, but it was too far from the grocery stores, and the kitchen too small to cook all the things I like on holiday. And it was a full floating week, Saturday to Saturday, which with my work schedule that would mean taking two weekends off (annoying my business partner).
Speaking of condo cooking…. Our dinner: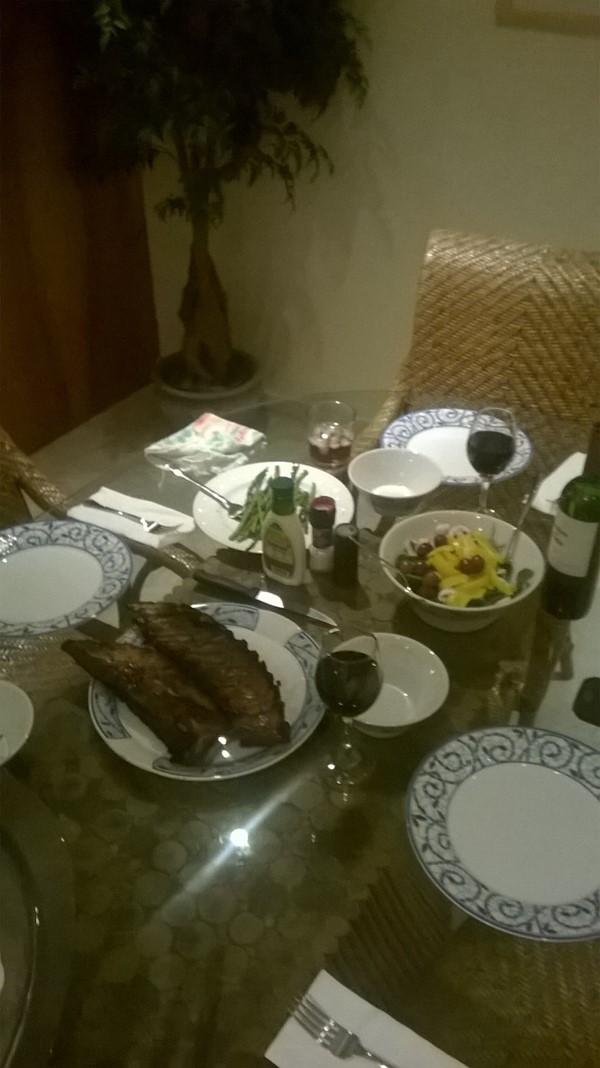 That would be a couple of racks of ribs off the grill – a nice salad, some asparagus, and, of course, mas vino tinto. Opps, that was Spanish, not Dutch.
Day Two on the island is a circular road trip of the island to Phillipsburg and around the island through Marigot and back home.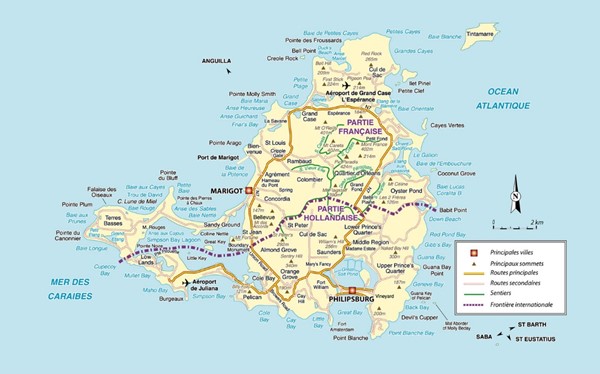 Here are some photos of our adventure: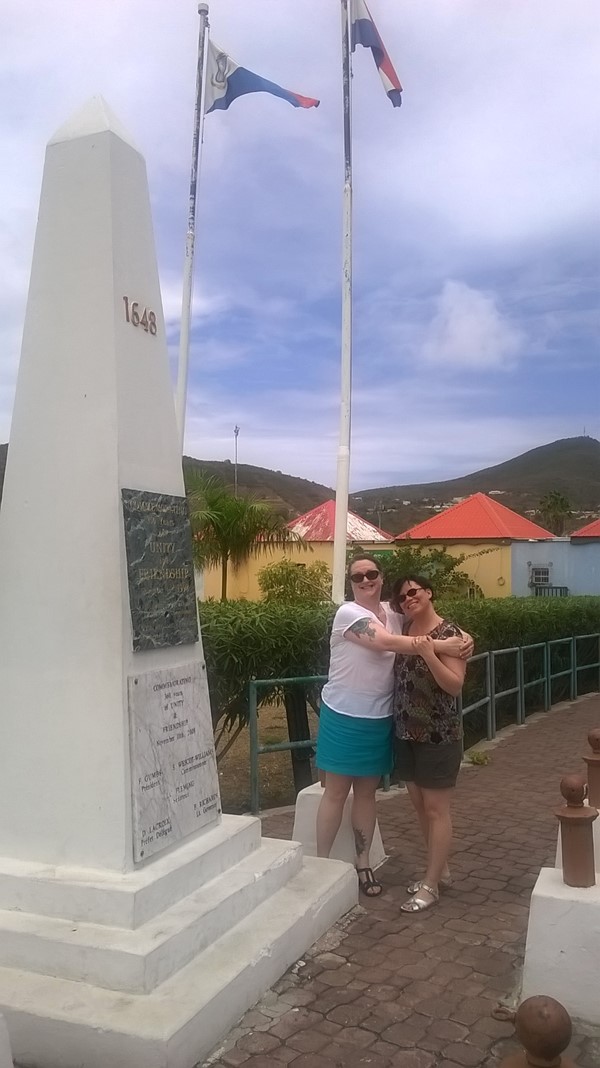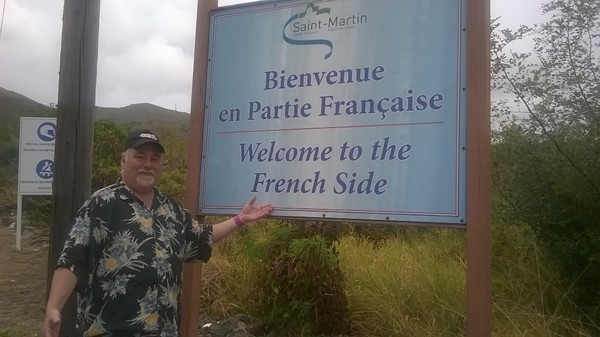 And lunch at a fabulous outdoor café on the beach: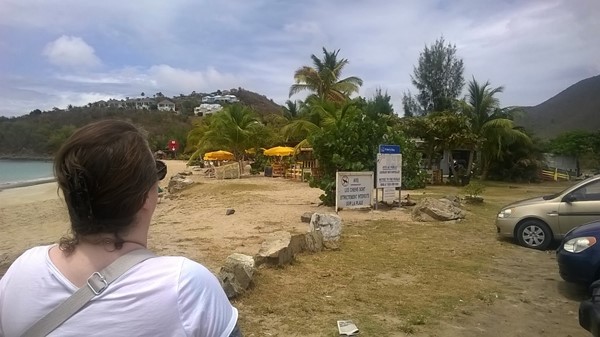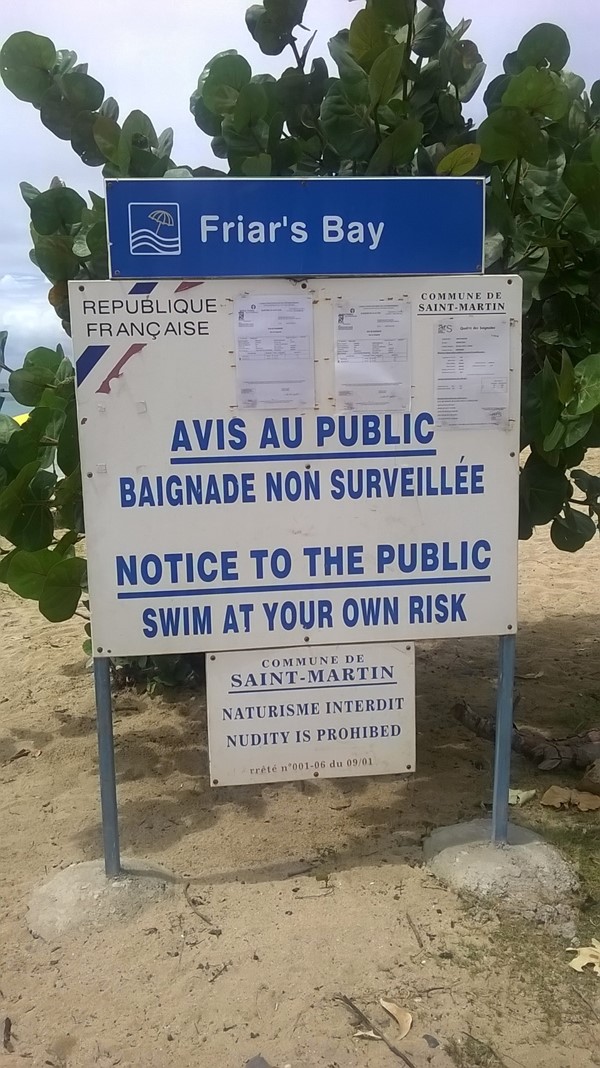 Guess we can't do a Naked Lunch…but the lunch we did get was wonderful. Mindi has the goat cheese salad…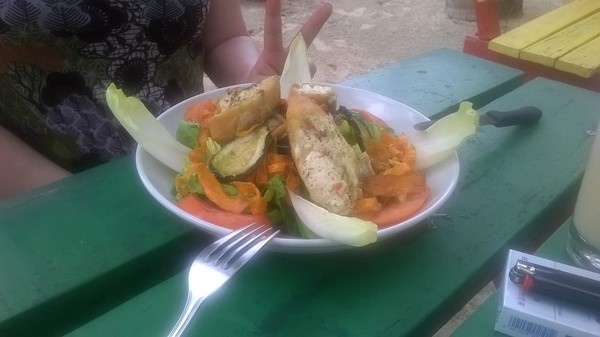 I went for the conch stew which came with some fried plantains, a little salad and some dirty rice….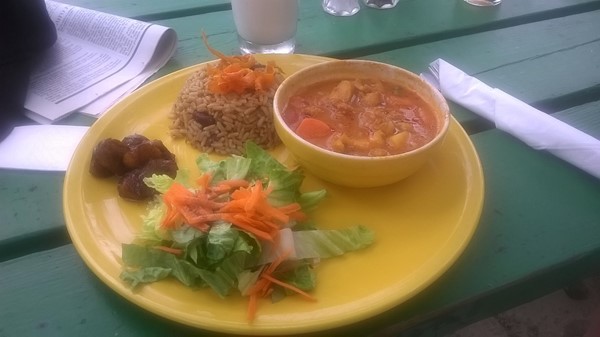 Anne went for the half chicken, which also came with the plantains a little salad and a scalloped potato dish…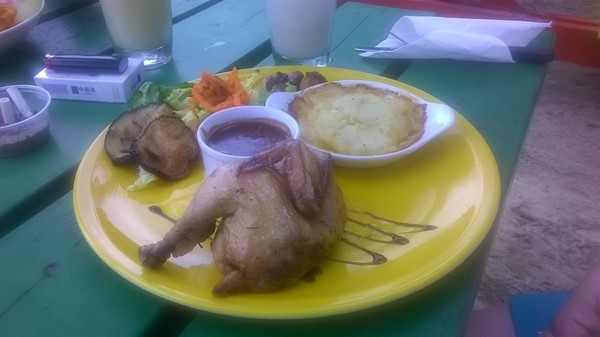 No cheap, but yummy. Iguana was on the menu as well – but I couldn't help thinking about Josh's Igauna. But they are plentiful on the island….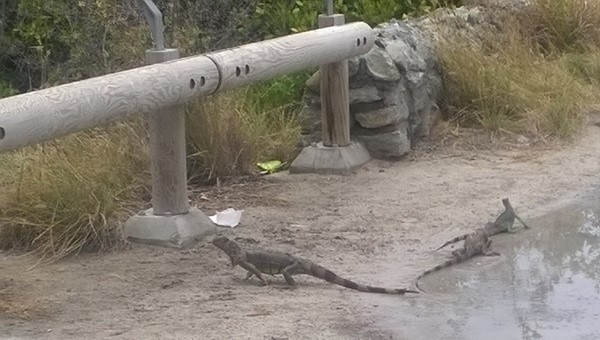 Marigot is famous for its traffic jams – at all times of the day, but today wasn't too bad: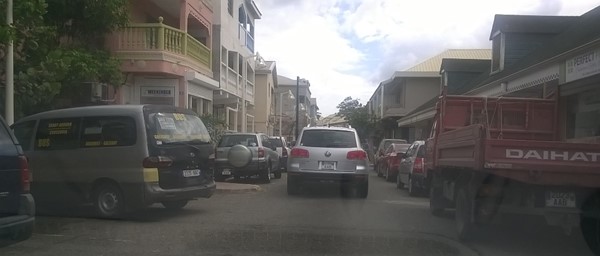 And yes, this is the main "highway" through town.
Back to the condo for our late afternoon lounging around in an out of the water. We came to the conclusion that we really needed a house boy to refill our drinks without having to get out of the ocean. Here is the cocktail view: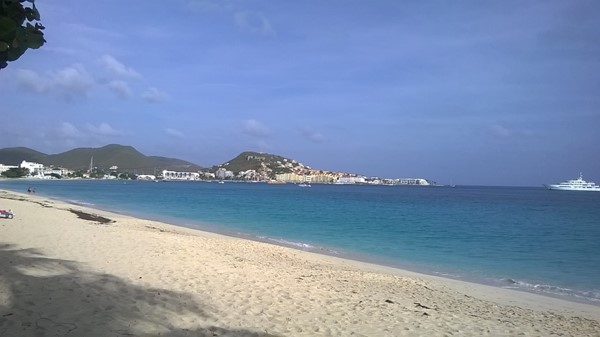 And some silly selfies….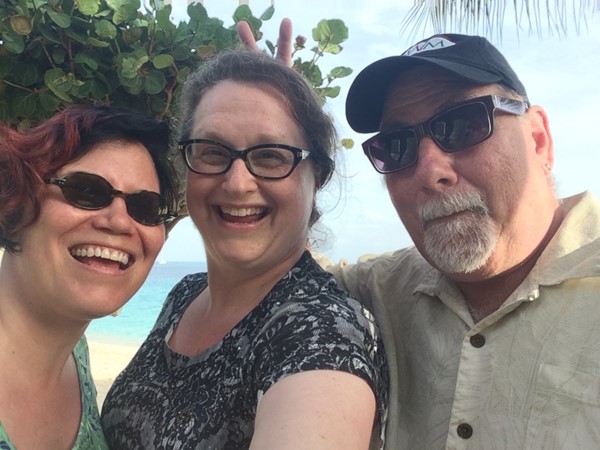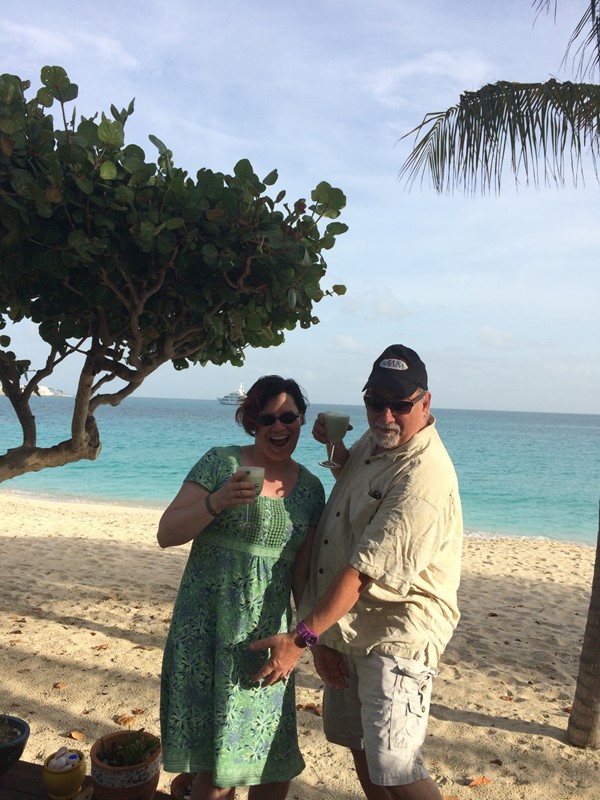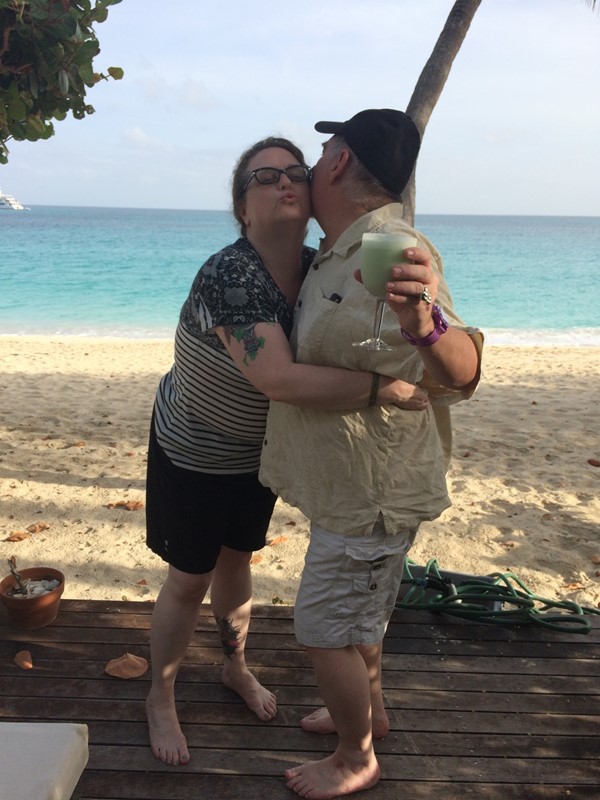 Our place even comes with Beach Dogs…Dora and Bruno (Dora pictured):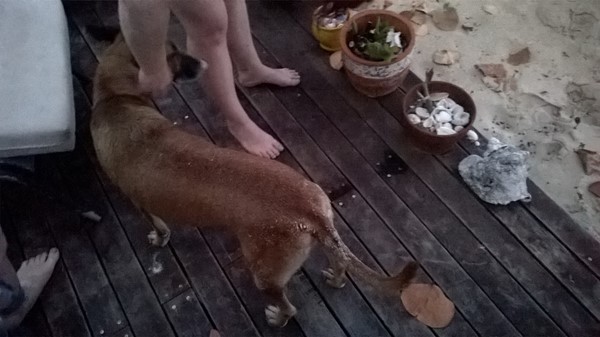 On our circle tour we picked up some steaks for dinner – moved the BBQ around to get better lighting on it – yummy.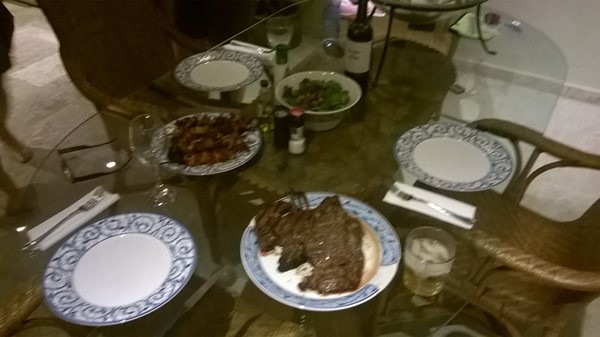 Great food, great company, but I have an early flight (7:30am) in the morning for my four leg flight home.
As for my airport breakfast – MUCH better than my Nathan's Dog in Miami on the way down: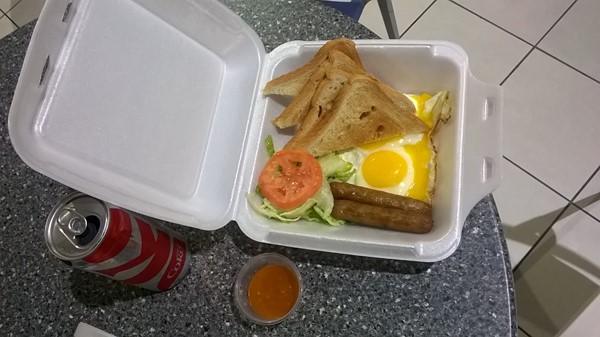 That's a REAL breakfast, including salad and hot sauce.
Sint Maarteen to Miami on time, Maimi to Tampa on time, both in Coach. Starting with Tampa to Dallas I'm in First for the rest of the way home – as you can tell from this photo….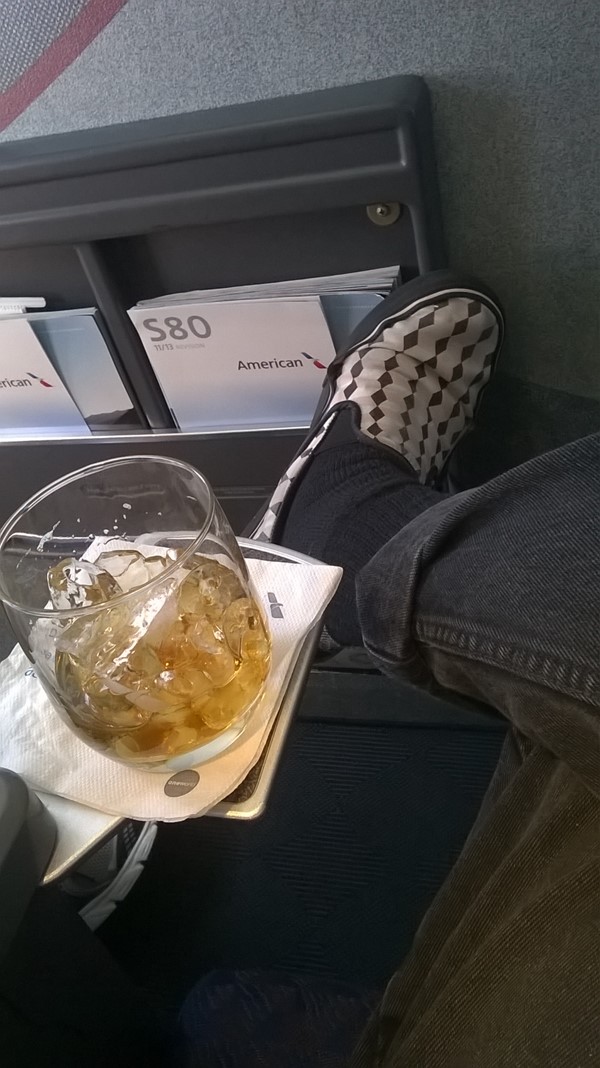 And a decent snack: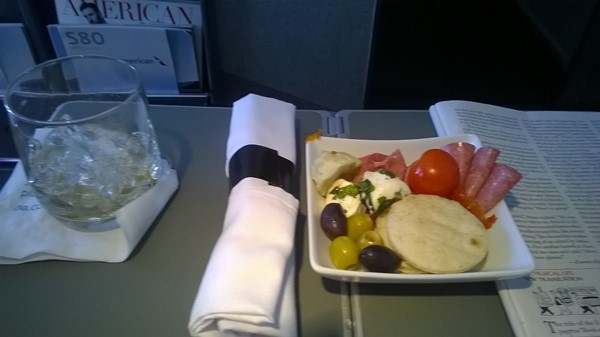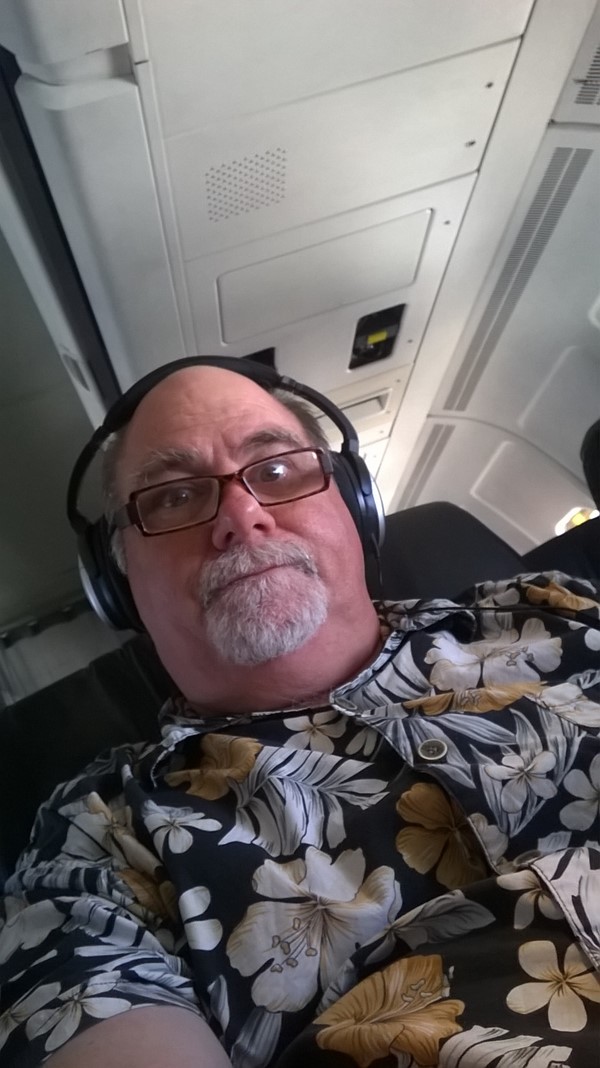 Got to Dallas for my long layover – the other ones were less than an hour and a half – which in Miami included time for me to get through customs. Thank goodness for Global Entry – a machine rather than a line. Easy Peasy. Luckily in Dallas I have access to the Delta Sky Club which is located in the same terminal as Alaska who I'm flying home.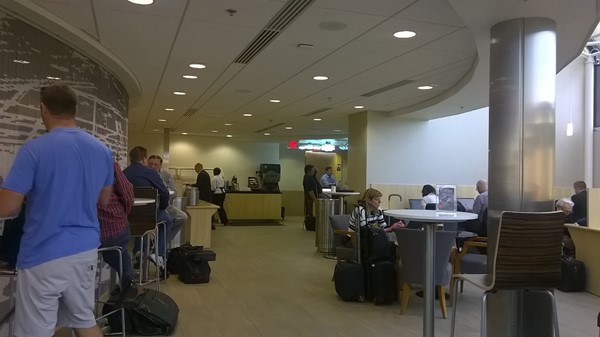 And my office in the lounge: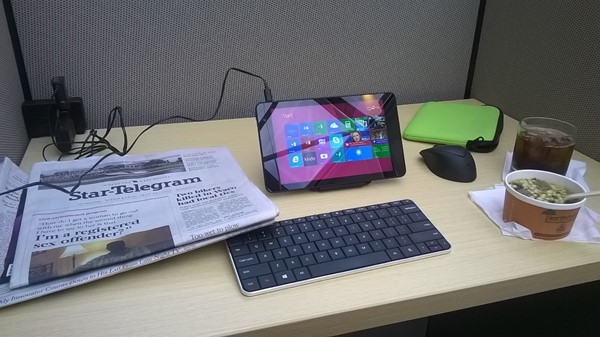 Two different soups, salads, vegies/dips, free drinks, not bad.
Oddly, no pictures of my seat, the food, the drink on the last leg (Dallas to Seattle) – I think tiredness is catching up with me, but I did find a final silly selfie on my phone, from one of the legs of my trip: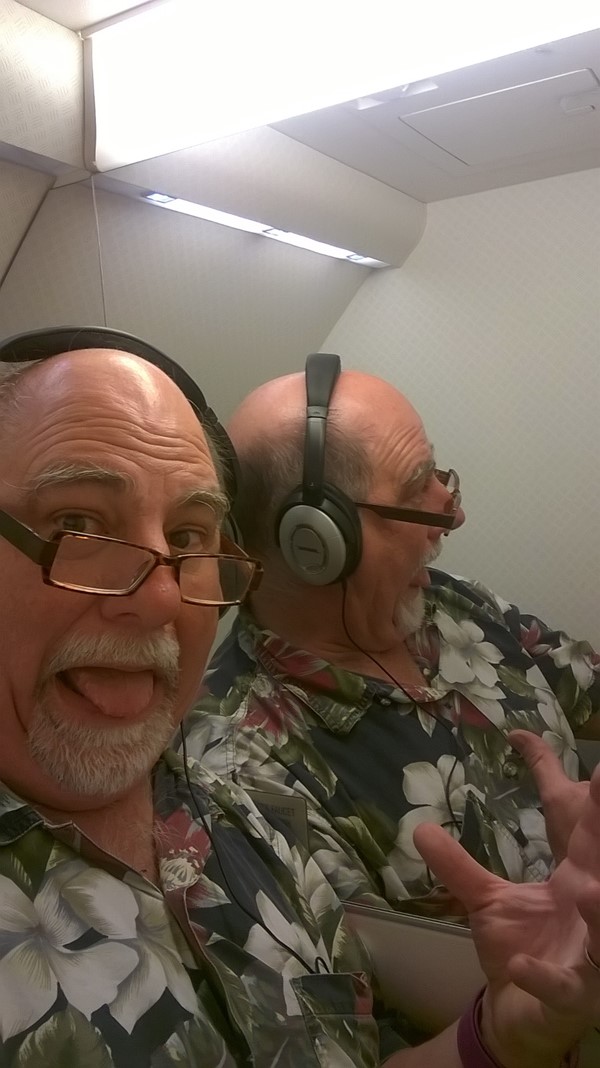 Bathroom mirror shot.
Home before midnight….barely.
[225.0]