On the road again, this time to Santa Fe for my niece's graduation. Just a couple of nights (Wednesday/Thursday) and then back to work.
Booked this at the last moment, so the way down it was $202 one way (was $135 the week before that I cancelled because I couldn't get back on miles) and 25,000 (+$80) to get back on United in First Class. Probably should have booked in coach and hoped for an upgrade, which I think would have happened after looking at the seats 48 hours out. Live and learn. Especially on later night flights.
Missed getting upgrade on the way down by one seat…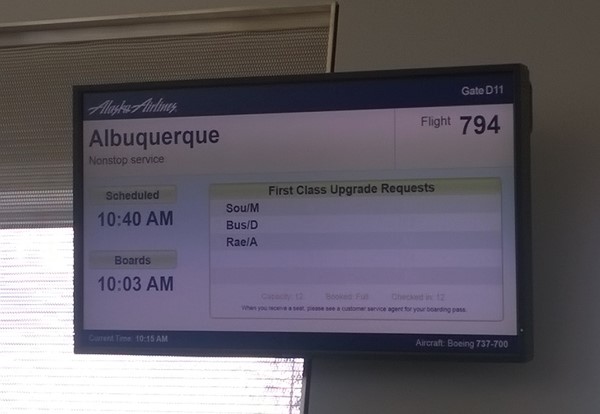 And one of the shortest lists of people waiting for upgrades that I've seen in years.
Not a bad seat – had 7C (Aisle) with an open seat next to me, but before the door closed the woman in 6D (also and Aisle) moved to the window seat and I moved into 6D – bulkhead, with more room, making a gentleman further back really happy to have the flight attendant reseat him in my old seat (he was a little on the large size so I'm assuming everybody in his old row was happy).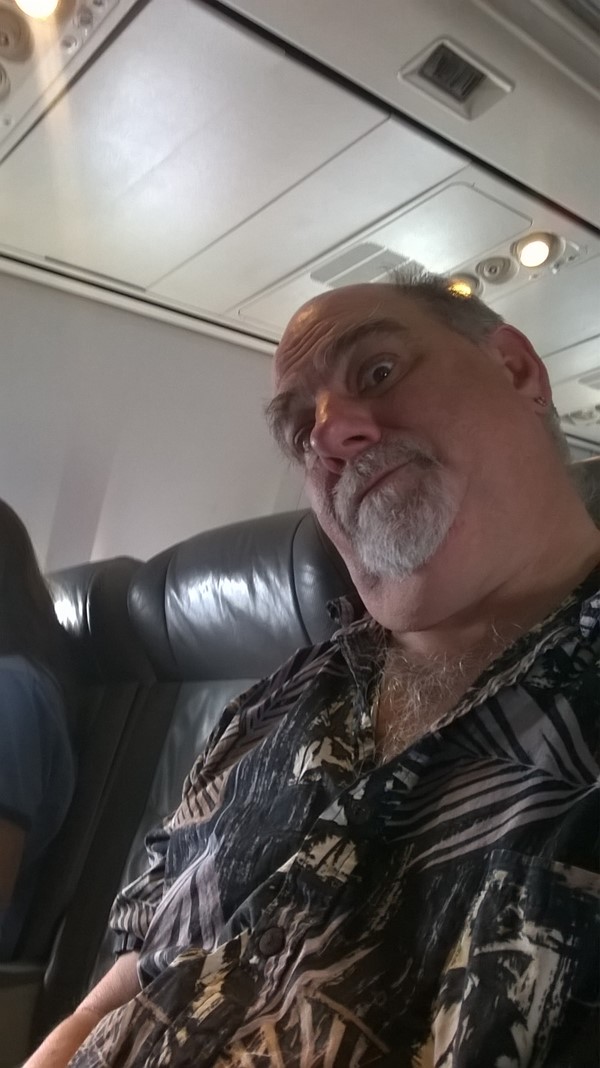 Even ordered the lunch ($8) which was a hot BBQ Chicken Sandwich with Cole Slaw – damn tasty!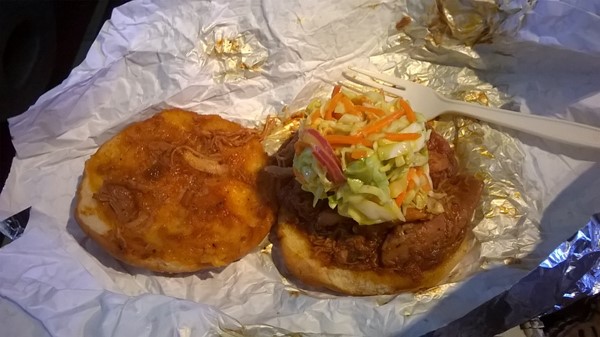 The Cole Slaw came on the side but I added it to the sandwich – damn messy too!
Got my bag, caught the rental car shuttle and signed for my $8.50 a day car with unlimited miles. That was through Advantage. Everyone else was like $30+ a day but when I booked this a week and a half before, the $8.50 (plus all the crap airport fees) was what Expedia showed even though I booked direct. Word to the wise…keep checking your rental car rates (I use Expedia and then book direct because sometimes there is another 10% off) leading up to your trips – you never know when something like this will happen, and it's free to cancel unless you have pre-paid, which is just a bad idea.
First stop was El Castillo – the retirement community where my mother has just moved from Independent Living to Assisted Living. My first job is to get the rest of the artwork out of the old apartment (and her shower chair) so we can turn it back over to the community.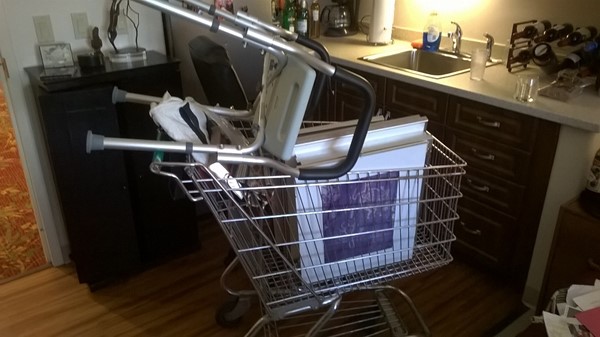 Thank goodness for the shopping carts that they keep around the place.
Next up was getting all the artwork hung…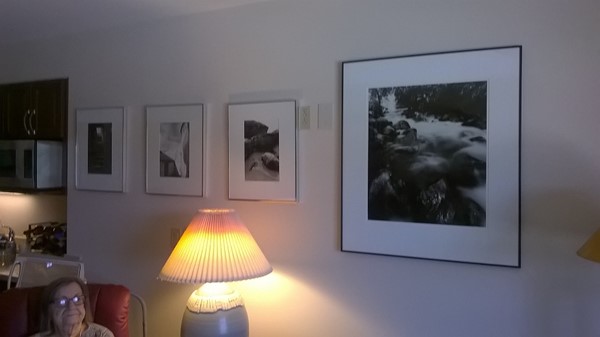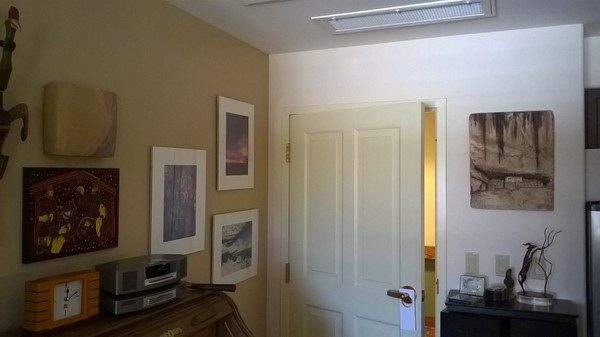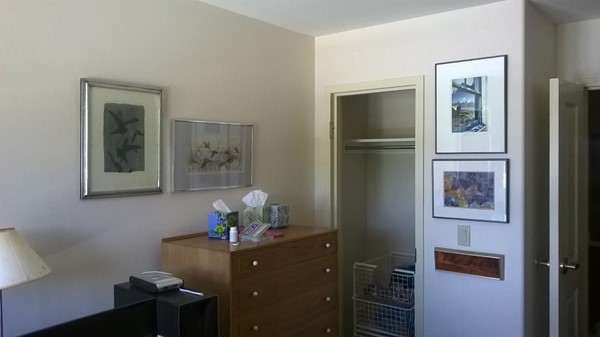 I didn't hang this one, but I love where Mom had it hung – with a clear view from the hallway (and she keeps her door open all day).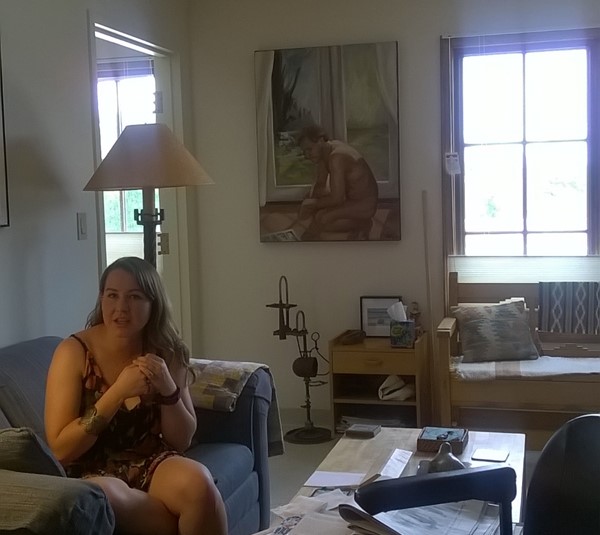 That would be my other niece Emily.
Staying with the in-laws out in Eldorado in the guest bedroom so it was out of the "old folk's home" at 3 to run personal errands and get out to the burbs to carpool back into the city for graduation, reception and party.
Thankfully the ceremony was short – and the program included the most amusing of typos….

And yes Ceryndipity (Ceryn to her friends) is one of my niece's friends, as is Isaac, aka Kara – with 18students in your graduating class, you tend to know everyone.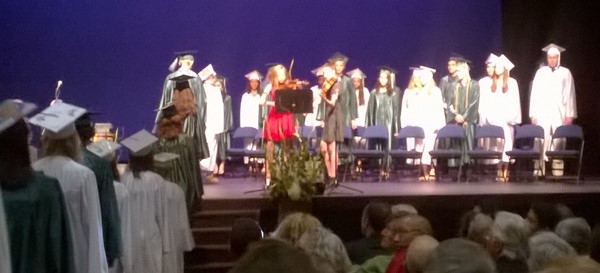 Seriously, the ceremony was less than 45 minutes – and some pictures afterwards…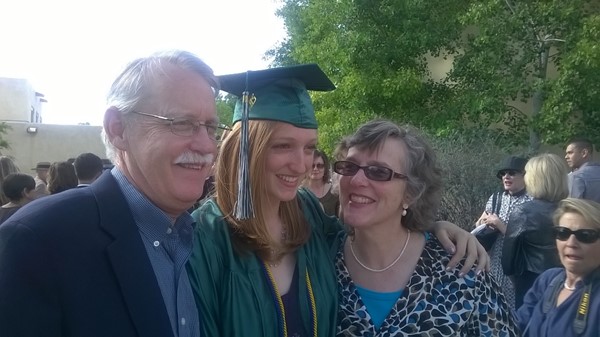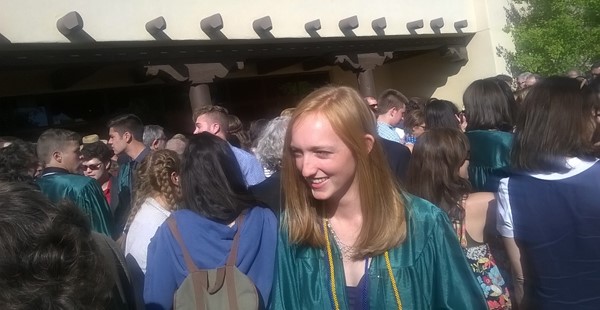 And the little cord thingees are honor society or something.
No pictures of the after party…good food, not enough booze, should have brought a flask since I wasn't driving…but we were back to the burbs soon enough.
The morning was back a Moms walking her through computer stuff – after years of dial-up (I'm not kidding) she has a wi-fi connection from the nurse's station – and a new computer, hence the computer stuff. I needed to download the classic Windows 3.1 Solitaire from my table and put it on her desktop, and get the printer working, and show her how to get sub-titles on movies. Think she is set up.
Luckily I'd packed the night before – including my father's ashes and the rattan elephant that holds them: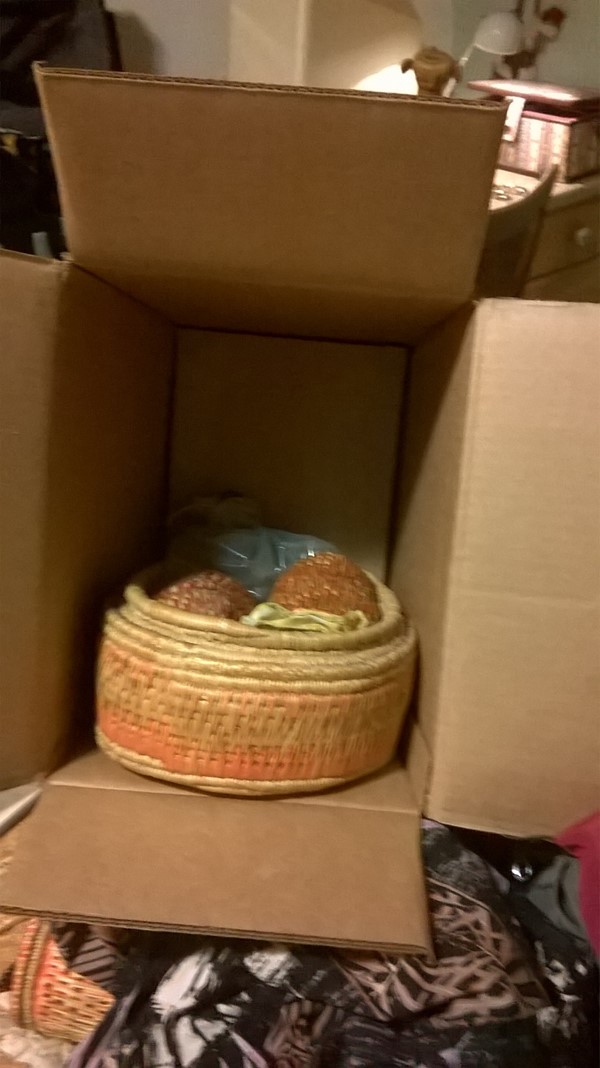 Grey bag at the back are the ashes. Had to disassemble the elephant to get it into the box in which I brought wine to Santa Fe: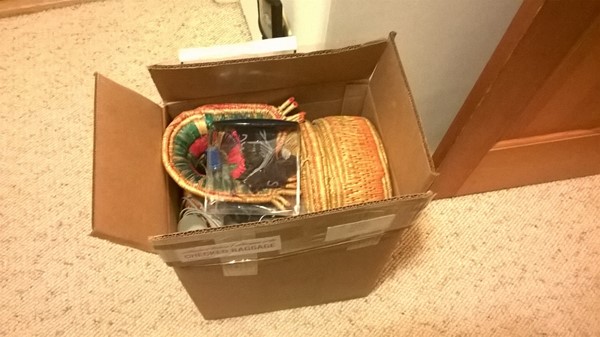 Left for the airport a little after two, after having lunch with Em and Mom in the main dining room – thought I had a 5:35 flight. Turns out it was 7:35, but the gods smiled on me since my flight was delayed and I was able to stow away in coach (I had first class on my flight – but it is only an hour). When I got the text with the delay I high-tailed it to the gate for the earlier flight – I was the last standby put on (and probably bumped someone as I'm a Gold and go to the top of the list).
Missed First Class, but got a free drink anyway since their POS (Point of Sale) device had a dead battery. Merry Christmas said Jack Daniels!
Instead of an hour layover in Denver, suddenly I had three. And I love Elroys (as in John Elroy, football player).Not cheap, but dear god is the food and drink exceptional.
Their Manhattan ($15):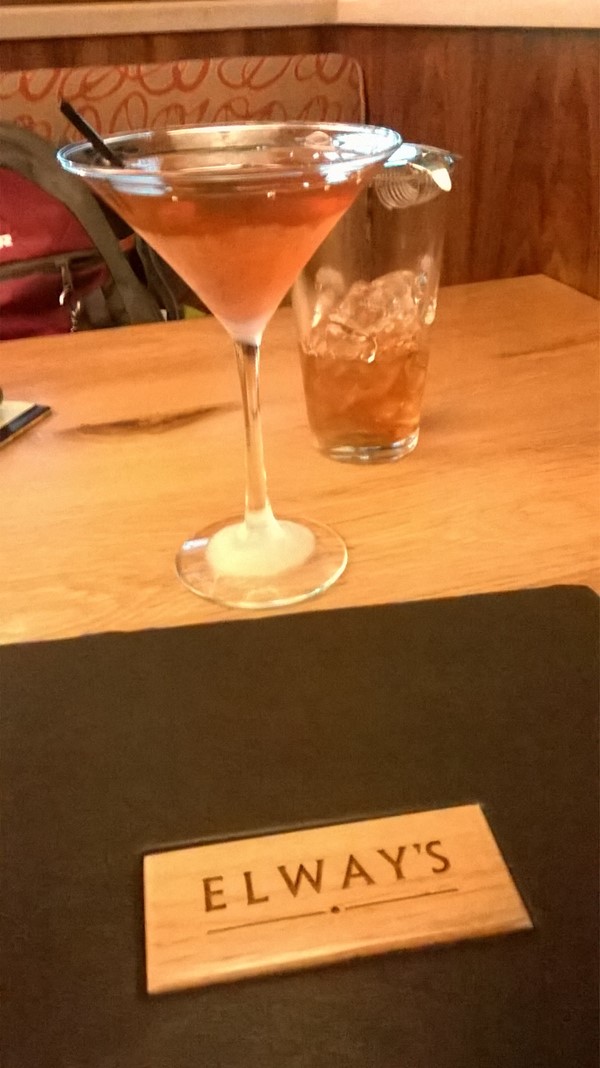 Bulleit Rye, Carpano Vermouth, Luxardo Cherries. Yum.
And then there were the steak tacos ($14):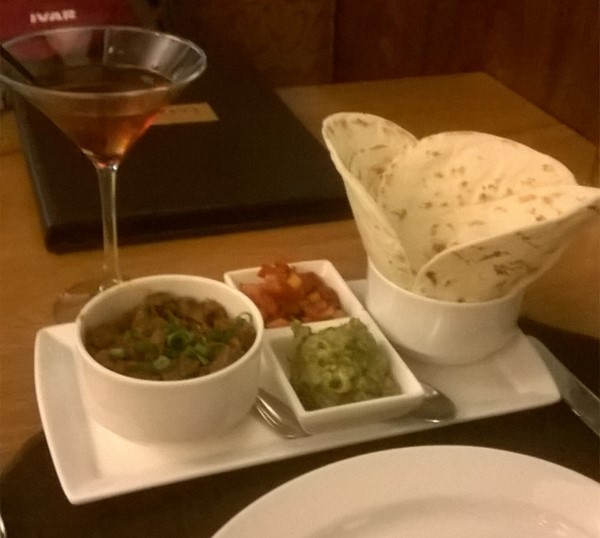 And after the second Manhattan…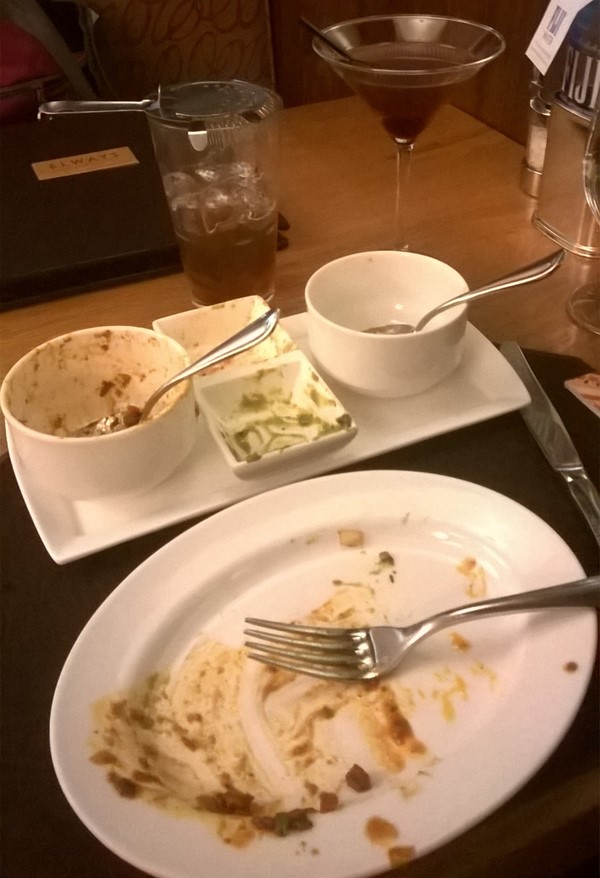 Maybe next time I'll have what the waiter recommended after chatting… the Lamb Chop Fondue:
Actually, all the "appetizers" looked good (though not cheap). And yes, you can have an appetizer and a couple of drinks and have a bill like this: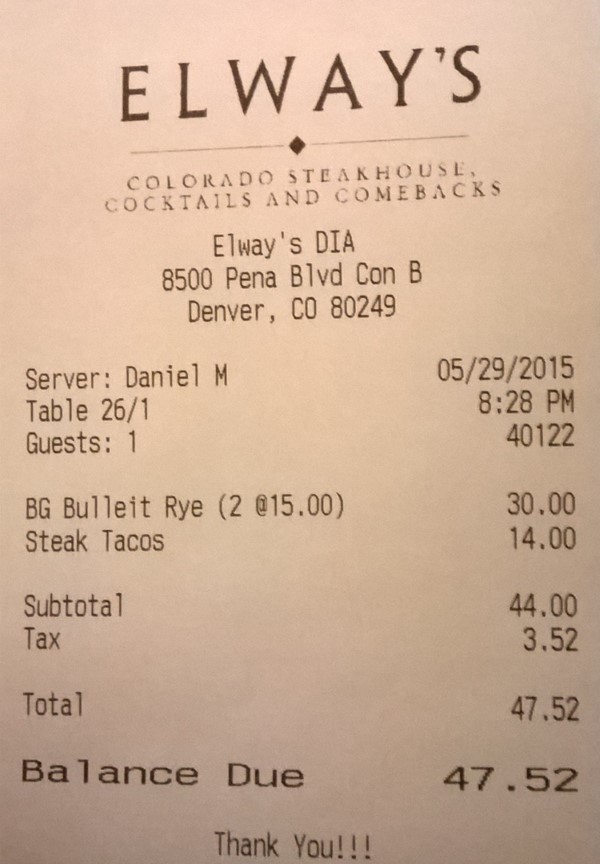 Beats airline food (and drinks). And soon I was on my way: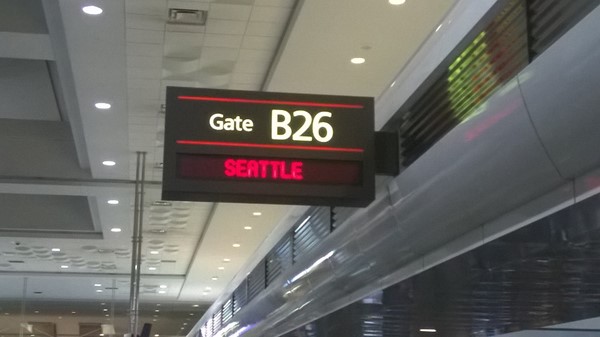 And my seat in 1D…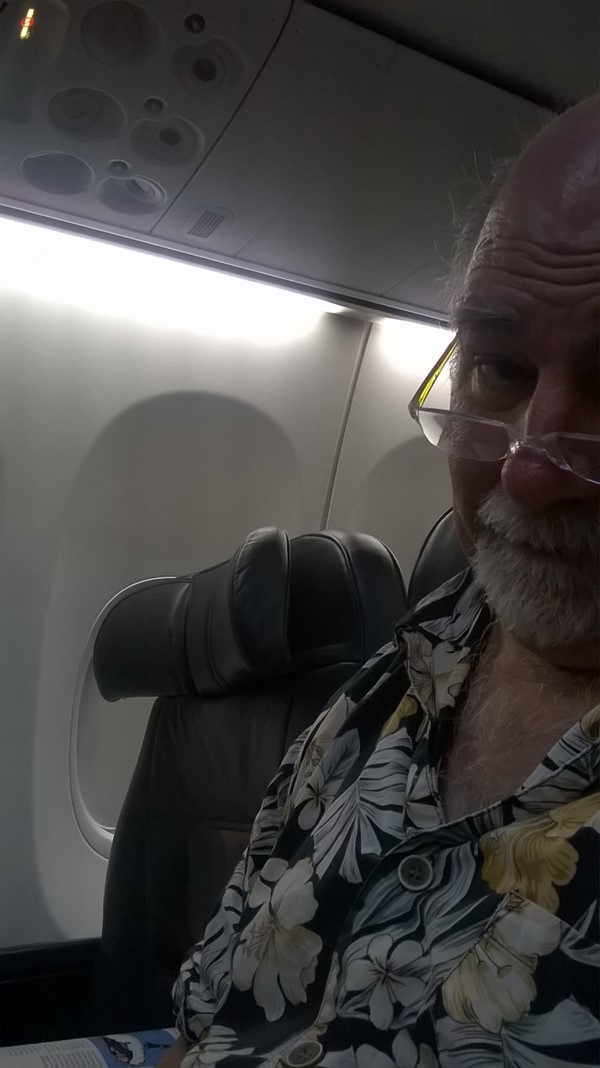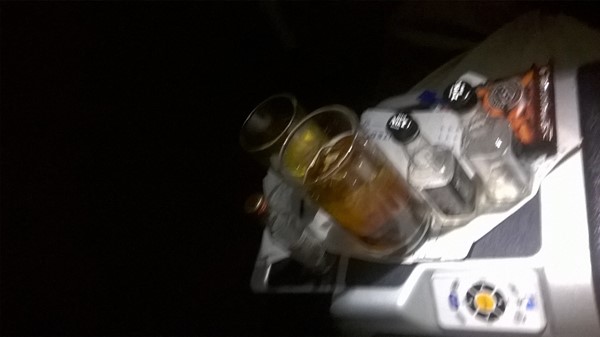 Home at midnight, with one casualty… a 1.75 of Evan Williams – and I think I might have caused it showing off the suitcase and slamming it on concrete when I dropped the handle. My bad: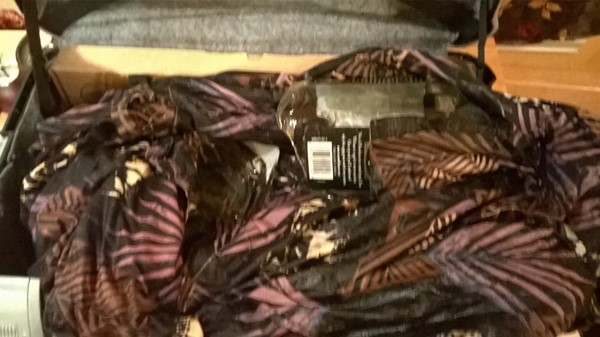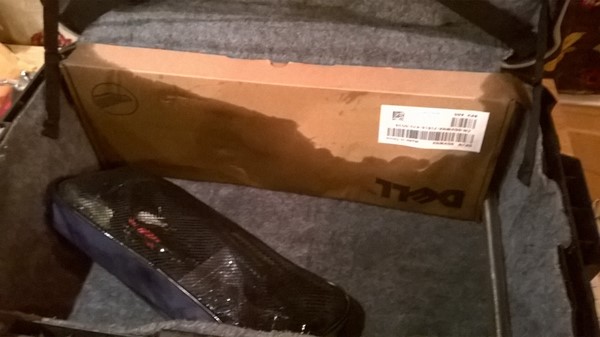 Luckily the keyboard will dry out. As for me, I doubt I dry out.
[222.6]