This trip to Whistler was the one originally planned, not the one to just get more use out of my Season Peak-2-Peak 360 Pass. It shares a theme of students/teachers just out of school – this one would be the teacher – International Baccalaureate High School English – and boy does he need a break.
Bonus points for me not having to drive.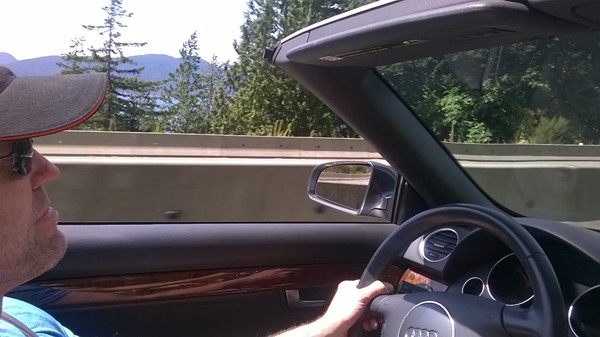 More bonus points for a ragtop with more room than mine.
First stop was Heritage Railway Museum in Squamish, British Columbia: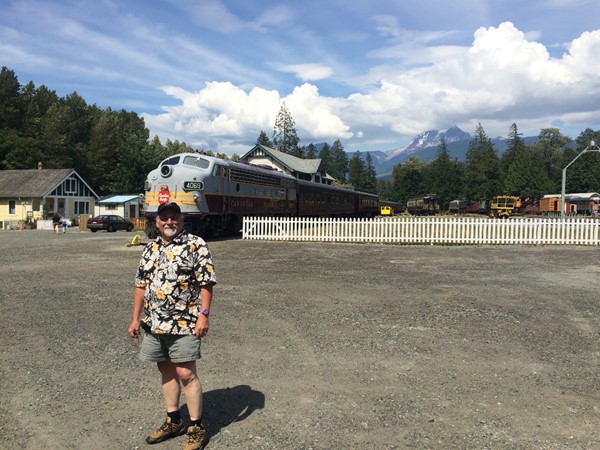 On the last trip I saw the sign and looked it up. Worth the $15 entrance fee for the number of cars you can actually go through: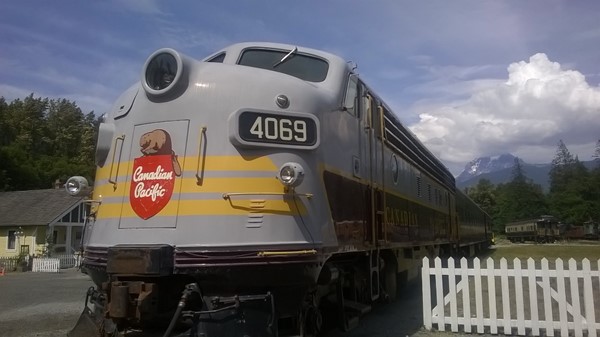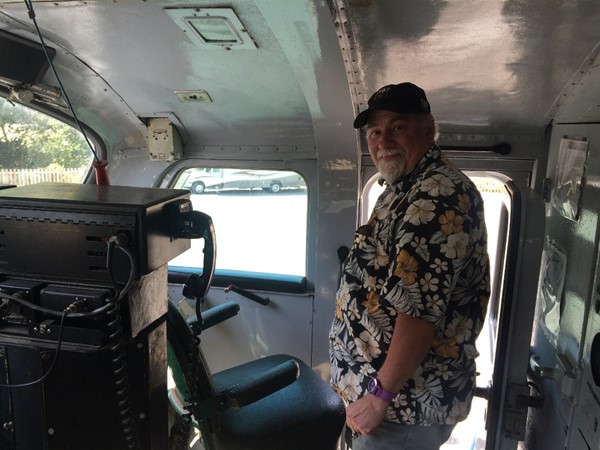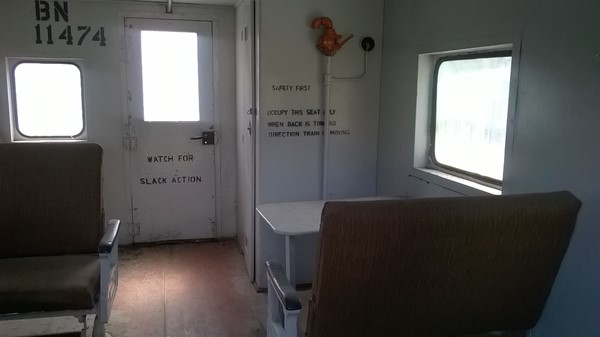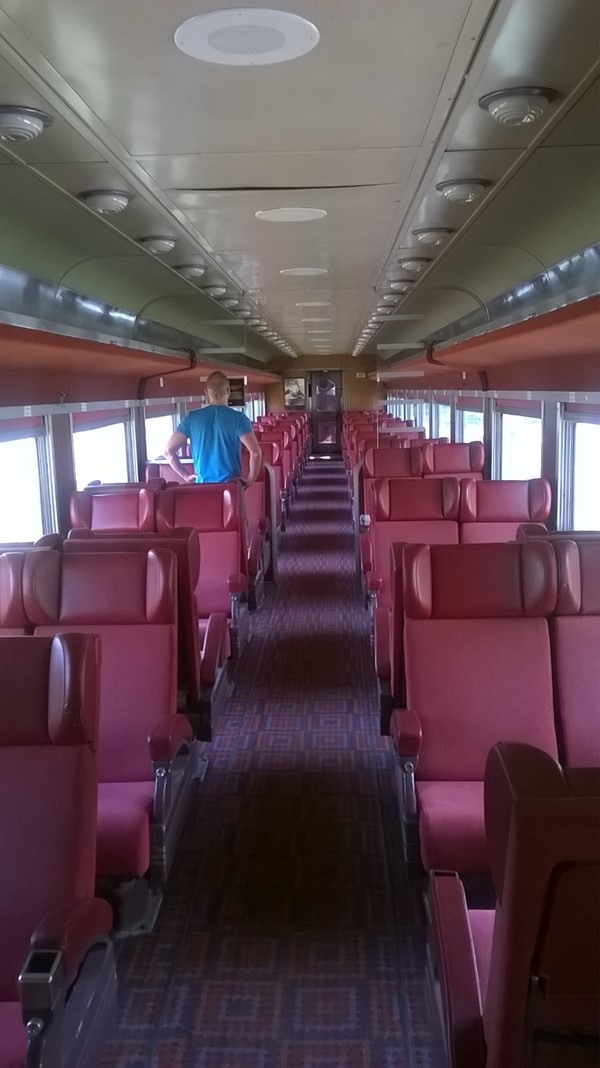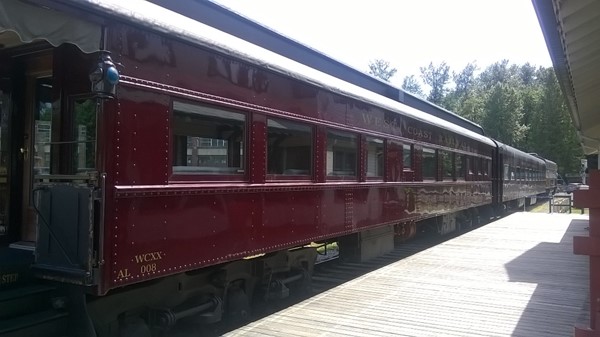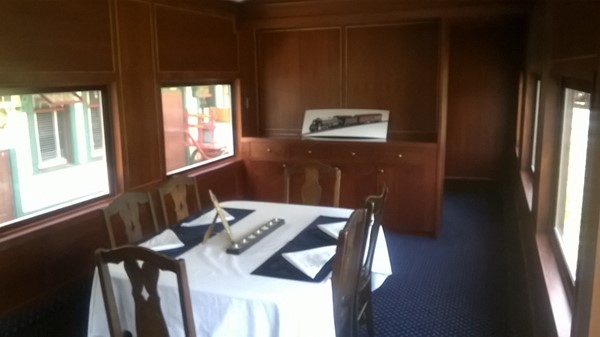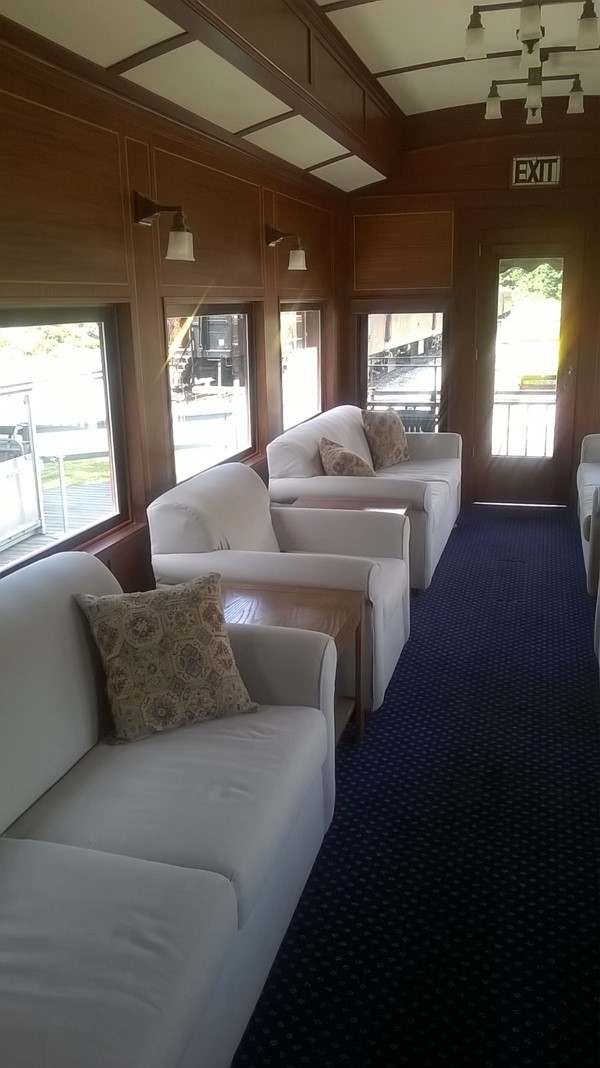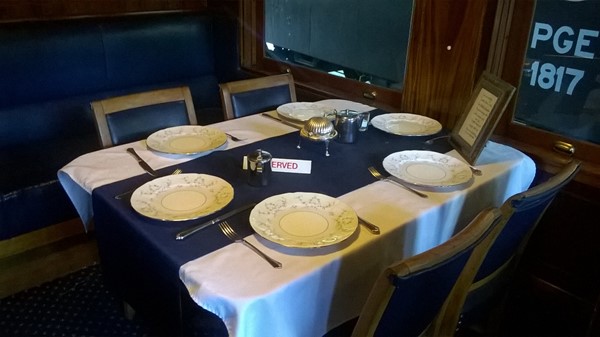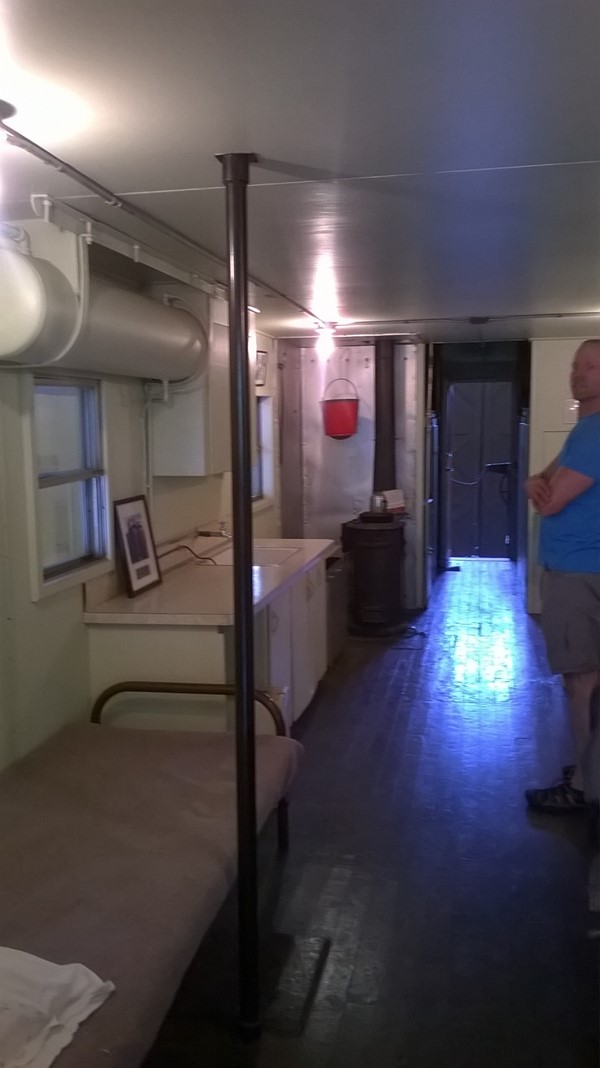 But soon, it was time to hit the condo….and a little time in the hot tub…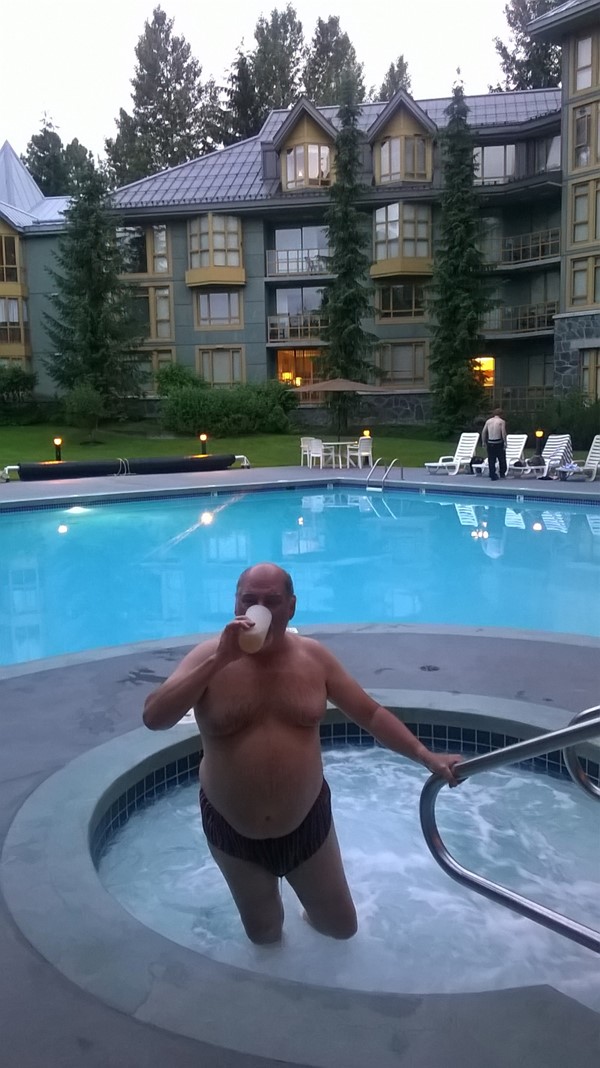 Tuesday breakfast starts with a travel tradition, the Bloody Mary! Though, as its Gin based, that would make it a Snapper…but because it uses Clamato (which would be a Caesar – VERY popular in Canada for some reason) who knows what it really should be called other than tasty. Glad I packed the olives: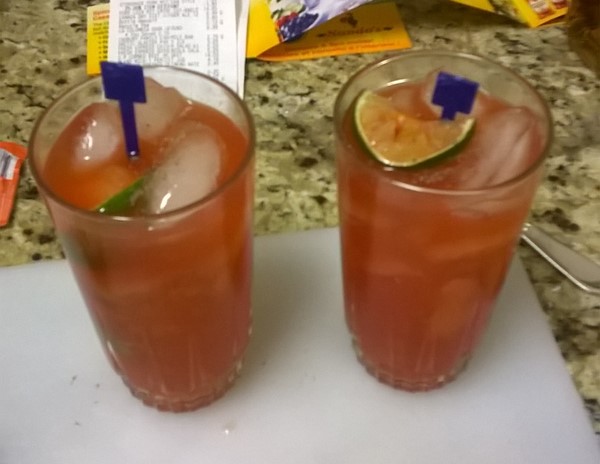 And the breakfast wasn't bad either…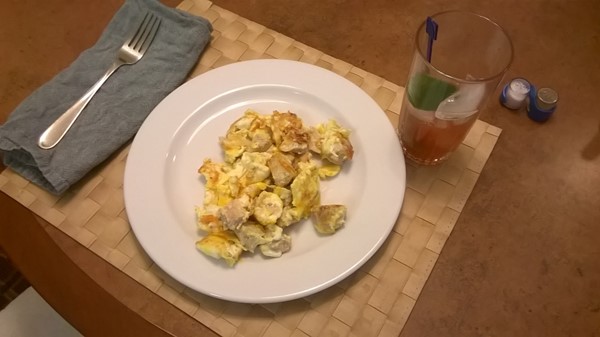 Off to the mountains we go – actually made it onto the lifts by noon: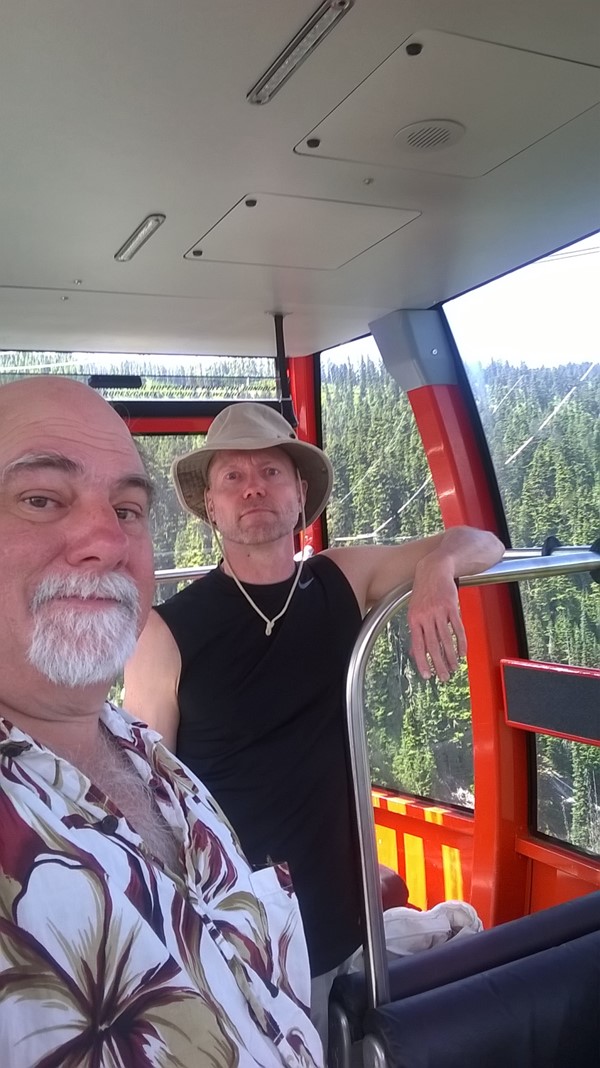 Destination: 7th Heaven Express. But first the two-stage lift to the top of Whistler, then the Peak-2-Peak, then the 7th Heaven Express, which is an open lift rather than gondolas: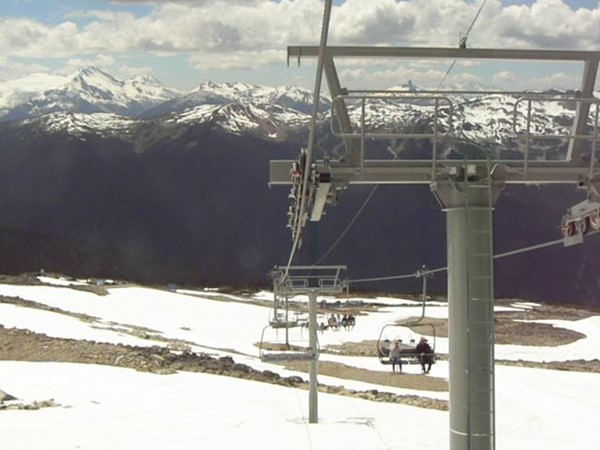 I have a little ritual at the top of the 7th Heaven Express (which is about 7,000 feet above sea level) – a shot of cognac!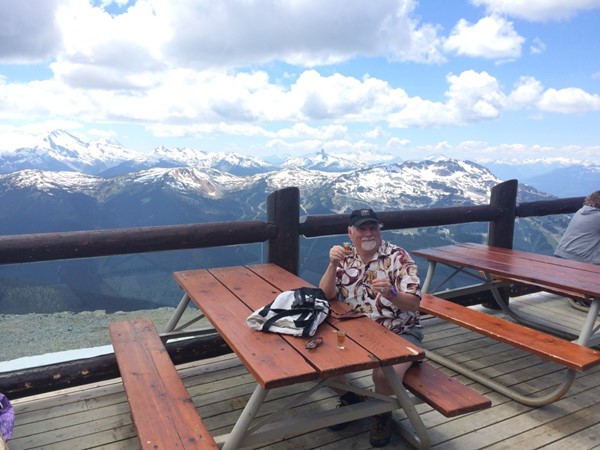 Of course, it being Whistler there are all sorts of signs about drinking…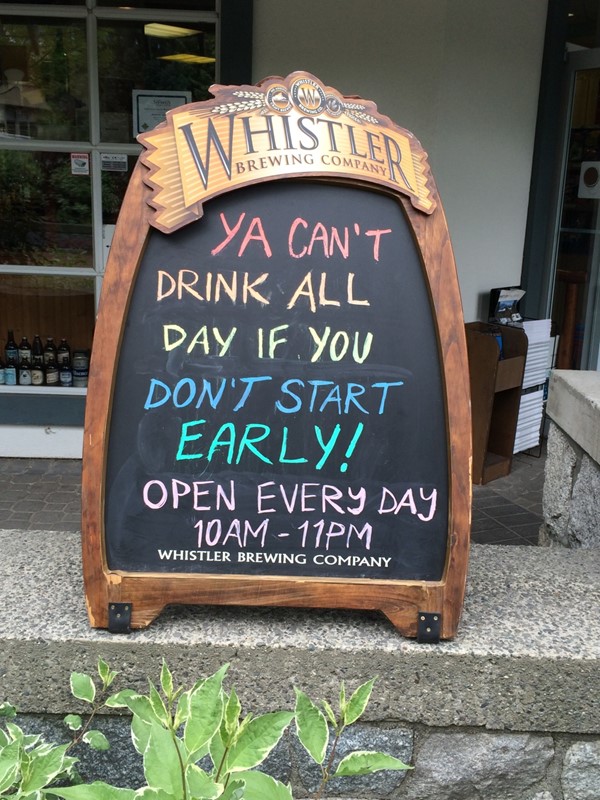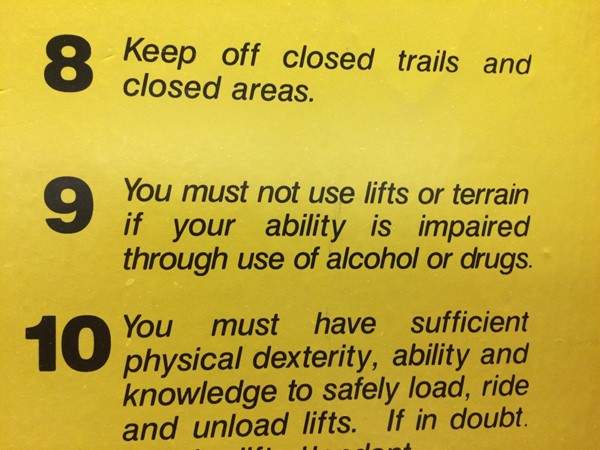 And since in Canada they only pour strict 1 ounce shots – at least at that altitude it feels like more. The other reason for going to 7th Heaven is to look at all the cute snowboard and ski boys: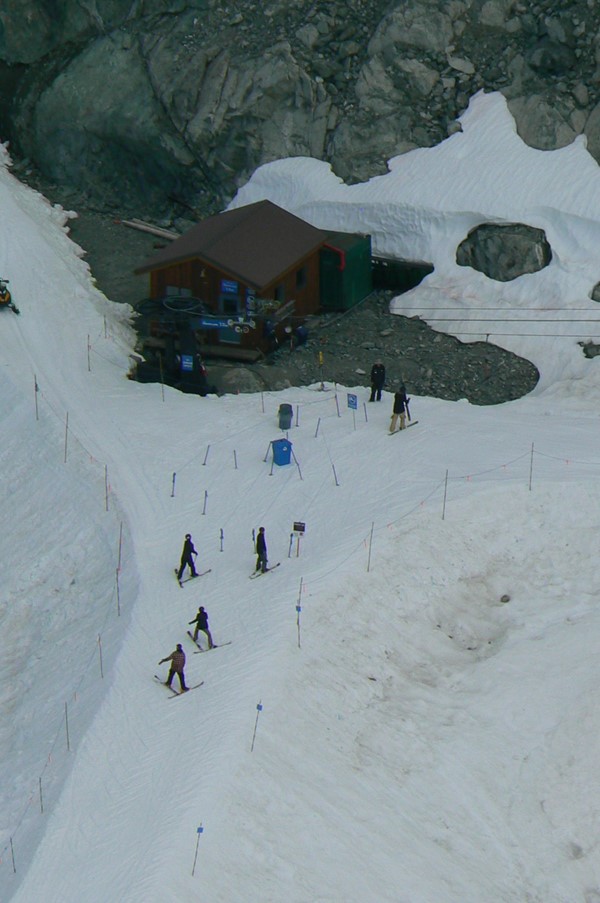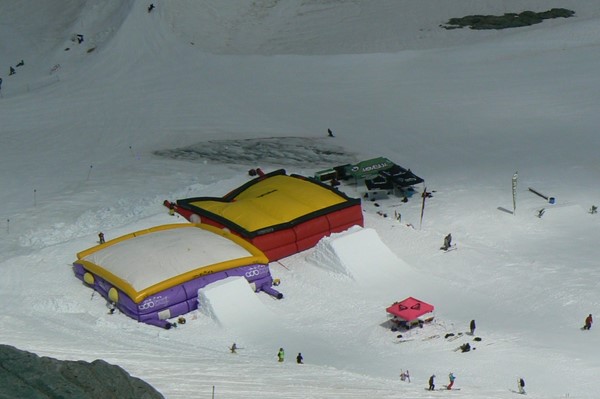 And, of course, the views…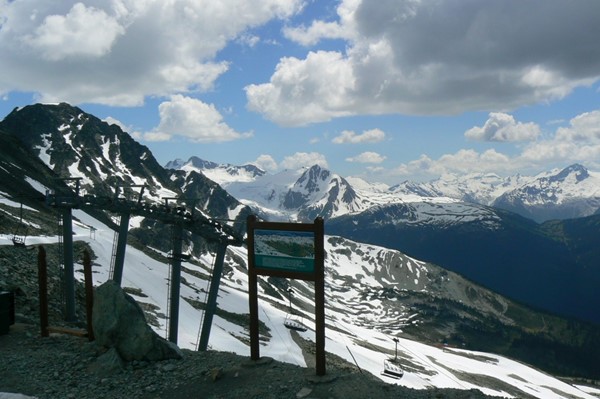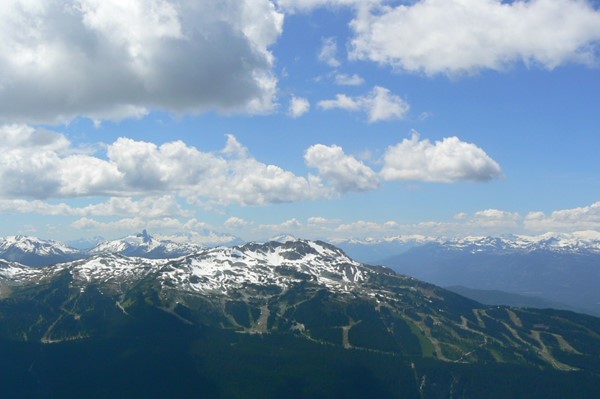 After our little libations it was back down the lift…for a little hike (about a mile).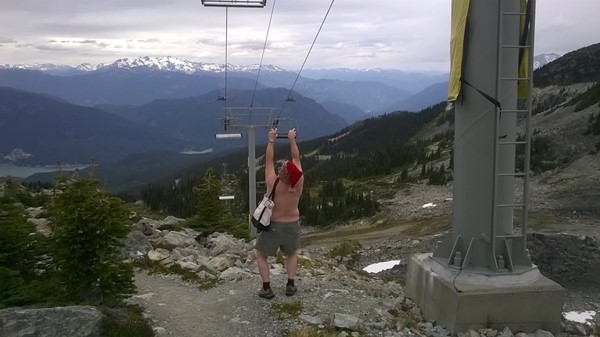 Yes, I was hiking in my Santa hat – the staff loved it.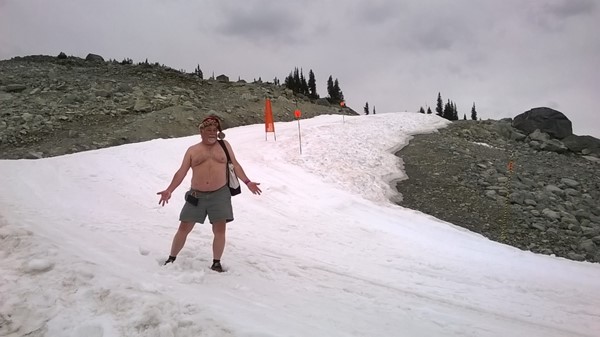 Couldn't stay in that spot too long for fear of getting hit…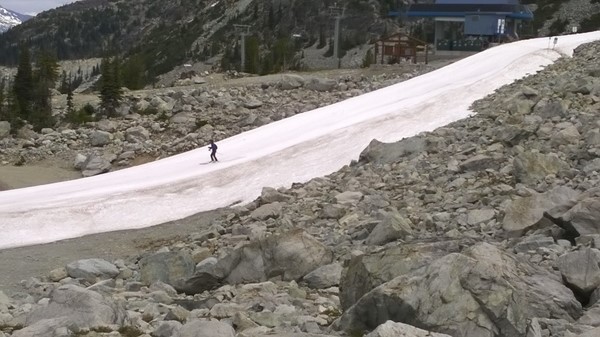 With all the warm weather the flowers were starting to come out…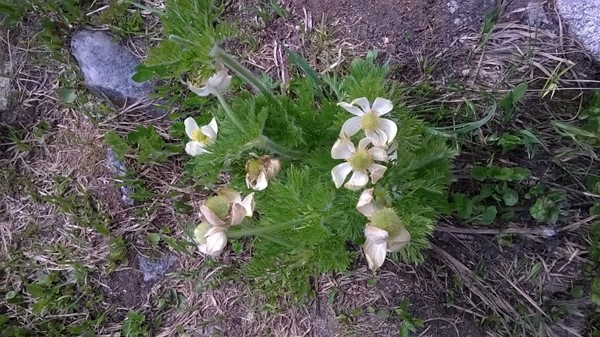 Time for lunch so down the Blackcomb side since Christines, my favorite mountain top restaurant is closed for renovations until November…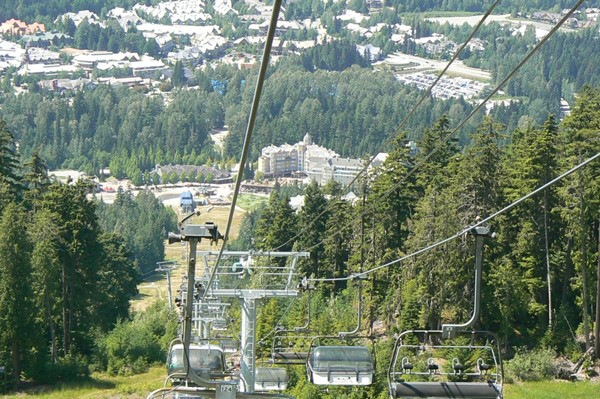 Had a lovely lunch at Milestone's – meatloaf sliders with Kobe mustard for me, curried shrimp for Bliss; Raspberry mimosa for me, Mango Bellini for Bliss: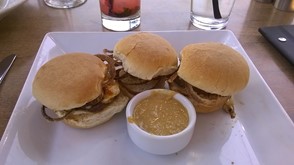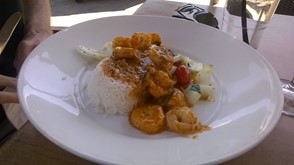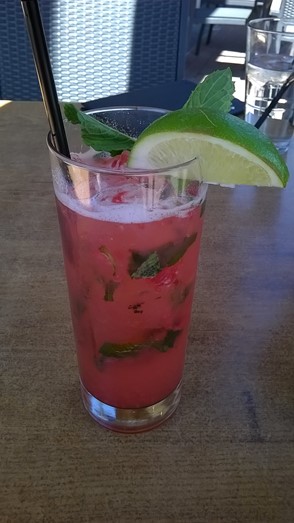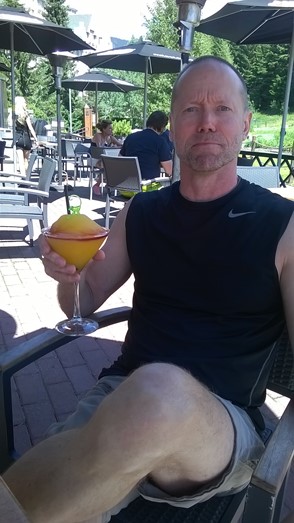 And then back up the hill for more hiking….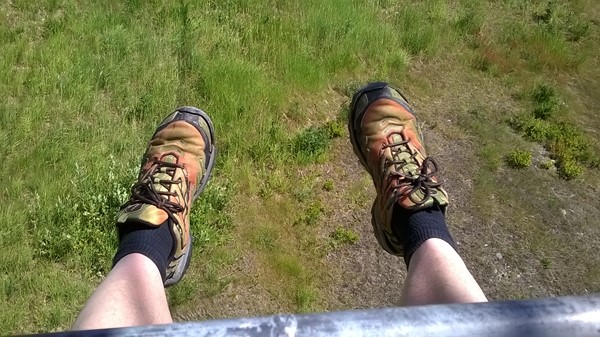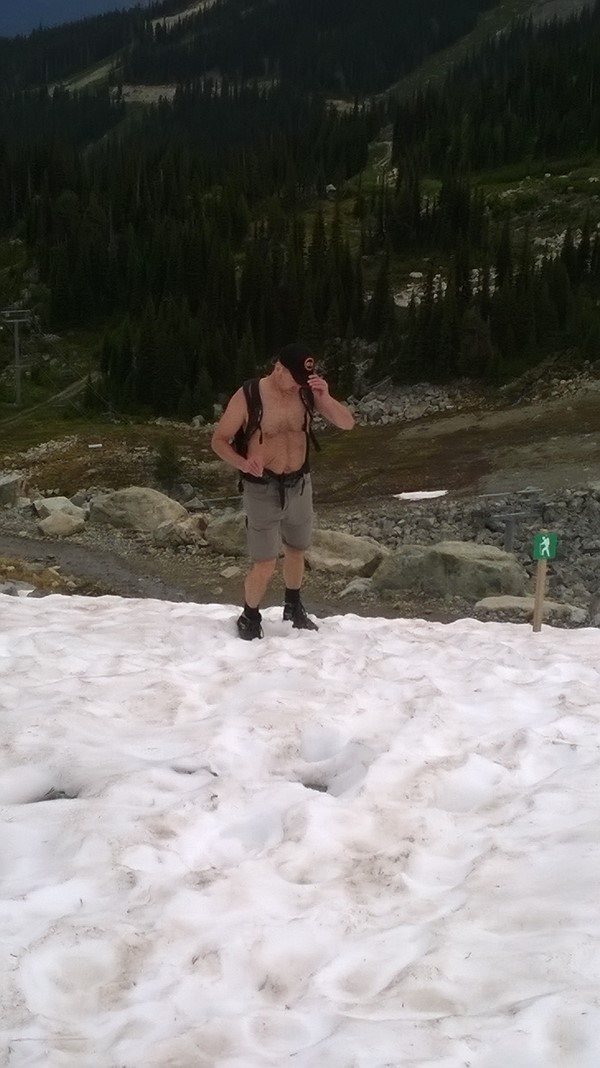 Still know on parts of the trail.
At least we were eating well on this trip. One night we roasted a chicken and served it with some of the leftover stuffing from the pork roast the first night: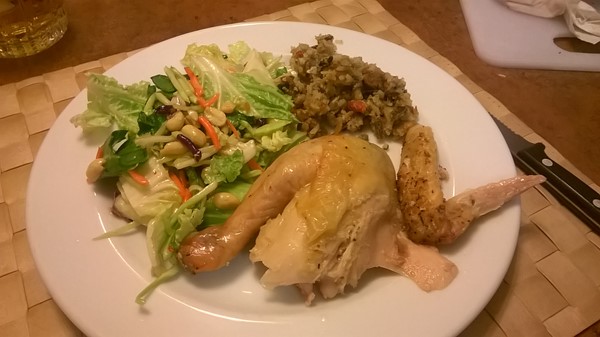 And on the mountain top, Kevin went for the pulled pork poutine. For those of you not familiar with poutine, its French fries covered with cheese curds, then drowned in brown gravy, this one topped with pulled pork.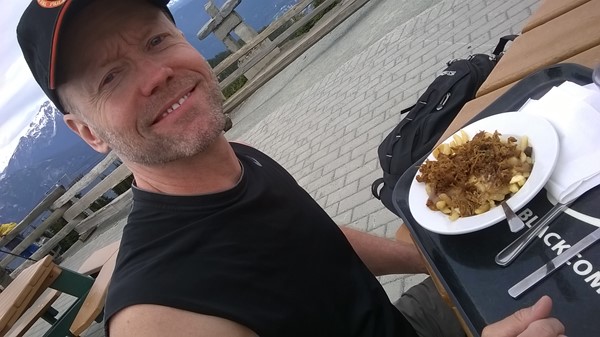 Needless to say he went on a long hike afterwards without me to burn off the carbs. I, on the other hand, opted for fish and chips and a tiny bottle of Merlot.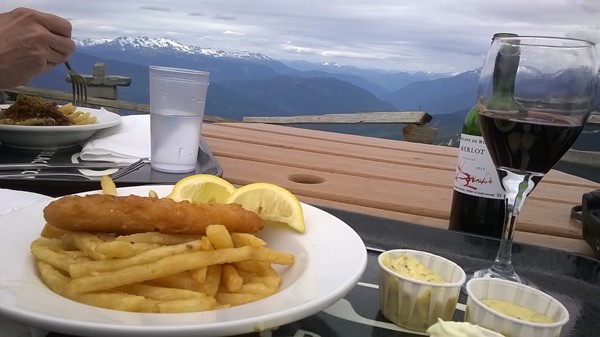 Nice views from the Roundhouse Lodge Cafeteria.
Before we knew it, our time at Whistler was over. We left early enough to stop by the BC Mining Museum, which isn't really worth the $27 entrance fee, even if it is 20% off with the exchange rate, and even with the rail ride into the mine which doesn't really go far enough. But it makes for a fun picture: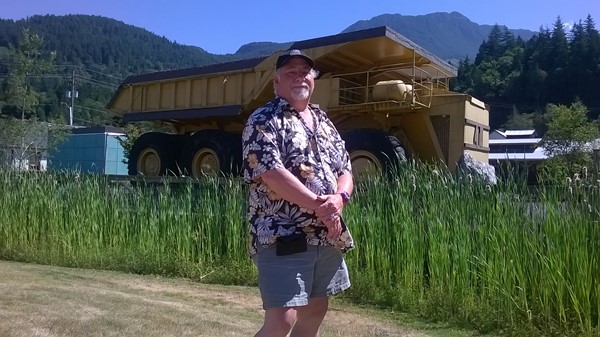 You can't tell from this angle, but I only come about halfway up one of those tires!
Alas, the border crossing awaits us. 45 minutes for everyone else, maybe 10 minutes for us since we both have Nexus cards: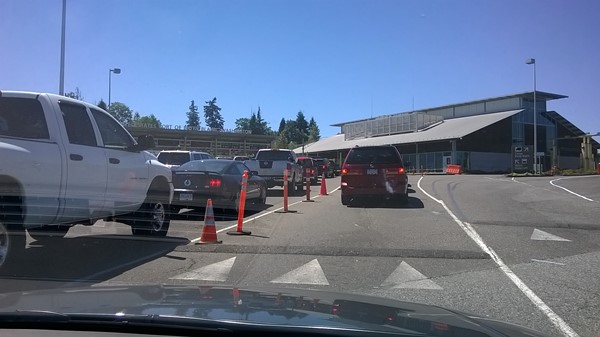 Home again, home again, only to travel again.
[201.8]