I've been putting off this trip report – still feeling a little raw since the nature of my visit changed from visiting to a memorial.
Had to move my plane ticket up by two days (dinged $360 additional) to be able to make the hastily arranged memorial service – the advance of being MVP Gold is that it was also an automatic upgrade to first.
In first, you get lunch – in this case a southwest salad with focaccia and a cookie.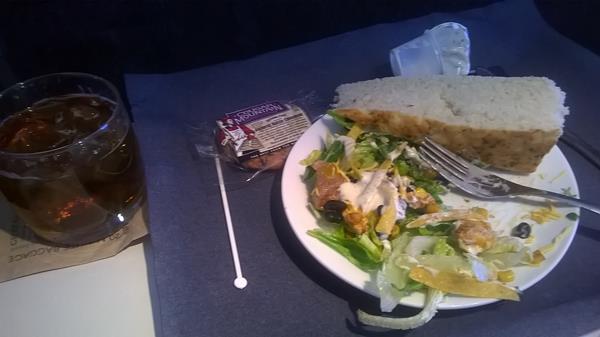 This trip I'm staying all over the place:
Basically this means I've been living out of the trunk of my rental car which I got a great last minute rate of $10 a day plus crap fees.
The summer sunsets in Santa Fe are truly amazing…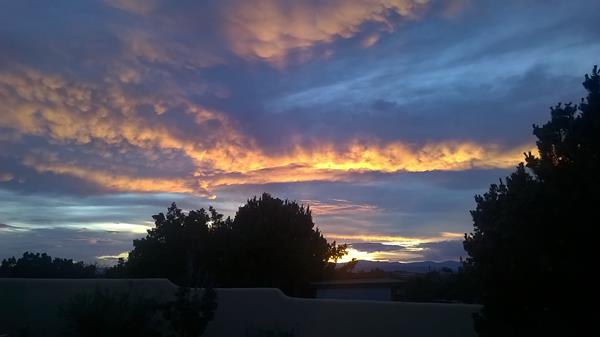 And breakfast at the house isn't bad either!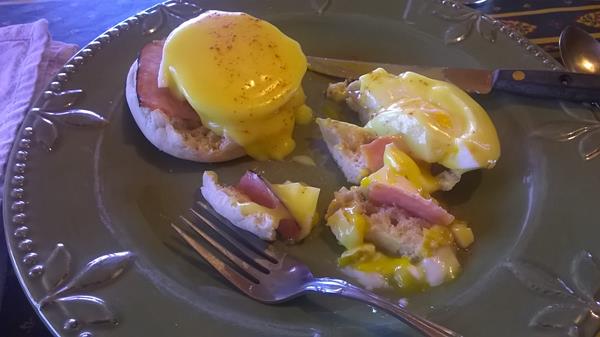 I shouldn't have had the third half – had to take a nap after our late breakfast.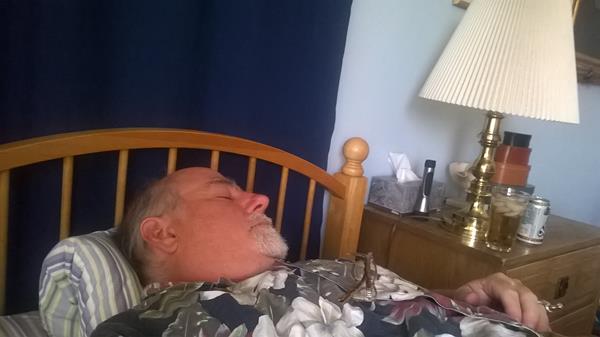 Lunch with The Colonel (the other Colonel was in booking class), who were also in town. We had planned this trip last December, with them coming out for the International Folk Art Market. Lunch at Tia Sofia just off the plaza. I had the chili relleno/enchilada combo which was quite good. But way too much food (again).
The service was Monday afternoon at the retirement community that Mom lived at – presided over by the local Unitarian minister who conducted the service with a chalice that my brother-in-law is working on for the church: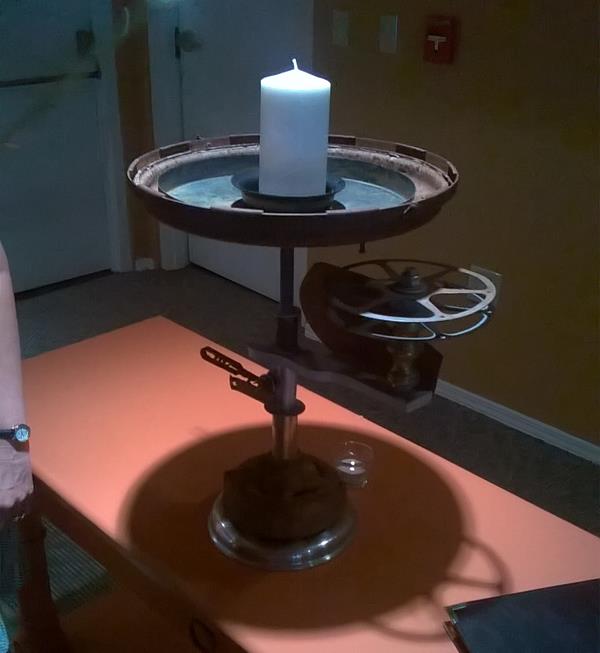 The final product will have more bling around the top.
Good attendance – my dead brother's first wife even drove in from Gallup. Dinner for 13 from The Whole Hog in Santa Fe – with wine by yours truly: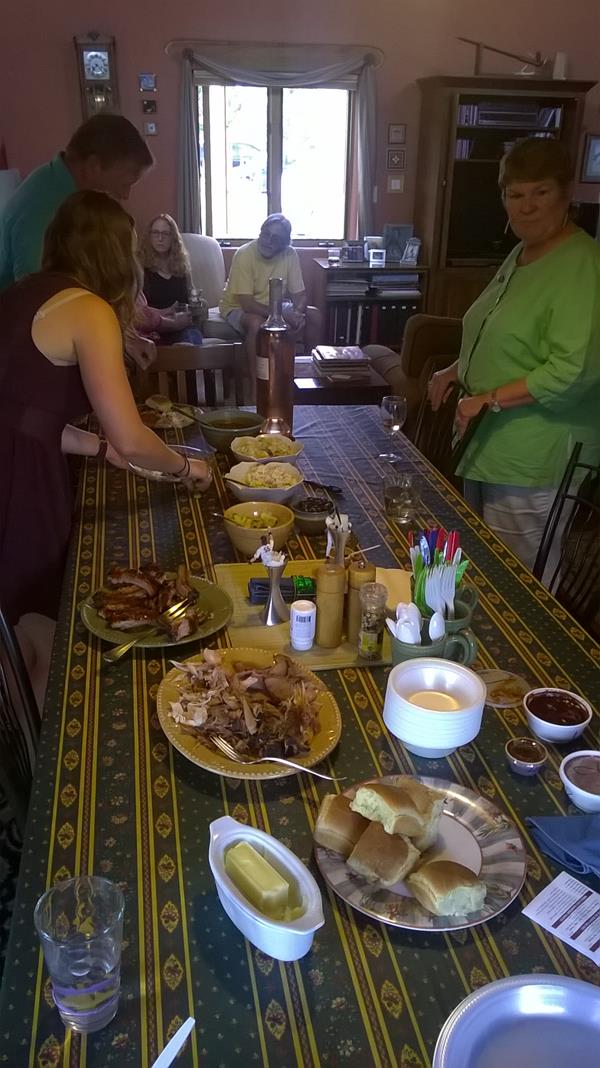 Including a 3-liter bottle of rosé…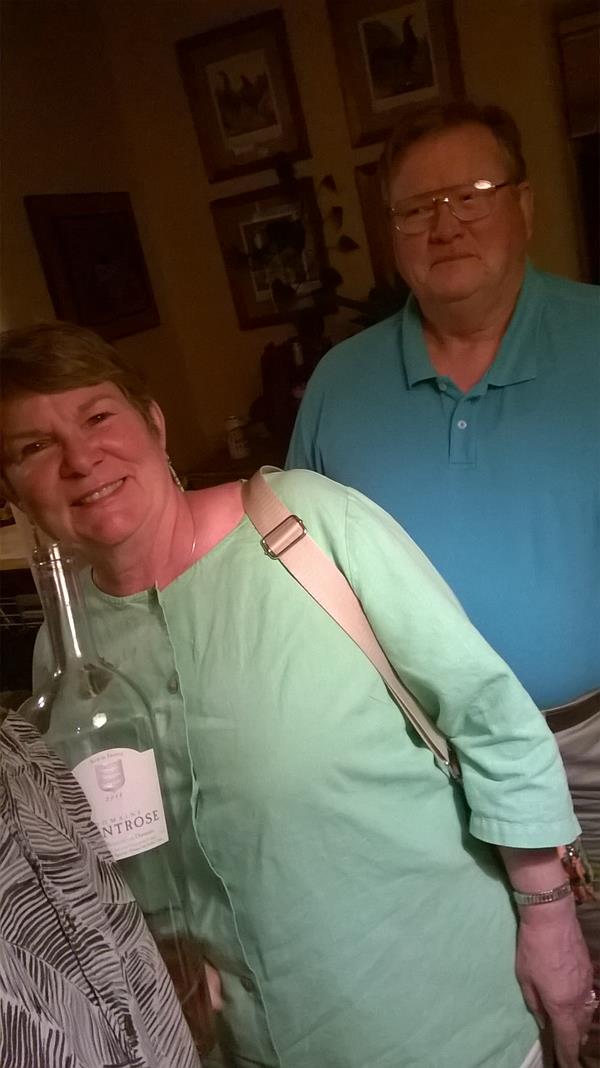 And those would be The Colonels…
Tuesday, headed up to Taos with a stop at the Bumble Bee Baja Grill for a green chili cheeseburger: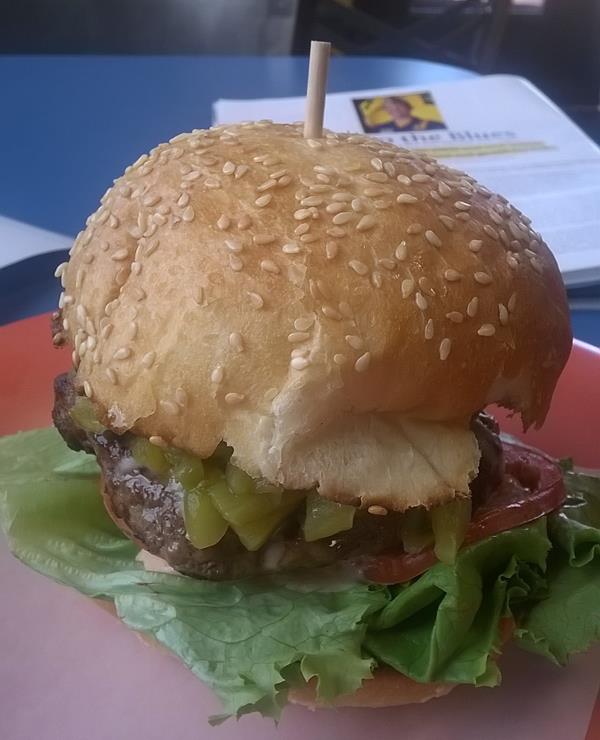 Damn fine burger from a Mexican place. And I love their drive-through sign: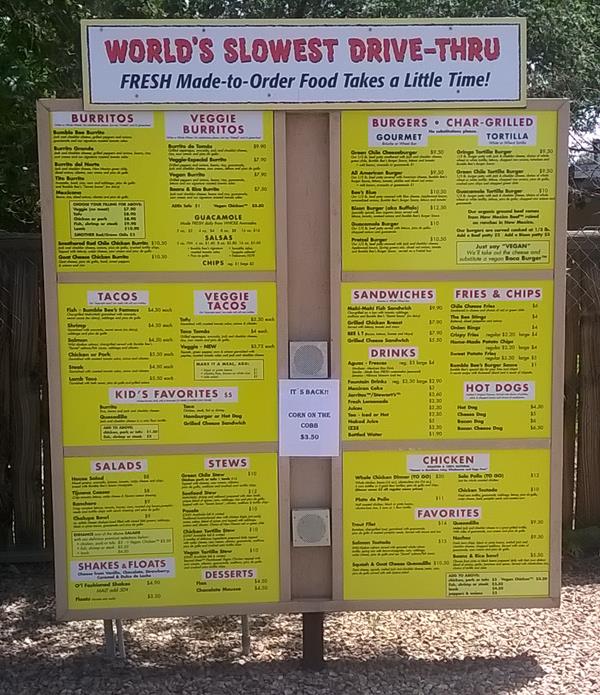 The plan for dinner was with The Colonels, but they were pooped after the drive, and the altitude was affecting them a bit as well. Luckily I had a friend in town from Los Angeles cheering up a friend of his who just received a diagnosis of Parkinsons – a diagnosis none of us wants to get. At least he is in good spirits at The Alley Cantina: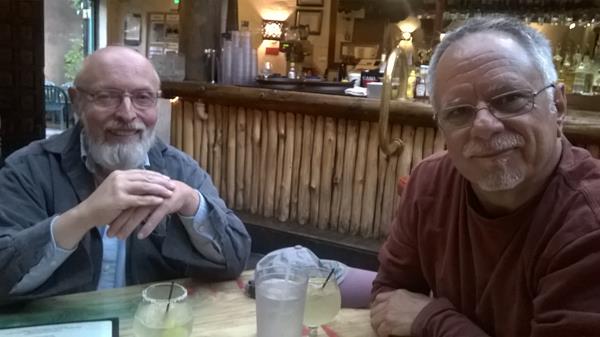 We all enjoy the inexpensive house margaritas (after my shot of Commeritivo) while waiting for food tom come. I had the Carne Adavado with a side Caesar (in honor of The Colonel who learned to make them in cooking class) and the boys had the fish tacos: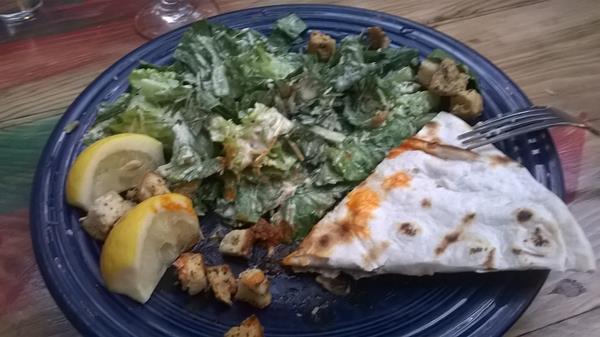 Breakfast the next day with The Colonels at Michael's Kitchen, where we ate lunch a trip or two ago when they were in town. This is the Poor Man's Benedict: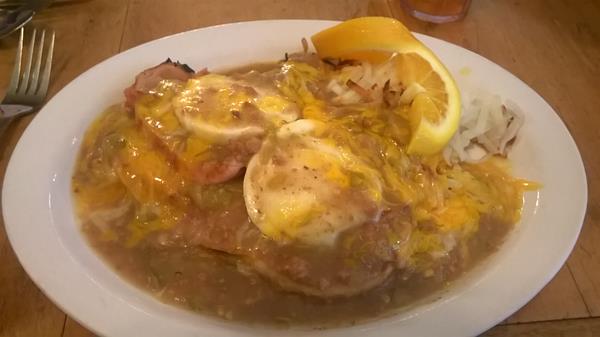 Luckily the male Colonel helped me finish my hash browns – after he polished off the Biscuits and Gravy with Sausage Links: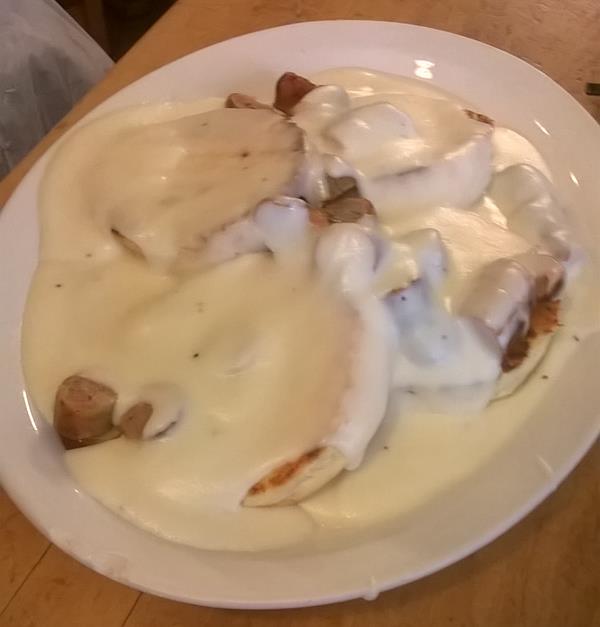 Meanwhile, Kate had the Heavos Rancheros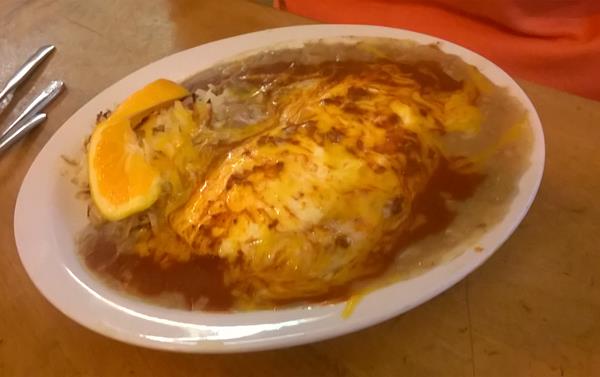 None of us left hungry.
The Colonels are staying another night, but I headed back to Santa Fe to crash at sis/bro-in-laws, but with no need to rush, I hung out by the Rio Grande Gorge and watched rafters pull into shore: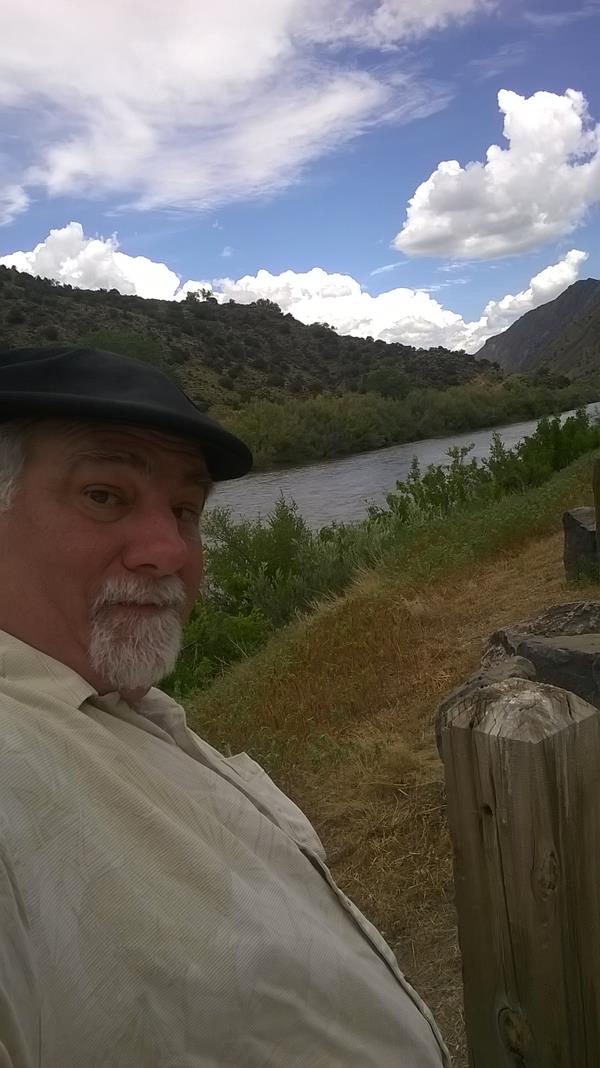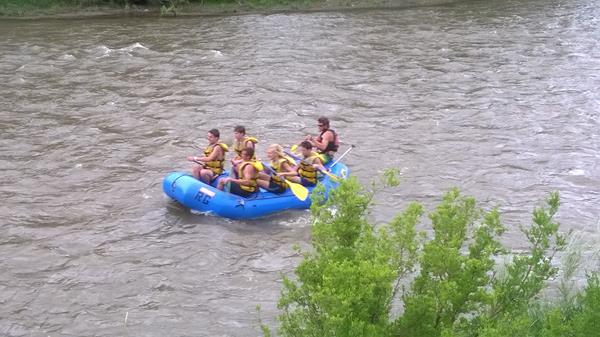 Great dinner with the dwindling masses – brother Jon and wife returned to Coos Bay, Emily to San Francisco leaving just sis-in-law's sister and me as extras. After all the heavy large meals it was nice to just have a nice salad: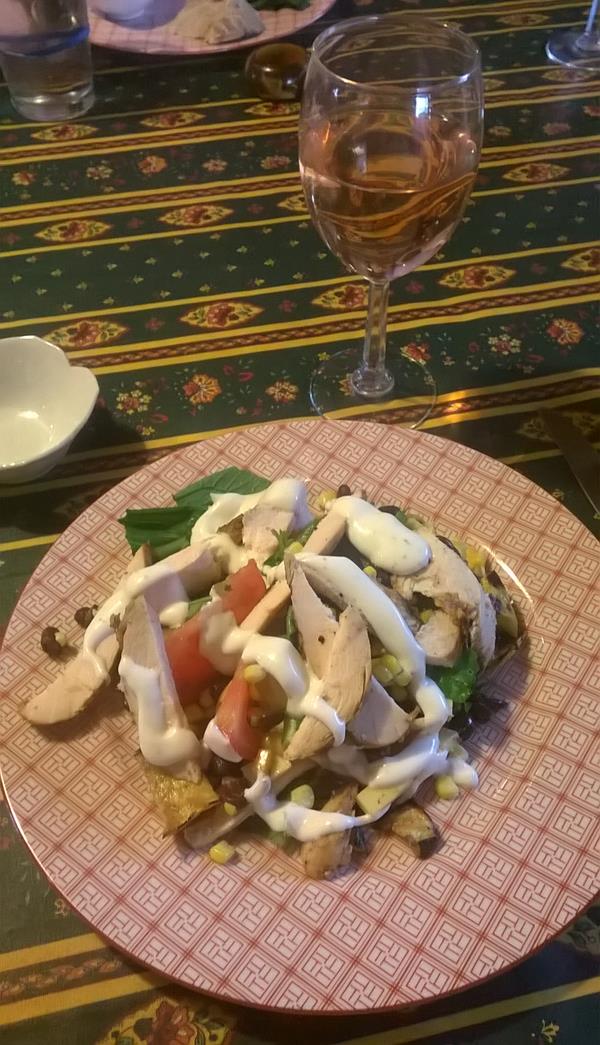 And the next day it was back to Seattle with a nice last minute upgrade to first – guessing someone cancelled since I'd already checked in and gotten my boarding pass.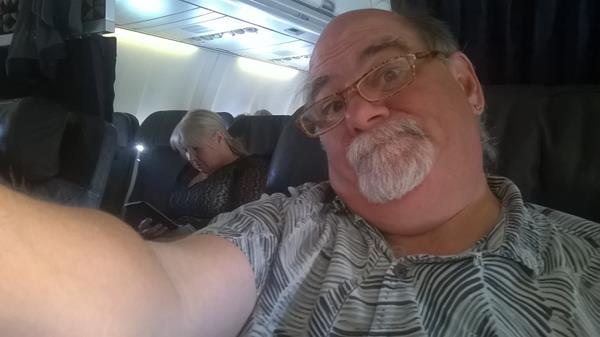 And not a bad meal on the way back either – too bad I forgot my noise cancelling headphones this trip.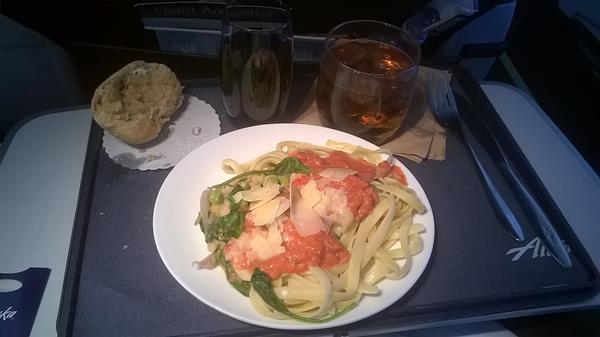 Feels weird to realize that I won't be going down there every other month. RIP Mom.
[218.8]